This easy beef stroganoff recipe is made with a creamy sour cream sauce, tender beef, and egg noodles. Beef stroganoff is the perfect comfort food for any day of the week!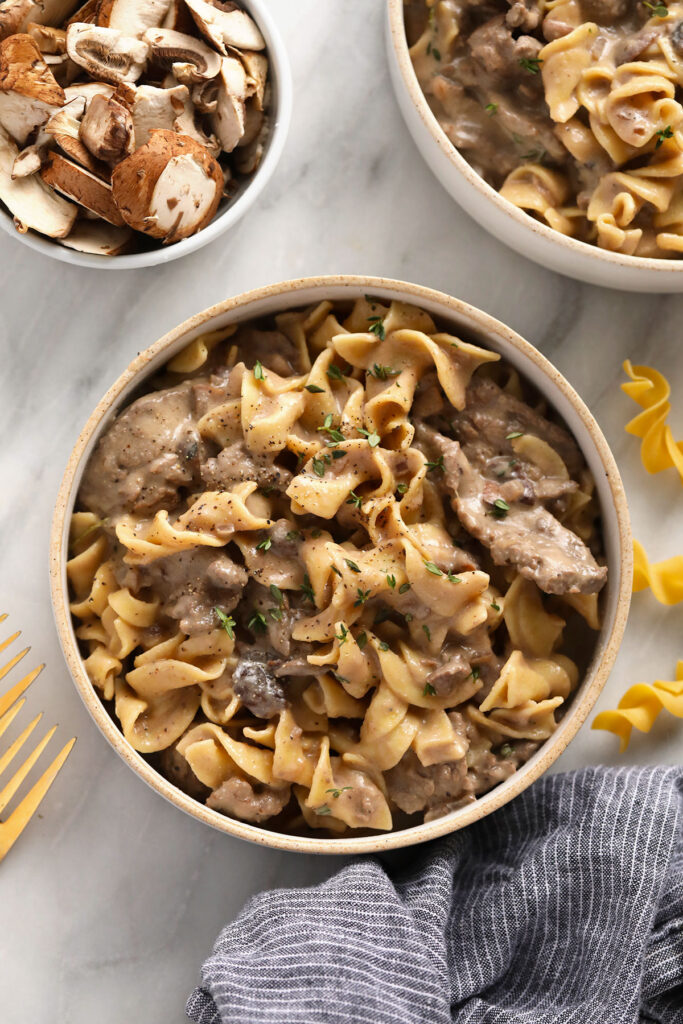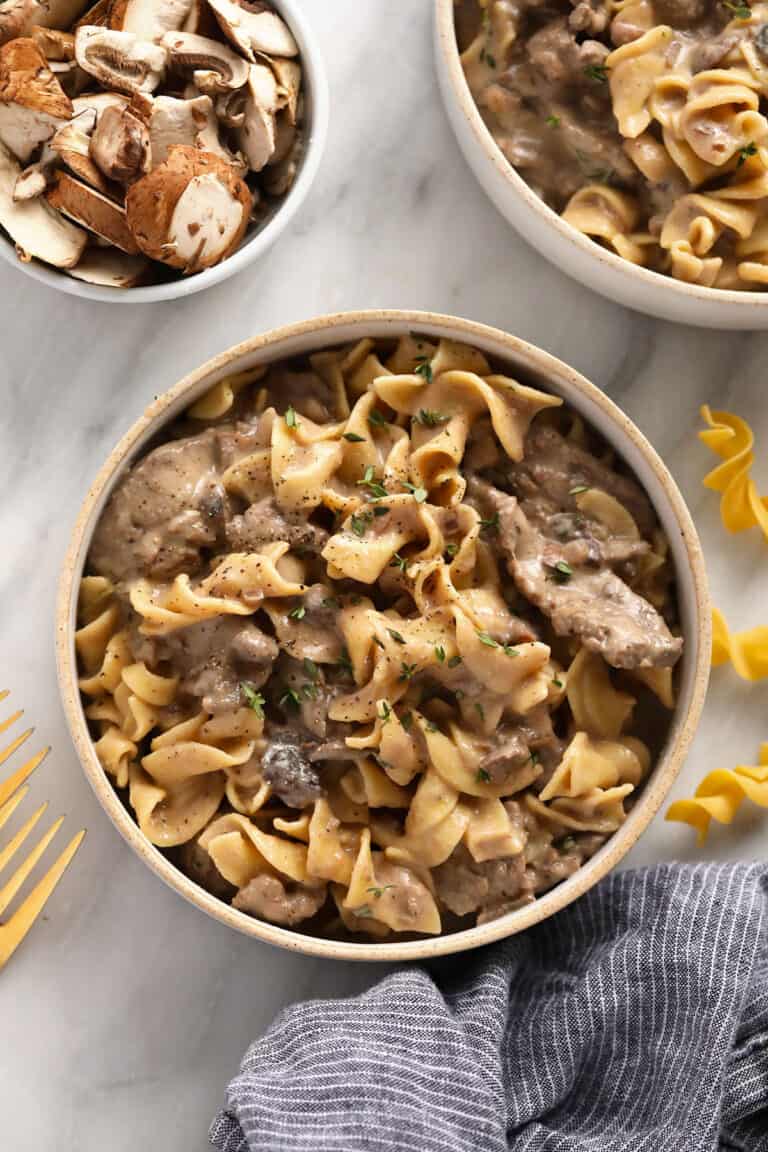 The Best Beef Stroganoff
Say hello to this classic beef stroganoff recipe with a little healthy twist. There is nothing better than stroganoff when you are craving comfort food.
We are obsessed with our Mushroom Stroganoff on Fit Foodie and we have an Instant Pot Beef Stroganoff for our Instant Pot lovers, but it was time to add a good ole' classic beef stroganoff recipe, too!
What makes this the best beef stroganoff recipe?
Tender + flavorful beef.
A flavorful and creamy sour cream sauce.
Yummy egg noodles tossed in the sauce.
What is stroganoff sauce made of?
Traditionally stroganoff sauce is a sour cream gravy that is thickened with beef broth. I'm sure you've also had beef stroganoff that is made with cream of mushroom soup (probably at your grandma's house).
We lightened up this beef stroganoff recipe by making a homemade stroganoff sauce with a little bit of butter, flour, Greek yogurt, sour cream, and beef broth!
It is so flavorful but doesn't leave you with a brick in your stomach. Here is everything you'll need to make the recipe!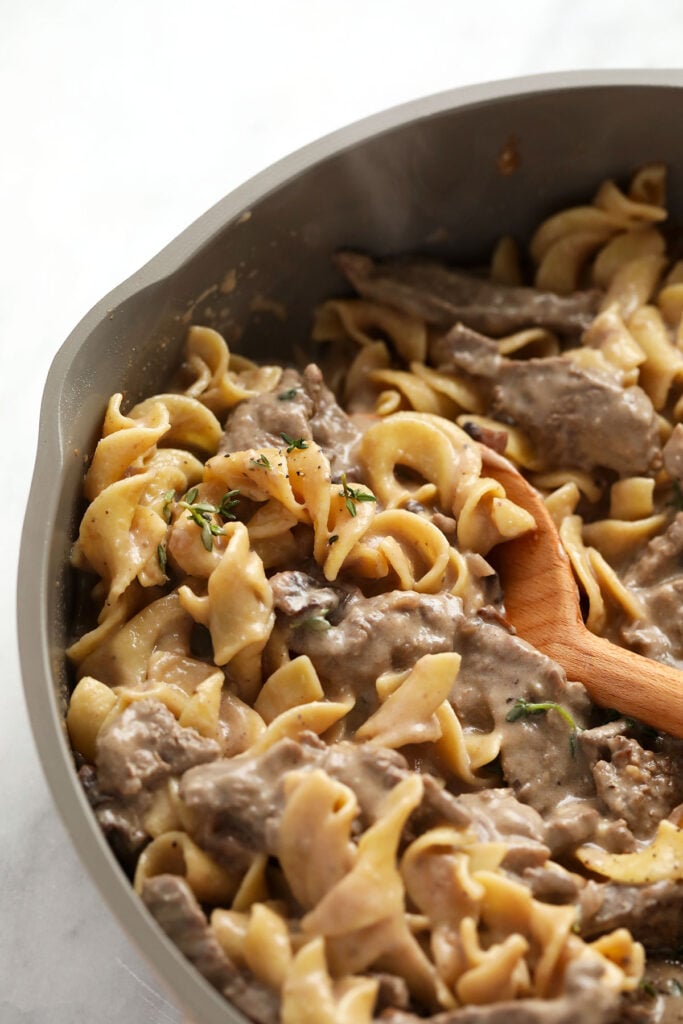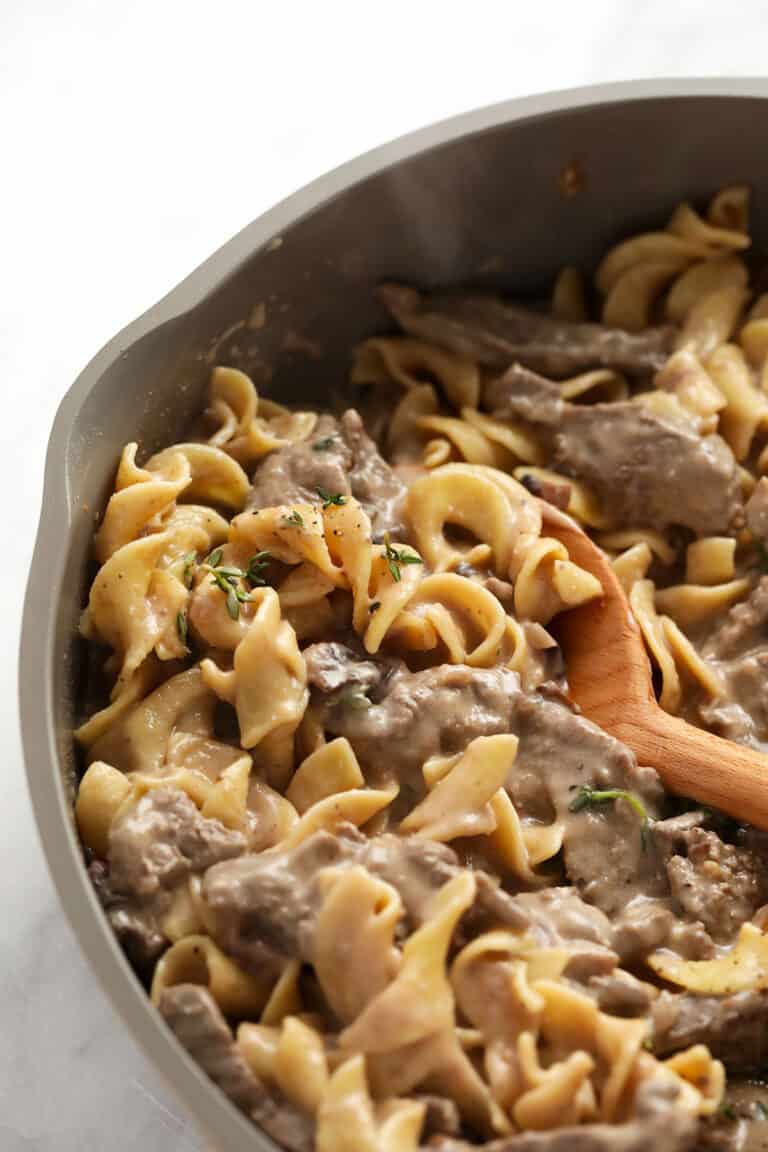 Ingredients You Need
Egg noodles – any egg noodle would be great for this beef stroganoff. We love using traditional shaped egg noodles but we go for the extra wide noodle like these!
Salted butter– we go in between using butter and olive oil in this recipe. We like the flavor that the butter gives the stroganoff sauce, but olive oil will also work in this recipe.
Garlic powder– we coat the beef with garlic powder to give it a little extra flavor and it is so worth it!
Salt– the salt in this recipe is divided into two parts; 1/4 teaspoon for the beef and the rest of the salt for the vegetables and stroganoff sauce. Feel free to add more or less salt depending on your preference.
Pepper– season that beef with a little pepper!
Flank steak– Flank steak is a great cut of meat for beef stroganoff.You can find it at most grocery stores.
Crimini mushrooms– it wouldn't be a stroganoff recipe without mushrooms. We chopped up crimini mushrooms for this recipe, but you can use bella mushrooms or white mushrooms and chop them to your preference!
Red wine– we like to add a little red wine to the stroganoff sauce. It gives the sauce depth and flavor. Some people prefer a dry white wine instead, feel free to choose your favorite!
White onion and garlic– the onion and garlic are the flavor base for the stroganoff sauce!
White whole wheat flour– for your stronganoff sauce to thicken you need a little flour or corn starch. We prefer flour! If you don't have white whole wheat, all purpose flour will work, too.
Beef broth– to thin out your sauce after you have added in your flour with highly recommend using beef broth. Our favorite beef broth is Swansons, but you can use any brand you'd like.
Sour cream– traditionally beef stroganoff is made with all sour cream. It offers a tartness and creaminess that you can't beat!
Greek yogurt– just like sour cream, Greek yogurt adds tartness and creaminess to whatever you add it to. We like to use both Greek and sour cream to lighten up the sauce and add protein.
Worcestershire– people ask how to add more flavor to beef stroganoff and Worcestershire is one of the answers! It ads a bite of vinegar and sugar to the sauce.
Fresh thyme– adding fresh thyme to the beef stroganoff before serving completes the dish! We also recommend using chopped parsley if you have that around, too.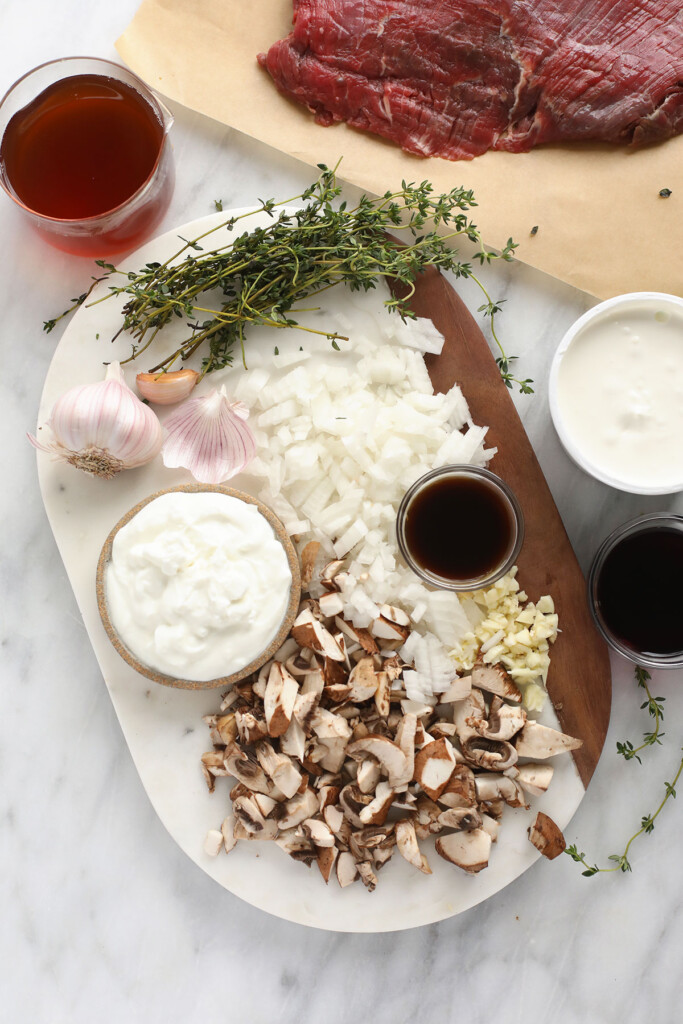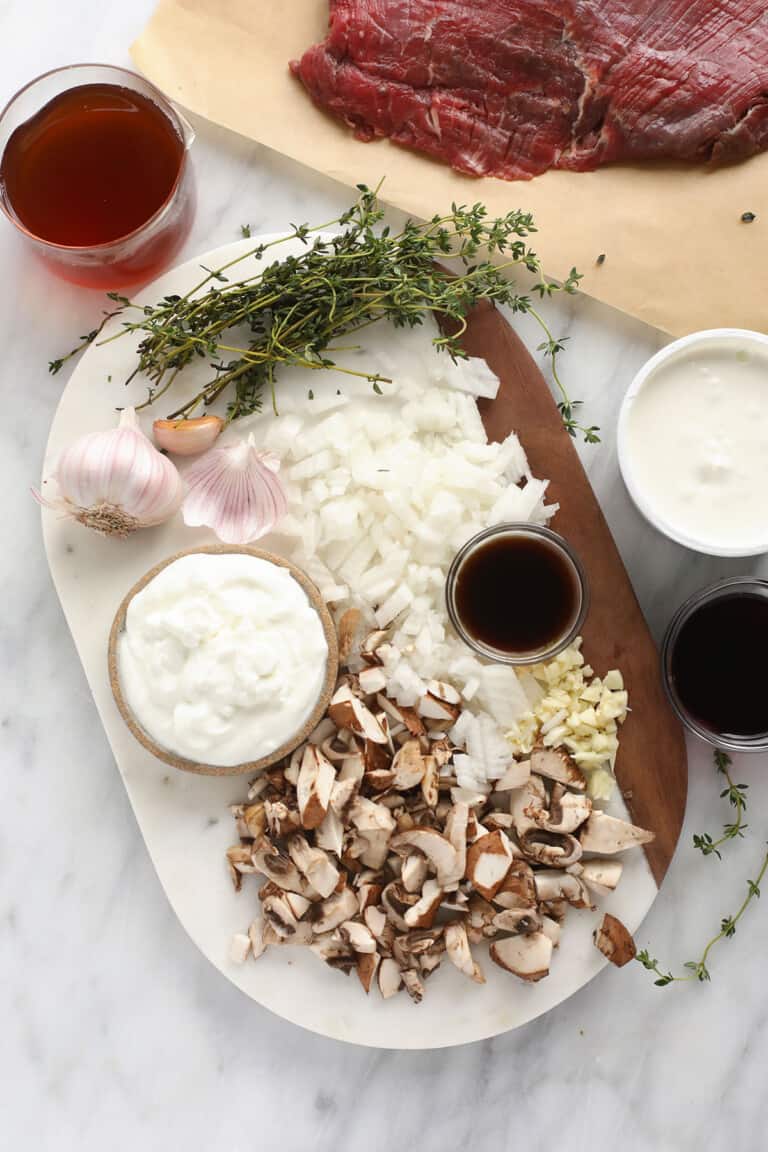 What is the best cut of meat to use for beef stroganoff?
When it comes to beef stroganoff, there are a few cuts of meat that you can use. We recommend using a pounded flank steak.
Flank steak is easy to find, once pounded and seasoned it makes a delicious and tender meat for the stroganoff.
If you don't have flank steak or prefer to use a different cut of beef, here are some of our other recommendations!
Ribeye steak
New York strip
Beef tenderloin
Stir fried beef (usually already cut into strips at the grocery store.)
No matter what cut of bee you use, be sure that you pound it and slice it into thin strips.
try ground beef!
Traditionally, stroganoff is made with strips of beef, but you can also use ground beef. It does change up the dish, but it is also quite tasty!
Cook up 1 pound of ground beef in the same spices and then follow the recipe as it's written!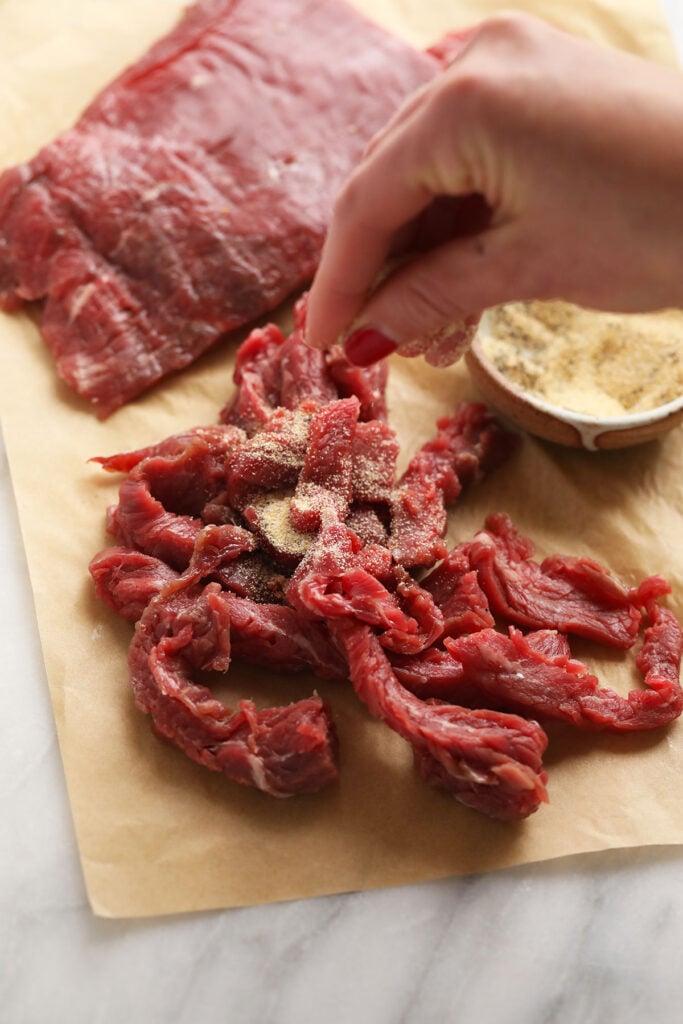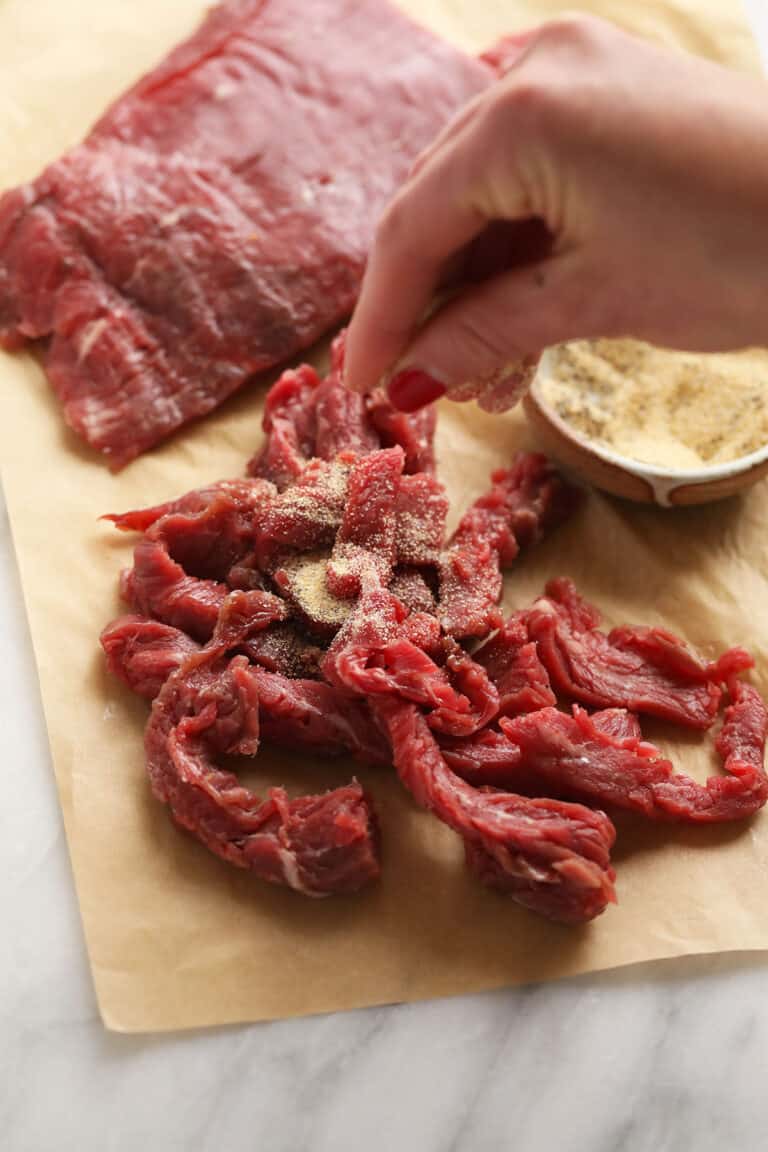 How to Make Beef Stroganoff
Cook the Egg Noodles
When you make this beef stroganoff recipe, there are ways to make things easy by doing everything in a certain order. Start off the recipe by cooking the noodles first. Then you can set them aside and not thing about it for the rest of the recipe process.
We suggest cooking your egg noodles in salted water and then cook the noodles to al dente because they will continue to cook when you add them to the stroganoff sauce.
pro tip
If you want to substitute some of the beef broth in this recipe we suggest using pasta water. It is salted and starchy so will help thicken the sauce.
Before you strain the pasta, remove 1 cup of pasta water for later.
Prep + Cook the beef
Making a recipe with beef usually means it's going to take awhile. Not this recipe!
You simply pound your flank steak, slice it into thin strips against the grain (this helps tenderize the meat), toss it with garlic, salt and pepper.
Once the meat is prepped, you sear the meat in butter for 30-60 seconds and then remove it from the pan and set it aside for the end of the recipe.
You want the beef strips to be a little pink after you sear them, they will continue to cook later in the stroganoff sauce. Trust us, you don't want overcooked and tough meat!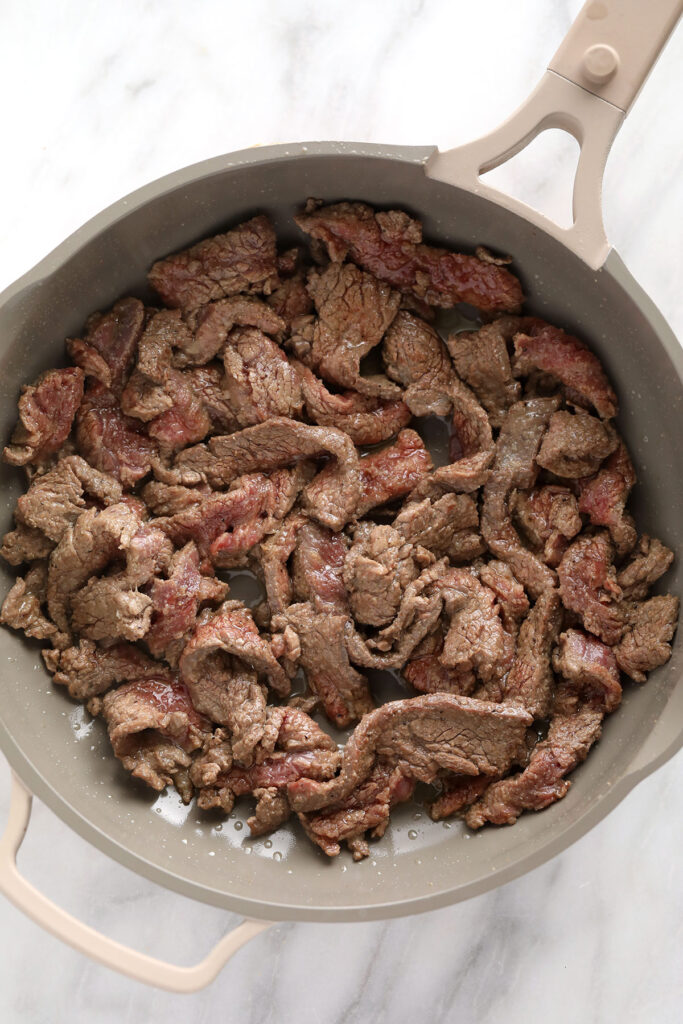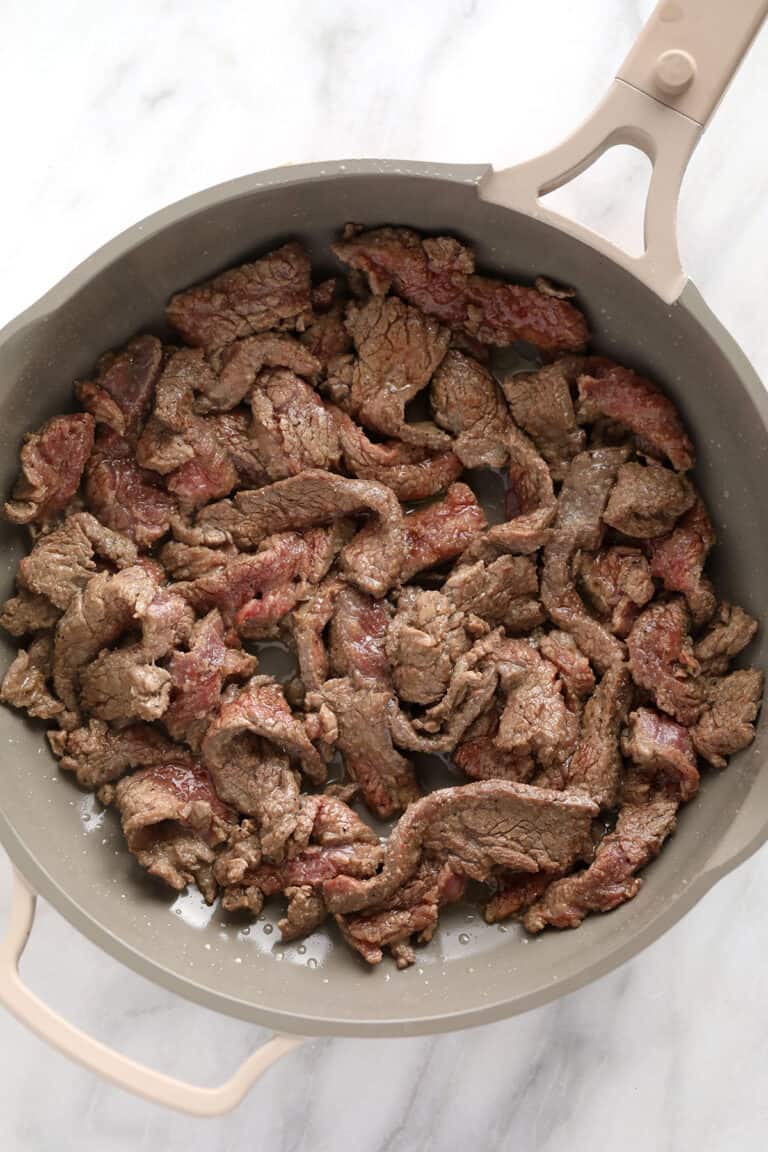 Sauté Vegetables + flour
Using the same pan as the beef, you want to add more butter and once melted you add the diced mushrooms. You want to mushrooms to get a little extra cook time before adding the onions and garlic.
The mushrooms will sauté and create a bit of brown bits on the pan and this is when you want to add the red wine to the pan to delaze and loosen those brown bits.
Once the wine has soaked up into the mushrooms, add the onion and garlic to the mixture and sauté them for 3-4 minutes.
salt in layers
This stroganoff recipe calls for 3/4 teaspoon of salt. We recommend sprinkling salt to each layer of this recipe. It draws moisture and flavor our of vegetables, meat, etc.
If that is too much to think about, have no fear. Adding all the salt at the end is ok, too! Adding salt as you go just adds flavor as you go.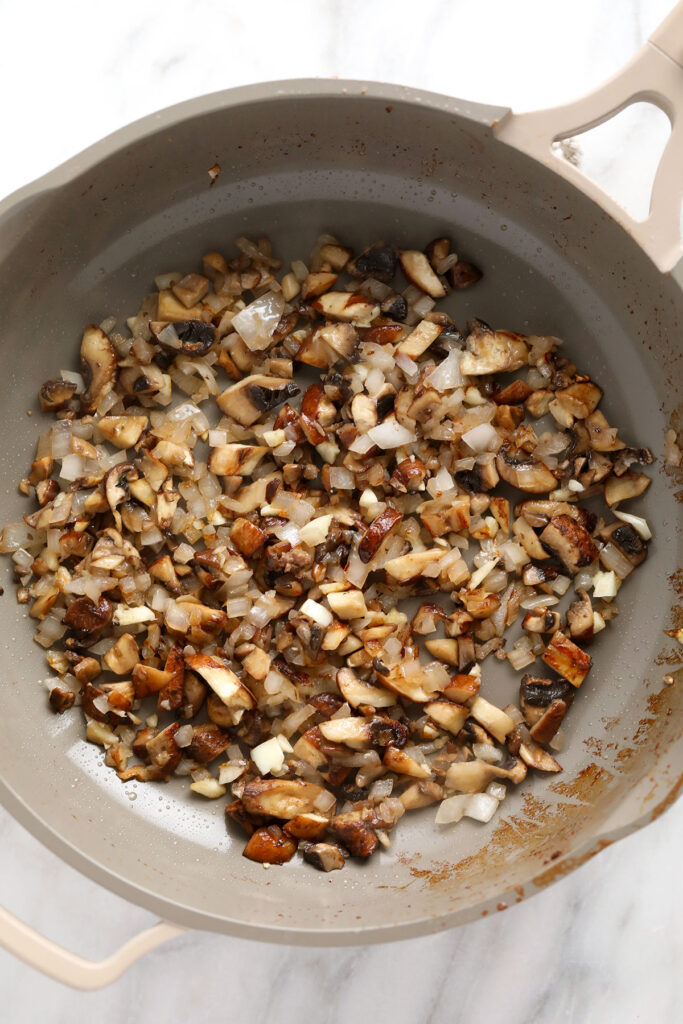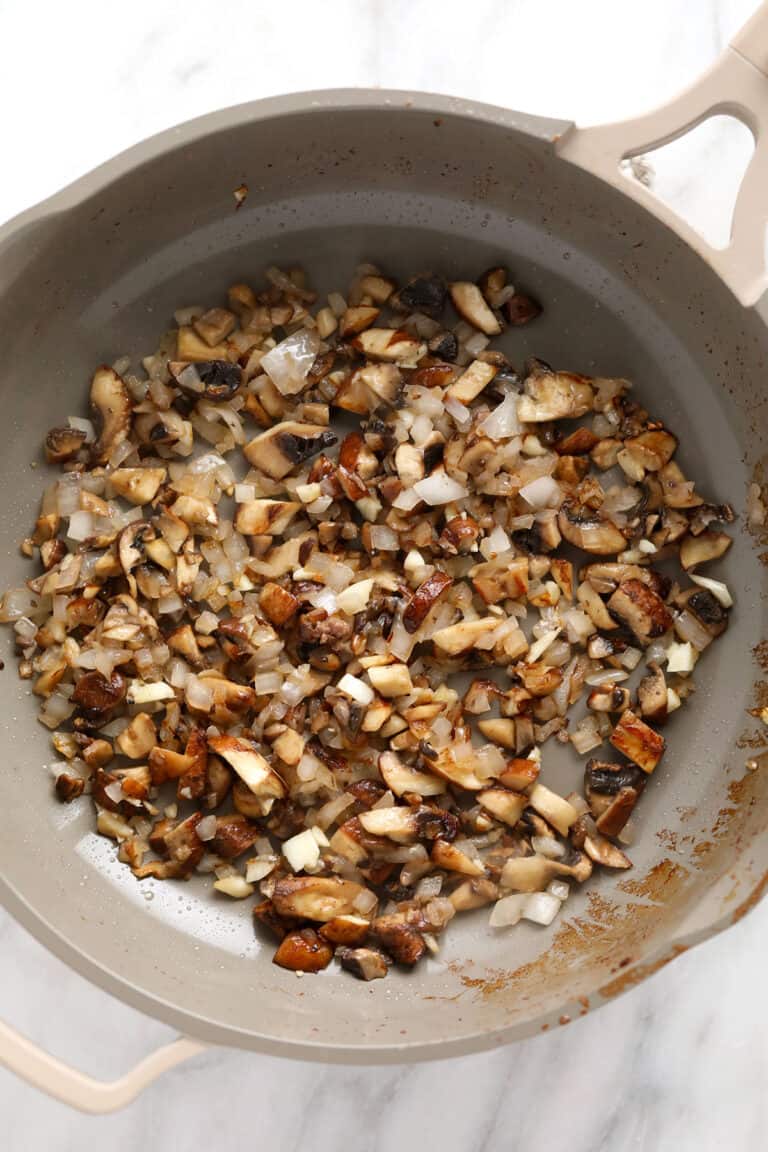 Add in Greek yogurt + Sour cream + broth
When the vegetables are softened, add the last 2 tablespoons of flour to the pan and let it melt. Sprinkle the flour over the vegetables and toss everything together. This is the base of thickening your sauce.
Slowly add 1 cup of the beef broth to the pan with the flour and whisk everything together. Everything will thick up quickly.
Turn the heat to low and then add in the Greek yogurt and sour cream. Stir everything together until smooth and then slowly drizzle in the rest of the beef broth, worcestershire sauce and fresh thyme into the pan.
Stir everything together.
If the sauce seems too thick for your liking add in 1/2 cup more of broth or pasta water!
Beef + Noodles
Add the beef to the sauce and bring the sauce to a boil over medium/high heat.
Turn heat to low and add in the noodles. Toss so that all of the noodles are covered in sauce. Let everything simmer together over low heat until warmed through.
Serve with fresh thyme or fresh parsley on top.
We recommend keeping the stroganoff sauce separate from the noodles if you are not eating this meal right away.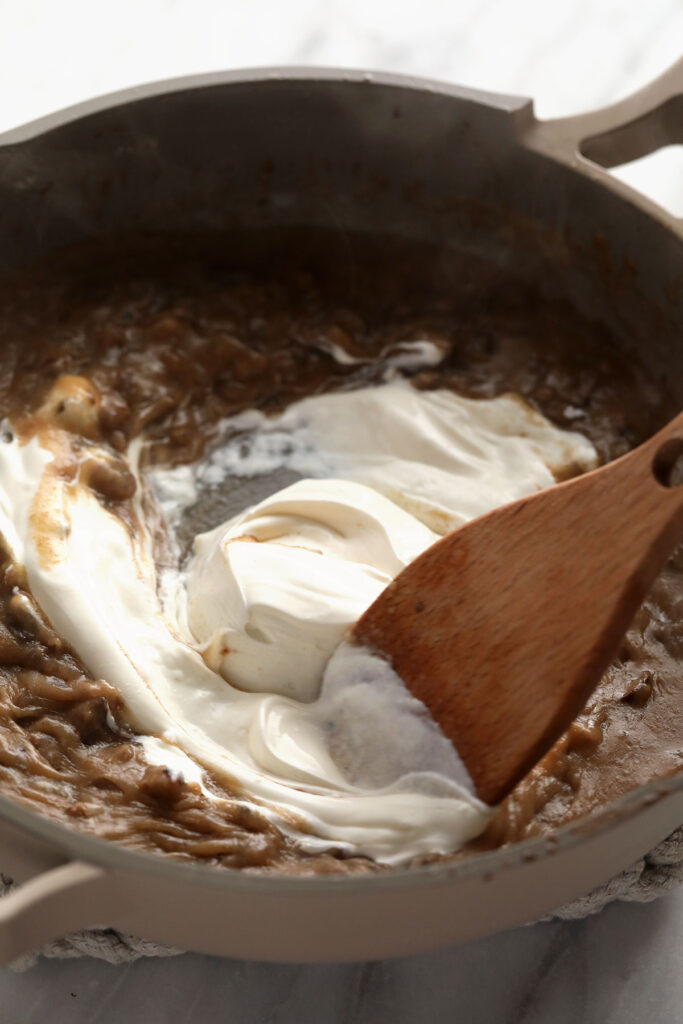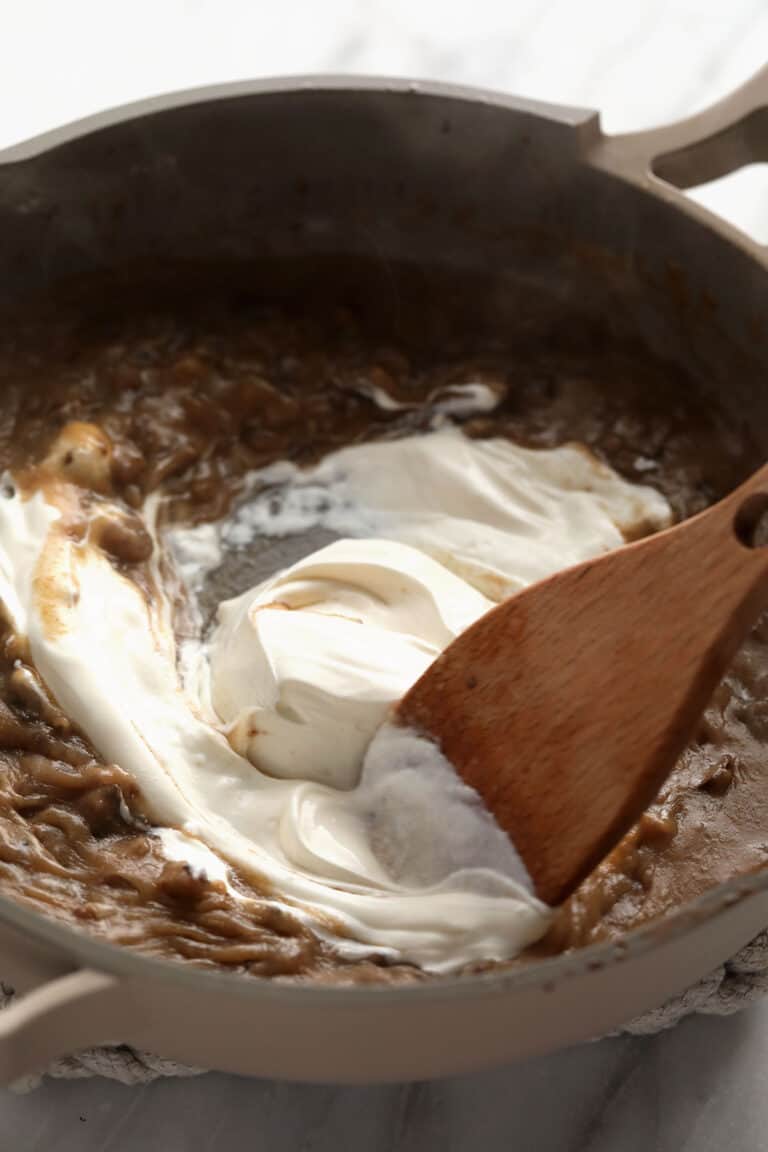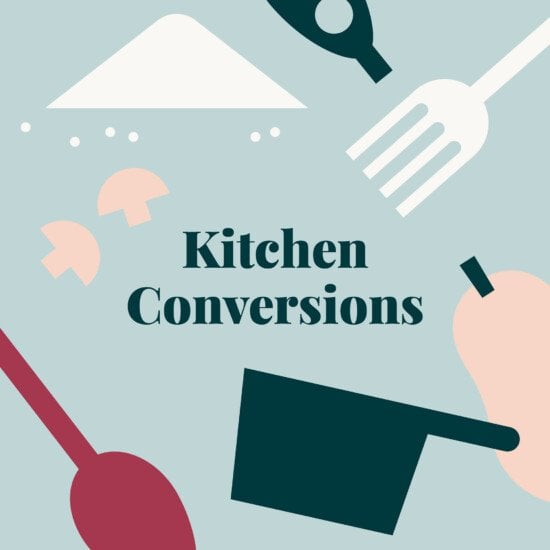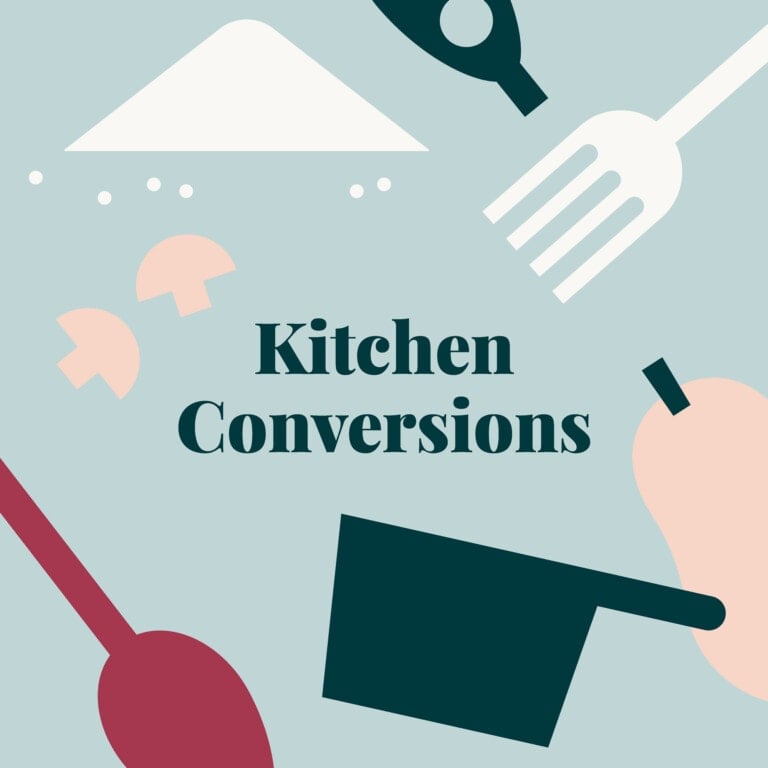 make it easy
Print Your Own
Keep common kitchen conversions like tablespoons to teaspoons and Fahrenheit to Celsius on hand at all times with our u003cstrongu003eprintable kitchen conversions chart.u003c/strongu003e
get it now
Learn More Kitchen Conversions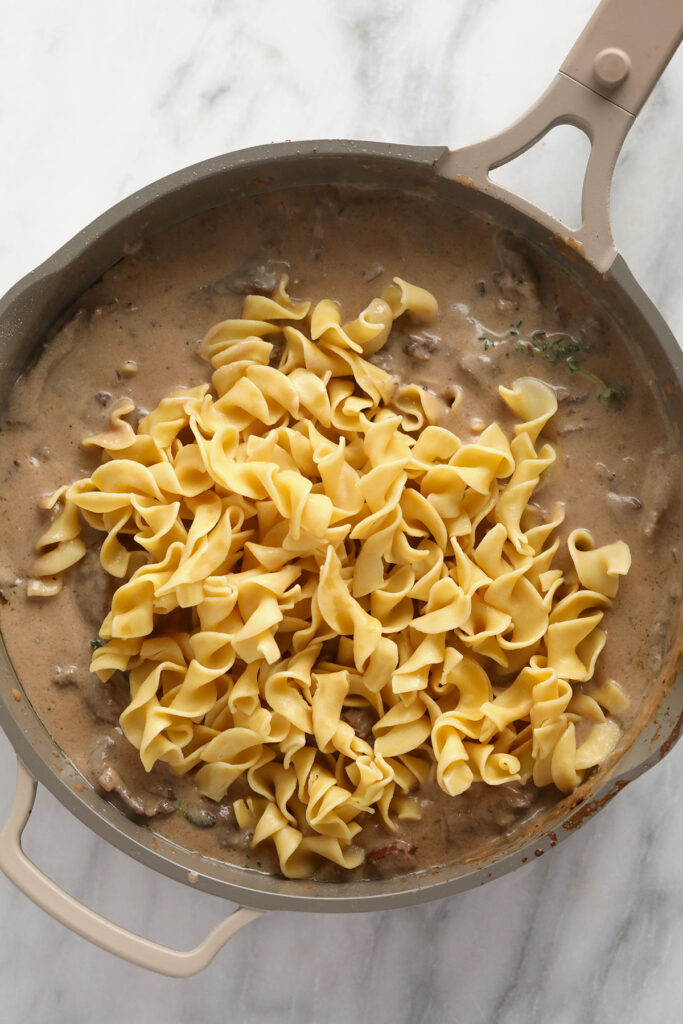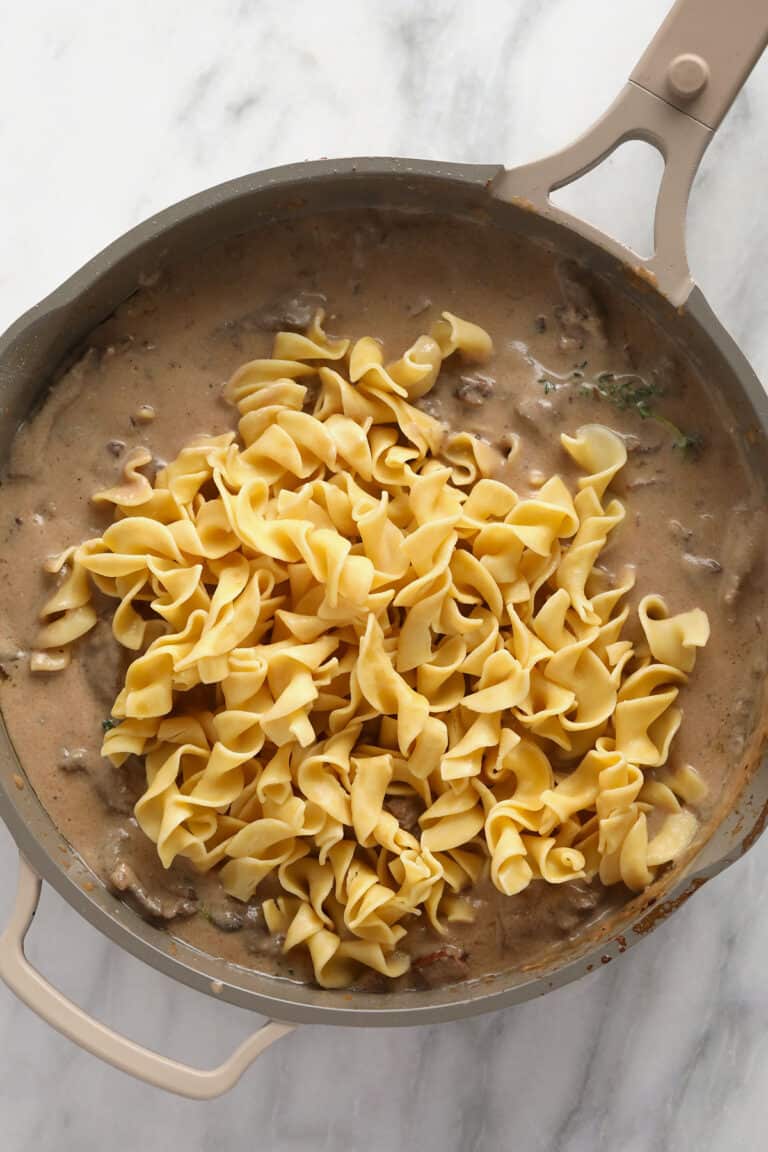 Beef Stroganoff Tips + Tricks
How do you add flavor to beef stroganoff?
There are a few ways to add flavor to beef stroganoff. You can add a pinch or two more of salt and sometimes that's all you need.
If you are still looking for more flavor try adding a teaspoon more of Worcestershire sauce!
Make it vegetarian!
We are big fans of vegetarian stroganoff, too! Try this mushroom stroganoff if you're looking for a vegetarian meal
Can I make this beef stroganoff gluten free?
Yes, you can make this recipe gluten free. Replace to flour in this recipe with a 1:1 gluten free flour mix and use gluten free noodles.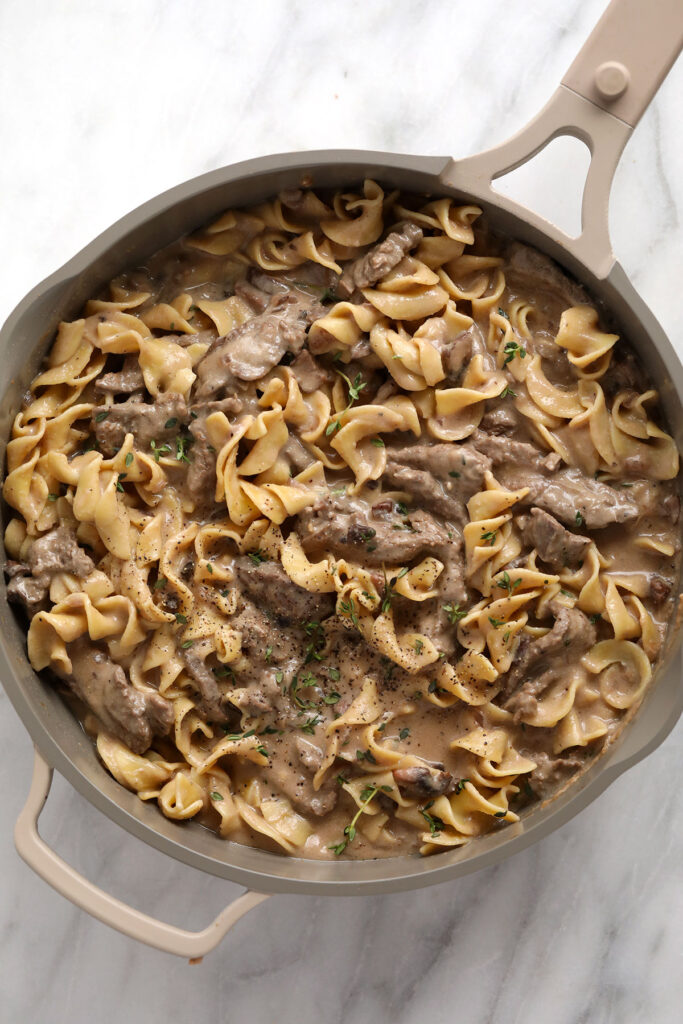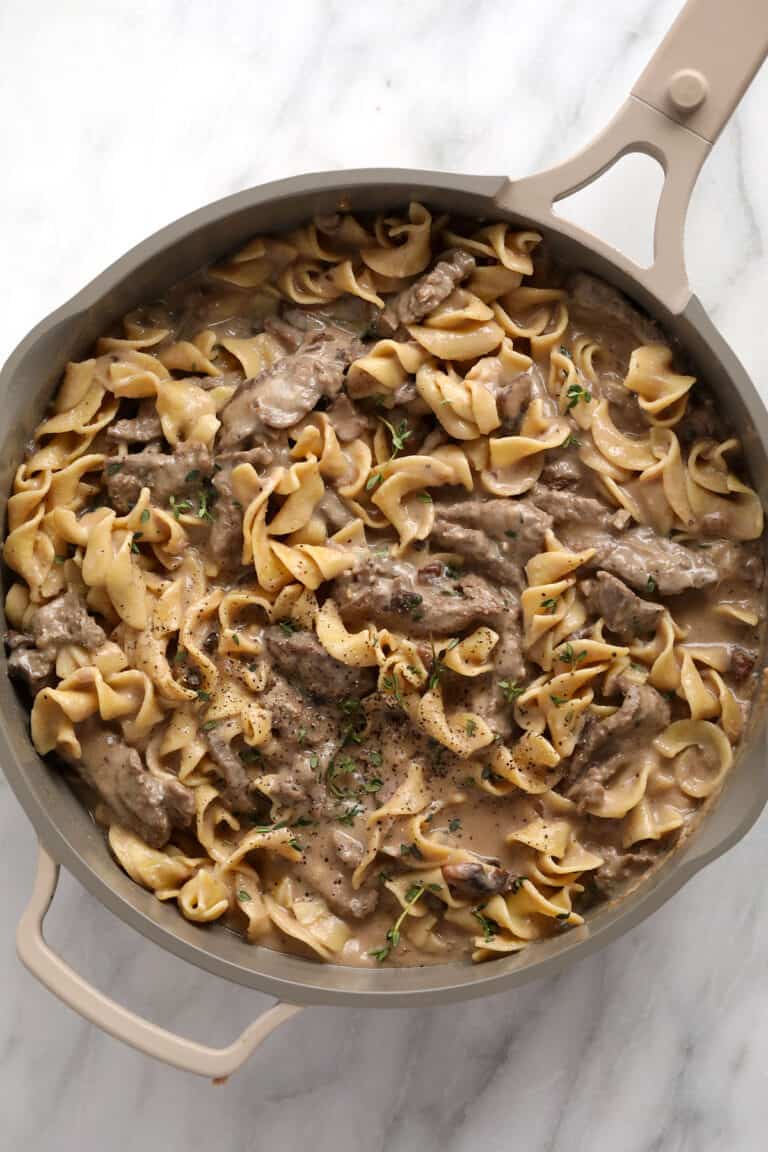 Storage Suggestion
We recommend storing the stroganoff sauce separate from the noodles. Let the sauce cool completely before placing the sauce in an air tight container.
Store in the fridge for up to 3-5 days.
Can you freeze beef stroganoff?
We do not recommend freezing this recipe! Noodles do not freeze and thaw well.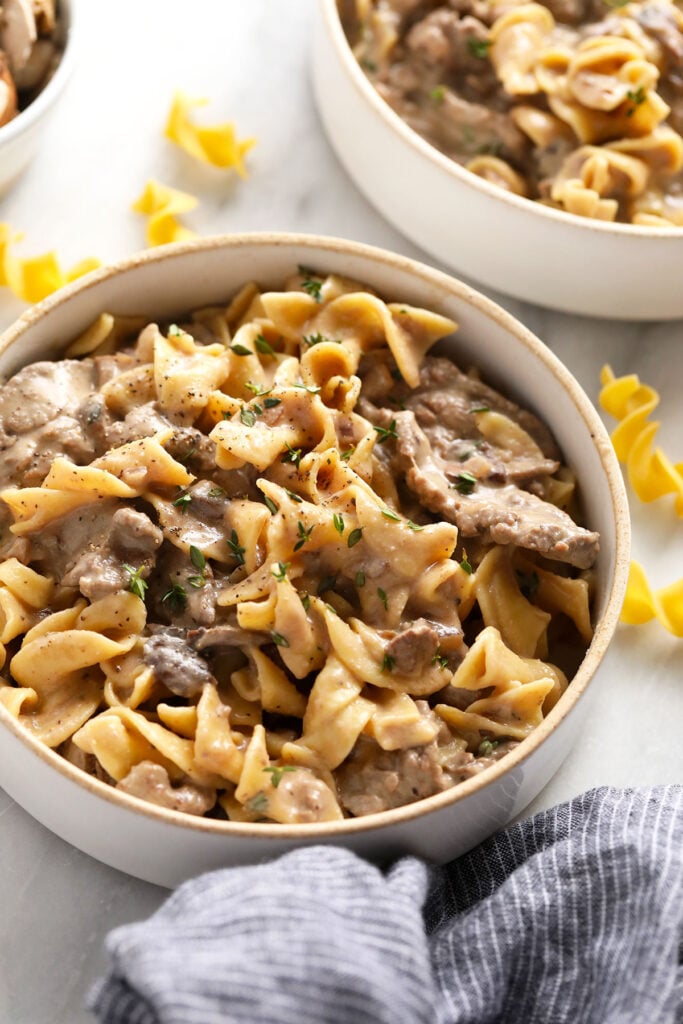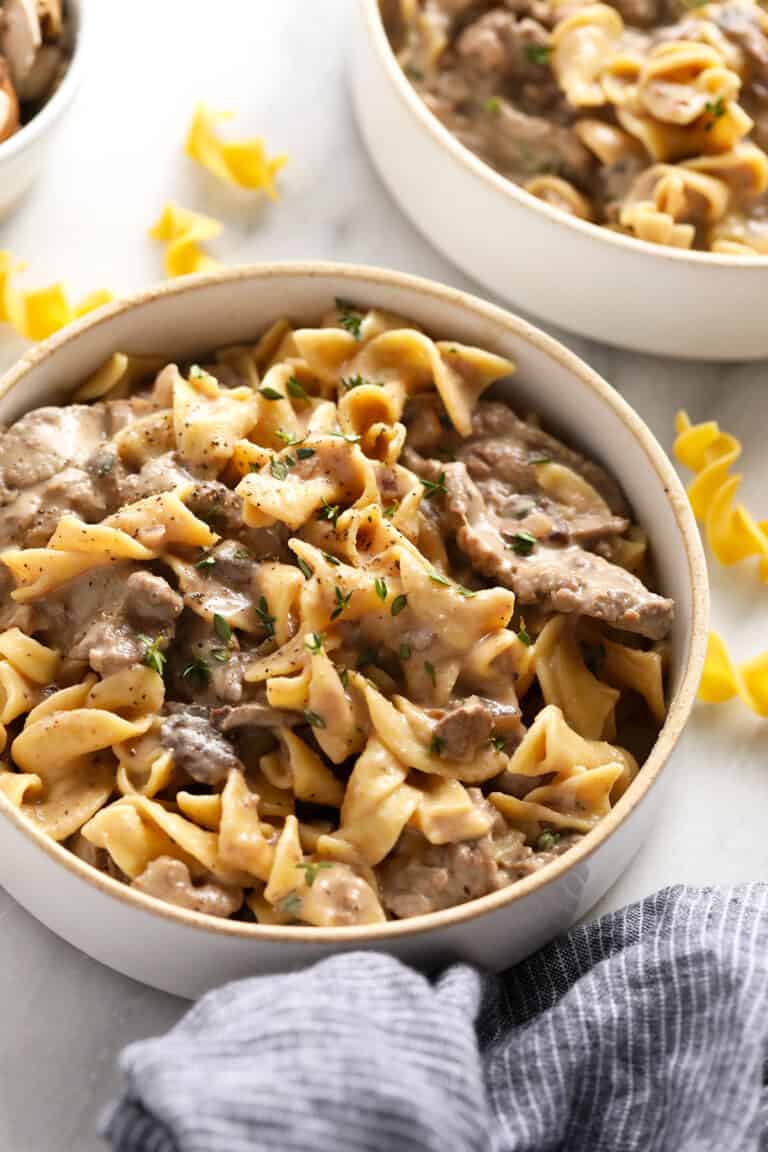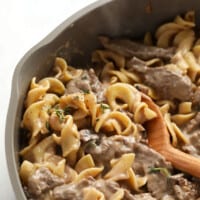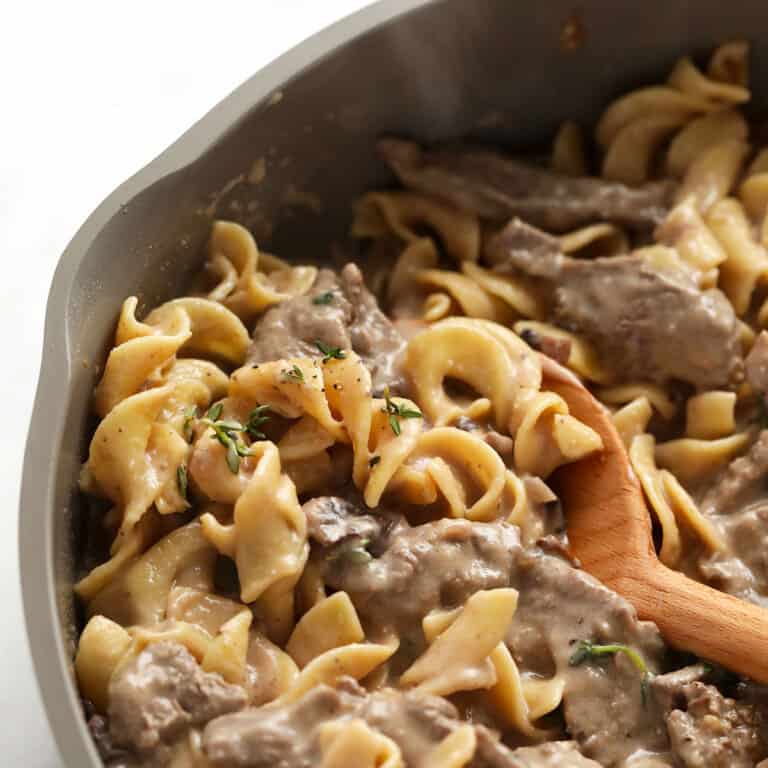 Easy Beef Stroganoff Recipe
This easy beef stroganoff recipe is made with a creamy sauce, tender beef, and is the perfect meal for any day of the week!
Ingredients
12

oz.

egg noodles

4

tablespoons

salted butter

separated

1/2

tablespoon

garlic powder

3/4

teaspoon

salt

separated

1/4

teaspoon

pepper

1-

lb.

flank steak

1

cup

diced crimini mushrooms

1/4

cup

red wine

1/2

large white onion

minced

3

cloves

garlic

minced

3

tablespoons

white whole wheat flour

2

cups

beef broth

1/4

cup

sour cream

1/3

cup

Greek yogurt

1/2

tablespoon

Worcestershire

1

tablespoon

fresh thyme
Instructions
Begin by bringing a large pot of salted water to a boil.

Add egg noodles and stir periodically until the noodles are cooked to al dente. Strain noodles, rinse them in cold water, and set them aside for later. 

Prepare the flank steak by placing the beef on a cutting board and covering it with parchment paper or plastic wrap. Pound the flank steak with a meat tenderizer until it is about 1-inch think. Slice the flank steak into thin strips against the grain of the meat. 

Place the beef strips into a bowl and sprinkle with garlic powder, 1/4 teaspoon salt, and pepper. Mix everything together so that all of the beef is covered in spices. 

Heat a large skillet or Dutch oven over medium/high heat. Add 2 tablespoons of butter. When the butter is melted and begins to bubble add the beef strips to the pan and sear them for 30 seconds. This is important. You do not want to overcook your meat. It will continue to cook when you add it to the stroganoff sauce.

Remove beef from the pan and set aside making sure to keep all the juices with the beef, too.  

Add another tablespoon of butter to the pan over medium/high heat. When the butter is melted add the crimini mushrooms and a pinch of salt. Sauté the mushrooms for 4-5 minutes. 

Deglaze the pan with the red wine and toss the mushrooms with the red wine. 

Next, add the white onion and garlic to the mushrooms and sauté for an additional 3-4 minutes or until the onions are translucent. 

Add the last 2 tablespoons of butter to the pan and stir. When the butter is melted add the flour to the mushroom mixture and mix until everything is covered in flour. 

Slowly add 1 cup of beef broth to the pan whisking everything together. The sauce should thicken quickly. 

Turn heat to medium/low and add in the sour cream, Greek yogurt, and Worcestershire. Whisk everything together. Slowly add in the last cup of beef broth, fresh thyme, and the rest of the salt.

Add in the strips of beef and turn the heat up to medium/high. Let the stroganoff sauce come to a boil and then simmer over low heat for 5 minutes. 

Finally, add in cooked egg noodles, toss, and serve with fresh cracked pepper.
Tips & Notes
Greek yogurt/sour cream: you can easily sub one for the other. So, feel free to use all sour cream or all Greek yogurt. 
Nutrition facts
Calories:
542
kcal
Carbohydrates:
58
g
Protein:
30
g
Fat:
21
g
Fiber:
3
g
Sugar:
6
g