This classic rib marinade recipe is perfectly savory and sweet with only 5 ingredients — an amazing complement to your baby back ribs. Enjoy!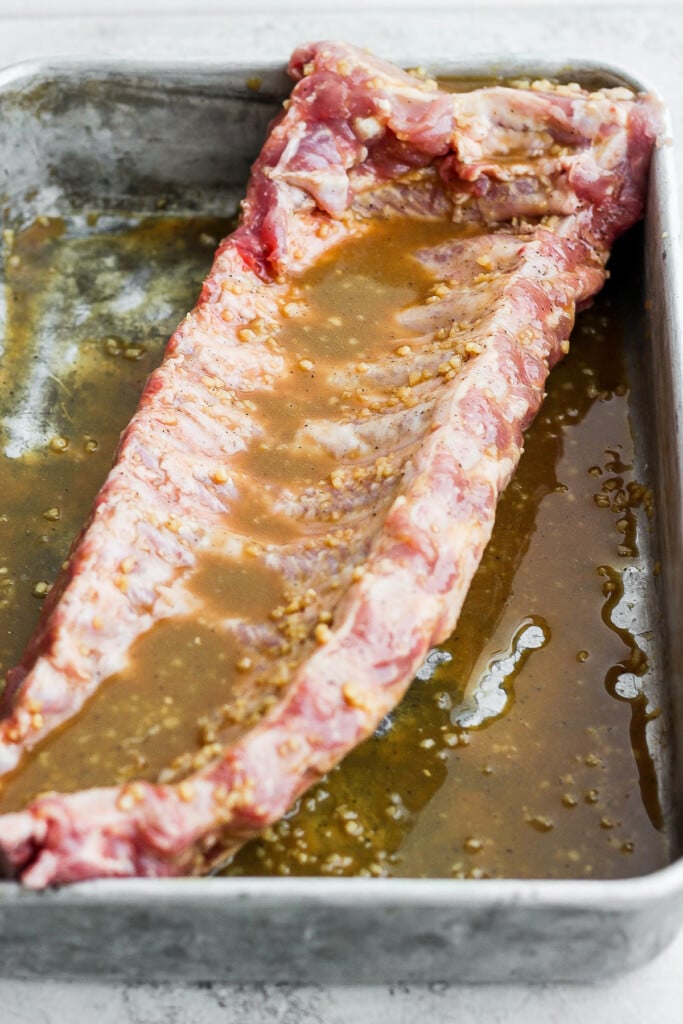 Our Go-To Rib Marinade Recipe
Say hello to the tastiest rib marinade you'll ever try! It's made with a few of our favorite things: maple syrup, Worcestershire sauce, dijon mustard, and garlic to name a few.
If you're big into grilling like us, you know that having good marinade recipes on hand is clutch because they infuse your meat with juicy flavors. Our steak marinade, grilled shrimp marinade, and pork tenderloin marinade are all ones to keep in your back pocket for summer grilling!
Why you'll love it!
So much flavor: when we say so much flavor, we mean it! This rib marinade recipe is basically a flavor bath for your ribs, and pairs perfectly with baby back ribs, grilled ribs or even sous vide ribs .
Saves time: in this recipe, we're recommending that you marinate your chicken overnight, which will ultimately save you time when you're ready to cook.
Juicy + fall of the bone ribs: speaking from experience, your baby back ribs are going to come out so juicy and tender.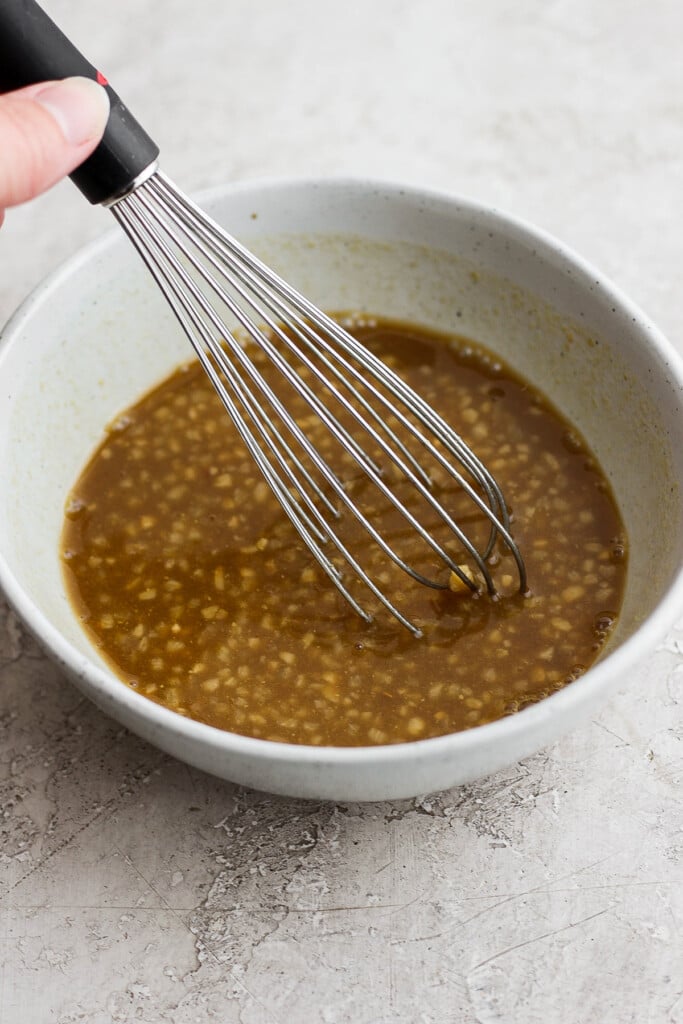 Featured Ingredients
All you need for this amazing rib marinade is 5 ingredients! The combination is a perfectly sweet and savory marinade that complements baby back ribs in the very best way. You need:
Maple syrup
Dijon mustard
Worcestershire sauce
Apple cider vinegar
Minced garlic cloves
Latest Marinade Recipes
More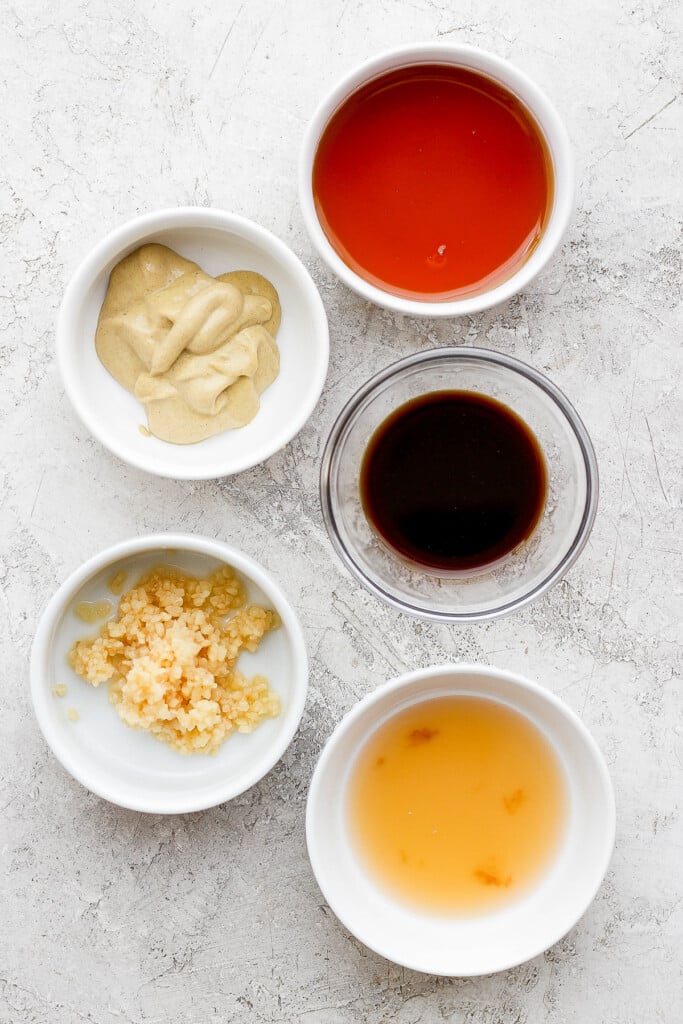 How to Marinate Ribs
Making this rib marinade is easy and can be done in less than 5 minutes.
Mix: measure out all of your ingredients and place them into a medium bowl. Whisk together to combine.
Transfer ingredients: transfer marinade into a gallon-size plastic or baking dish and submerge the rack of ribs. Make sure it's all covered in the marinade.
Marinate: marinate for around 12-18 hours for best results (overnight). If you're short on time, we suggest no less than 2 hours.
WHAT CUT OF MEAT DO YOU NEED FOR RIBS?
Make sure to pick up baby back pork ribs for this recipe (not spare ribs). This cut can be called baby back ribs or pork ribs in the grocery store. If you aren't sure, ask the butcher!
How long should I marinate baby back ribs?
We recommend marinating your baby back ribs for 12-18 hours for the best results. If you're short on time, we recommend no less than 2 hours. The longer you marinate your ribs, the more flavorful they will be.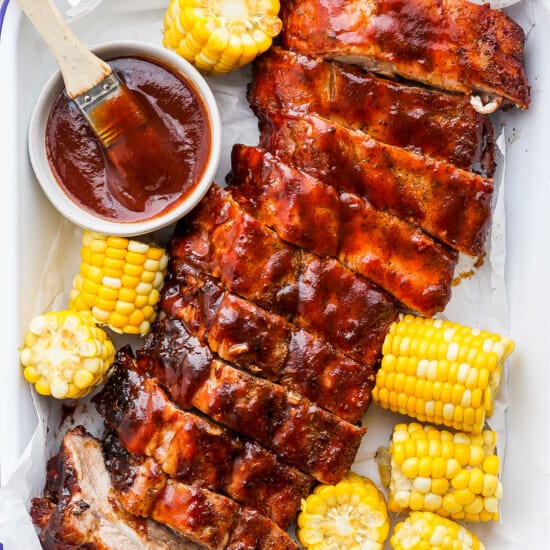 try it!
Baby Back Ribs
Use this rib marinade on our amazing baby back rib recipe. You'll love it!
get recipe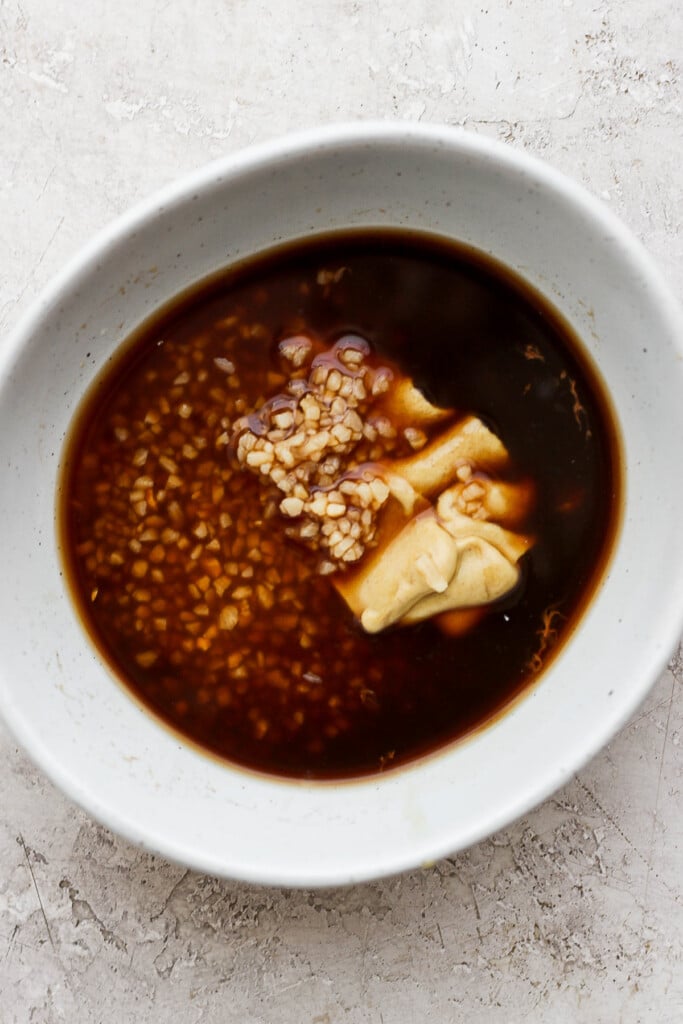 FAQs
Should ribs be marinated before cooking?

We recommend it! Marinating ribs before cooking them helps tenderize the meat, and makes them easier to pull off the bone. A win win!
How long should you marinate ribs?

For optimal flavor, we recommend marinating ribs overnight. If you're in a time crunch, never marinate the ribs for less than 2 hours.
What should you marinate ribs in?

Use our rib marinade recipe, of course! It features ingredients that enhance the flavor of the meat rather than cover it up.
Storage
Make sure to store your marinating ribs in the fridge to prevent food borne illness. Marinating ribs will keep in the fridge for up to 24 hours — then it's time to cook them!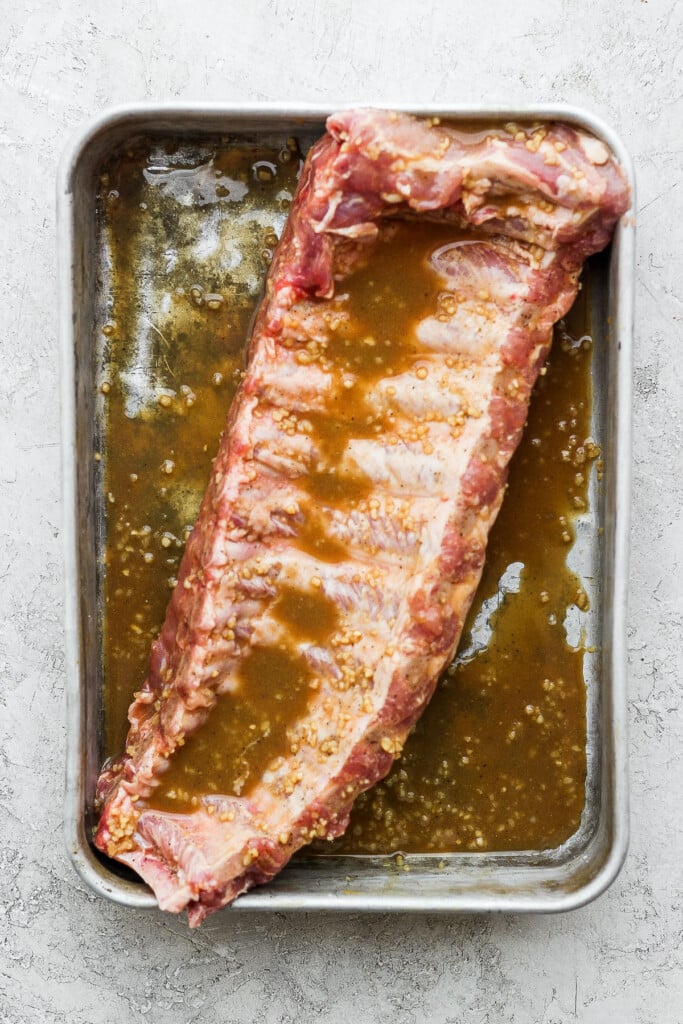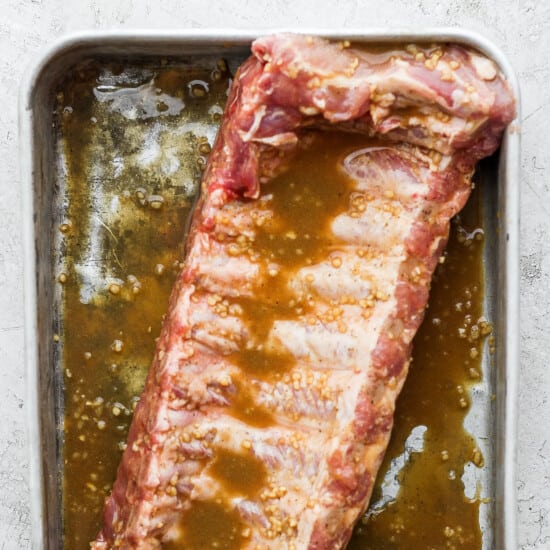 Rib Marinade Recipe
This classic rib marinade recipe is perfectly savory and sweet and made with only 5 ingredients — an amazing complement to your baby back ribs.
Instructions
First, prepare the rack of ribs. Remove the membrane from the ribs. To remove the membrane, slide a knife under the membrane (which is a white film layer) on the backside of a rack of ribs and then pull the membrane off with your fingers.

Massage the kosher salt and pepper into the ribs and set aside.

Make the rib marinade. Add all of the ingredients for the rib marinade to a bowl and whisk until combined.

Transfer the ribs to a gallon-sized bag or a 9×13-inch pan. Pour the marinade over the ribs. Be sure the ribs are covered in marinade. Flip the ribs meat side down, cover, and refrigerate the ribs for at least 1 hour or overnight for more tender and flavorful ribs.
Nutrition facts
Calories:
69
kcal
Carbohydrates:
16
g
Protein:
1
g
Fat:
0.3
g
Fiber:
0.4
g
Sugar:
13
g
Photography: photos taken in this post are by Erin from The Wooden Skillet.