You might mistake this Strawberries and Cream Oatmeal recipe for a sweet treat because it's fresh, flavorful, and tastes just like dessert.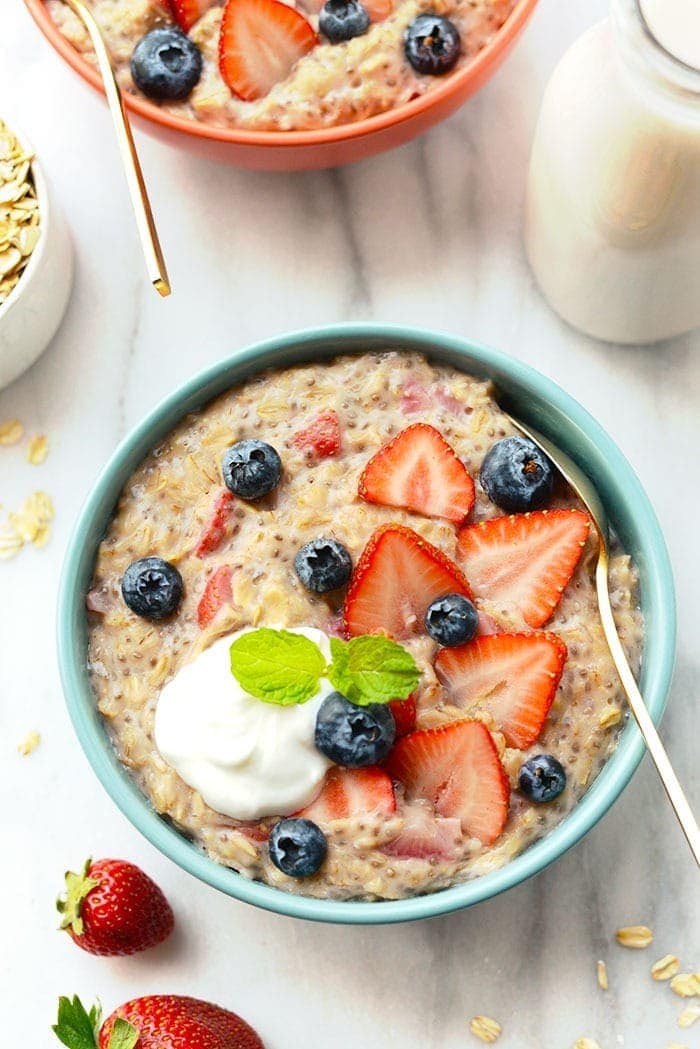 Stovetop Oats
I fell in love with stovetop oatmeal because of our Fluffy Banana Stovetop Oats. Perfectly creamy, thick & luscious, and healthy!
I'm excited to be sharing a new stovetop oatmeal recipe with you today and it involves two of my favorites things…1. strawberries and 2. cream.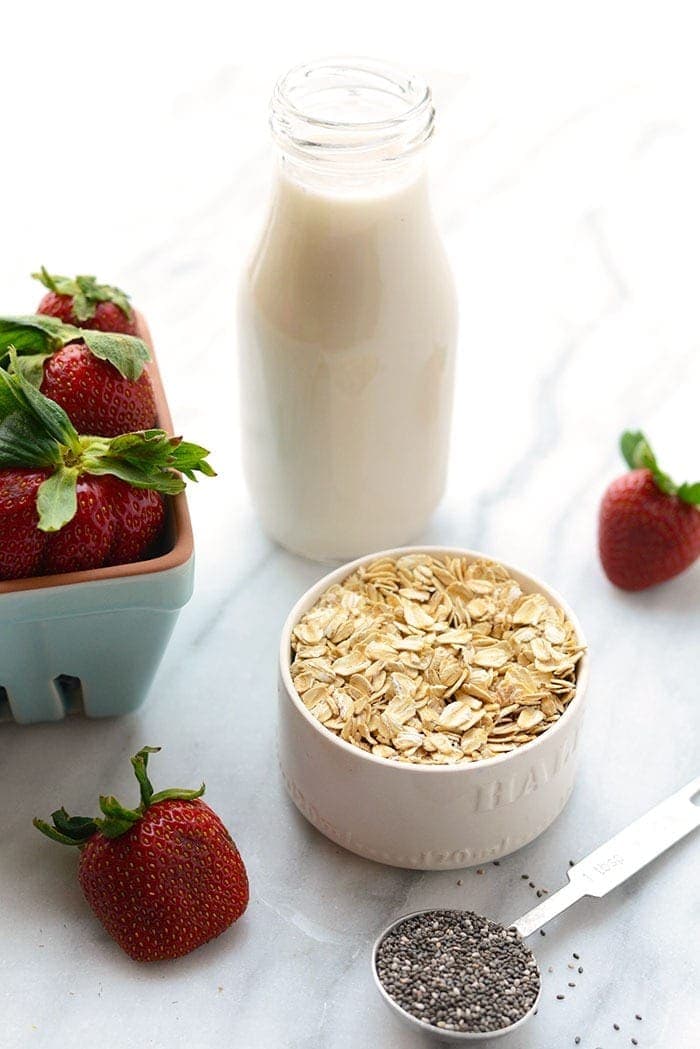 Strawberries and cream is a flavor combo that I just can't get over. I love the freshness of the berries and cream adds that aspect of indulgence that I just love.
This strawberries and cream oatmeal recipe is indeed made on the stovetop and eaten warm. It's also gluten-free and vegan, too! In order to get started, you need 7 simple ingredients.
What You Need
rolled oats

– rolled oats are my favorite kind of oats to use for stovetop oats. They cook quickly and the texture is amazing.
almond milk– any kind of milk will work for this recipe! Even cow's milk or lactose-free milk.
banana- banana helps add all-natural sweetness to this recipe without adding refined sugar.
strawberries- we recommend using fresh strawberries, but frozen will do the trick, too!
chia seeds– chia seeds add volume to stovetop oats and I promise you that you don't want to skip them. Plus, they add omega-3 fatty acids, too!
vanilla extract– when in doubt, add vanilla extract. A touch of vanilla brings out the lovely fruity hues of the strawberries.
maple syrup– maple syrup is warm-tasting all-natural sugar that is going to make your oatmeal taste like dessert!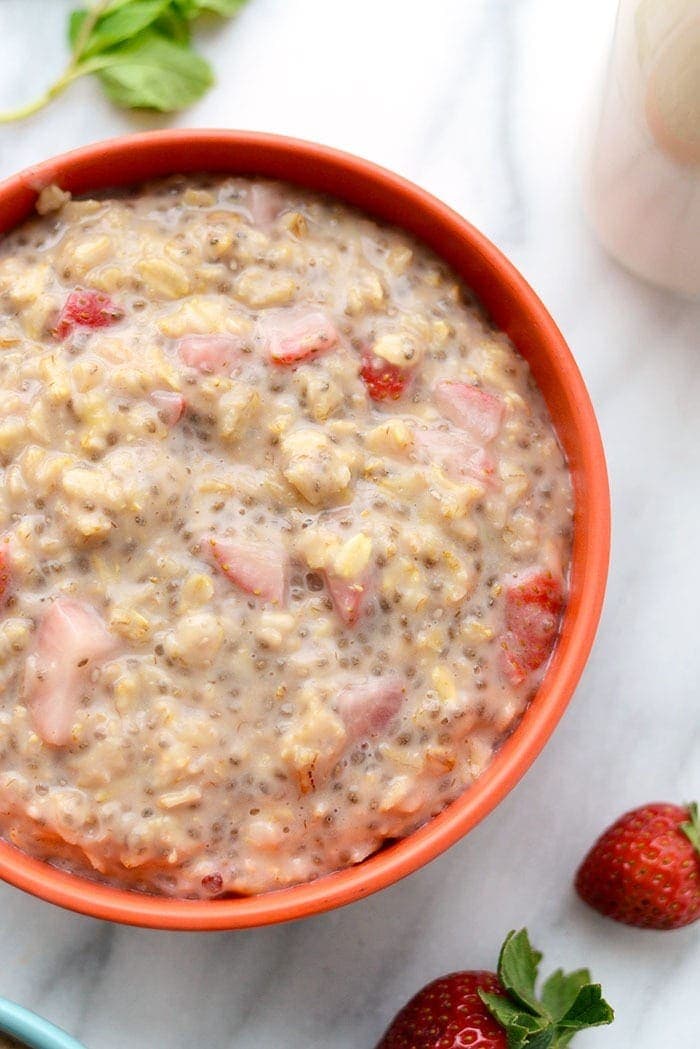 Just look how pretty these oats are!
I can't get over how chia seeds make things expand so much! The more the merrier…who's with me!?
Fun Flavor Swaps
This is a great base recipe for you to take and play with. Here are some fun swaps for you to try!
Strawberries: Try using 2 cups of a different fruit such as blueberries, peaches, nectarines, or apples for a completely different vibe!
Maple Syrup: No maple on hand? No problem! Feel free to swap in honey or agave instead.
Vanilla Extract: Instead of vanilla extract, try adding almond extract or even a little bit of orange or lemon extract.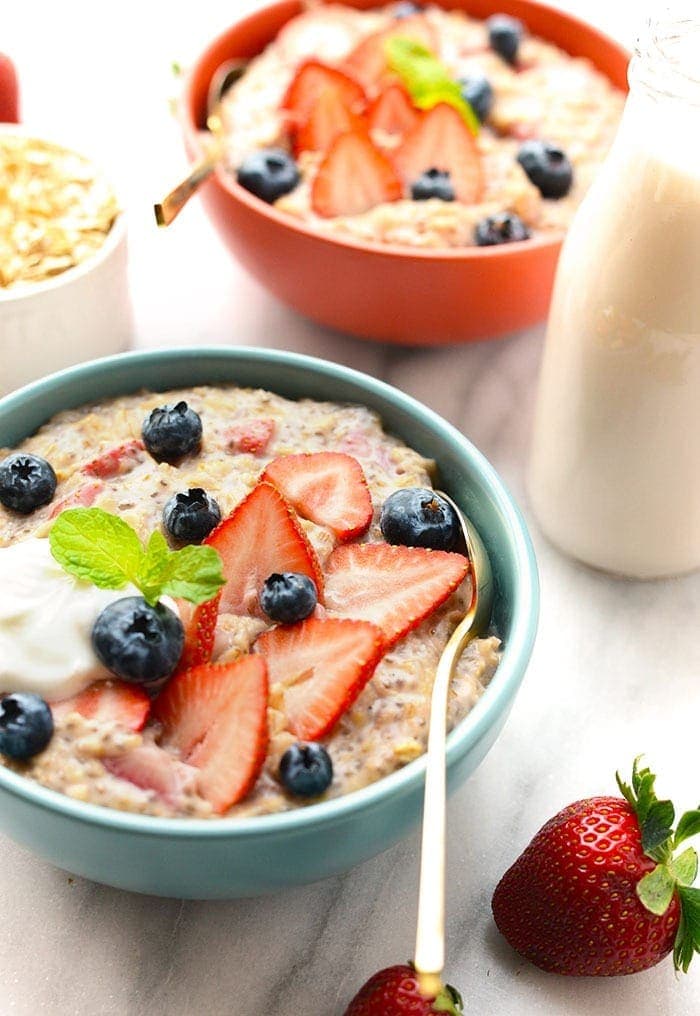 PS: if you were hoping for an overnight oats version of this recipe– try our Strawberry Vanilla Overnight Oats recipe for a similar vibe. It's eaten cold instead of hot! PS: Here are 8 of our favorite overnight oats recipes from FFF!
More Oatmeal Recipes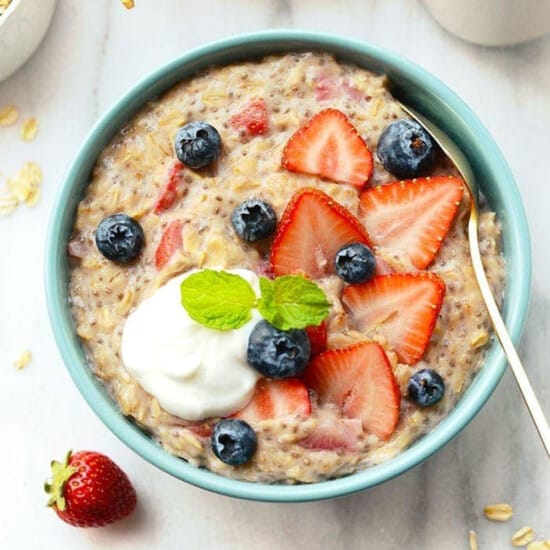 Strawberries and Cream Oatmeal
This strawberries and cream oatmeal recipe is a healthy breakfast idea that's both gluten free and vegan. Oh, and kid-friendly, too!
Instructions
Place all ingredients into a medium pot and bring to a boil over medium/high heat, stirring often.

Once boiling, turn down to low and continue cooking for around 10 minutes or until thick and creamy. Make sure to continue stirring throughout the entire process.

Top with more berries, chia seeds, and coconut cream.
Tips & Notes
Nutrition information does not include toppings.
Nutrition facts
Calories:
291
kcal
Carbohydrates:
51
g
Protein:
8
g
Fat:
7
g
Fiber:
10
g
Sugar:
15
g