All you need are 3 wholesome ingredients to make these delicious chocolate peanut butter brown rice crispy treats, a dessert the entire family will love!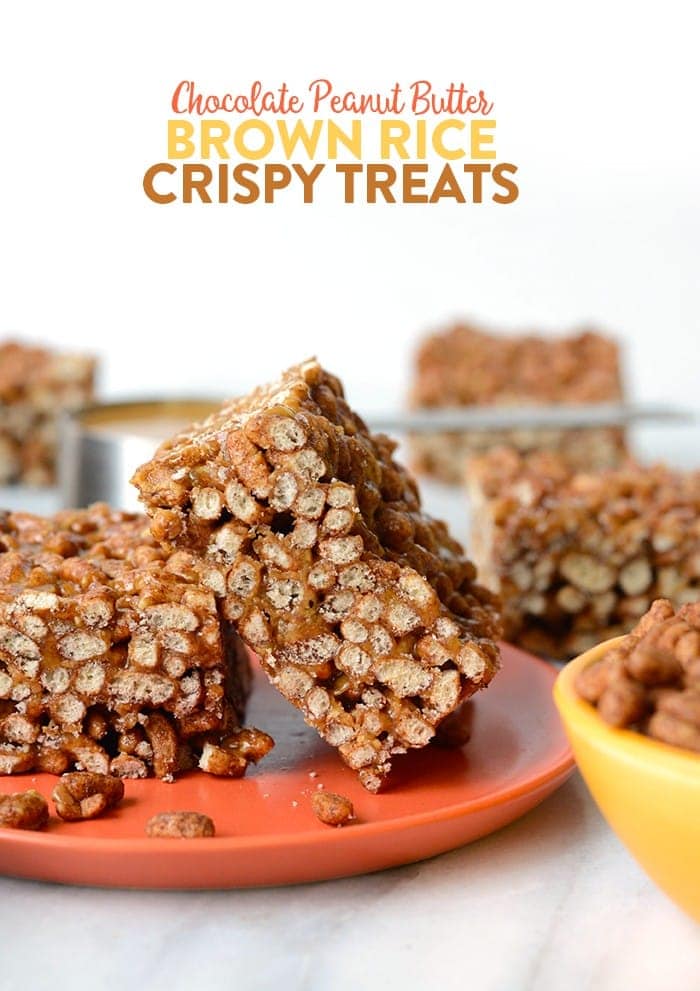 Chocolate Peanut Butter Brown Rice Crispy Treats. Say that 5 times fast.
I'm just going to come out and say it- I'm a rice crispy treat whore. It's true…I love them and I make them on the regular. Since I'm Fit Foodie Lee, I've obviously Fit Foodiefied the classic rice crispy treat recipe and made them much healthier than the classic…but don't kid yourself, I ate the real thing this weekend. I got to Man Candy's house and he had a big ol' platter of them sitting on the counter. I couldn't stop myself and I had 2 right away…and then 1 after dinner 😛
Nothing like pure sugar and unrefined grains 😛
But seriously- that's why I come up with healthy desserts that mimic the real thing. So you can eat a dang rice crispy treat and not feel bad for a second. So what exactly did I use to make these babies?
If you're feeling sassy you can add chocolate chips, vanilla, nuts, etc. I kept my simple so I could make a base recipe and then deviate from that every time I make them. IE: switching up the peanut butter for cashew or almond butter! I tested this recipe a few times and I wanted to share my favorite cereals to use for this: One Degree Sprouted Brown Rice Cacao Crisps and Love Grown Comet Crispies. LOVE both of those cereals like woh.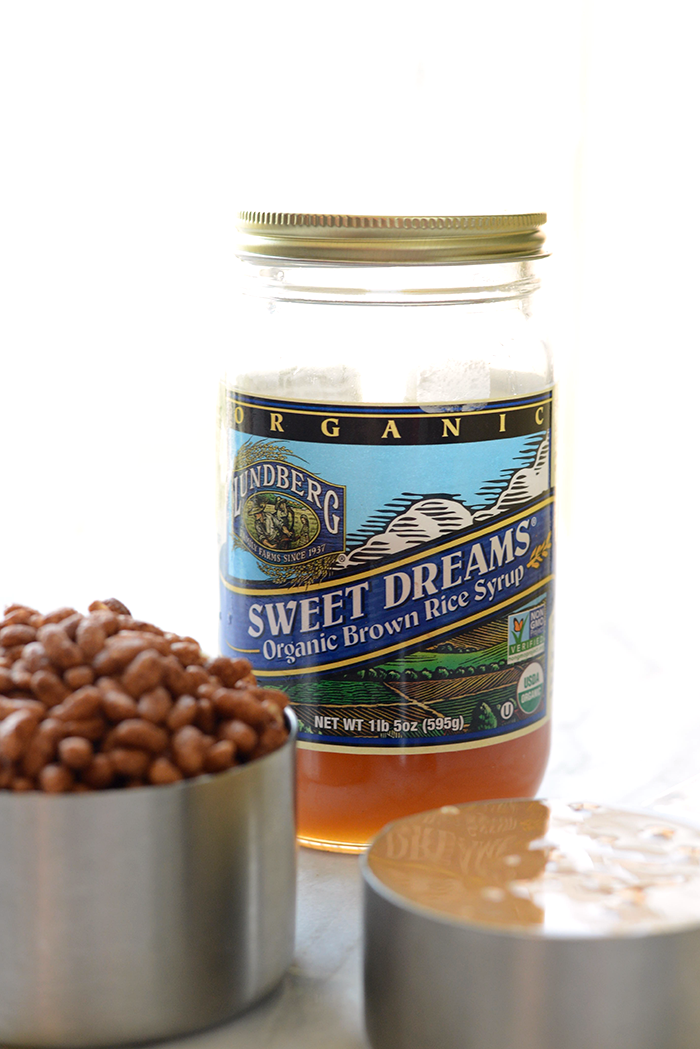 If you watched the above video- then you will understand how epically easy this recipe is to make. No need to melt anything…literally just throw everything in a bowl and mix. I will say that for best results- you should store this dessert in the freezer so that they stay held together better! Honestly, they are super tasty partially frozen.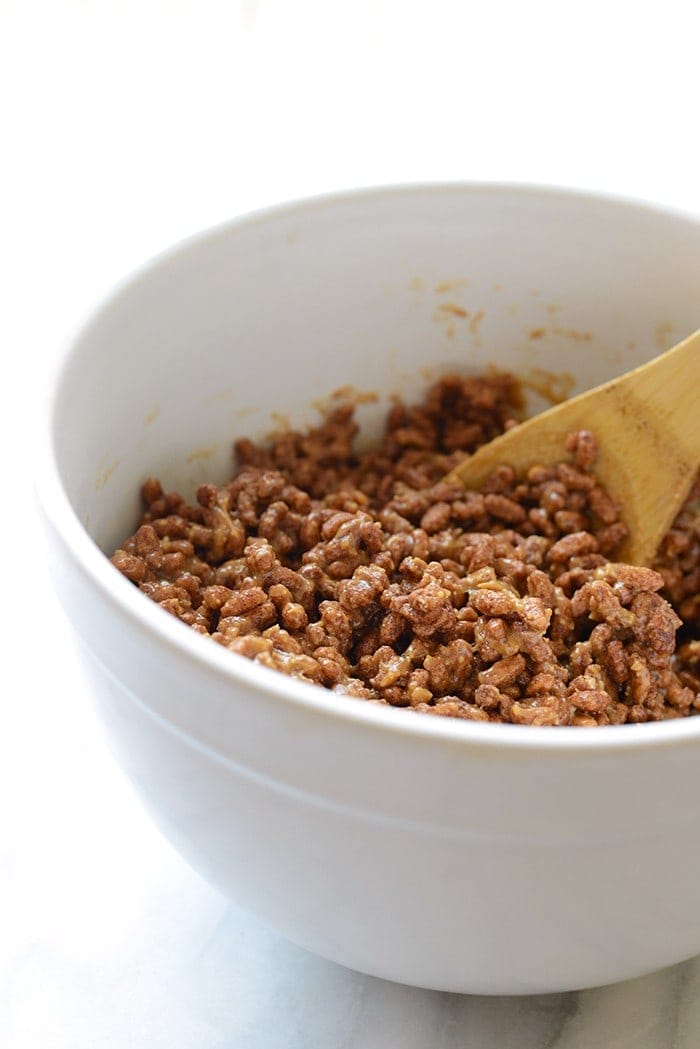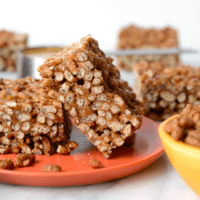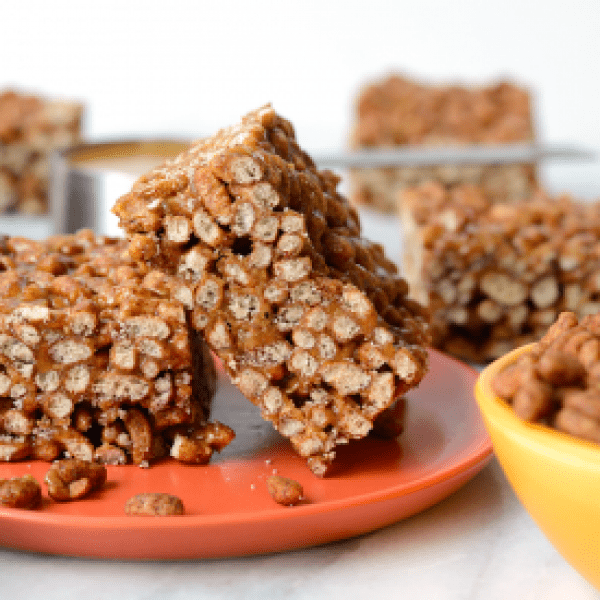 Chocolate Peanut Butter Brown Rice Crispy Treats
Yummy chocolate peanut butter rice crispy treats made with nutrious ingredients for a healthy dessert.
Instructions
First, spray a large bowl with coconut oil cooking spray. Then, add in 4 cups of brown rice chocolate cereal, 1/2 cup peanut butter, and 1/2 cup brown rice syrup. Spray a wooden spoon and mix until thoroughly combined.

Spray an 8 x 8-inch square pan with coconut oil spray and then transfer the mixture into the pan. Use your hands or a spatula to press the mixture firmly into the pan. For best results, spray your hands with coconut oil cooking spray so they don't stick!

Place pan in the freezer for 30-60 minutes to firm up a bit before cutting. Slice into 9 squares.
Tips & Notes
*Storage: for best results, store rice crispy treats in the freezer. Lay them on a baking sheet and freeze for around 2 hours before transferring into a freezer safe gallon-size plastic bag.
Nutrition facts
Calories:
207
kcal
Carbohydrates:
30
g
Protein:
4
g
Fat:
8
g
Fiber:
2
g
Sugar:
13
g
If you are looking to get more protein out of these babies- try adding 1/4 cup of your favorite chocolate protein powder. I've done this before. Check out these Protein Rice Crispy Treats I did for Daily Burn a while back. SO GOOD. If you want other healthy rice crispy treat variations check out some oldies from FFF —> Almond Butter Rice Crispy Treats, Healthy Peanut Butter Rice Crispy Treats, Single-Serve Sun Butter Rice Crispy.

Happy Monday!