Looking for the most delicious and healthy kid-friendly snack? These Almond Butter Brown Rice Crispy Treats are made with whole grains, healthy fats, and a ton of crunch!
This recipe is a STAPLE in the Fit Foodie kitchen. It's one of Lin and my favorite snacks to munch on during the work week. I feel like there are so many things that I make over and over again and just never get around to posting on FFF. This is one of those things that hasn't gotten the proper amount of love on the blog!
I am obsessed with all things crunch. Ask anyone who knows me IRL…I will find almost any excuse to put chips on my lunch even if it doesn't really make sense to serve with chips. This recipe will give you all the crunch in the world. Have you ever had brown rice crisps
? It's just like Rice Crispies, except made with brown rice instead of white! The brand that I like the best is called One Degree
. It's actually made with sprouted rice and sweetened slightly with coconut sugar. YAS.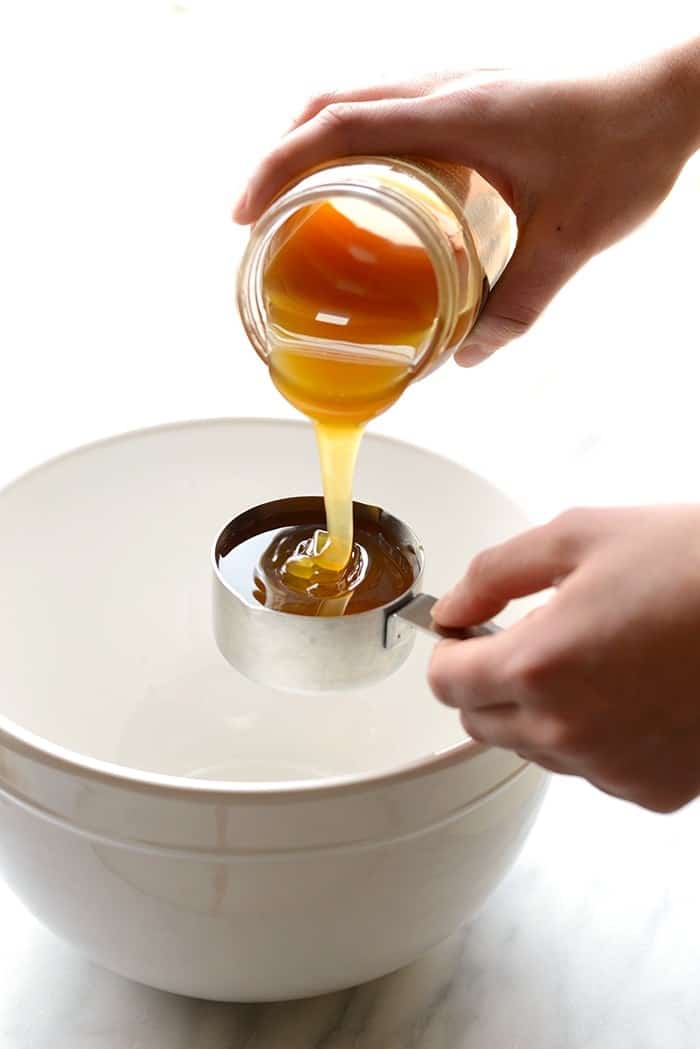 I'm sure you are wondering what in the world I used to hold these suckers together since refined-sugar pumped marshmallows aren't a good option…
BROWN RICE SYRUP. I love the stickiness of this stuff and it's not too sweet. I wouldn't' suggest subbing for honey, agave, or maple syrup because the consistencies are much less sticky compared to brown rice syrup.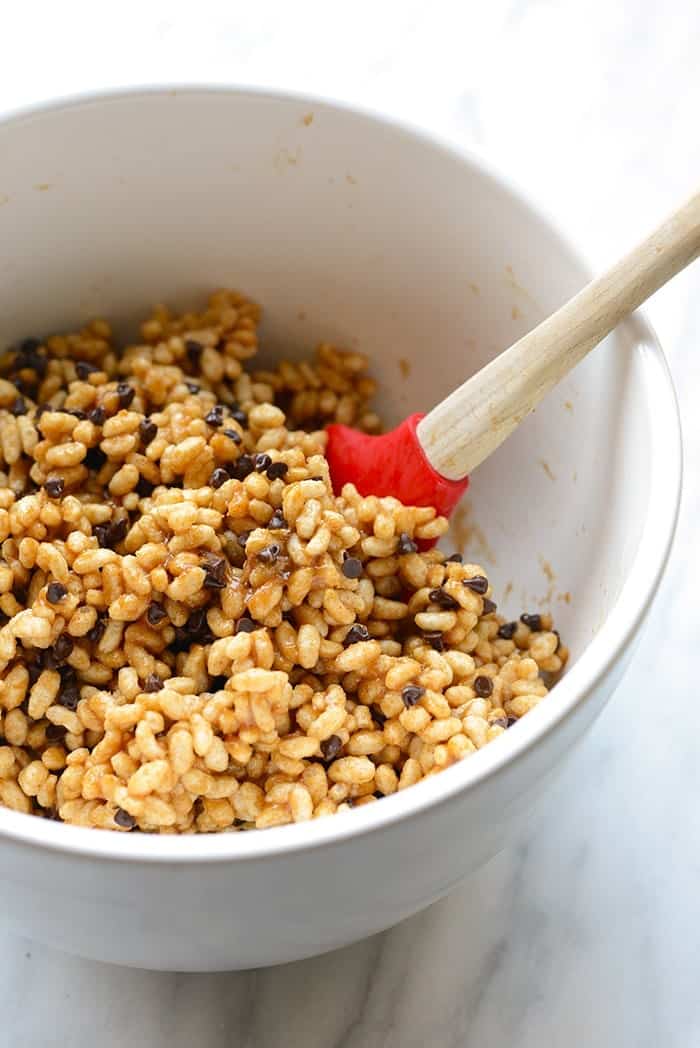 If you are in the mood for a different nut butter…feel free to sub! I've made this with peanut butter and it's obviously quite DELICIOUS. Same with other add ins…feel free to get creative and sub the chocoalte chips for dried fruit, whole nuts, and/or seeds! Have fun, people.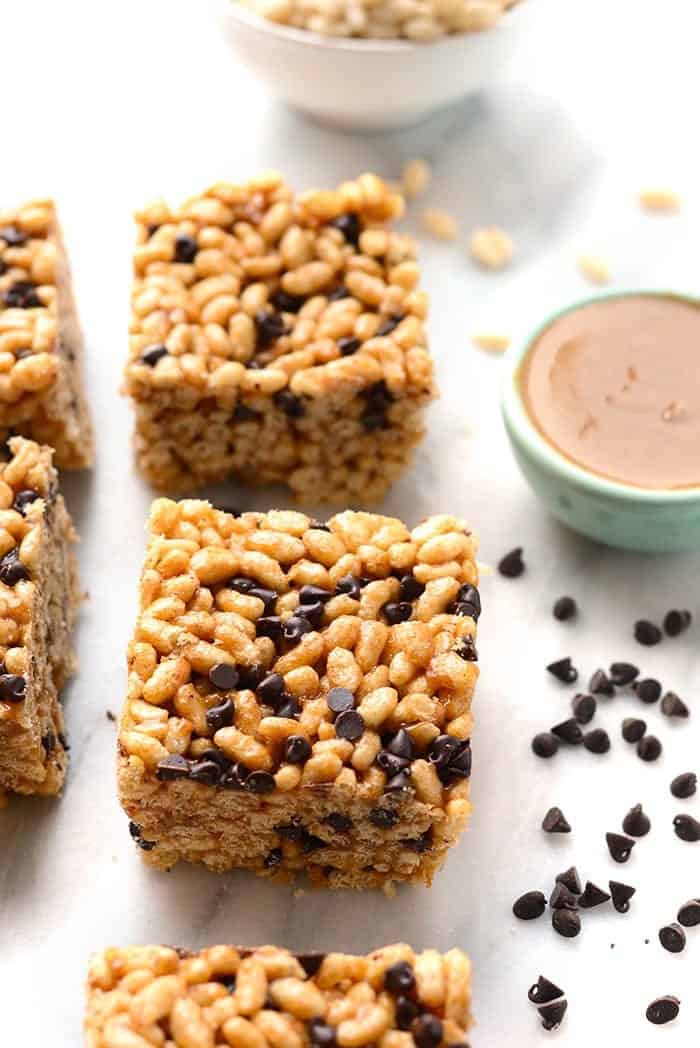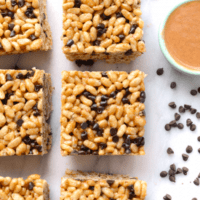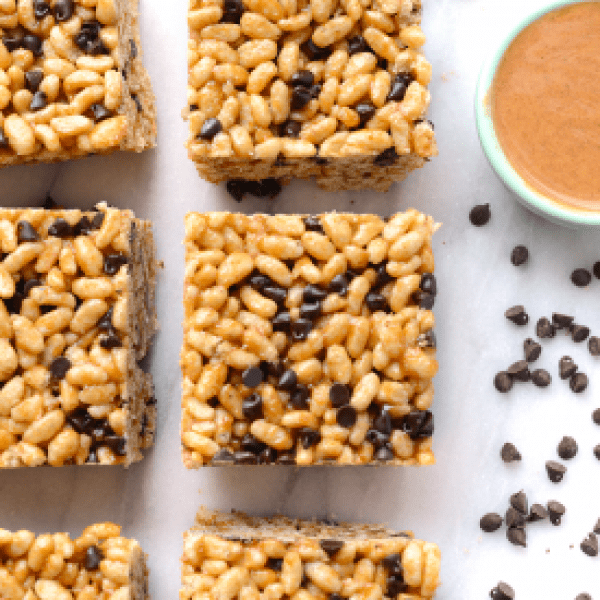 Almond Butter Brown Rice Crispy Treats
Prep:
10 mins
Total:
10 minutes
Fat
11
Carbs
44
Protein
4
Instructions
First, spray a 9×9 inch cake pan with coconut oil cooking spray OR line with parchment paper. Set aside.
Place almond butter, brown rice syrup, vanilla extract, and salt in a large bowl and mix until combined. Add in brown rice crisps and mix until the crisps are generously coated. Finally, add in mini chocolate chips and mix.
Transfer mixture into cake pan and use a spatula to press into pan, making sure everything is compacted.
Place in freezer for at least 60 minutes. Then, use a sharp knife to cut around the edge of the pan, popping it out as a whole. Slice into 9 squares.
Nutrition Facts
Serving Size:
1/9
Calories:
284
Sugar:
9
Fat:
11
Carbohydrates:
44
Fiber:
2
Protein:
4