With just four simple ingredients you can make your own HEALTHY Strawberry Banana Fruit Leather recipe at home without the use of a dehydrator! Bonus, this homemade fruit leather only requires a few ingredients and contains no refined sugar or flavors.
Please tell me you are a woman (or man!) child who still eats fruit snacks and fruit leathers. I AM I AM. It's a rule in this house that we always have fruit snacks on hand. Yes, they are a little bit dirty and probably packed with sugar (because we like the REAL kind…if you know what I mean), but they are SO GOOD. I'm all about that gummy.
More recently I've been exploring with making my own at home. I do have a dehydrator, but I know that not everyone does, so we decided to share a fruit leather recipe that doesn't require one. All you need are 4 simple ingredients + an oven to get started!
Homemade Fruit Leather Ingredients
strawberries
banana
honey
lemon juice
Hey, guess what? I bet you could pronounce and understand every ingredient listed above. That's the glory about making your own fruit leather…there's no added preservatives, artificial flavors, or refined sugars involved. Guilt-free deliciousness, right here people. I bet the kids will love them, too!
This homemade fruit leather recipe is super easy. All you have to do is puree everything together, pour it onto a parchment paper-lined baking sheet, and bake it at a low heat for around 6 hours.
Easy peasy lemon squeezey.
Recipe
VIDEO: Homemade Strawberry Banana Fruit Leather
Prep Time:

20 mins

Cook Time:

7 hours

Total Time:

7 hours 20 minutes
Ingredients
1

lb. strawberries (~

4 cup

s, halved)

2

medium bananas (~

2 cup

s sliced)

1/4 cup

lemon juice

2 tablespoon

s honey
pinch of salt
Instructions
Preheat oven to 180ºF. Prep a standard-size, rimmed baking sheet by covering it with parchment paper.
Next, place all ingredients in a food processor or high speed blender and process until everything is pureed together and smooth.
Pour strawberry banana mixture evenly over the baking sheet. Use a spatula to spread into the corners and then lift the sheet up and pound a few times to really make sure everything is even*. It should be around 1/4 of an inch thick.
Bake at 180ºF for 6-8 hours.*
Fruit leather is done when it easily separates from the parchment paper and is not soft in any places.

Cut leather into 12 strips using a scissors.

. Store in an airtight container for up to 2-4 weeks.
Notes
*Make sure puree is as evenly spread out as possible so that it bakes evenly. If some parts are thicker than others, the leather will be done in some spots and still sticky in others.
*Every oven is different. If you have a convection oven, your fruit leather will cook faster (4-5 hours). If you have a standard oven (6-8 hours).
Nutrition
Serving Size:

1/12

Calories:

61

Sugar:

10

Sodium:

1

Fat:

0

Carbohydrates:

16

Fiber:

2

Protein:

1
Similar
Once your fruit leather is cooked all the way through, you can cut it into strips, leaving the parchment paper on for later! They will stay good for up to a month!
DIY Fruit Strip Tips
The key to getting the most perfect fruit leather is making sure the puree is evenly spread on the cookie sheet. You want to make sure that it's the same thickness throughout so that it bakes evenly.
The lower the temperature inside your oven, the better! You're essentially sucking out all of the moisture from the fruit, so don't rush it!
Don't overbake your fruit leather or it will be too dry. Everyone's oven is different, so make sure you keep your eye on it.
Have fun with flavor combinations and come up with your own fruit leather recipe combinations! Swap out the strawberries for raspberries or banana for mango.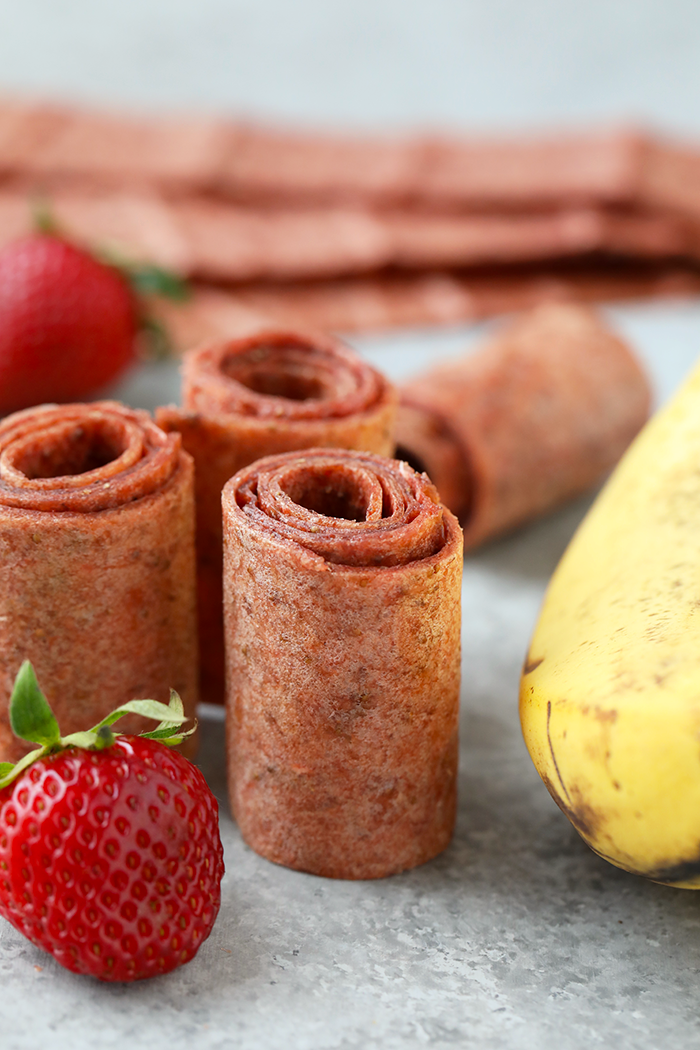 Have you ever made homemade fruit leather? Do you own a dehydrator?