This is a sponsored post written by me on behalf of The North Face for IZEA. All opinions are 100% mine.
Are you ever stuck at the gym with absolutely no idea what workout to do that day? Or traveling and don't have the man power to think up a workout?
You guys.
Mountain Athletics from The North Face App is actually the best thing that was ever created. It's completely FREE for IOS users and has a plethora of expert created, 6-week strength and conditioning training programs specific to outdoor sports including, running, skiing, climbing and mountaineering. Not only does the app provide you with 6-weeks worth of workouts depending on the sport you choose, but they all come fully equipped with how-to videos explaining proper technique and how to complete each workout. It's legit like having a personal trainer inside of your phone!
Since I am not actively training for anything, I opted into the "general fitness" category of workouts. One thing that I really like about the workouts inside of this plan is the simplicity yet challenging workouts that are provided. I also love that every workout comes with a timer and explicit directions/video on how to do each move! You're able to keep track of how long each workout takes you for those who like to measure progress!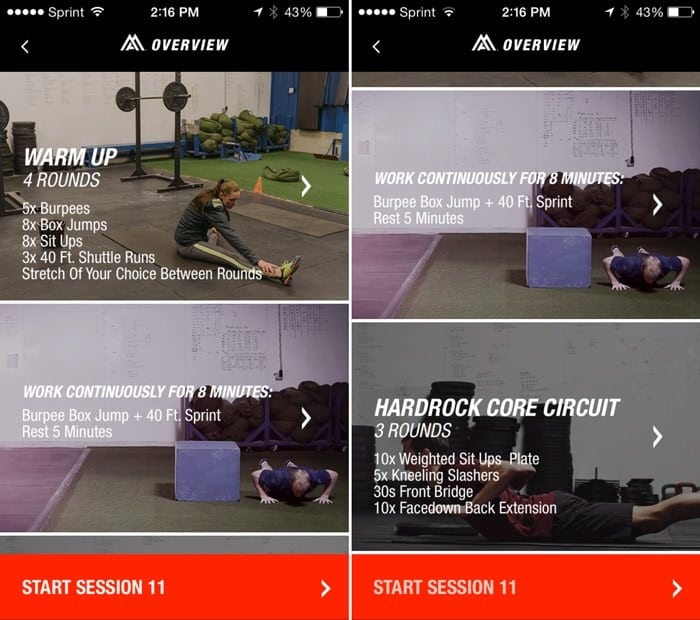 I wanted to share one of my favorite workouts from the app. It's called "Work Capacity/Core Strength." You guys know how much I love timed workouts. Especially when it's only 8 minutes of work! Go big or go home because you've only got 8 minutes to really make it count. Since I was doing this workout in my backyard, I modified a few things with the equipment (or no equipment) that I had!

Burpee Box-Jump 8-Minute Workout
Warm Up
*4 rounds* 5 burpees, 8 box jumps, 8 sit ups, 3 x 40 feet ft. shuttle runs, stretch
Workout Continuously for 8 minutes
1 burpee, 1 box jumps, 40 ft. sprint (note: you can also do The Northface's Burpee Box Jump variation seen in THIS video)
– Rest 5 minutes –
Hardrock Core Circuit
*3 rounds* (10x weighted sit ups, 5x kneeling slashers, 30s front bridge, 10x facedown back extensions)
This workout shows up a few times during the "general fitness" training program. The continuous workout part increases by a minute each time. All I can say, is that 8 minutes of burpees, box jumps, and sprints feels like an eternity!
Other features of the Mountain Athletics App include:
Monitored Progress
Detailed session calendars
Workout schedules
Coaching messages
Tutorials
If you guys are in need of some direction when it comes to your workouts…I highly suggest checking out the Mountain Athletics App. It's FREE! Download the Mountain Athletics App —> HERE.