The February Fit Foodie Cooking Club is here, and this month's recipe of the month is – Mexican Beef Skillet!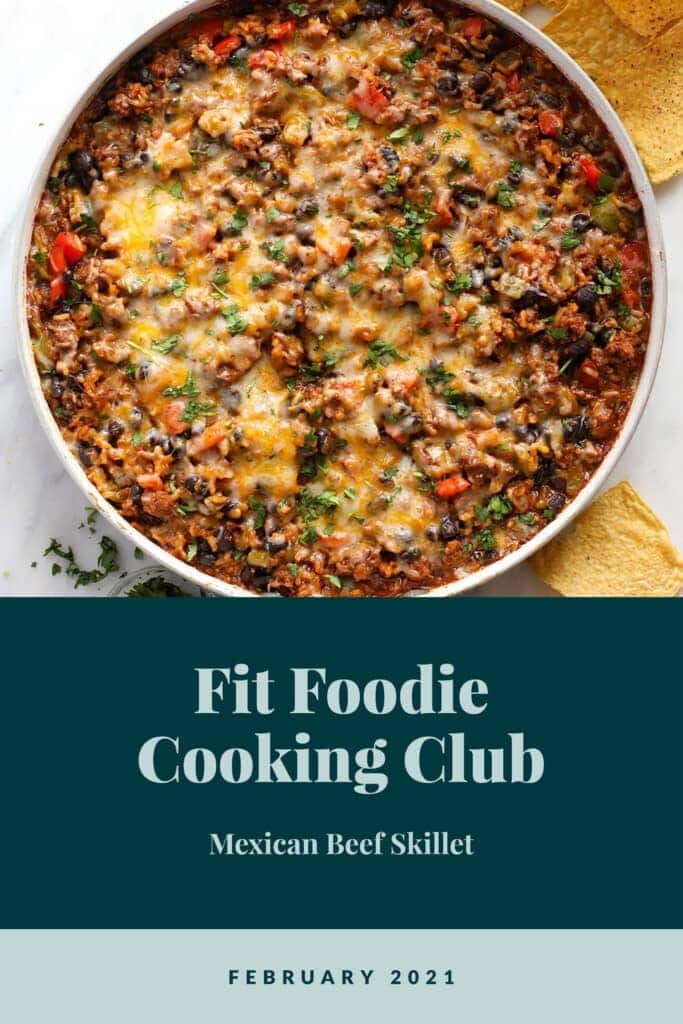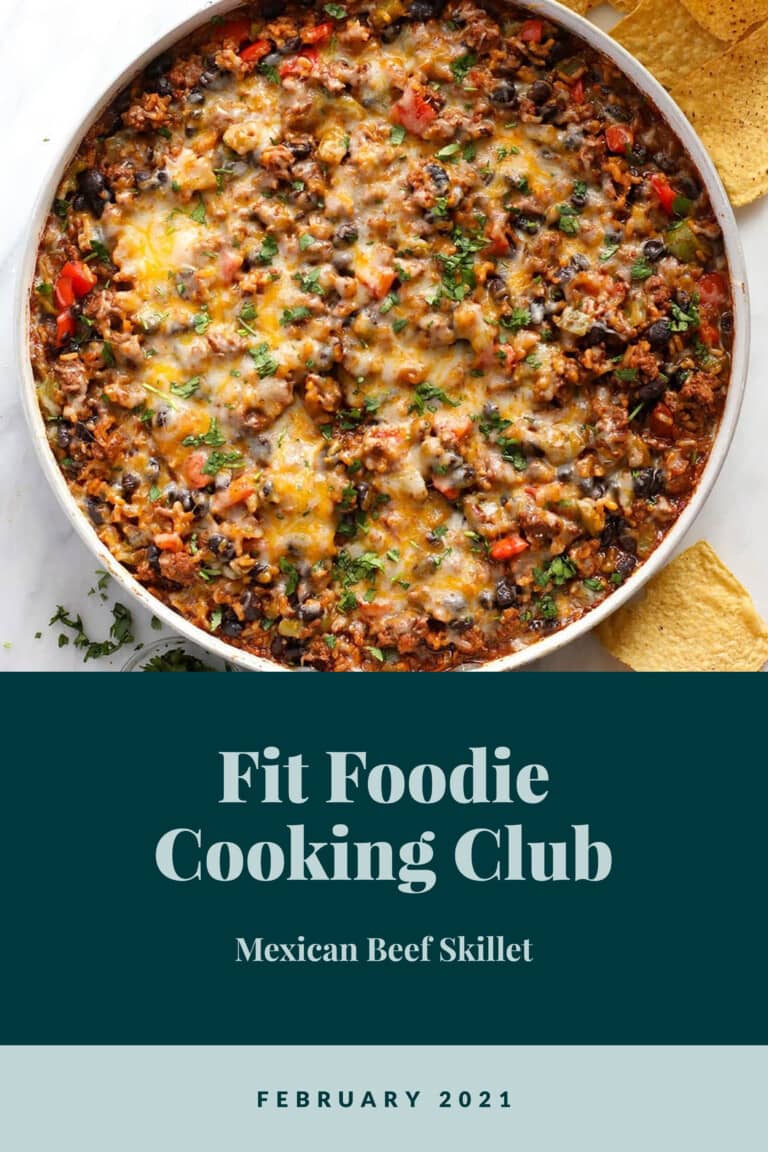 What is the Fit Foodie Cooking Club?
The Fit Foodie Cooking Club is a monthly cooking challenge to get you in the kitchen cooking from scratch!
We thought there was no better way to bring our virtual community together than to all make the same recipe each month to celebrate real food.
February 2021 – The Details
Read the below details VERY carefully as we want to make sure your entry counts! If you have questions, please leave them in the comments of this post.
Recipe of the Month
February 2021's recipe of the month is a popular Fit Foodie Finds dinner recipe – Mexican Beef Skillet!
Our Mexican Beef Skillet combines ground beef, beans, veggies, quick-cooking rice, and taco seasoning for a delicious dinner or game-day meal. It whips together in less than 40 minutes. Here's more info:
Naturally gluten-free
27g protein/serving
Ready in less than an hour
Kid-friendly
Great as leftovers!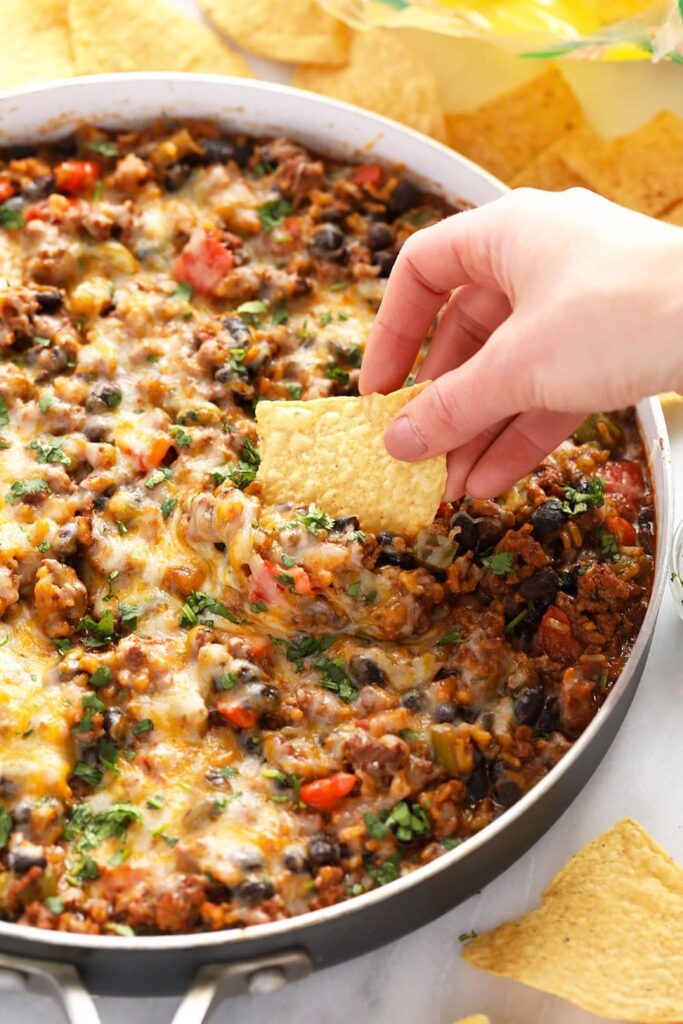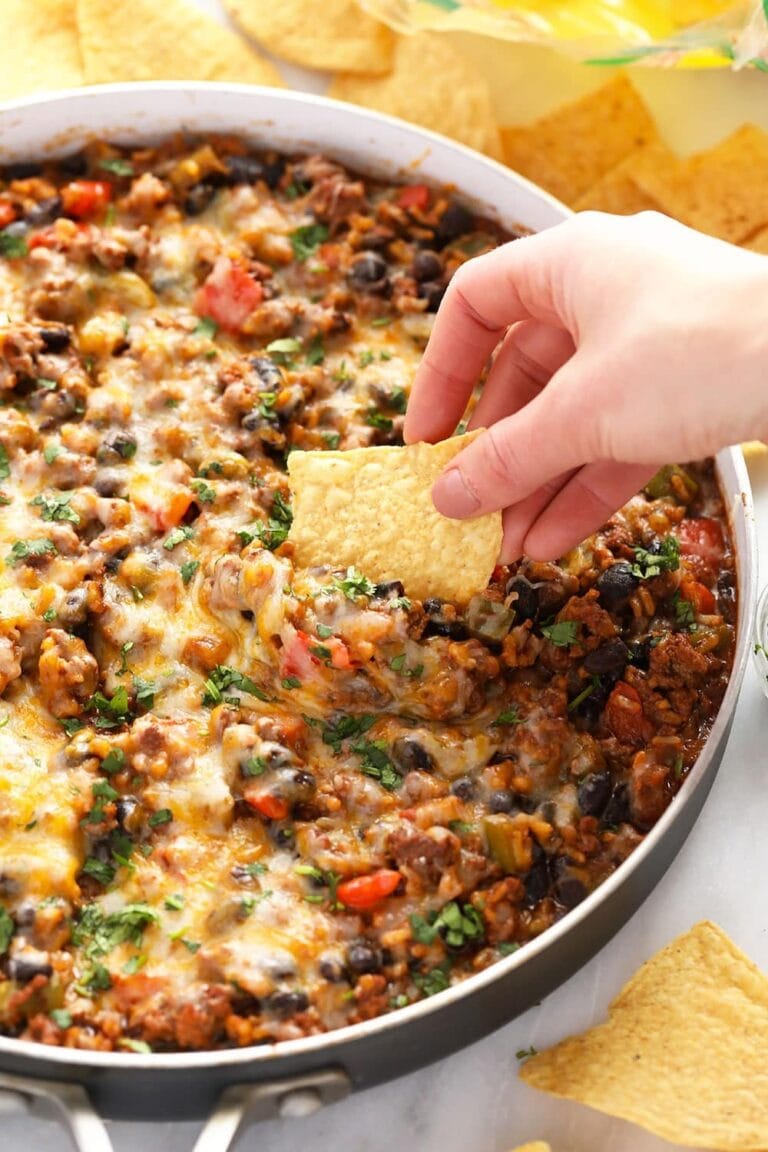 Ingredients You'll Need
To make our Mexican Beef Skillet, here are the main ingredients you need:
olive oil
minced garlic
yellow onion
large bell peppers
ground beef
homemade taco seasoning
tomato sauce
green chiles
black beans
quick-cooking brown rice (quick-cooking white rice works too!)
beef broth
Mexican shredded cheddar cheese
Tools You'll Need
Since this recipe only requires one pan, there are very minimal tools needed. Check it out:
Large skillet or Dutch Oven: We used a large skillet that had medium depth, but another pot like a Dutch oven would work perfectly.
Measuring Cups: Make sure to have a set of measuring ups and measuring teaspoon/tablespoons on hand.
Cooking Utensil: We love using a wooden utensil for out skillet recipes, but you can also use a spatula, too.
Recipe Tips
Use instant rice and ONLY instant rice: this recipe only works with instant (AKA minute or quick-cooking rice). If you use normal long-grain or short-grain rice of any kind the luid ratio will be different and so will the cook-time. The brand we used the brand Minute Rice and both white and brown work.
Homemade taco seasoning is alwasy better: we keep out homemade taco seasoning on hand at all times for recipes just like this! However, if you don't have our taco seasoning you can always use a store-bought taco seasoning packet.
Option to swap/add more veggies: this recipe calls for yellow onion, bell pepper, green chiles and black beans. Feel free to use red onion, any color bell pepper, jalapeños for a hotter kick instead of green chiles, and any other bean such as pinto instead of black beans.
Any kind of ground meat works: don't love ground beef? Try this recipe with ground chicken, ground turkey, or even a plant-based ground such as our favorite by Good and Gather! If you do plan to use a meat that is lower in fat, make sure to use a little olive oil to saute the meat in so it doesn't stick to the pan.
Let simmer low and slow: once you have all of your ingredients in the pan, bring to a boil over medium/high heat. Then, turn the heat down to low, cover the skillet, and let it simmer for around 20 minutes or until the rice has softened and the majority of the liquid has absorbed.
How to Enter
Now that you know how to make the recipe, it's time to submit your creation!
Take a photo of your recipe.
Leave a comment on the Mexican Beef Skillet blog post with a photo of your creation letting people know how it went. We'd love a star-rating, but it's not required. Make sure to leave your name and email in the comment form because this is how we'll contact the winners!
join the fit foodie cooking club on facebook!
Join in on the Fit Foodie Facebook fun and become a member of our FREE Facebook Group. The Fit Foodie Cooking Club group on Facebook is a way to share your cooking creations and make new like-minded friends online.
Important Dates
Monday, February 1, 2021 – the first day you are eligible to submit an entry.
Tuesday, February 23, 2021 – the last day to submit your photo and comment.
Wednesday, February 24, 2021 – the winners will be randomly selected and announced HERE in this blog post and on social media.
The Prize
2 participants will each win a $100 Target gift card. The selection will be random and based on comments that are received between February 2021 and February 23, 2021.
Winners will be announced on the last Wednesday of the month (February 24, 2021) via social media and THIS blog post.
Charity of the Month
Ovarian Cancer Research Alliance
Each month we'll select a different charity to support. February 2021's charity of the month is OCRA. We'll be doubling the match from our giveaway winners to donate $400 to OCRA.
OCRA not only helps fund ovarian cancer research, but they also act as a voice for the ovarian cancer community advocating for patients. They also support patients and families navigating this horrible disease.
We specifically chose this the Ovarian Cancer Research Alliance in honor of Lee's mother-in-law who is an ovarian cancer fighter and survivor.
DONATE
We would love for you to support our monthly charity and donate what you can.
If you feel so inclined, donate to the Ovarian Cancer Research Alliance HERE.