Cheesy Potato Casserole is a midwestern holiday staple. Our recipe is made with frozen hash browns, a homemade cheese sauce, and…more cheese on top!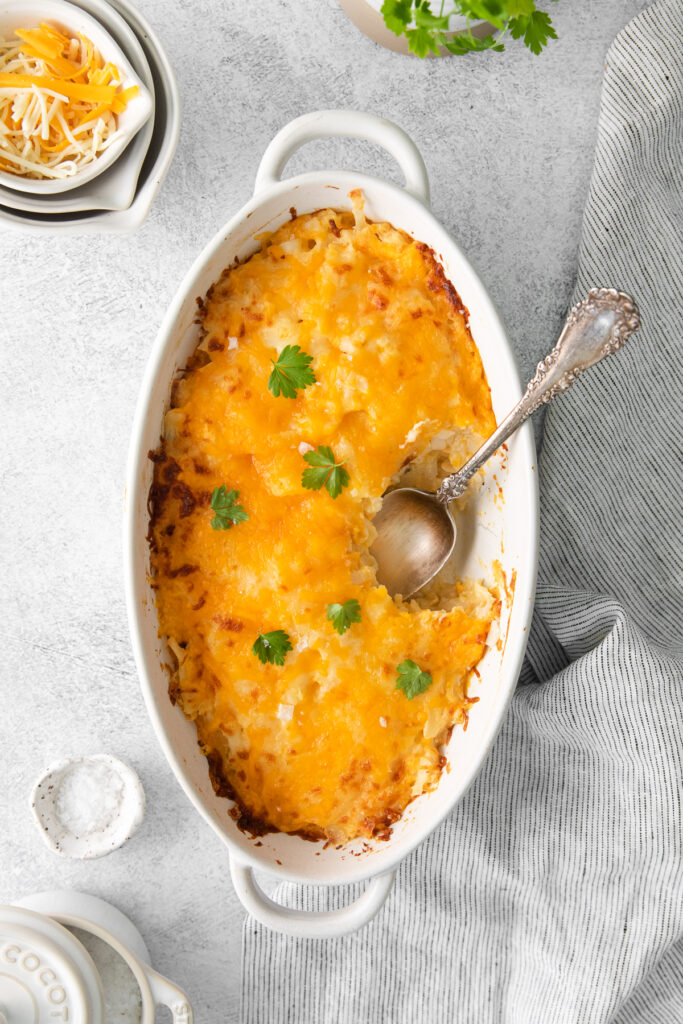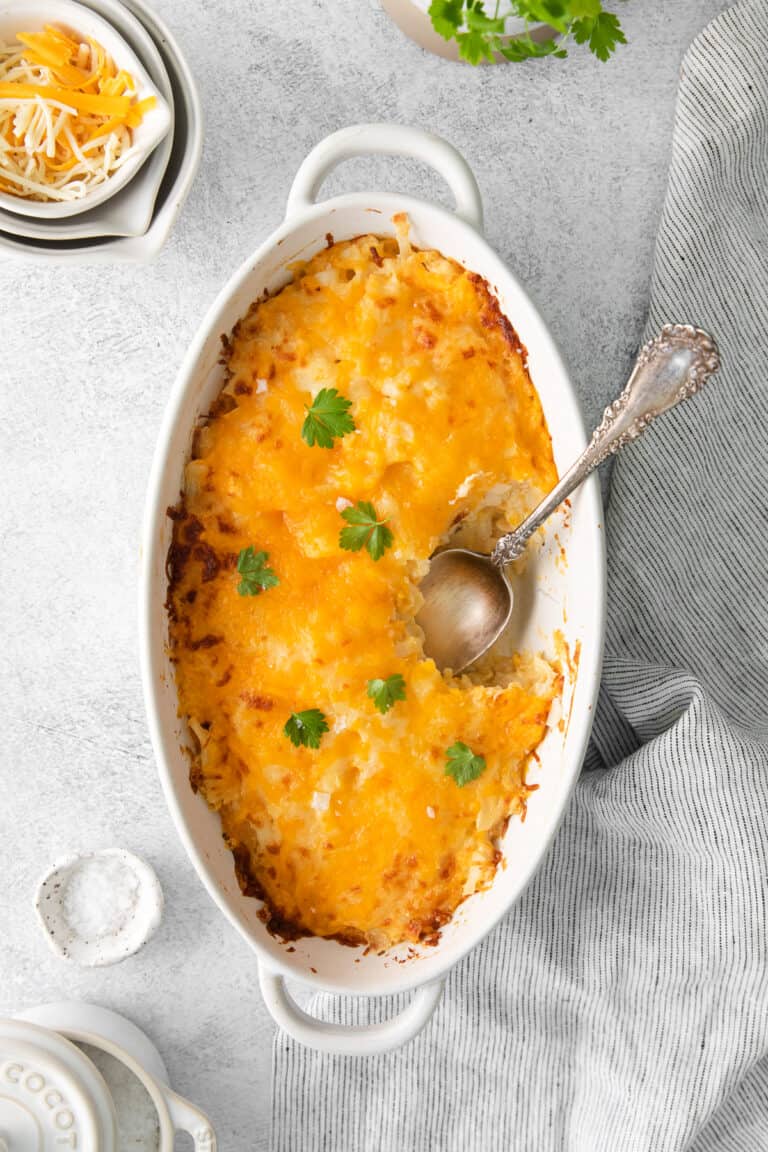 Homemade Cheesy Potato Casserole
We're honoring our sister site, Cheese Knees, with this epic cheesy potato casserole recipe! It's made 100% from scratch and a midwestern staple that we enjoy at pretty much every holiday or event.
Classic Wisconsin cheesy potato casserole is made with either shredded or cubed hashbrowns, tons of cheese, and either cream of mushroom soup or cream of chicken soup. We, on the other hand, decided to opt out on the cream of mushroom soup and make our own epic cheese sauce!
Why? Well, we're all about cooking from scratch to eliminate all those fillers and add real, delicious flavor!
Why You'll love it!
100% made from scratch: there is no canned creamy soup involved in this recipe. We'll teach you how to make a cheese sauce from a roux instead.
Serves a crowd: this recipe serves 9-12, so it's perfect for the holidays or big gatherings.
Easy and cheesy: this recipe is easier than it looks. Oh, and super cheesy.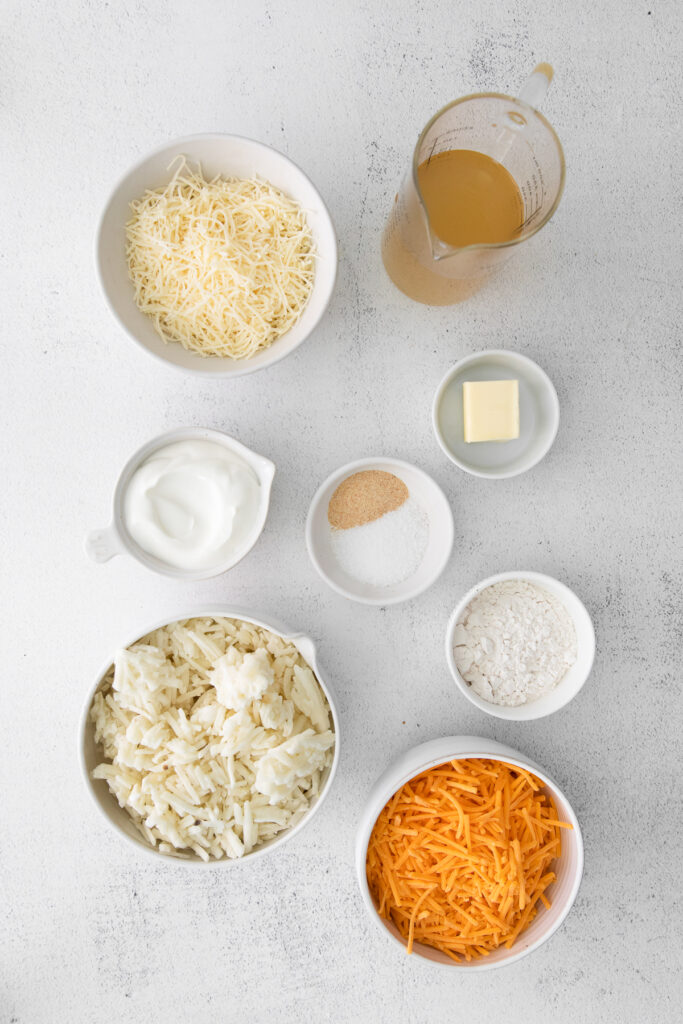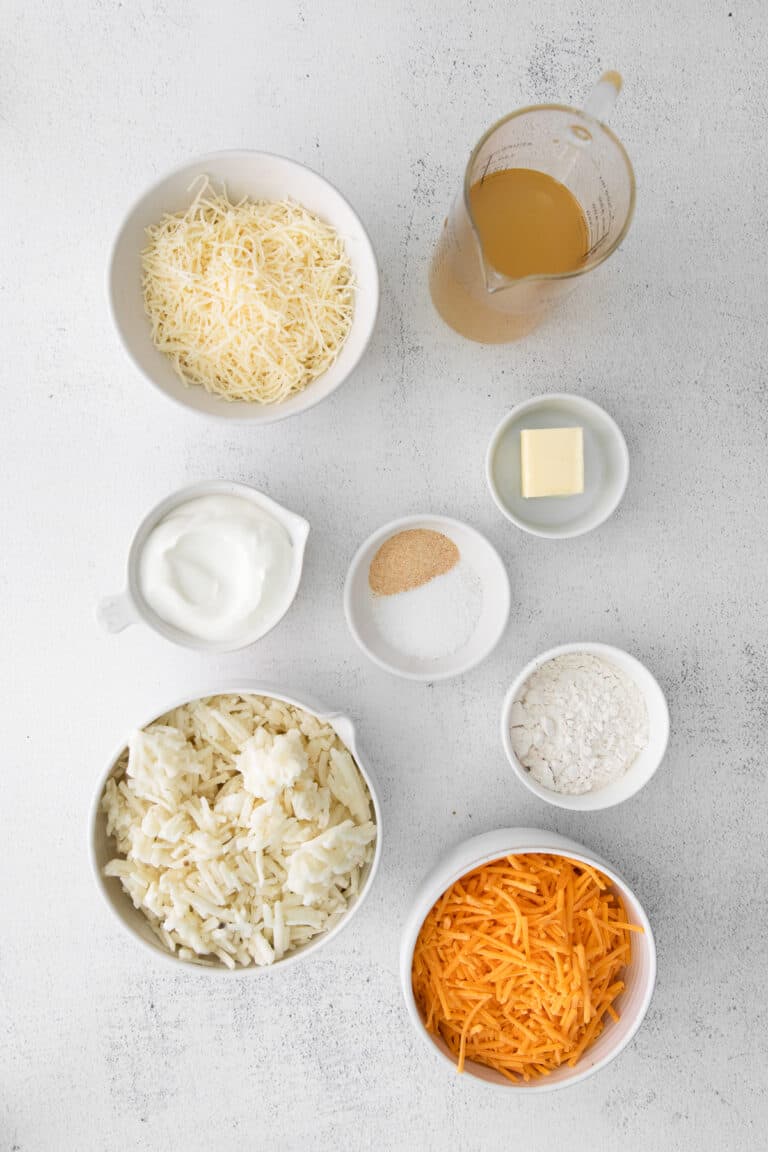 Ingredients You Need
Shredded frozen hashbrowns: we kept things super simple and used frozen shredded hashbrowns instead of shredding our own.
Swiss cheese: we recommend buying a block of swis cheese and shredding it yourself.
Cheddar cheese: freshly shredded sharp cheddar cheese for this recipe.
Spices: we kept things simple with salt and garlic powder.
Butter: butter is needed to make the roux.
Flour: flour is needed to make the thick roux.
Chicken broth: a little broth is going to extend the life of your cheese sauce and make it more volumnous.
Sour cream: sour cream gives the cheese sauce a little pizzaz and tang.
Can I shred my own hashbrowns? Feel free to use fresh potatoes in this recipe instead of frozen. We used frozen becuase it takes the elbow grease out of it!
#1 Tip – Shred Your Own Cheese
Our #1 tip when cooking with cheese is to shred your own cheese! Freshly shredded cheese not only tastes better, but it melts into a cheese sauce so much better, too!
Simple Swaps
Cheese —> while we want you to keep the shredded cheddar cheese, feel free to swap the shredded swiss for mozzarella, Colby jack, gouda, or even a Mexican shredded cheddar blend.
Flour —> the only kinds of flour we recommend swapping the all-purpose for are white whole wheat flour or an all-purpose gluten-free flour blend to keep it g/f.
Chicken broth —> any kind of broth works for this recipe. If you're looking to keep it vegetarian, we suggest veggie broth.
Sour cream —> want to lighten things up a bit? Feel free to swap the sour cream for Greek yogurt.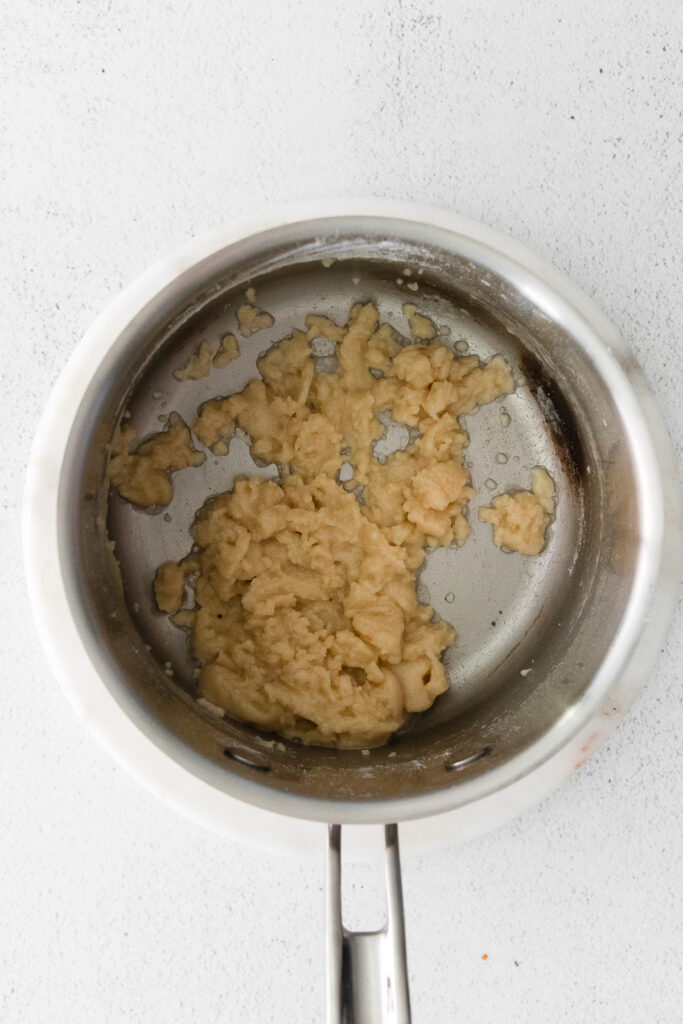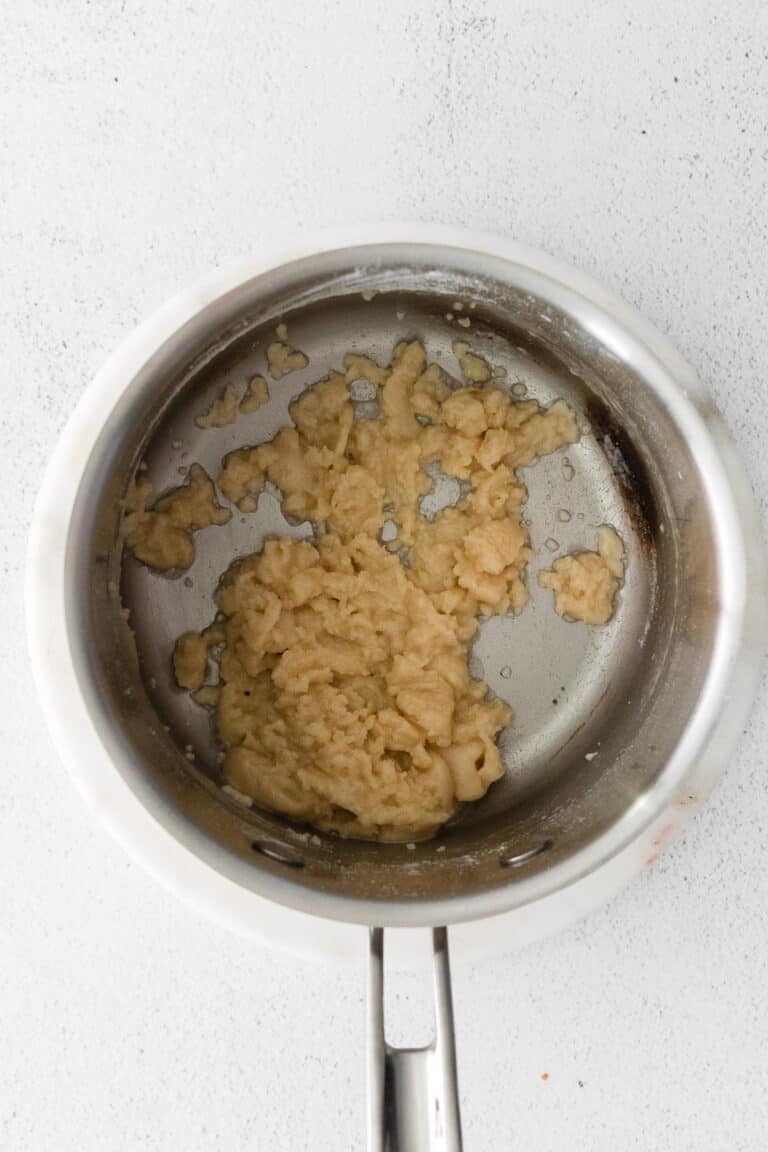 How to Make Cheesy Potato Casserole
Now that you know we're making this cheesy potato casserole recipe from scratch (AKA sans store-bought creamy soup), we're going to walk you through how to do it!
Combine shredded hashbrowns and cheese
Add shredded hashbrowns, shredded cheese, garlic powder, and salt to a 9×13-inch casserole dish. Mix everything together and set aside.
Make Roux
Melt butter over medium/high heat. Then add in flour and whisk until a crumble forms. Slowly add the broth and mix constantly until there are no lumps and a thick roud has formed.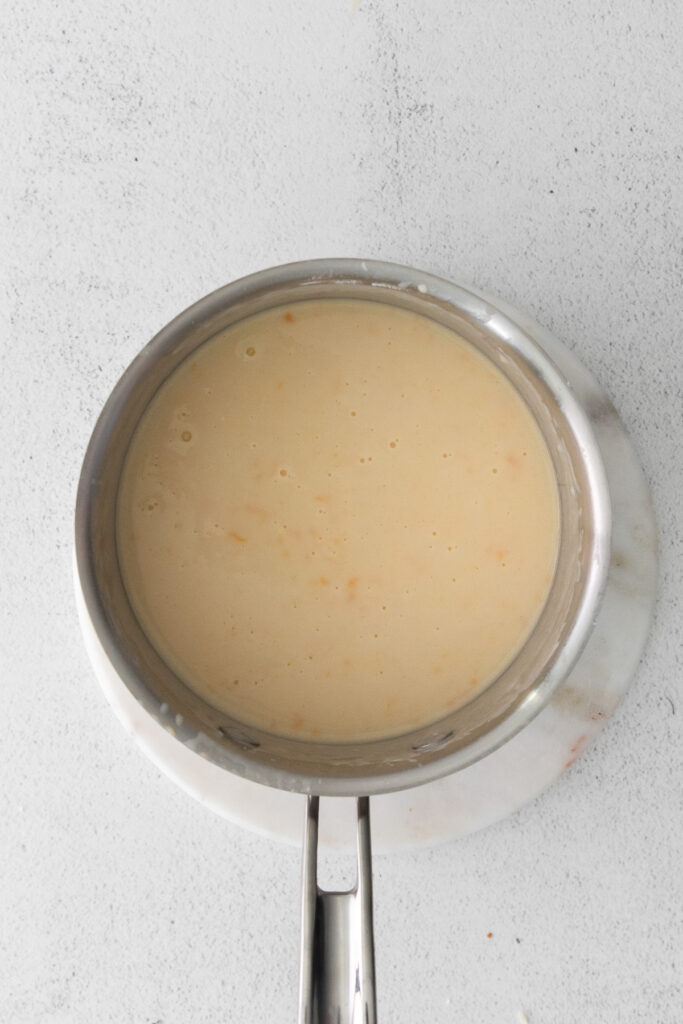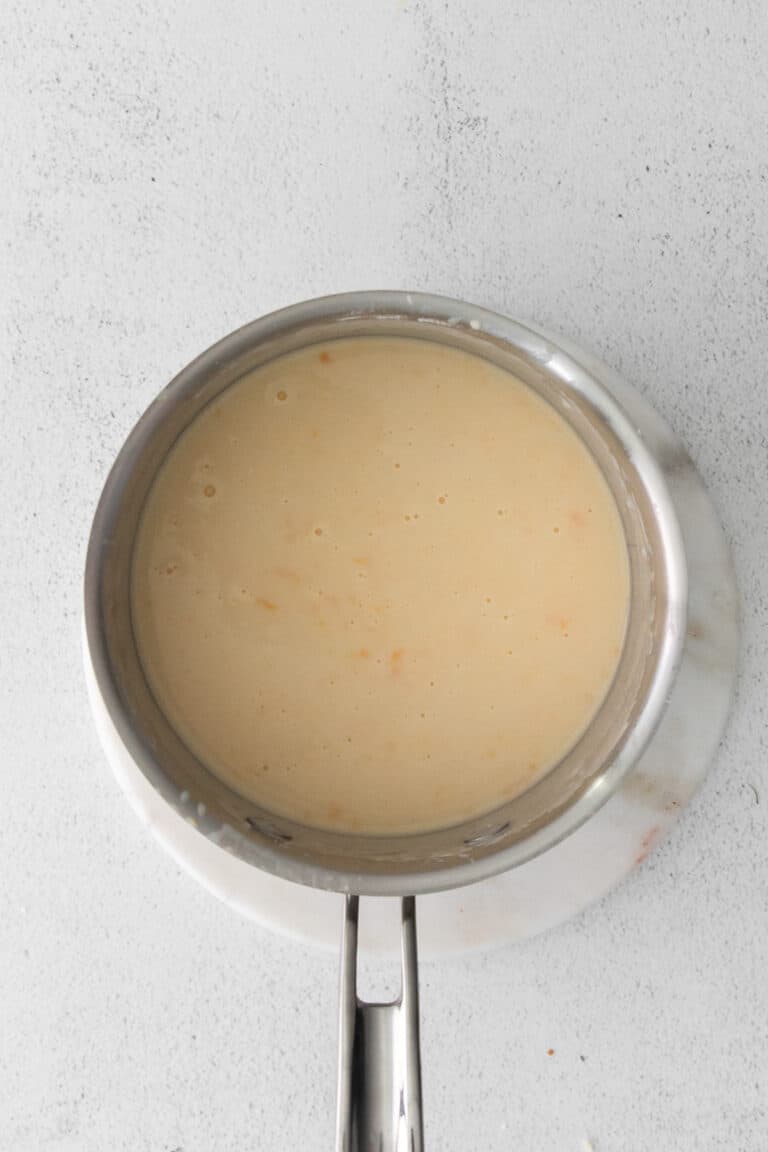 Make Cheese Sauce
Remove the roux from the heat and add shredded cheddar cheese. Mix until therea re no lumps and all cheese has melted. Finally, add in the sour cream and mix again.
Bake
Pour the cheese sauce on top of the hashbrows and mix to combine.
Bake at 350ºF for 30 minutes. Then, remove from the oven and sprinkle on the remaining shredded cheese. Bake for 15 more minutes.
Finally, turn your oven to broil and broil the cheesy potato casserole for around 2-3 minutes or until the cheese browns.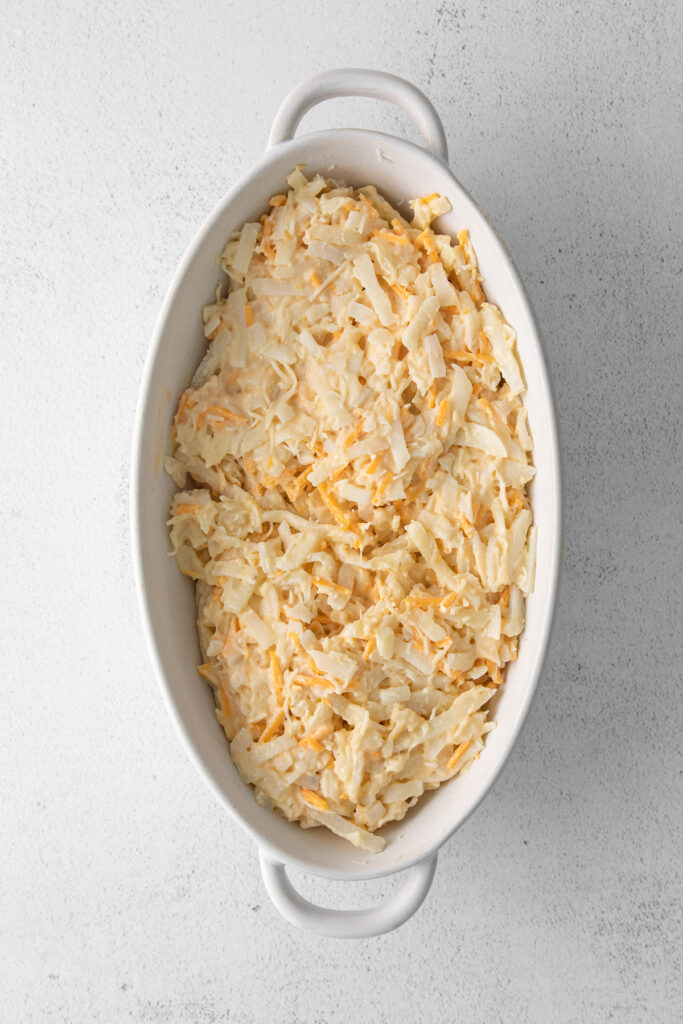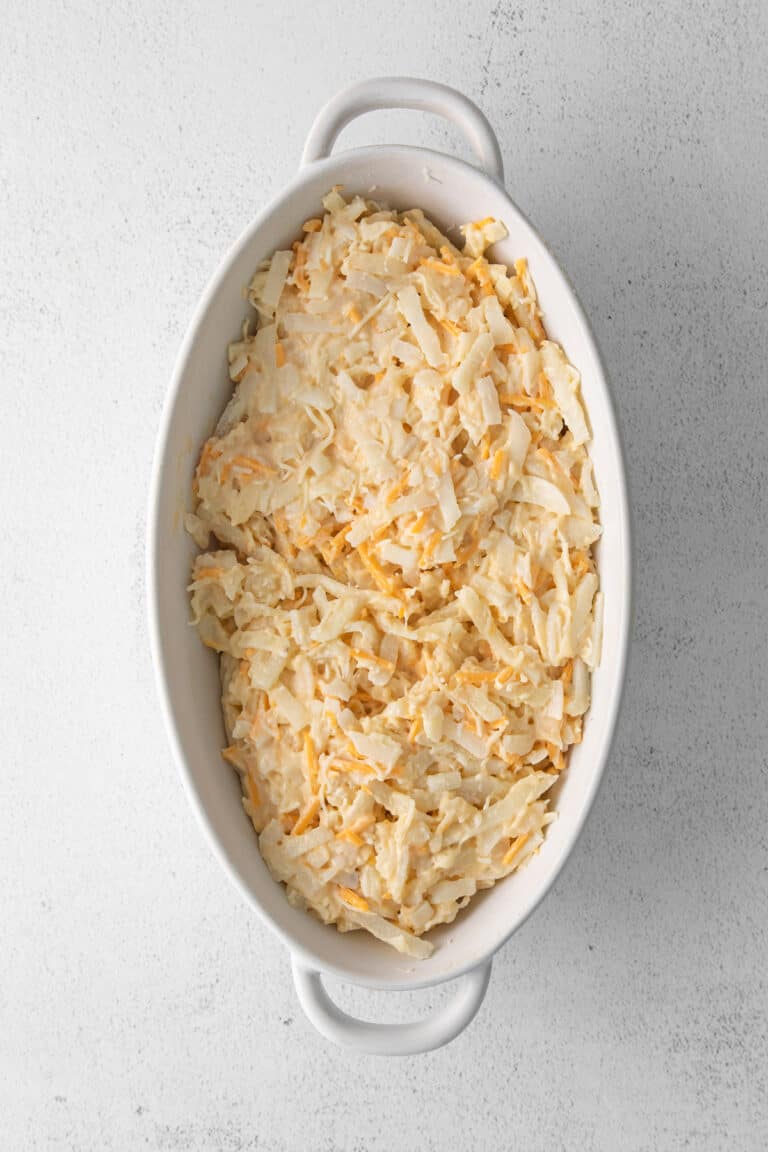 Variations
Use cubed hashbrowns: not in to shredded hashbrowns? Try using frozen, cubed hashbrowns instead.
Add a protein: turn this into a meal and added cubed ham or even pre-cooked shredded chicken!
Make it g/f: make this recipe gluten-free by using an all-purpose gluten-free flour blend instead of all-purpose flour.
Complete Your Meal
Cooking for a holiday like Thanksgiving, Christmas, or Easter and need to complete your meal? Here's a simple menu we know you'll love!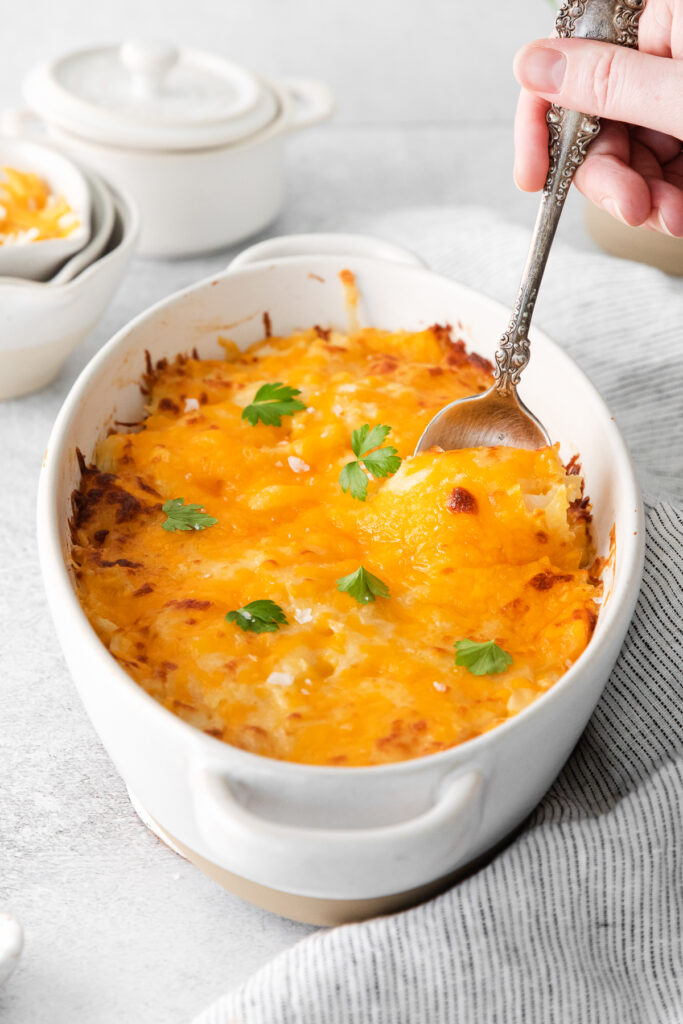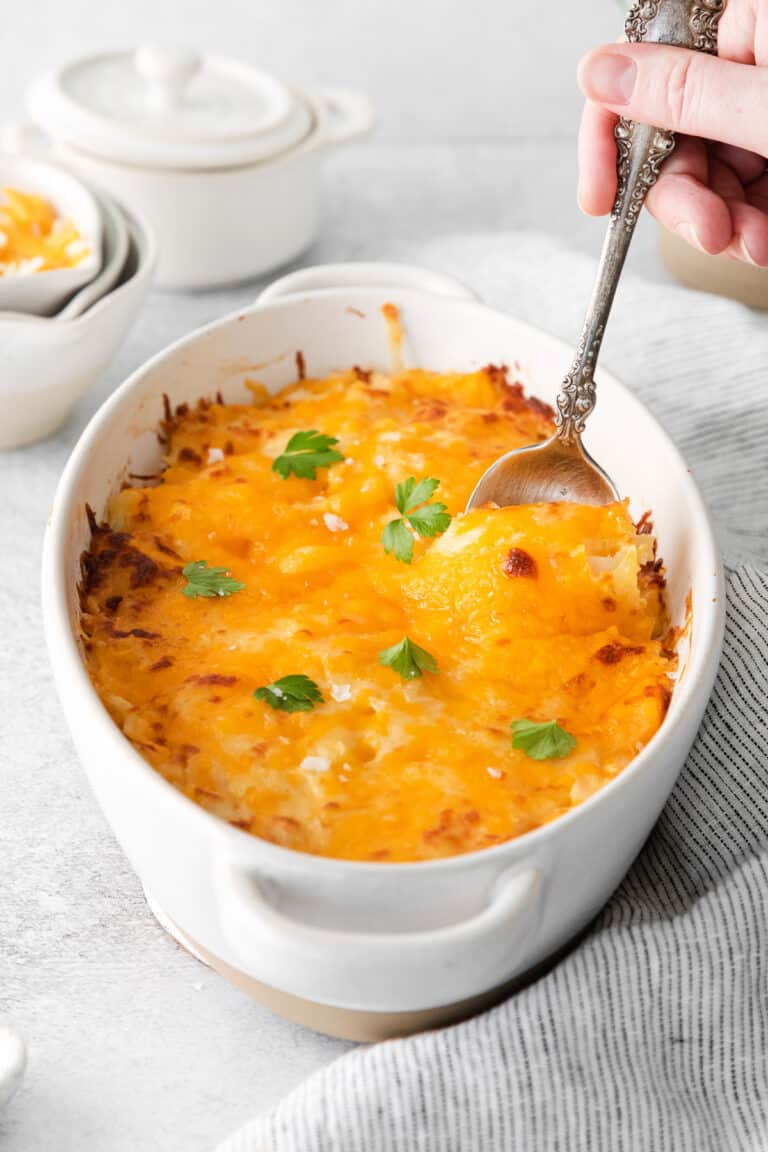 Storage
Transfer cooled casserole into an airtight container. Store in the fridge for up to 5 days.
How to Reheat
We suggest reheating your cheesy potato casserole exactly how it was made in the first place, in the oven!
Transfer casserole into an oven-safe dish and reheat at 350ºF for 15-20 minutes.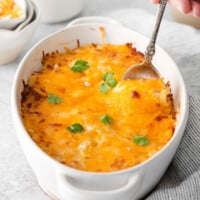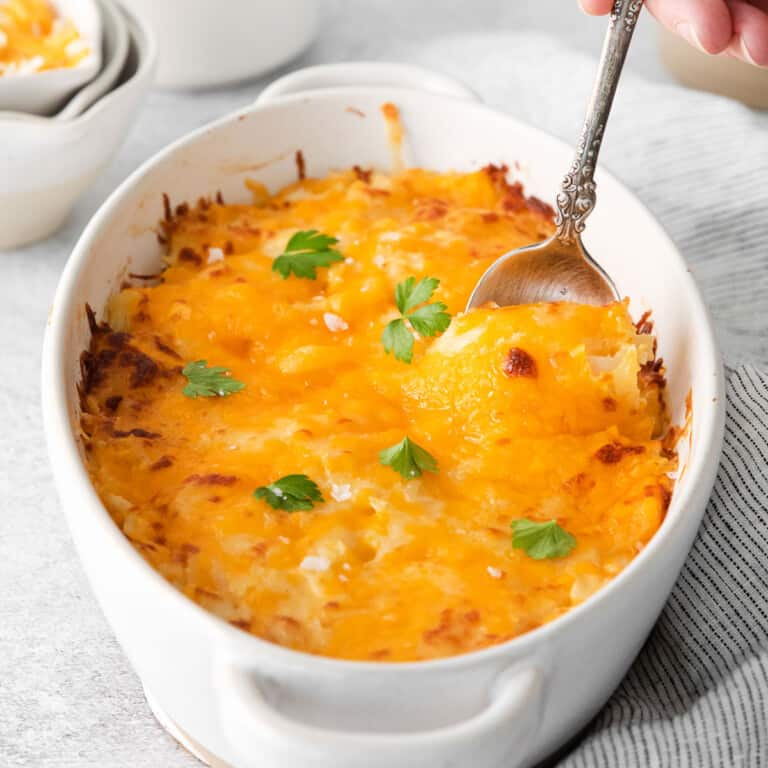 Homemade Cheesy Potato Casserole
Make your cheesy potato casserole from scratch and you'll be wowing your guests with this cheesy side! This homemade cheesy potato casserole recipe is the perfect holiday side to feed a crowd.
Instructions
Preheat the oven to 350ºF and spray a 9x13-inch baking dish with cooking spray. 

Pour the hash browns into the casserole dish and add 1 cup of shredded swiss cheese and 1 cup of shredded cheddar cheese to the hash browns and mix them all together until they are combined. 

Season with garlic powder and 1 teaspoon salt and toss to combine. Set aside. 

Next, heat a small saucepan over medium/high heat and add butter. When the butter is melted add the flour and whisk the two together until a crumble forms. 

Slowly add the chicken broth to the crumble, mixing constantly until a thick roux forms. 

Add ½ teaspoon of salt to the roux, mix and remove from the heat. 

Sprinkle 1 cup of shredded cheddar cheese into the roux, whisking until the cheese is melted. 

Finally, add the sour cream to the roux and mix until combined. 

Pour the cheese sauce over the hash browns and mix to combine everything together.

Evenly spread the hash browns over the casserole dish and place the casserole dish into the oven and bake for 30 minutes. 

Remove from the oven and sprinkle the remaining cheddar cheese and swiss cheese over the top of the casserole and bake for an additional 15 minutes. 

Change the oven to broil after 15 minutes and broil the casserole for 2-3 minutes until the top of the casserole is golden brown. 

Remove the casserole from the oven and let it cool for 10 minutes. 

Serve and then enjoy. 
Nutrition facts
Calories:
303
kcal
Carbohydrates:
22
g
Protein:
13
g
Fat:
17
g
Fiber:
2
g
Sugar:
1
g