Do yourself a favor and meal prep these protein chia seed pudding cups for a protein packed breakfast or snack throughout the week!
All you have to do is mix up a batch of pudding, divvy it up into meal prep containers, and you've prepped yourself the ultimate protein snack!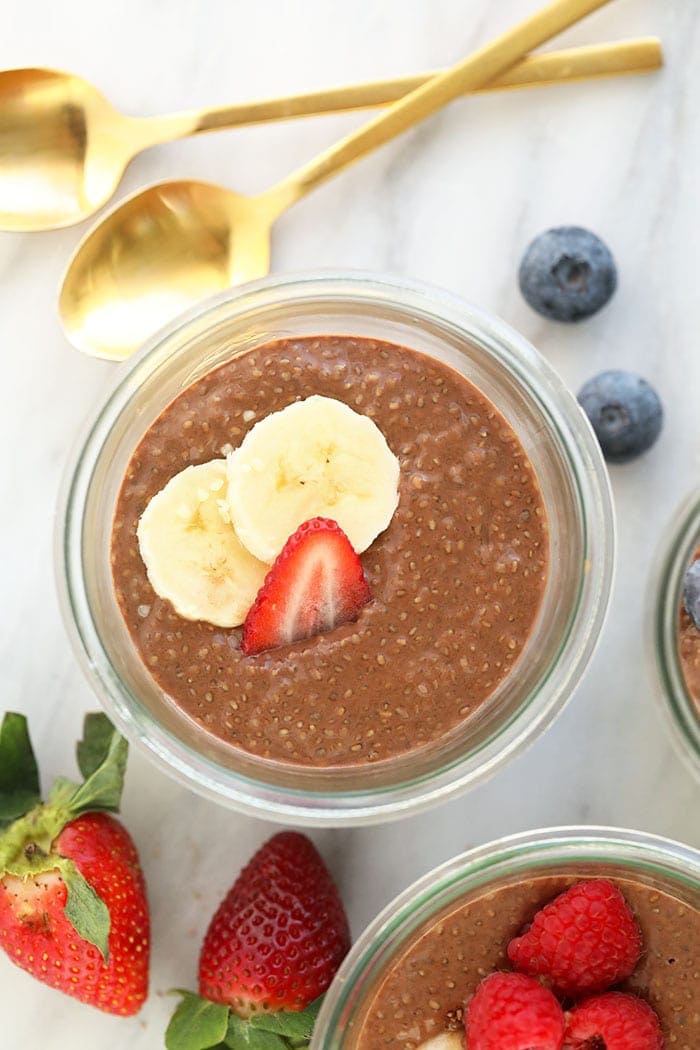 Protein Packed Breakfast + Snacks
Snacking is an integral part of our daily life here on Fit Foodie Finds. Whether we have long kitchen days, killer workouts, or just need to take in some extra nutrition throughout the day, we snack a lot.
We like to make sure we have healthy and nutrient dense snacks around like energy balls, fat bombs, smoothies, and chia seed pudding!
These chia seed pudding cups are a great high protein snack, breakfast, or even dessert! We love to meal prep these snack cups for a busy week because they keep well in the fridge and it is such a treat to have in the fridge when you don't have time to whip something up on the spot!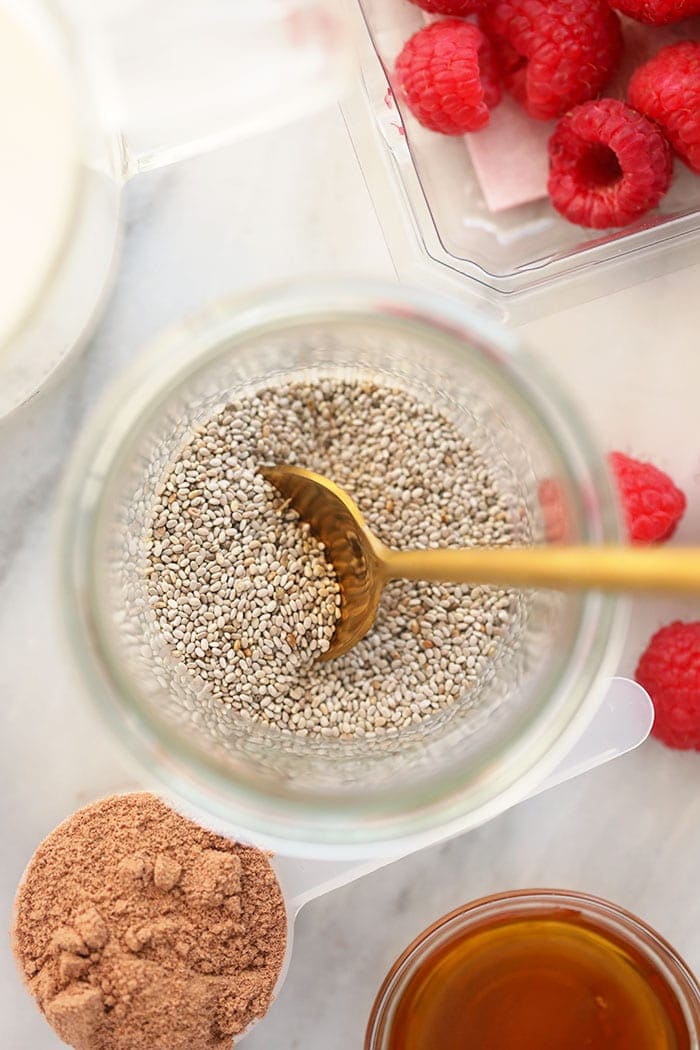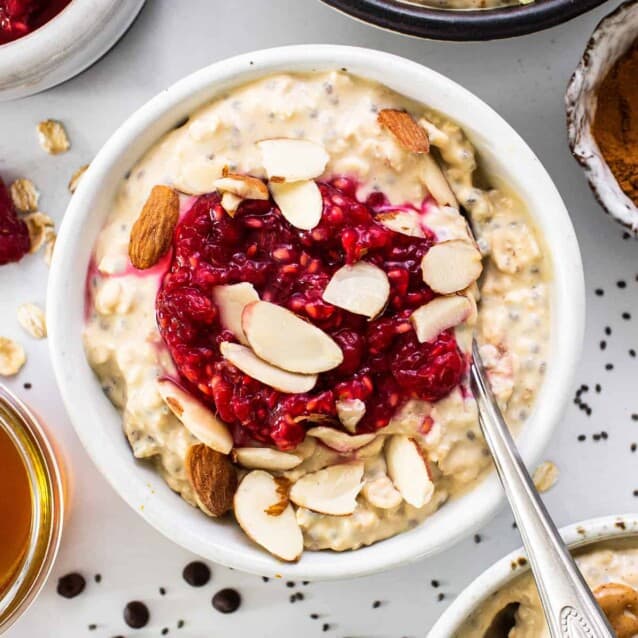 Need Breakfast Inspo?
Subscribe to our emails and get all of our best breakfast recipes straight to your inbox.
Ingredients You'll Need
The ingredient list for this protein chia seed pudding is short! Add these ingredients to your next shopping list so your pantry is fully stocked for any chia seed pudding craving!
Chia Seeds
Almond Milk
Protein Powder
Maple Syrup
Vanilla
Salt
Tips + Tricks
Protein chia seed pudding is very easy to make, but there are a couple tips and tricks you can focus on to make it the thickest and most delicious chia seed pudding in the world.
Seeds. Did you know there are black AND white chia seeds? You can use any type of chia seed you can get your hands on!
Protein Powder. We used Bulletproof Collagen Protein Powder as the main protein boost of this recipe. Feel free to use your favorite protein powder in this recipe or check out our guide to protein powder to choose one.
One thing to remember is that all protein powders are a bit different. Some are sweeter than others. We recommend adding your protein powder to your chia seed pudding, mixing it, and then tasting it before adding the maple syrup.
That way, you can decide if you want to add less or more maple syrup!
Liquid. We are big almond milk fans, but feel free to use whatever milk you have on hand! Full fat coconut milk would make this chia seed pudding thicker and creamier! Your options are endless.
Thicken. If you are in a pinch for time, letting the chia seeds soak for 2 hours should thicken up the pudding enough for it to be thick and delicious!
For optimum results we recommend letting all the ingredients sit overnight for SUPER thick chia seed pudding.
Storage. If you store your chia seed pudding in the refrigerator in an airtight container it will last for 5-7 days.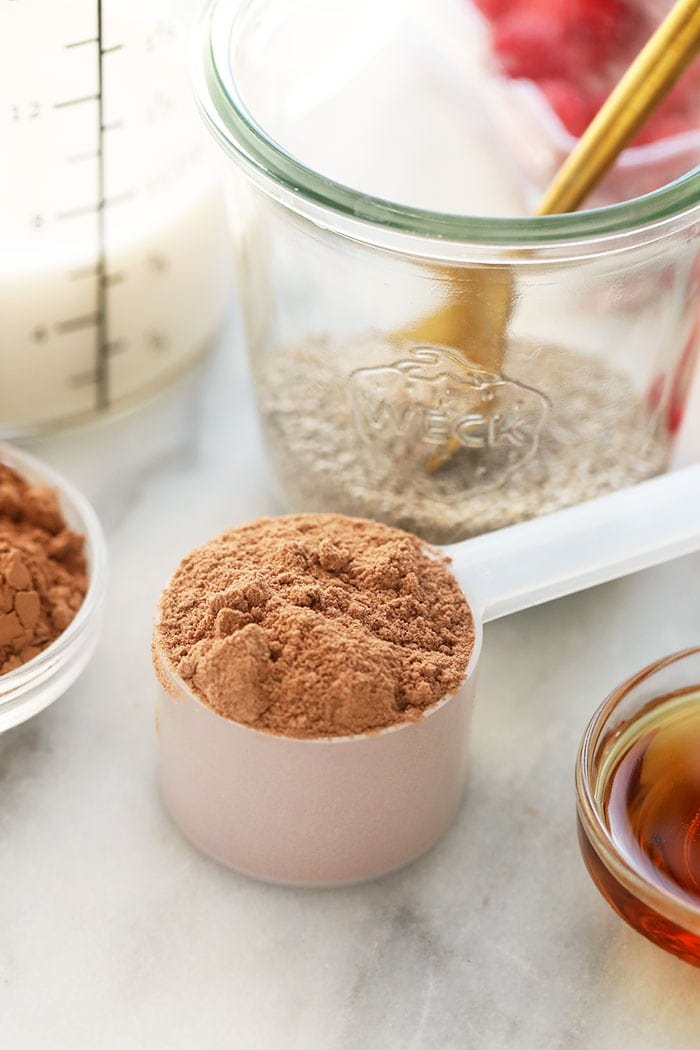 Chia Seed Pudding 101
How much protein does 1 tablespoon of chia seeds have?
A tablespoon of chia seeds has around 4 grams of protein!
Does it matter what kind of protein powder I use in this recipe?
No, it does not matter what kind of protein you use! We like to use protein powder with as few fillers as possible. Again, the sweetness of your chia seed pudding varies by how sweet your protein powder is!
How do I thicken my chia seed pudding?
The longer you let your chia seed pudding sit in the refrigerator, the thicker it will be!
What should I top my chia seed pudding with?
The topping options are endless! It all depends on your mood. We love topping our chia seed pudding with fresh fruit, chocolate chips, granola, nut butter, and everything in between!
Add MORE Protein
This protein chia seed pudding already has 15 grams of protein in it, but you can always add more protein to your chia seed pudding by adding protein packed toppings! Here are some GREAT protein packed additions!
Greek Yogurt
Nut Butter
Sliced Almonds
Flaxseed
Hemp Hearts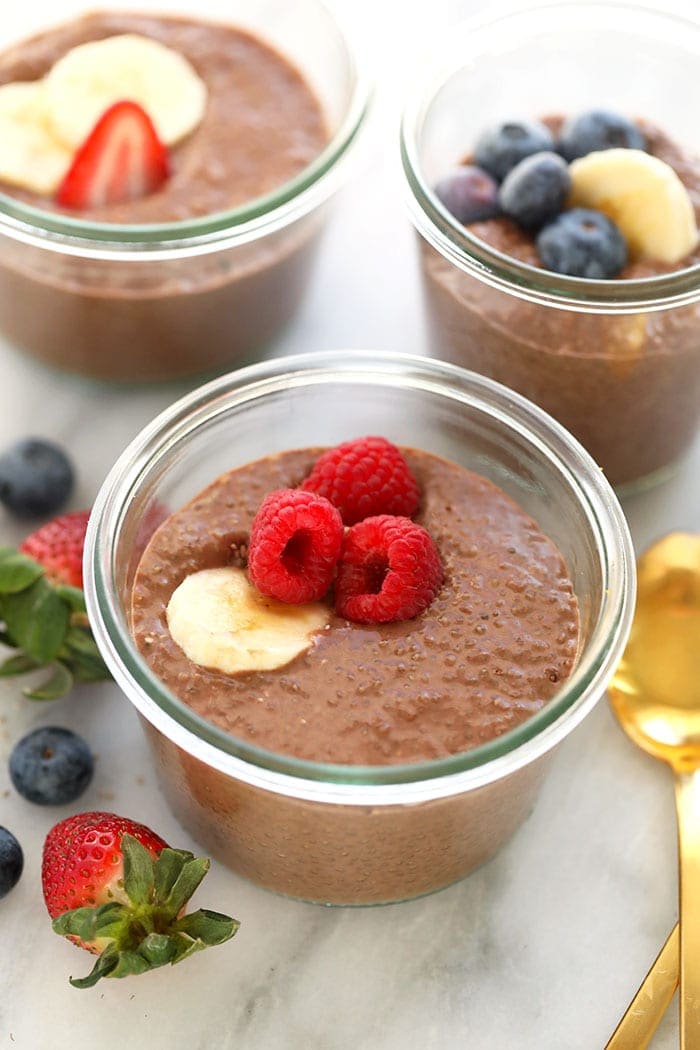 More Chia Seed Pudding Recipes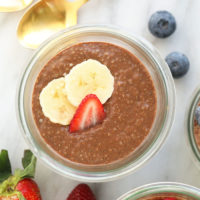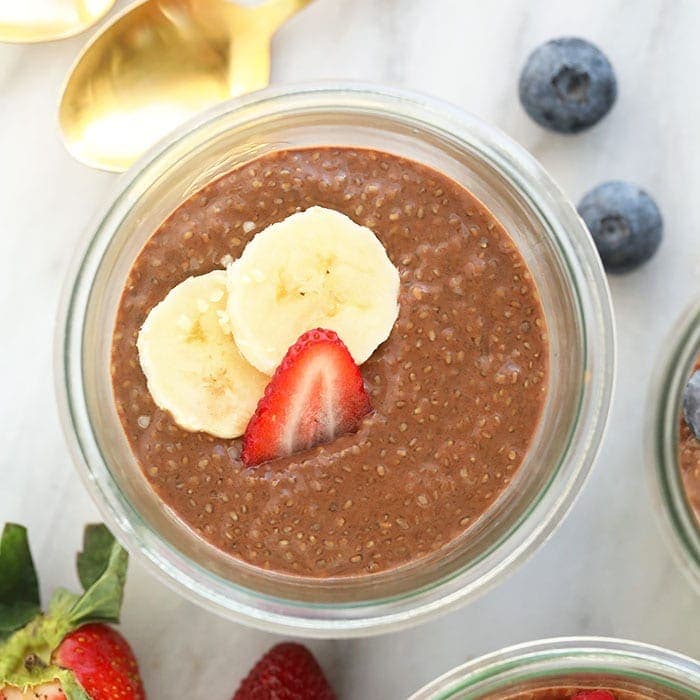 Meal Prep Protein Chia Pudding Cups
Do yourself a favor and meal prep these protein chia seed pudding cups for a protein packed breakfast or snack throughout the week!
Instructions
Place chia seeds, protein powder, almond milk, cocoa powder, maple syrup and vanilla extract into a glass meal prep container or medium bowl with a lid.

Mix ingredients together with a spoon, seal the lid, and place into the refrigerator for at least 2 hours (letting the chia seeds sit overnight is ideal). You'll know it is ready when the consistency is pudding-like, and each of the chia seeds has a gelatinous coating around them.*

Once gelatinous, stir chia seed pudding and serve. Top with your favorite toppings such as sliced banana, dried coconut, and mini chocolate chips.
Tips & Notes
Maple syrup: depending on how sweet your protein powder is, use maple syrup to taste.
Nutrition facts
Calories:
310
kcal
Protein:
15
g
Fat:
17
g
Fiber:
18
g
Sugar:
7
g