Sometimes you just don't have time to head the gym for a cardio workout! Get your sweat on with this No Treadmill Interval Cardio Workout and finish with a delicious Organic Balance Protein Shake! All you need are a set of weights and a medicine ball.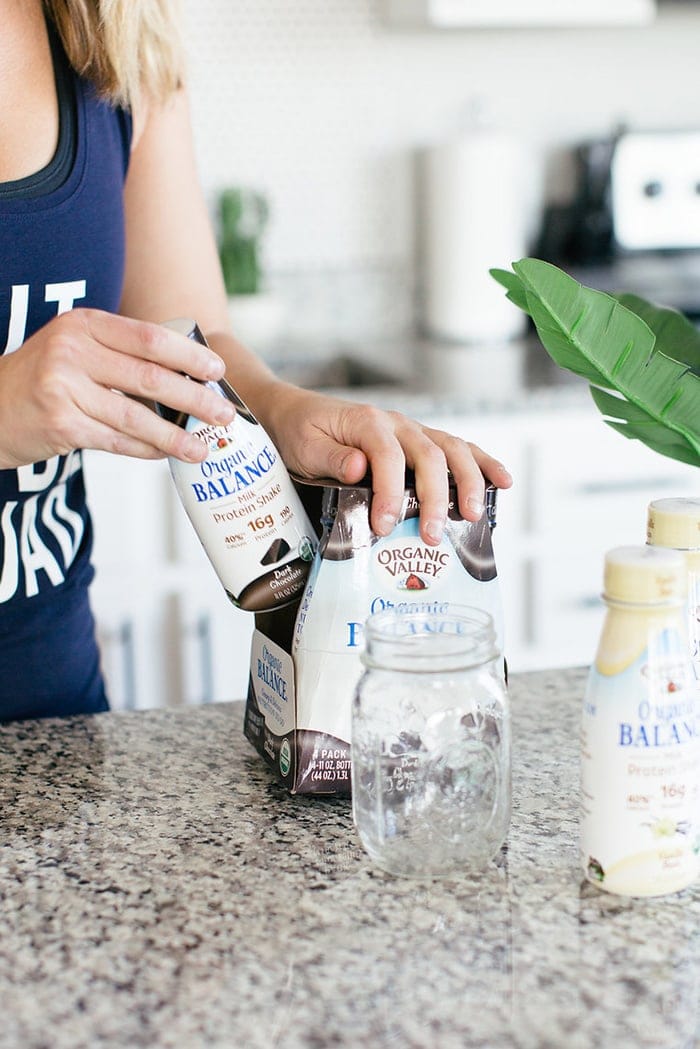 It's here! The first Fit Foodie Finds workout of 2018 and guess what? All you need are a few pieces of equipment that you likely have in your home gym to accomplish this heart-thumping cardio workout! Today we're partnering with our favorite dairy brand, Organic Valley. Since the day we visited OV HQ and an OV dairy farm in western Wisconsin, we've been completely smitten. If you don't know much about Organic Valley, let me give you the run down and tell you why we're so obsessed.
WHO IS ORGANIC VALLEY?
Organic Valley is a farmer-owned cooperative that produces certified organic and 100% grass-fed dairy products such as cheese, eggs, butter, milk, ghee, yogurt, and creamer. That's right, the business is owned by the farmers themselves, which is a bit crazy, but clearly, it's working. Organic Valley not only cares about producing high-quality organic dairy that's non-toxic, and made with no pesticides, no GMO's, no artificial hormones or no antibiotics but so much more! They care about their animals and raise their cows in chemical-free organic pastures and their chickens never see cages because they're free-range, meaning they roam freely! Organic Valley works with small, family-owned farms and their average herd size is just 72 cows (thousands less than factory farms). To top it off, most Organic Valley farmers are based here in the Midwest in Minnesota and Wisconsin, which is just so flipping cool.
I can't speak highly enough of this company. I not only love their products, but I admire their mission in changing the way that we, as humans, consume food! Today I want to feature one of my favorite OV products, Organic Balance. Organic Balance is a protein drink and…
Made with real ingredients
16 grams of protein
50% of your daily calcium
100% organic
Made with absolutely NO antibiotics, synthetic hormones, toxic pesticides or GMO anything
Did I mention that it tastes like a flipping milkshake? OMG IT'S SO GOOOOOOOOD. We always have a stockpile of this beverage at Fit Foodie HQ and often mix it with things like coffee and/or chia seeds. Why not get your protein in post-workout and have it taste good, too? #yesplease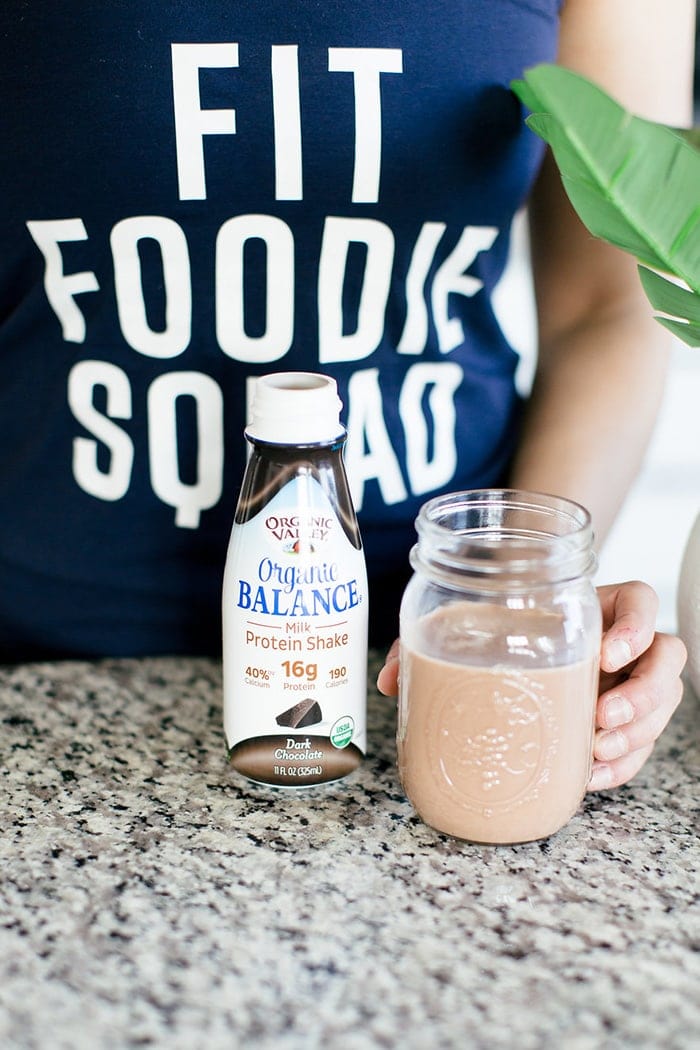 Do the Cardio for the Organic Cows!
Today's workout is all about dat cardio and for a very special reason. FOR THE COWS. You might find this interesting and peculiar, but when we visited the OV farm last year, one fact in particular really stuck out to me.
As part of an Organic Valley Farm regulation, cows must spend at least 120 days per year in the pasture and most OV cows spend many more days than this.
So, what does this mean? It means that at least 2.5 days per week, cows are grazing, and walking, and grazing, and walking…because that's what they do when they eat…they walk! Most OV cows get at least 7,000 steps/day (proven HERE) and I hate to say this, sometimes that's more than I get. For those of us that have a hard time fitting in 2 or 3 workouts per week…DO IT FOR THE COWS. If the cows can do it, so can we.
So without further adieu, here's a challenging, no-treadmill cardio workout to assure you'll surpass that 7k step mark. Let's do it for the cows, people.

No Treadmill Interval Cardio Workout
Equipment needed: medium set of dumbbells and a medicine ball
There are 5 circuits. Perform each move for 20 seconds and then rest for 10 seconds. Complete each circuit 4 times before moving on to the next circuit.
Circuit 1
Med Ball Squats

Jump Rope
Circuit 2
Squat Jacks

Plank Knee Taps
Circuit 3
Standing Punches

Dumbbell Push Press
Circuit 4
Ski Jumpers

Med Ball Squat Throws
Circuit 5
Fast Feet + Drop

Renegade Rows
Disclaimers: This post is sponsored by Organic Valley. I was compensated and all opinions are my own. Thank you for your support and for making this website possible! Before starting a new exercise regime, please consult your physician and as always, listen to your body.