These Snickers energy balls are such a fun twist on classic energy bites. Food process Medjool dates, oats, honey, and peanut butter and roll them into balls.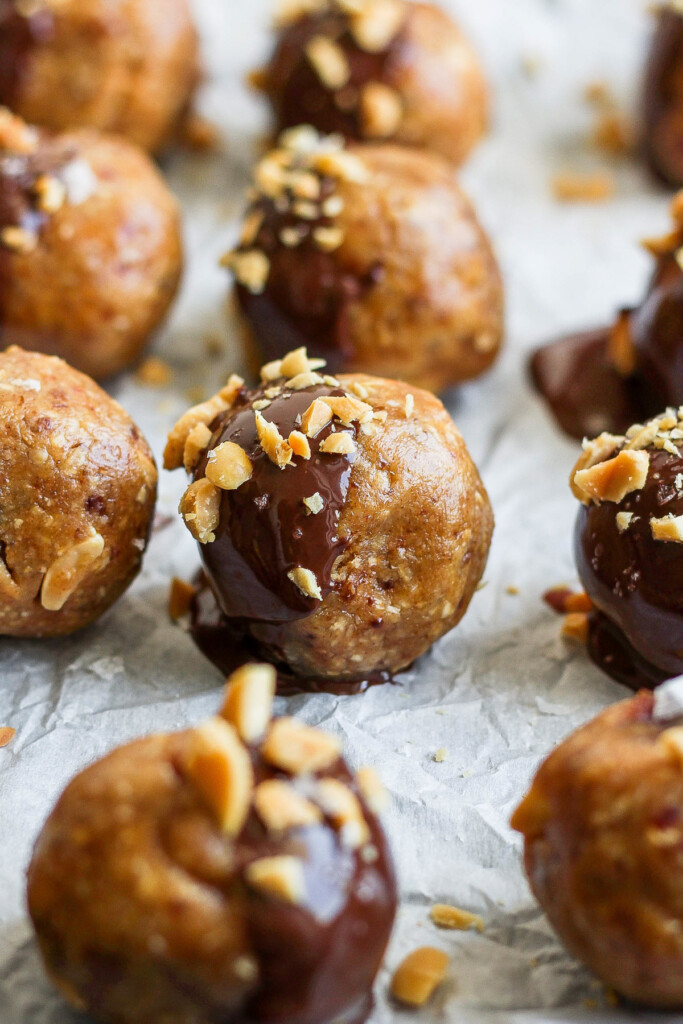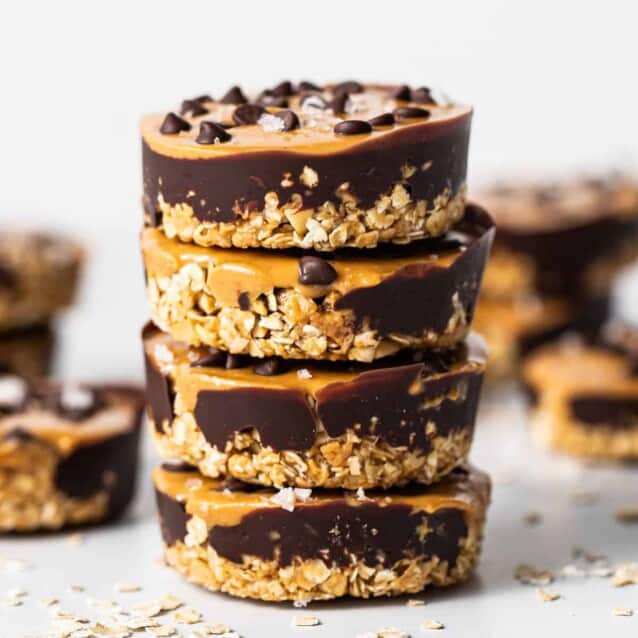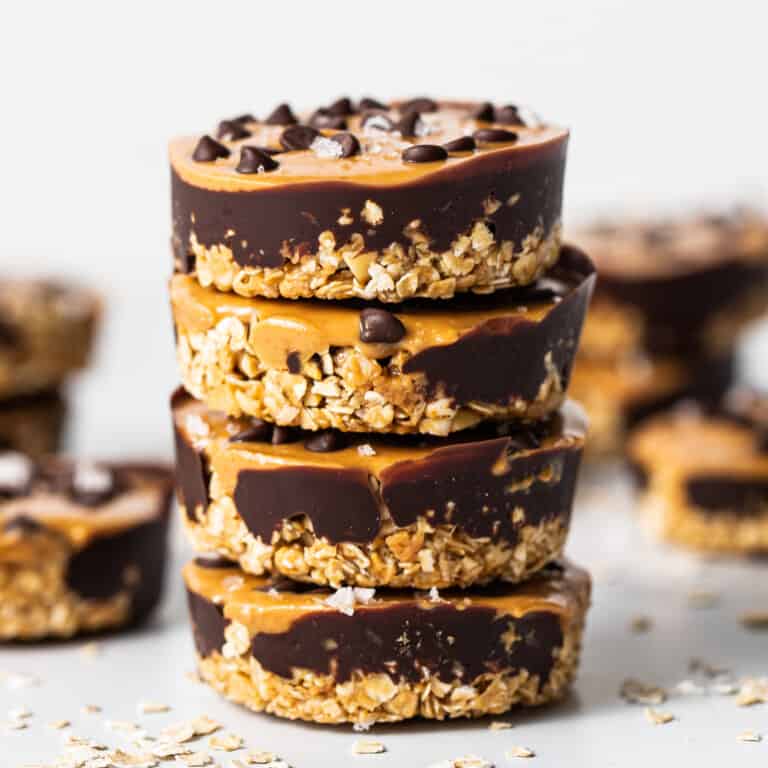 Get our Top 10 5-Star Recipes!
Join our email list for new recipes and BONUS: get our top 10 ⭐️⭐️⭐️⭐️⭐️ recipes e-book!
We've been making energy balls since we started this website in 2010 and these Snickers Energy Balls are an OG recipe. We've since tweaked the recipe to make it easier and more accessible with fewer ingredients and steps.
Don't worry, they are better than ever and quite addicting. While they aren't a true Snickers bar, they do have lots of the same properties – caramel (dates), peanuts, and chocolate!
We came up with this no-bake recipe during my maternity leave and having a bag of them in the freezer during the newborn stage was a game changer.
What You Need for Snickers Energy Balls
Medjool dates: make sure to buy Medjool dates that are soft and sticky.
Oats: both rolled and quick-cooking oats work for this recipe.
Peanut butter: we recommend an all-natural, drippy peanut butter such as Smuckers.
Honey: honey elevates the flavor of the peanut butter and chocolate.
Dark Chocolate: every Snickers bar deserve a little chocolate topping!
Salted peanuts: top your energy balls with salted peanuts for the cherry on top.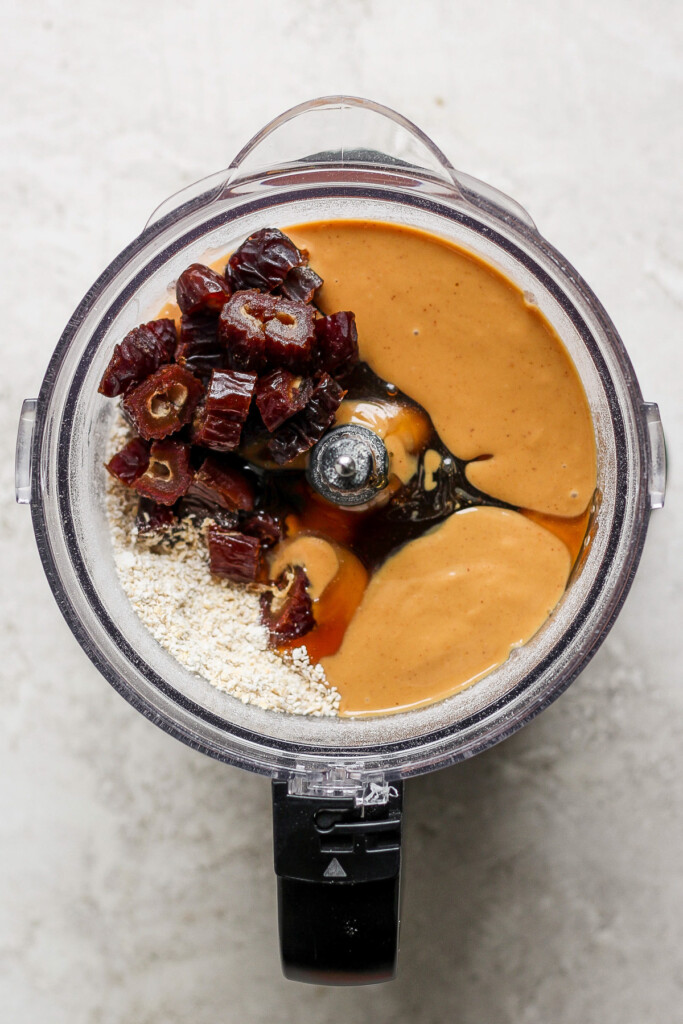 Substitutions & Variations
The great thing about energy balls is that you can really make them your own. If you can't do peanut butter, try a different drippy nut butter such as almond butter or cashew butter.
Instead of the dark chocolate, try semi-sweet chocolate chips or a dairy-free chocolate chip.
To make these energy balls vegan, swap the honey with maple syrup and use dairy-free chocolate chips.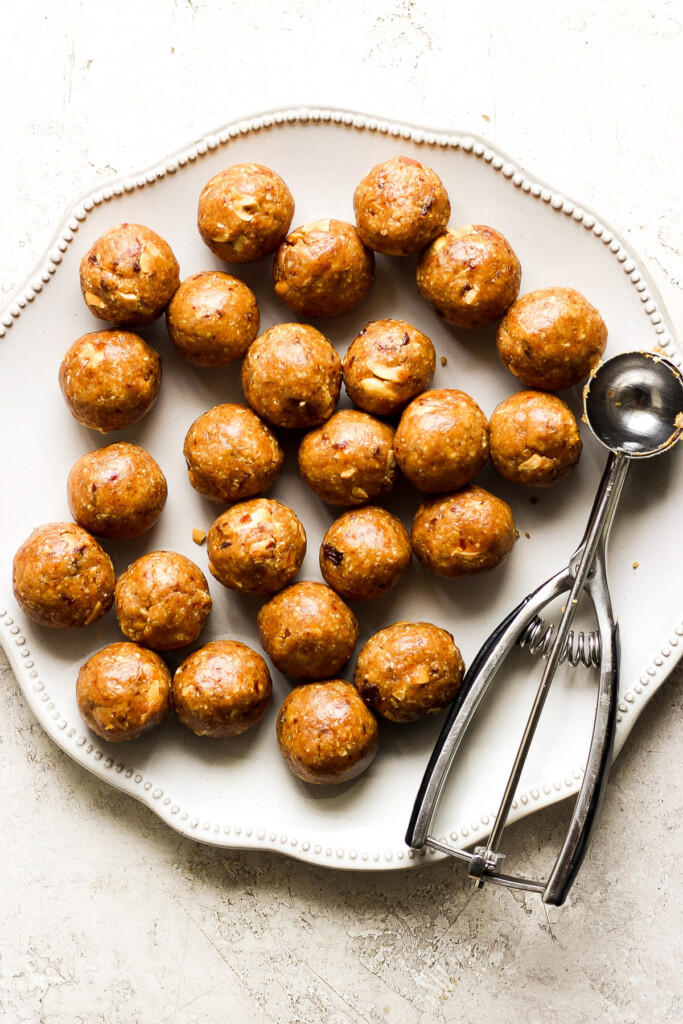 FAQ
What if my Medjool dates are too dry?

If your Medjool dates are not sticky, try soaking them in hot water for 10 minutes.
Can I use a different nut butter?

Any nut butter will work for this recipe.
Are these energy balls gluten-free?

These energy balls are naturally gluten-free. Just make sure to use certified gluten-free oats.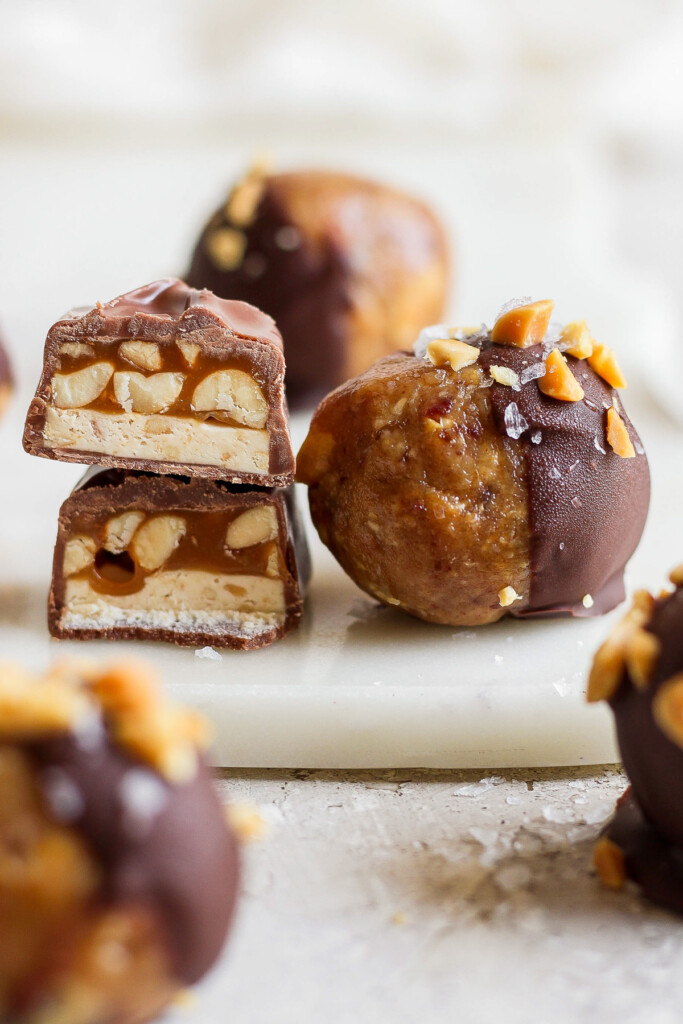 Storage
We recommend storing these energy balls in the freezer. To freeze, transfer them to a baking sheet and freeze for 2 hours. Once partially frozen, transfer to a gallon-size plastic bag and store in the freeze for up to 3 months.
To thaw: let thaw on the counter for 5 minutes before eating.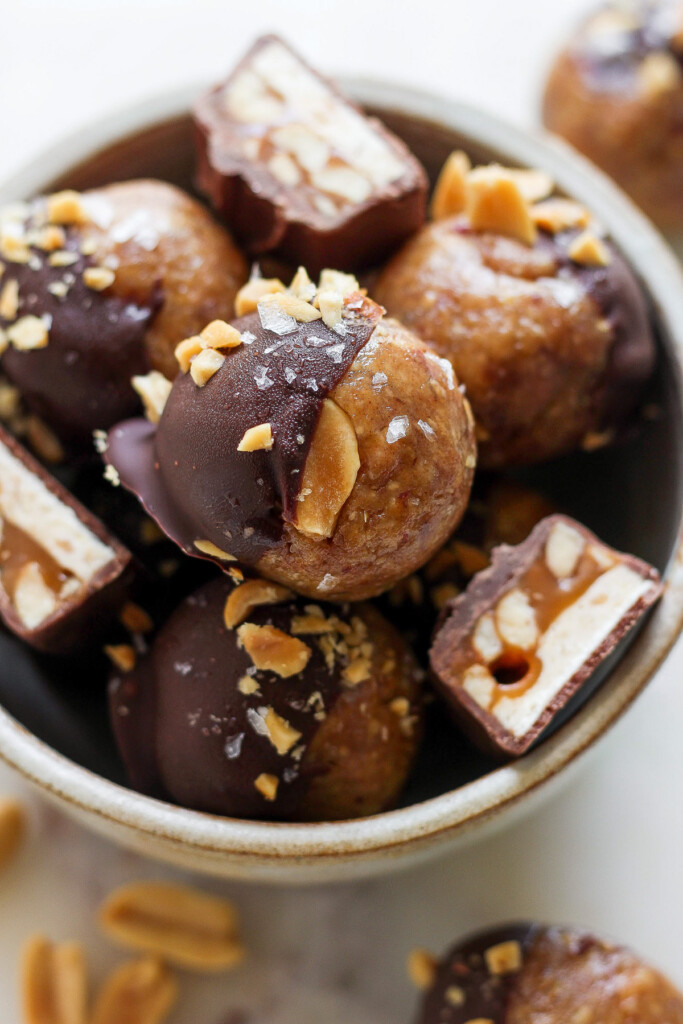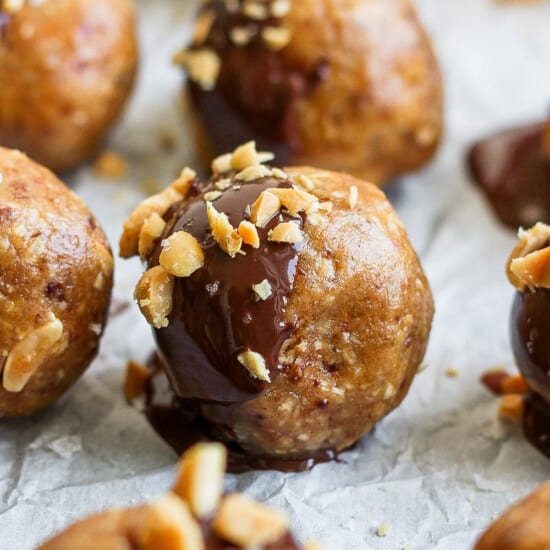 Snickers Energy Balls
These Snickers energy balls up the energy ball ante! They're made with oats, Medjool dates, chocolate, and peanut butter.
Instructions
Place rolled oats in a high-speed food processor and process on high for about a minute until you've formed oat flour.

Add the dates, peanut butter, and honey to the oats and process on high for another 2-3 minutes or until the dough is formed. Scape the sides a few times during the processing time. The dough should be smooth and malleable. If the dough is too wet, add 1-2 tablespoons more of oats. If the dough is too dry add 1-2 teaspoons of water and process again.

Add ⅓ cup of the peanuts to the food processor and pulse the peanuts to break them up. There should be small chunks of peanuts in the dough.

Using a 1 tablespoon scooper, scoop out dough and then roll between your palms to form your balls. Set aside.

Chop up the remaining peanuts into small pieces. Set aside.

Place the chocolate and coconut oil into a microwave-safe bowl and microwave on high for 20-second increments until melted. Stir the chocolate after each increment.

Once the chocolate is melted dip each ball into the melted chocolate so that half of the ball is coated in chocolate. Sprinkle the ball with crushed peanuts and sea salt. Repeat this process until all the balls are coated in chocolate.

Set the balls on a plate and transfer them to the freezer for 20 minutes or until the chocolate has set.

Store the balls in an airtight container or bag in the freezer for up to 3 months.
Tips & Notes
This post was updated on August 30, 2023.
Dates: make sure you use soft dates that are easy to pulverize.
Be sure to use a high-speed food processor. Otherwise, the ingredients will not process enough to form a dough.
Drippy peanut butter is key to this recipe. We suggest using this Smuckers Natural
Creamy Peanut Butter or a similar type of peanut butter. If you do not have drippy peanut butter, you will need to use a few teaspoons of water or melted coconut oil.
Feel free to use more peanuts.
Nutrition facts
Calories:
187
kcal
Carbohydrates:
22
g
Protein:
5
g
Fat:
10
g
Fiber:
2
g
Sugar:
13
g
Photography: photos taken in this post are by Erin from The Wooden Skillet.