Thinking about painting the exterior of your brick house? DO IT! I am thrilled to be sharing the before and after of my white painted brick house that has mid-century modern flares with black and brown touches.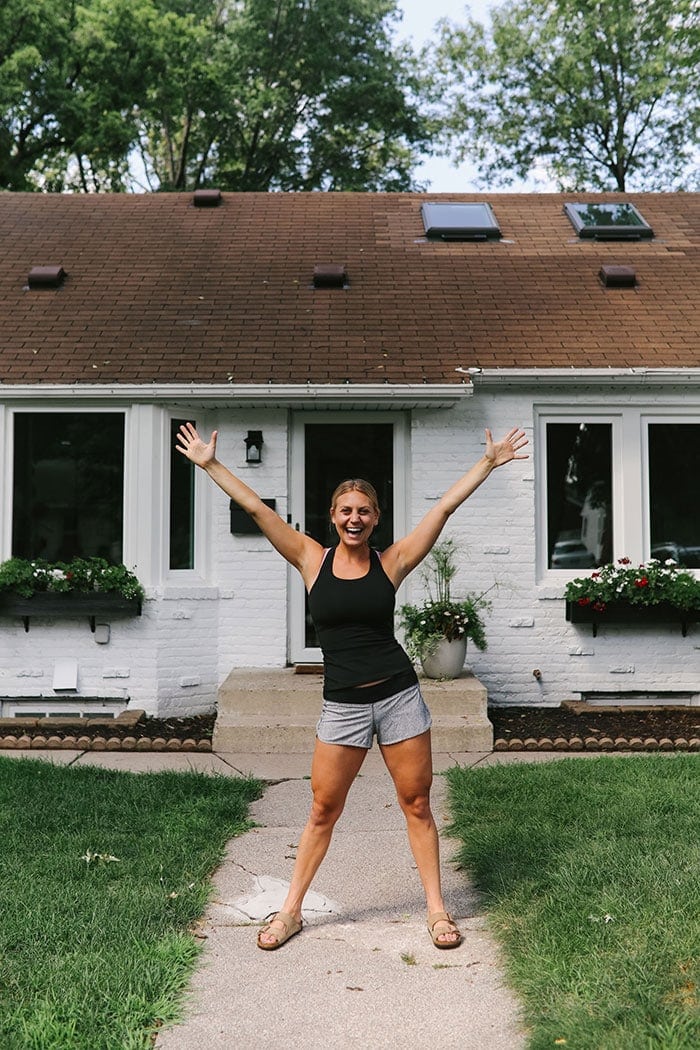 A painted brick house? Yah, I was skeptical too, but guys…you can paint a brick house and I am so in love with mine.
Why We Love Abbott
I'm excited to be partnering Abbott Paint and Carpet for this amazing transformation. Abbott is a local St. Paul, MN-based company that takes any of the leg work out of interior and exterior home projects. Exhibit A: I walked into their studio knowing I wanted a change to the outside of my house and they helped me ideate and bring this change to life.
Storyboard: Abbott helped me storyboard and design my exterior renovation. I was paired with a real-life designer who helped me bring this to life (literally).
Paint Selection: There are millions of paint colors on the market and Abbott pretty much has it all. And, if they don't, they can color match anything!
Paint Contractors: Abbott has an amazing library or RELIABLE paint contractors. I say this because I've tried to work with many contractors and many don't even call you back. Abbott will set you right up with the best and I'm so happy they helped me find Headwaters Painting.
3 Minnesota locations: St. Paul, White Bear Lake, and Stillwater.
What I wanted
My number "want" with this project was to make the outside of my home match the same look and feel as the inside of my home. You've seen my master bedroom and my office and know that I love black and white as well as a mid-century farmhouse feel. So…that's how we came up with a white exterior and charcoal accents!
Below you find a rendering that Abbott did for me. I literally just had to bring in a photo of my house and they helped me visualize what things would look like before I pulled the trigger. IMO, this is clutch because painting a house is a big project!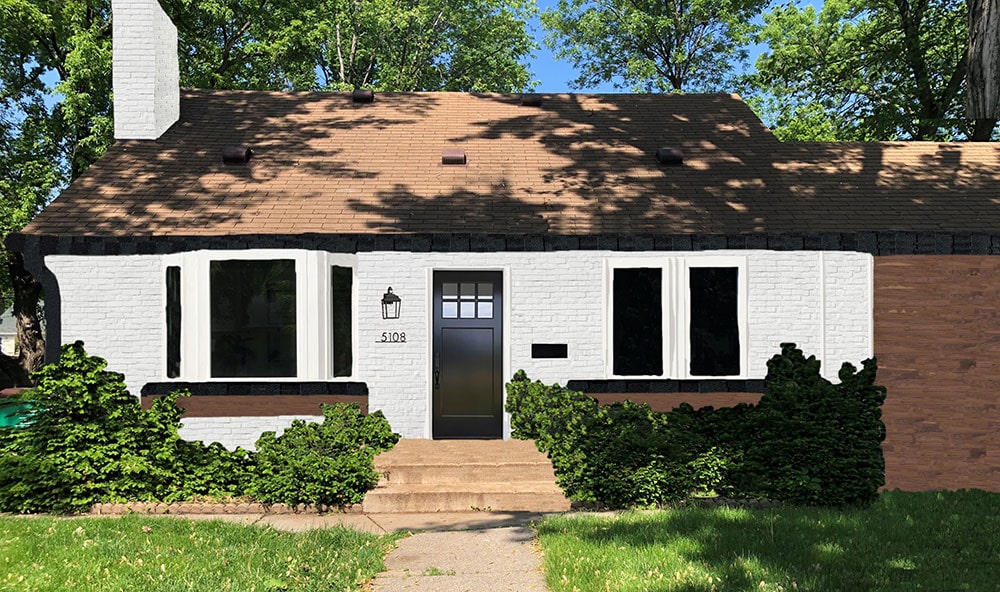 The Paint- Vintage 24
Before meeting with Abbott I didn't realize that painting brick was even an option. They're the ones that actually suggested it! I was even more excited when they mentioned it would look seamless with the siding we have in the back.
For our house, the paint we used is called Vintage 24, an Abbott exclusive private label paint made for exterior projects. It's an ode to Howard "Mike" Abbott, the founder, who was born in 1924. What I love about this paint is that it can be painted on pretty much every service, it doesn't fade, and you can get ANY color under the sun. Literally.
A breather type latex house paint designed for exterior wood, masonry, brick, and primed metal surfaces.
This non-flammable blister resistant, fade resistant coating is easy to apply and water thinnable.
Ideal for aluminum siding, and excellent for wood siding, shakes, primed metal and masonry surfaces.
Apply by brush, roller or spray.
The Paint Job Process
How long does it take to paint a house? While every paint company and house is different, it took 3 days to paint ours. Here's what the process looked like and a few in-process photos of Headewaters to show you how the magic happens.
Day 1- Power washing & detail priming: this is important! Our house was built in 1939 and the brick is original.
Day 2- Primer: The primer was put on using a spray functionality so it was precise and quick!
Day 3- Paint and Trim: The biggest transformation happened once the trim and details were painted charcoal because they really made the white POP.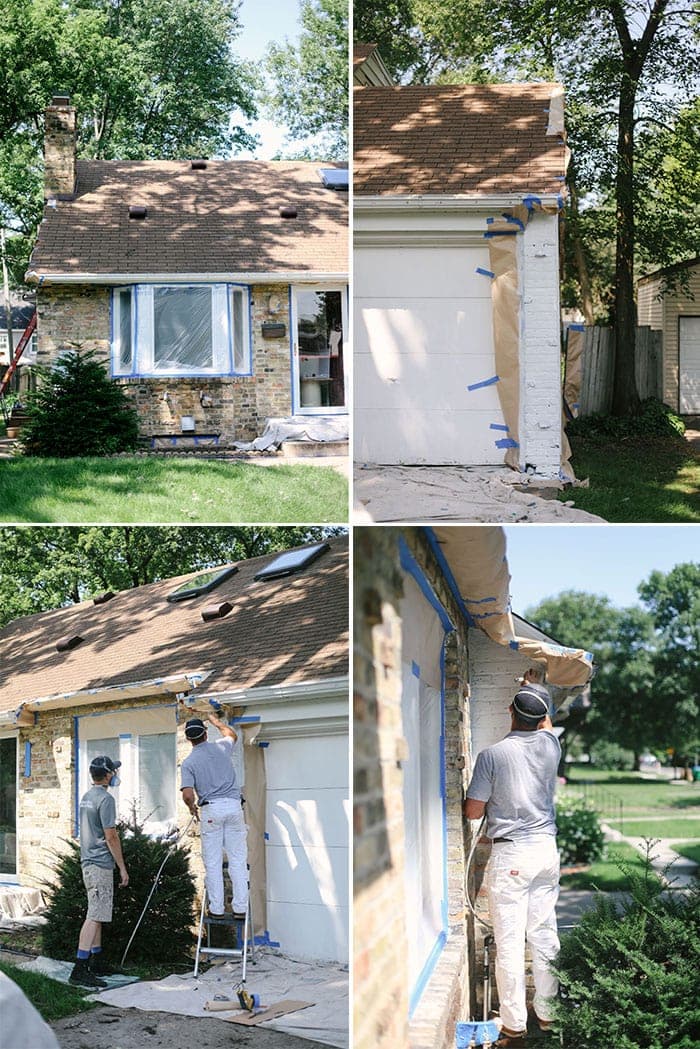 The Big Reveal!
And now…it's time for before and after photos of this amazing white painted brick house transformation. GET READY.
The Front
The front of my house doesn't even look the same! I am absolutely in awe with how amazing the white and charcoal color story looks with our brown roof. I was skeptical at first, but I'm so glad we moved forward with this color story.
The charcoal planters, front door, and garage door really make the white brick and siding pop. Finally, we installed a new mid-century light fixture, mailbox, and house numbers to tie everything together!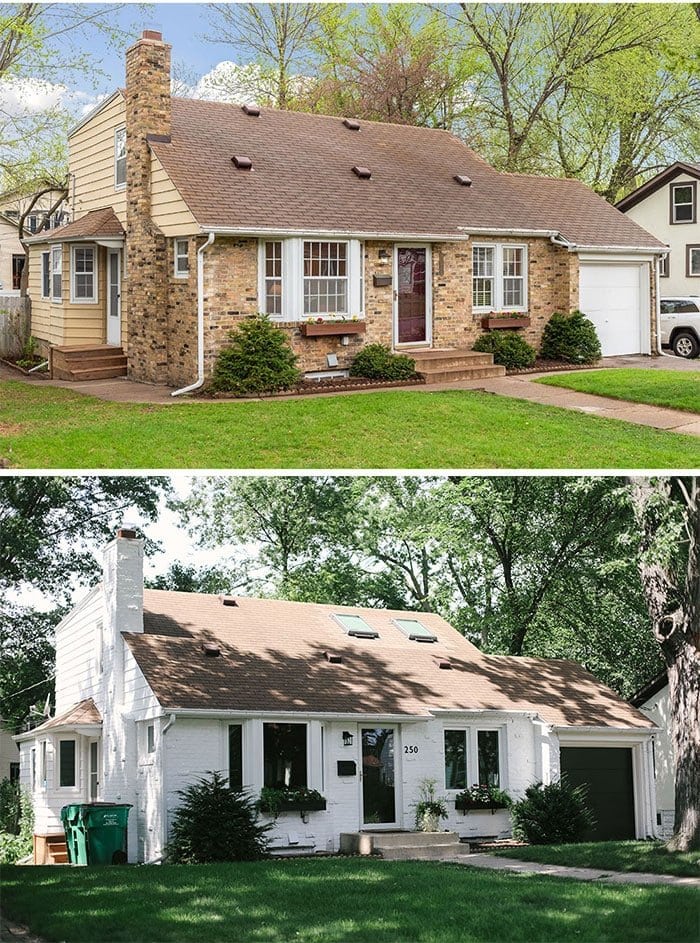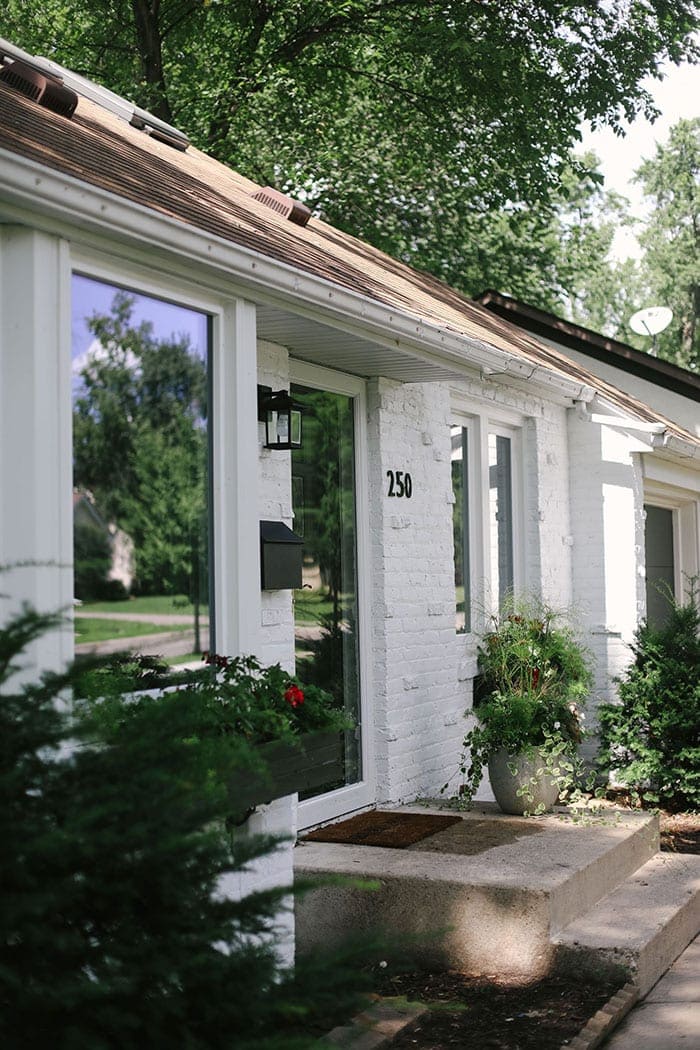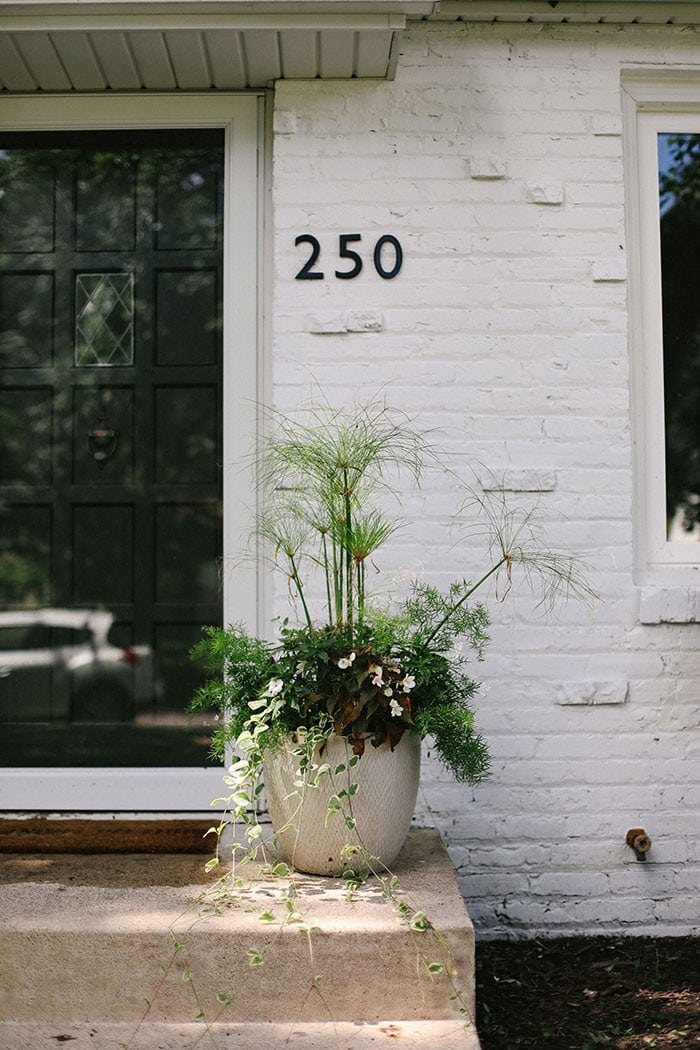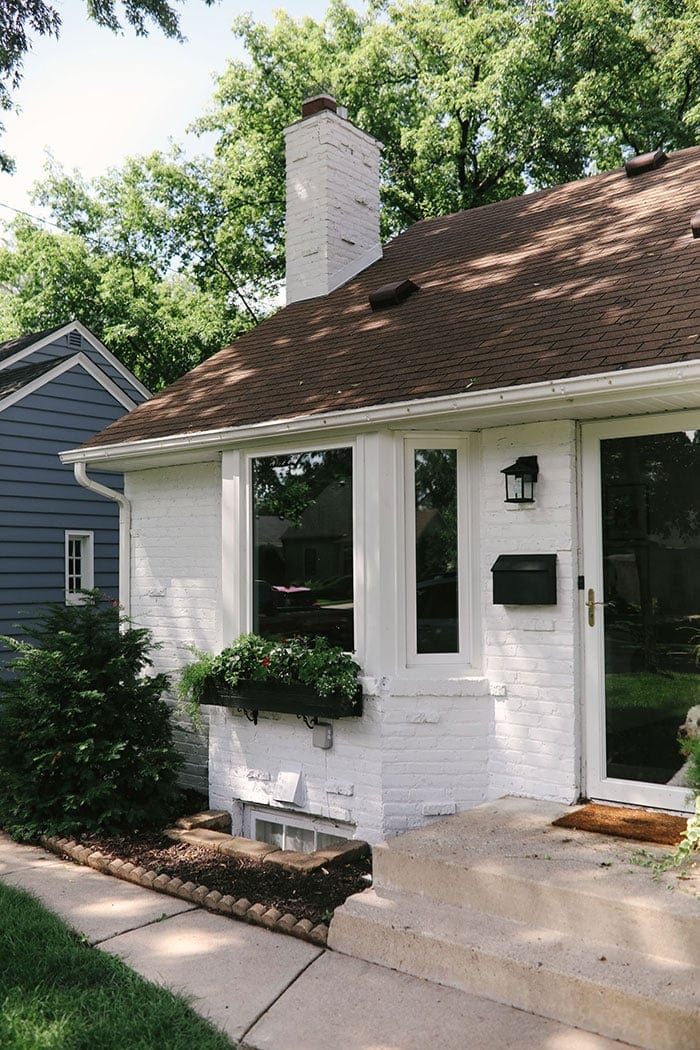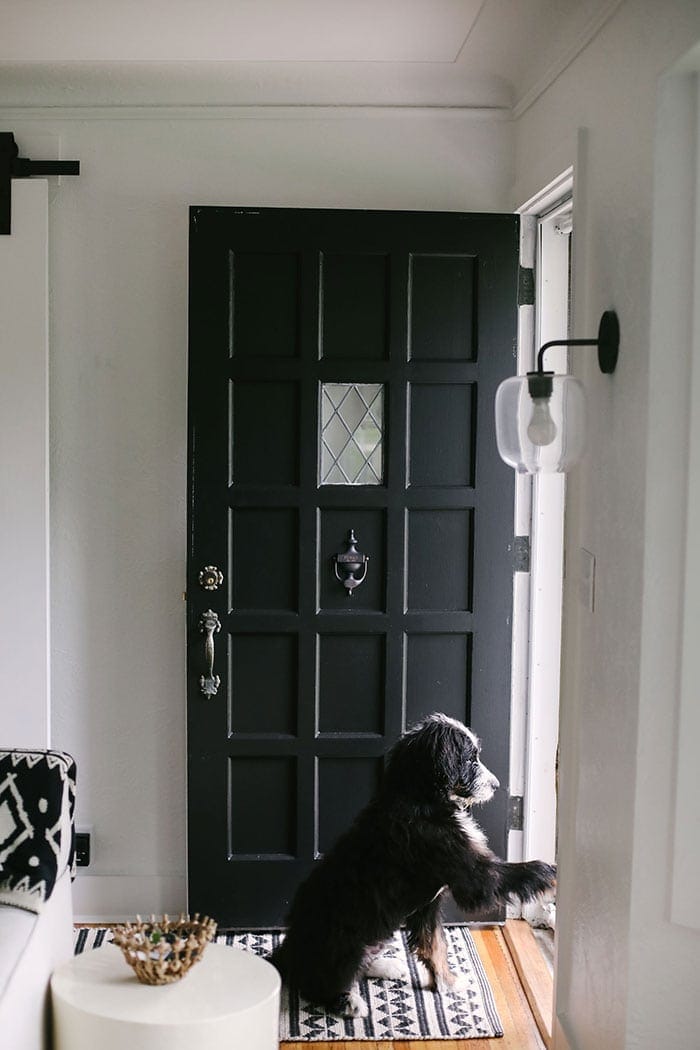 The Back
The back of my home is actually what needed the most help. You can see that when the previous owner added the upstairs addition, they didn't bother to match the siding to the rest of the house. Insert: weird yellow patchy siding.
A fresh coat of Vintage 24 has really done WONDERS for this space. I love the contrast it has with our green grass and brown roof. I have big plans for the patio area, which will likely be a next year project, but I think that a fresh pour of concrete will really wrap up our backyard.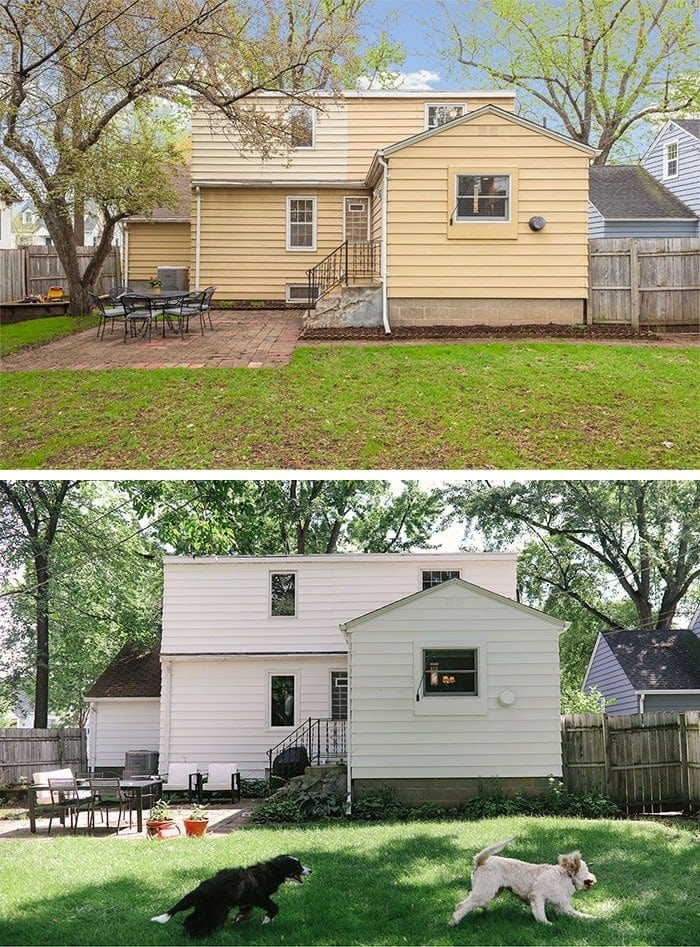 This post is sponsored by Abbott and Paint and Carpet. I was compensated and all opinions are my own.