Take your workout anywhere with these 15 strength-based bodyweight exercises! These moves use only your bodyweight and are from Healthy Glow Co's new HGG STRONG program!

Hello from NYC!
I've been on the East Coast all weekend with my family for a wedding (+ vacation) but was able to sneak away to write this post. As you know, HGG STRONG launched last weekend and Monique and I are thrilled with the feedback we've received so far. We have both been those girls that were afraid to lift weights and eat carbs because we thought they'd make us bigger and bulkier. Turns out, we need both in our lives not only to feel great on the outside but on the inside as well!
For so long, I focused on the number on the scale and to be honest, I've never weighed more in my life than I do right now. Guess what? I've never felt better. Did you know that muscle weighs more than fat? That's right, I may weigh the most I've ever weighed, but I have the lowest body fat percentage that I've ever had. #winning
My mindset about weight and body image shifted after college when I was recovering from my eating disorder and also studying for my group fitness certification. This allowed me to learn a lot about the body personally and scientifically. I was instantly drawn to strength training because it not only helped me through recovery, but it also helped me build confidence. I fell in love with strength training quite fast because of the way it made me feel. Ever heard of runners high? I've had that before and let me tell you, lifting high is way more intense. In all seriousness, I fell in love with it because it made me feel strong. It made (makes) me feel like a kick-ass bad ass woman that can do anything in the world and there's truly no better feeling than feeling strong. I can confidently say that after being someone who's had years of negative body thoughts and has had to fight for the feeling of feeling strong.
I want to take a second to talk to you about the benefits of strength training and why you should be incorporating it into your everyday life!
Increases metabolism. That's right, the more muscle you have, the more calories you burn while doing absolutely nothing.
Improves bone health.
Prevents injury. Remember when I broke my foot?
Decreases fat.
Increases quality of life. I'm talking about the ease of walking up a flight of stairs and doing chores.
Increases longevity.
Makes you feel like a bad ass.
My favorite from the list above is clearly the last one because duh, you are a bad ass.
The HGG STRONG program mixes a variety of different exercises and incorporates dumbbells, bodyweight, and cardio moves. Strength training doesn't always refer to lifting weights because there is so much good that can be done with just your bodyweight. I thought that sharing 15 of my favorite bodyweight exercises from our new program was fitting because you can do these anywhere…including: at home, while traveling, at the gym, etc.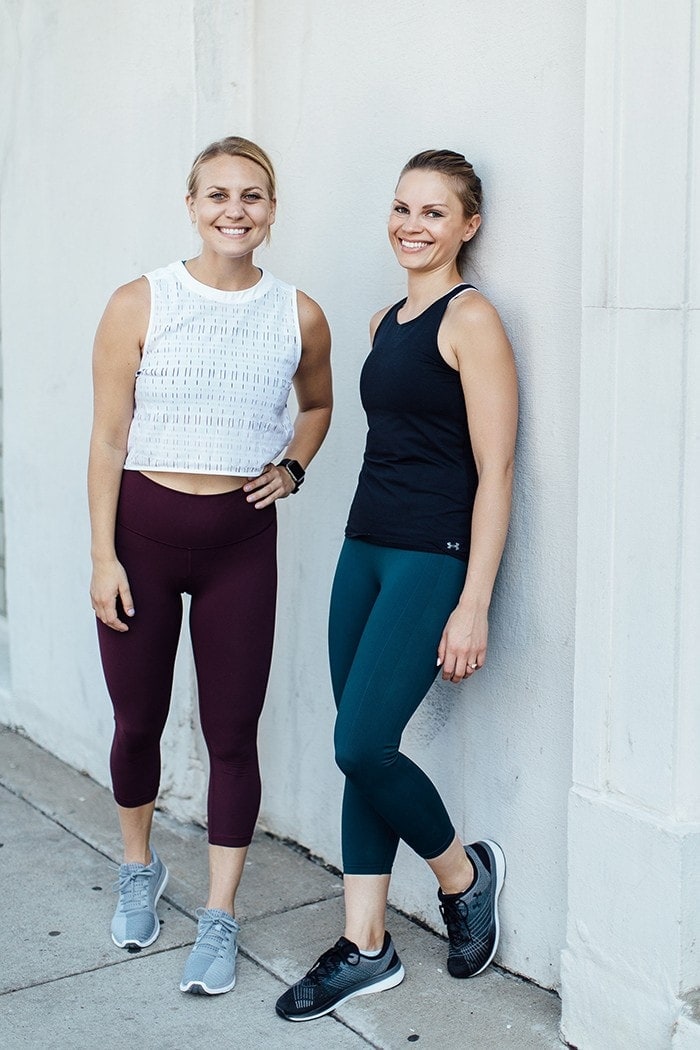 15 Exercises You Can Do Anywhere (without weights!)
Incline Plyo Push Ups
Squat Jacks
Lunge Tap Backs
Hip Raise Marches
180 Burpees
Plank Walk
Lateral Ski Jumps
Leg Lift Reverse Crunch
Tuck Jumps
Switch Lunges
Bicycles
Supermans
Tricep Dips
Push Up to Down Dog
Russian Twists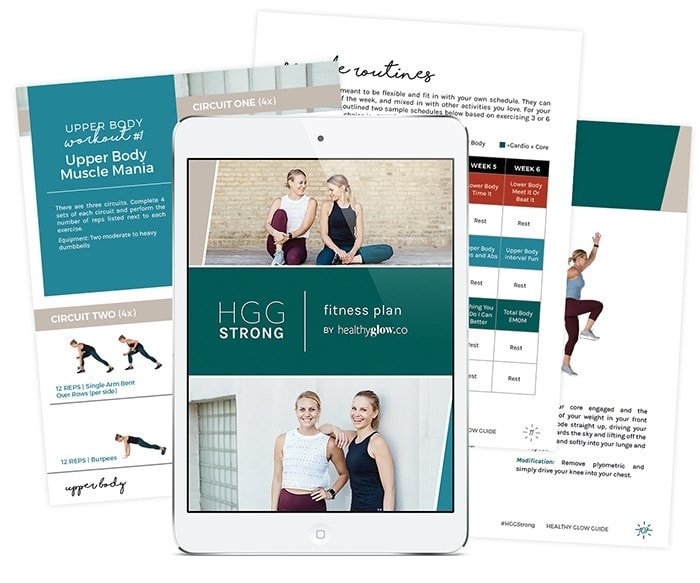 Head over to the Healthy Glow Co. to learn more information about the new HGG STRONG program. I know you're going to love it!