Are you ready for a kick-butt cardio workout that you can do anywhere and at any time? This Plyo HIIT Cardio Workout incorporates tabata HIIT training which will spike your heart rate up and down for optimal calorie/fat burn!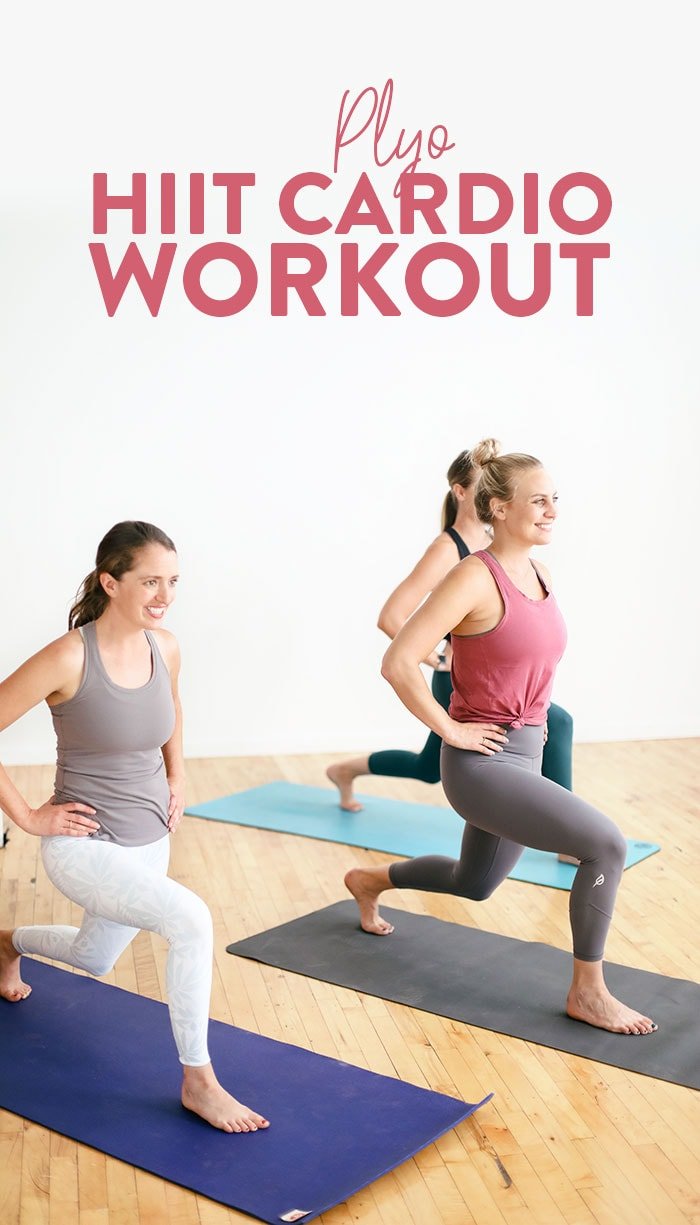 Plyo HIIT Cardio Workout Video
[adthrive-in-post-video-player video-id="9BEATU5D" upload-date="2018-10-08T19:20:57.000Z" name="Plyo HIIT Workout" description="Looking for a quick 40-minute burn? Do this Plyo HIIT Workout for a quick, yet efficient workout that will get your heart rate up and torch calories! "]
Happy Monday! It's been way too long since we shared a workout on FFF and don't you worry. We've got some great ones in the queue. We're starting things off with one of my favorite ways to sweat — HIIT. High-Intensity Interval Training is great for those that don't have a lot of time, but that want to get a good calorie burn in anyways. The gist of HIIT is spiking your heart rate up and then bringing it back down with interval training.
HIIT Workout Q&A
What is HIIT workout? HIIT stands for High Intensity Interval Training. This refers to a workout that incorporates bursts of high energy movements where you get your heart rate up followed by a certain time for recovery to lower your heart rate back down.
How many days a week should you do HIIT? We recommend incorporating HIIT Workouts into your exercise regime at least 2 days per week.
Are HIIT workouts good for weight loss? Yes! HIIT workouts are very good for weight loss because the rapid change in heart rate from high to low burns fat quickly.
How do you do HIIT on a treadmill? Check out this Cardio Strength Interval HIIT Workout from Fit Foodie Finds.
Today's workout includes double the amount of work to rest at 20 seconds on and 10 seconds off. This is also known as a tabata-style workout. One of the reasons why I love tabata is because 20 seconds is totally doable. All you have to do is focus on that short burst of effort, give it your all, and then you get a quick recovery before you do it all again. A tabata circuit is a total of 4 minutes long with 8 total rounds. IMO, 4 minutes is also doable and it really helps break your workout up into attainable segments.
This HIIT cardio workout does not require any equipment, however, you are more than welcome to incorporate it in as it feels right. I personally love that this is a bodyweight workout because I can take it with me when I travel.
Plyo HIIT Cardio Workout
Description: There are 4 total tabatas and each of them are 4 minutes long. Each tabata has 2 exercises. Do each exercise for 20 seconds, then rest for 10 seconds in between. Do 4 rounds of each superset before taking a 1-minute minute break and moving on to the next tabata. After you complete all 4 tabatas, repeat the entire workout one more time.
Equipment needed: Bodyweight
Tabata 1
Jump Lunges
Jump and Touch
Tabata 2
Tabata 3
Lateral Shuffle
Backward Lunges
Tabata 4
Disclaimer: I am not a certified personal trainer. Always check with your doctor before starting a new fitness regime and please listen to your body.