It's time to get your cardio on with this amazing cardio stairs workout that combines stair intervals with bodyweight recovery moves. Don't forget to fuel your body before and after your workout with something protein-filled like FAGE Total Split Cups!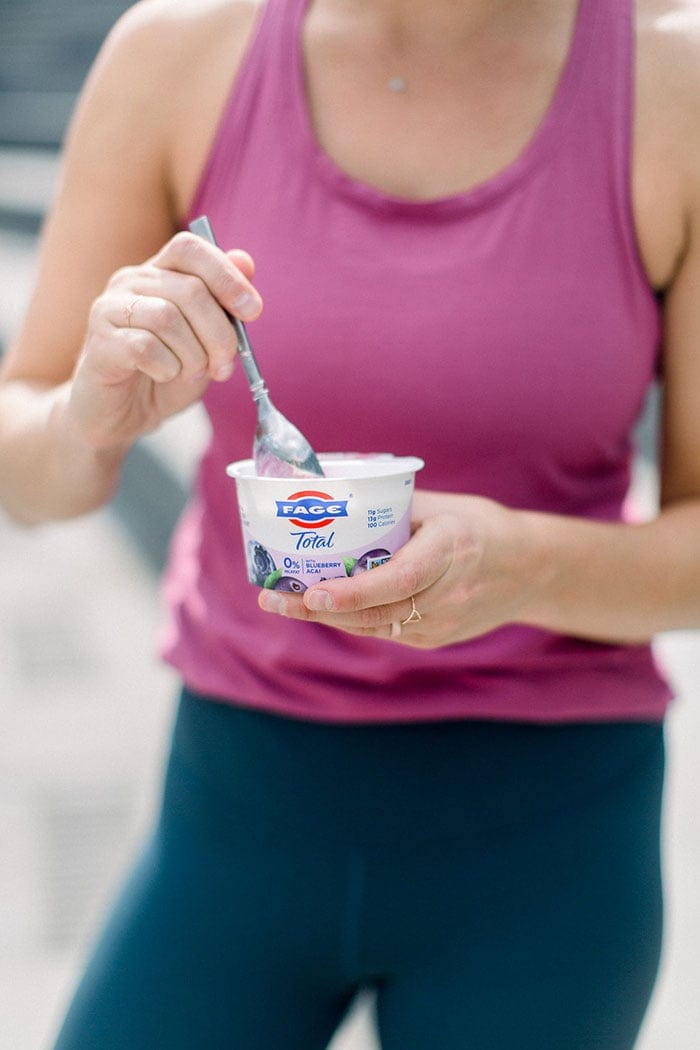 Hello frands! We're excited to be partnering with FAGE today for this epic, HIIT stair workout that combines stair repeats with intervals of bodyweight recovery moves. FAGE Total Split Cups are one of our favorite pre or post-workout recovery snacks because they're super high in protein and low in sugar…not to mention they're are d to the lish.
First and things first, let's talk pronunciation. I've always wondered how to pronounce FAGE, I mean, I eat it every day, and I've finally got clarification for you!
"Fa-yeh"
Kind of looks like eff yeah! But it's Fa-yeh..like YAY!
FAGE TOTAL 0% SPLIT CUPS (fruit flavors)
Non-GMO
Protein-rich (13g!)
Lower in sugar (Only 11g)
Super satisfying
Made with REAL ingredients
We love FAGE's Total Split Cups because they are made with real ingredients and you can pretty much take them anywhere…like to the gym! I always like to add a little something to my yogurt, but these Split Cups make it easy because they've got a flavor attached to them! Guys, the 0% and 2% Split Cups have more protein than sugar and THAT'S HUGE. Fueling your body properly post-workout with enough protein is just as important as the workout itself. Split Cups are made with all-natural Greek-strained yogurt and come in 3 milk fat varieties: 5%, 2%, and 0%. There are lots of different flavors, but my personal favs to fuel with after a workout are 2% cherry, 0% blueberry, or 2% peach.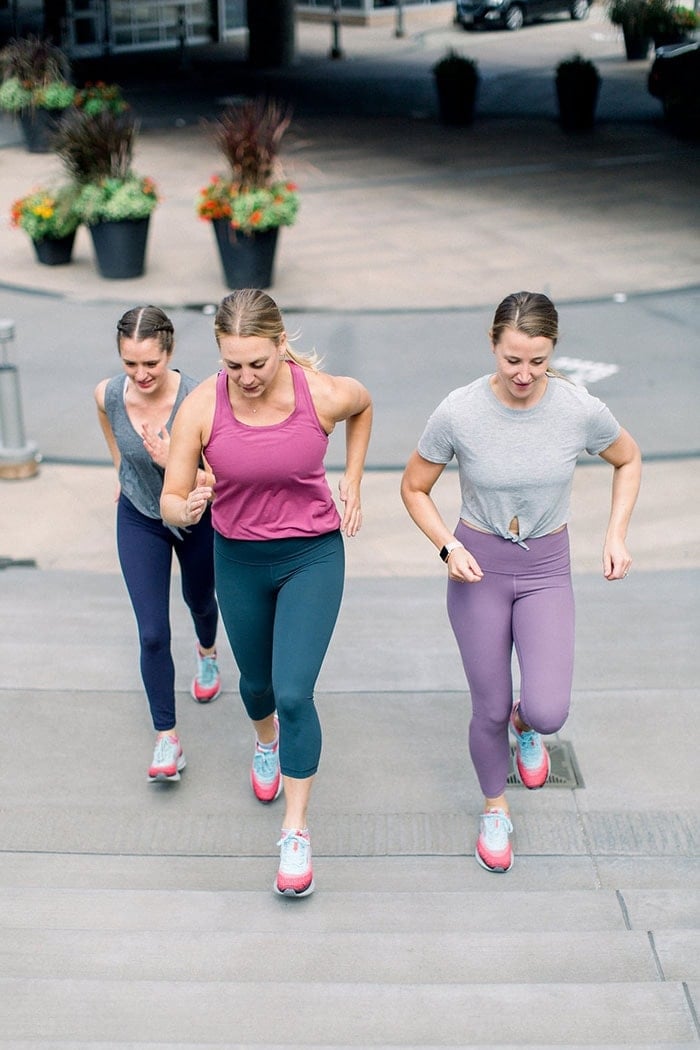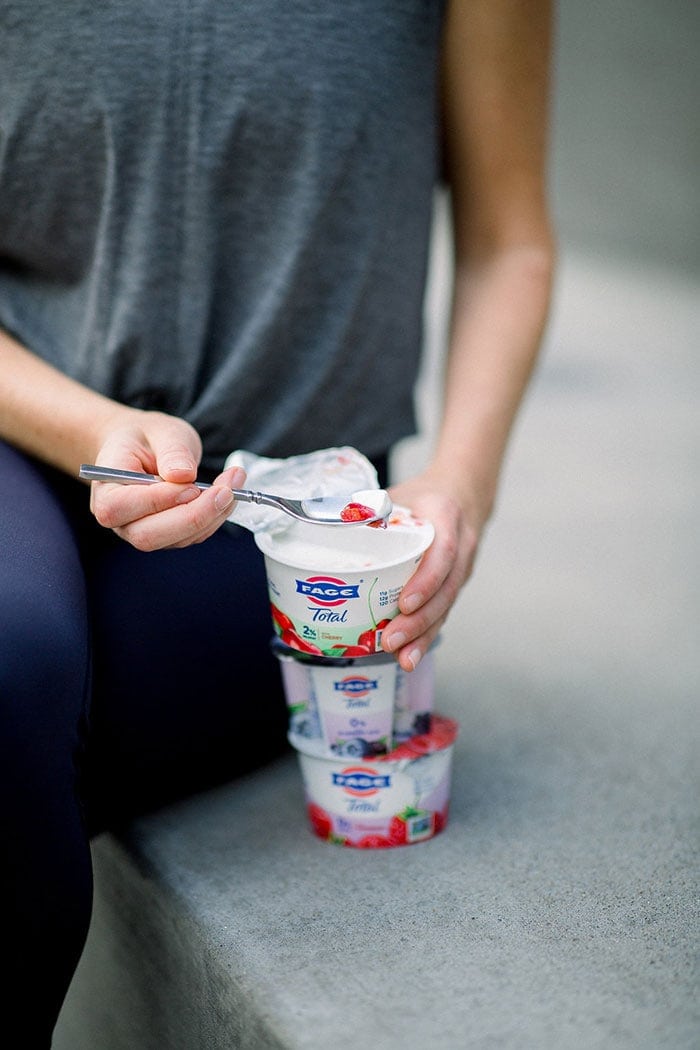 Get Your Workout On
We've got the perfect workout for you guys to do before you treat yourself to this delicious snack. Think stairs workout meets HIIT workout. We've been loving the challenge of stairs workouts this summer because your heart rate goes WILD. Our favorite stairs to use in Minneapolis are the Target Field steps in downtown and that's where we shot this workout! These steps have 4 flights of stairs and we love to "ladder" them for our workout. In other words, go up the first flight and come back down, then go up two flights and come back down, etc.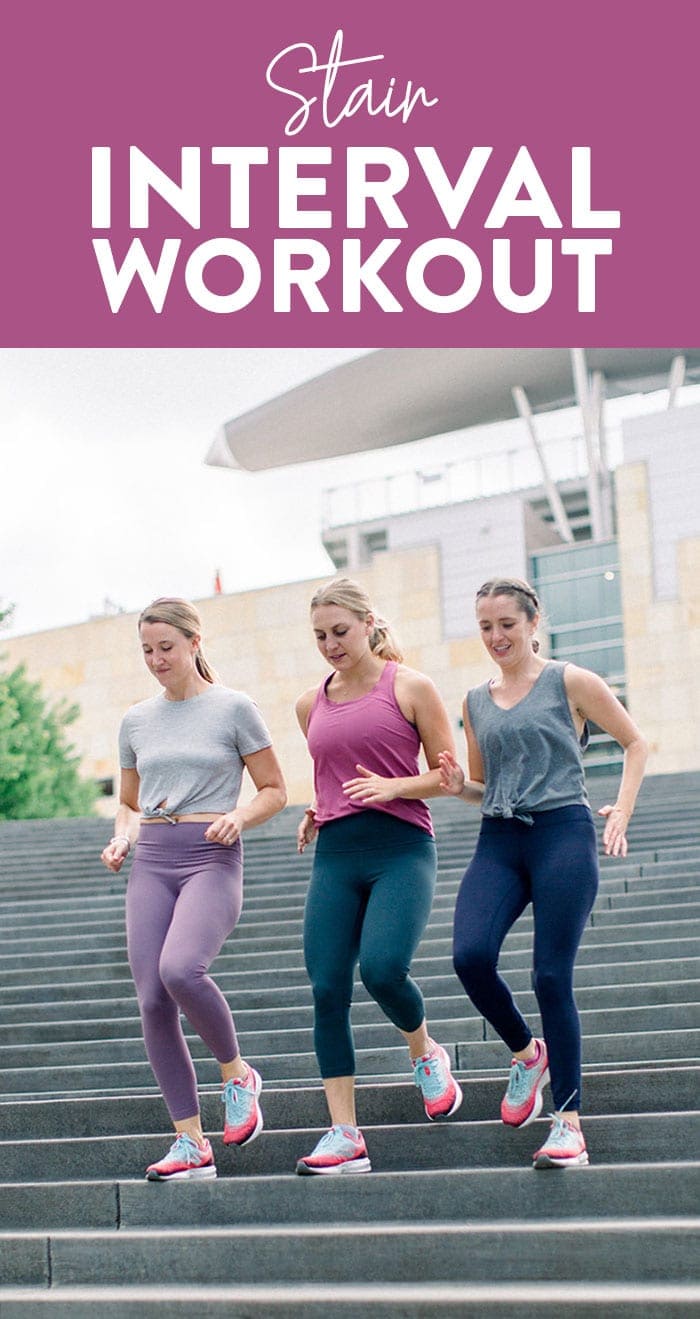 Cardio Stairs Workout
Begin with the warmup-up below. Then, complete "the starter" of 2 full sprint ascents* going all the way up to the top of the flight of stairs and back down. Then, move on to all 10 rounds of work. End with your "finisher" of 5 full ascents up and down the flight of stairs. Cool down with dynamic stretching.
Warm-up: 10 min warm up jog
Starter: 2x full sprint ascents*, jog down
Round 1
Stairs Ladder**
:30 Box Jumps
Round 2
Stairs Ladder
:30 Left side plank
Round 3
Stairs Ladder
:30 Plank + Shoulder Taps
Round 4
Stairs Ladder
:30 Right Side-Plank
Round 5
Stairs Ladder
:30 Air Squats
Round 6
Stairs Ladder
:30 Box Jumps
Round 7
Stairs Ladder
:30 Left Side-Plank
Round 8
Stairs Ladder
:30 Plank + Shoulder Taps
Round 9
Stairs Ladder
:30 Right Side-Plank
Round 10
Stairs Ladder
:30 Air Squats
Finisher: 5x full sprint ascents, jog down
Cooldown: 10-minute cooldown jog + dynamic stretching
**Stairs Ladder: we used a set of outdoor stairs that had 4 flights. A stairs ladder means you go up the first flight and then back down. Then, go up 2 flights and back down…3 and 4. If you do not have a set of stairs composed of 4 flights or want to do this workout inside, we recommend using the stair stepper machine for 20 flights of stairs.
Disclaimers: This post is sponsored by FAGE. I was compensated all opinions are my own. Please consult a doctor before performing any new exercise routines. Always listen to your body and modify as needed.