Get ready to sweat with this booty workout! You can use your body weight or you can add some dumbbells! Get your cardio fix and a great butt workout in under 45 minutes. It is a perfect workout for leg day or if you have a short amount of time to get a workout in.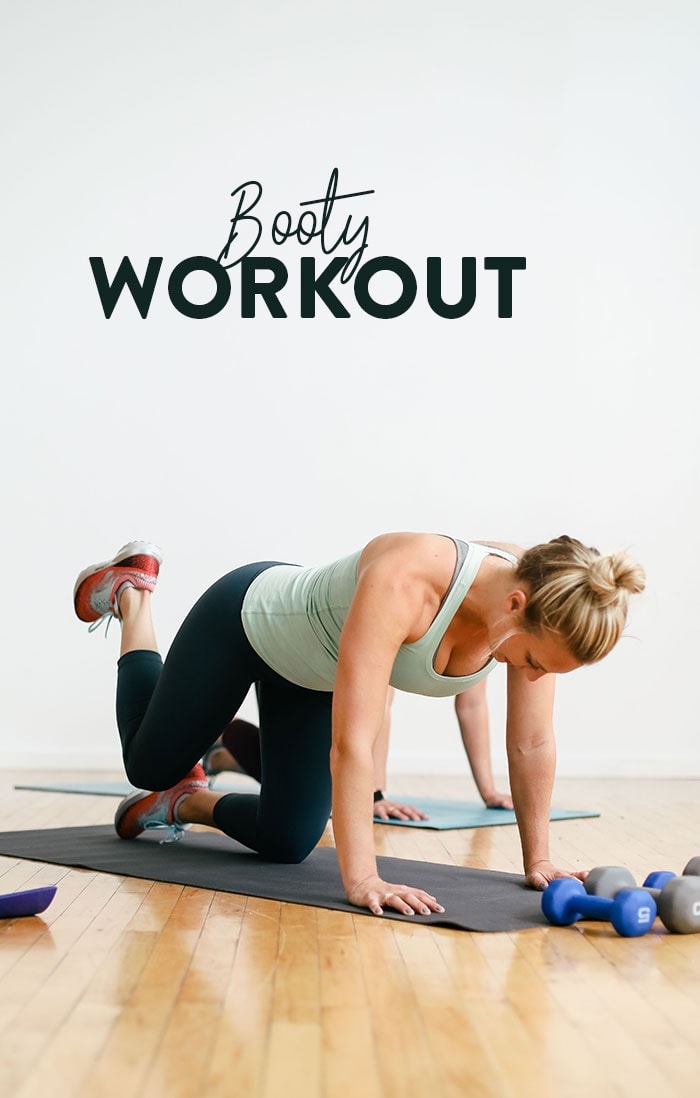 It's Linley here! It has been a long time since I have written a workout post. You all get a little taste of our team's workout routine if you follow us on Instagram. If you don't follow us on IG, we like to mix up our workout routine! I have learned that our workout routine tends to have an ebb and flow, just like our diets. #listentoyourbody
Right now, we are all doing a heck of a lot more yoga, climbing, and cycling. Why? We all have some form of anxiety or depression that we deal with and we decided to add more yoga into our week for our mind and body. We are cycling more now to help with Lee's back and with my IT band. Will we switch our routine some time and add more running in? Probably. However, right now we are listening to what our bodies need–> WAWHOO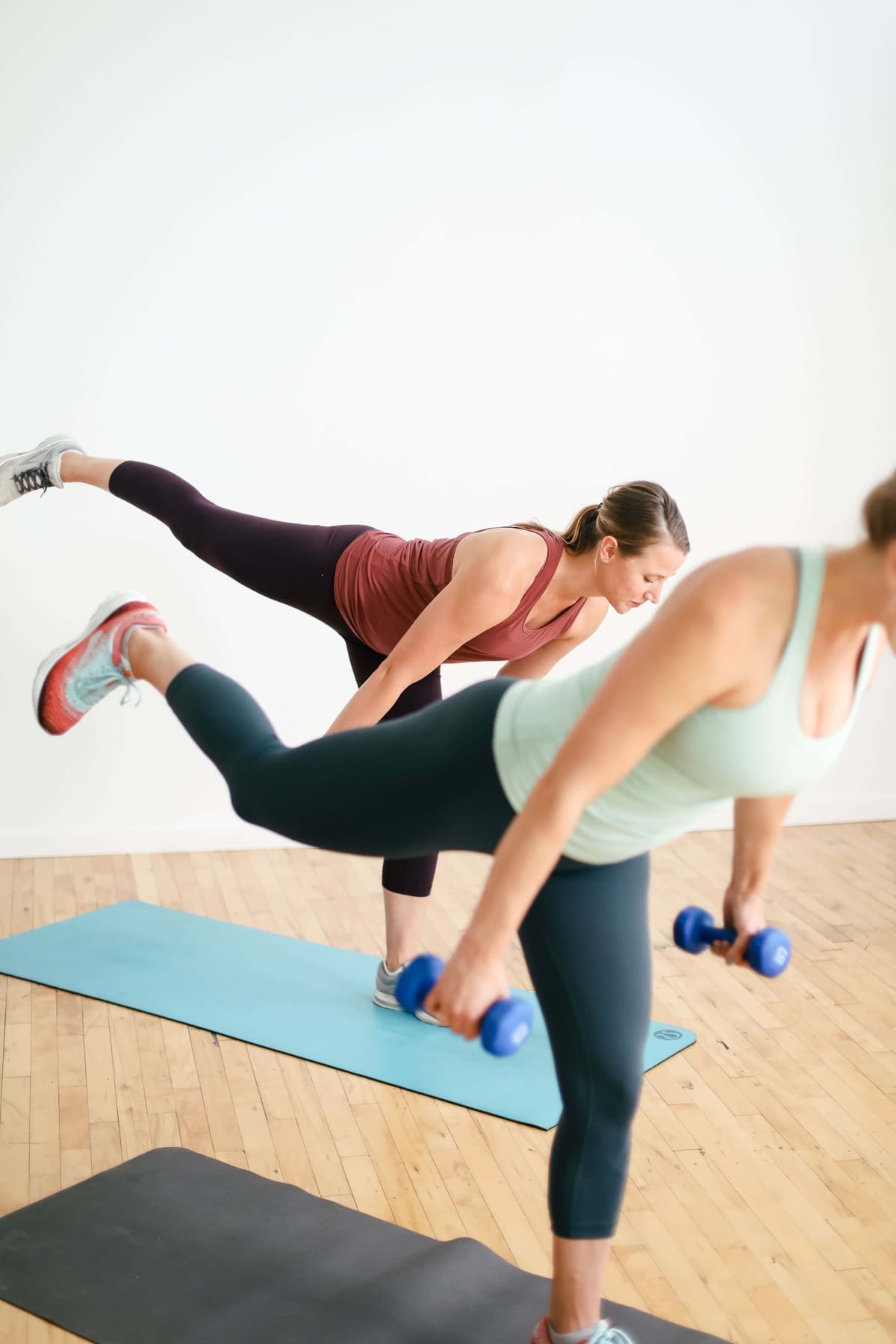 We have also added in more bodyweight workouts like this leg and butt workout that we are sharing with you today! I like this workout for many reasons.
You can choose to go heavy with weights or use your bodyweight.
There is a mixture of cardio and weight training to get that heart rate up.
You can get a booty workout in as well as your cardio fix.
It's a great leg day routine to add to your week.
This workout is done in 45 minutes, so you can squeeze it in, in the morning or in the evening when you have time.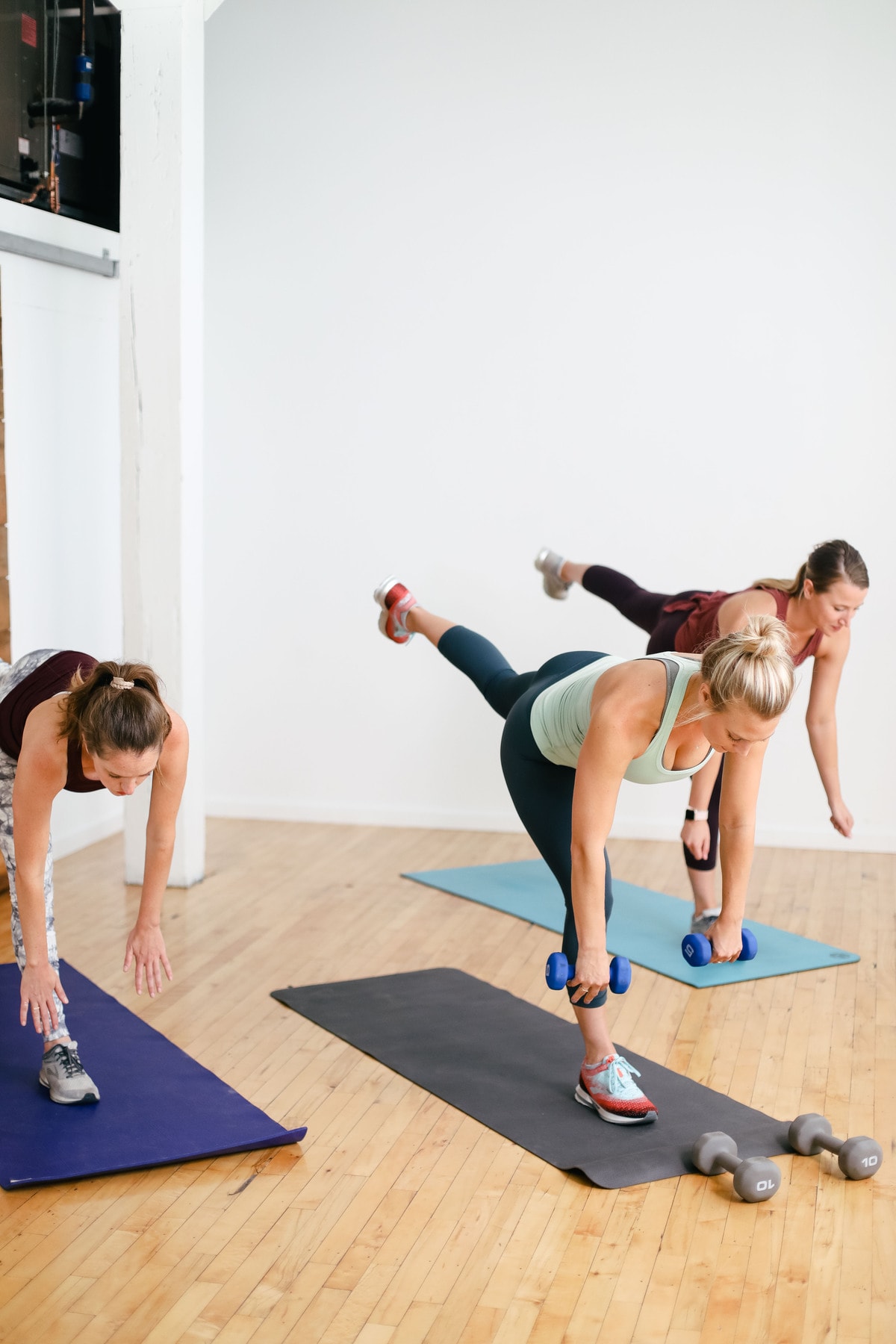 This booty burner workout is a great workout for me right now. I am trying to strengthen the muscles that support my knees because I am going to be running the Yosemite Half Marathon! That's right, Emily and I will be on our way to Yosemite to get our run on (Lee is coming as moral support, HECK YEAH).
Not only is the Yosemite Half Marathon the first half I will have run since my IT band injury (which happened 6 years ago), but I will also be running the half for my 30th birthday! THAT'S RIGHT. Get ready, people. Emily is going to write a training program to train for a half and by-gosh it's going to be awesome.
It's workouts like this booty workout that are going to help me build strength on my crosstraining days to make sure my body is strong and ready to kick some half-marathon butt!
Now, check out the workout and some of our favorite Full-body workouts!
Fit Foodie Finds Full Body Workouts
Booty Workout
Do each exercise for 1 minute, each cardio for 30 seconds. Do each segment 3x through, then rest for 1 minute. Totals a 45-minute workout with cooldown stretching. Can be done with or without weights.
Equipment needed: Optional 5-10 lb. dumbells
Circuit #1
Lunge with leg lift (right)
Lunge with leg lift (left)
Squat with twist (right and left)
Rest 1 minute
Circuit #2
Airplane to front raise (right)
Airplane to lateral raise (left)
In and out squats
Rest 1 minute
Circuit #3
Glute leg lifts (right)
Glute leg lifts (left)
Squat pulses
Disclaimer: I am not a certified personal trainer. Always check with your doctor before starting a new fitness regime and please listen to your body.