These beef bulgogi bowls are hearty, flavor-packed, and perfect for your weekly meal prep! Thinly sliced rib eye is soaked overnight in a bulgogi marinade and set over a bed of fluffy white rice, veggies, and spicy kimchi for a deliciously complete meal.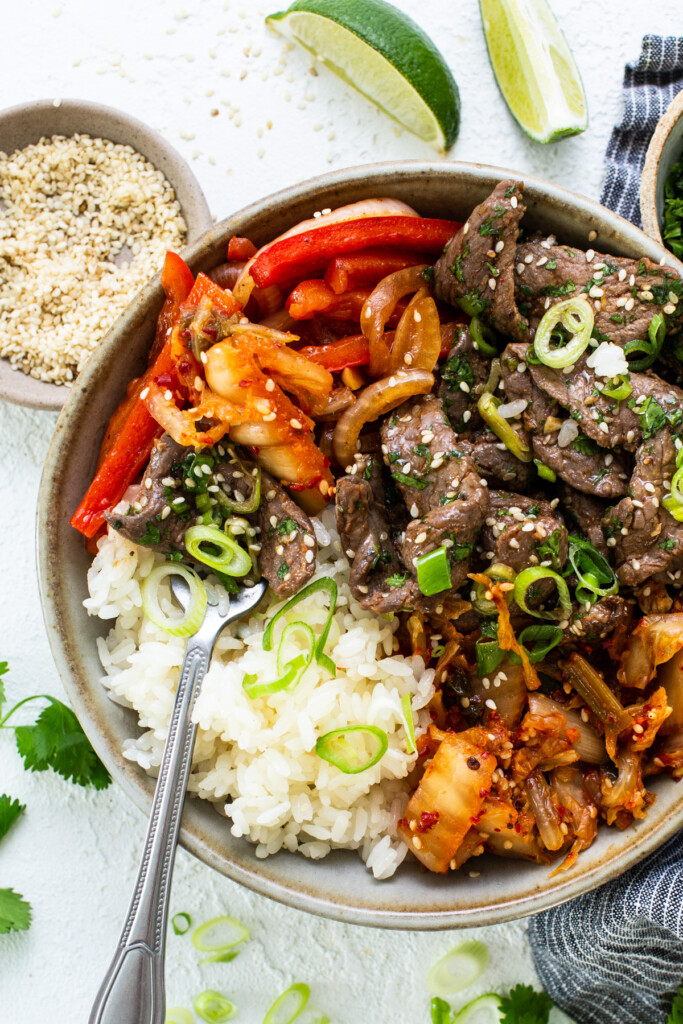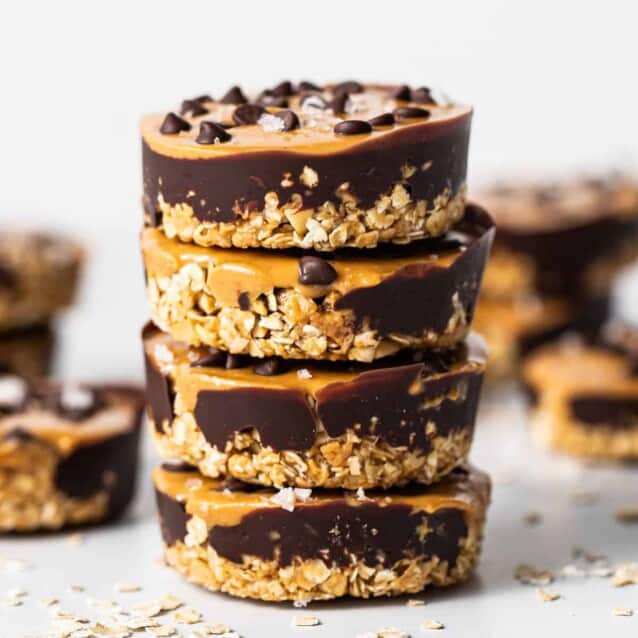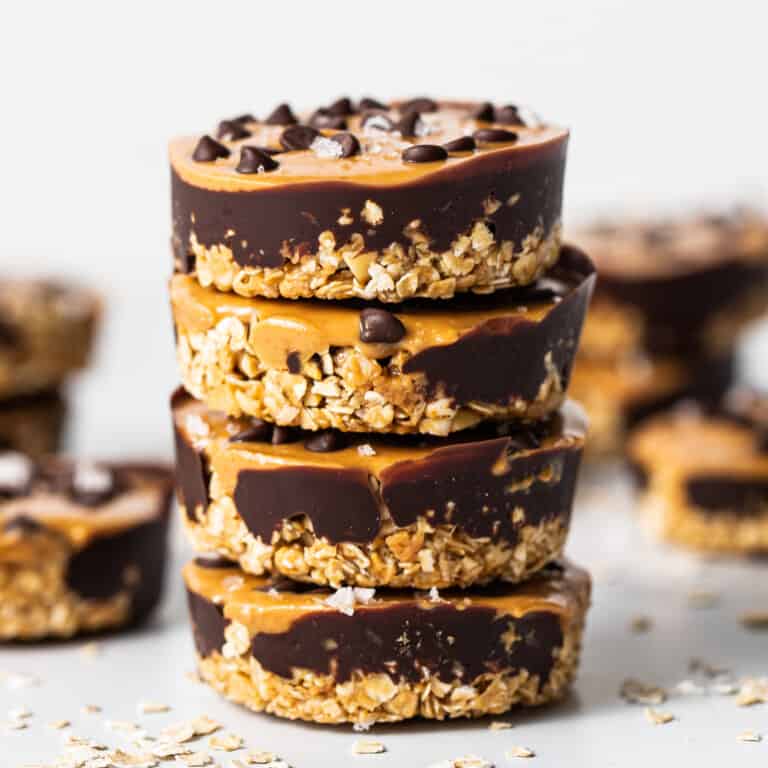 Get our Top 10 5-Star Recipes!
Join our email list for new recipes and BONUS: get our top 10 ⭐️⭐️⭐️⭐️⭐️ recipes e-book!
If you love Korean food but have never tried making it at home, this beef bulgogi bowl recipe is the perfect place to start! Our version is inspired by traditional beef bulgogi. Whip it up for an easy dinner, or make a big batch to use as a healthy meal prep for the rest of the week!
Preparing a delicious rib-eye steak is easy. Start by preparing the meat and making the marinade. Let the meat marinate for a while before cooking it in a large skillet. Once the steak is cooked, use the beef drippings to cook the vegetables and then assemble everything on a plate before serving. Sizzle sizzle.
What's in Beef Bulgogi Bowls?
Boneless ribeye: the best cut of meat for bulgogi beef!
Soy sauce: offers an umami flavor for the ribeye marinade.
Toasted sesame oil: sesame oil adds a nutty, earthy taste to balance out the savory.
Gochujang: a red chili paste that is a staple in Korean cooking.
Red bell peppers: our veggie of choice for this bulgogi rice bowl.
Green onions: the perfect garnish for this bulgogi dish.
Lime: lime adds some acidity and brightness to level out the flavors.
Sticky rice: there's nothing like a bed of sticky rice under some delicious bulgogi!
Kimchi: kimchi is a Korean staple and tastes fantastic with the bulgogi.
Cast iron skillet: using a cast iron skillet allows all the ingredients to cook quickly and evenly.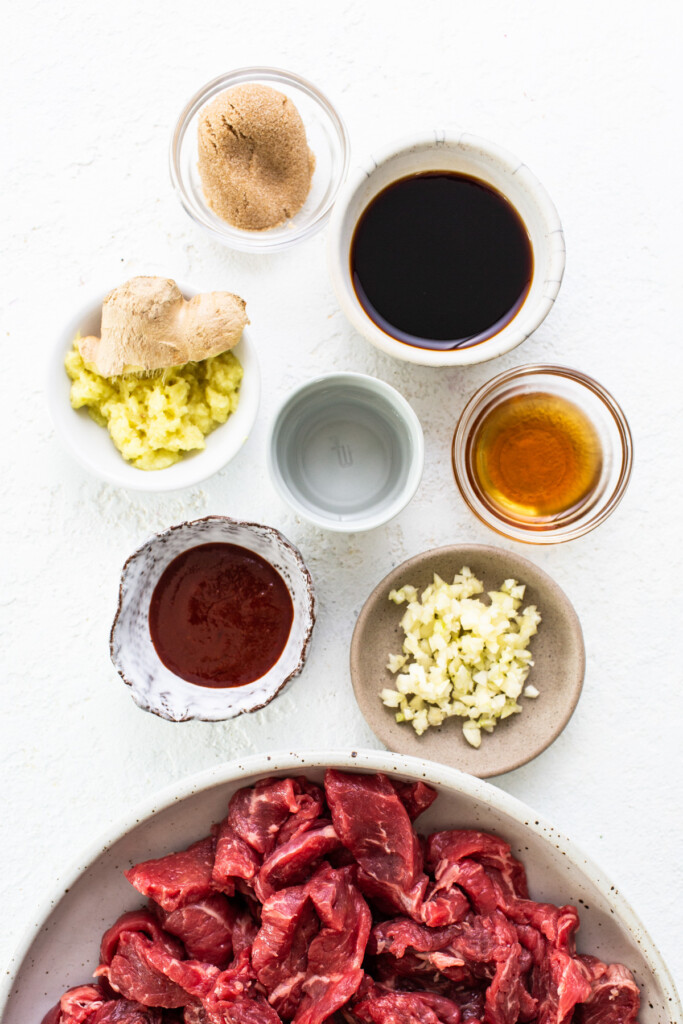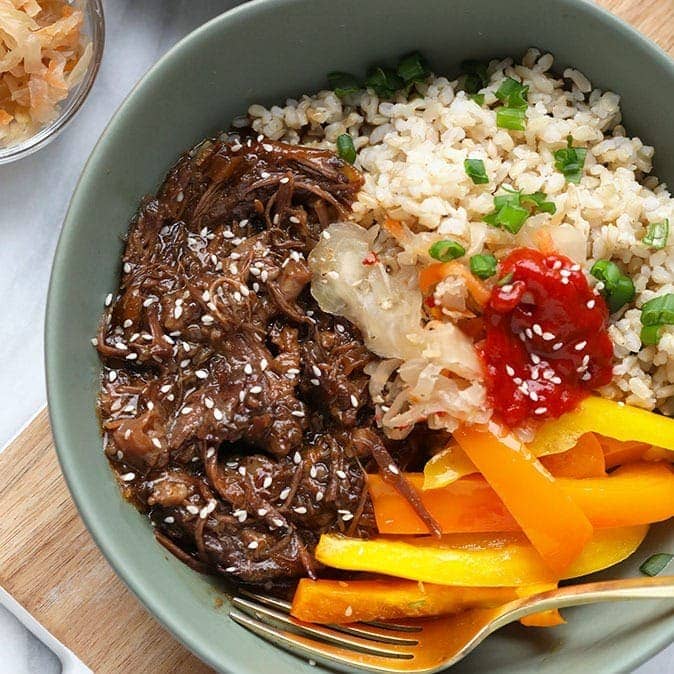 try it!
Instant Pot Korean Beef Bowls
It's time to make this fall-off-the-bone shredded Korean beef with your Instant Pot. You'll love this recipe!
get recipe
Substitutions & Variations
Red bell peppers: Feel free to substitute the red bell peppers with any of your favorite veggies.
Rice: Long-grain white rice would also taste great in this Korean beef bulgogi bowl.
Toppings: You're welcome to add other toppings for added flavor and texture. Dried seaweed or a soft-boiled egg would be yummy!
Make it spicy: If you prefer a spicier beef bulgogi, add 1-2 more teaspoons of gochujang. 
Make it a wrap: We serve our beef bulgogi in a bowl, but it tastes great as a lettuce wrap!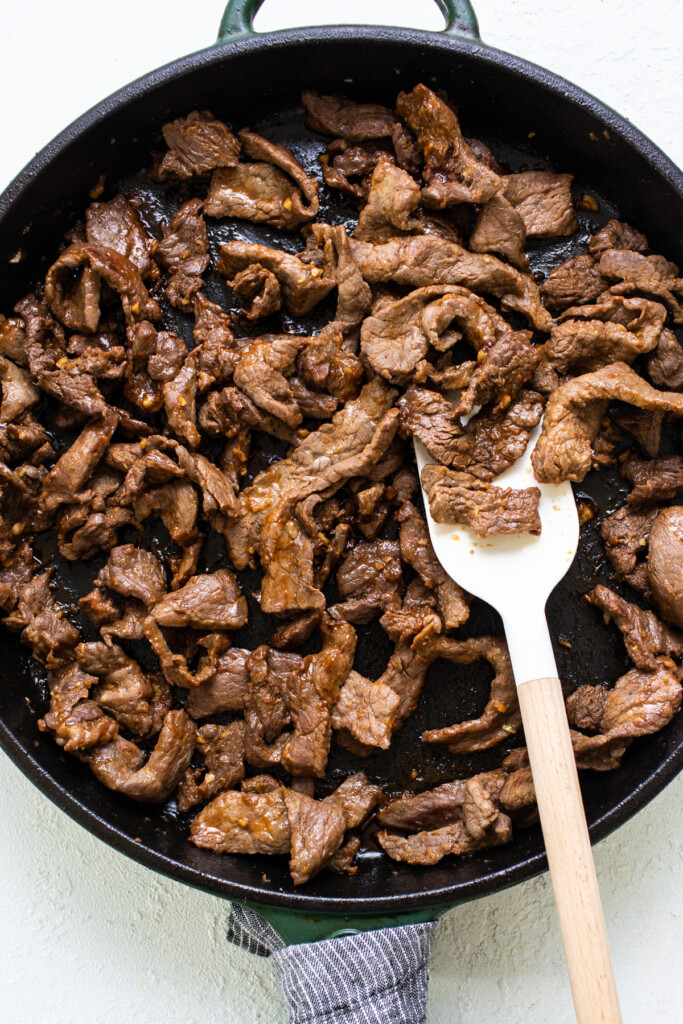 FAQs
What cut of meat is used for bulgogi?

Traditional bulgogi is often made with thinly sliced ribeye, which is well-marbled with fat and makes the dish tender and juicy. While you can use other cuts of meat, such as short ribs, sirloin, or tenderloin to make bulgogi, ribeye is generally preferred for its flavor and texture. 
What is the difference between bulgogi and bipimbap?

The main difference is that bulgogi itself is marinated thin-sliced rib-eye steak, while bibimbap is a bowl of vegetables and beef that is topped with a fried egg and spicy sauce.

Like bibimbap, bulgogi is typically served with vegetables over rice for a flavorful and savory meal. The thinly sliced meat is marinated in a mix of soy sauce, sesame oil, garlic, and sugar for at least an hour before cooking. This marinade gives it a distinct sweet and savory flavor that is hard to replicate with other dishes.
What does Korean bulgogi taste like?

Bulgogi is a delicious and flavorful Korean dish traditionally consisting of marinated beef that's cooked over an open flame or on a grill. It has a complex flavor profile, combining savory, sweet, and salty notes. The beef is traditionally marinated in a blend of soy sauce, sesame oil, garlic, onion, ginger, sugar, Asian pear, and black pepper.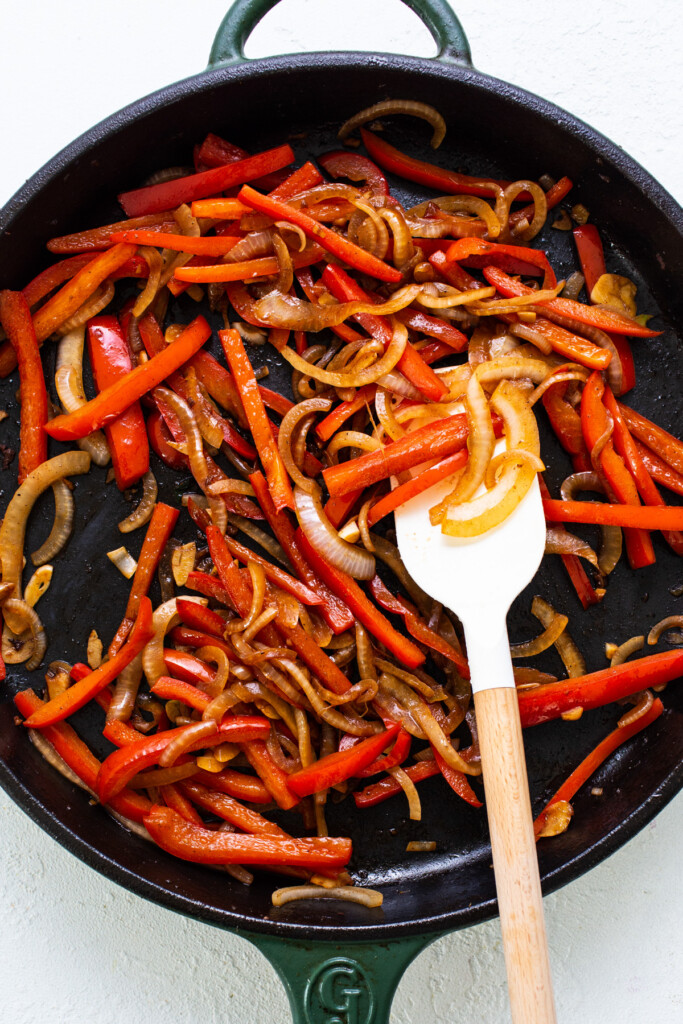 Storage
We recommend storing the beef, rice, veggies, and kimchi in separate airtight containers, if possible, before storing in the fridge for up to 4 days.
Freezer Directions
To freeze, place the beef, rice, veggies, and kimchi separately in freezer-safe, airtight containers or bags and store for up to 3 months.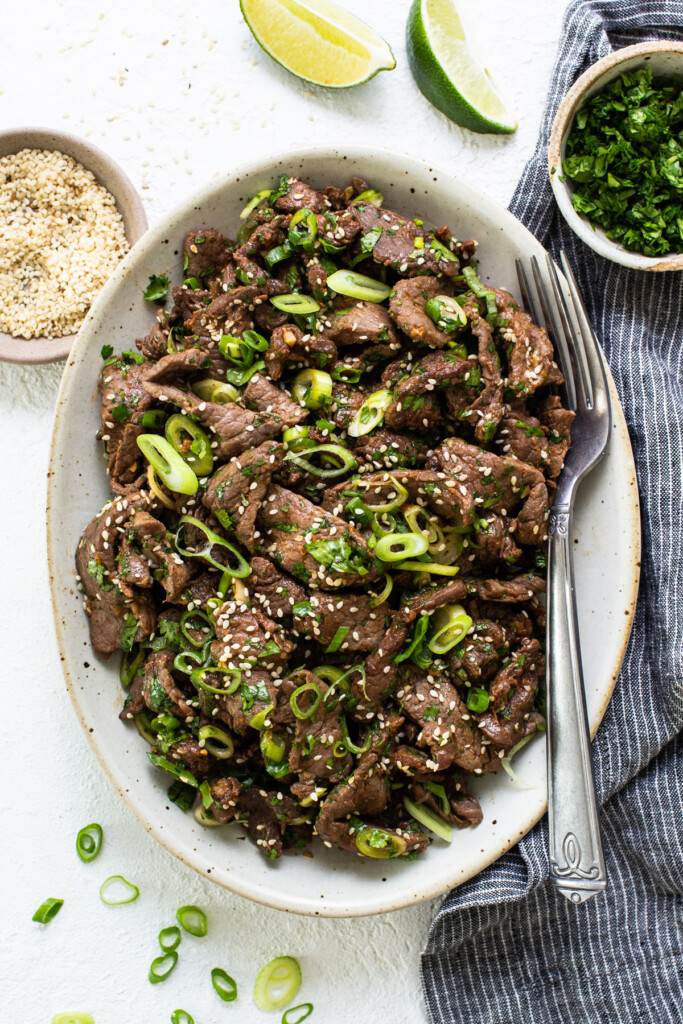 Other Tasty Korean-Inspired Recipes
Are you ready to bring even more flavors of your favorite Korean restaurant to your own kitchen for inspiration? Here are some other great Korean-inspired recipes that you'll LOVE: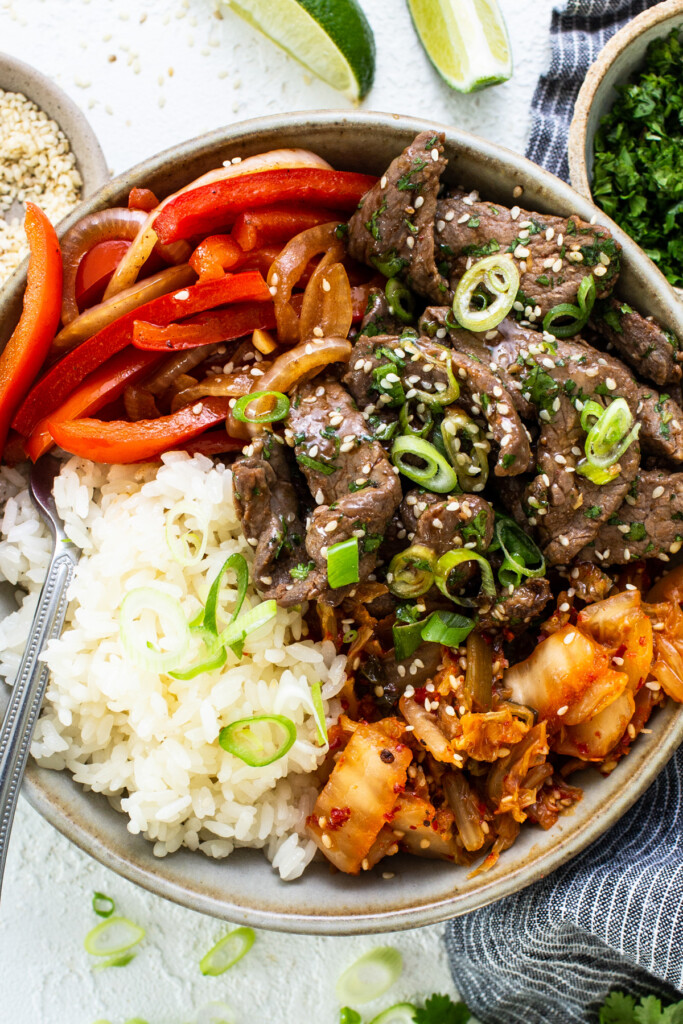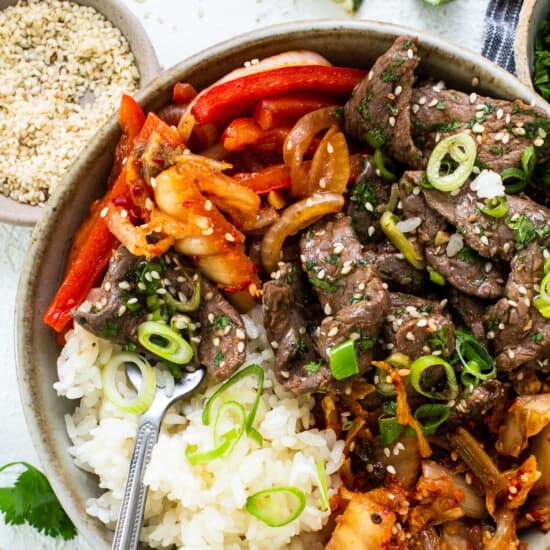 Beef Bulgogi Bowls
These beef bulgogi bowls are an easy and healthy recipe full of classic Korean flavors, perfect for a busy weeknight or daily meal prep.
Ingredients
Bowls
1

tablespoon

avocado oil

2

red bell peppers

sliced

½

large white onion

sliced

3

cloves

garlic

thinly sliced

½

teaspoon

salt

4

green onions

sliced

⅓

cup

chopped fresh cilantro

1

lime

sliced into wedges

2

cups

cooked sticky rice or long-grain white rice

1-2

tablespoons

raw white sesame seeds

1

cup

kimchi

any kind
Instructions
Place the ribeye in the freezer for 20 minutes to firm up the meat. When the meat is firm, slice the ribeye into thin strips against the grain (the muscle fibers).

Transfer the beef strips into a plastic bag or a bowl. Set aside.

Whisk the ingredients for the marinade together until combined. Pour the marinade over the beef. Stir the beef into the marinade until completely coated. Place the beef in the fridge for at least one hour or overnight for optimal flavor. Stirring the beef periodically or turning the bag over to make sure all the beef has time in the marinade.

Remove the beef from the fridge and remove it from the marinade. Transfer it to a plate and let excess moisture drip off the beef. Set the marinade aside. Let the beef rest at room temperature for 10-15 minutes.

Heat the avocado oil in a large cast iron skillet over high heat. When the cast iron is hot, add the beef to the pan. Sear the beef for 2-3 minutes on each side. Remove it from the pan. Add the sesame seeds, green onions, and cilantro to the beef and toss. Set aside.

Leave the beef drippings in the pan and add the bell peppers, white onion, and garlic to the pan. Season with salt and saute for 4-5 minutes until just cooked, not soggy. Remove from heat.

Add the excess marinade to a saucepan and bring to a boil. Let it simmer for 5 minutes. Set aside.

Evenly distribute the beef, rice, vegetables, and kimchi in bowls. Top the beef with the boiled extra marinade if desired. Serve with a fresh squeeze of lime juice.
Tips & Notes
If you prefer a spicier beef bulgogi, add 1-2 more teaspoons of gochujang.
We serve our beef bulgogi in a bowl, but it is great in lettuce wraps.
Feel free to substitute the red bell peppers with other vegetables.
Serve with a soft-boiled egg if desired.
Sticky rice directions:
Rinse 1 cup of uncooked rice under cold water for 2-3 minutes.
Add the rice to an Instant Pot and add 1 cup of water. Stir and make sure all of the rice is covered in water.
Cook the rice under high pressure for 4 minutes and then naturally let the rice release for 8 minutes. Release the rest of the pressure and fluff the rice.
Set aside.
Nutrition facts
Calories:
473
kcal
Carbohydrates:
24
g
Protein:
34
g
Fat:
27
g
Fiber:
2
g
Sugar:
5
g