Make these low-carb, high-protein Korean Style Chicken Lettuce Wraps for a delicious, healthy weeknight meal the entire family will love!
If you are a big lettuce wrap fan, try our world famous copy cat PF Changs Lettuce Wraps or these delicious 30 Minute Thai Chicken Lettuce Wraps.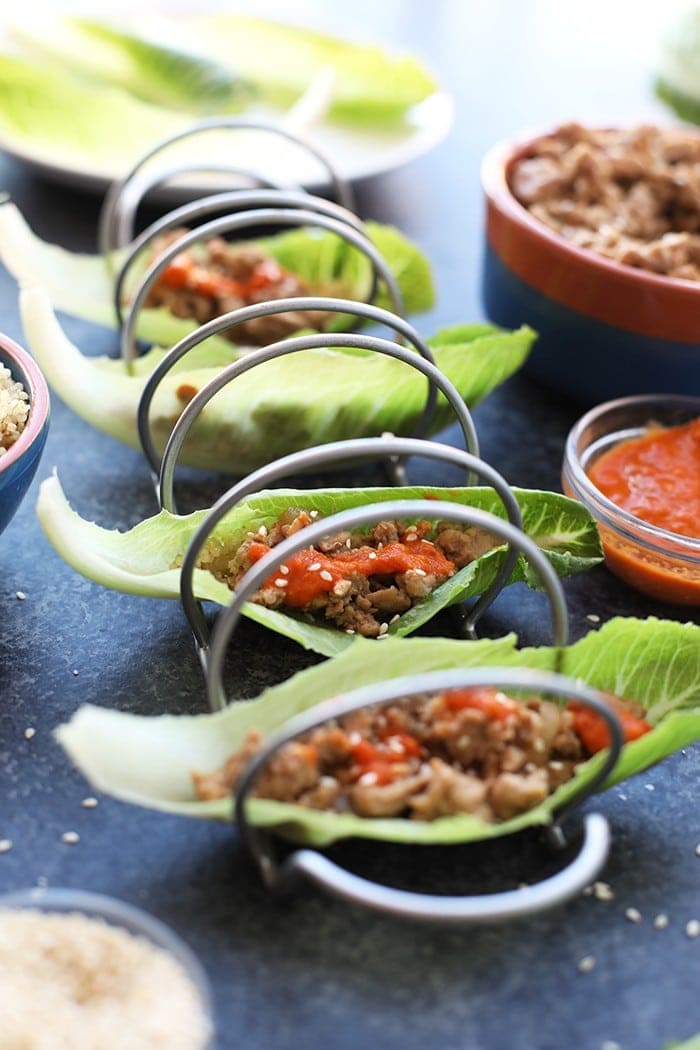 Practice Makes Perfect
I love cooking, it's always been a passion of mine. It runs in my blood and I feel so grateful that it is part of my job. I recognize that not everyone grew up cooking in the kitchen and it is an honor to share all of the simple and delicious recipes with all of you.
I was in line at Trader Joes the other day and the clerk commented on all of the fruits and veggies I was buying, "Oh man, it looks like you're a healthy eater". My response was "I usually am a healthy eater, but it's because it's freakin' delicious"!
We proceeded to chit chat about how you can eat healthily and enjoy your food all at the same time! We looked through FFF's Instagram and she seemed pumped to get home and test our some recipes. It was amazing.
If you are one of those people who didn't grow up cooking or if you're not quite sure how to cook a meal that is tasty and healthy, it's ok! It's not about perfection. The more you stress, the less fun it will be. Here are tips we give people when getting back into the kitchen.
Get Started in the Kitchen
Choose Food that Excites You- Before making a plan, think about what food you've been excited to try. Are there any ingredients you love or have always thought about adding to the menu? Now is the time! Preparing the food you're not excited about is the worst!
Start Slow- Go easy on the meal prep right away. Don't jump into a week and try to make three new recipes every day for your first week! Maybe choose two new healthy meals to start with your first week and add on from there!
Make a Plan- When you know what two recipes you are going to start off with, make a plan! Put together a grocery list, decide what day you're going to meal prep, buy your meal prep containers, and you're set! Planning ahead takes a bit of time, but it makes life less stressful during the week.
Another thing that makes life a little easier is finding a cookbook or blog that inspires you and start with those recipes!
We love these amazing Korean-Inspired Chicken Lettuce Wraps from the amazing Skinnytaste Fast and Slow Cookbook
. Add these simple lettuce wraps to the menu this week.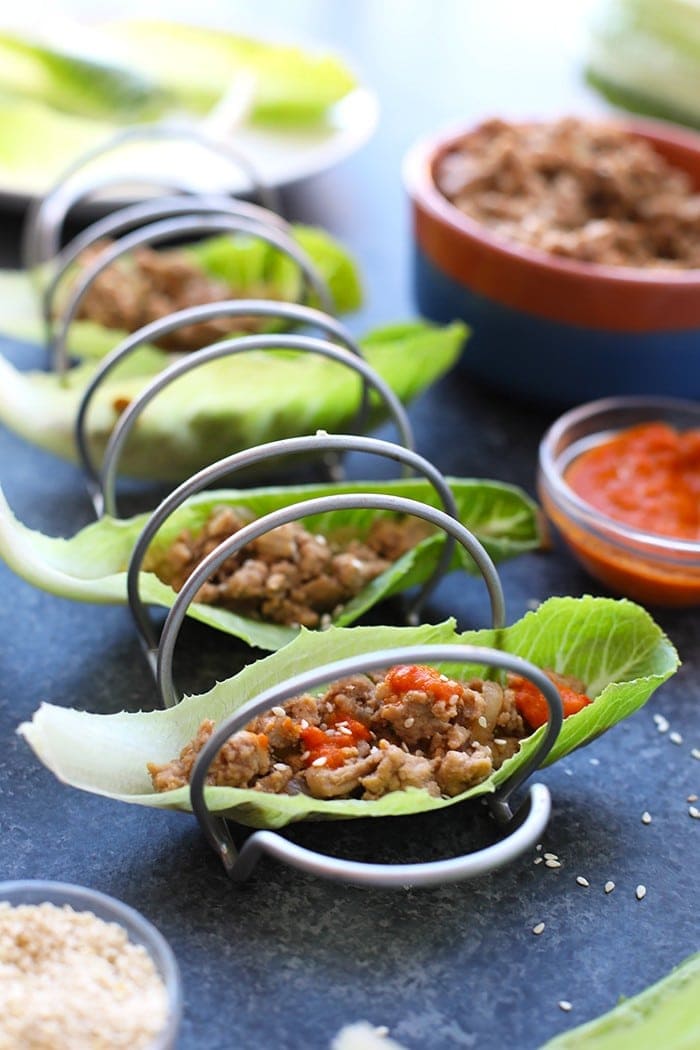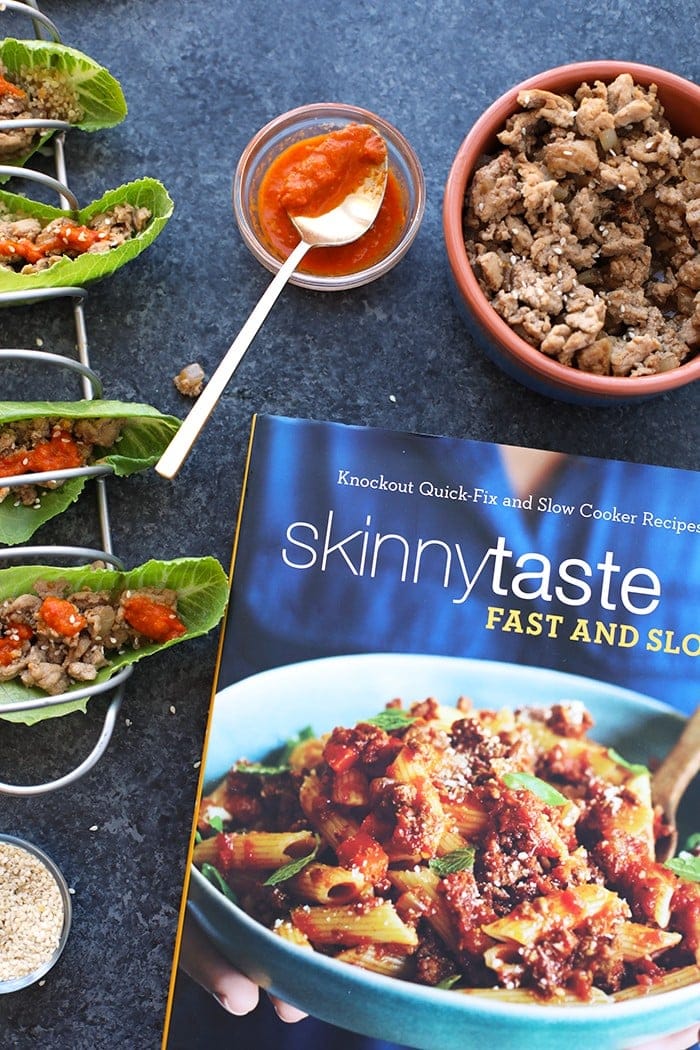 Asian-Inspired 30-Minute Meal
I got to choose one recipe from her cookbook to share and of course, I went with an Asian-inspired 30-minute meal. The cookbook is composed of 80+ 30-minute meals and 60+ slow cooker recipes. Basically a dream for the working woman. These lettuce wraps are just that. A DREAM.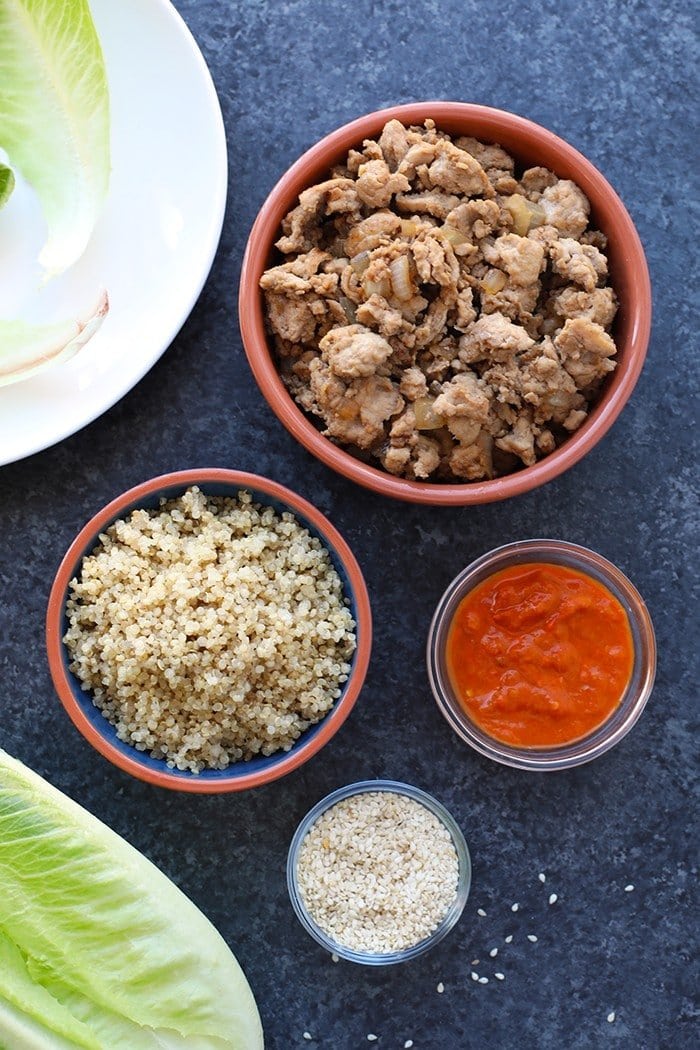 Quick and Easy Recipe
These chicken lettuce wraps are a super easy delicious and low carb meal that everyone (and I mean everyone) will love! You get your lean protein with the ground chicken, a light wrap from the lettuce and amazing flavor.
I made a few minor modifications like using quinoa instead of brown rice and maple syrup instead of brown sugar. Other than that I followed the recipe exactly!
Guys, this recipe is a cinch, even an 8-year-old could make it. What I was really excited for, for this recipe, was to use my taco holder. I pull that thing out as much as I can because it's so dang cute 🙂
$9.95, Crate and Barrel, if you're wondering.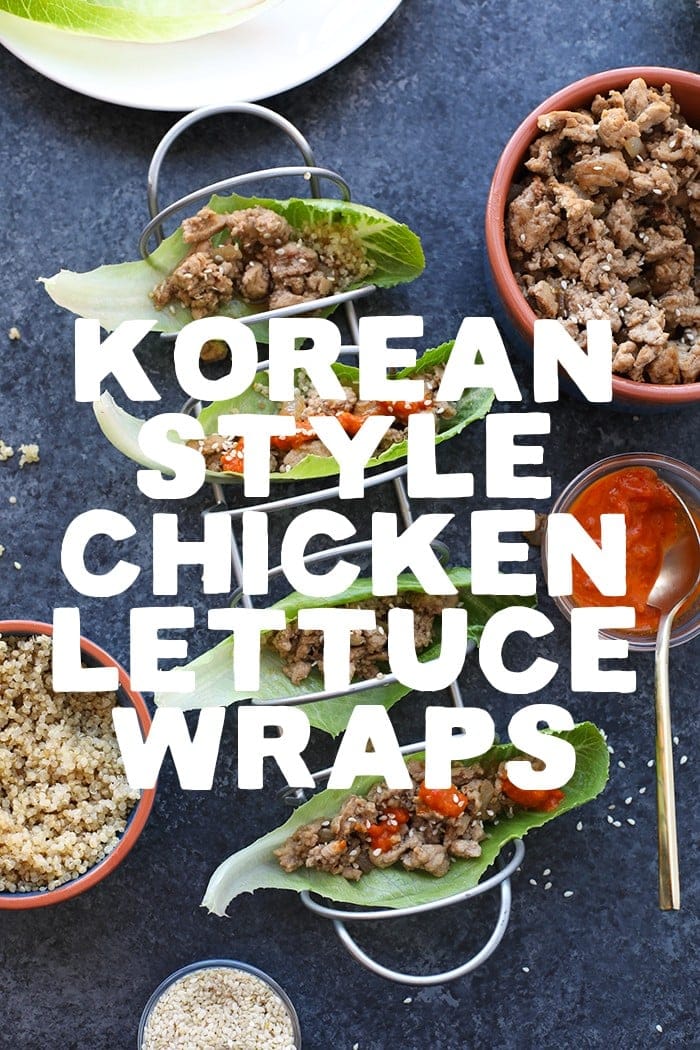 Healthy Lettuce Wraps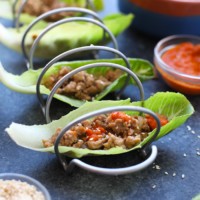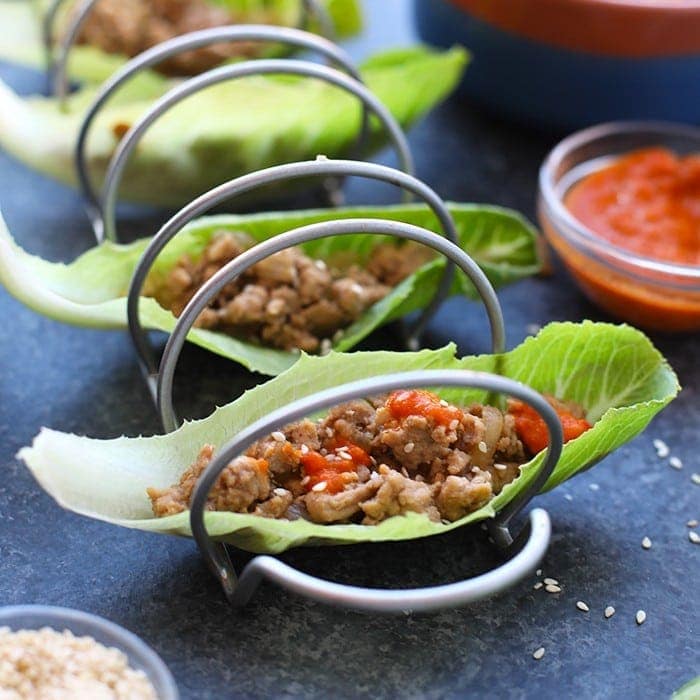 Korean-Style Lettuce Wraps
Make these low-carb, high-protein Korean-Style Chicken Lettuce Wraps for a delicious, healthy weeknight meal the entire family will love! 
Ingredients
1/4

cup

low sodium soy sauce

or tamari

2

teaspoons

light brown sugar

1

teaspoon

sesame oil

1/2

teaspoon

crushed red pepper flakes

cooking spray

1

lb.

lean ground chicken

1/4

cup

chopped yellow onion

2

garlic cloves

crushed

1

teaspoon

grated ginger
For the Wraps
12

large outer lettuce leaves such as green leaf or Bibb lettuce

2 1/4

cups

cooked brown rice

or quinoa

2

tablespoons

Gochujong

or more if desired

1/2

tablespoon

sesame seeds

plus more for topping

2

sliced scallions

white and green parts
Instructions
Combine the soy sauce, brown sugar, sesame oil and red pepper flakes in a small bowl.

Heat a large deep nonstick skillet over high heat, spray with oil and add the ground chicken. Cook, breaking the meat up with a wooden spoon until cooked through, about 5 minutes. Add the onion, garlic and ginger and cook 1 minute. Pour the sauce over the chicken, cover and simmer on medium-low 5 minutes.

To assemble the lettuce wraps, place 3 tablespoons brown rice over each leaf, top with 3 1/2 tablespoons of chicken, Gochujong, sesame seeds and scallions. Wrap the leaves over the rice and meat into little burrito like bundles and eat right away.
Nutrition facts
Calories:
375
kcal
Carbohydrates:
40
g
Protein:
30
g
Fat:
13
g
Fiber:
3
g
Sugar:
6
g
Swoon-Worthy Recipes
I am super excited to have gotten an early release copy of Gina's new cookbook and to have finally met "the Skinnytaste" herself this past Spring at the Fresh Coast Retreat! Holy man, looking back at those photos makes me so happy I have two feet that work (hashtag boot life). I'm sure a lot of you have heard of Skinnytaste and swoon over her amazing recipes.
Whelp, Gina is just as amazing in real life. She is such an inspiration in the blogging community. From her crazy following to her super successful cookbook line, to her sweet/genuine personality…I pretty much want to be her when I grow up. Oh, and she is BEAUTIFUL. The woman doesn't wear any makeup and literally shines from the inside out.