Take your brunch drink up a notch and make a beermosa! Forget the champagne and add mix your favorite beer with some orange juice for the perfect brunch cocktail!
Looking for more naturally sweetened and delicious cocktails? Our bloody mary recipe and healthy greyhound are a perfect addition to any happy hour!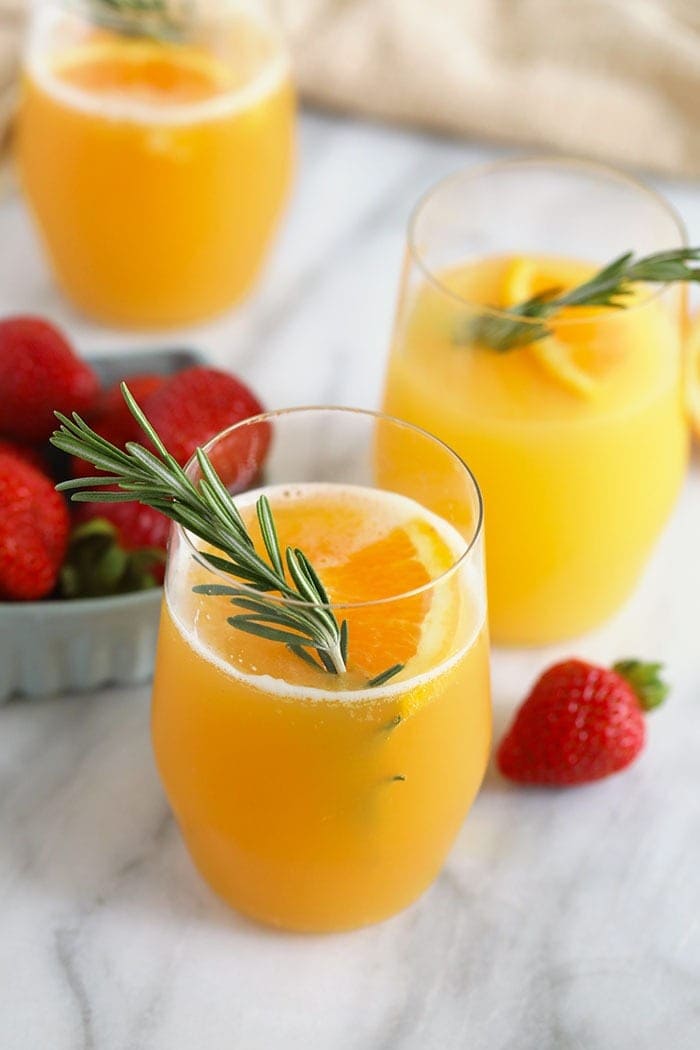 Beer or Bubbly?
Don't worry, I'm not going to make you choose one or the other. I happen to like both beer AND bubbly (champagne). They both have their merits.  Champagne is known as the drink for celebrations and beer is the new hipster cocktail that is so refreshing on a hot summer day.
One of the most commonly known mixed drinks that use champagne is a MIMOSA. Mimosas are a must-have at brunch, wedding showers, and everything in between. You can't go wrong.
I am a big champagne lover, however sometimes the bubbly gives me a stomach ache! So then, what am I to drink while everyone is toasting with their mimosas? A beermosa, duh!
We are big fans of going to the newest craft breweries and trying everything. When we were trying out AEGIR Brewing Company in Elk River, they introduced us to the beermosa!
Since that day, we've been mixing up beermosas and it's about time we shared the recipe with all of you!
How to Make a Beermosa
A beermosa is quite easy to make! It's almost as simple as a mimosa! The most important thing (in our opinion) is what kind of beer to use!
What kind of beer do I use in a beermosa? Honestly, you can use whatever beer you would like in a beermosa. However, we believe that a lighter and more neutral beer tastes best! Check out our beer recommendations for a beermosa below!
Bluemoon
Oberon
Corona
Spotted Cow
What is the proportion of beer to orange juice in a beermosa? We like to stick with 2/3 beer to 1/3 orange juice! I know people who like to use a 12 oz. can of beer with just a splash of beer. You do you!
Can I use a juice other than orange juice in a beermosa? We have not tried to make a beermosa with anything but orange juice! Feel free to try and make yourself a beermosa with other fruit juices and let us know how it goes!
How long can you keep a beermosa in the refrigerator? Unfortunately, a beermosa is not something you can store in the refrigerator for long. The carbonation of a beermosa goes away in about 2 hours. We suggest mixing a beermosa and then drinking it immediately!
Can I make a big batch of beermosas? YES! Use a pitcher to make a big batch of beermosas to serve at your next get together!
Fun Beermosa Tricks!
There are so many ways you can dress up or dress down a beermosa.
Add extra flavor and color to a beermosa by garnishing it with fresh herbs or fresh fruit like rosemary and an orange slice!  YUM.
Fancy up a beermosa by serving it in a pretty glass! You can for sure serve it in a pint glass, but serving it in a champagne flute or a stemless white wine glass really dresses it up!
Freshly squeezed orange juice is always better. Feel free to buy orange juice at the store, but if you have time, make it fresh! Get your guests involved by having them squeeze oranges, prepping beer, or slicing fruit.
Here's a fun idea–> Freeze orange juice and use frozen orange juice to make a beermosa slushie!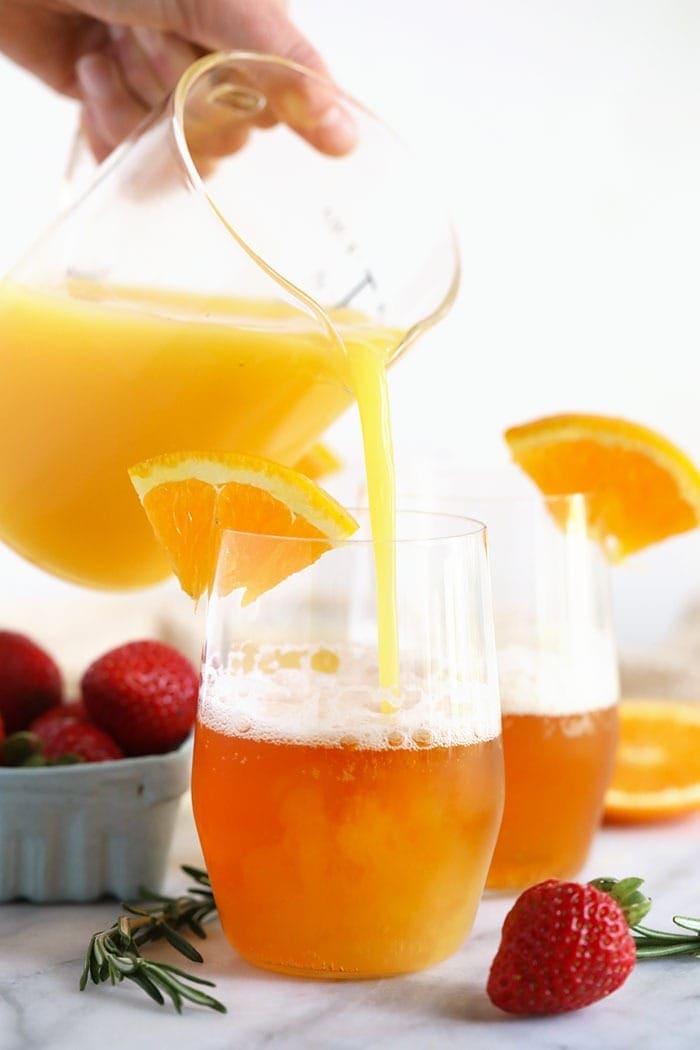 Healthy Cocktail Recipes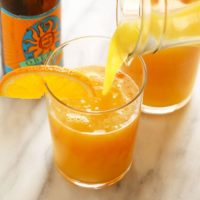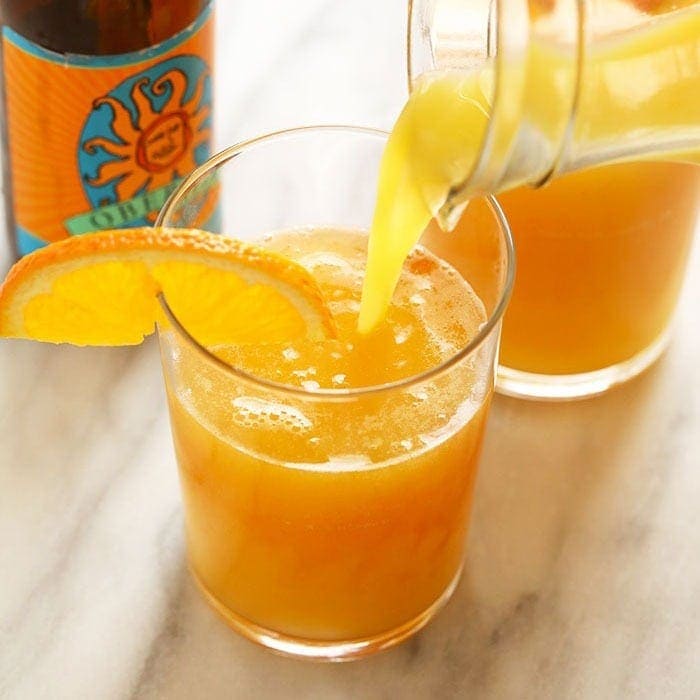 Beermosa
Take your brunch drink up a notch and make a beermosa! Forget the champagne and add mix your favorite beer with some orange juice for the perfect brunch cocktail!
Ingredients
2/3

cup

light beer

1/3

cup

100% orange juice
Instructions
First, add beer to a tall, cold glass.

Next, carefully pour orange juice into the beer.

Garnish and enjoy immediately.
Nutrition facts
Calories:
83
kcal
Carbohydrates:
11
g
Protein:
1
g
Fat:
0
g
Fiber:
0
g
Sugar:
8
g