Got 24 minutes? All you need is your bodyweight to do this killer travel Tabata workout! You can do this on the road, in your hotel room, or on the beach!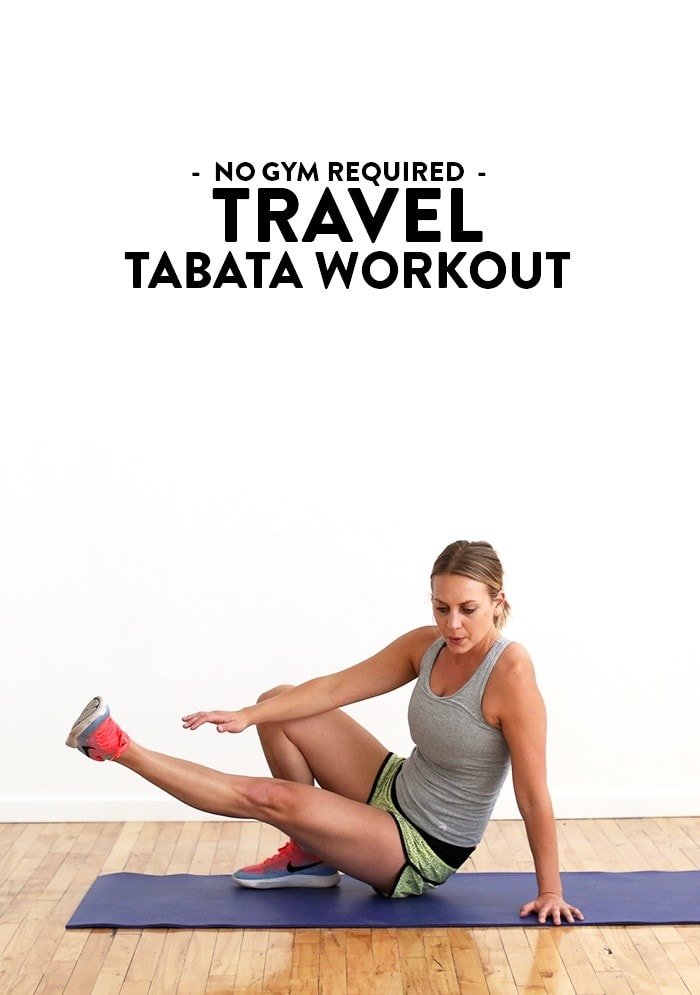 Hey friends! Yes, I am currently still in San Fran (flying home today), but I wanted to share a quick workout I've been taking with me on all of my travels…including this one!
Before we jump into the workout, can we talk protein powder for a second? Lately, I have been ALL ABOUT IT. I've never been much of a hardcore protein powder fan, but for some reason, I haven't been able to stay full after workouts and throughout the day and protein powder is really doing the trick. We get asked all of the time what protein powders we use before an after workouts.
Protein Powders We LOVE…
Soooooo yeah, we pretty much switch back and forth between Aloha, Designer Protein, and Organic Valley. Right now I've been on an Organic Valley kick lately! It tastes and how it makes me feel. I also LOVE Organic Valley as an organization. Aloha is another amazing protein powder. I haven't done a TON of baking with plant-based protein powder, but I have mixed it in everything. It's dairy free, gluten free, GMO-free, and organic.
Designer Whey and Organic Valley are dairy based, but they're also GMO and gluten-free. What I look for in a protein powder is the calorie | protein | sugar ratio. I guess the calories really don't matter as much as the amount of protein and sugar. The more protein and the LESS sugar the better. Aloha has 150 calories | 4g sugar | 18g protein – Designer whey is 110 calories | 2g sugar | 20 protein- Organic Valley- 140 calories| Sugar 3g| 26g protein| . All pretty stellar!
I would love to know brand and flavor protein powder you eat in your house!
As for this workout, it's perfect for anyone who travels OR who doesn't belong to a gym. It takes a whopping 24 minutes to complete and only require your bodyweight, but don't let it fool you. Tabata workouts are meant to be challenging, but this also means that you have to challenge yourself. Go all out (I mean all out) for the 20 seconds of work and I promise 24 minutes is all you need.

The Best Travel Tabata (Bodyweight!)
Description: There are three different tabata circuits. Do each move for 20 seconds and then rest for 10 seconds before moving on to the next move. Do each tabata 4 times through before moving on to the next circuit. Repeat the entire workout one more time.
Tabata #1 x4
Double Squat Jack

Breakdancer
Tabata #2 x4
Plyo Push-Ups

Full Sit-Up to Reverse Crunch
Tabata #3 x4
3-Pulse Lunge Jump

Plank with Leg Lifts
Disclaimer: You are working out at your own risk. I am not a certified personal trainer so please consult your doctor before starting a new fitness routine. Modify as needed and most importantly, listen to your body!