This butter chicken recipe is creamy, flavorful, and delicious. It is made with boneless chicken thighs, classic spices, and topped with fresh herbs. Of course we love to serve it over rice and with warm naan.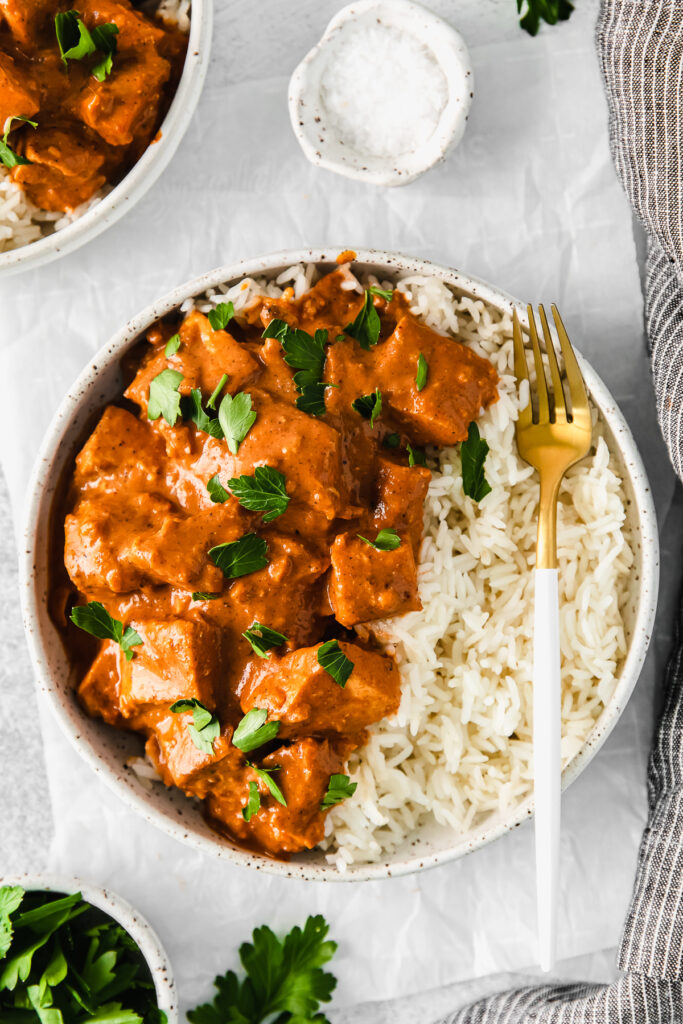 Quick Butter Chicken Recipe for Dinner
Have you ever ordered butter chicken for take-out from your favorite Indian restaurant and thought- I could never make this? Butter chicken is actually very easy to make!
This our is our version of butter chicken and you will definitely be adding it into your menu rotation for the week.
Butter chicken is
Quick Butter Chicken Q&A
What does butter chicken taste like?
Butter chicken (murgh makhani)  is a northern Indian dish that is similar in taste to chicken tikka masala. They use similar spice mixtures and are curries. Butter chicken is a bit creamier because of the butter (ghee) that is used in this recipe. It is so delicious.
Why do they call it butter chicken?
It is called butter chicken because butter is traditionally a main ingredient, which makes the sauce seriously tasty.
What is butter chicken sauce made of?
This butter chicken sauce is made with tomato sauce, heavy cream, ghee, lemon juice, garam masala, and other spices.
What wine goes with butter chicken?
We suggest pairing butter chicken with a dry and light white wine.
Is butter chicken sweet or spicy?
Butter chicken is a nice balance of savory. It is not sweet or spicy.
What kind of rice do I serve with butter chicken?
Basmati rice is traditionally served with butter chicken.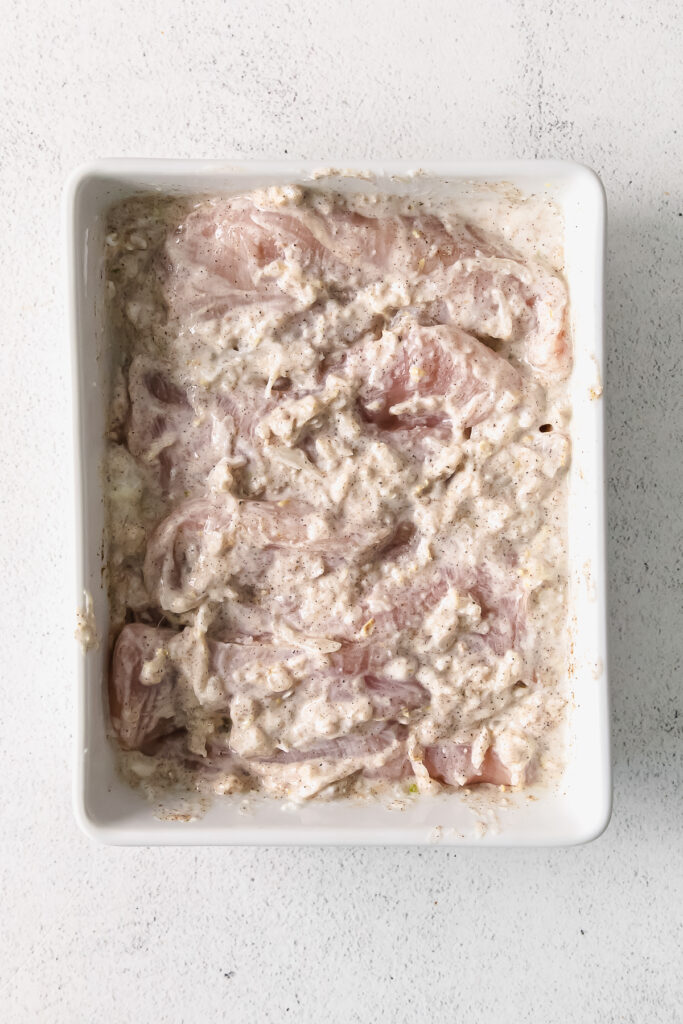 Ingredients You Need
This is the best butter chicken recipe that is made with a savory butter gravy. You only need a few ingredients to make our version of Indian butter chicken.
Boneless skinless chicken thighs: we like the tenderness and flavor that boneless chicken thighs offer in this butter chicken dish.
Greek yogurt– find a non-fat Greek yogurt to marinate the chicken thighs in.
Lemon– we add flavor to the chicken marinade with a little lemon juice and lemon zest.
White onion– the onion offers depth of flavor in the butter chicken sauce.
Spices ( salt, garam masala, cumin, paprika, coriander, chili powder) – oh baby, the mix of spices make this recipe. The garam masala can be bought or homemade. Please do not skimp on the salt, it really brings out all of the flavors in this dish.
Garlic cloves– garlic makes every dish better, especially this one!
Fresh ginger– the "spice" or bite in this butter chicken comes from fresh ginger!
Ghee– GHEE IS THE STAR of this recipe. It puts the butter in butter chicken. Ghee is clarified butter that is rich and delicious.
Tomato sauce– butter chicken's base is tomato sauce.
Heavy Cream– full fat heavy cream adds the creaminess to this recipe.
Cilantro– this recipe is perfectly balanced once you top it with a little bit of fresh cilantro.
Ginger tip
Do you waste ginger when you buy a big root? No need to waste a whole root! Store the whole ginger root in the freezer. The ginger root grates a heck of a lot easier when it is frozen.
And? you don't really have to peel your ginger as long as its rinsed. Grate from frozen and you'll never go back .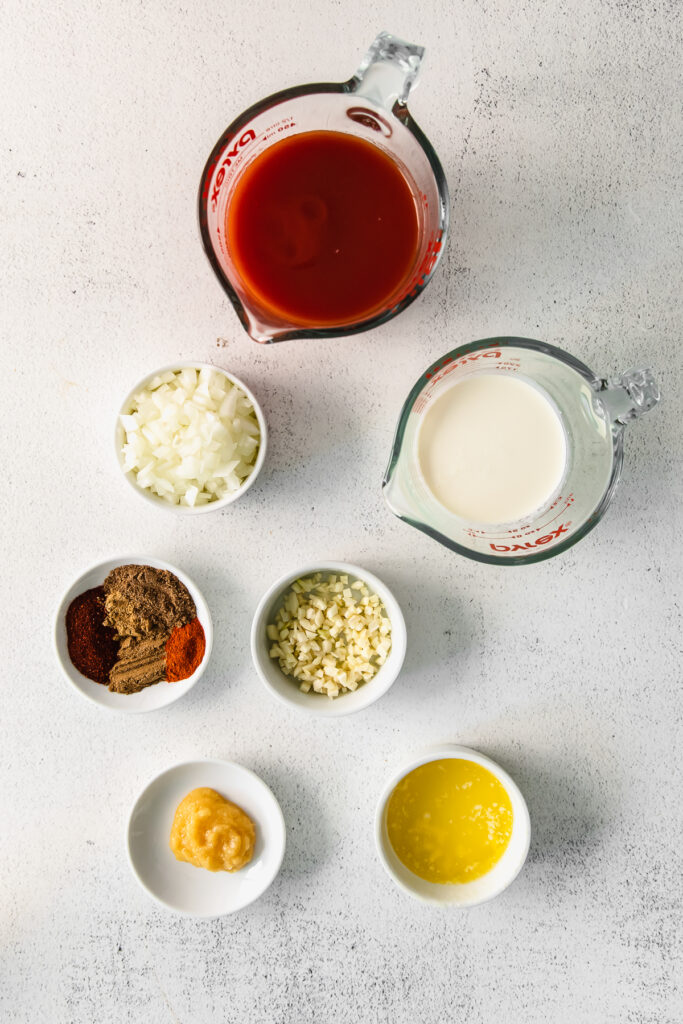 Boneless or Bone-in Chicken Thighs?
We tested this recipe with bone boneless chickens and bone-in thighs. We highly recommend using boneless thighs because they marinate well in the Greek yogurt marinade and there is no fuss with bones!
Can I make this recipe vegetarian?
Yes, you can make this recipe vegetarian by skipping the chicken and adding vegetables instead. Feel free to add roasted eggplant, spinach, peppers, paneer, or any of your favorite vegetarian options.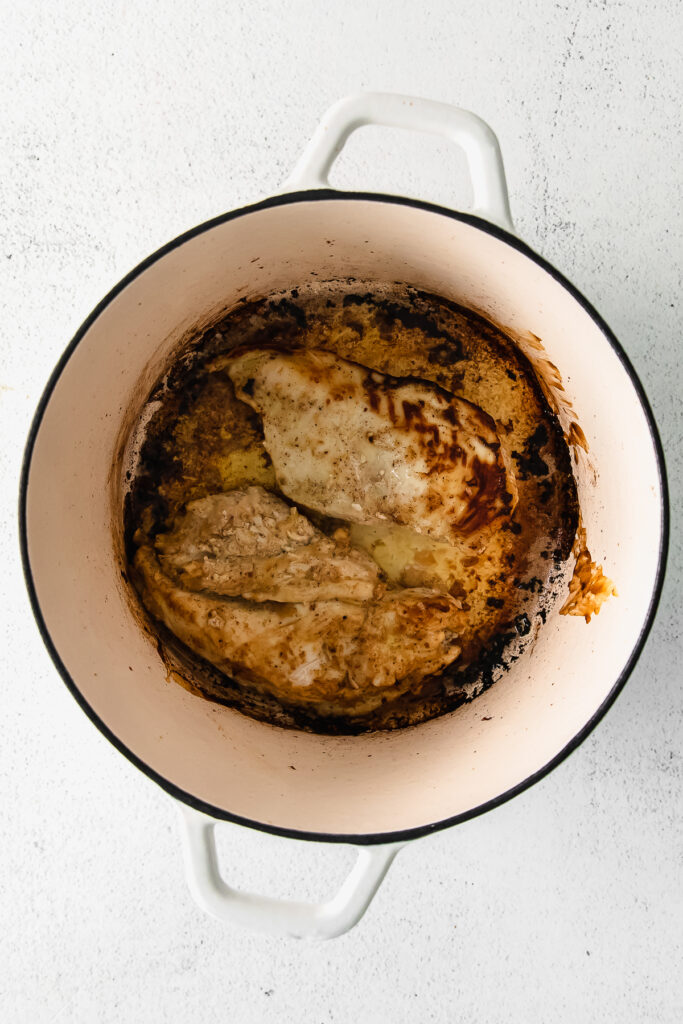 How to Make Butter Chicken
Marinate the chicken. Place your chicken thighs in an easy Greek yogurt marinade to become tender and juicy. Yogurt breaks down poultry without making the meat tough and flavorless. We recommend marinating the chicken for 2 hours.
Brown the chicken. When the chicken has marinated, wipe the Greek yogurt from the marinated chicken.. Don't forget to do this. You don't want a ton of yogurt on the chicken when you brown it or it may burn. Add ghee to a dutch oven and brown the chicken. Set the chicken aside after it's brown.
Make the sauce. Add the rest of the ghee to the pan and then scrape any burnt bits from the pan. Then, sauté the onion, garlic, and ginger. After all of these ingredients become fragrant, add the tomato sauce and spices. Let everything simmer together and thicken. Add the heavy cream last.
Blend the sauce. Once the heavy cream has been added, transfer all the ingredients to a blender and blend until smooth. Transfer the sauce back into the pan.
Add everything together. Chop the chicken into chunks and then add the chicken back in to the sauce and simmer for 5 minutes.
Serve over rice. Serve the butter chicken over rice and enjoy.
thin the sauce out
Is your butter chicken sauce too thick? Feel free to add a few more tablespoons of heavy cream to the sauce when blending for a thinner sauce.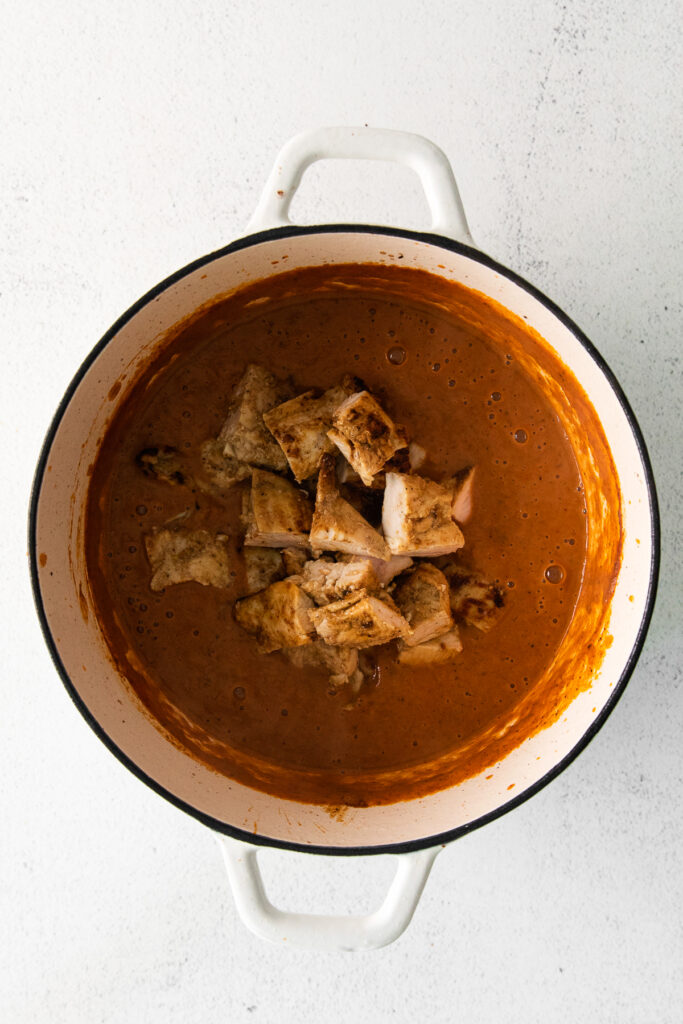 What to Serve with Butter Chicken
Butter chicken is delicious on it's own, but we recommend serving butter chicken with a fresh squeeze of lemon and topped with fresh cilantro. We also recommend serving butter chicken with fresh garlic naan (warm of course)!
Storage Options
Store the butter chicken separate from rice in an air tight container for up to 5 days.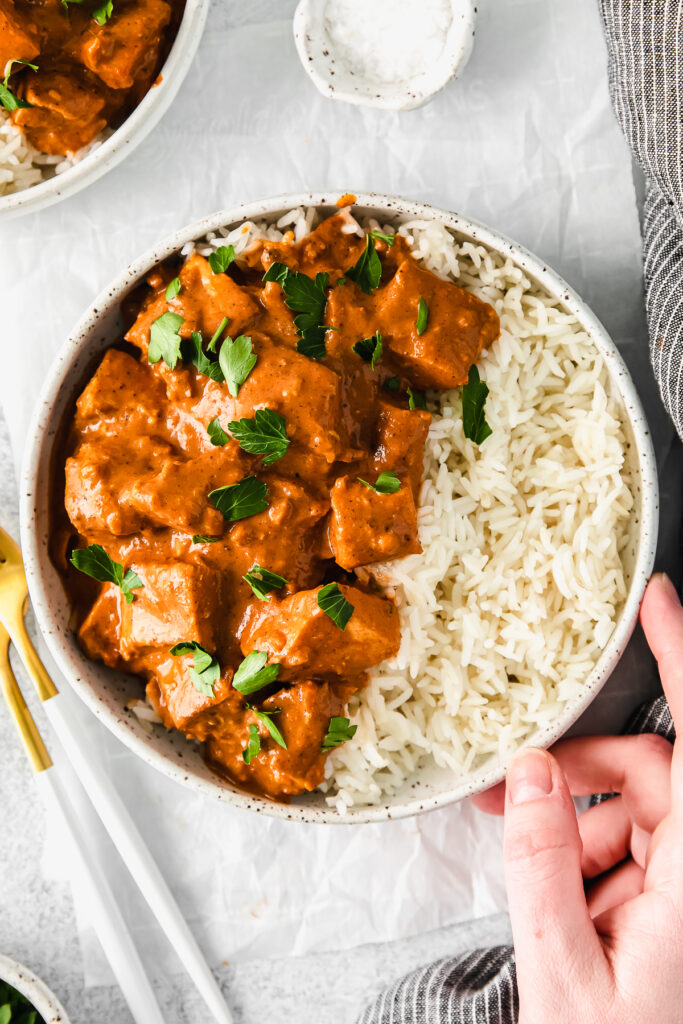 join the fit foodie cooking club on facebook!
Join in on the Fit Foodie Facebook fun and become a member of our FREE Facebook Group. The Fit Foodie Cooking Club group on Facebook is a way to share your cooking creations and make new like-minded friends online.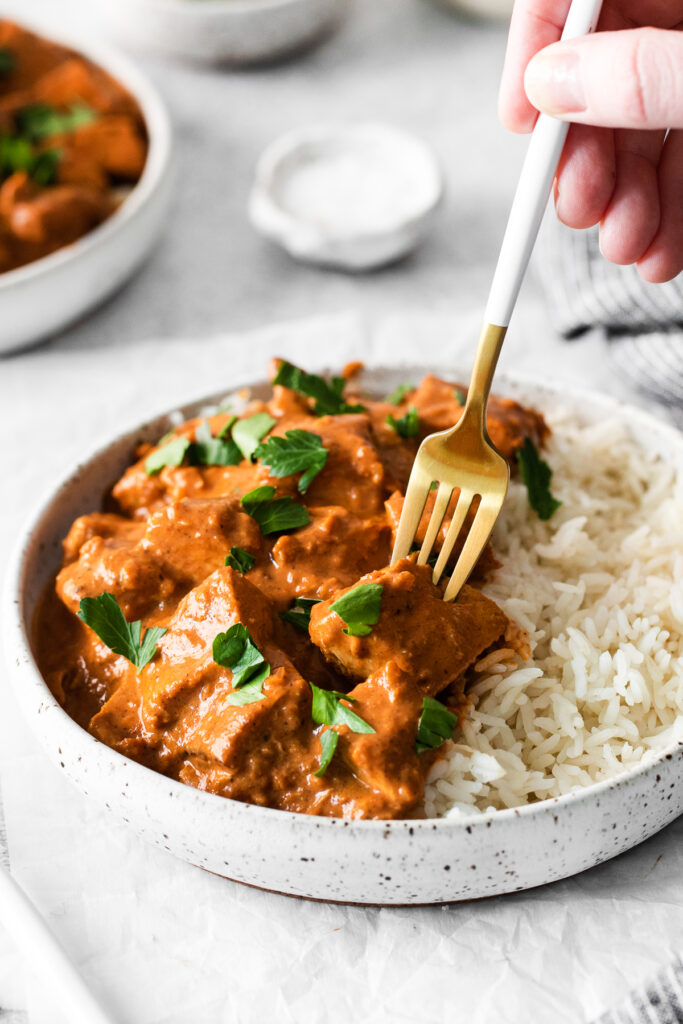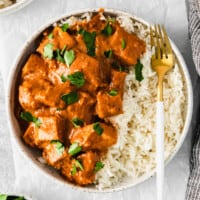 Butter Chicken
We love this version of butter chicken because it is creamy, flavorful, and made with boneless chicken thighs. It makes a great dinner for any time of year. 
Ingredients
Marinade + Chicken 
½

cup

plain non-fat Greek yogurt

Zest from one medium lemon

1

tablespoon

lemon juice

½

large white onion

grated

2

teaspoons

garam masala

1

cloves

garlic

peeled and minced

1

tablespoon

freshly grated ginger

1

teaspoon

salt

1.5

lbs.

boneless skinless chicken thighs
Sauce 
3

tablespoons

ghee

separated

½

large white onion

minced

4

cloves

garlic

peeled and minced

1

tablespoon

freshly grated ginger

15

oz.

can tomato sauce

1

teaspoon

ground cumin

1/2

teaspoon

ground coriander

1

teaspoons

chili powder

1/2

teaspoon

paprika

1

teaspoon

garam masala

½

cup

heavy cream

+more if needed
Instructions
Add the Greek yogurt, lemon zest, lemon juice, grated onion, garam masala, garlic, ginger, and salt to a bowl and whisk the ingredients together until combined. 

Place the chicken thighs into a large gallon sized bag or a glass container. 

Pour the marinade over the chicken thighs and make sure all of the chicken thighs are slathered in the yogurt marinade. 

Refrigerate chicken for 2 hours.

Remove the chicken from the fridge and shake the marinade off of each piece of chicken and set aside. Discard the excess Greek yogurt marinade.

Heat a large skillet with sides (or a Dutch oven) over medium/high heat. Add 1 tablespoon of ghee to the pan. 

When the ghee is melted and fragrant, add the chicken thighs to the pan. Sear the chicken on each side for 3-4 minutes to brown. Set the chicken aside. 

Add the rest of the ghee to the pan. When the ghee has melted, scrape any brown bits from the bottom of the pan. 

Add the onion to the pan and sauté for 2-3 minutes. 

Next, add the garlic and ginger to the onions and toss. Sauté for an additional 2-3 minutes and until fragrant. 

Add tomato sauce, cumin, coriander, chili powder, and paprika to the pan and stir to combine. Bring the mixture to a gentle simmer over medium heat. 

Turn heat to low and slowly whisk in the heavy cream.

Once the heavy cream has been added to the sauce, transfer the sauce to a high speed blender and blend until smooth. 

Add the sauce back to the pan and heat over medium heat. 

Cut the chicken thighs into bite size pieces and add them to the sauce. Fold the chicken into the sauce until coated. 

Turn the heat to medium/high heat and bring the sauce to a gentle boil. 

Turn heat to low and let  simmer for 4-5 minutes to finish cooking the chicken. 

If the sauce needs to be thinned out add 1-2 more tablespoons of heavy cream to the sauce. 

Remove from heat and serve over rice with a garnish of chopped cilantro. 
Tips & Notes
We use chicken thighs for this recipe but you can use chicken breasts if you'd like. 

After you brown the chicken, if there is a significant amount of brown bits in your pan you can deglaze the pan with chicken broth, scrape the pan, and discard. Sometimes the Greek yogurt marinade can cause burning in the pan. If you shake most of the marinade off the chicken you should be ok. 

After you have blended the sauce and added the chicken to the sauce, feel free to add as much heavy cream as you'd like to get the consistency you'd like for the sauce. 
Nutrition facts
Calories:
484
kcal
Carbohydrates:
21
g
Protein:
36
g
Fat:
30
g
Fiber:
4
g
Sugar:
12
g