Learn how to make chilaquiles with this super simple chilaquiles recipe made with tomato sauce, spices, beans, tortilla chips, and baked eggs.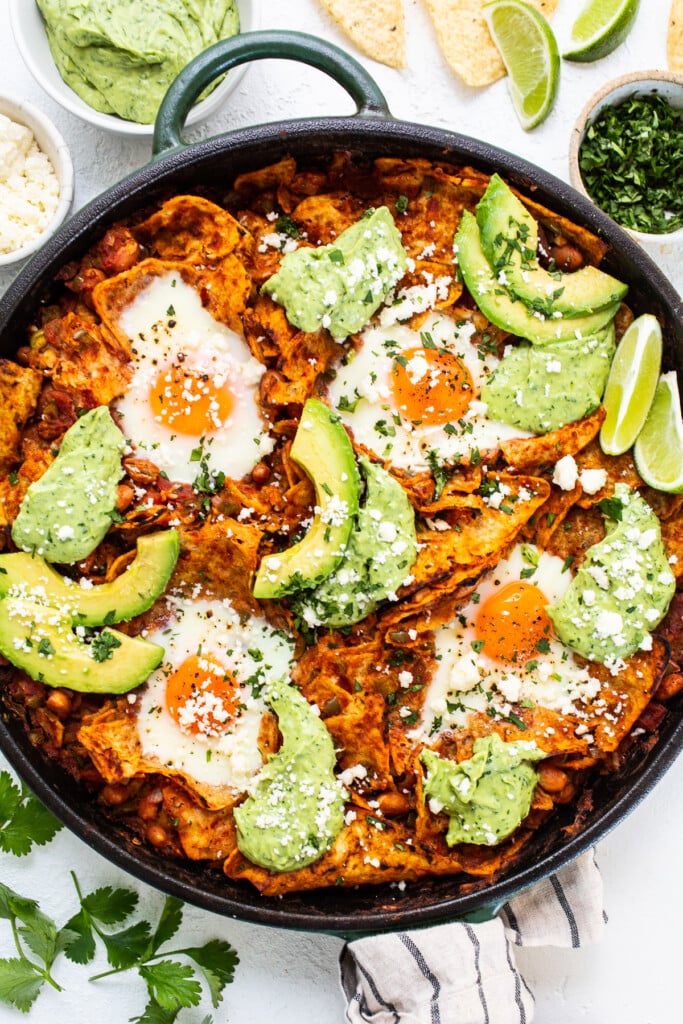 This easy chilaquiles recipe is inspired by Mexican cuisine. Check out our friend Isabel Eats' authentic chilaquiles recipe for a more traditional dish.
Making chilaquiles at home is not only easy, but it's also a delicious way to pack in the veggies and protein for breakfast.
What are chilaquiles?
Chilaquiles are a traditional Mexican dish that consists of fried tortilla chips that are coated in a flavorful sauce, usually made with chili peppers and tomatoes.
This popular breakfast or brunch dish is often topped with a variety of ingredients, such as cheese, avocado, cilantro, and onions, and can be served with eggs, beans, or other sides.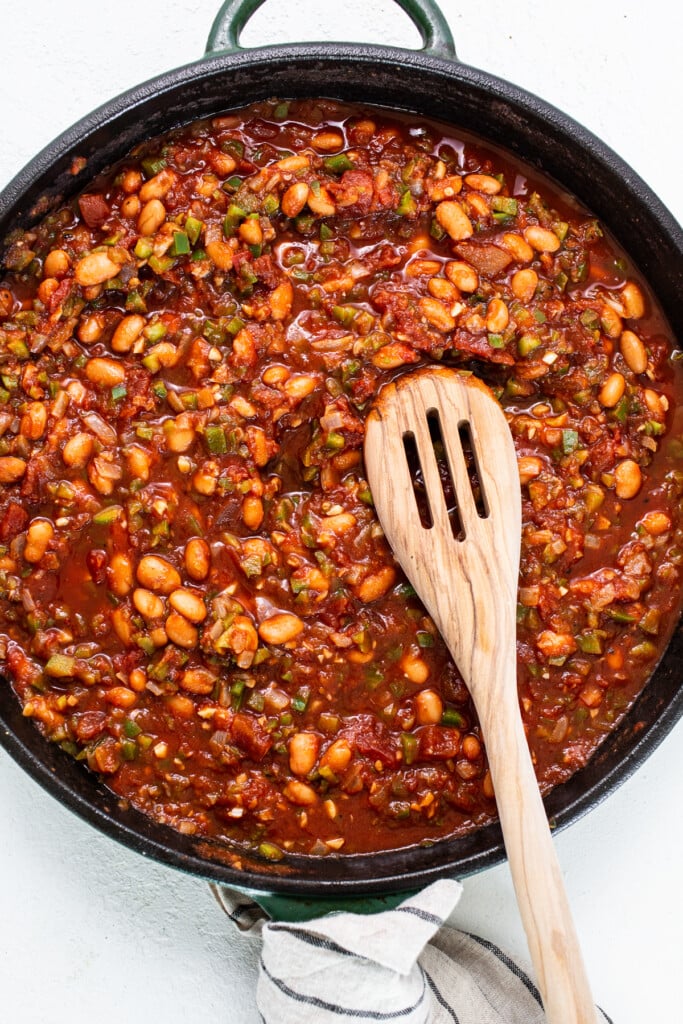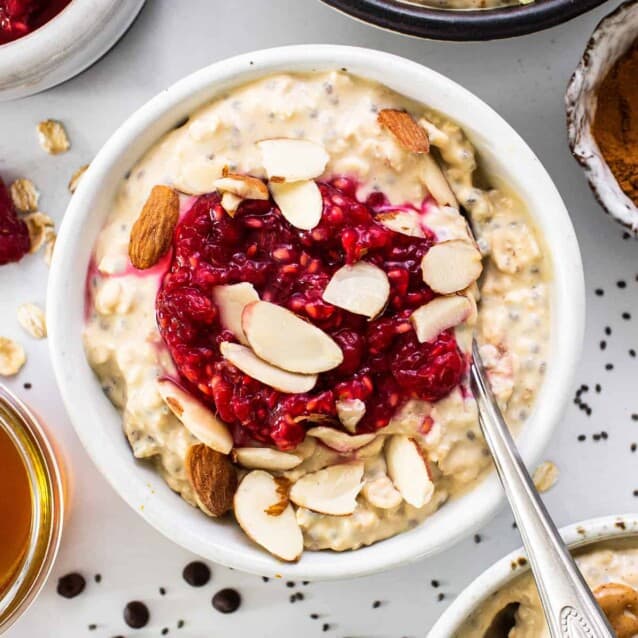 Need Breakfast Inspo?
Subscribe to our emails and get all of our best breakfast recipes straight to your inbox.
What ingredients are in chilaquiles?
Classic chilaquiles typically include corn tortillas that are cut into triangles or strips and fried or baked until crispy and a sauce made from tomatoes, chili peppers, onions, and garlic.
Our easy chilaquiles recipe uses tortilla chips, tomato sauce, salsa, bell pepper, eggs, and a yummy homemade avocado crema on top.
A note about the salsa
The kind of salsa you use will determine the flavor and spiciness of the chilaquiles sauce.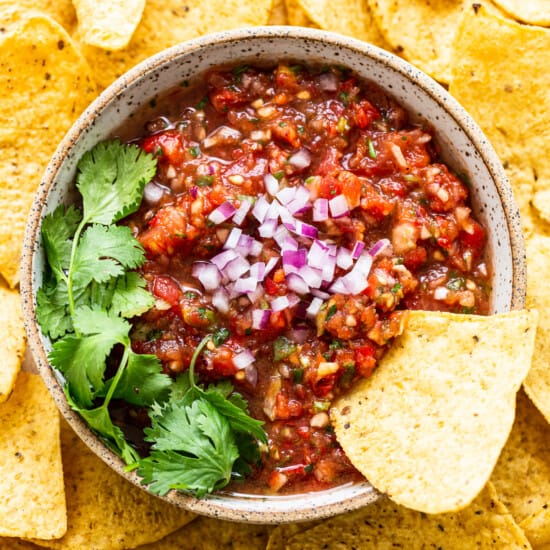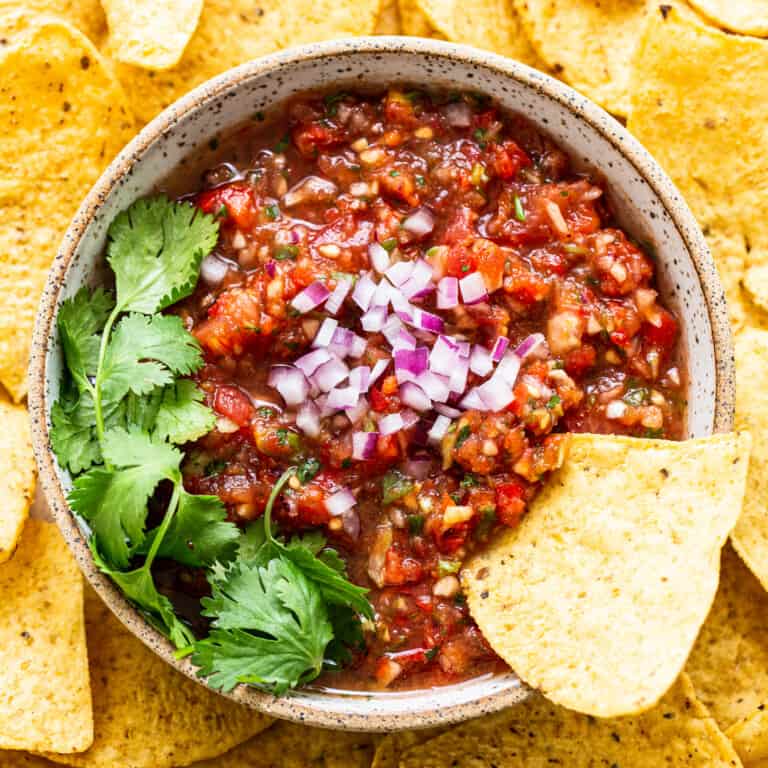 Try it!
Homemade Salsa
Use up your garden veggies and make homemade salsa with juicy tomatoes, onion, fresh garlic, bell pepper, and cilantro.
Get Recipe
Should chilaquiles be crunchy or soft?
Chilaquiles should not be soggy, but they should not be super crunchy either. They should be soft with a bit of a crunch.
Are chilaquiles healthy?
Chilaquiles are packed with protein from the baked eggs and are loaded with veggies and beans making them a nutritious breakfast option.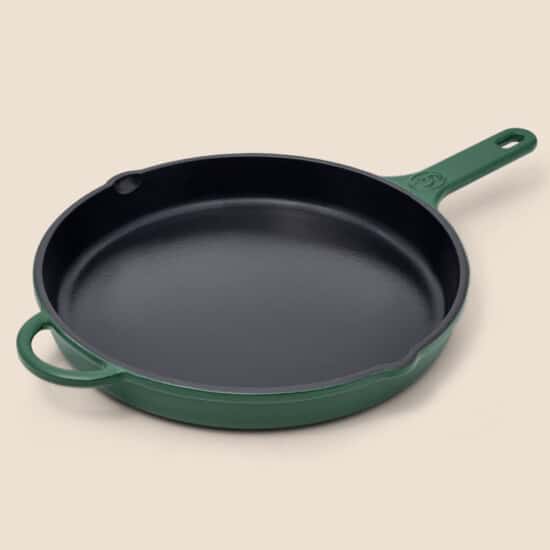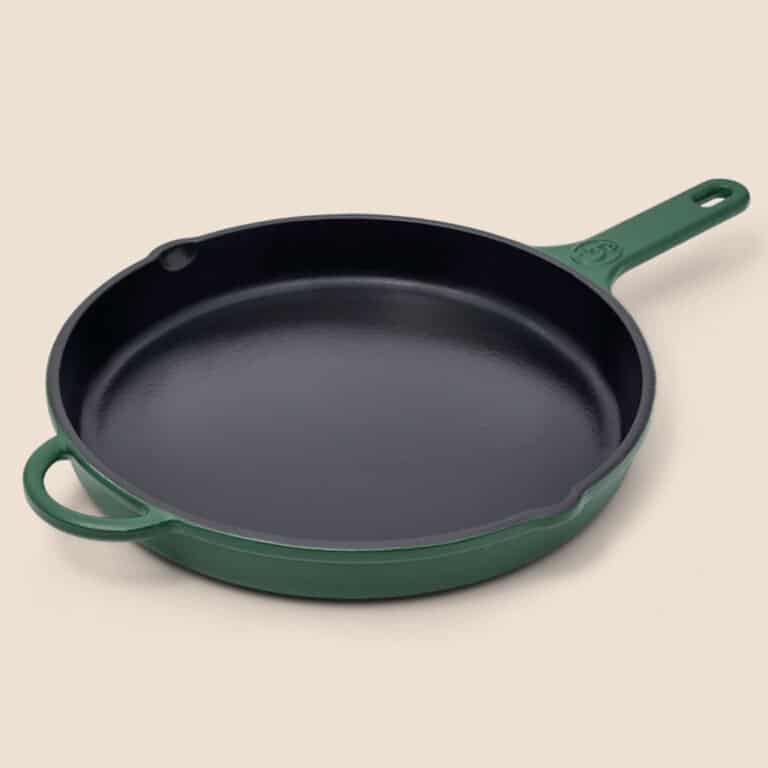 Great Jones
Cast Iron Pan
The Great Jones King Sear is our favorite cast iron pan. It's definitely worth the splurge to add to your kitchen collection!
Buy Now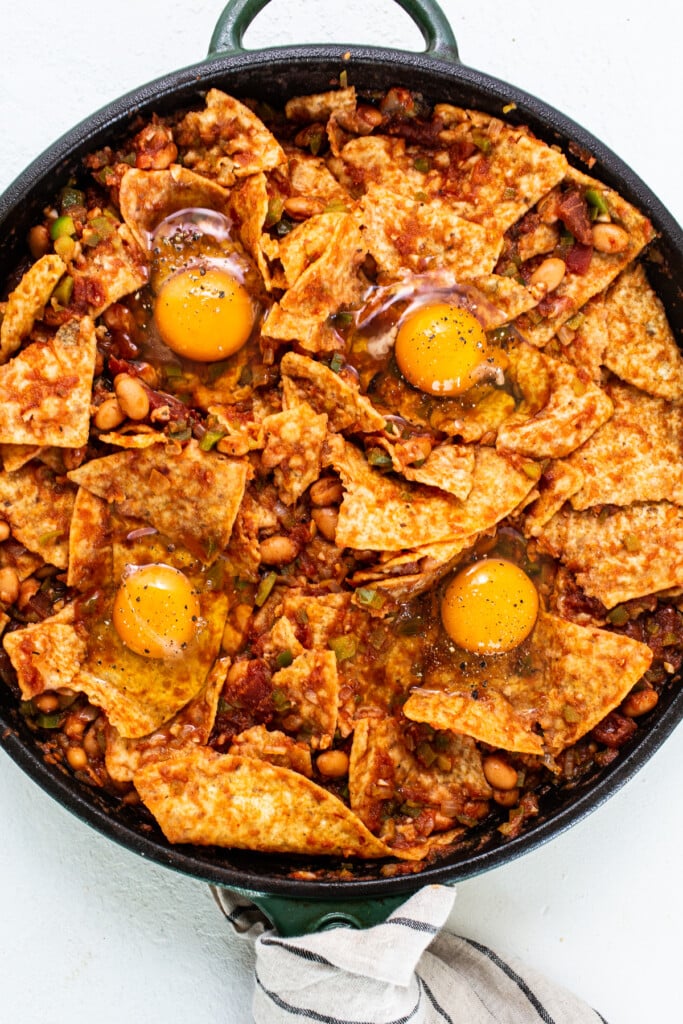 Don't Skip the Avocado Crema!
Whatever you do, don't skip the avocado crema topping! It's creamy, limey, and the perfect way to cut the heat if you like spice.
What You Need
Avocados
Greek yogurt
Lime juice
Salt
Cilantro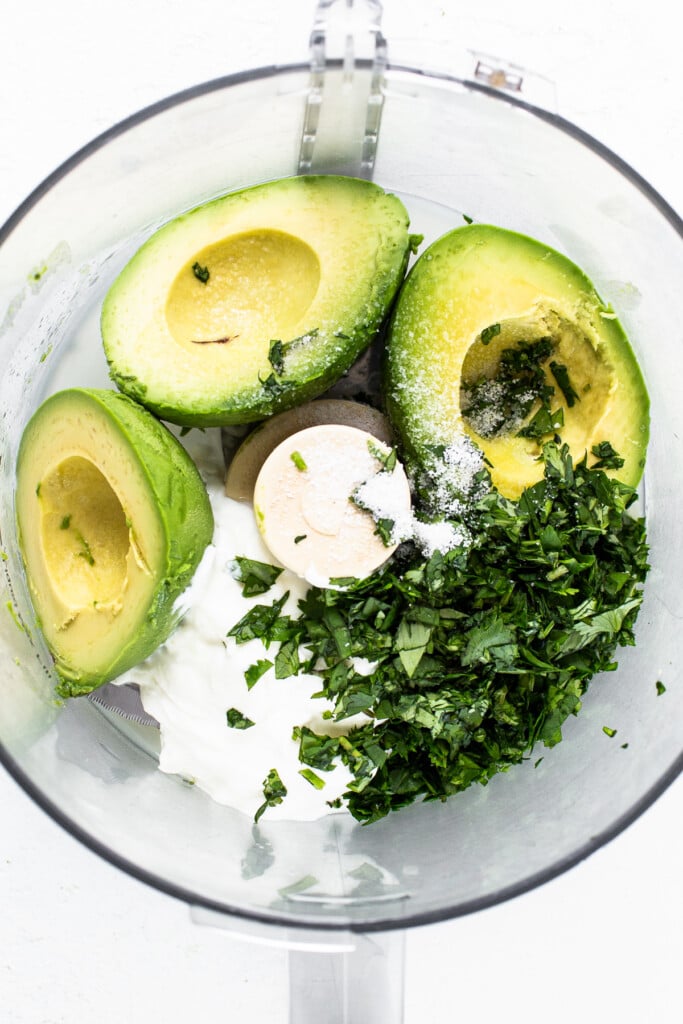 Topping Ideas
When it comes to chilaquiles, we're all about the toppings. Here are some ideas!
Storage
Store leftover chilaquiles in an airtight container in the fridge for up to 3 days.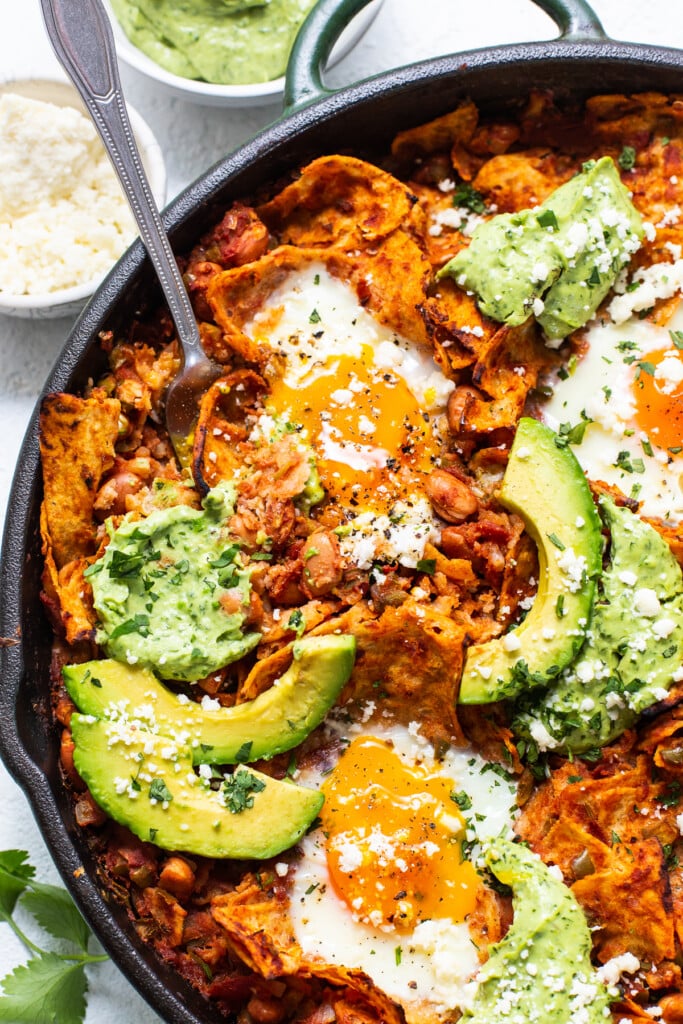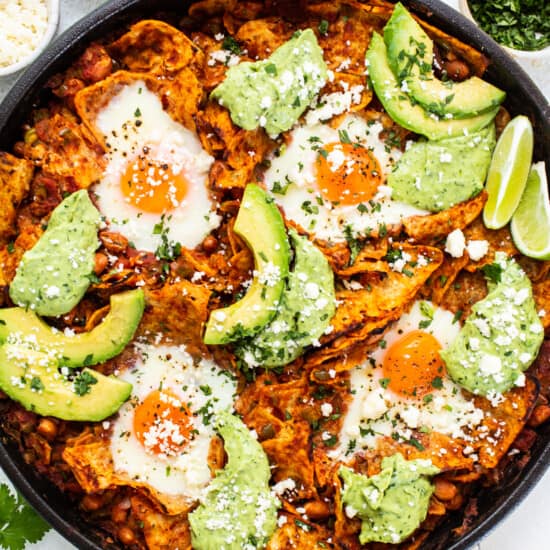 How to Make Chilaquiles
This simple chilaquiles recipe is made easy with tomato sauce, spices, beans, baked eggs, and a homemade avocado crema.
Ingredients
Chilaquiles
2

tablespoons

avocado oil

½

large white onion

minced

1

teaspoon

kosher salt

separated

5

cloves

garlic

peeled and minced

1

green bell pepper

minced

15

oz.

pinto beans

drained and rinsed

16

oz.

salsa

any kind (we used a fire-roasted tomato salsa)

1

cup

tomato sauce*

8

oz.

triangle tortilla chips

6

large eggs
Avocado Crema
1.5

large avocados

½

cup

full-fat Greek yogurt

3

tablespoons

fresh lime juice

1

teaspoon

kosher salt

½

cup

fresh chopped cilantro
Toppings
¼

cup

fresh chopped cilantro

⅓

cup

crumbled cotija

Fresh lime juice
Instructions
Preheat the oven to 400ºF.

Heat avocado oil in a large skillet with sides over medium/high heat. When the avocado oil is fragrant, add the onion and ¼ teaspoon of salt. Toss and sauté for 8-10 minutes.

Add the garlic to the pan and saute for an additional 1 minute and then add the diced bell pepper. Saute for 3-4 minutes.

Pour the salsa, tomato sauce, pinto beans, and the remaining salt into the pan. Bring the tomato sauce to a boil and then remove it from the heat.

Gently fold a handful of tortilla chips into the pan. It's ok if some break, but try to keep some chips whole. Continue to add and fold chips until all the chips are coated in tomato sauce.

Make 4-6 wells in the chips and crack an egg into each well. Salt and pepper the eggs and then bake the chilaquiles for 10-15 minutes or until the eggs reach your desired doneness.

While the chilaquiles are baking prepare the avocado crema by placing all of the ingredients in a high-speed food processor. Process on low until smooth and creamy. If you would like a thinner crema, add a few teaspoons of water to the food processor.

Remove the pan from the oven and top with avocado creme, fresh cilantro, cotija, and a fresh squeeze of lime. Eat immediately.
Tips & Notes
The kind of salsa you use will determine the flavor of the chilaquiles sauce.
If you would like saucier chilaquiles add ½ cup of tomato sauce to the sauce.
How many chips you use will vary by person. We used about half of a bag of 16oz. bag of tortilla chips. The key is to use only enough chips so that every chip is covered in sauce. If you use too many chips, you will know.
This recipe allows room for 6 eggs. You can serve this recipe to 4 – 6 people depending on your preference.
Nutrition facts
Calories:
342
kcal
Carbohydrates:
34
g
Protein:
17
g
Fat:
17
g
Fiber:
12
g
Sugar:
7
g