This month we're making a Fit Foodie reader fave! This 5-star Sriracha Chicken Salad is is a delectable combination of fresh greens, spicy chicken, and a tangy Greek green goddess dressing!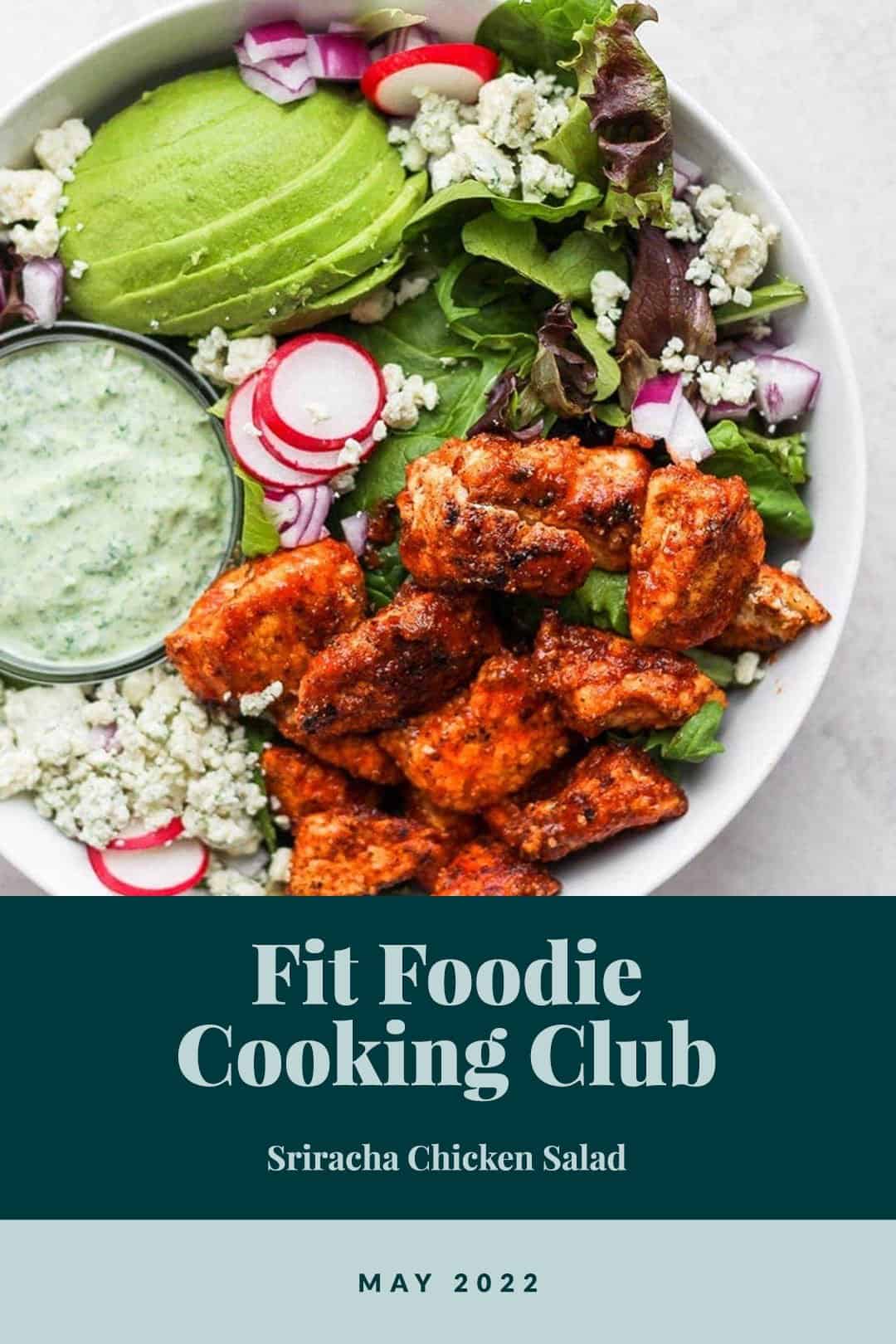 What is the Fit Foodie Cooking Club?
The Fit Foodie Cooking Club is a monthly cooking challenge to get you in the kitchen cooking from scratch!
We thought there was no better way to bring our virtual community together than to all make the same recipe each month to celebrate real food.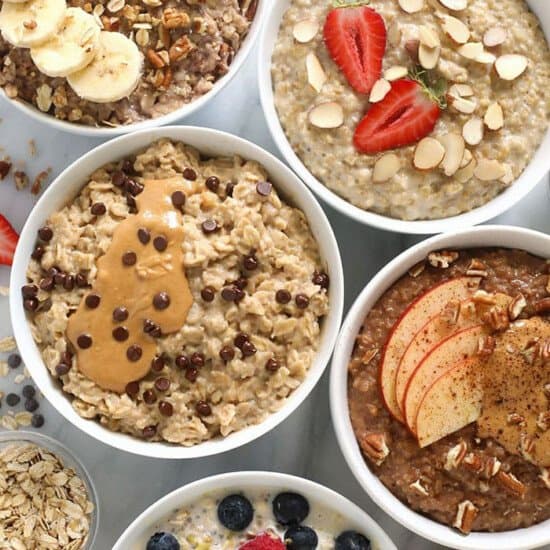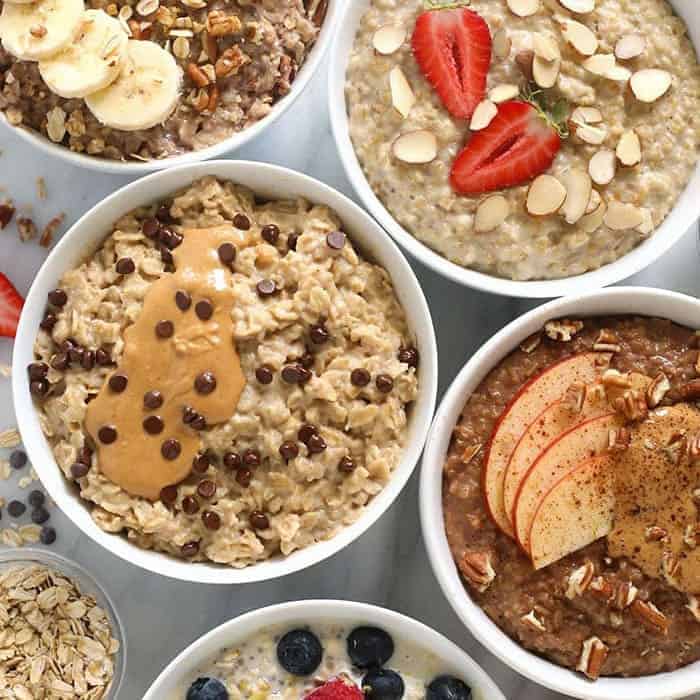 Join the Club!
Fit Foodie Cooking Club
Be the first to know about the recipe of the month + get other Fit Foodie Cooking Club announcements right to your inbox!
Subscribe
May 2022 – The Details
Read the below details VERY carefully as we want to make sure your entry counts! If you have questions, please leave them in the comments of this post.
Recipe of the Month
This sriracha chicken salad is a Fit Foodie Finds reader FAVORITE. So many of you have made this salad time and time again over the years. We're so glad you love it as much as we do! And if you haven't tried it yet, you're in for a real treat 😀
why you'll love this recipe
Crispy chicken: this sriracha chicken isn't deep fried, but it is oh so crispy!
Lotsa greens: we aren't skimping on greens in this recipe, and you'll absolutely love the freshness.
Homemade dressing: we're topping this salad with our homemade green goddess dressing — it's simple to make, but definitely doesn't skimp on flavor.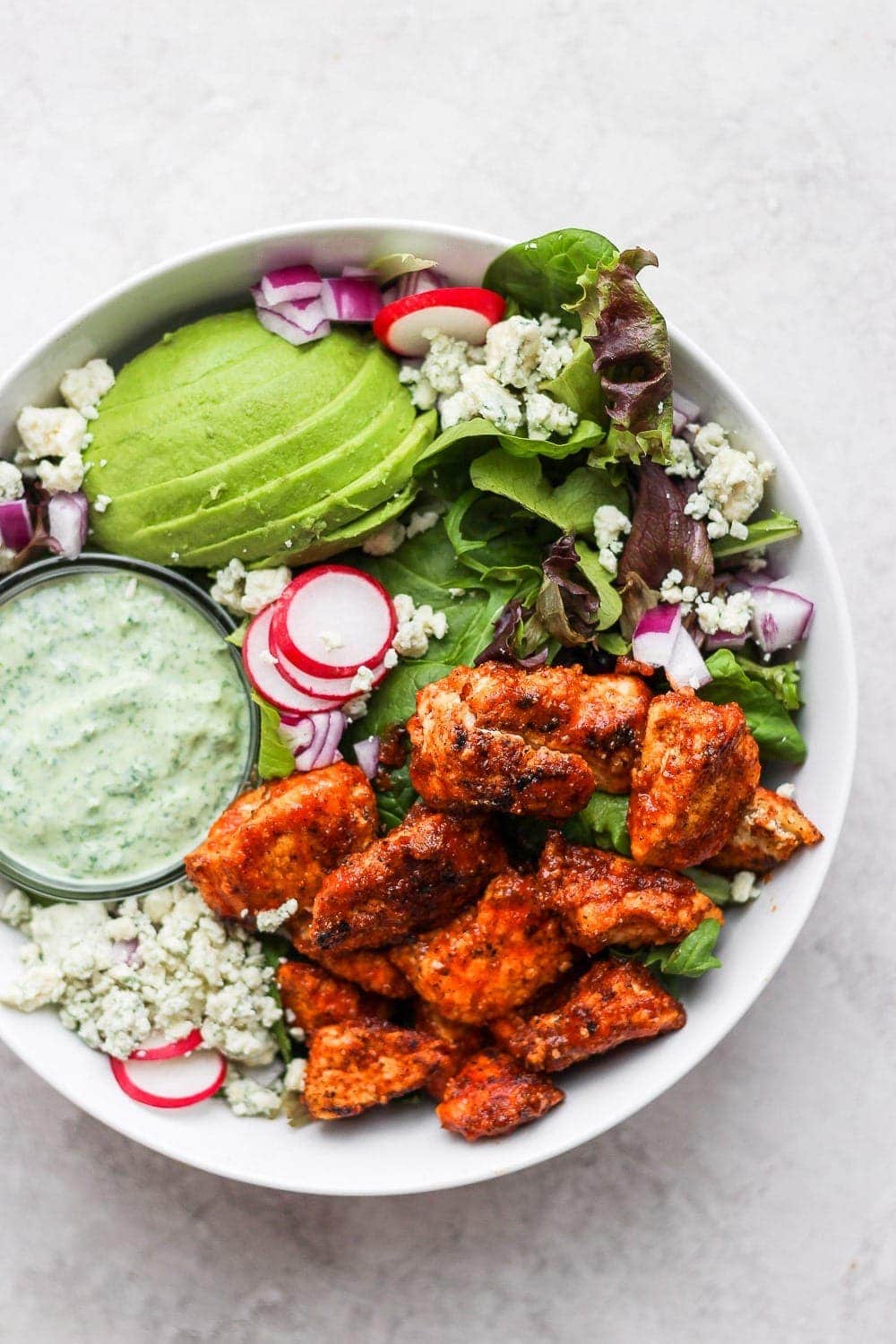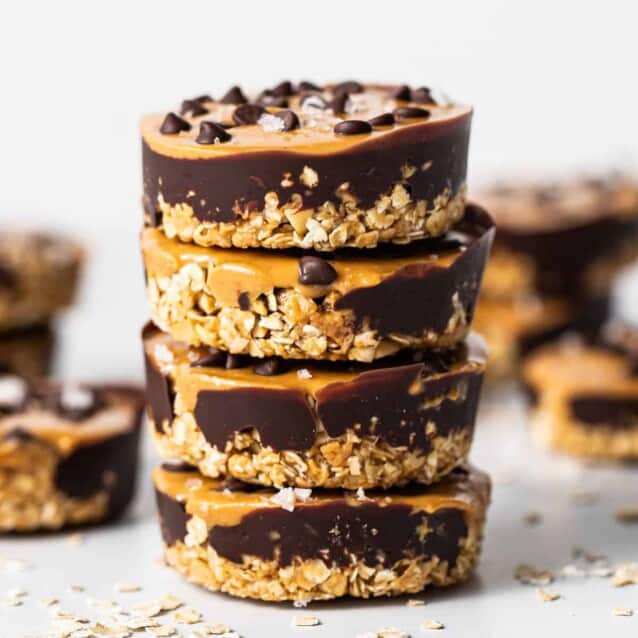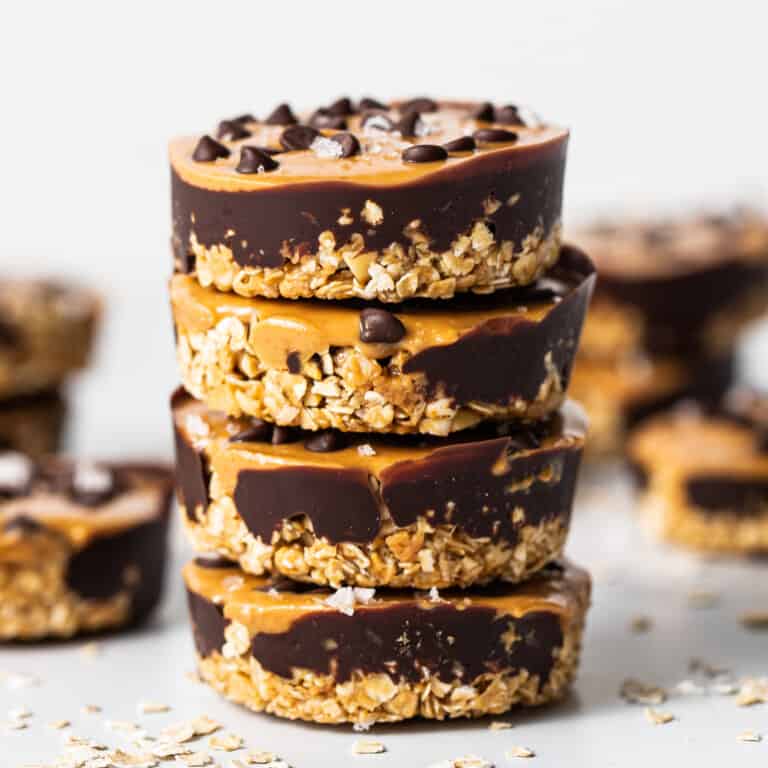 Get our Top 10 5-Star Recipes!
Join our email list for new recipes and BONUS: get our top 10 ⭐️⭐️⭐️⭐️⭐️ recipes e-book!
All About Sriracha Chicken Salad
We are huge fans of sriracha and crispy chicken, so why not cook up some delicious sriracha chicken and throw it on a colorful salad?
We kept this sriracha chicken salad balanced with a spicy chicken, a tangy dressing that pairs well with the sriracha, all over delicious greens and vegetables. It's a perfectly colorful weeknight meal — especially as the weather is getting nicer. Might we recommend enjoying this salad outside?!
Ingredients You'll Need
This sriracha chicken salad comes together in 3 simple components. The chicken, the greens and the homemade dressing:
Chicken
The chicken in this recipe is sriracha chicken. We're using chicken breasts and tossing it in sriracha, honey, garlic powder + an oat flour and egg breading that crisps up when you cook it so incredibly well.
Greens
We went with a spring mix, sliced radishes, and diced red onions as the base vegetables in this salad. The greens are buttery and the radishes and onion give the perfect crunch.
You can also choose your own toppings to go along with the crispiness of this salad. We went with creamy fresh avocado and blue cheese crumbles.
Homemade Green Goddess Dressing
Greek yogurt pairs so well with spicy food. It gives your mouth a break from the spice while also giving you an amazing tanginess. We blended greek yogurt with fresh herbs, lemon, and garlic to make a delicious green goodness dressing.
Tools You'll Need
Recipe Tips
Meal prep this salad: When preparing this salad for lunch or dinner, go ahead and follow the recipe as is! If you are meal prepping this salad for the week, we suggest waiting to add the dressing to the salad until right before eating it.
Change up the veggies: Don't fret too much about switching up what vegetables you use! If you don't have a spring mix, arugula or romaine would also be great in this salad. No radishes, chop up some sweet peppers or carrots. The options are endless.
Alternatives to chicken breast: If you don't have chicken breast, feel free to use skinless chicken thighs or chicken tender cutlets.
Swap cheeses: Not a fan of blue cheese? Have no fear, feta or goat cheese crumbles would also be a tasty addition to this sriracha chicken salad.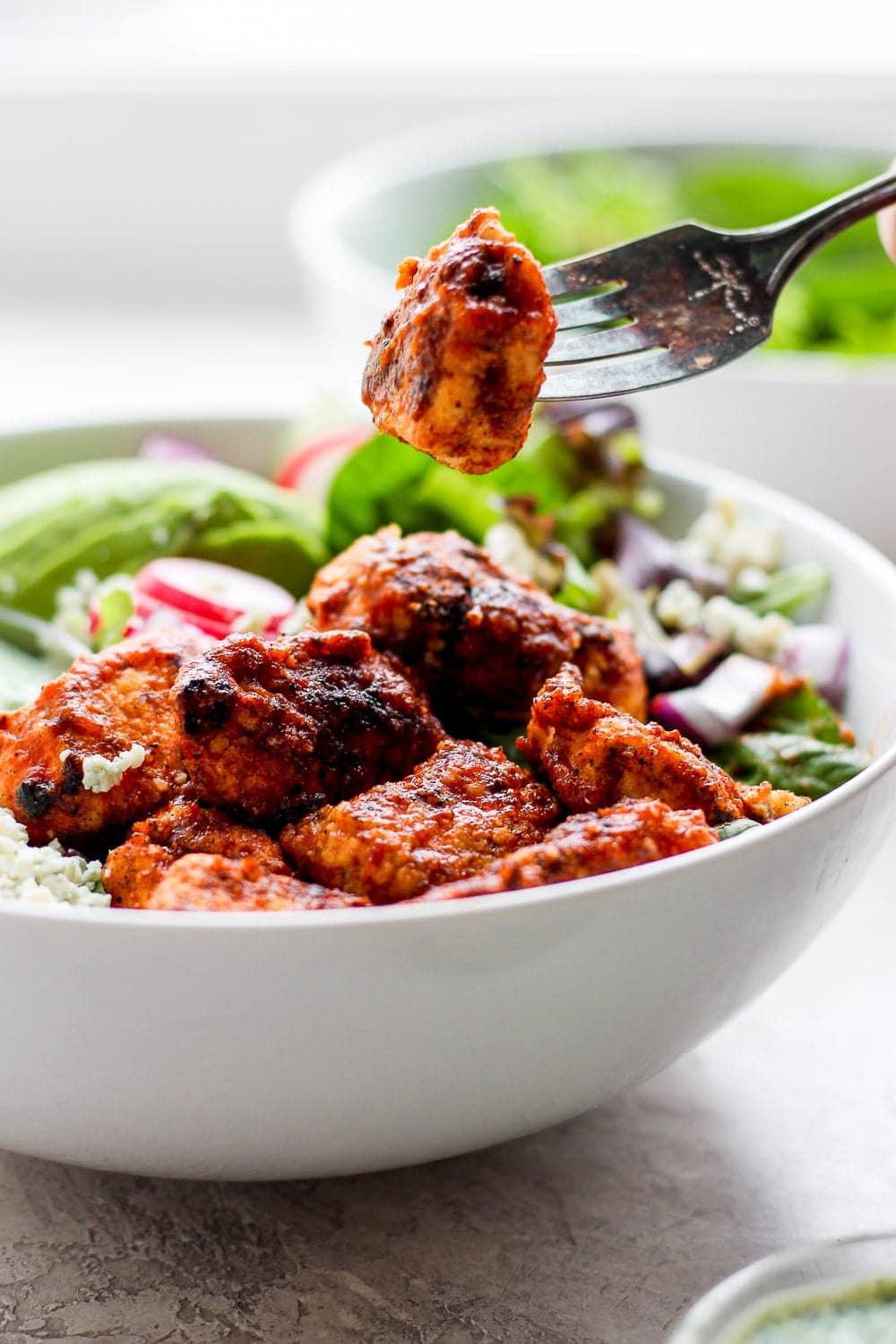 How to Enter
Now that you know how to make the recipe, it's time to submit your creation!
Go to the Sriracha Chicken Salad blog post.
Make the recipe and snap a photo of it.
Leave a comment on the Sriracha Chicken Salad blog post with a photo of your creation letting people know how it went. We'd love a star-rating, but it's not required. Make sure to leave your name and email in the comment form because this is how we'll contact the winners!
join the fit foodie cooking club on facebook!
Join in on the Fit Foodie Facebook fun and become a member of our FREE Facebook Group. The Fit Foodie Cooking Club group on Facebook is a way to share your cooking creations and make new like-minded friends online.
Important Dates
Friday, May 6, 2022 – the first day you are eligible to submit an entry.
Tuesday, May 31, 2022 – the last day to submit your photo and comment.
Wednesday, June 1, 2022 – the winners will be randomly selected and announced in this blog post and on social media.
The Prize
2 participants will each win a $100 Target gift card. The selection will be random and based on comments that are received between February 3 and February 22, 2022.
Winners will be announced on the last Wednesday of the month (March 23, 2022) via social media and blog post.
Charity of the Month
NAMI Minnesota
Each month we'll select a different charity to support. May 2022's charity of the month is the National Alliance on Mental Illness Minnesota (NAMI). We'll be doubling the match from our giveaway winners to donate $400 to NAMI to aid in their efforts.
NAMI Minnesota is a non-profit organization dedicated to improving the lives of children and adults with mental illnesses and their families. For over 40 years, NAMI Minnesota has worked to promote the development of community mental health programs and services, change public attitudes about mental illnesses, improve access to services and increase opportunities for recovery.
To serve that mission, NAMI Minnesota works with individuals with mental illness, their families, professionals and the community at large by providing education, support and advocacy.
DONATE
We would love for you to support our monthly charity and donate what you can.
If you feel so inclined, donate to NAMI HERE.