This funfetti cake batter dip is a sweet treat that is not only delicious but healthy! It's made with garbanzo beans, maple syrup, cashew butter, and vanilla. It tastes exactly like cake batter!
Looking for more delicious no bake dips? Check out these easy edible cookie dough dip recipes!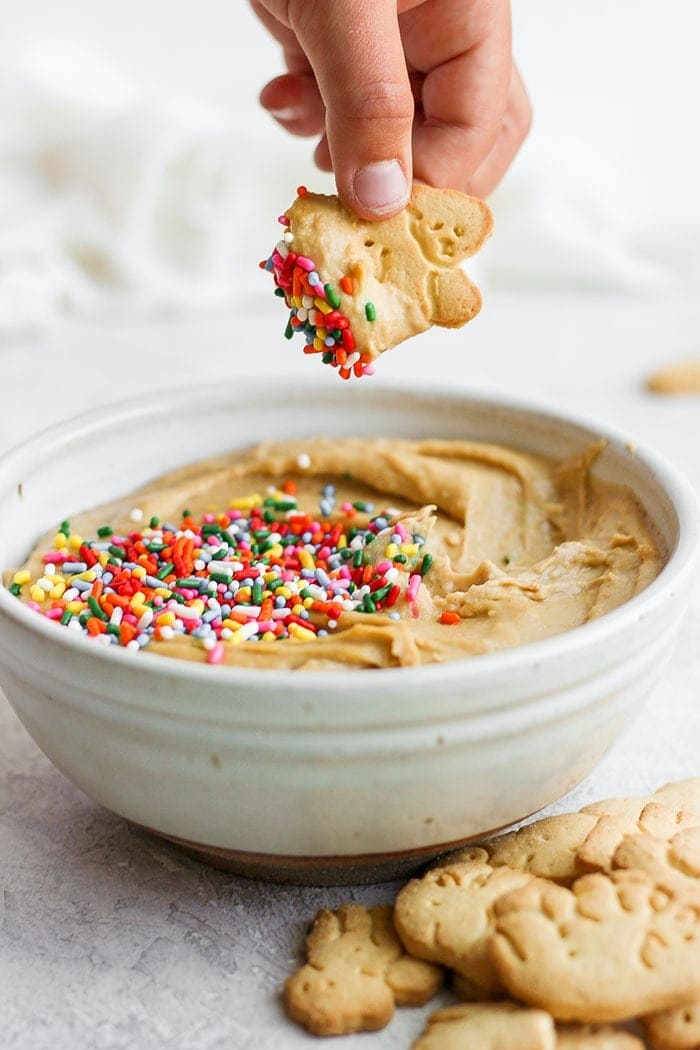 Cake Batter is So Hot Right Now
Who doesn't love to lick the bowl clean after emptying cake batter into a cake pan? It's delicious and nostalgic, right?
People have been trying to figure out a way to make cake batter that is safe to eat for decades. Everyone likes to enjoy the sweet nectar that is cake batter but doesn't love the stomach ache that comes from eating too much cake batter at one time.
Everywhere you look there are cake batter cookies, cake batter chapstick, even cake batter flavored Dr. Pepper. People are obsessed!
Of course, we love cake batter as much as the next person, but gut rot isn't our thing. We developed this healthier funfetti cake batter dip and guess what? It is actually packed with whole and healthy ingredients!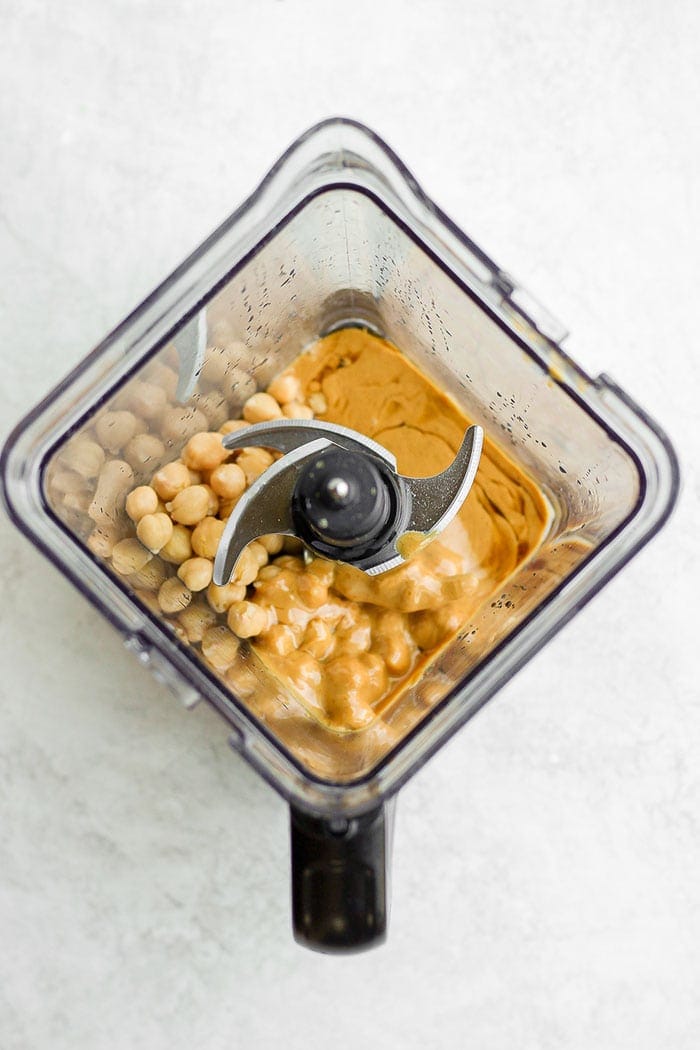 Cake Batter Can Be Healthy
I know the thought of cake batter being healthy is pretty far fetched but you won't find a bunch of processed sugar and raw eggs in this cake batter dip. We wanted to create a sweet treat that you can serve as a fun after school snack or at your next part.
This cake batter dip can be served with your favorite cookies, crackers, or fruit! What makes this cake batter dip healthier than the rest? The ingredients!
What You Need
You wouldn't suspect each individual ingredient in this cake batter dip recipe to taste anything like cake batter, but when you mix them all together it is a beautiful medley of cake batter flavor.
This cake batter dip needs every single ingredient! Here is what each ingredient offers to this delicious recipe.
Garbanzo Beans- Forget a box of cake mix or flour, we use garbanzo beans as the 'meat' of this dip. It offers a ton of protein in a sweet dip that you wouldn't normally get in a dessert recipe!
Cashew Butter- Cashew butter is the "cake" flavor behind this edible dessert dip. Creamy cashew butter gives this dip a yummy batter texture and the perfect amount of sweetness. Cashew butter also offers up another healthy dose of protein!
Maple Syrup- This dip is naturally sweetened with maple syrup. Maple syrup is a warmer flavor that gives this cake batter dip a simple sweetness! Feel free to substitute maple syrup with your favorite sweetener.
Vanilla Extract- You can't make a cake without vanilla and the same goes for this cake batter dip! Vanilla gives this cake batter dip the perfect vanilla cake flavor that everyone craves!
Sprinkles- Funfetti cake is undeniably delicious. Use your favorite sprinkles, naturally colored or not to add some fun to your dip!

Don't Forget to DIP IT
After mixing up this cake batter dip, the last thing you have to decide is what you are going to use as and edible spoon! Below are some great options!
Strawberries
Animal Crackers
Apples
Annies Crackers
Graham Crackers
Pears
Peaches
Spread it on a NANNER.
Carrots
Celery (like ants on a log, but better)
Pretzels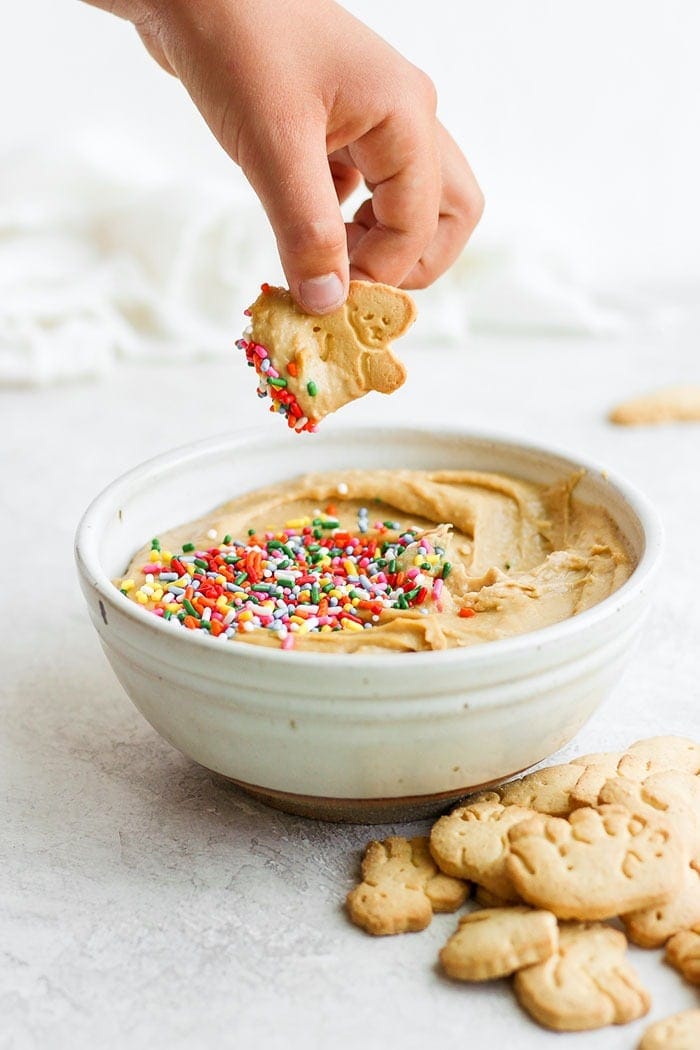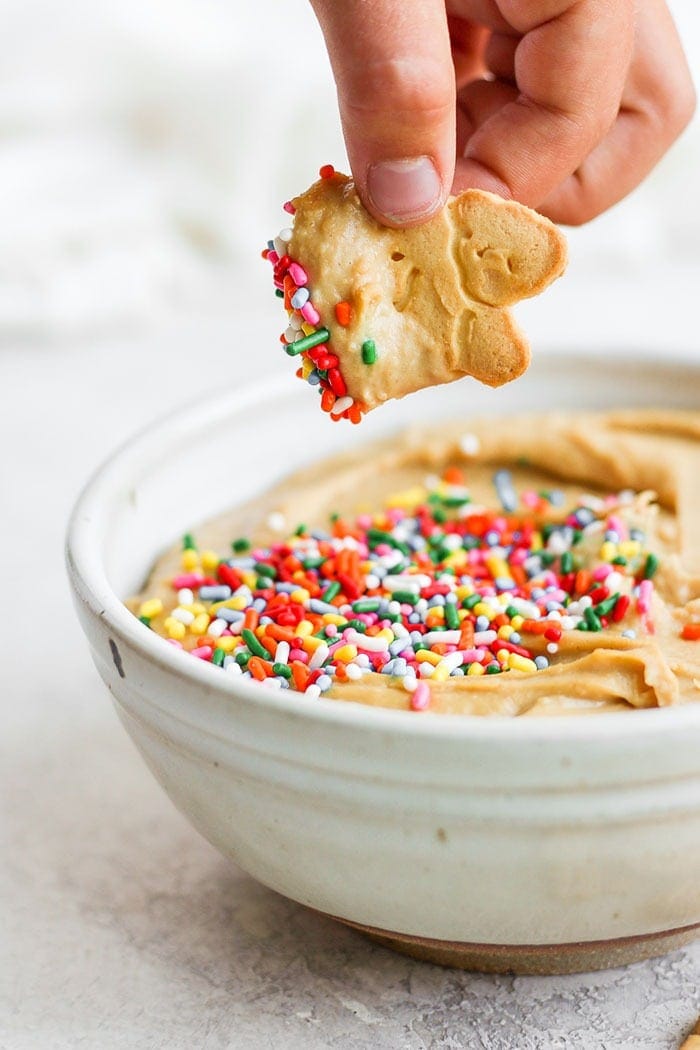 Healthy Dip Recipes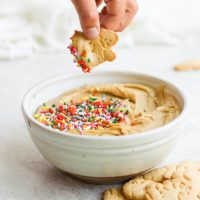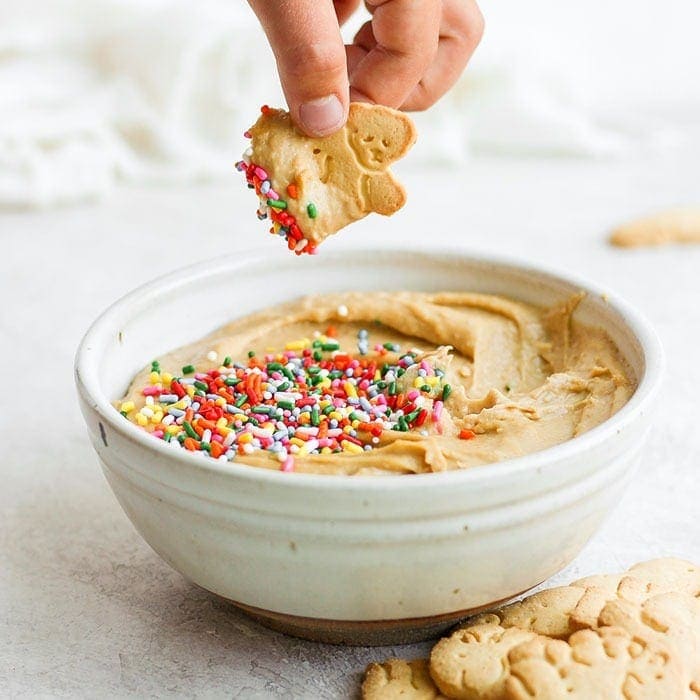 Healthy Cake Batter Dip
This funfetti cake batter dip is a sweet treat that is not only delicious but healthy! It's made with garbanzo beans, maple syrup, cashew butter, and vanilla. It tastes exactly like cake batter!
Ingredients
15

oz.

canned garbanzo beans

rinsed and drained

1/2

cup

all-natural creamy cashew butter

drippy

2

teaspoons

vanilla extract

1.5

tablespoon

maple syrup

1.5

tablespoons

water

2

tablespoons

rainbow sprinkles

+ more for topping
Instructions
Place garbanzo beans, cashew butter, vanilla extract, maple syrup, and water into a high-speed blender.

Blend on high for 1-2 minutes or until smooth. You may need to stop to scrape the sides a few times.

Add in 2 tablespoons of rainbow sprinkles and pulse to combine. Make sure not to over-process or else the rainbow sprinkles will get too warm and bleed there color.

Transfer into a serving dish and dig in!
Tips & Notes
If cake batter dip is too thick, add water by the teaspoon.
Nutrition facts
Calories:
239
kcal
Carbohydrates:
27
g
Protein:
7
g
Fat:
12
g
Fiber:
1
g
Sugar:
7
g