Next time you make hummus, give it a makeover by adding avocado! This avocado hummus recipe is full of healthy fats, a ton of protein, and makes the perfect healthy appetizer.
We can't get enough healthy snack and appetizer recipes on FFF. If you are looking for other appetizers to serve alongside this hummus try our vegan queso, bacon wrapped Brussels sprouts and crockpot buffalo chicken dip.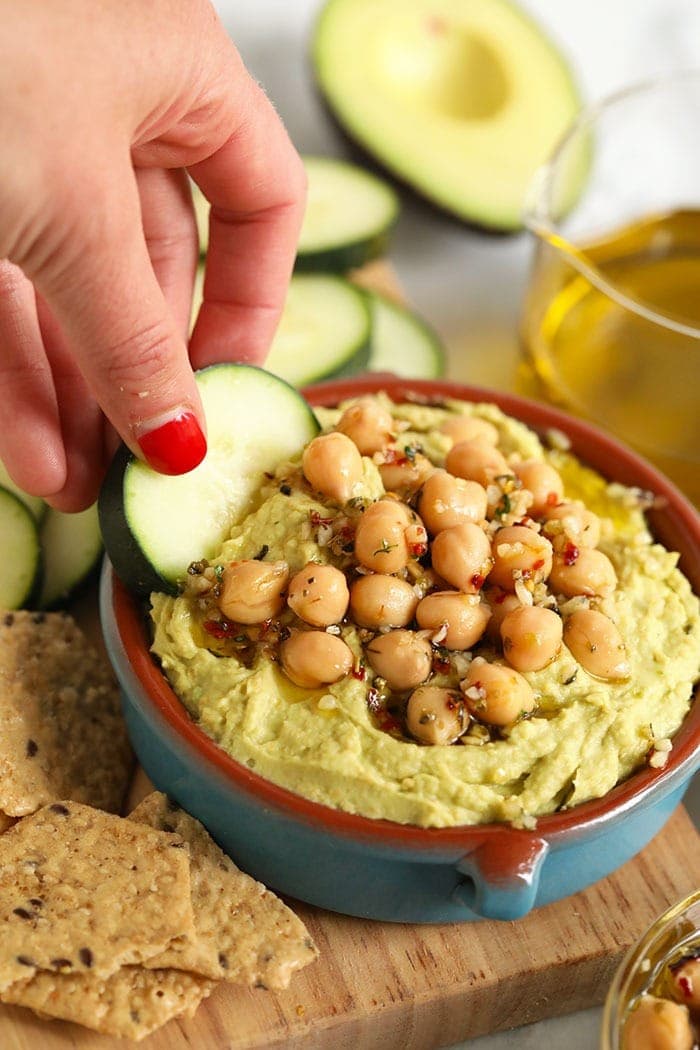 Have Fun in the Kitchen
Raise your hand if you like to host! THIS GIRL DOES. I know hosting isn't everyone's cup of tea, so if you are one of those people that is pushed into hosting, we have some tips and tricks for you. Here are some easy ways to make hosting fun and easy!
Keep it simple. Sometimes we want to go all out when people come over and if you are into getting creative go for it! If you are hosting you can also keep it simple by serving delicious and simple food like charcuterie, fresh vegetables, and fruit! The more color the better!
Plan ahead. If you are serving dinner make something that you can prepare the day before so all you have to do is eat it up or pull it out of the freezer! Having a soup buffet is always an easy dinner. Try making our crockpot chicken pot pie soup and our taco soup the night before hosting. Store it in the refrigerator and just reheat about 30 minutes before guests arrive!
Have fun. One way to make hosting more fun is to choose food that you are excited to make! If you are dreading a meal, change it! Nothing is written in stone and when you take a step back and remember that hosting is about time spent with people, it makes things more fun!
Just make hummus. No joke. Hummus is the perfect appetizer or snack! Make a batch of hummus, doctor up the top, and serve it with vegetables, crackers, and cheese. It is a great dish that looks fancy, but is so easy to make! This avocado hummus is a tasty spin on a classic hummus recipe!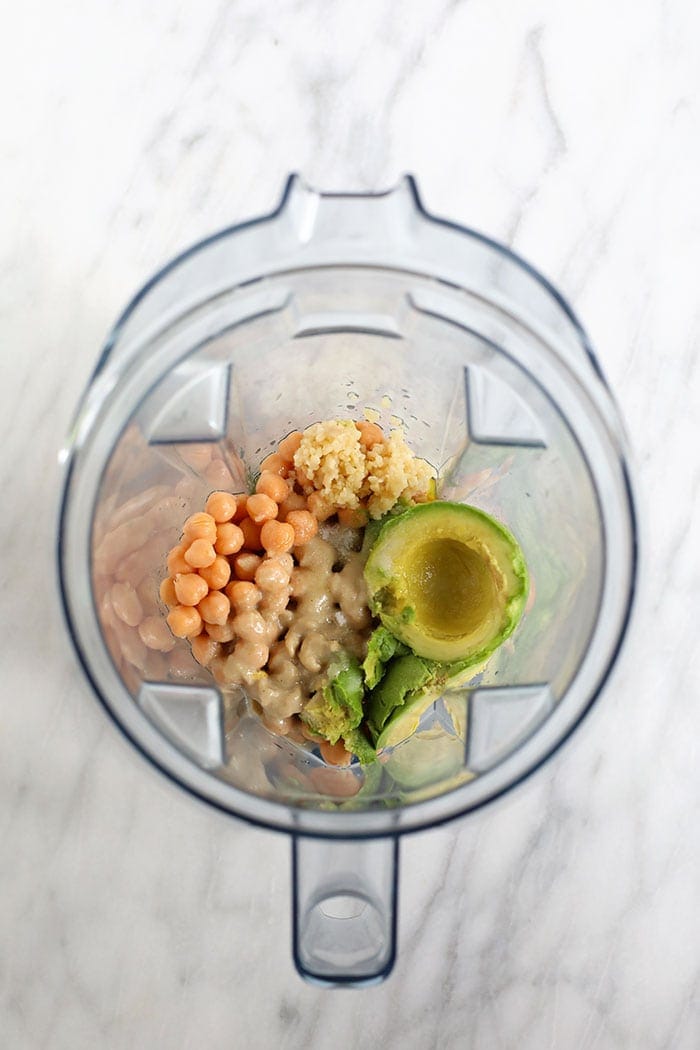 Benefits of Hummus
Not only does this avocado hummus make a great appetizer, but it is also a great snack if you are looking for something savory and healthy to eat! Hummus is a great source of protein, it is easy to whip up on a budget, and you can make it your own by adding in your favorite mix-ins.
This avocado hummus is made with garbanzo beans, tahini, and lemon juice (just like traditional hummus) and then we added avocado and flavor-packed marinated garbanzo beans to the top of the hummus to add flavor and color. It is an optional step, but really makes the recipe in my opinion!
Everything You Must Know About Hummus
Do you need to peel chickpeas for hummus? No, you do not need to peel the chickpeas before making hummus. If you are using chickpeas in a salad or making crunchy chickpeas, sometimes it's nice to remove the outer shell of a chickpea. You do this by laying chickpeas out on a paper towel or tea towel and gently place another towel over the top. Slowly roll the chickpeas between the towels and the peels will fall off.
What if your hummus is too thick? If your hummus is too thick, you can add a teaspoon of water or olive oil to your hummus until it reaches your desired consistency.
How much protein is in a serving of hummus? There are about 1.5 grams of protein in one tablespoon of traditional hummus!
Can you freeze hummus? Yes, you can freeze traditional hummus in the freezer. All you have to do is place it into a freezer safe container. When you are ready to eat the hummus, remove it from the freezer and place it in the refrigerator to thaw. We would not recommend freezing this avocado hummus. Avocado browns easily!
How do you store hummus? You can store homemade hummus in the refrigerator for up to 7 days. However, this avocado hummus does brown. To prevent browning, store this avocado hummus in an airtight container and place the avocado pit in the center of the hummus. Before placing the cover on your airtight container squeeze lemon juice over the top of the hummus.
Healthy Hummus Recipes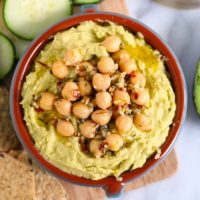 Avocado Hummus
Next time you make hummus, give it a makeover by adding avocado! This avocado hummus recipe is full of healthy fats, a ton of protein, and makes the perfect healthy appetizer.
Ingredients
Hummus
15

oz.

canned garbanzo beans

drained and rinsed

1

large avocado

1

tablespoon

lemon juice

2

tablespoons

tahini

1

clove

of garlic

3

tablespoons

extra virgin olive oil

1

tablespoon

water

1/4

teaspoon

salt
Optional Marinated Garbanzo Beans
Instructions
Hummus
Place all ingredients for the hummus into a high powered food processor or blender.

Blend all ingredients together on high until smooth.

If hummus is too thick add one teaspoon of water or olive oil to the hummus until it reaches desired consistency.

Spoon hummus out of the blender and into a bowl. Serve immediately.
Optional Marinated Garbanzo Beans
Place garbanzo beans into an airtight glass container.

Add olive oil, Italian seasoning, garlic, and salt to the garbanzo beans and mix well.

Cover and refrigerate for at least 30 minutes or up to 24 hours.

Top avocado hummus with garbanzo beans when serving. Enjoy!
Tips & Notes
Nutrition information does not include garbanzo bean garnish.
Nutrition facts
Calories:
164
kcal
Carbohydrates:
13
g
Protein:
5
g
Fat:
11
g
Fiber:
2
g
Sugar:
0
g