Ready to be obsessed with these Grilled Pineapple and Jerk Chicken Kebabs? Skewer this jerk chicken up with some peppers, onions, and fresh pineapple for a glorious and healthy chicken kebabs recipe!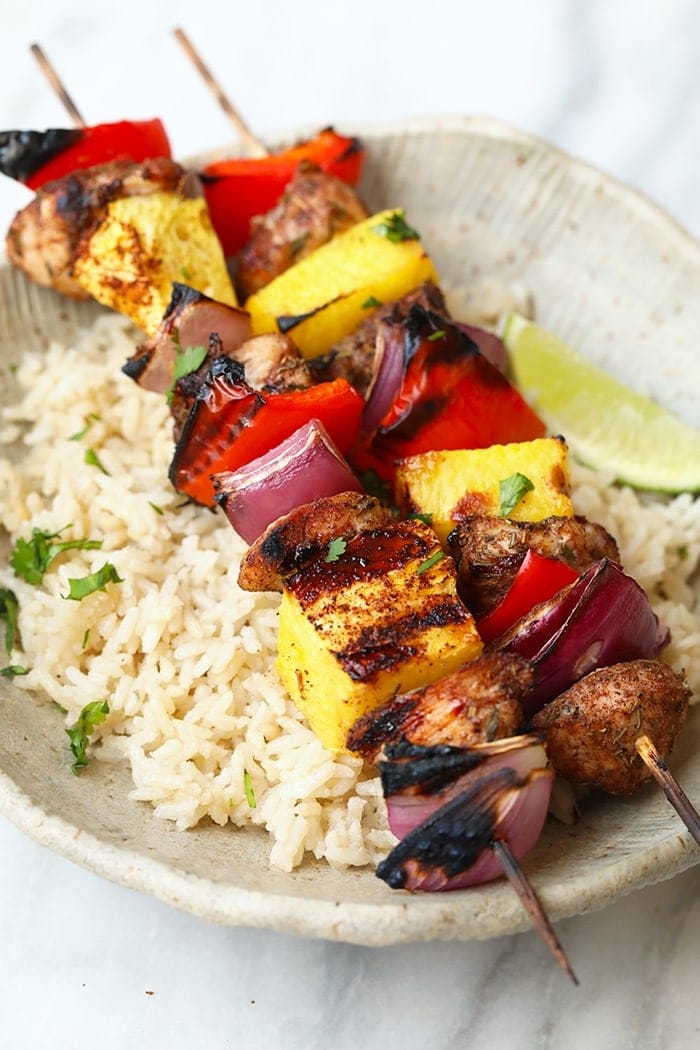 I Love Summer
I'm sitting at a coffee shop writing this right now and a herd of 8-year-olds on bikes just drove past me. Like 20 of them. Can I just say how happy this makes me to see kids on bikes doing active things. I feel like everywhere I go I see kids zoned in on the iPad or holding a phone. Now, I'm not a parent, but one thing I appreciate about mine is that we were ALWAYS outside. I know it was a different time back then, but we didn't even have cable and I didn't get a cell phone until nearly college!
Anyways, I love summer here in Minneapolis. It's such an active community and it makes me happy seeing people outside everywhere. Another thing that makes me happy is GRILLING. Yes, grilling is an old time "man's sport" but I'm an out of the closet feminist and grilling makes me feel empowered and, well, SEXY. That's right…SEXY.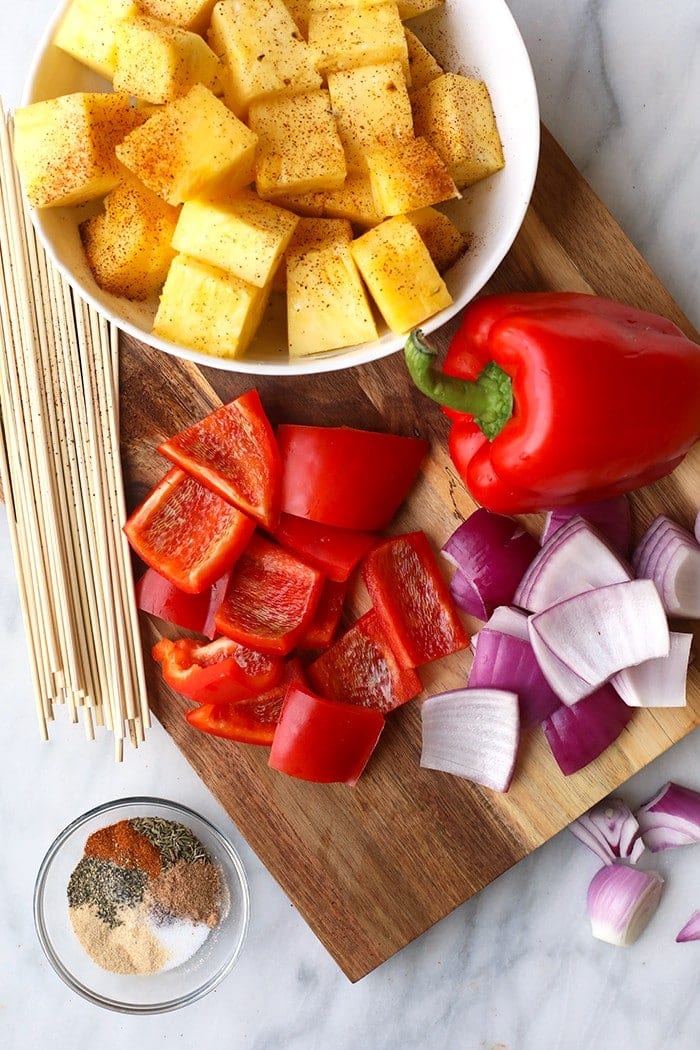 Grilled Pineapple and Jerk Chicken Kebabs
I love everything about these jerk chicken kebabs. The chicken has the most amazing jerk rub on it and peppers and onions are my jam. Oh, and I almost forgot! Grilled pineapple is life and when you mix it with the rest of the ingredients it's a yummy grilled pineapple chicken recipe you can all summer long.
What is jerk seasoning contain?
We love ordering jerk chicken when we are out to eat and love a good jerk chicken wing. Before we made these chicken kebabs with jerk seasoning, we didn't completely understand what jerk seasoning was made out of. Now we do! Jerks seasoning is made up of a mixture of spices with heroes of the spices being allspice and dried habanero (we used cayenne pepper), along with the spices below!
Dried thyme
Allspice
Nutmeg
Cinnamon
Cayenne
Garlic
Pepper
Salt
This jerk spice mix give these kebobs an amazing flavor, but feel free to cater it to your spice level needs. The sweetness of the grilled pineapple on these kebabs also helps cut the heat from the jerk seasoning. It will seriously blow your mind. It tastes great and it's so easy to make!
It's All About the Grill
Let's talk about grills for a second. Until last week, we were using a Fuego Grill. It's small, but mighty and heats up in no time! However, when we bought a house we decided we need a bigger grill because we have so many grill outs! We bought this Weber Spirit Grill and so far, we love it! Both grills are super affordable and on Amazon Prime, which is always nice.
Know that you can always make this recipe in the oven. Just follow the directions the same way, but use your oven instead of your grill. You won't get the amazing grill marks on the pineapple and kebabs, but your oven will do the trick!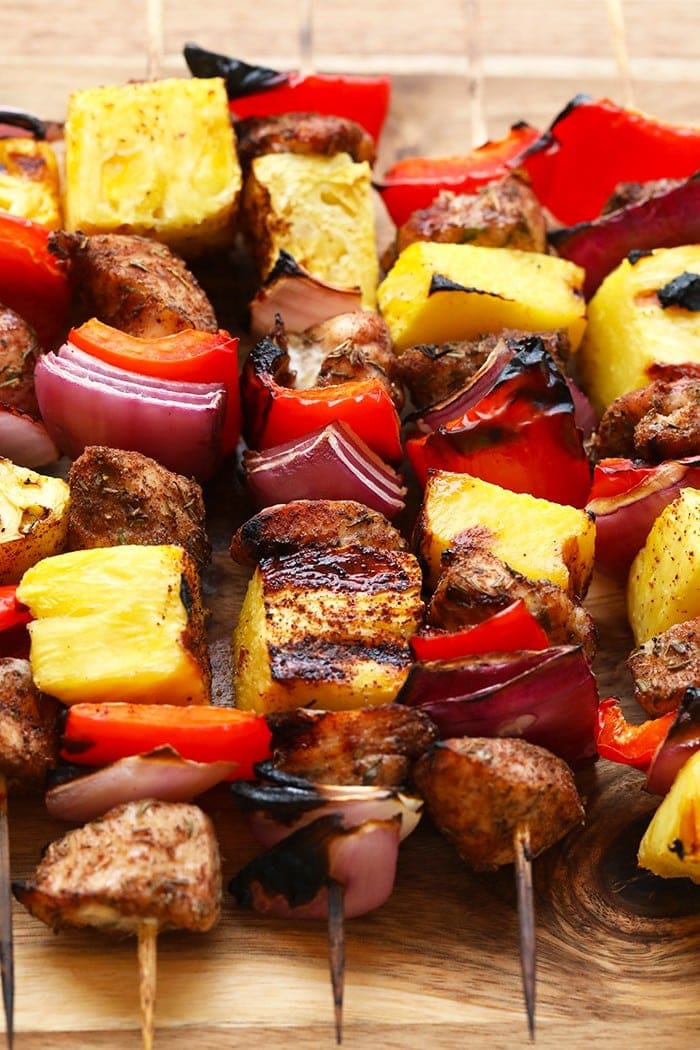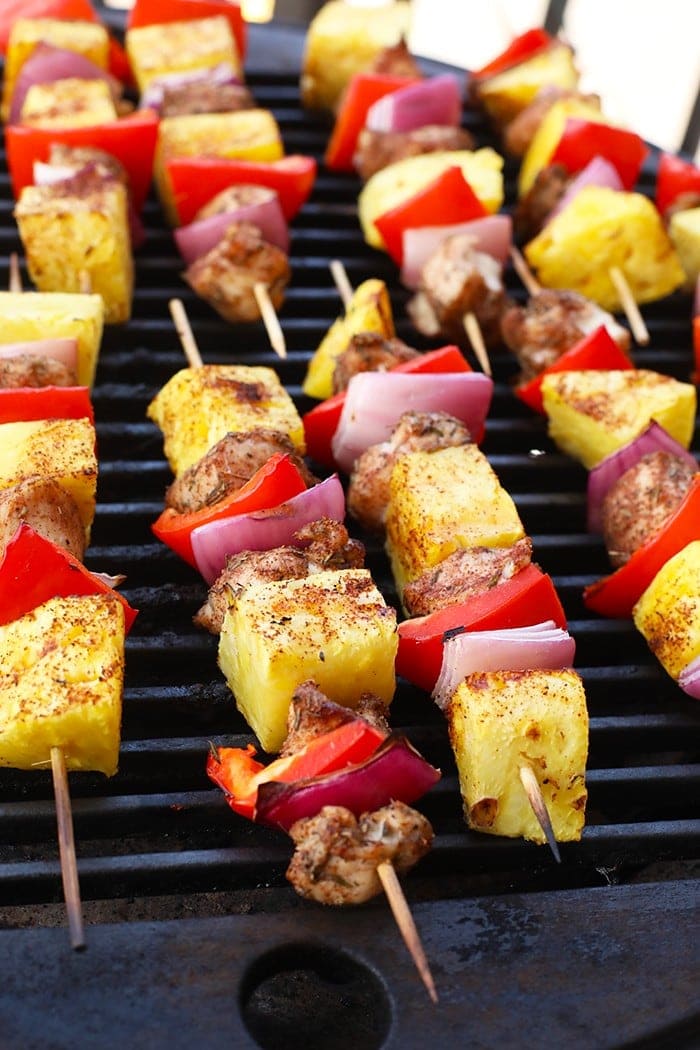 Kebab Recipes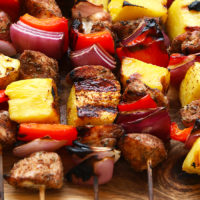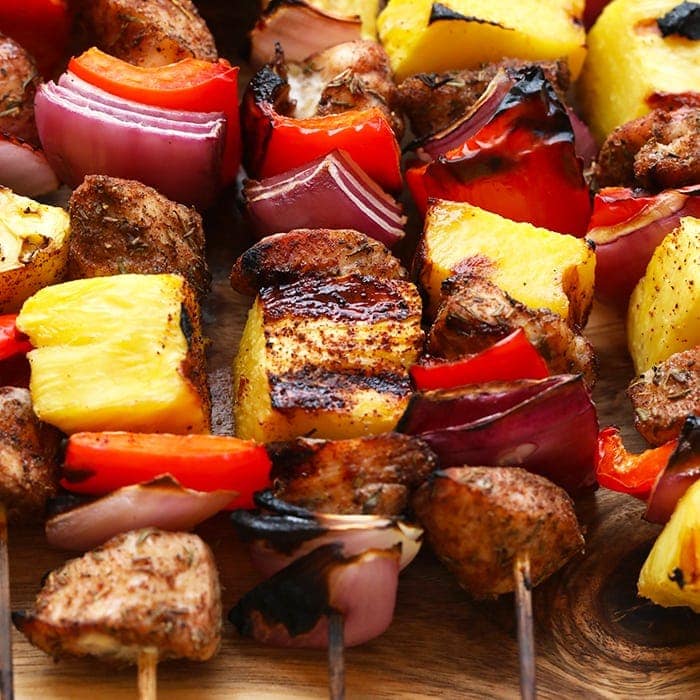 Grilled Pineapple and Jerk Chicken Kebabs
Ready to be obsessed with these Grilled Pineapple and Jerk Chicken Kebabs? Skewer this jerk chicken up with some peppers, onions, and fresh pineapple for a glorious and healthy chicken kabobs recipe!
Prep:
15 minutes
Cook:
25 minutes
Total:
40 minutes
Fat
4
Carbs
31
Protein
24
Ingredients
For the Jerk Chicken
1

lb. boneless skinless chicken breast

2 teaspoons

dried thyme

1/2 teaspoon

allspice

1/4 teaspoon

nutmeg

1/4 teaspoon

cinnamon

1/4 teaspoon

cayenne

1 teaspoon

garlic

1/4 teaspoon

pepper

1/4 teaspoon

salt
For the Skewers
1

large pineapple, cubed

1 teaspoon

paprika
Jerk Chicken (from above)

2

large red peppers, cubed

1

large red onion, cubed
Instructions
Preheat grill to 400ºF.
Mix all spices for the jerk chicken into a bowl. Then, massage spices into the chicken breast with your hands. Cut into cubes.
Sprinkle paprika on pineapple cubes and prepare your kebabs by placing peppers, onion, pineapple, and chicken onto skewers (alternating between the four). Repeat until all ingredients are gone.
Set kebabs on the grill for around 20-30 minutes rotating kebabs every five minutes.*
Remove from grill and enjoy!
Tips & Notes
*The middle temperature of the chicken should be 165ºF
Nutrition Facts
Serving Size:
1/4
Calories:
236
Sugar:
21
Fat:
4
Carbohydrates:
31
Fiber:
5
Protein:
24
Category:
Dinner
Method:
Grill
Cuisine:
American
Keywords: jerk chicken, grilled pineapple