Spread a little holiday cheer with a cookie tin full of these Healthier M&M Cookies! These cookies are a must for the holiday season.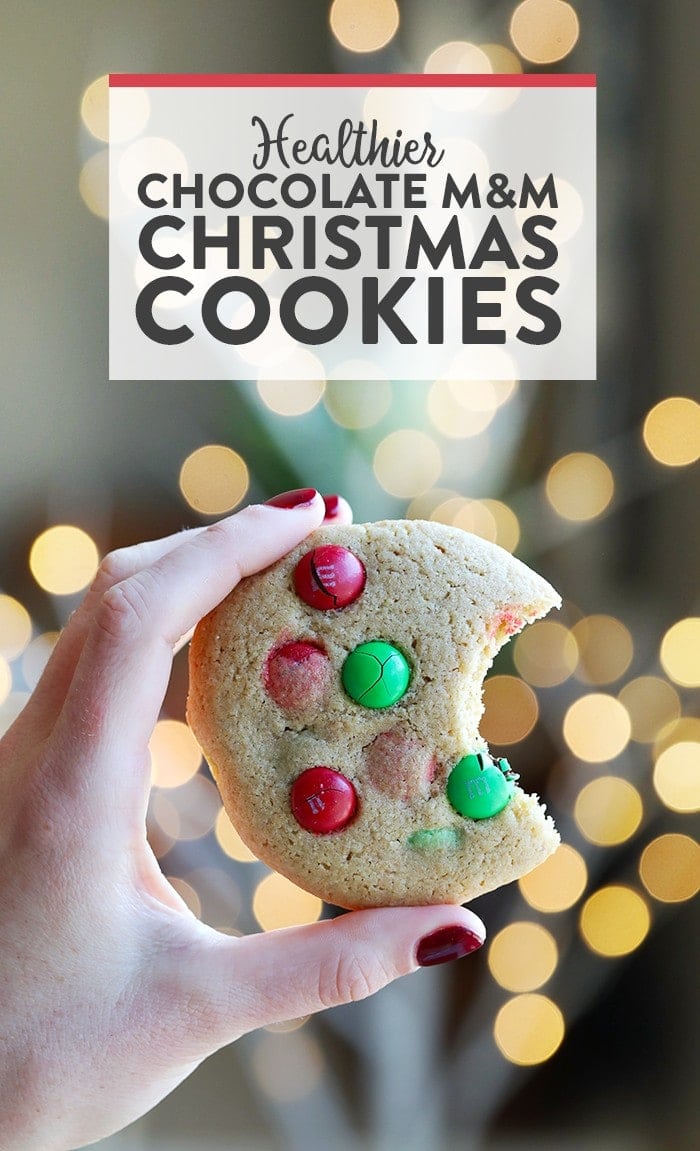 Cookies, Christmas trees, and holiday cheer…OH MY.
We are in the full swing of the holiday season. It is Sunday and that could only mean a couple of things. Get ready for game-day goodies OR holiday cookie baking! I know which one I would choose (this is Linley)! Holiday cookie baking is one of my favorite things (as you already know)! We have some amazing new and old cookie recipes on FFF right now and they are all delicious!
Fit Foodie Finds Holiday Cookies!
Speaking of cookies, my roommate, Brita, got home late the other night because she was at a holiday cookie baking night. BUT the cool thing about her cookie baking night was that they all made the dough, split it up into equal parts, and then everyone took home dough instead of actual cookies so they could bake them whenever they wanted! GENIUS. You could freeze the dough, keep it in the fridge for a couple days, or bake it ASAP. I LOVED the idea. I also decided that you don't have to wait until the holidays to have a cookie baking party, am I right? I am going to hold onto this idea and implement it this spring!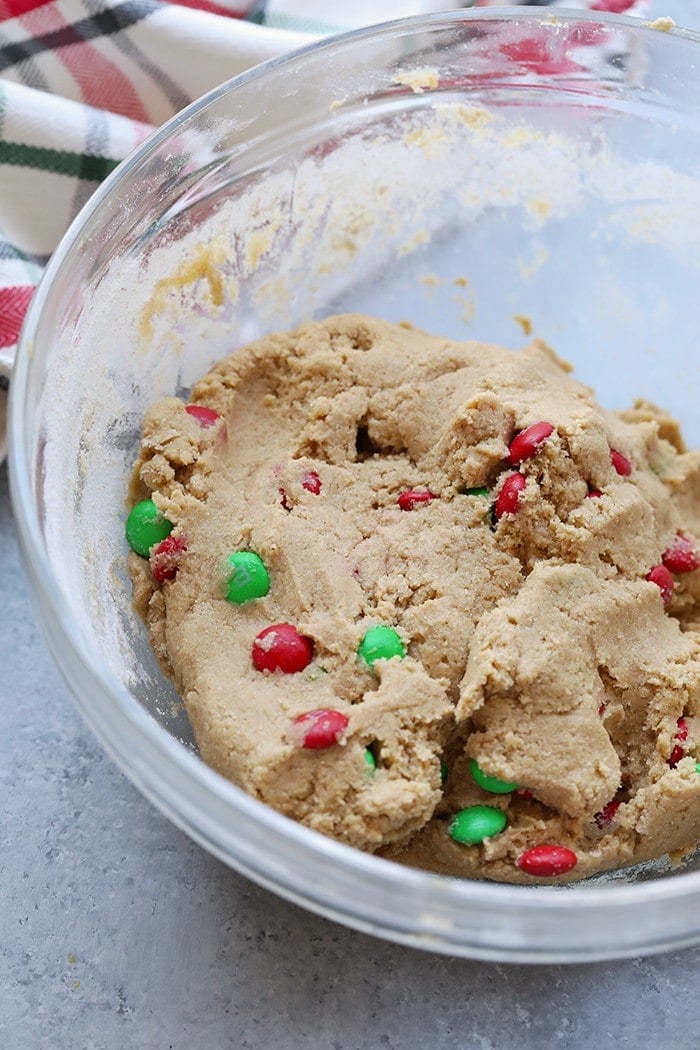 Now for these delicious Healthier M&M Cookies for Santa. Lee and I are absolutely stoked about these cookies because they are delicious AND because we LOVE the name. Even Santa doesn't have to sacrifice flavor for his health, ya know? But really, we used a little bit of butter, white whole wheat flour, and lots of love when we developed this cookie.
Whether you are making them for the family or for a holiday cookie party, enjoy every last bite!….and don't forget to leave Santa a glass of milk to wash down his cookies.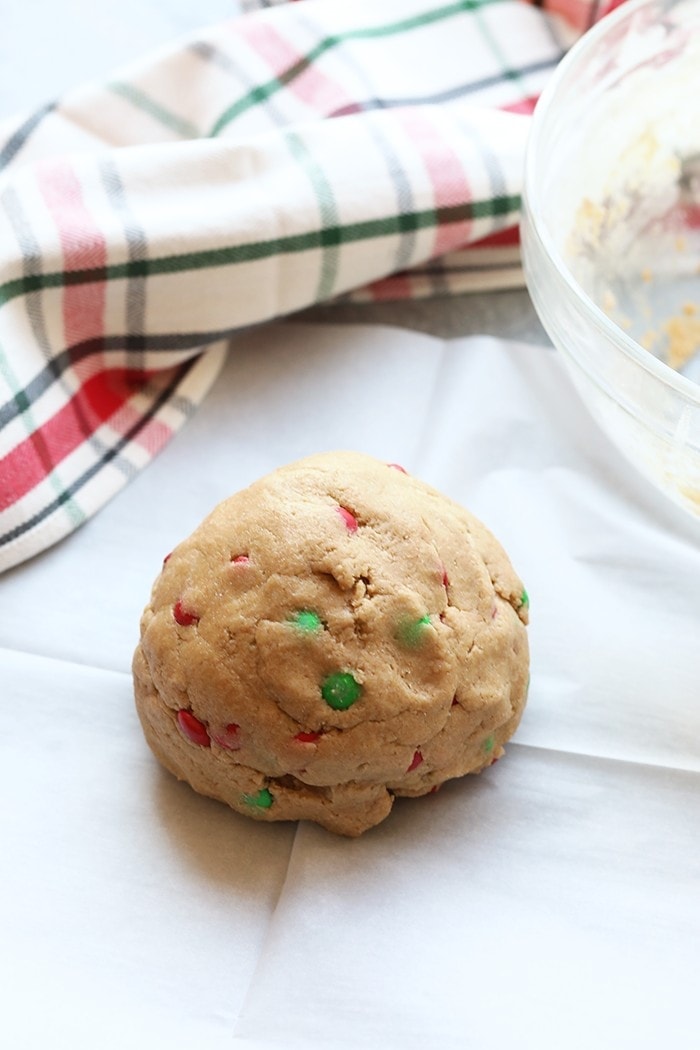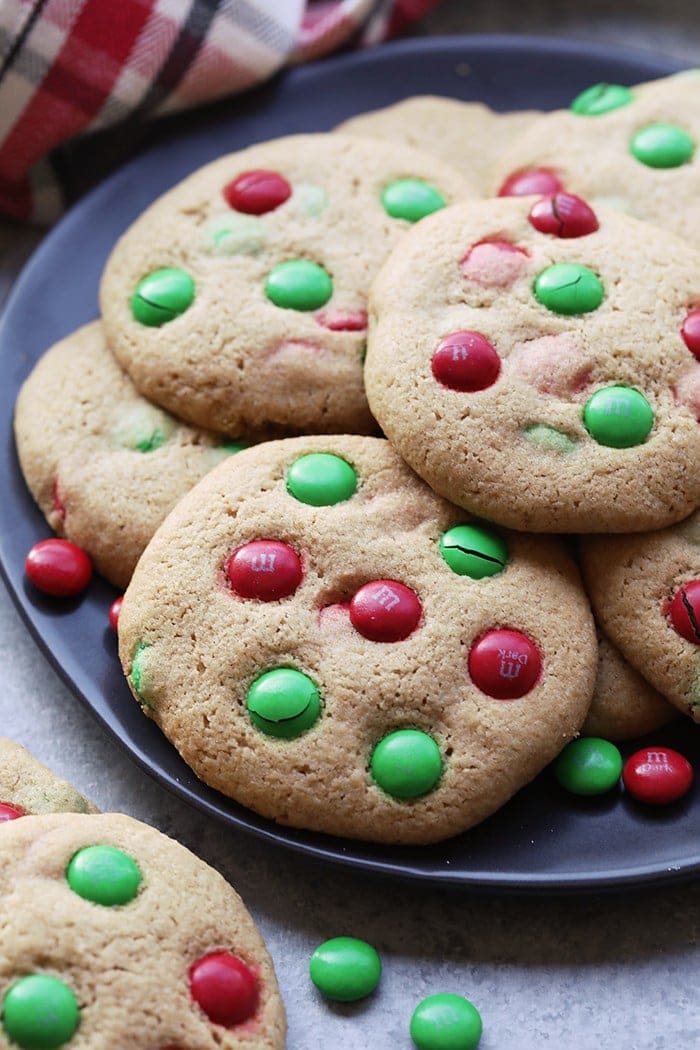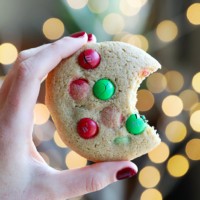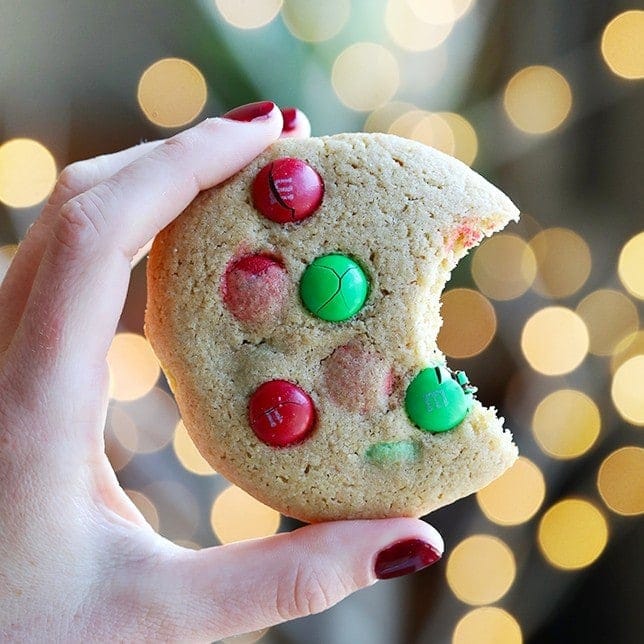 Healthier M&M Cookies for Santa
Spread a little holiday cheer with a cookie tin full of these Healthier M&M Cookies! These cookies are must for the holiday season.
Prep:
40
Cook:
10
Total:
50 minutes
Instructions
Preheat oven to 350ºF and cover a baking sheet with parchment paper.
Mix dry ingredients together except for M&Ms. Set aside.
In a separate bowl, use a hand mixer to cream butter and brown sugar together until combined. Then mix in all other wet ingredients.
Slowly add dry ingredients to wet until combined. Then mix in M&Ms.
Create a ball and then place dough in the refrigerator for 30 minutes.
Remove from refrigerator and scoop out cookies with a tablespoon scoop. Roll into balls and gently flatten between hands until they are about 3/4 to 1 inch thick. Place on parchment paper and repeat. Add additional dark chocolate M&Ms to the top if desired.
Bake for 8-10 minutes. Enjoy!
Nutrition Facts
Serving Size:
1 cookie
Calories:
133
Sugar:
10
Fat:
6
Carbohydrates:
17
Fiber:
1
Protein:
2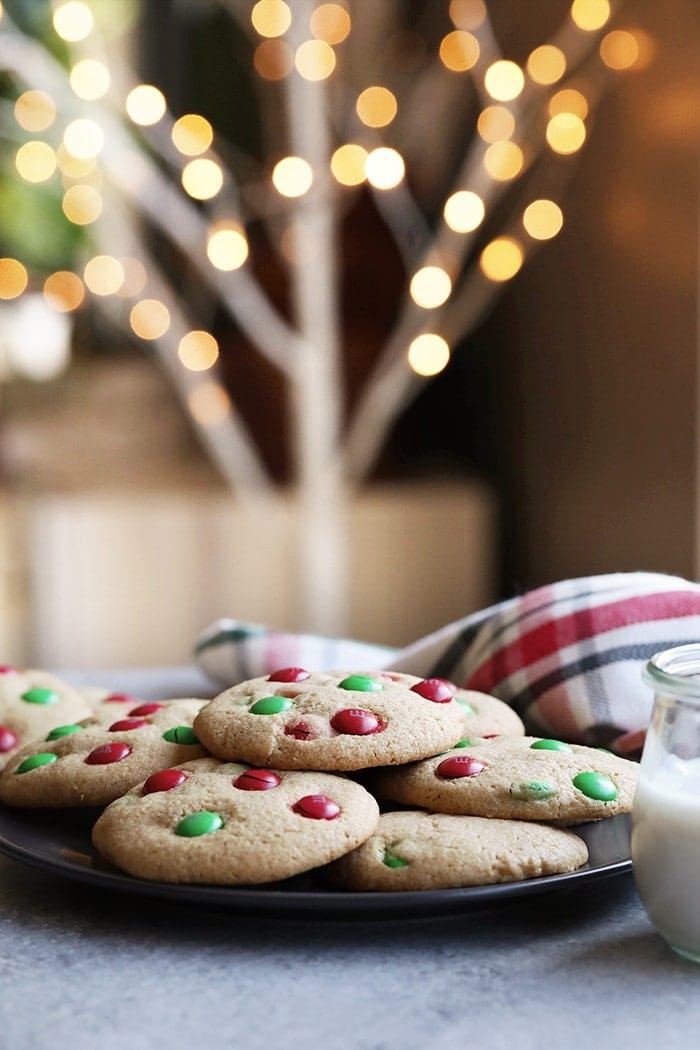 Do you have any holiday cookie traditions?!