Say IIIII if you've already eaten a crap ton of Christmas cookies this year.
IIIIIIIII
I've been trying to keep the ones I eat to homemade and semi-healthy…like my Gluten-Free Almond Biscotti, but I'm going to be honest with you, I haven't been doing too hot. We're talking sugar cookies and homemade butter cream frosting. Oh and A LOT of sprinkles.
I used to be really hard on myself during the holiday season and limit myself to only a few bites here and there of the "good stuff." There's no way you would find me eating more than one cookie in a single day…that would be a healthy living sin. I am so happy that my mindset has changed and I am finally able to enjoy the holiday season. Life is about balance and this goes for the holidays, too! 3 cookies in a sitting isn't going to kill me and you know what? Tomorrow is a new day
One thing that I've tried to keep consistent this holiday season is my workouts. I find that if I keep most of the aspects of my life somewhat normal during this time of year, that it's easier to jump back on the next day. Sooooo how do I do this? I schedule workout dates with my besties. Insert —> Linley and Lindsey. Lin and I have been going to Lindsey's 7AM barre strong class that she teaches at Haute Barre every Wednesday morning and then then once a week, Linds works out with us at Switch. We all got to talking one day and decided we need to celebrate both the holidays and fitness, by hosting a Holiday Hustle Workout. To make it even more special, we decided 100% and more of the proceeds would go to sponsoring a family in need this holiday season.
Guess how much we raised? More than $300!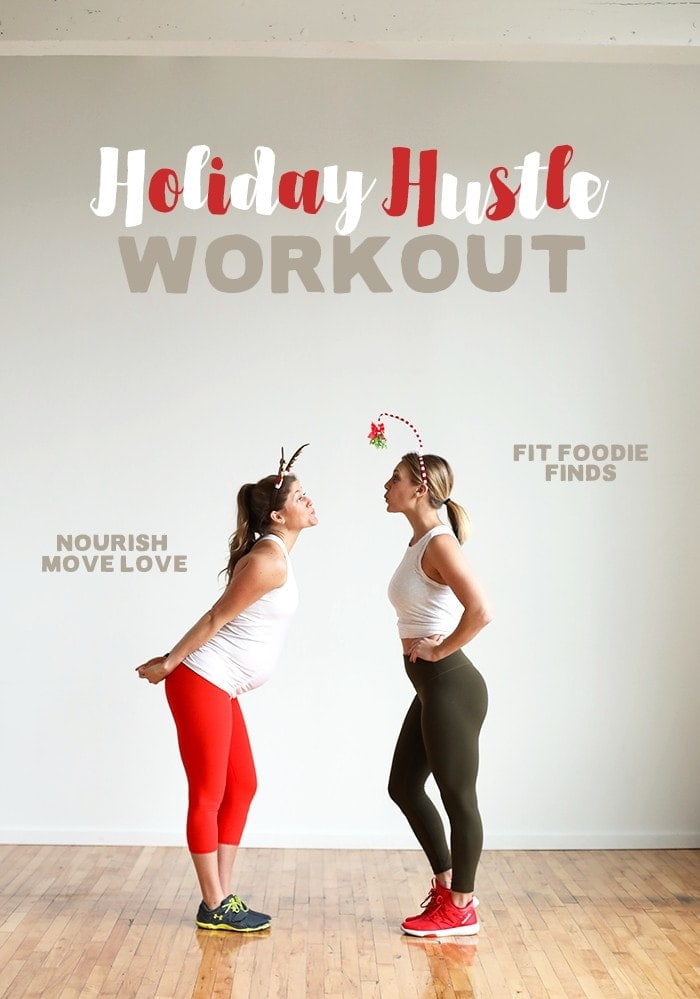 We rented our favorite studio space in Minneapolis (actually the one we shoot all of our workouts at) and capped the class at 20 people. A great group of ladies showed up and it was an absolute blast. Best part? DRESSING UP IN HOLIDAY GEAR. Second best part? TEACHING AGAIN! While Lindsey wrote the workout, I got to co-taught it with her. Just going to her classes and being around her makes me miss teaching fitness classes so much!
The workout we did was circuit/bootcamp style. It mixed strength and cardio…my favorites! Guess what? I get to share it with you today! We even filmed the cutest video for you to workout along side us. Your're welcome.

Holiday Hustle Bootcamp Workout
Equipment: dumbbells + resistance thigh bands + medicine ball + gliders or towels
Description: This workout consists of 5 bootcamp circuits. Each circuit has two strength-based exercises, complete each exercise for 30 seconds x 2 sets. Then perform the cardio tabata, 20 seconds of work, 10 seconds of rest x 4 cycles. Repeat the entire workout x 2 sets. **Note we only did one set at the workout with a little longer tabata cycles.
Circuit One: Dumbbells
Strength Move One: Single Leg Deadlift + Curl {1 set per leg}
Strength Move Two: Walking Push Ups + Partner Hand Clap
X2 Sets
Cardio Tabata Move One: Squat + Jack + Jack
Circuit Two: resistance leg bands
Strength Move Three: Squat + Alternating Side Leg Lift
Strength Move Four: Banded Marching Glute Bridge
X2 Sets
Cardio Tabata Move Two: Runner Squats
Circuit Three: gliders
Strength Move Five: Glider Lateral Lunge {1 set per leg}
Strength Move Six: Side Plank with Rotational Clap {1 set per side}
X2 Sets
Cardio Tabata Move Three: Power Knee Drives {2 cycles per leg}
Circuit Four: medicine ball
Strength Move Seven: Forward / Backward Lunge + Pass {1 set per leg}
Strength Move Eight: Squat + Punch
X2 Sets
Cardio Tabata Move Four: Squat + Hop + Hop
Circuit Five: gliders
Strength Move Nine: Push Up + Glider Lat Pull
Strength Move Ten: Squat + Crunch
X2 Sets
Cardio Tabata Move Five: Burpees