These are the chewiest and softest oatmeal raisin cookies on the face of the earth! They are sweetened with brown sugar, honey, and have the perfect bite from whole, chewy oats.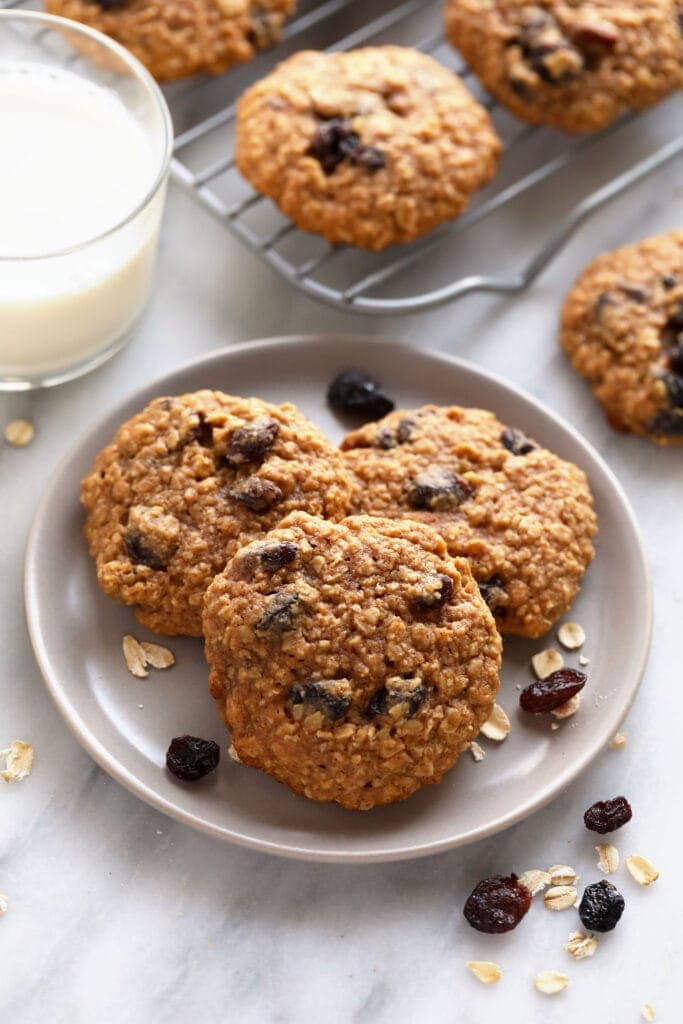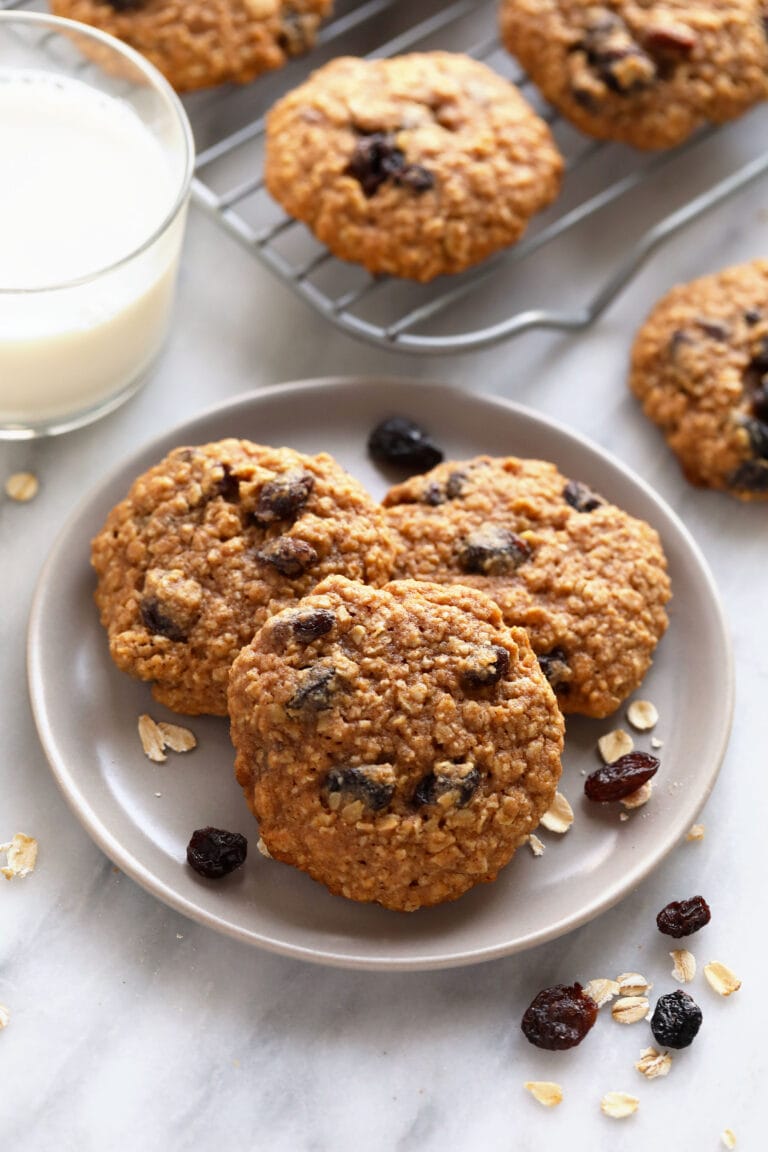 The BEST Oatmeal Raisin Cookies
What makes a good oatmeal raisin cookie? A perfect cookie that is a glorious in-between of chewy, but also has a bite! There are a few different oatmeal cookies on FFF.
We've got no-bake oatmeal cookies, apple oatmeal cookies, and chocolate chip oatmeal cookies, but this recipe is truly a classic oatmeal raisin cookie recipe.
We love these oatmeal cookies for so many reasons–>
They are chewy on the inside and crispy on the outside.
You can make a big batch of these cookies and freeze the rest for later (they are still chewy when they thaw!).
They are lower in sugar than other oatmeal cookies on the internet.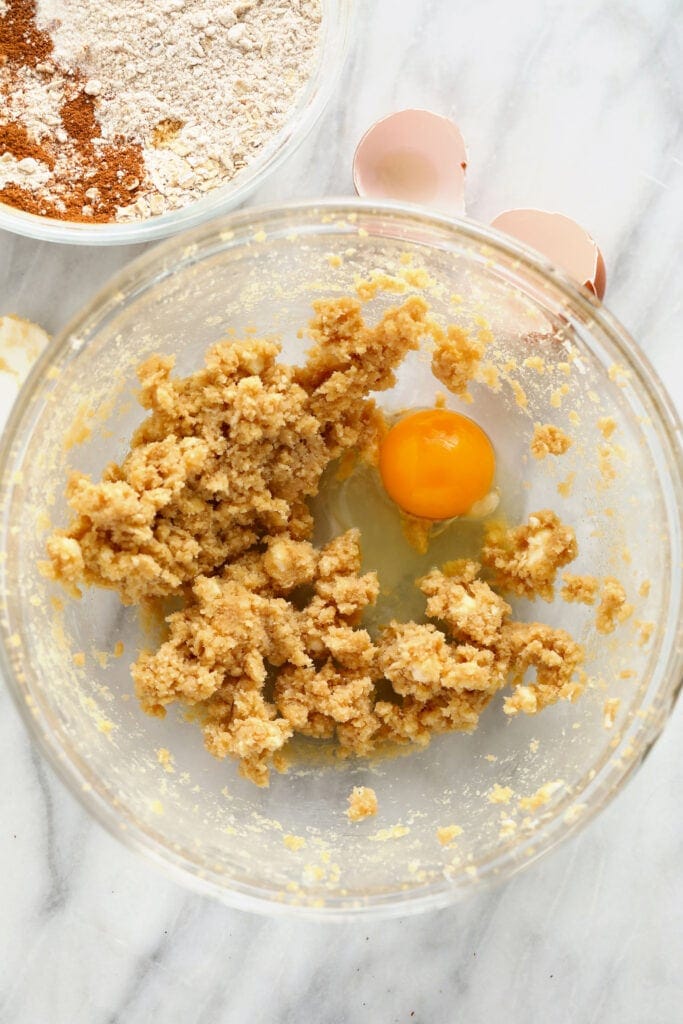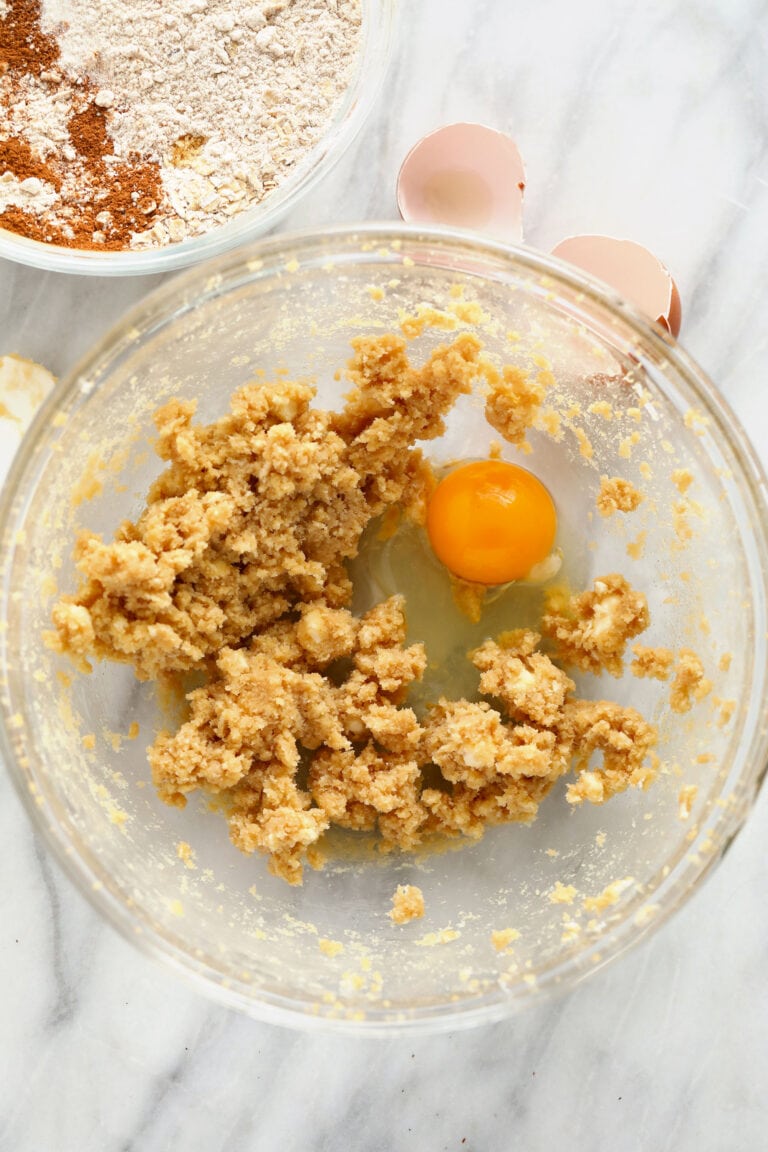 Ingredients You'll Need
Not only are these oatmeal raisin cookies easy to make, all of the ingredients in this cookie recipe are easy to find and super common. No hassle necessary!
Unsalted butter– Be sure your butter is unsalted and COLD. Be sure the butter is cold. You don't want to end up with flat cookies.
Light brown sugar
Honey – Don't skip the honey! It helps make the oatmeal cookies super chewy!
Large egg
Rolled oats– We used whole rolled oats in this recipe, but if all you have are quick cooking oats, those will work too!
White whole wheat flour
Baking powder
Salt
Raisins– If your raisins are a little dry and hard, soak them in water before mixing them in the oatmeal cookies! This will bring them back to life. Just be sure to remove the access moisture before adding them to the cookie dough.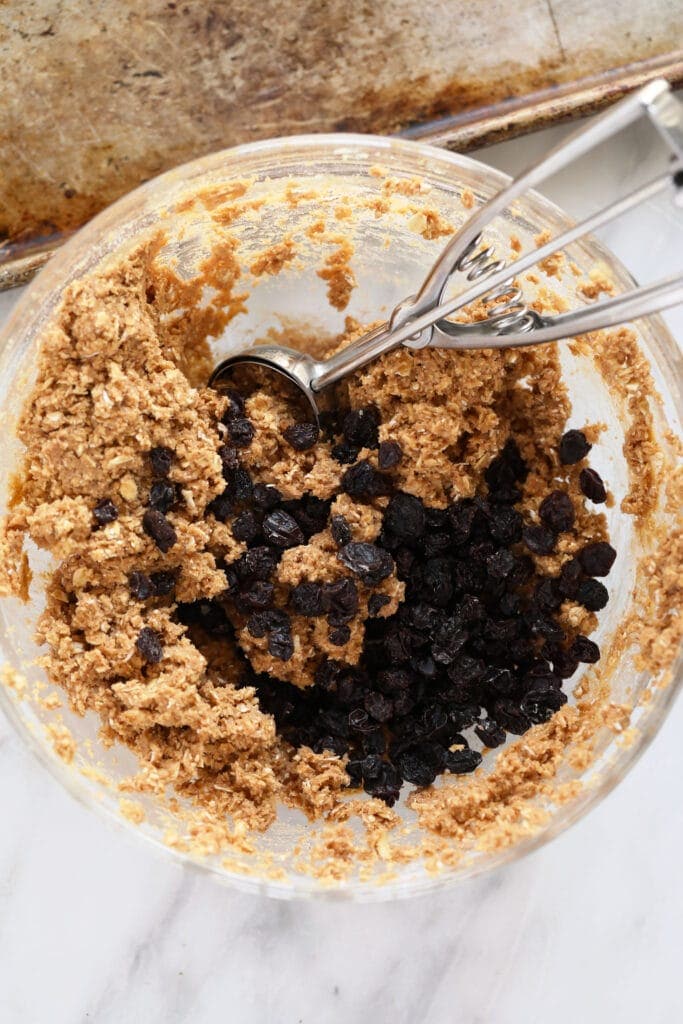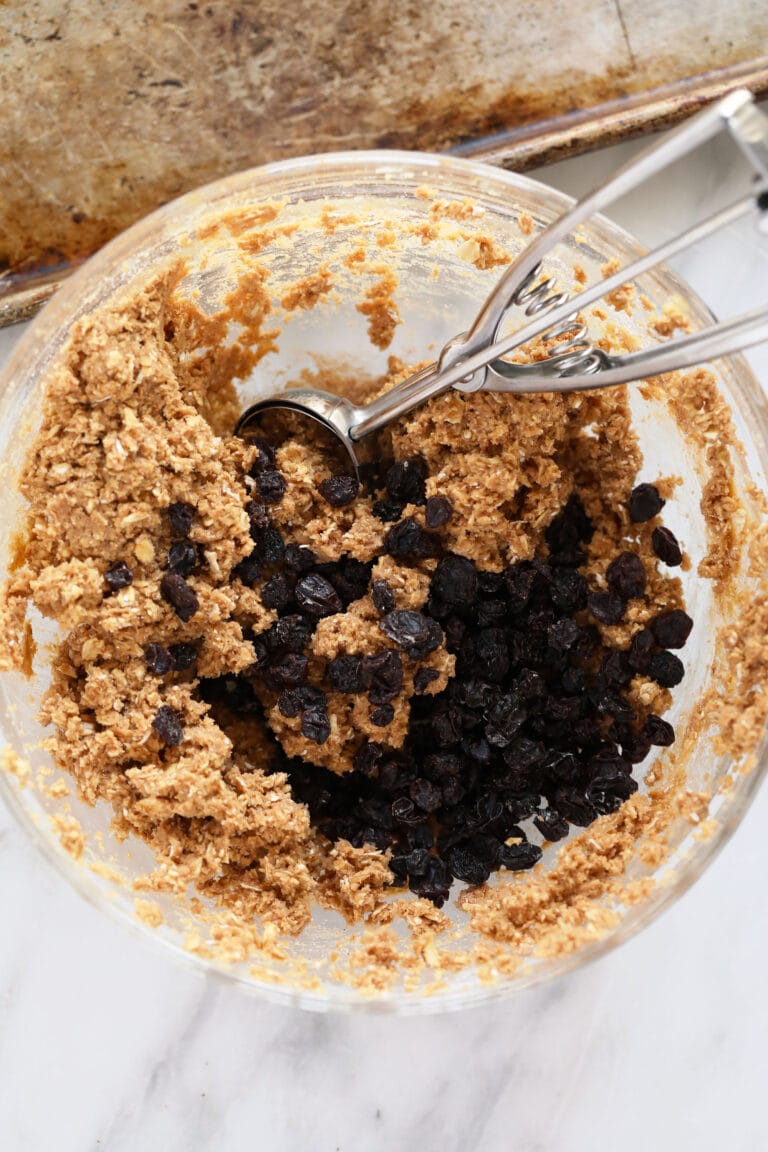 Don't Forget to do THIS
After you mix the dough up for these oatmeal cookies, you scoop them out and put them on a pan. HOWEVER, do not foreget to flatten the oatmeal cookie dough before you put them on the pan.
Here's what you do!
Mix the cookie dough in a large bowl.
Using a tablespoon cookie dough scoop, scoop a cookie dough ball in your hands.
Next, roll the cookie dough into a ball and carefully flatten it in the palm of your hands.
Place the flattened cookie dough ball on a greased pan.
Why do I have to flatten these cookie dough balls before baking?
You have to flatten the cookie dough balls before placing them on the baking sheet because if you do not, they will end up as a dome shape rather than a perfect, flat, chewy cookie.
here's a tip
This oatmeal raisin cookie batter is a bit sticky! Before you flatten the cookie dough balls, be sure to wet your hands so that the cookie dough doesn't stick to your hands!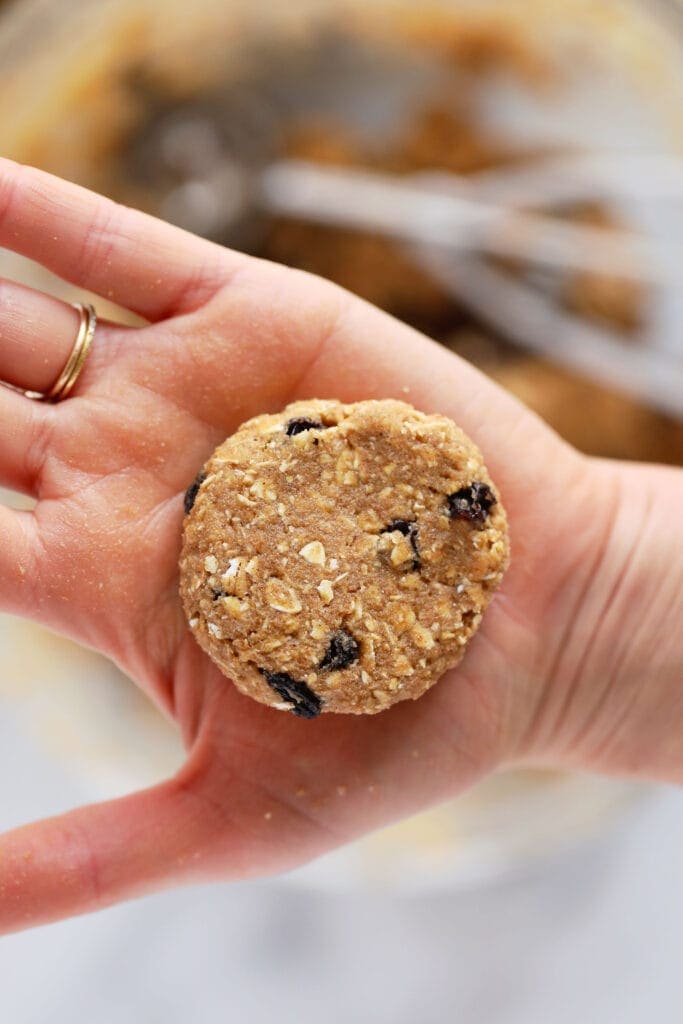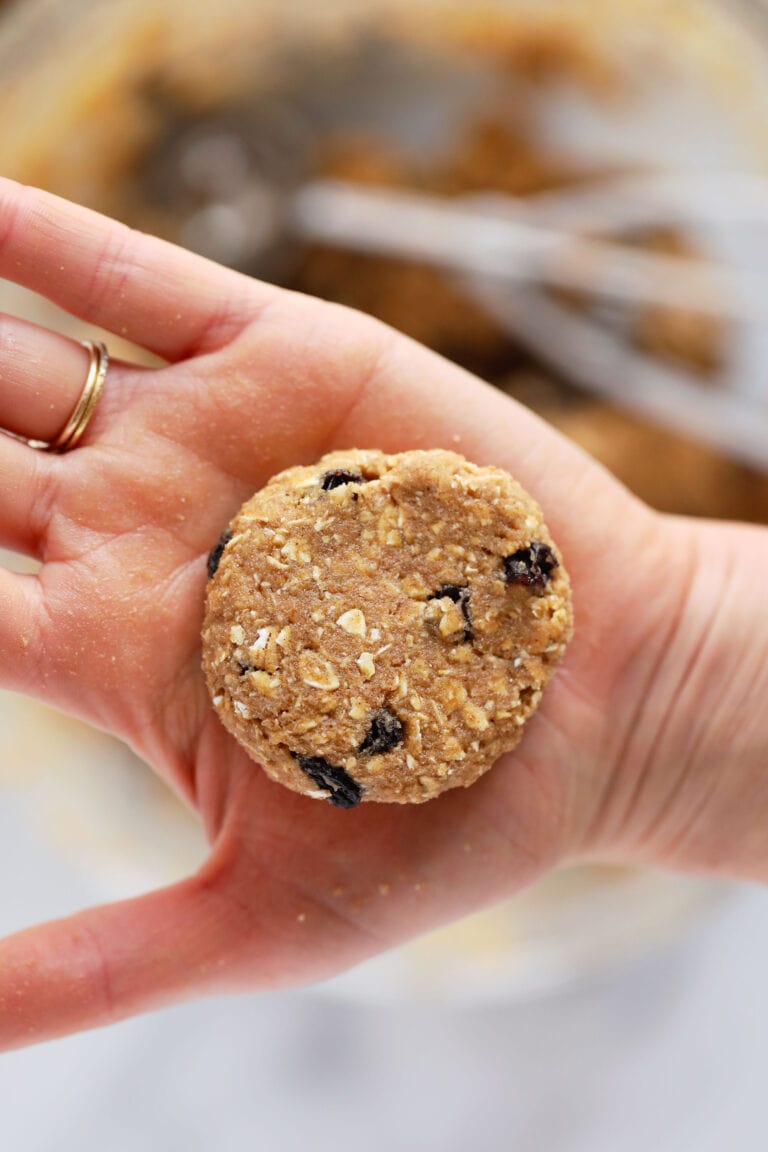 Oatmeal Raisin Cookies 101
What other mix-ins can I add to oatmeal raisin cookies?
The sky is the limit when it comes to what you add to your oatmeal cookies! Here is a list of some of our favorite mix-ins!
Chocolate chips
Chopped walnuts
More dried fruit
Why are my oatmeal cookies crunchy?
Your oatmeal cookies could be crunchy for a few reasons!
You over baked them!
The honey and sugar ratio is off in your cookie dough.
Your cooking temperature could be off. All ovens are different!
What makes these oatmeal cookies chewy?
These oatmeal cookies are chewy because there is the perfect mixture of honey, sugar, and oats.
Can I make these oatmeal raisin cookies gluten free?
We do not recommend replacing the flour in this recipe with gluten free flour. It has not been tested!
How do I store these cookies?
Once the cookies are cooled completely place them in an air tight container and store them on the counter for 3-5 days or in the fridge for 5-10 days.
Can I freeze these oatmeal raisin cookies?
Yes! You can freeze these cookies after they have cooled completely. Store them in a freezer safe container and freeze them for up to 3 months.
You can also freeze the cookie dough before you bake the cookies! Just prepare the cookie dough and place it in the fridge for 30 minutes. Then, form a log out of the cookie dough and wrap it in plastic wrap.
Wrap the plastic wrapped log in tin foil and place the cookie dough in the freezer for up to three months.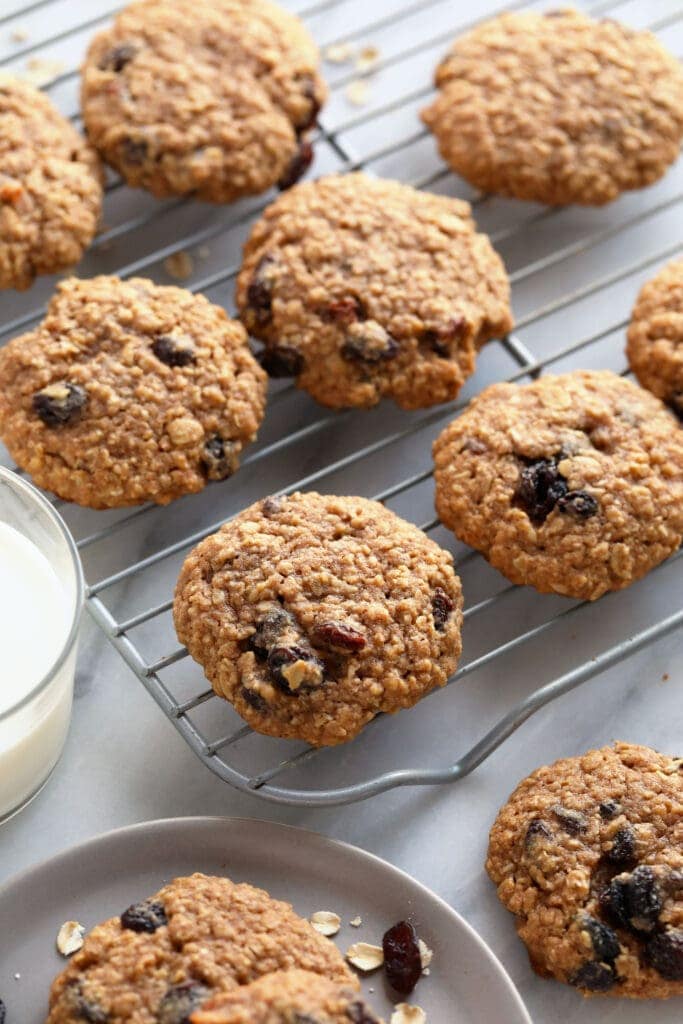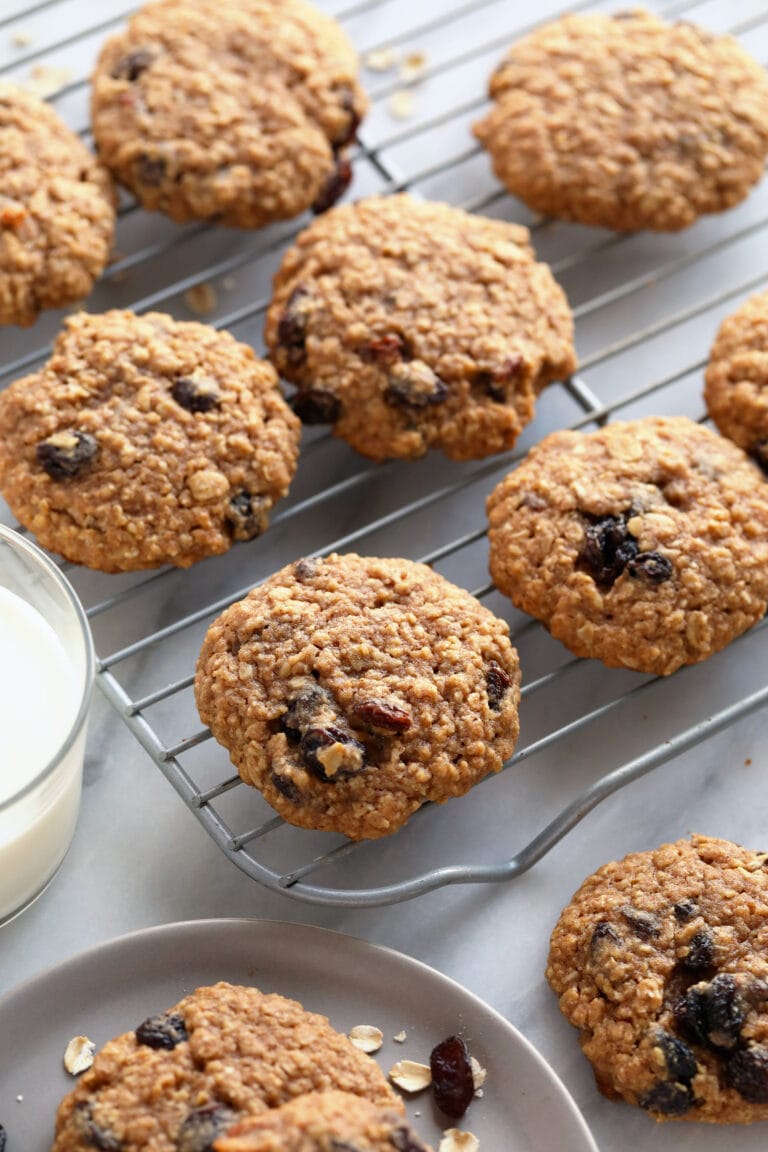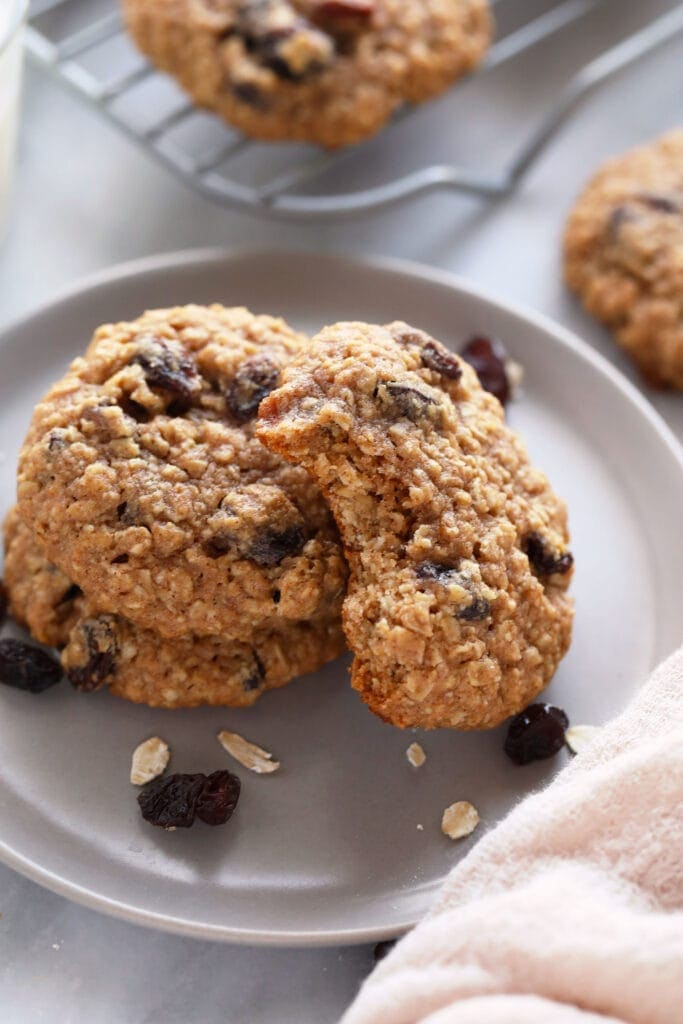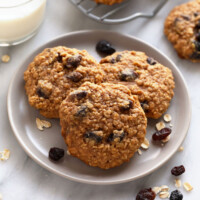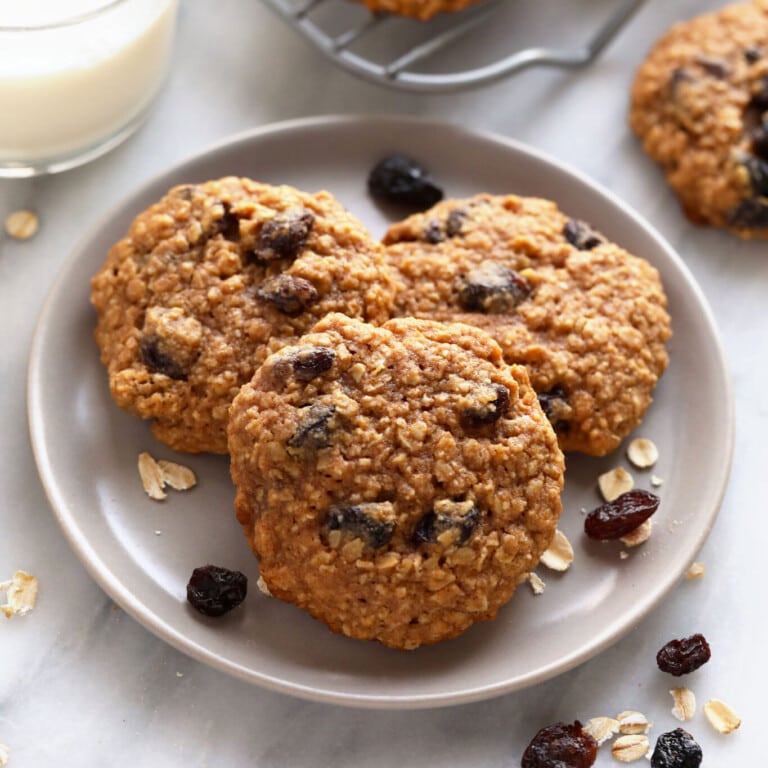 Oatmeal Raisin Cookies
These are the chewiest and softest oatmeal raisin cookies on the face of the earth! They are sweetened with brown sugar, honey, and have the perfect bite from whole, chewy oats.
Instructions
First, preheat the oven to 350ºF and spray a baking sheet with nonstick cooking spray.

Next, cut cold butter into 1-tablespoon pads and place into a stand mixer.

Add brown sugar and then turn your stand mixer on to low/medium.

Cream butter and sugar together until there are no more lumps of butter and the consistency is smooth. This should take around 5 minutes. Then add the honey, and mix for another minute until combined. 

While the butter is creaming, lightly pulverize rolled oats in a food processor. The goal here is to still have some chunks of oatmeal, but also have some oat flour. Then, transfer into a large bowl.

Add white whole wheat flour, baking powder, ground cinnamon, and salt to the same large bowl and mix until combined.

Once the butter has creamed, add egg and vanilla extract and mix on medium until combined. Make sure not to over mix!

Slowly add the dry ingredients to wet and mix on medium until a dough has formed. You may need to stop to scrape the bottom of your mixer. The consistency should be a little bit sticky, but have the ability to form into a ball.

Finally, add in raisins and mix one final time on medium to combine.

Use a 1.5 tablespoon cookie scoop to scoop dough into your hands. Roll into a ball and then slightly flatten between your palms. Place on a cookie sheet and repeat.

Optionally add a few more raisins to the top of each cookie.

Bake at 350ºF for 12-14 minutes.

Once the bottoms are golden brown, remove from cookie sheet immediately and transfer to a cooling rack.

Top with optional sea salt before serving.
Nutrition facts
Calories:
133
kcal
Carbohydrates:
21
g
Protein:
2
g
Fat:
2
g
Fiber:
2
g
Sugar:
8
g