This one pot yellow rice with marinated chickpeas is a delicious vegetarian one pot meal. It is creamy, flavorful and packed with cauliflower, spinach, and fresh herbs.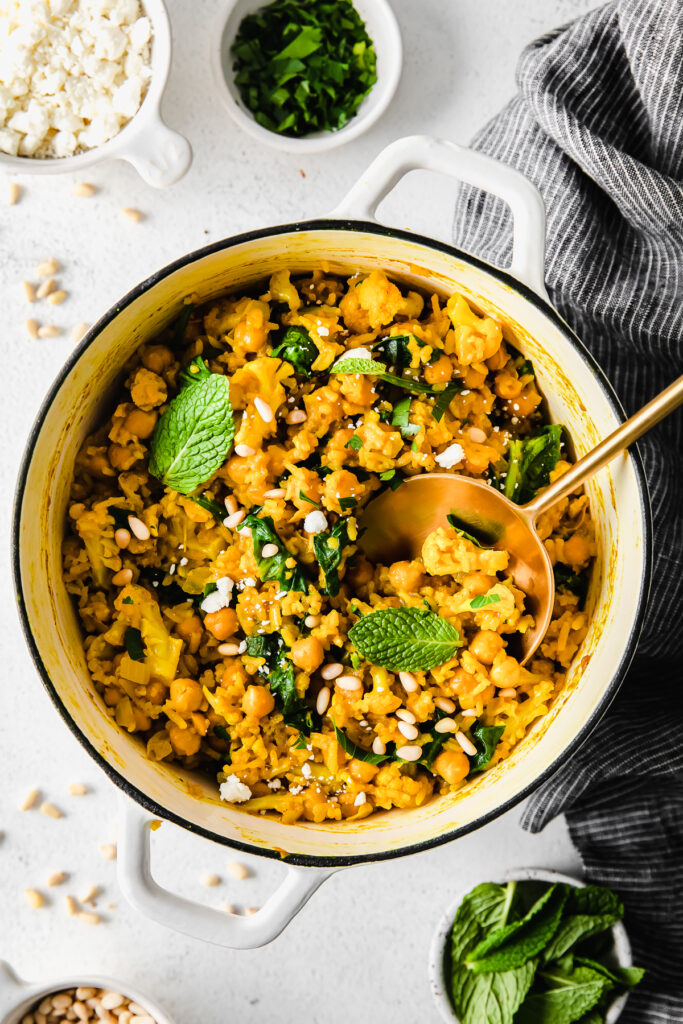 The Perfect One Pot Meal
We love one pot dishes that are flavorful, healthy, and easy to make. This one pot yellow rice recipe is vegetarian, but packed with flavor! Once you make this delicious meal, you will add it to your weekly rotation.
What is yellow rice?
Yellow rice is a rice dish that has many origins (South Africa, Spain, India, and parts of Asia). Yellow rice (not to be mistaken for golden rice) get's it's color from spices like turmeric, curry, and sometimes saffron.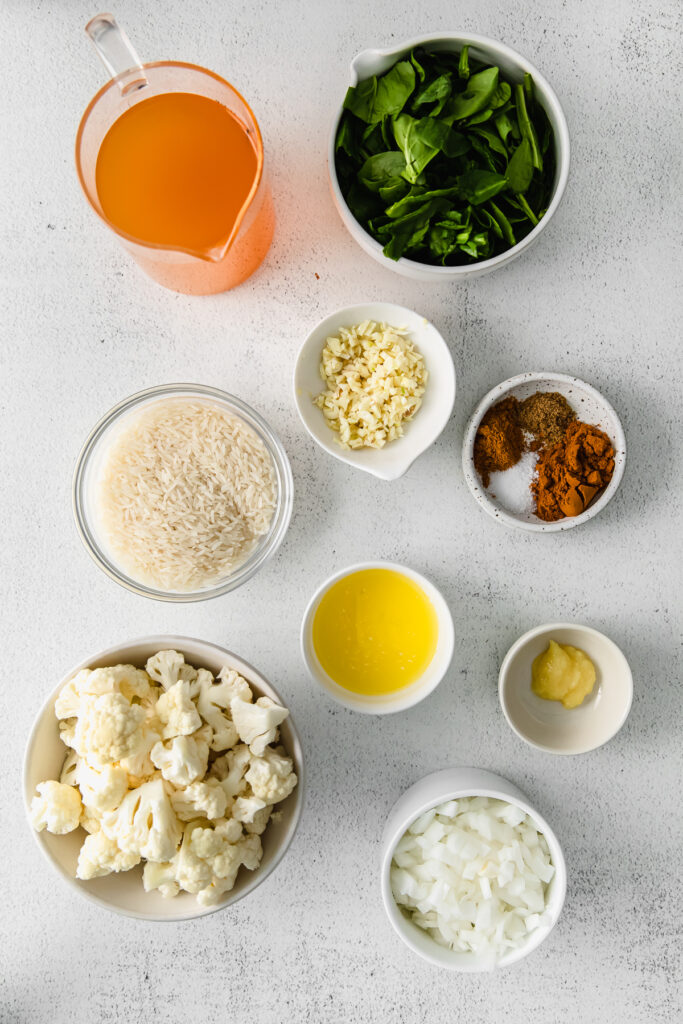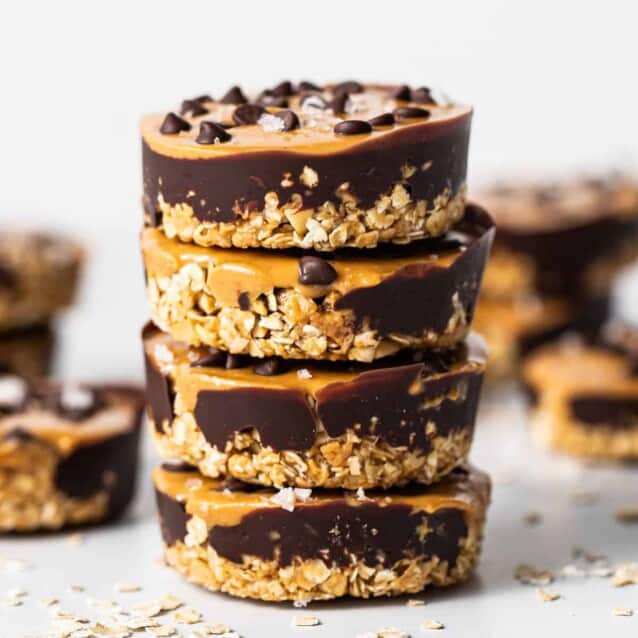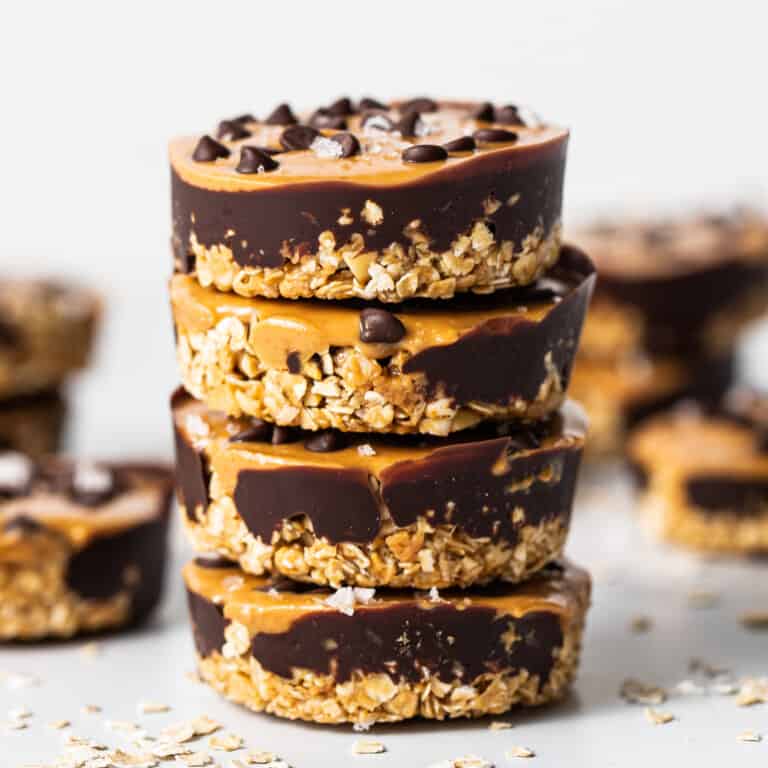 Get our Top 10 5-Star Recipes!
Join our email list for new recipes and BONUS: get our top 10 ⭐️⭐️⭐️⭐️⭐️ recipes e-book!
Key Ingredients You Need
Our take on yellow rice uses basmati rice, turmeric, and curry powder. The turmeric and curry give the yellow rice and earthy flavor and yellow color. Below is a list of other ingredients that you need for this recipe.
Garbanzo beans: we add protein and texture with marinated garbanzo beans.
Ghee: the creaminess and richness in this dish comes from the ghee. Don't skip it!
Spices: the blend of spices creates an amazing depth of flavor in this one pot dish. We use turmeric, coriander, curry powder, garlic powder, and salt.
Onions + garlic: like many soups and casseroles we use onions and garlic to create the base of flavor for this dish.
Fresh ginger: with all the warm spices in this dish the ginger helps balance out this dish by adding a bit of spice.
Basmati rice: long grain basmati rice is perfect for this dish!
Vegetables: we packed cauliflower and spinach to add veggie goodness to this one pot meal.
Liquid: just like any rice dish, you need liquid to cook the rice. We use a rich vegetable broth.
Fresh Herbs: after this dish has cooked, top it with fresh herbs for brightness and flavor.
Feta: everything is better with feta!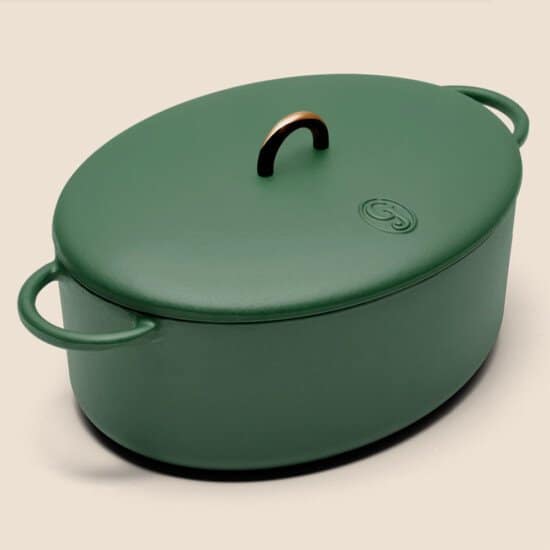 Great Jones
The Dutchess
This is hands-down our favorite Dutch oven. It's a 6.75 quart enameled cast iron Dutch oven that's super high-quality and gorgeous.
Buy Now!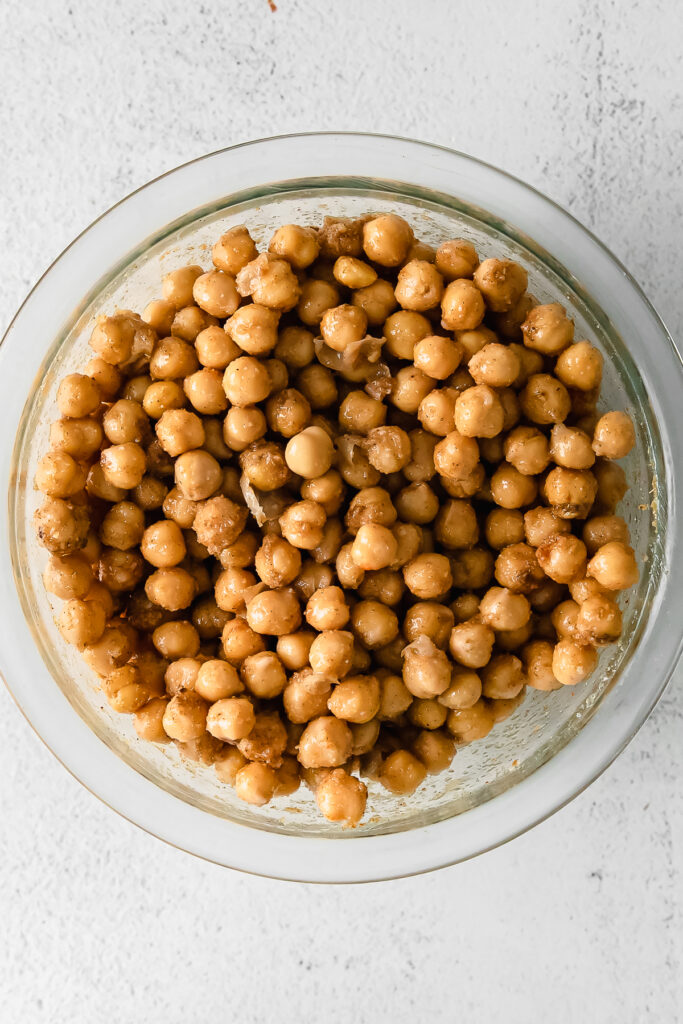 Don't Skip This Step
We start this dish off by giving the garbanzo beans a hit of flavor before adding them into the dutch oven to cook. We add spices and melted ghee to the garbanzo beans and "quick infuse" them in the microwave.
Let the garbanzo beans sit in the ghee and spices while you prepare all the other ingredients. Trust us!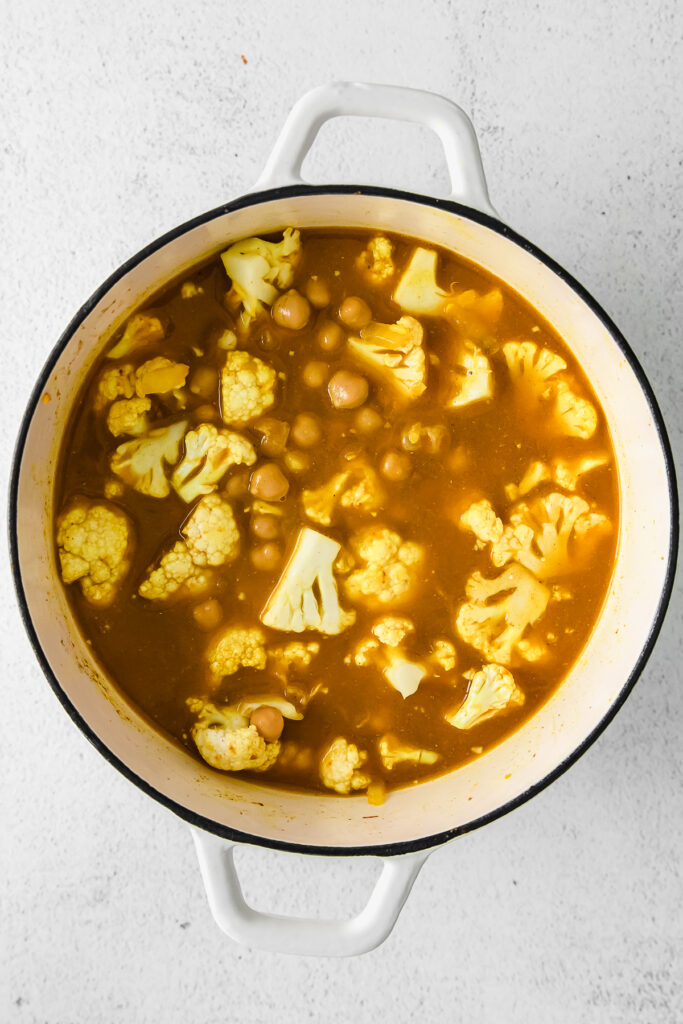 Real Quick: How to Make One Pot Yellow Rice
Marinate the garbanzo beans. Make sure you start with this step! Enhance the flavor of those chickpeas by a million.
Sauté onion + garlic. Cook down the onion and garlic in melty and delicious ghee. Cook them both down until the onion is translucent.
Toast rice with spices. Add all the spices and rice to the onion and garlic and toast the rice. This both gives the rice a nutty flavor and expedites the cooking process.
Add veggies + Liquid. Add your chopped cauliflower and vegetable broth. Toss everything together and makes sure the rice is submerged in the liquid. Bring the liquid to a boil.
Cook. Turn the heat to medium/low and cover the dutch oven and let the rice cook for 15-20 minutes. Be sure to check on your rice to check if it's done. Some people like a bite to their rice and some don't. You do you!
Don't forget the spinach. Once the rice has cooked, fold in the fresh spinach and cover the dutch oven for 2 minutes until it's wilted.
Top with deliciousness. Serve the yellow rice topped with fresh mint, parsley, and garbanzo beans! A squeeze of fresh lemon juice is ALWAYS a good idea.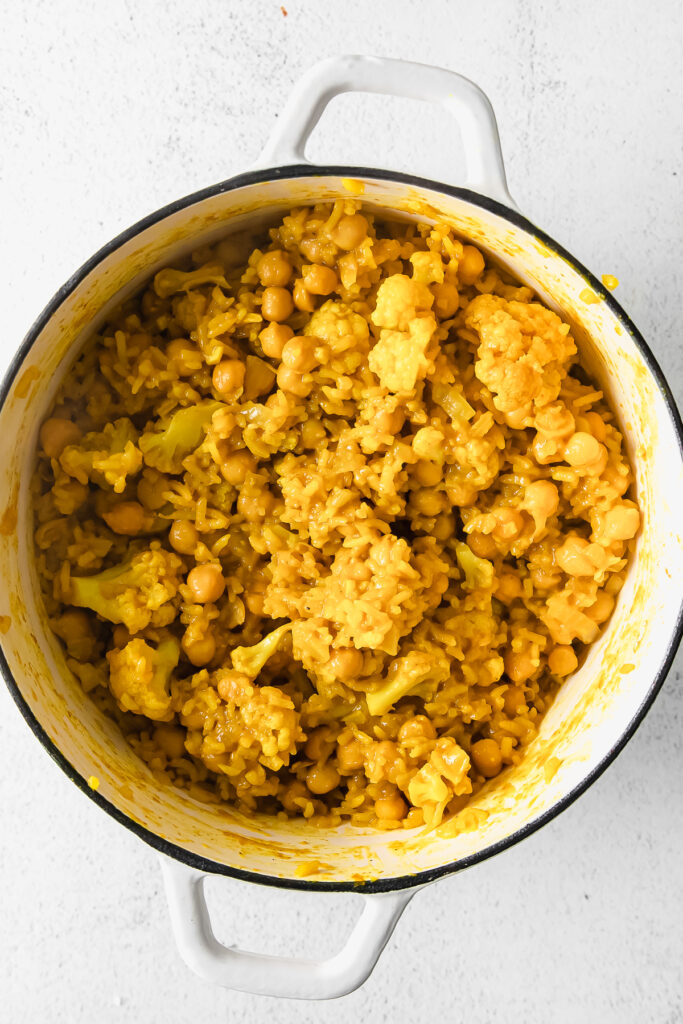 join the fit foodie cooking club on facebook!
Join in on the Fit Foodie Facebook fun and become a member of our FREE Facebook Group. The Fit Foodie Cooking Club group on Facebook is a way to share your cooking creations and make new like-minded friends online.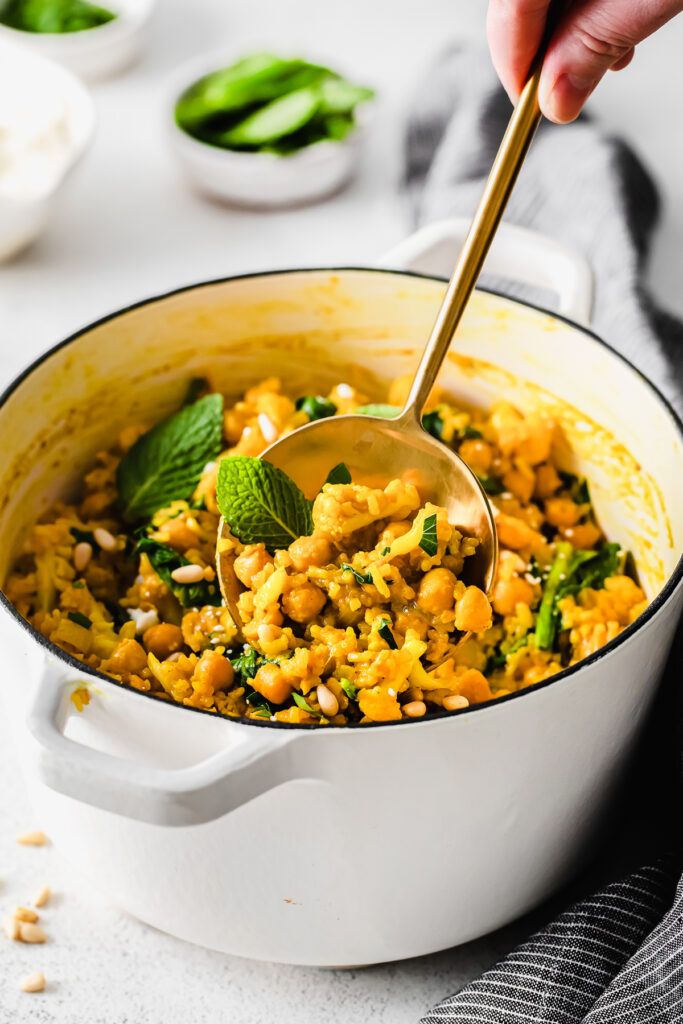 One Pot Yellow Rice Recipe FAQ
Do I have to use basmati rice?

No, you don't have to use basmati rice. You want to use a long grain white rice. Jasmine rice would be a good substitute.
What else can I add to this recipe?

You can add other vegetables like broccoli, carrots, or potatoes to this recipe. You can also add your favorite fresh herbs.
What to serve with this yellow rice recipe?

We suggest serving this dish as a main vegetarian dish or as a side to your favorite protein. Try serving it with these baked chicken thighs!
How long does this last in the refrigerator?

Let this yellow rice cool completely before storing it in an airtight container for up to 5 days.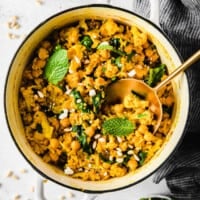 One-Pot Yellow Rice Recipe with Marinated Chickpeas
This delicious one pot yellow rice recipe is a protein packed vegetarian dish that is made with basmati rice, ghee, chickpeas, cauliflower, spinach, and other healthy ingredients.  
Ingredients
Marinated garbanzo beans
30

oz.

canned garbanzo beans

drained and rinsed

1

tablespoon

melted ghee

2

teaspoons

granulated garlic

½

teaspoon

salt

¼

teaspoon

ground ginger

1

teaspoon

ground cumin

⅛

teaspoon

cayenne pepper

1

tablespoon

lemon juice
Other Ingredients 
2

tablespoons

ghee

½

medium white onion

minced

5

cloves

garlic

smashed and minced

1

cup

basmati rice

1

tablespoon

turmeric

½

tablespoon

curry powder

½

teaspoon

salt

½

teaspoon

ground coriander

½

tablespoon

fresh ginger

½

large head cauliflower

chopped into small pieces (~4 cups)

2 ¼

cups

vegetable broth

2

cups

chopped fresh spinach
Toppings 
2

tablespoons

fresh parsley

chopped

1

tablespoon

fresh mint

chopped

3

tablespoons

feta crumbles

2

tablespoons

pine nuts
Instructions
Prepare the marinated garbanzo beans. Add all of the ingredients for the marinated garbanzo beans to a large bowl. Toss ingredients together until the garbanzo beans are covered in spices. Place the garbanzo beans into the microwave for 1 minute on high and then let them sit for 15 minutes. 

When the garbanzo beans are ready, heat a large Dutch oven over medium/high heat. Add 2 tablespoons ghee. 

When the ghee is melted and fragrant add the onion to the dutch oven and sauté for 2-3 minutes. Add the garlic, toss, and sauté for an additional 1 minutes. 

Add the basmati rice, turmeric, curry powder, salt, coriander, and ginger to the dutch oven. Toss the ingredients together and toast the rice for 4-5 minutes. 

Next, add the cauliflower and garbanzo beans (+ the marinade) to the Dutch oven and toss so that all the ingredients are coated in ghee and spices. 

Add the broth to the Dutch oven. Be sure all of the ingredients are submerged in broth. 

Bring the broth to a boil and then turn the heat to medium/low and cover the Dutch oven. 

Let the Dutch oven simmer over medium/low heat for 15-20 minutes. 

All of the liquid should absorb after 15-20 minutes. 

Add the spinach to the pot, toss with the rice, and cover the dutch oven for 2 minutes until the spinach has wilted. 

Remove the dutch oven from the heat and top with parsley, mint, feta, and pine nuts. 

Enjoy on its own or serve with naan bread.
Tips & Notes
Be sure you marinate the garbanzo beans, it adds so much flavor. 

If you don't have ghee you can use olive oil or sunflower oil. 

Be sure to toast the rice, it really does add depth of flavor and cuts the cook time down.
Nutrition facts
Calories:
436
kcal
Carbohydrates:
59
g
Protein:
14
g
Fat:
18
g
Fiber:
14
g
Sugar:
5
g