Whipped ricotta pasta is about to be your new favorite dinner! Try this amazing ricotta pasta made with roasted tomatoes and garlic.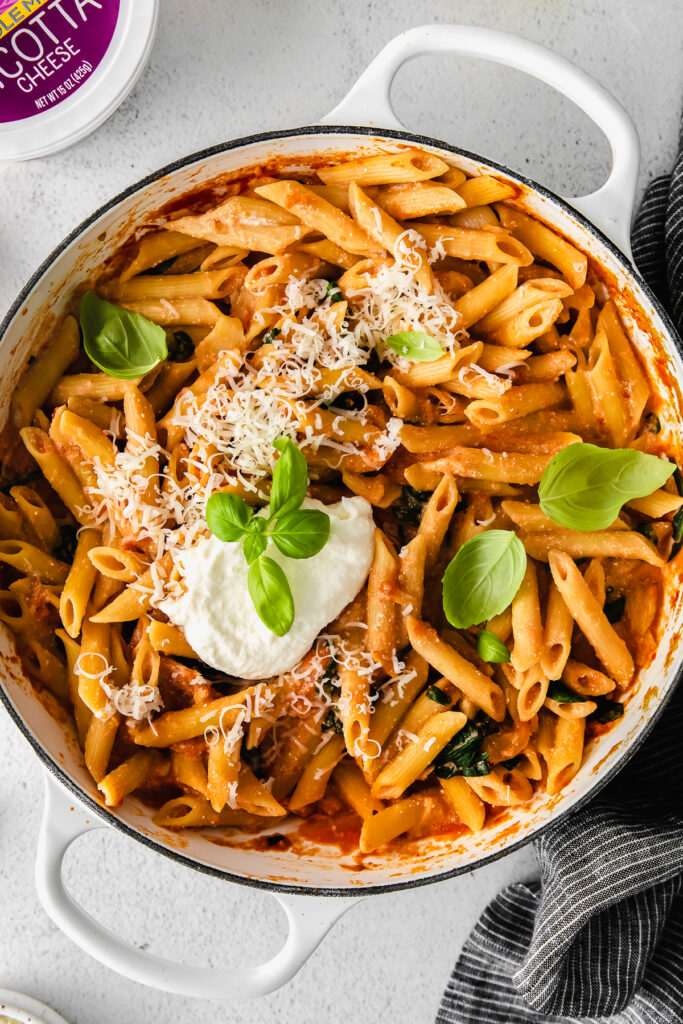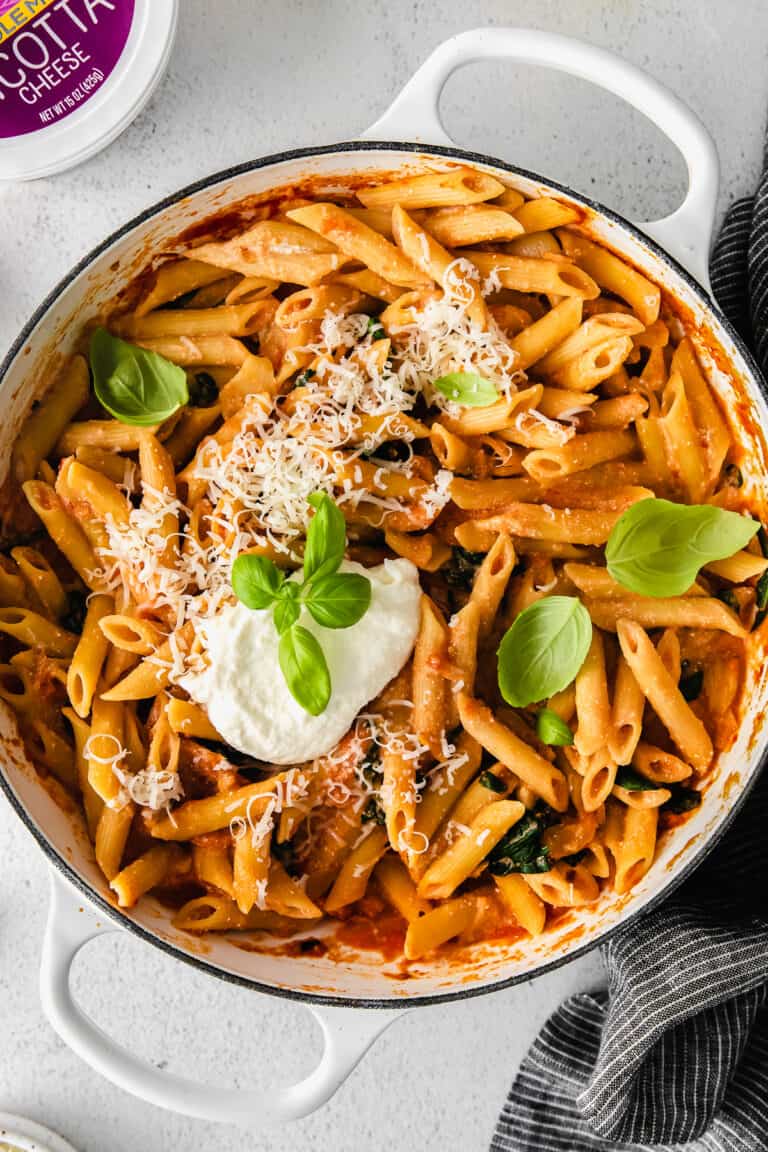 Whipped Ricotta Pasta for Pasta Night!
Sayy hello to your new go-to pasta recipe. This whipped ricotta pasta is made with light and fluffy ricotta cheese and delicious roasted tomatoes and whole heads of garlic.
It's so easy to make and the flavor is out of this world. The kids will be begging for pasta night every night of the week! Plus, whipped ricotta is so easy to make and the star of the show.
What is whipped ricotta?
If you've never made whipped ricotta, you're in for a treat. Whipped ricotta is exactly what it sounds like. Take ricotta cheese and whip it with a stand-mixer or hand-held mixer until it's light and fluffy.
It's an excellent addition to any tomato-based pasta sauce or for just topping pasta in general. You can also use it in lasagna and a variety of other dishes that use ricotta cheese.
Why You'll love it!
Ready in Less Than an Hour: if you have an hour, then you have enough time to make this pasta.
Serves a Crowd: this reciep is perfect for families or for those that love leftovers.
Veggie-Packed: pack in tons of veggies with tomatoes, garlic, and spinach!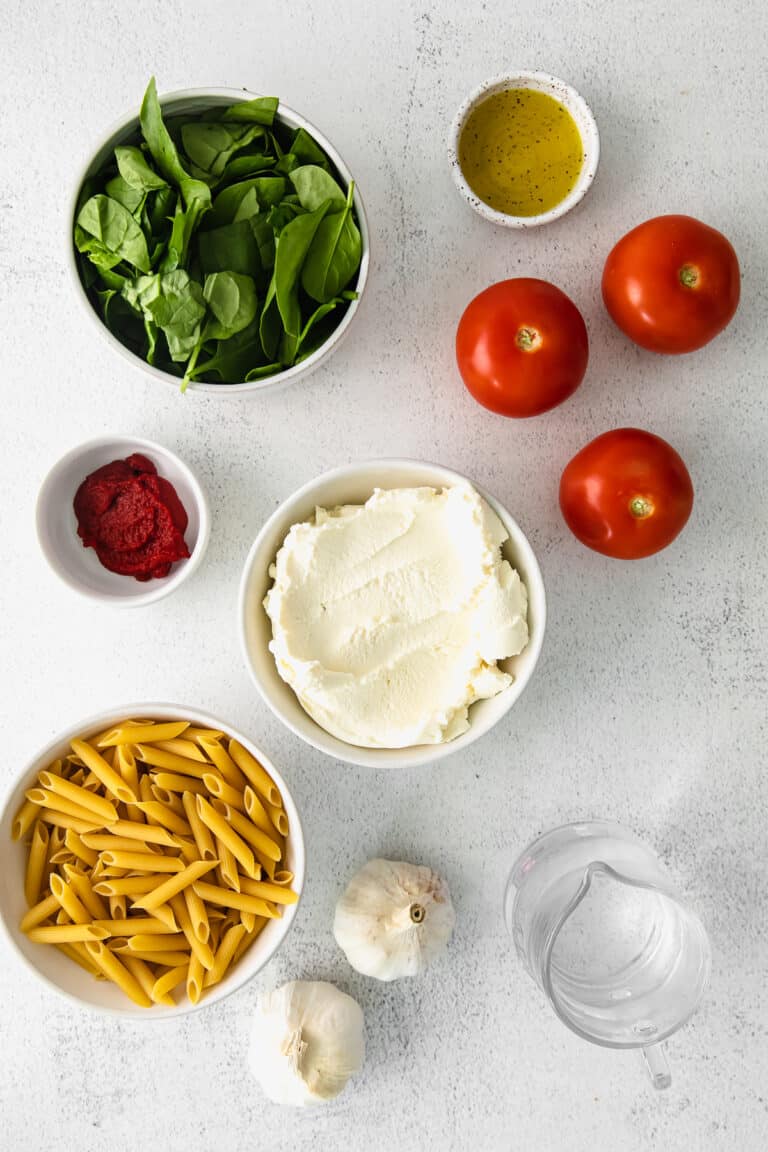 What You Need
Tomatoes – fresh tomatoes are the basis of this red sauce. After roastingm they will get nice and juicy and have amazing flavor.
Garlic – this ricotta pasta calls for 2 whole heads of garlic. Yes, 2! We love roasted garlic and how it elevates pretty much any dish.
Salt – salt is inmportant when making any kind of pasta sauce. So, just make sure to salt to taste.
Tomato Paste – tomato paste helps intensify the tomato flavor.
Spinach – spinach is added right at the end to add even more veggies.
Ricotta Cheese – ricotta is the star of the show! Not only does it make this tomato pasta sauce nice and creamy, but it's so yummy served on top of the pasta.
Penne Pasta – this recipe features penne pasta, but any kind will work.
Pasta Tip
Penne pasta not your jam? Feel free to use 12-oz. of your favorite pasta. I recommend angel hair or rigatoni.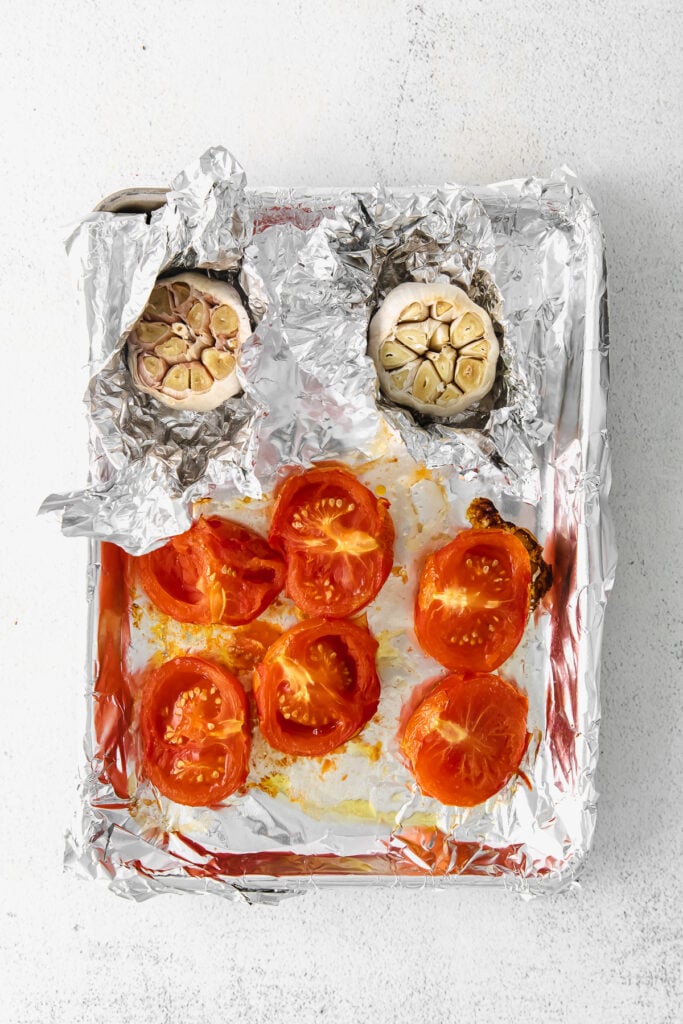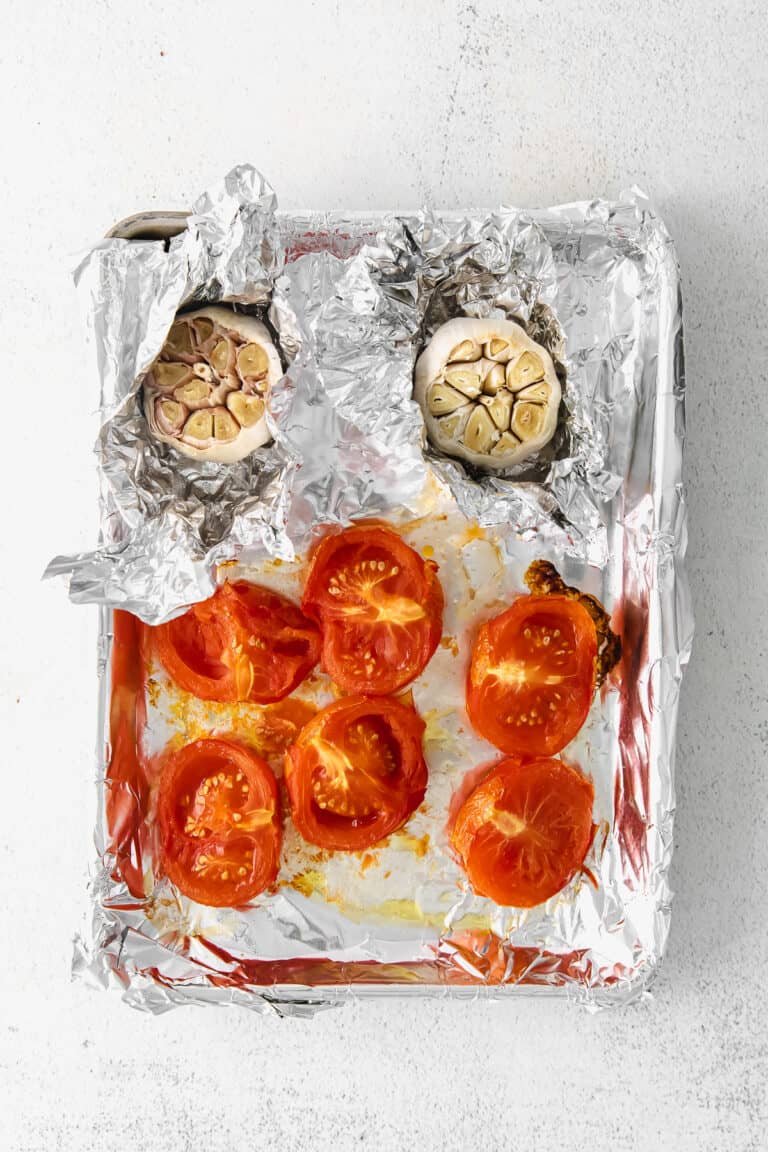 How to Make Whipped Ricotta Pasta Sauce
Roast Tomatoes and Garlic
Slice tomatoes in half and place them on a roasting pan. Drizzle them with olive oil and season them with salt and pepper.
Cut the tips off of 2 heads of garlic and place them on the roasting pan. Drizzle with olive oil.
Roast veggies at 375ºF for 30 minutes. Then, flip the tomatoes over and roast for 10 more minutes.
Boil Pasta
Meanwhile, cook your penne pasta until it's al dente.
Before straining your pasta, reserve about 1 cup of pasta water which will be added later.
Smash and Simmer
Once your tomatoes have fully roasted. Remove them from the oven and let them sit for 10 minutes. Carefully remove the skins from the tomatoes.
Transfer tomatoes and garlic cloves into a skillet and heat over medium heat.
Smash the tomatoes and garlic so that they turn into a sauce. Then, add pasta water and bring to a boil.
Fold in the fresh spinach and cover. Let steam for 10 minutes or until the spinach fully wilts.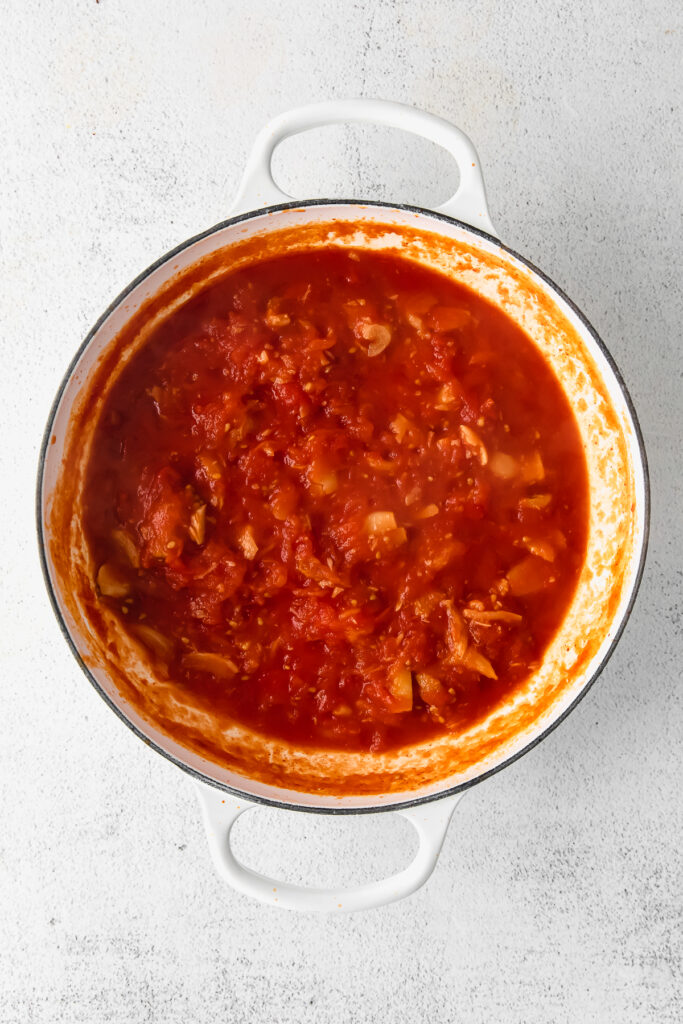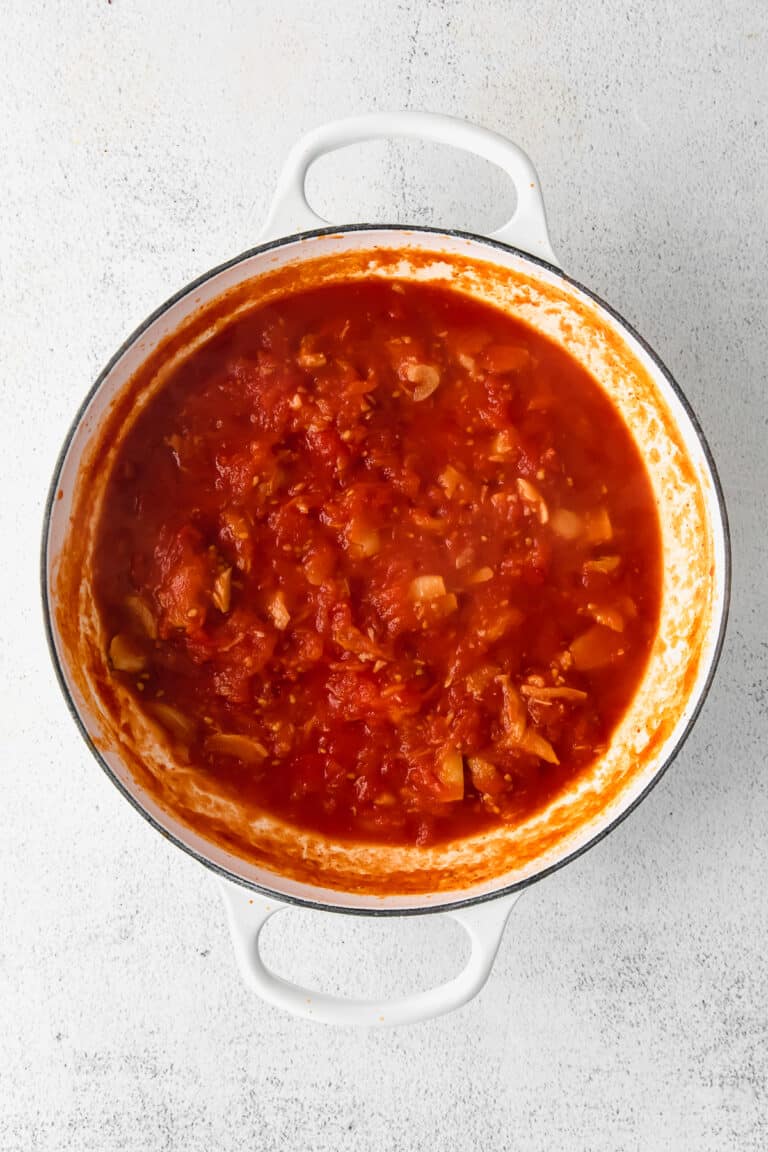 Whip the Ricotta
Transfer ricotta cheese into a stand mixer and whip on high for about 2 minutes until it's light and fluffy.
Remove the tomato sauce from the heat and add around 1/4 cup of whipped ricotta into the roasted tomato sauce and mix to combine.
Toss with Pasta
Finally, add in the cooked pasta and toss it with the whipped ricotta pasta sauce.
Serve pasta with fresh herbs, more whipped ricotta, and grated parmesan cheese.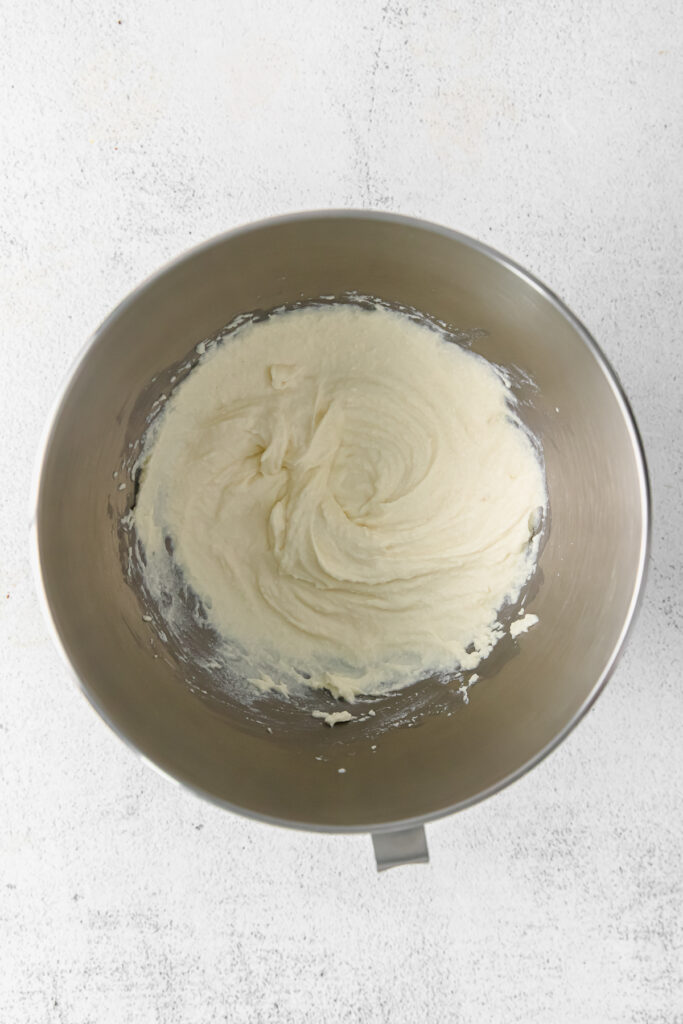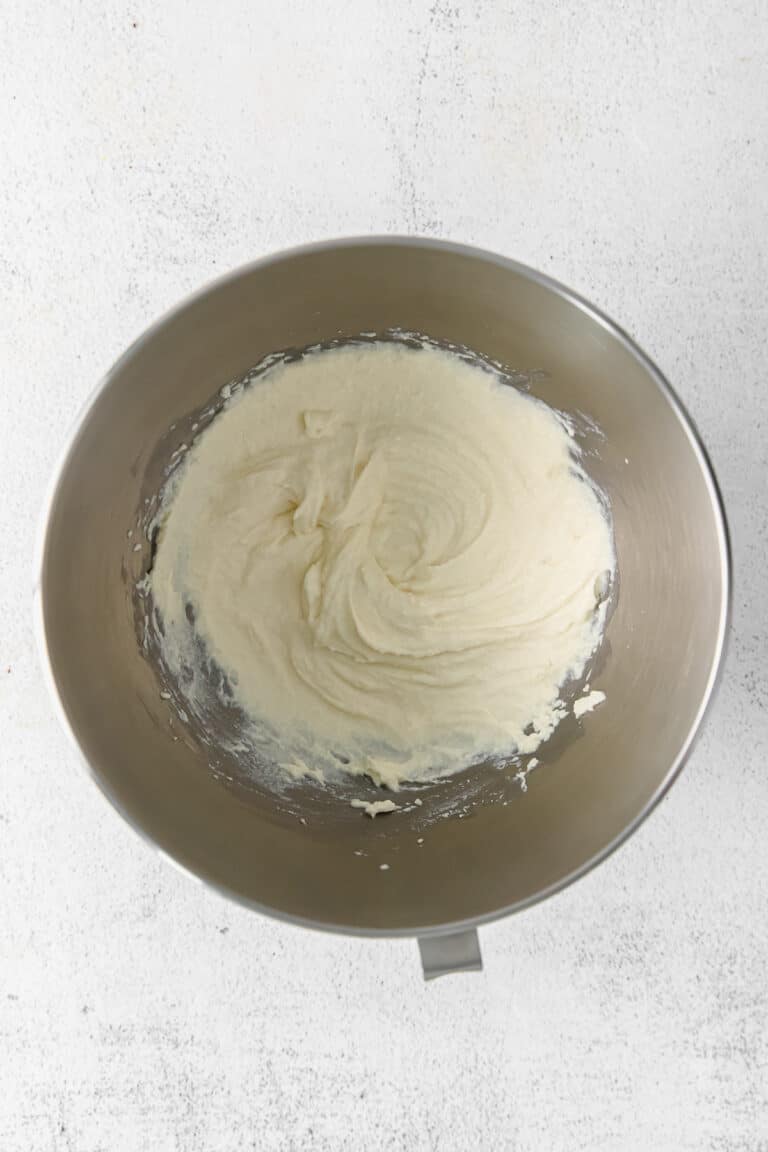 A Few Quick Tips!
Use Full-Fat Ricotta Cheese
We've found that not only does full-fat ricotta cheese taste better, but it also whips better when making whipped ricotta.
Remove from the Heat Before Adding Cheese
Make sure to remove the pasta sauce from the heat before adding the ricotta cheese. This will prevent the ricotta from curdling.
Save the Pasta water!
If your sauce seems a little thick, all you have to do is add a little starchy pasta water to thin out the sauce.
Salt Reminder
As always, salt to taste! Everyone has a different salt preference, so just make sure to salt in stage.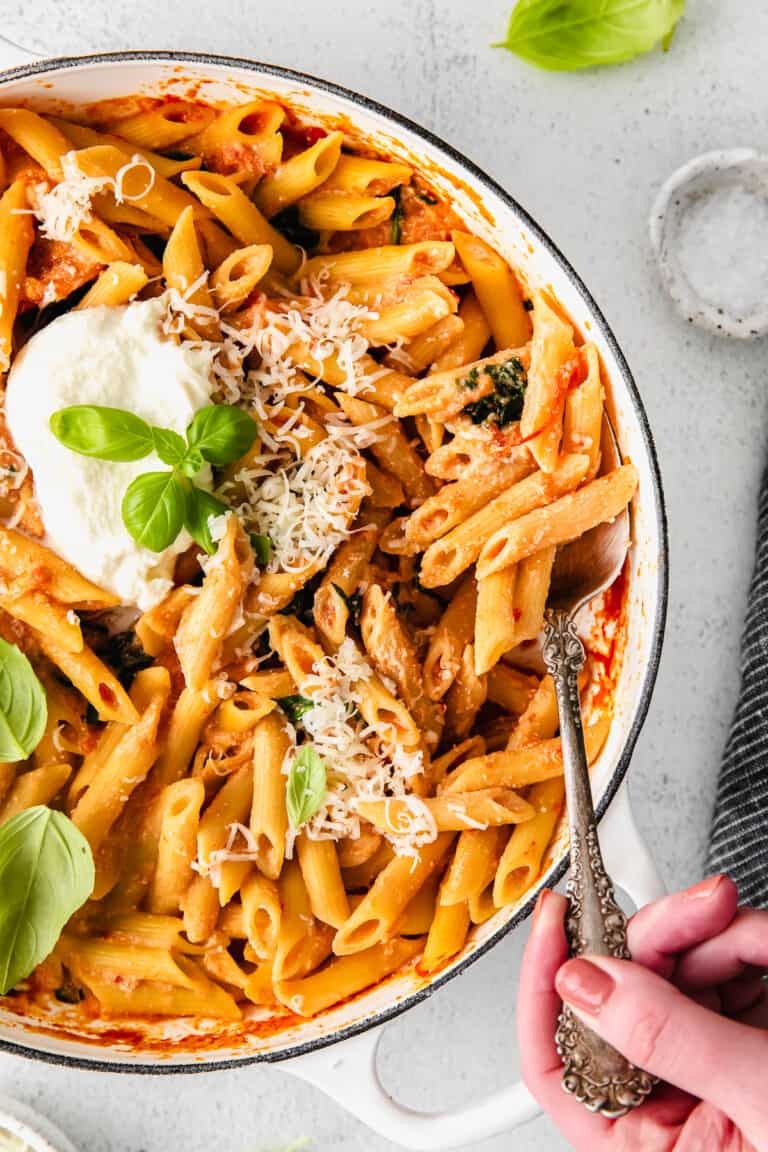 Serving Suggestions
Add Pan-Seared Chicken: if you're looking to add more protein to this dish, we suggest searing up our easy pan-seared chicken breast.
Caesar Salad: feeling like you want even more veggies? Make our Caesar salad!
Cheesy Garlic Bread: carb love like us? Try Cheese Knee's cheesy garlic bread for a yummy side.
Storage
Got leftovers? Store pasta in an airtight container for up to 3-5 days.
To reheat: you can either reheat in the microwave for 60-90 seconds or on the stovetop over medium heat. You may need to add some water or broth to thin things out a little bit.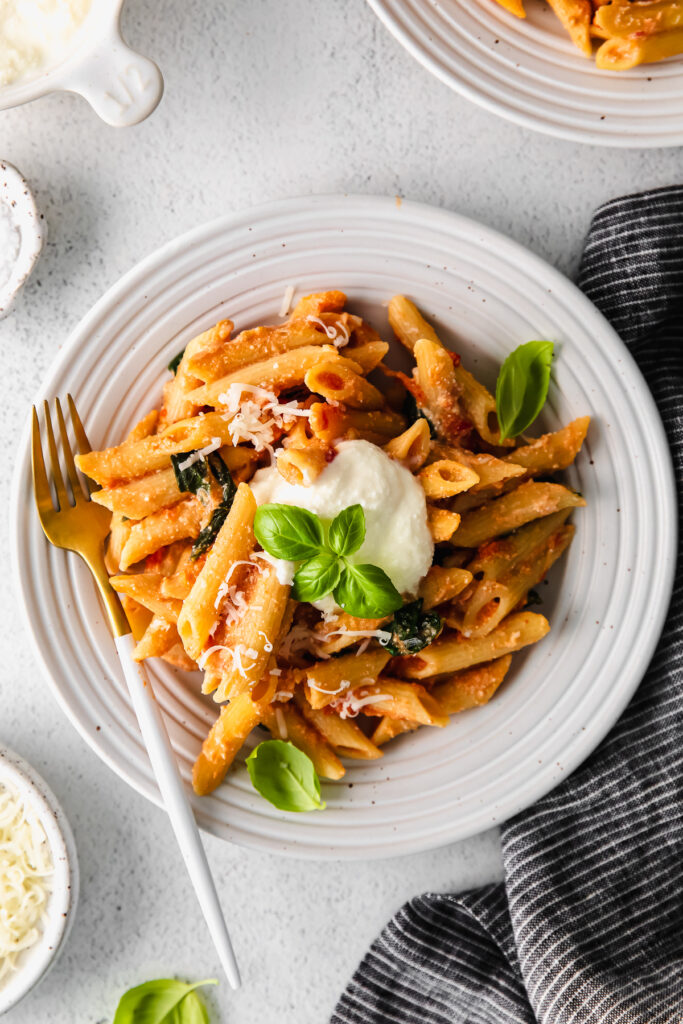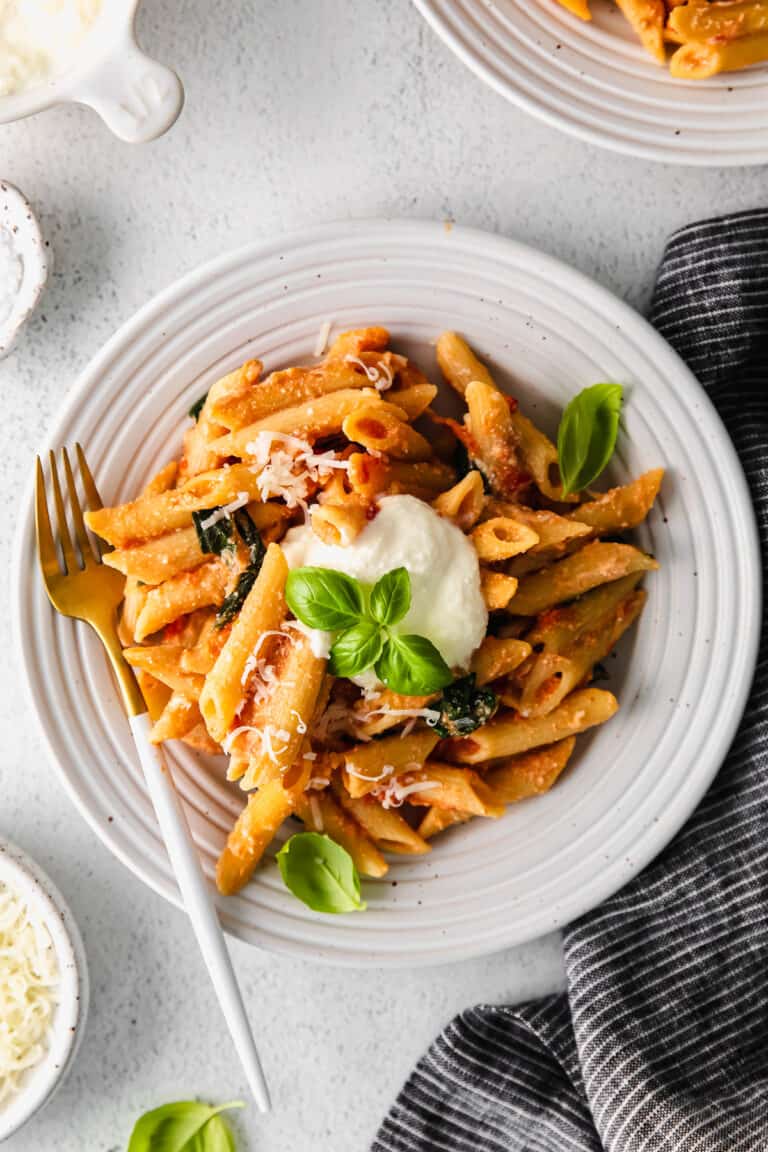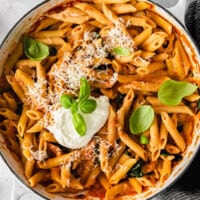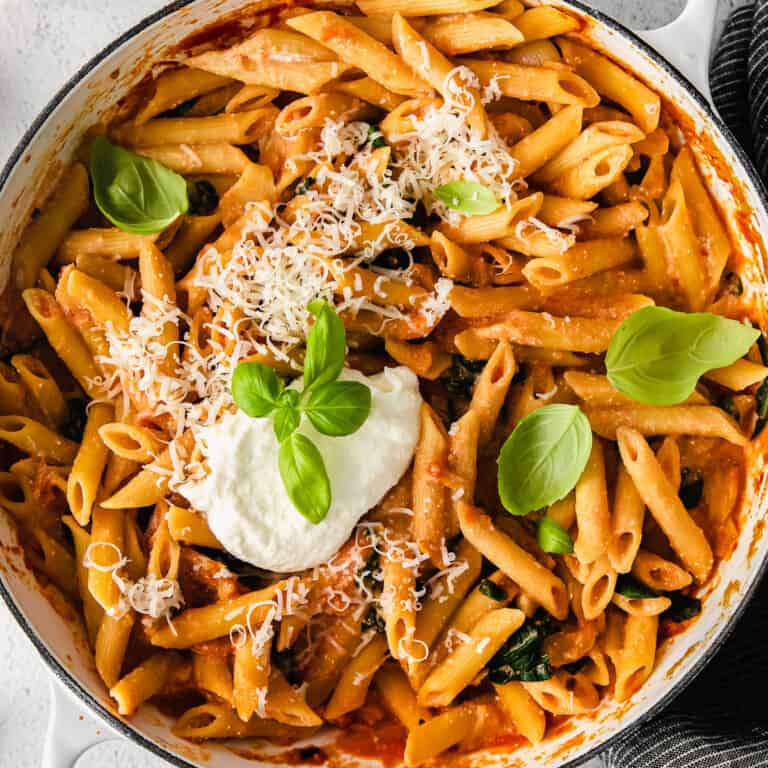 Whipped Ricotta Pasta with Roasted Tomatoes
Whipped Ricotta Pasta is made with light and fluffy whipped ricotta along with roasted tomatoes, garlic, and spinach for a balanced pasta dinner idea!
Ingredients
3

medium slicing tomatoes

stems removed

2

heads of garlic

1.5

tablespoons

olive oil

separated

1

teaspoon

salt

separated

½

teaspoon

ground pepper

separated

3

tablespoons

tomato paste

½

cup

starchy pasta water*

5

oz.

fresh spinach

roughly chopped

16

oz.

full fat Crystal Farms Ricotta Cheese

12

oz.

uncooked penne pasta

Fresh herbs

for topping

Grated parmesan

for serving
Instructions
Preheat the oven to 375ºF and cut the tomatoes in half and place them skin side down on a baking sheet. 

Drizzle the tomatoes with 1 tablespoon of olive oil and sprinkle season them with ¼ teaspoon of salt and ⅛ teaspoon of pepper. 

Prepare the garlic by cutting the tip of the garlic off, exposing the garlic cloves but leaving the root intact. 

Place each garlic clove in a piece of tin foil and drizzle with the remaining olive oil. Wrap the garlic tightly in the tin foil and place the garlic on the pan. 

Roast at 375ºF for 30 minutes. 

Remove the baking sheet from the oven and flip the tomatoes over so the tomatoes are skin side up. Place them back into the oven for an additional 10 minutes. 

Meanwhile, bring a large pot of salted water (salted to taste like the sea) to a boil and add the penne pasta. Cook until the pasta is al dente. 

Before straining the pasta, remove 1 cup of pasta water from the pot for later use. Strain pasta and set aside. 

Remove the baking sheet from the oven and let the tomatoes and garlic sit for 10 minutes. 

Carefully remove the tomato skins from the tomatoes and place them in a large skillet with sides. Squeeze the roasted garlic cloves from the garlic paper into the skillet.

Break the tomatoes up with a spatula so that they turn into a sauce (this should happen easily) and use a spatula to smash the garlic cloves into a paste. Combine the two ingredients together. 

Add the tomato paste and ½ - ¾ cup of the pasta water to the skillet, whisk the ingredients together and bring it to boil over high heat. 

Turn the heat to low and let the mixture simmer for 10 minutes. 

Fold the spinach into the tomato mixture, cover the skillet, and let the spinach wilt in the tomato sauce (about 10 minutes) 

Meanwhile, place the ricotta cheese into a bowl and use a hand mixer to whip the ricotta. Whip the ricotta on high speed for about 2 minutes or until light and fluffy. 

When the spinach is wilted, remove the skillet from the heat and add 1/4 cup of whipped ricotta to the skillet. Whisk until combined. Repeat until you've added 1 cup of whipped ricotta to the sauce.. 

Once combined, place the skillet back onto heat and heat on low until the sauce is warm. 

Fold the cooked pasta into the sauce. 

Serve the pasta with the remaining whipped ricotta and fresh herbs along with some grated parmesan cheese. 

Enjoy. 
Tips & Notes
Be sure that when you drizzle the tomatoes with olive oil and salt and pepper that they are coated. 

The garlic heads will steam in the tin foil and become garlic mush (which is what we want). Be sure you tightly wrap the garlic so no air can get out. 

Remember, every oven is different. You will know when the tomatoes are done because the skin will begin to brown and separate from the tomato meat. If the tomatoes aren't done, bake them until the skin separates from the tomato meat. 

Leave the garlic heads in the tin foil to steam while you peel the tomatoes. 

The garlic cloves should come out VERY easy when you squeeze the garlic head, it should easily turn into a paste. 

As you make the tomato sauce (when the tomatoes, garlic, starchy water, and tomato paste are all in the skillet) be sure that all those ingredients are whisked together and combined as you simmer them together. 

We remove the skillet from the heat before adding the ricotta so there is no chance of curdling or burning. Be sure to add a little ricotta at a time. 

If your sauce is too thick, you can add 1 tablespoon of the remaining starchy water at a time until it reaches your desired consistency. 

SALT REMINDER: test your pasta sauce as you go to test for salt. Remember that your pasta water is also salted. The saltiness of this dish depends on the heavy salted hand of the chef. 
Nutrition facts
Calories:
398
kcal
Carbohydrates:
50
g
Protein:
18
g
Fat:
14
g
Fiber:
3
g
Sugar:
4
g