GUYS. I got the new it® bed and I'M IN LOVE.
I am very excited to be partnering with another Minnesota-based company, it® bed by Sleep Number to chat all about their wonderful high-tech, budget friendly mattress, the it® bed!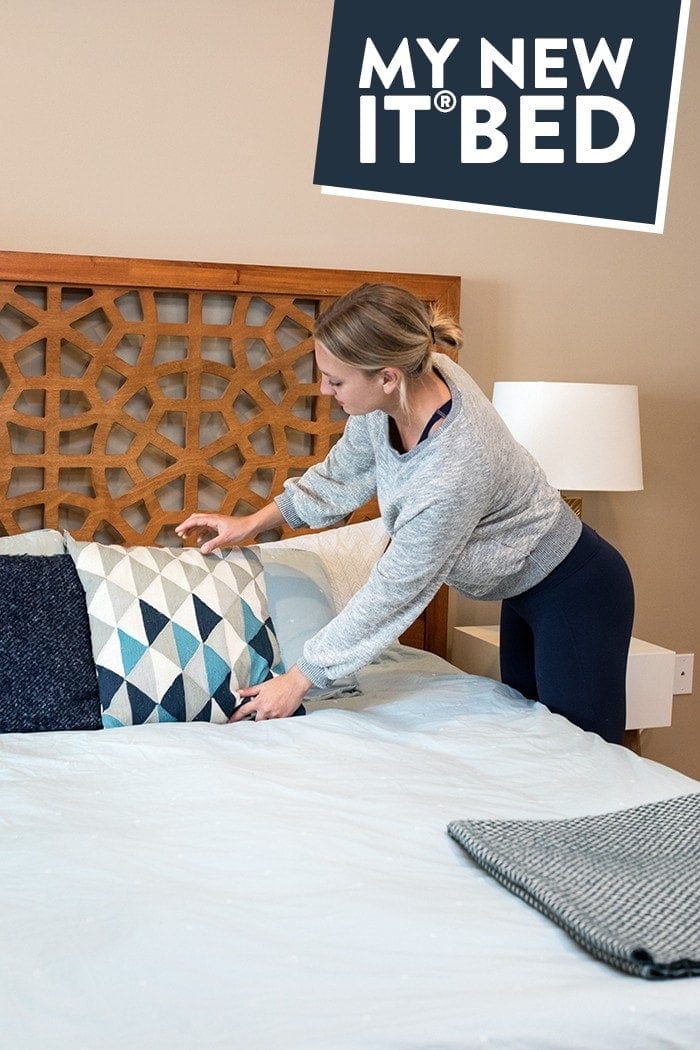 Now that Mark and I officially live together it's been fun designing our home as a couple. I am all about the aesthetics and he's all about the comfort. Put those two together and you've got two happy sleepers on your hands thanks to the it® bed Team, the it® bed is hands down the most comfortable mattress I've ever slept on. A dream, really. As I was writing this post, I asked Mark to give me some words about the bed and here's what he said: comfy, flexible, technology, analytics, and stats. I would have to agree 100%.
Everything about the bed is controlled through an app on your smart phone. Both sides are adjustable when it comes to firmness. That means if one sleeper likes a softer mattress and the other sleeper likes a harder mattress, you can have the best of both worlds. The app also spits out a ton of information about your sleep such as a SleepIQ® score (a rating out of 100 of your sleep based on data), heartbeats/minute, and breaths/minute. It also allows you to set sleep goals and measures how much of your sleep was restless or deep.
it

®

bed's Amazing Features
Allows you to adjust the firmness of BOTH sides of the bed.
Control all settings of the bed from your smart phone.
SleepIQ® Technology allows you to track how well you slept.
Connects to most fitness trackers.
The bed retails for $1099 (queen), which is super reasonable compared to a lot of other mattresses. If you are in the mattress market, I highly recommend!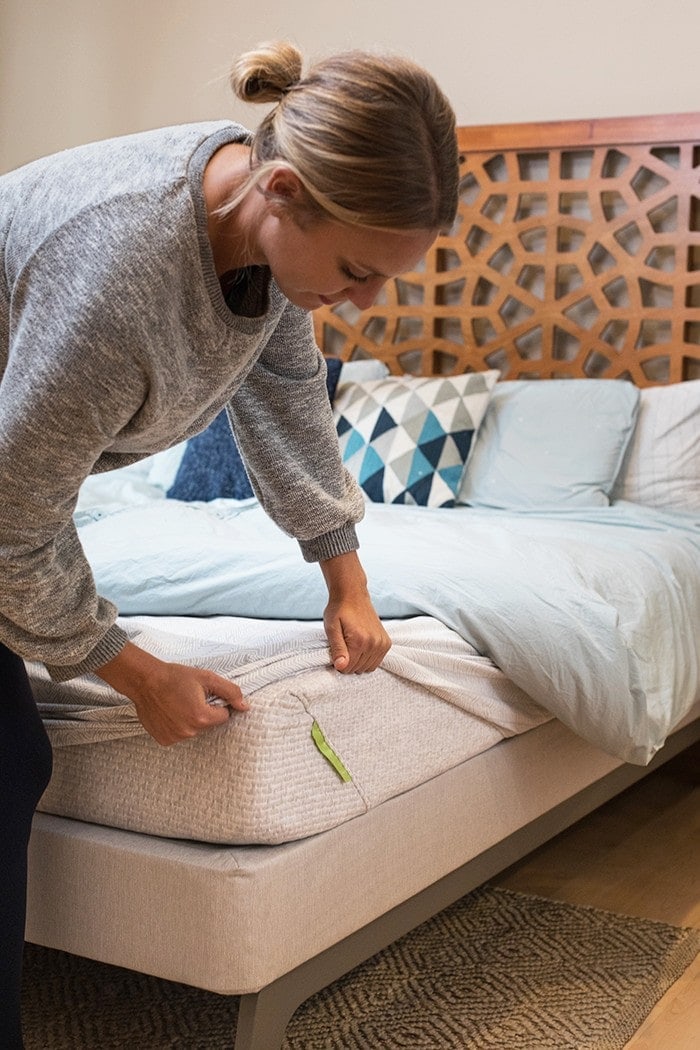 My Experience
The best part about my experience with this bed (other than the bed itself) was the fact that it took 10 minutes to set up. You might have seen the entire escapade on my Instagram stories a few weeks ago, but both the frame and the bed are delivered right to your door in giant boxes. To set everything up you don't need a single screw or more than 15 minutes. You literally hook the frame together, put the mattress on top, zip a few things into place, and plug it in. 10 minutes later you're ready for the best sleep of your life.
A bed in a box? Probably the most convenient thing EVER. Speaking from experience from past mattresses, I know how much of a PITA it is to try and strap a mattress to the roof of your car or borrow a truck from a friend. With the it® bed it arrives rolled up in a box to your doorstep! If you like to test your mattress before you buy it, no worries…you can check out the it® bed at a Sleep Number store (just check the website to make sure there is one in your area). At the store, they will give you a tutorial on how to use the app to control your bed as well as navigate all of the amazing statistics you will receive about your sleep and health.
Mark and I actually have pretty similar taste in how firm we like our mattresses. My preferred number on the it® bed! is a 65 and his is a 70. I'd say that this mattress runs a little bit softer because I am a soft mattress fan and sleep at a 65/100. I have another post planned about the incredible features of the app and a more detailed review of how much I've learned about my sleep habits over the past few weeks. So, keep an eye out!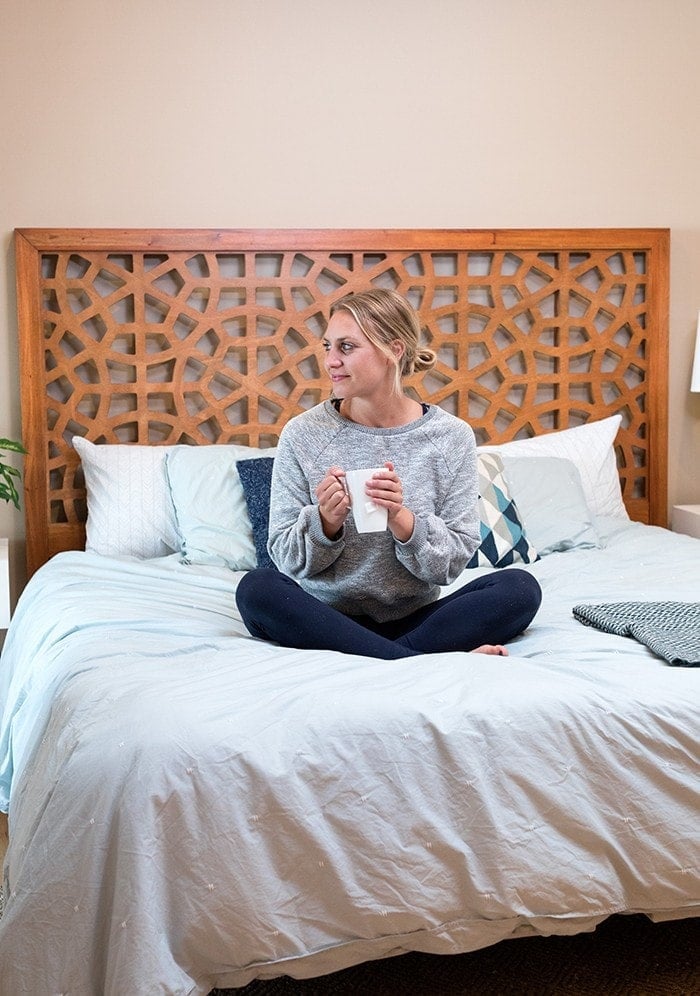 Now that you know all about my new bed, let's talk bedtime stretches! These moves brought me back to my yoga sculpt teaching days because we used to do these after every class for a gentle cool down. They're cleansing and soothing and such a great routine to add to your bedtime routine.
Soothing Bedtime Stretches
Cleanse your body before bedtime with these soothing, gentle bedtime stretches. All you need is your bed, a chill playlist, and a centered heart.
Child's Pose
Open your knees wide and let your chest gently lay on your bed in front of you. Extend your arms out long by your ears and rest your forehead on your bed as well. Take slow inhales and exhales and as you breathe out, sink deeper into this posture.
Gentle Twist (L+R)
Begin in a seated position with your legs out long. Bend your left leg and plant your foot to the right of your right leg. Lengthen your spine and plant your left hand behind your sit bones and your right elbow on the outside of your left knee. Take a deep breath in and as you exhale twist your upper body to the left. Repeat on the other side.
Easy Neck Stretch (L+R)
Begin in a seated position with your legs in the pretzel position. Slowly drop your head to the left side and use your right hand to press your ear into your neck for a deeper stretch. Switch sides.
Cat
Begin in tabletop position with your shoulders stacked over your wrists and hips over knees. On the inhale, arch your back like a cat, pressing through your shoulder blades, hands and knees.
Cow
Begin in tabletop position with your shoulders stacked over your wrists and hips over knees. On the exhale, drop your belly low and squeeze your shoulder blades together.
Supta Baddha Konasana
Begin lying on your back in a comfortable position. Bring the soles of your feet to touch and let your knees fall open. Take one hand and place it on your belly and the other on your heart. Clothes your eyes and breathe gently.

This post is sponsored by it® bed by Sleep Number. I was compensated and all opinions are my own. Thank you for supporting Fit Foodie Finds and making this website possible!