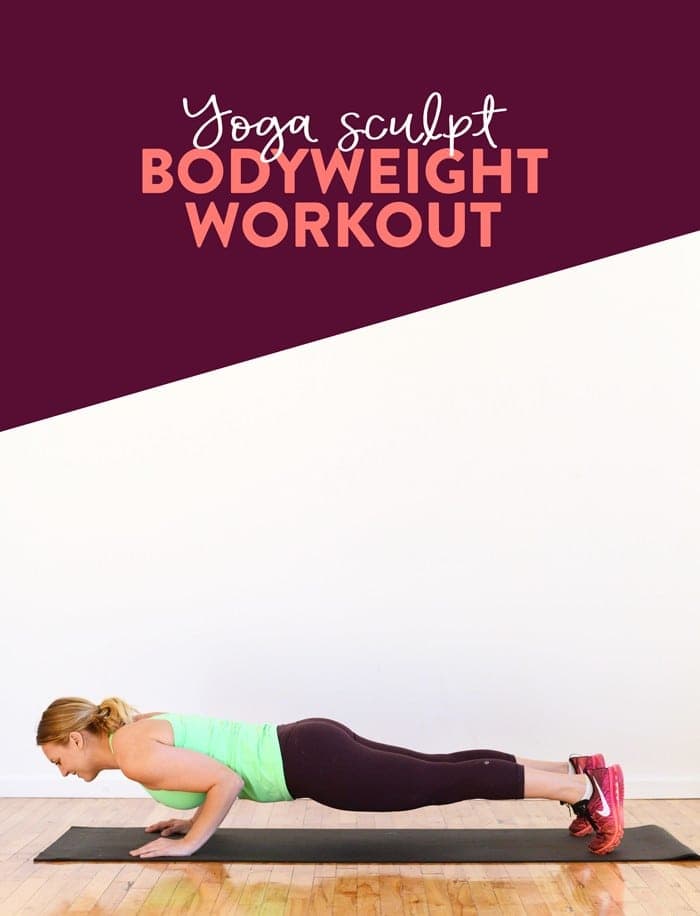 Team. As you know, I stopped teaching group fitness and yoga sculpt a few years ago because my schedule just got too cray. It's hard to stay dedicated to multiple classes a week if you're always having to find subs, ya feel? I also pretty much stopped practicing yoga and yoga sculpt as a whole beacause of this (no excuse, I know). Well last week, I took my first legit heated yoga sculpt class in over 2 years AND I DIED. el oh el. My friend Sarah teaches at the Corepower in Uptown Minneapolis so I went to her class. Ohhhhhh does she make me miss teaching! One of the reasons why I fell in love with yoga sculpt to begin with is the energy you get off other people during a class. Just laying in shavasana in a 95ºF heated room is difficult let alone working out in a 95ºF heated room! I walked out of that class feeling very accomplished and sort of in awe that I used to do this multiple times per week.
I thought I would create a yoga sculpt workout for FFF because it's literally the only workout I did (and taught!) from 2010 to 2015. This combines some of my favorite yoga sculpt moves with cardio for a full-body burn. I hope you love it!
Yoga Sculpt Workout
Description: Each circuit has 2 moves. Do each move for 50 seconds and then rest for 10 seconds. Complete each circuit 3 times before moving on to the next. Take a 60 second break in between circuits.
Equipment: Bodyweight
Circuit 1: Lower Body
Chair Pose (Out and In)

Horse Pose Squats
Circuit 2: Cardio
Pogo on the Left

180 Squat Jumps
Circuit 3: Upper Body
Chaturanga Push-Ups

Tricep Dips
Circuit 4: Cardio
Pogo on the Right

Scissor Jumps
Circuit 5: Core
Down Dog to Plank + Elbow to Knee
Push and Pull Abs