This classic Aperol spritz recipe is the PERFECT thirst-quenching cocktail on a hot summer day. A combination of Aperol, dry prosecco, club soda, and bitter oranges create that unique bittersweet taste that everyone loves.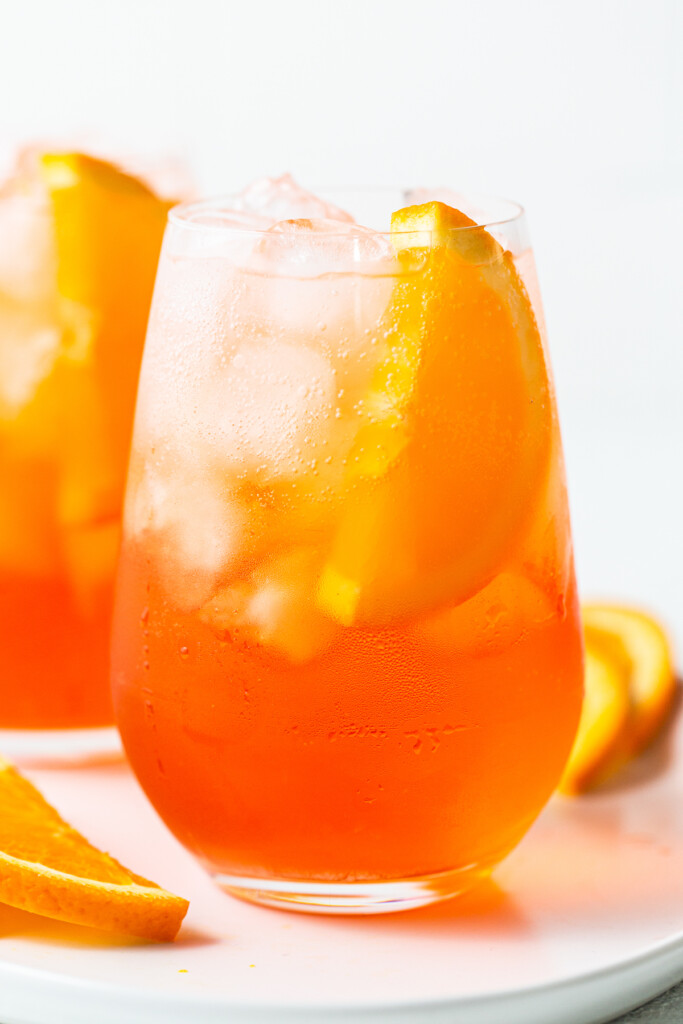 The Perfect Aperol Spritz Recipe
Ready for a refreshing summer cocktail that is the perfect balance of fun, bubbly, aromatic, and citrusy? Well, let me introduce you to the Aperol spritz. You all loved our Aperol spritz slushies so much, that we figured it was about time we shared our classic Aperol spritz recipe 😀
This classic Italian cocktail is made with simple ingredients that'll absolutely dazzle your taste buds.
Whether you serve it at a party or to enjoy your own personal happy hour, this Aperol spritz is sure to please. Have it with orange bitters for an extra zing, or opt-out for something a little sweeter. No matter how you have it, this easy cocktail recipe is versatile, light, and will leave you wanting more!
Why you'll love it!
One of those warm-weather cocktails that is so cool and refreshing.
It's a lower-alcohol cocktail, so no need to worry about getting too boozed up!
No special equipment is needed to make it.
It's super quick and easy to whip up!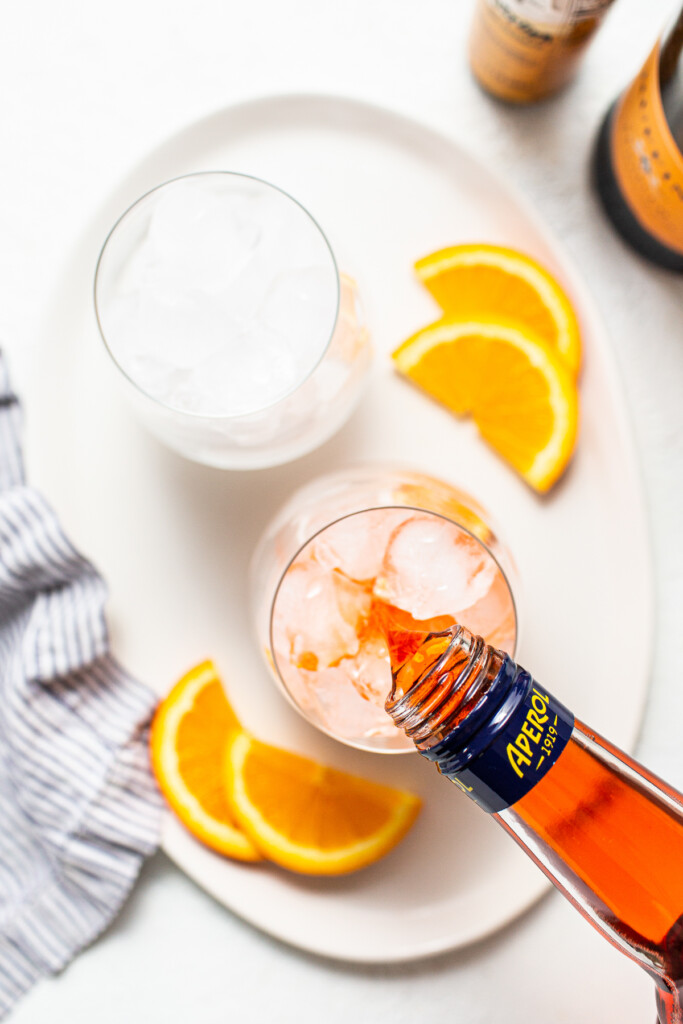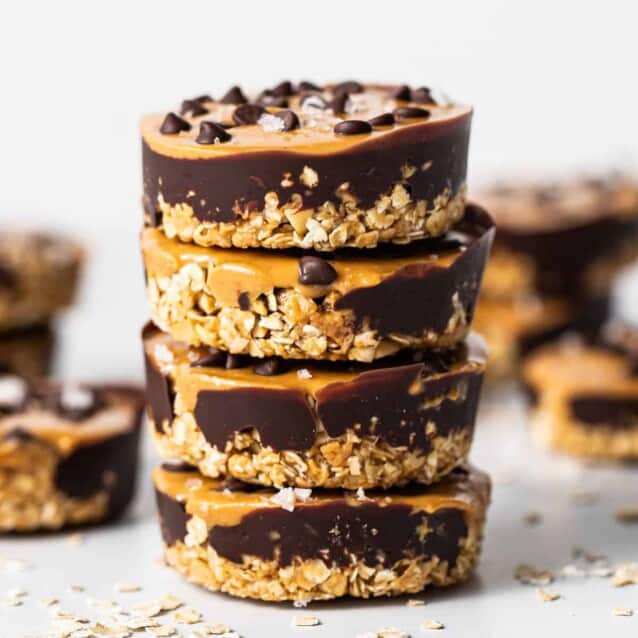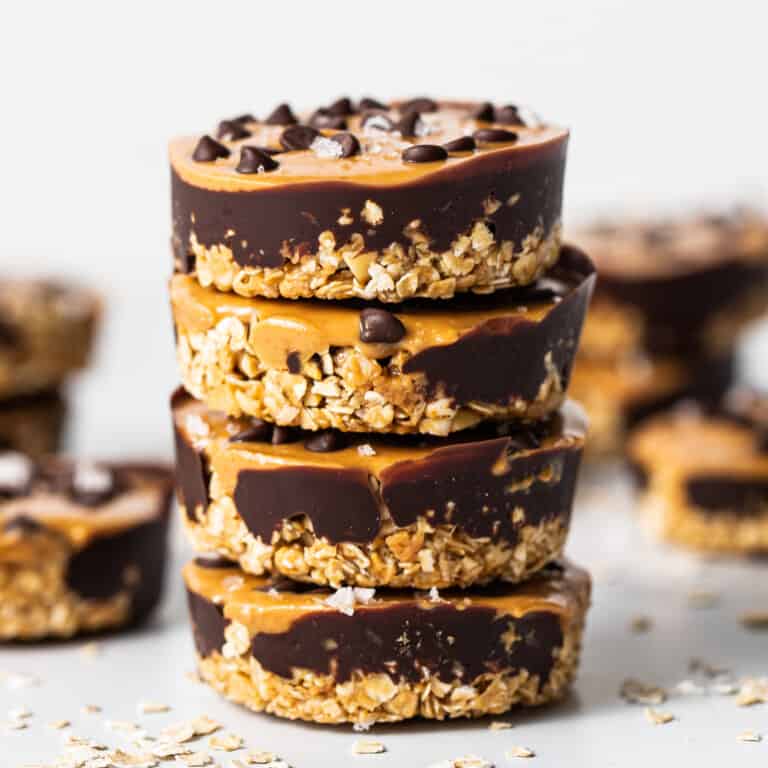 Get our Top 10 5-Star Recipes!
Join our email list for new recipes and BONUS: get our top 10 ⭐️⭐️⭐️⭐️⭐️ recipes e-book!
Main Ingredients for Aperol Spritz Cocktail
Dry prosecco: use prosecco that has a more acidic taste and fewer residual sugars for the most authentic taste.
Aperol: the star of this cocktail. Aperol is an Italian aperitif made from bitter oranges, gentian root, rhubarb, and other herbs and spices.
Club soda: to give the cocktail a bit of sparkle and a light, refreshing finish.
Fresh orange: this adds the perfect finishing touch to the cocktail, and it's a fun way to garnish your drink.
Orange bitters (optional): for an extra zing. Feel free to omit this ingredient if you're not a fan.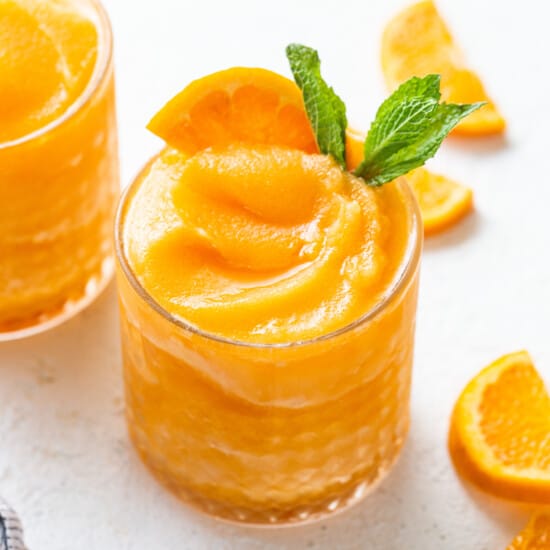 try it!
Aperol Spritz Slushies
If you're an Aperol fan, you HAVE to try our frozen Aperol spritz slushies — they're so refreshing!
get recipe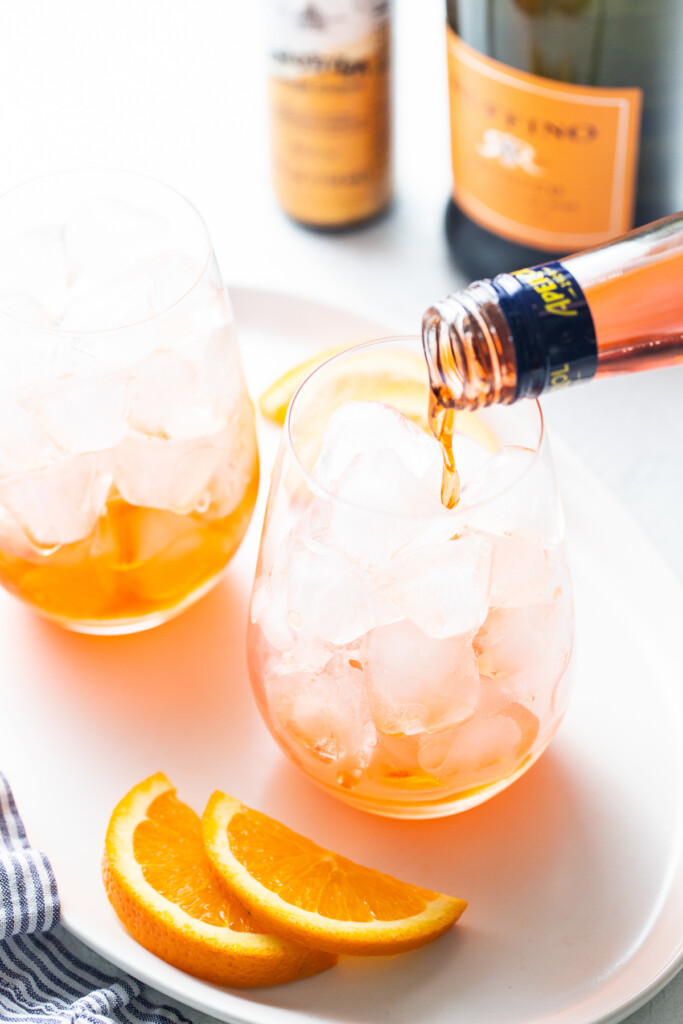 What kind of prosecco should I use for an Aperol spritz?
What type of prosecco you use will determine the overall flavor of your Aperol spritzes. Here are some of our suggestions:
Extra dry prosecco: this type of prosecco has fewer residual sugars, making it perfect for an Aperol spritz. It has a crisp and acidic taste, which will give the cocktail an extra level of complexity.
Brut prosecco: this type is slightly sweeter than extra dry and has a softer flavor. It's still light enough to be complimentary to the Aperol spritz, but it won't be quite as sharp.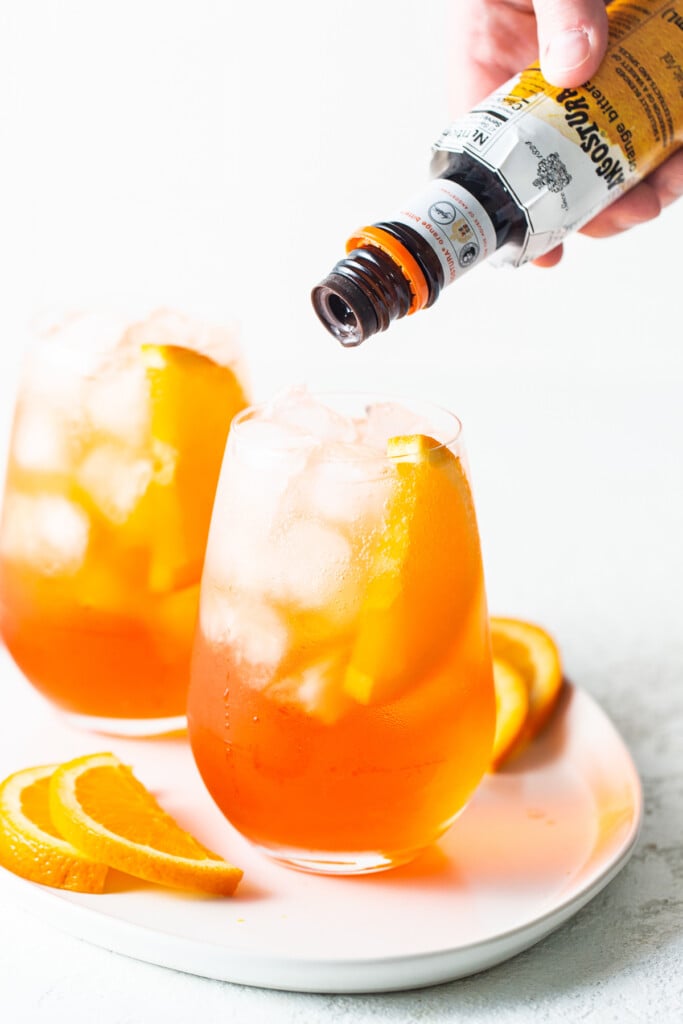 How to Make the Best Aperol Spritz
ADD ICE
Find a tall wine glass and fill it with ice. Use as much ice as you prefer.
STIR IN BOOZE
Next, pour the prosecco and Aperol into the glass, stirring until combined. It should be a bright orange color.
ADD SODA + GARNISH
Then top your bubbly cocktail with club soda and garnish with an orange slice.
Pro Tip: You could even add an orange peel or place the orange slice on the lip of the glass for an added touch!
ADD BITTERS + SERVE
If using bitters, add a few dashes before serving. Serve immediately and enjoy your great cocktail!
Latest Cocktail Recipes
More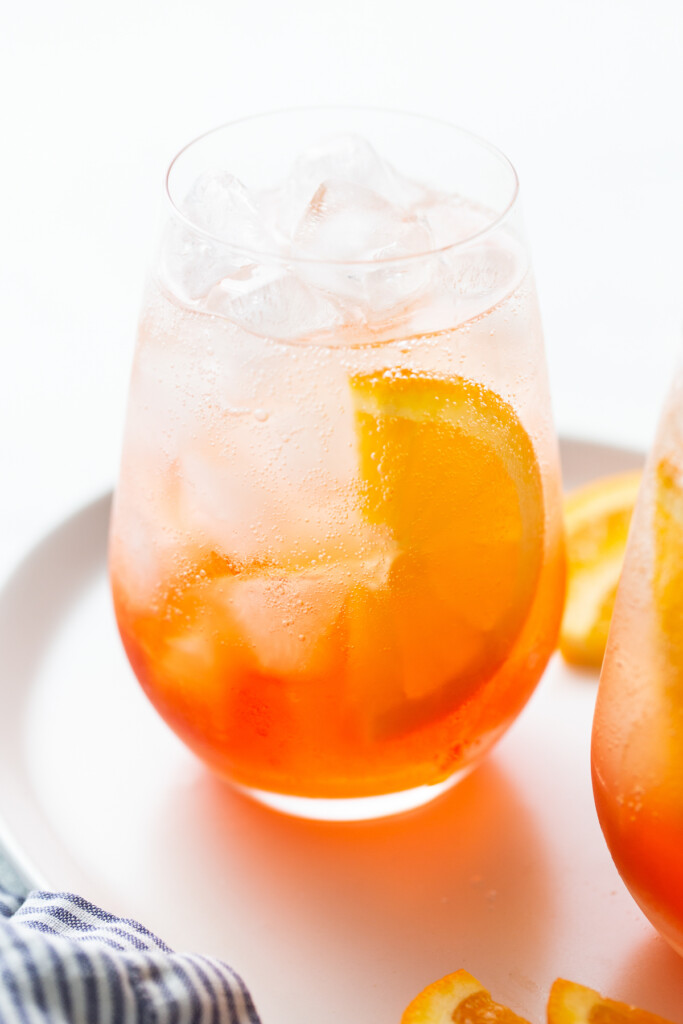 Top Tips
Make it into a pitcher drink: If you are serving a crowd, go ahead and triple or quadruple this recipe and serve it in a pitcher!
Add more bubbles: For a bubblier drink, use sparkling water instead of club soda.
Make it sweeter: If you are not a fan of the bittersweet taste, feel free to add some simple syrup for a sweeter Aperol spritz.
Storage
To store any leftover Aperol spritz, seal and place it in the fridge for up to 2 days. When ready to serve, give it a stir and add some fresh ice and a splash of bubbles.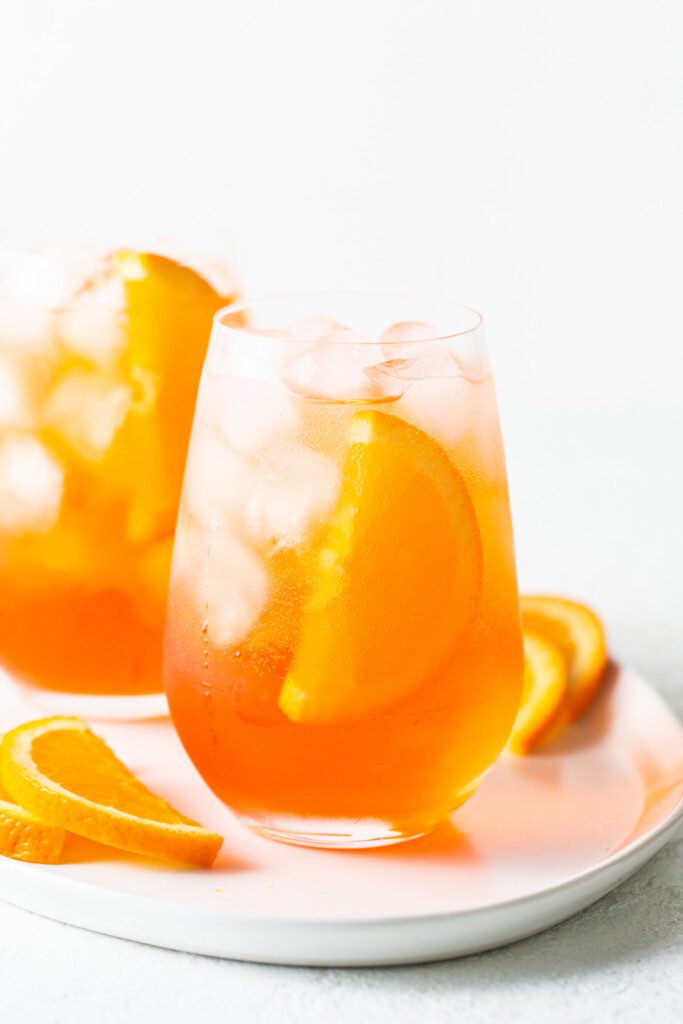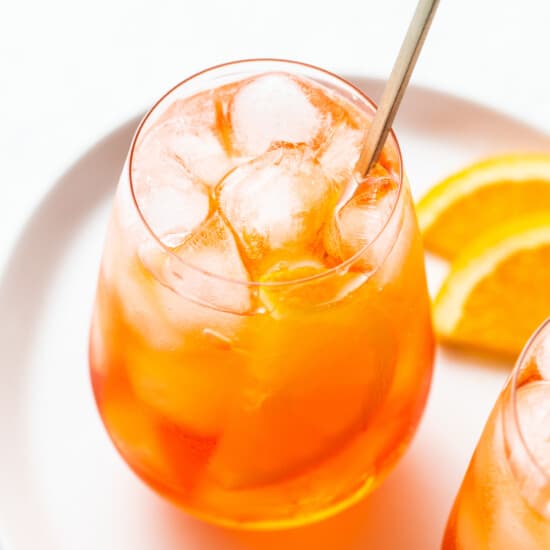 Classic Aperol Spritz
This classic Aperol spritz is the perfect refreshing cocktail for a summer day! Make as a single serve, or large batch to serve a crowd.
Ingredients
3

oz.

dry prosecco

2

oz.

Aperol

1

oz.

club soda

1

fresh orange round

Optional: a dash of orange bitters
Instructions
Fill a tall wine glass with ice. Pour the prosecco and Aperol into the glass and stir.

Top with club soda and garnish with an orange slice. If using bitters, add a few dashes before serving. Serve immediately.
Nutrition facts
Calories:
216
kcal
Carbohydrates:
19
g
Protein:
0.1
g
Fat:
0.2
g
Sugar:
19
g
Photography: photos taken in this post are by Ashley McGlaughlin from The Edible Perspective.