These tender chocolate baked donuts are baked in the oven and never fried. They're perfectly tender and topped with a yummy chocolate frosting and sprinkles.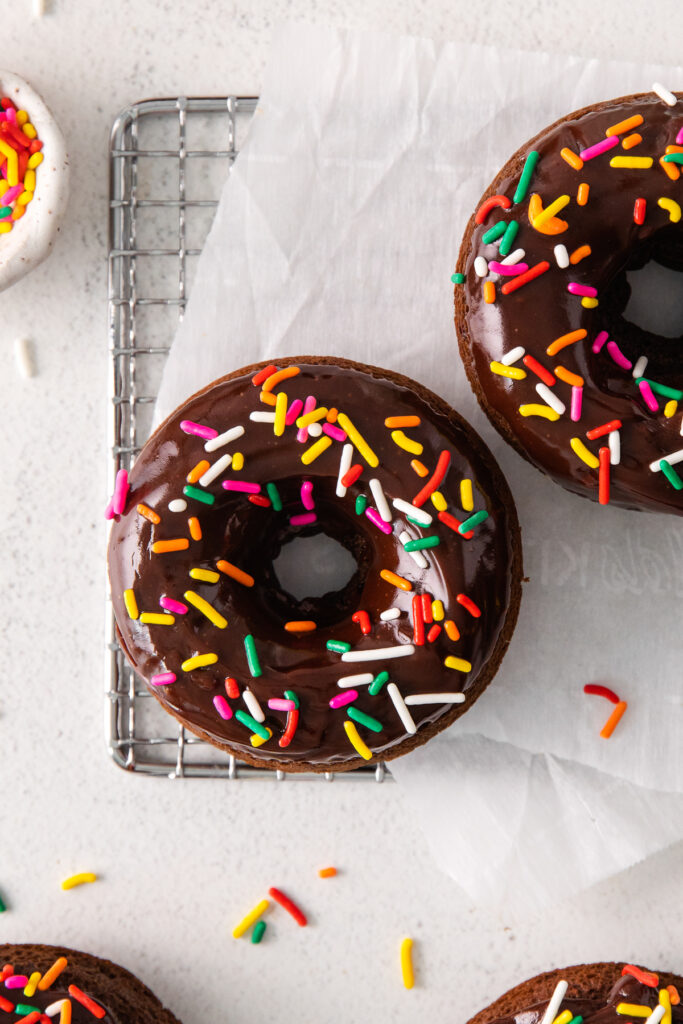 Luscious Baked Donuts
Who loves donuts? ME!!!! We'd like to introduce you to Chocolate Baked Donuts!
I fell in love with donuts early on, I mean who doesn't like donuts. I've always been a huge cake donut fan, which is why I love this particular recipe so much. It's cakey, chocolatey, and perfectly sweet.
We're using classic donut ingredients (yes the real deal –> butter, sugar, etc.), but instead of frying them, we're baking them in the oven. Let's get started.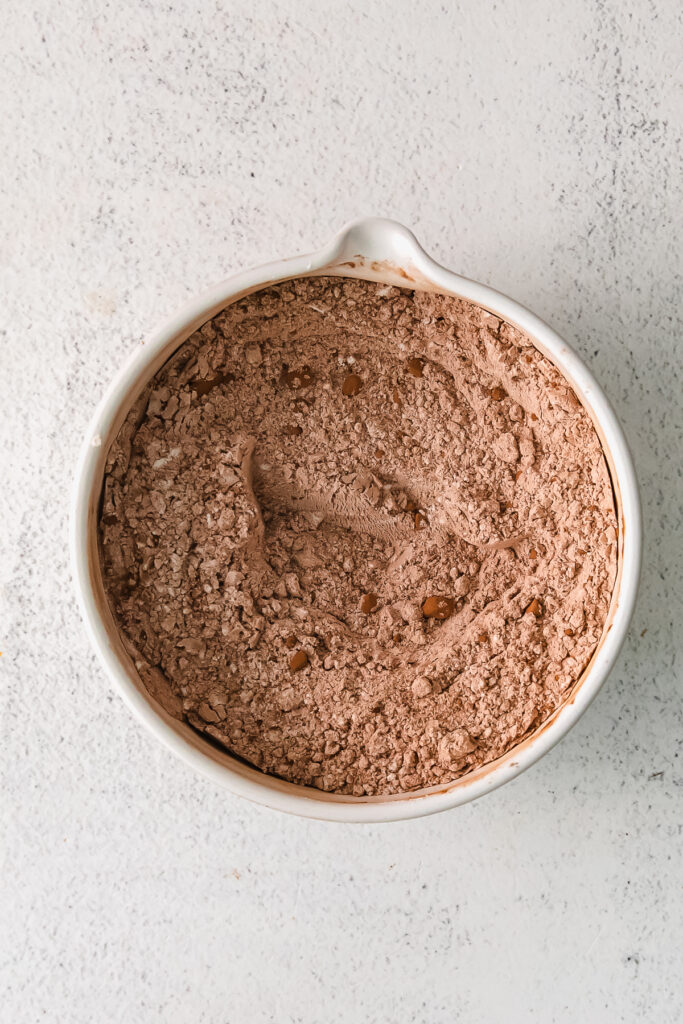 What You Need for Chocolate Baked Donuts
Flour: all-purpose flour is used for the base of these donuts. We have not tested this recipe with any other kinds of flour.
Cocoa powder: make sure to use a high-quality, unsweetened cocoa powder.
Brown sugar: for this baked donut recipe we used light brown sugar for the sweetener.
Chocolate chips: chocolate chips add a fudginess to the inside of the donut.
Butter: make sure to use room temperature butter for this recipe.
Egg: this recipe calls for 1 full egg and an additional egg yolk.
Milk: we're using almond milk, but any kind works!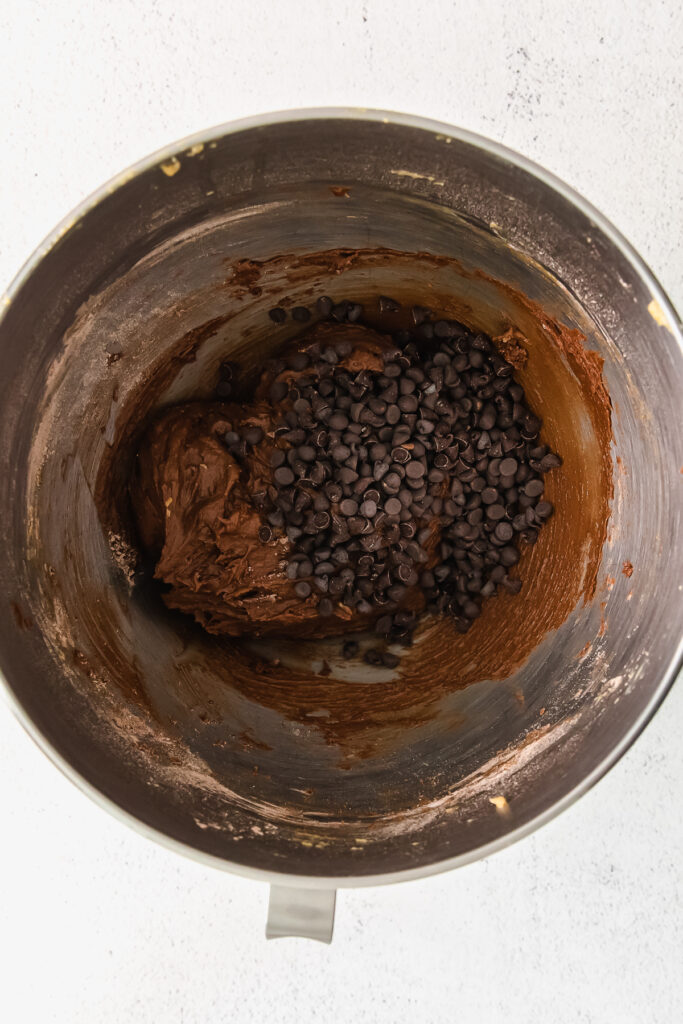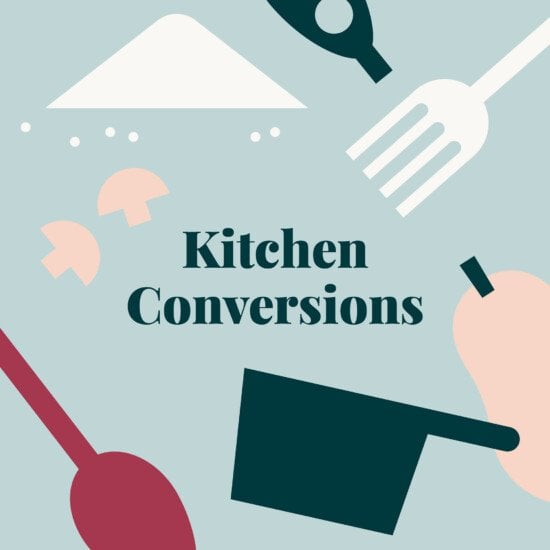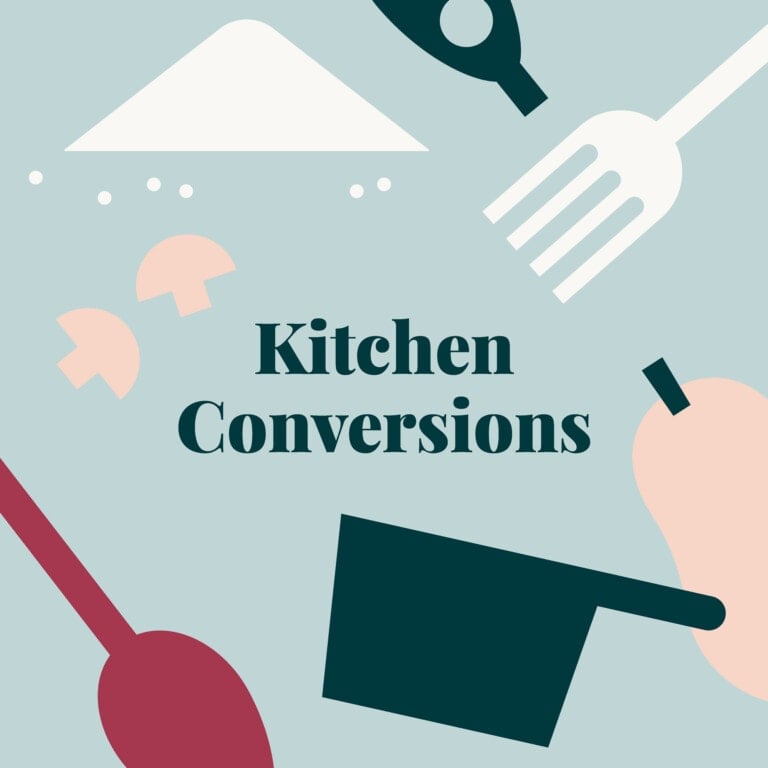 make it easy
Print Your Own
Keep common kitchen conversions like tablespoons to teaspoons and Fahrenheit to Celsius on hand at all times with our printable kitchen conversions chart.
get it now
Learn More Kitchen Conversions
Quick Instructions
Mix dry ingredients: combine the flour, baking powder, baking soda, cocoa powder, and salt in a medium bowl and set aside.
Cream butter and sugar: add room-temp butter and brown sugar to the bowl of a stand mixer. Cream the butter and sugar until smooth and fluffy.
Add wet: slowly add the eggs and almond milk and mix until smooth.
Add dry: add the dry ingrdients a little at a time and mix until light and fluffy.
Pipe: transfer the batter into piping bag or large, gallon-size plastic bag and pipe it into a greased donut pan, filling them around 3/4 of the way full.
Bake: bake donuts at 350ºF for 8-10 minutes or until fully cooked.
Cool: let the donuts cool for a few minuts before remoing from the pan to finish cooling on a wire rack.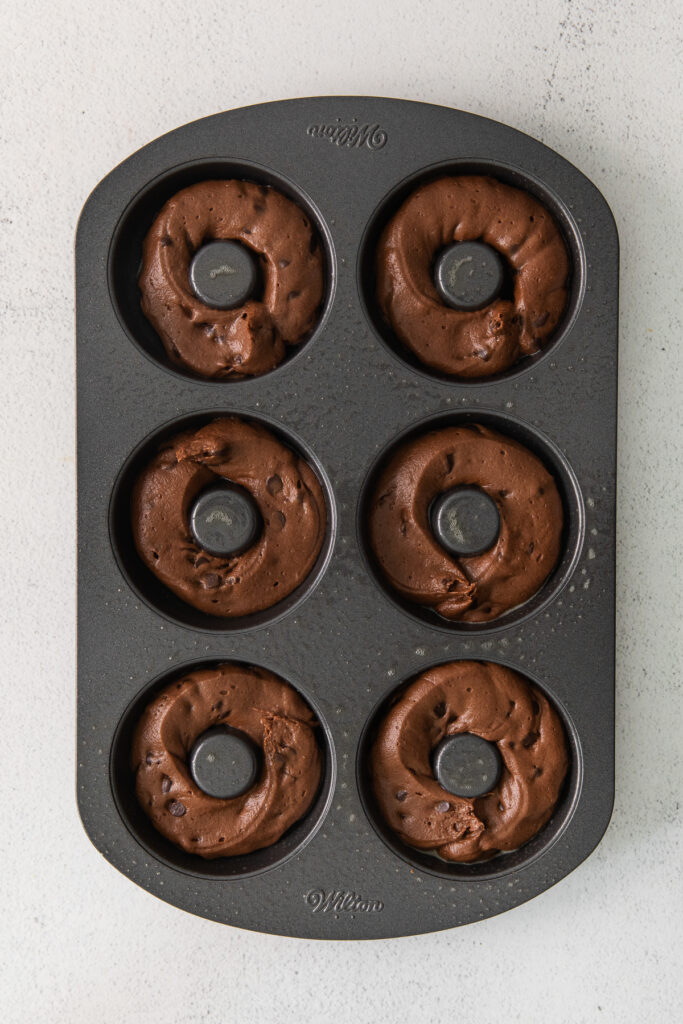 A Few Quick Tips
Add an extra yolk: we tested this recipe a handful of times and what makes it nice and moist without making them more fluffy is an extra egg yolk.
Cream the butter and sugar: make sure to take the time to cream the butter and sugar before adding the rest of the ingredients.
Use a piping bag: a piping bag works wonders for this recipe. Here's the piping bag we used.
Don't over-bake: whatever you do, make sure not to over-bake these donuts! No one likes a crumbly, hard baked donut.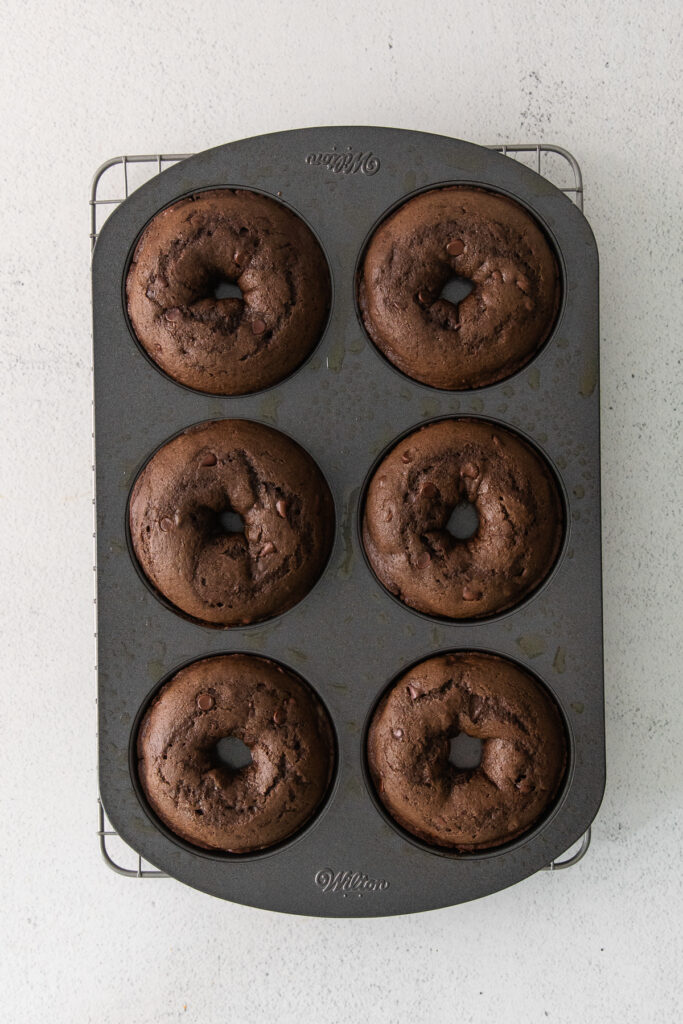 The Chocolate Glaze
We know there are lots of different ways to top a donut, but we're pretty dang obsessed with this simple chocolate glaze.
What you need
chocolate chips
butter
water
How to make it
Heat the chocolate chips, butter, and water over medium heat.
Stir constantly until everything melts and the mixture becomes smooth and glossy.
Transfer the glaze into a small bowl.
Once your domnuts are cooled, dip the tops of the donuts into the glaze, making sure to completely coat it.
Place donut back onto a wire rack to set.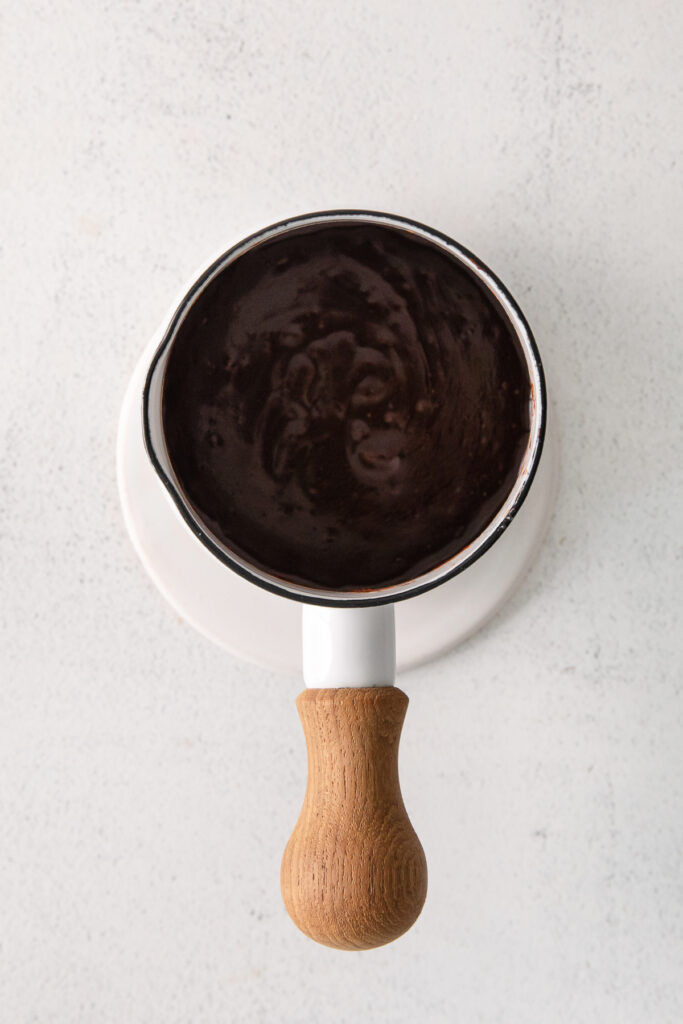 Topping Ideas
We sprinkle obsessed, but we recommend having fun with your toppings. Here are some ideas:
Mini chocolate chips
Cereal
Coconut flakes
Diced peanut butter cups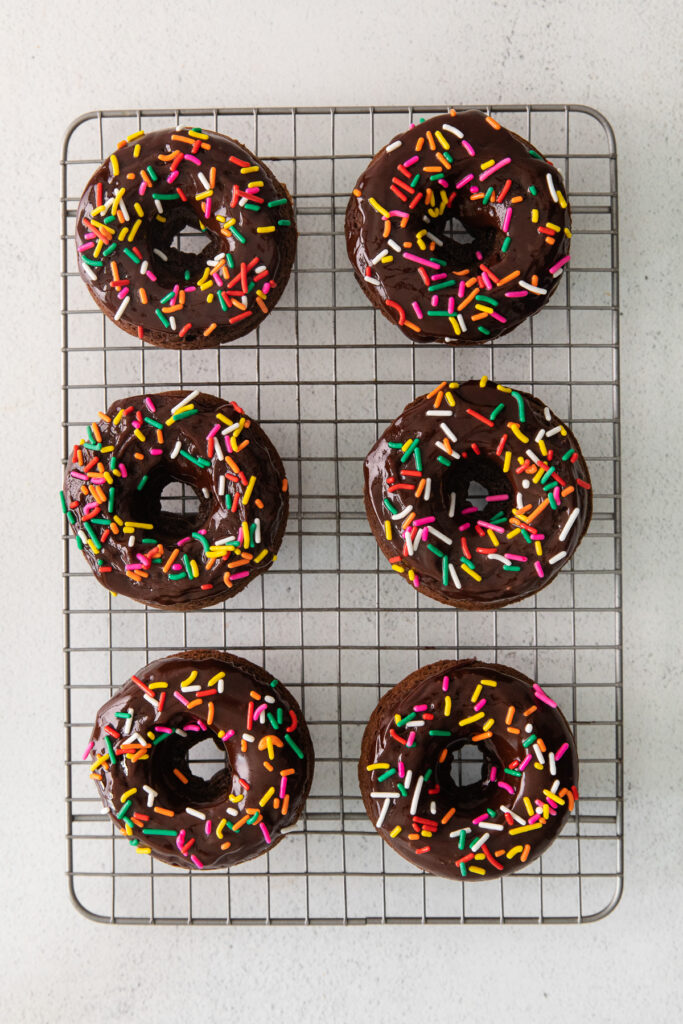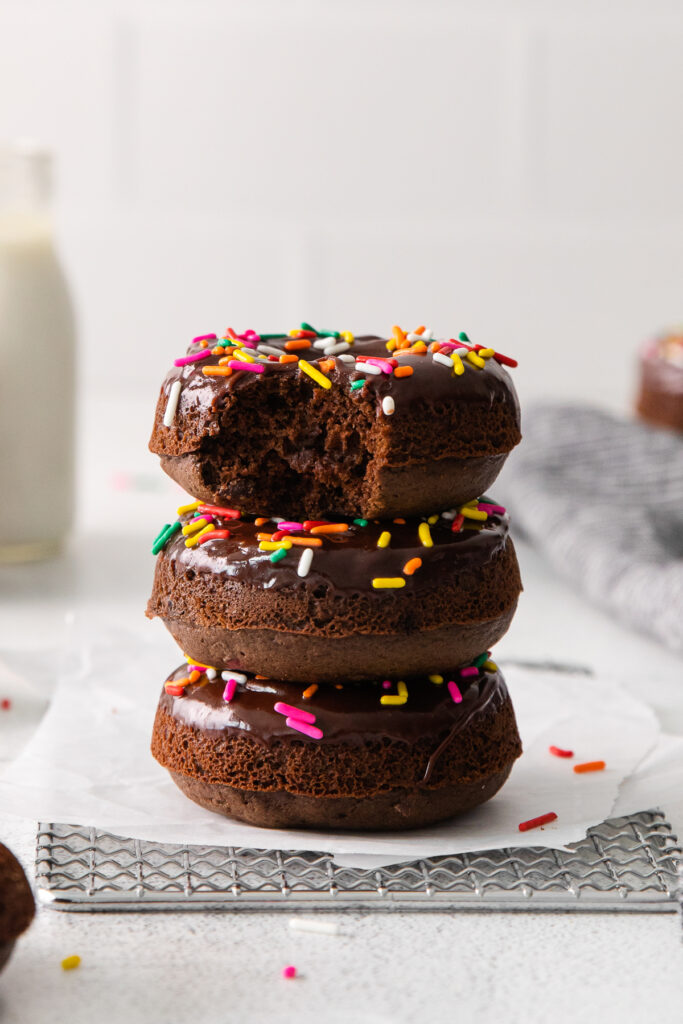 Storage
Let donuts cool completely. Then, store in an airtight container in a cool, dark place for up to 3 days.
Freezer Instructions
If you're planning to freeze, do not frost.
Let donuts cool.
Then, wrap each one with tin foil.
Freeze for up to 3 months.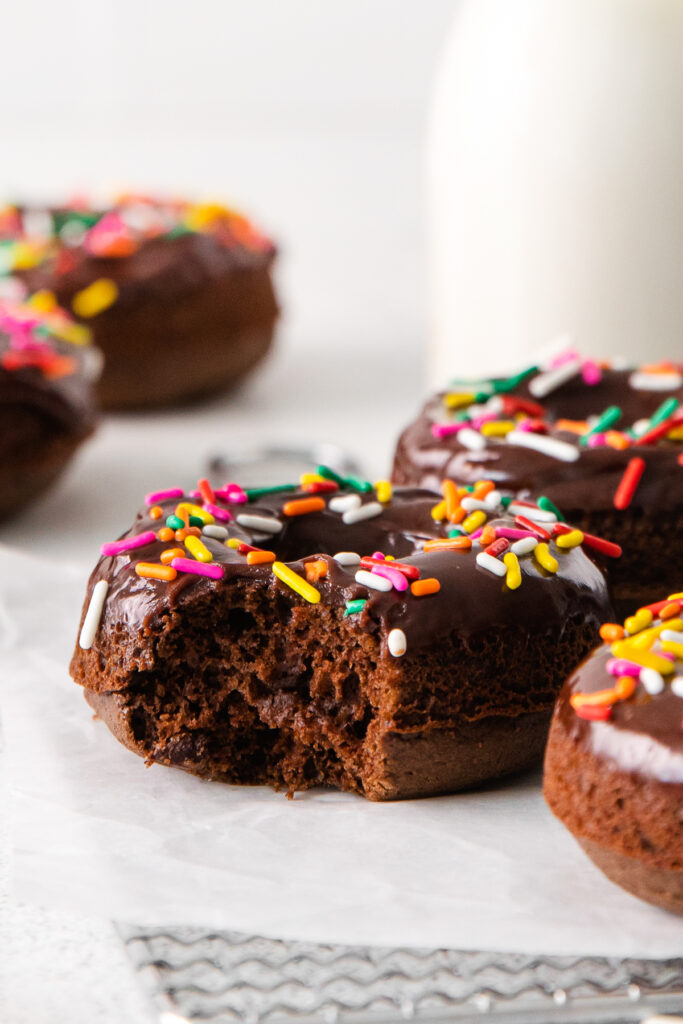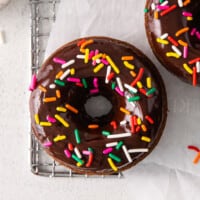 Chocolate Baked Donuts
There's nothing better than Chocolate Baked Donuts that are fully equipped with a chocolate glaze and rainbow sprinkles! 
Ingredients
Wet Ingredients 
¼

cup

butter

room temperature

1

large egg + 1 yolk

room temperature

1/3

cup

unsweetened almond milk
Chocolate Glaze 
2

tablespoons

salted butter

2

teaspoons

water
Instructions
Preheat the oven to 350ºF and spray a donut pan with nonstick cooking spray. 

Add the flour, cocoa powder, baking powder, baking soda, and salt to a bowl and mix the ingredients together until combined. 

Next, cream the butter and the sugar together on medium speed with an electric mixer or stand mixer until light and fluffy. 

Scrape the sides of the bowl and then add the egg and egg yolk. Mix on medium speed until just combined.

Add the almond milk and mix until combined.

Slowly add the dry ingredients to the wet ingredients, mixing on medium/low. When all of the ingredients are well combined, fold the chocolate chips into the batter. 

Transfer the batter into a piping bag or gallon-size Ziploc bag.

Then, pipe the donut batter into the donut pan, filling each donut ¾ of the way full. 

Bake donuts at 350ºF for around 8-10 minutes.

Remove the donuts from the oven and let them sit for a few minutes before removing them from the donut pan and letting them cool completely. 

For the chocolate glaze -- heat the chocolate chips, butter, and water over medium heat, stirring constantly. When all of the ingredients have melted and the mixture becomes glossy, remove from the heat. 

Stir the glaze until it is completely melted and smooth. 

Glaze each donut by dipping the top of the donut into the warm glaze. To even out the glaze on the donut, shake the donut from side to side and the glaze should even out. 

Immediately top with sprinkles and allow glaze to cool and harden. 
Tips & Notes
This recipe can be easily doubled.
Nutrition information does not include the glaze or sprinkles.
Nutrition facts
Calories:
266
kcal
Carbohydrates:
33
g
Protein:
5
g
Fat:
14
g
Fiber:
1
g
Sugar:
7
g