I la la love pistachio nuts. I know they are expensive, but sometimes you have to treat yourself and buy a bag so that you can make some creamy, greeny pistachio nut butter! Get your food processors out and get ready to whirl!

The above photos were 1. before processing, 2. after 1 minute of processing, and 3. after 10 minutes of processing.
For this batch, I used salted dry roasted pistachio nuts which I got from Trader Joes, which I realized was sort of a bad idea. Dry roasted means a lot of the natural oils are sucked out of the nut, so it's hard for the nuts to get creamy. NO FEAR- I added about 2-3 teaspoons of coconut oil and it smoothed right up.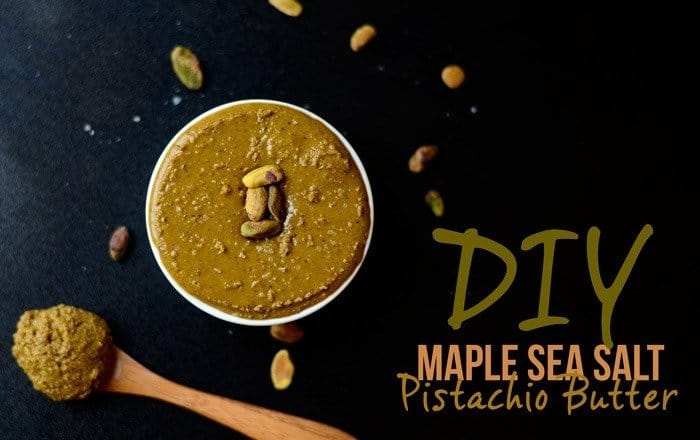 You can use raw pistachio nuts, but you will want to roasted them for 5-10 minutes at around 350. I've tried making nut butter without roasting the nuts first, and it has never worked for me (maybe I'm just cursed!).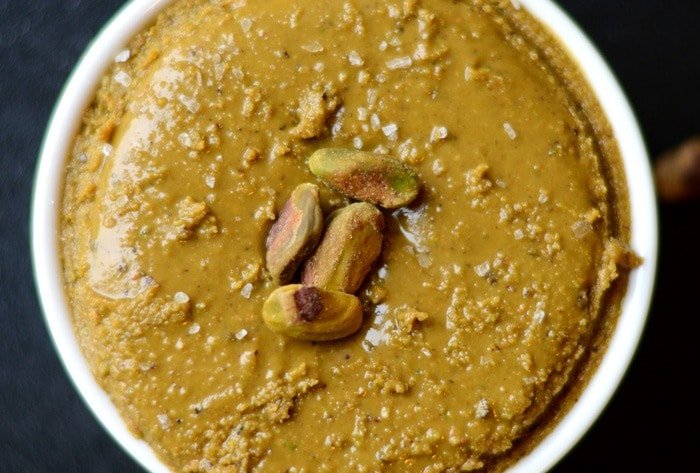 I love this stuff! A spoonful of this is such a good snack or even better on top of oats!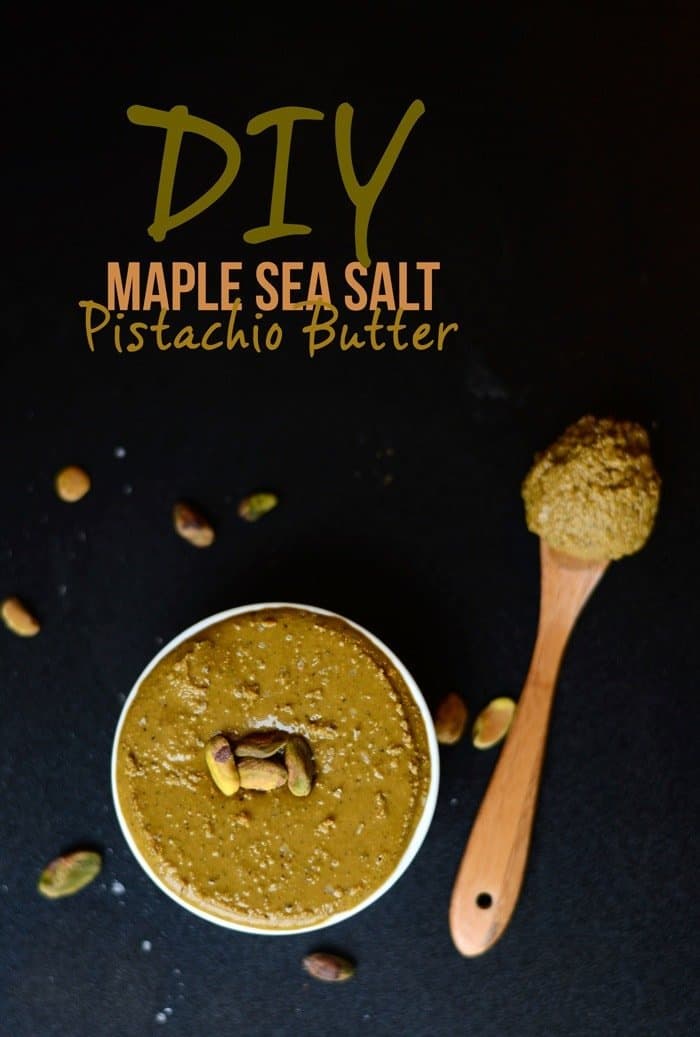 I'd say the sea salt is pretty essential. It brings out the maple syrup and the natural sweetness of the nuts.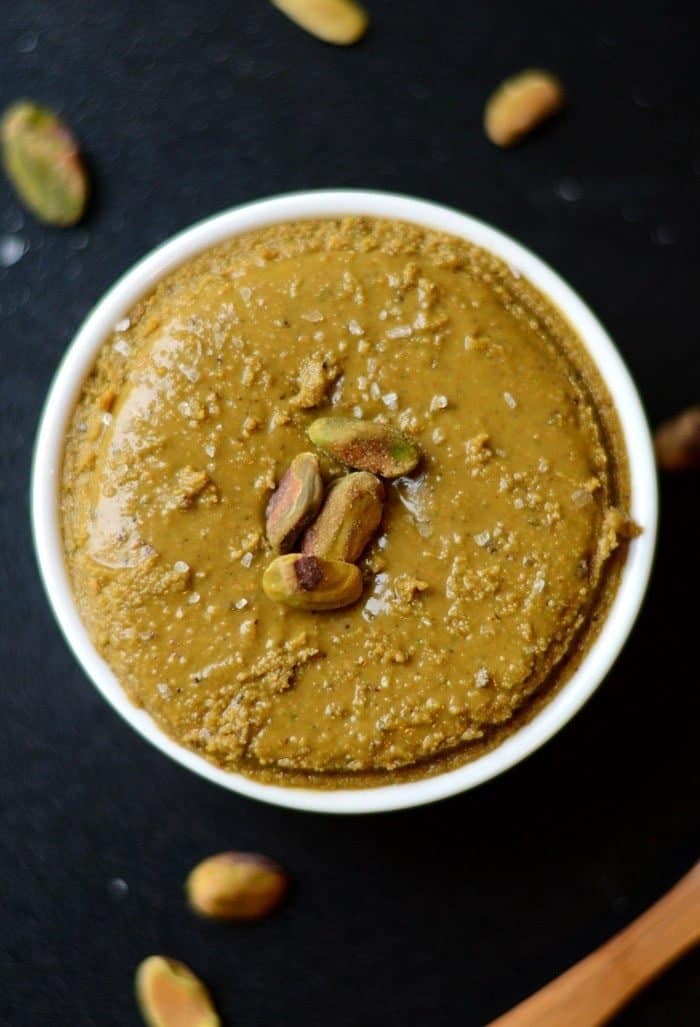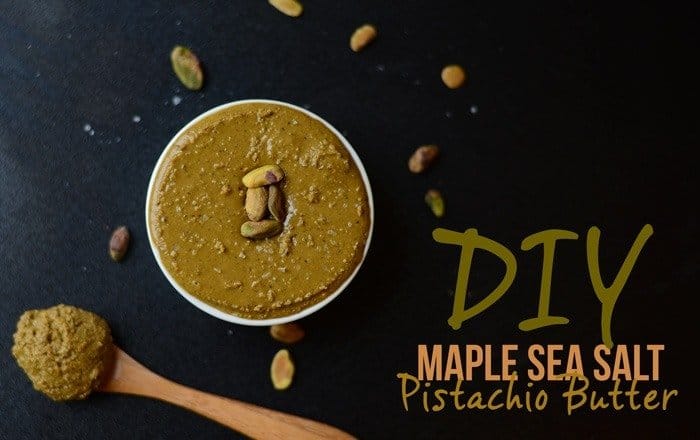 I store my nut butter in a small mason jar. I keep it in a cool place or even in the fridge.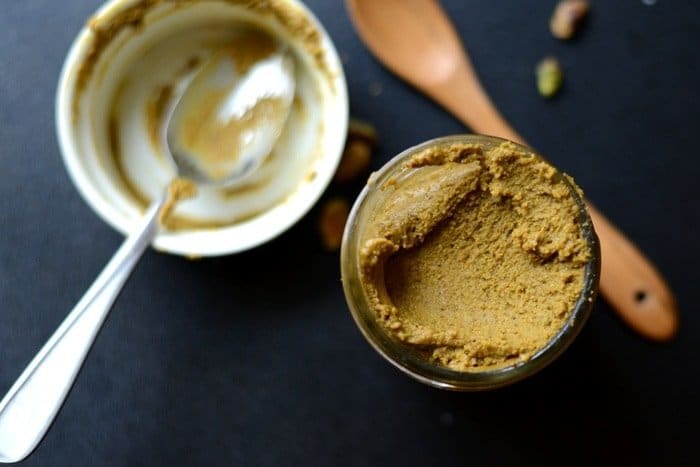 DIY Maple Sea Salt Pistachio Butter
Prep:
20 minutes
Cook:
0 minutes
Total:
20 minutes
Fat
14
Carbs
10
Protein
4
Ingredients
2 cups

of roasted pistachio nuts

1

–

2

tablespoons maple syrup (to taste)
pinch of sea salt

1

–

3

tablespoons coconut oil (if needed)
Instructions
Place 2 cups of pistachios nuts and a pinch of sea salt in a food processor.
Process on high, frequently stopping to scrape if needed.
Process nuts anywhere from 4-10 minutes or until smooth and drippy. If you nuts have a hard time releasing their natural oil (getting the mixture to be drippy), add 1 to 3 tablespoons of coconut oil.
Once the pistachios are smooth add in maple syrup or your sweetener of choice.
Nutrition Facts
Serving Size:
1/6
Calories:
165
Sugar:
6
Fat:
14
Carbohydrates:
10
Fiber:
2
Protein:
4
Category:
Condiment
Method:
No-Bake
Cuisine:
American
Diet:
Gluten Free
Keywords: pistachio butter
Have you ever made your own nut butter? What kind?
What is your all time favorite kind of nut butter?