Our shrimp meal prep bowls make lunch and dinner easy all week long. We love the flavorful shrimp and the light corn and black bean salad. So many of you use this recipe as a staple during busy weeks!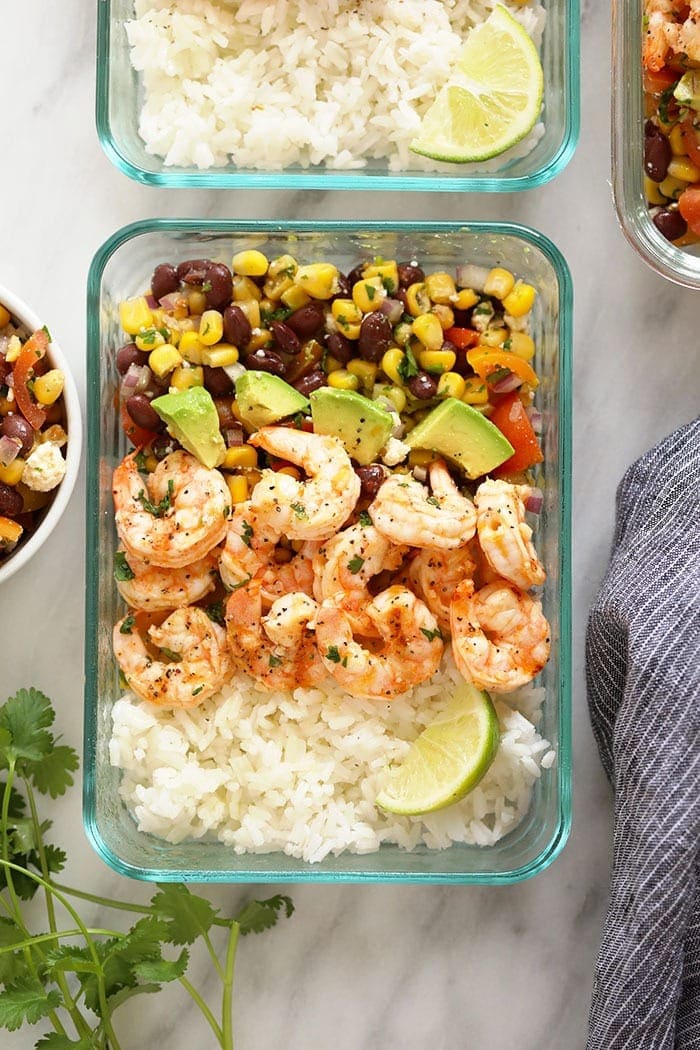 We love meals that are easy to prepare like our fiesta lime salmon bowls, beef skillet, and this shrimp meal prep. These shrimp bowls are the best because you separate them into single-serve meal prep containers and eat them all week.
Shrimp is one of our favorite proteins. You all drool over our shrimp recipes, so if you have leftover shrimp try our bacon-wrapped shrimp or crispy air fryer shrimp next!
Featured Comment
"The grilled shrimp bowl came out excellent. It was real easy to prepare, and the kids loved making it with me. We added a little Old Bay to it for a Maryland flare.." –Crab Dynasty
What You Need for Shrimp Meal Prep
Meal prep containers: our favorite meal prep containers are glasses with tops that are all the same size to make meal prep easy in the fridge.
Shrimp: fresh or frozen shrimp can be used. for this recipe. We highly suggest buying shrimp that has been peeled, deveined, and detailed to make life a little easier.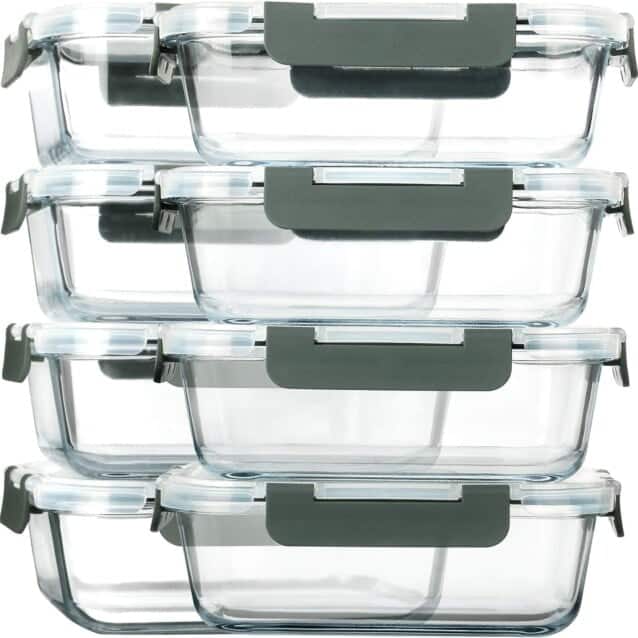 Meal Prep
Containers
We love meal prep containers that are all the same size for easy stacking!
Buy It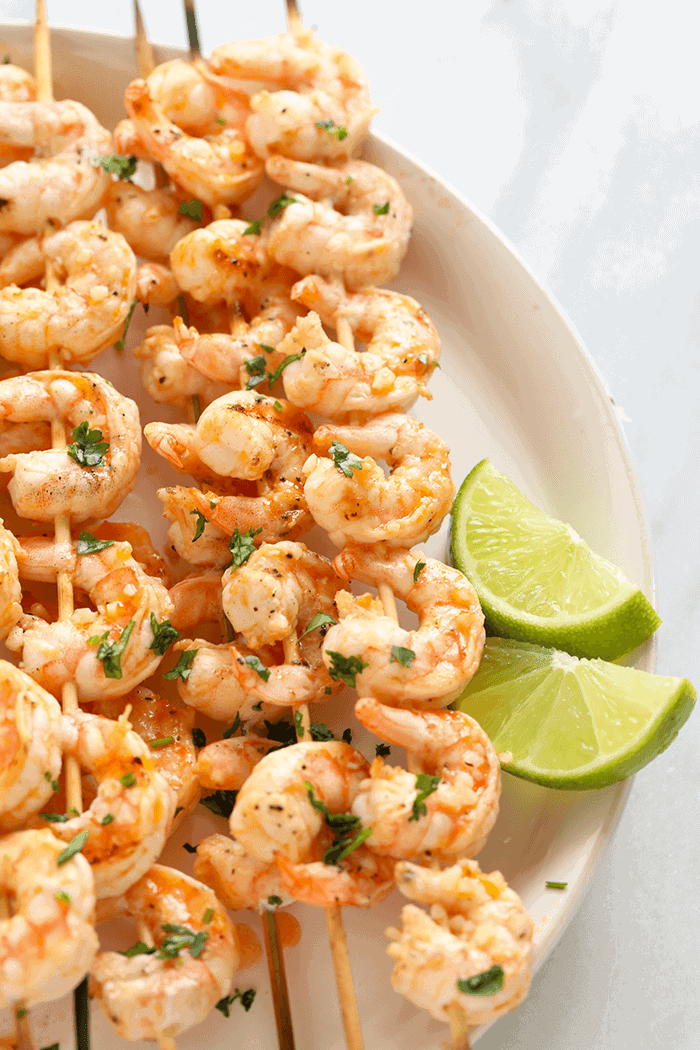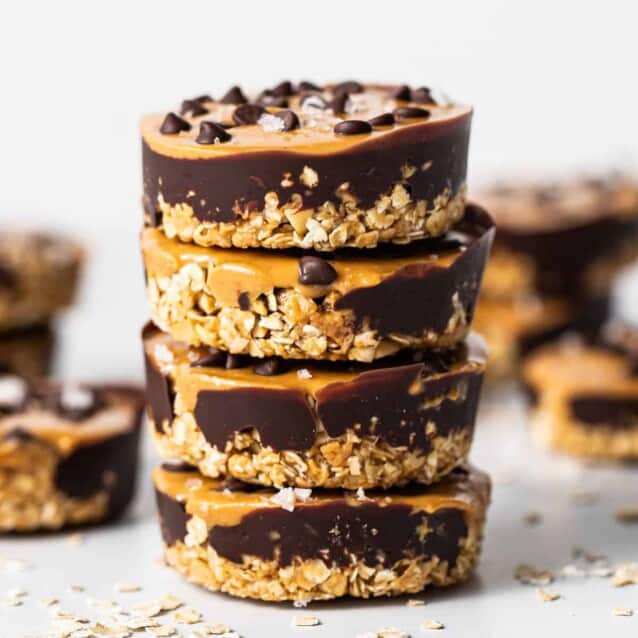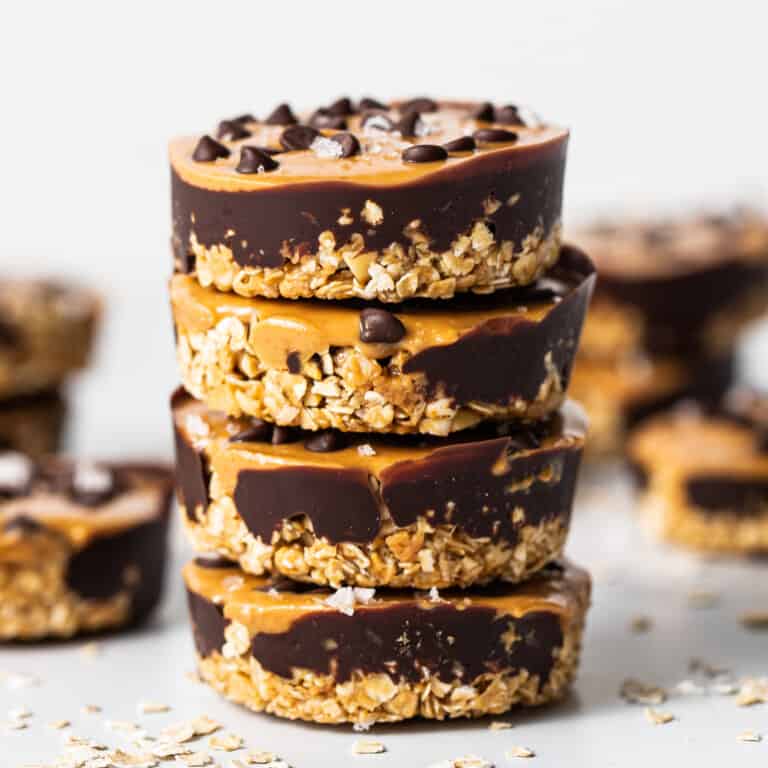 Get our Top 10 5-Star Recipes!
Join our email list for new recipes and BONUS: get our top 10 ⭐️⭐️⭐️⭐️⭐️ recipes e-book!
Tips for Meal Prep Shrimp
Buy quality shrimp. If you're buying fresh shrimp from the meat counter, make sure to ask the butcher how old the shrimp is, and when you should use it by. If you're working with frozen shrimp, make sure you use it as soon as it's thawed.
Marinate the shrimp long enough. You want your shrimp to absorb the flavor and the oil of the shrimp marinade, so allow at least 30 minutes and up to 24 hours for your shrimp to marinade.
Keep that grill time short. Shrimp grills so incredibly fast compared to other grilled food like burgers, chicken, or even veggies. We like to put our shrimp on skewers so it's easy to flip the shrimp in large numbers, but feel free to grill the shrimp free of skewers, too.
Grill your shrimp for 2 minutes on each side. You'll know when the shrimp are starting to cook because they will turn pink! You'll be able to see the pink color even through the marinade.
Delicious
Shrimp Salad
If you are looking for another great shrimp recipe, try this light and delicious shrimp salad.
Make It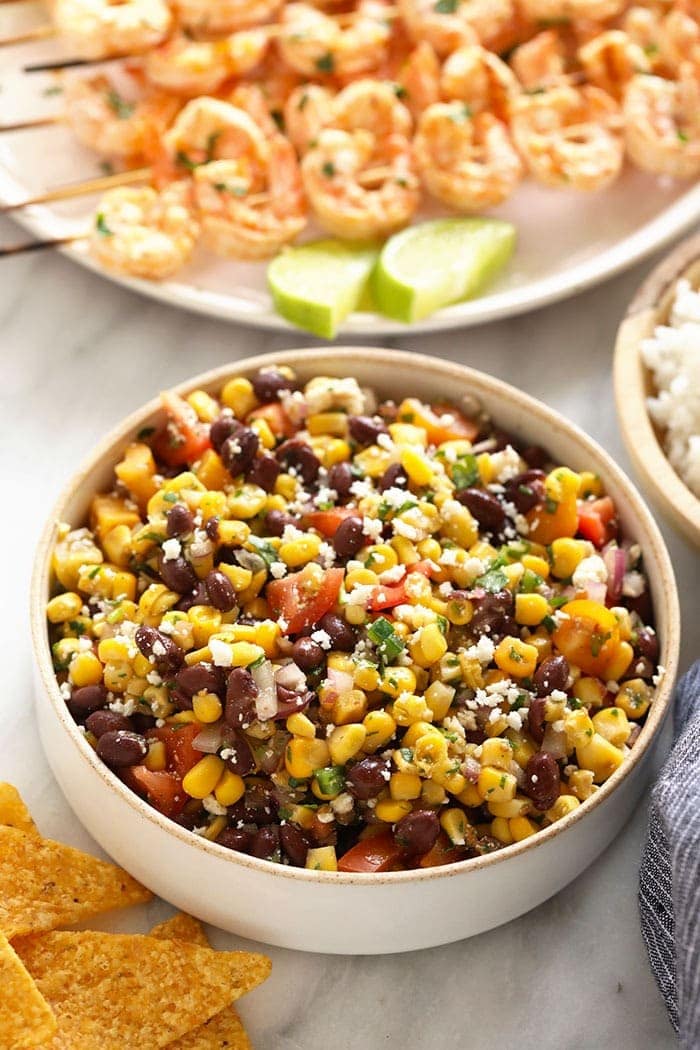 FAQ
Can I prepare the shrimp a different way for this recipe?

There are many ways to prepare shrimp. You can sauté or broil the shrimp instead of using the grill.
What salad can I use in place of the black bean and corn salad?

You can replace the black bean and corn salad with any vegetables. However, this black bean and couscous salad or this easy honey ginger quinoa kale salad would make great options.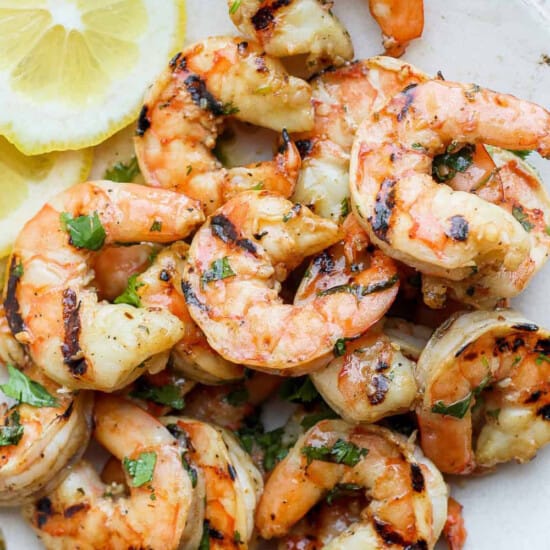 Storage Suggestion
Let the shrimp cool completely. Evenly distribute the ingredients into 4-6 meal prep containers. Store in the refrigerator for up to 5 days.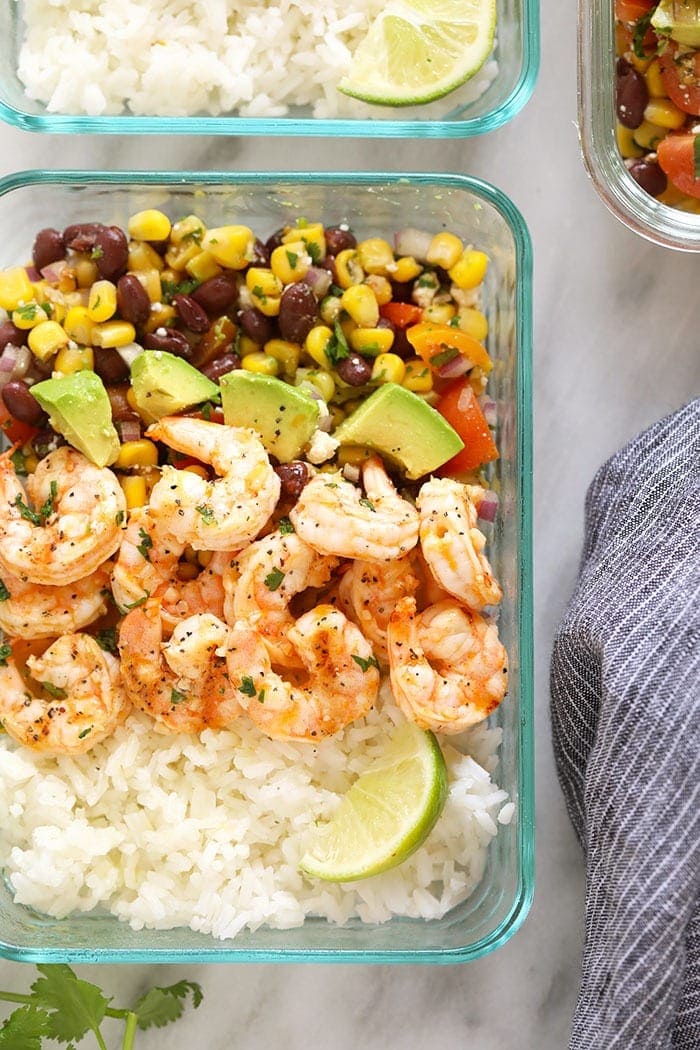 What to Serve with Meal Prep Shrimp
This meal prep shrimp is served with white rice but you can change it up and serve the shrimp with cilantro lime brown rice, quinoa, or cauliflower rice!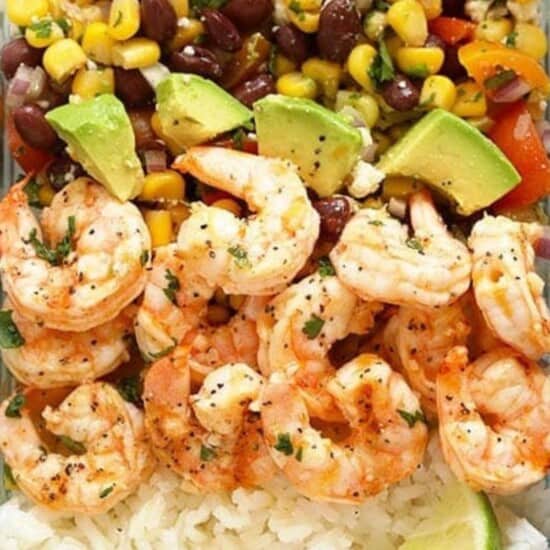 Shrimp Meal Prep
This meal prep shrimp is flavorful because it's marinated, grilled, and served with a delicious corn salad.
Ingredients
Shrimp
1-1.5

lbs

jumbo shrimp

peeled and deveined

3

tablespoons

lemon juice

separated

2

tablespoons

Worcestershire sauce

4

cloves

garlic

minced

1

teaspoon

dijon mustard

1/2

tablespoon

honey

1/4

teaspoon

salt

1/4

teaspoon

pepper

1/4

teaspoon

red pepper flakes

¼

cup

olive oil

separated

¼

cup

chopped cilantro
Black Bean and Corn Salad
2

cups

sweet corn

canned or frozen

15

oz.

black beans

drained and rinsed

1/2

medium red onion minced

~1/2 cup

1.5

cup

cherry tomatoes diced

1/4

cup

fresh cilantro

1/3

cup

cotija cheese crumbles

1

tablespoon

minced jalapeno

optional

2-3

tablespoons

lime juice

1

teaspoon

sea salt

1/2

tablespoon

apple cider vinegar
Instructions
Begin by preparing the marinade. Add 2 tablespoons lemon juice, Worcestershire, garlic, dijon mustard, honey, salt, pepper, and red pepper flakes into a large bowl. Whisk the marinade together.

Drizzle 2 tablespoons of olive oil into the marinade while whisking until all the ingredients are combined.

Add the shrimp to the marinade and toss to coat the shrimp in the marinade.

Place the shrimp into the refrigerator and let the shrimp sit for 30 minutes to 1 hour, but no longer. If the shrimp sits in the marinade for longer than 1 hour the shrimp may begin to cook in the lemon juice.

While the shrimp is marinating, prepare the corn and black bean salad.

Place all ingredients for the salad into a large bowl and mix until combined.

Season with more lime juice and salt, to taste. Refrigerate until the shrimp are ready.

Preheat the grill to 400ºF.

Remove the shrimp from the marinade and slide 4-5 shrimp onto a skewer. Be sure to skewer the thick part of the shrimp and the tail. Repeat until all shrimp are skewered.

When the grill reaches 400ºF place shrimp skewers on the grill over direct heat. Grill for 1-2 minutes on each side. Once the shrimp have turned pink in color, you know they are done cooking!

Remove the shrimp from the skewers and place them in a bowl. Drizzle on the rest of the olive oil and lemon juice over the shrimp and toss with the chopped cilantro.

Evenly distritubte the rice, salad, and shrimp to 4-6 meal prep containers. Let the shrimp cool compltely before covering and placing the containers in the refrigerator.
Nutrition facts
Calories:
362
kcal
Carbohydrates:
54
g
Protein:
22
g
Fat:
10
g
Fiber:
6
g
Sugar:
5
g