Learn how to cook bacon on the stove for a quick, no-fail way to make bacon! Your morning bacon will come out perfectly every time.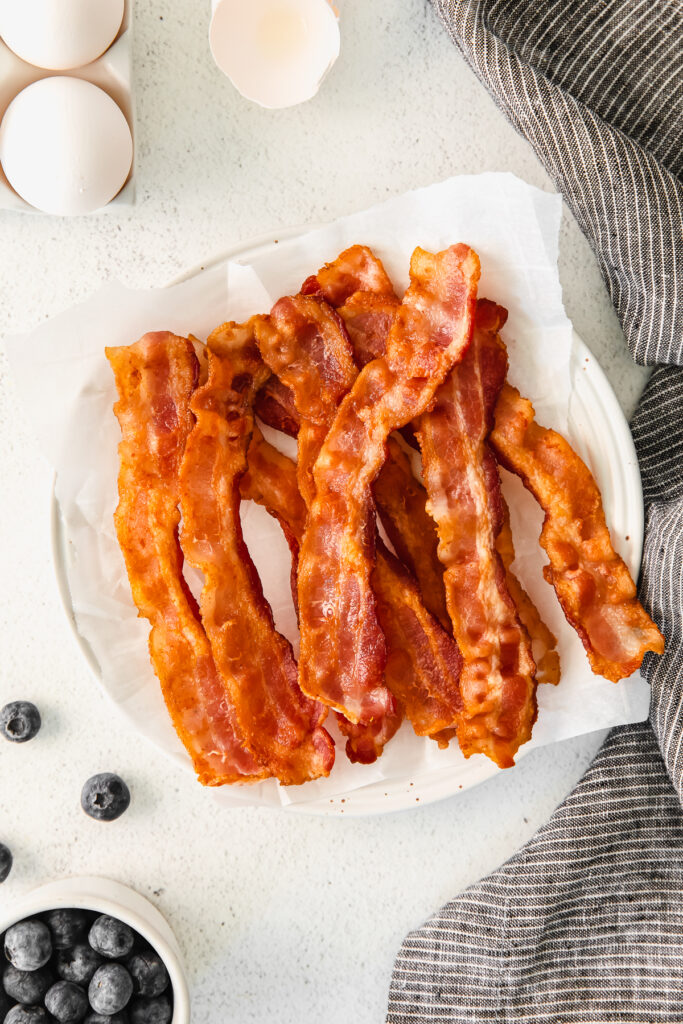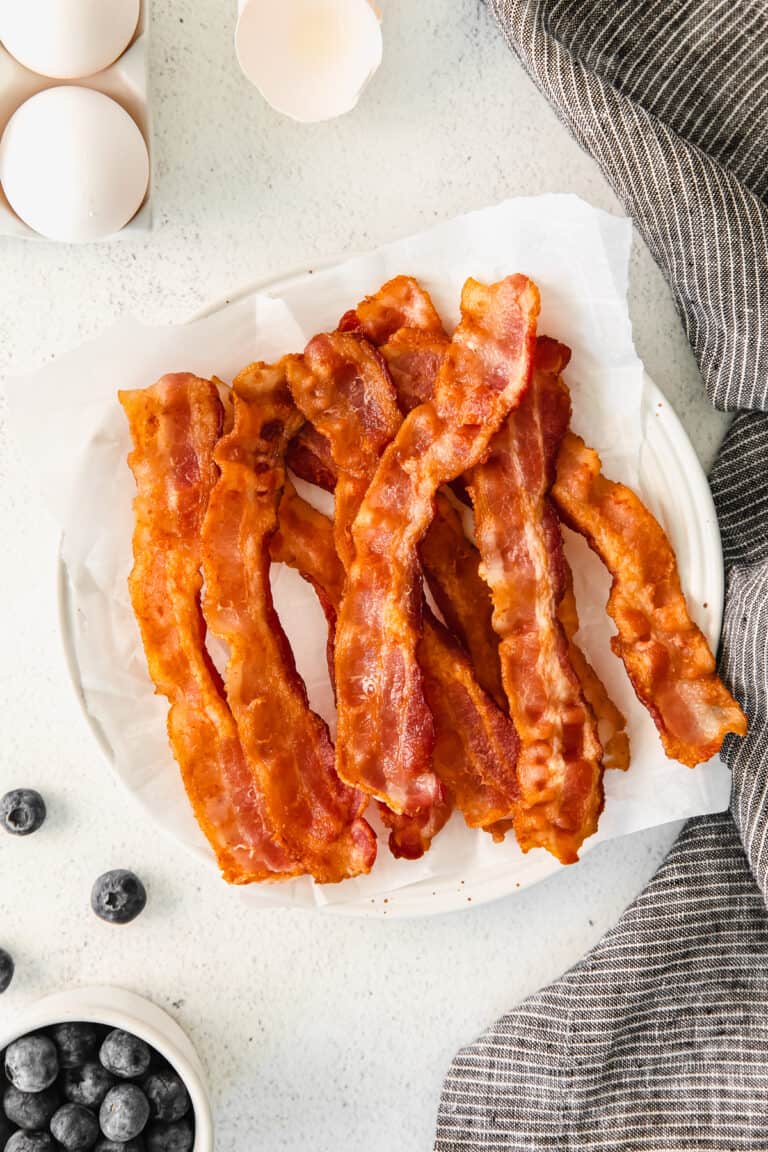 Perfect Bacon Every Time
Good morning bacon lovers! Today we're completing your prefect with perfectly cooked bacon all thanks to this how-to-cook bacon tutorial.
Is there really anything better than bacon, eggs, and a stack of pancakes? I think not. We often eat this not only for breakfast but for brinner too.
You guys loved our Bacon in the Oven post (super simple and easy cleanup), but stovetop bacon is actually the way I was taught to make it growing up, so I figured Fit Foodie Finds needed a tutorial.
It might not have as easy of a clean-up, but it's faster and I love how crispy the edges of bacon get.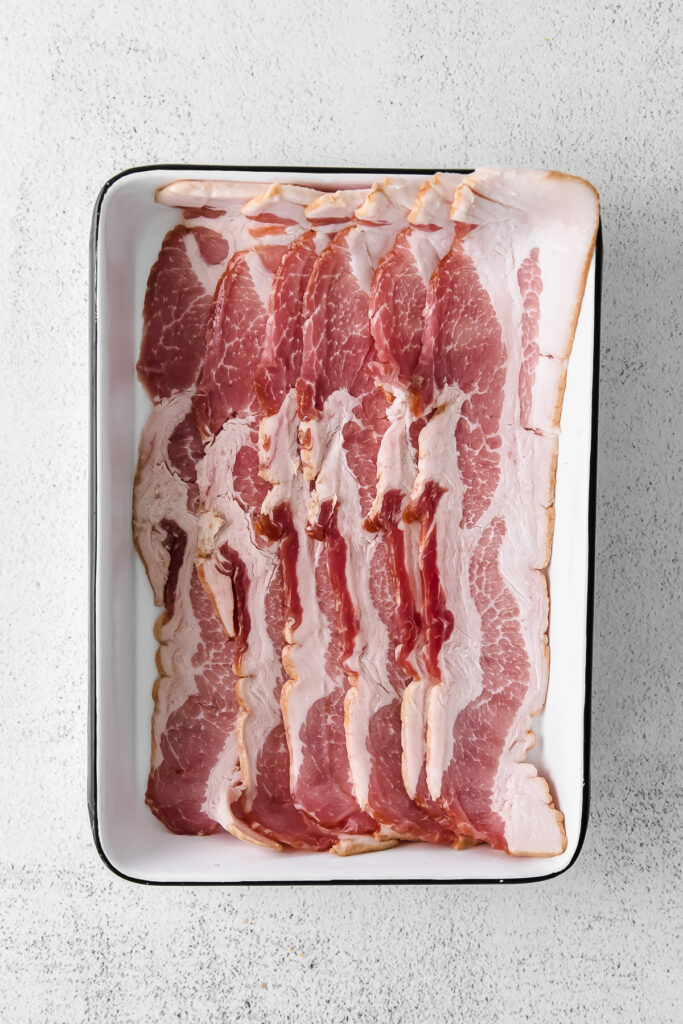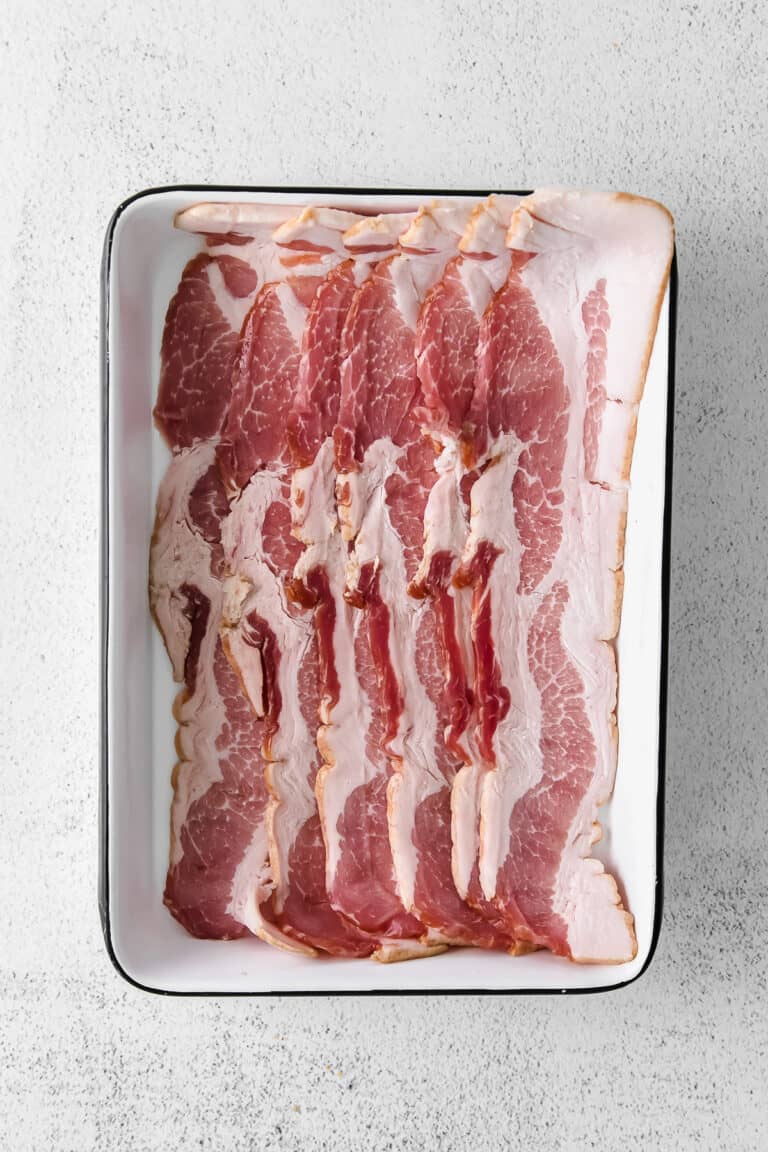 What You Need for Stovetop Bacon
You only need 1 ingredient to get started along with a few kitchen tools to make perfectly cooked bacon on the stove.
Bacon
The only ingredient necessary for this recipe is BACON. Technically, any kind of bacon will work (pork, turkey, thin-cut, thick-cut, etc.), but we recommend buying regular-cut pork bacon.
When possible, we recommend buying high-quality organic bacon. We promise it will cook and taste better.
Frying Pan
A basic frying pan will do when using the pan fry bacon method. In these photos, we're using our favorite nonstick pan called the Always Pan. We like using a nonstick pan because it makes for easy cleanup.
You're more than welcome to use a cast iron pan (we've done this countless times) as well since that weathers really well with bacon grease.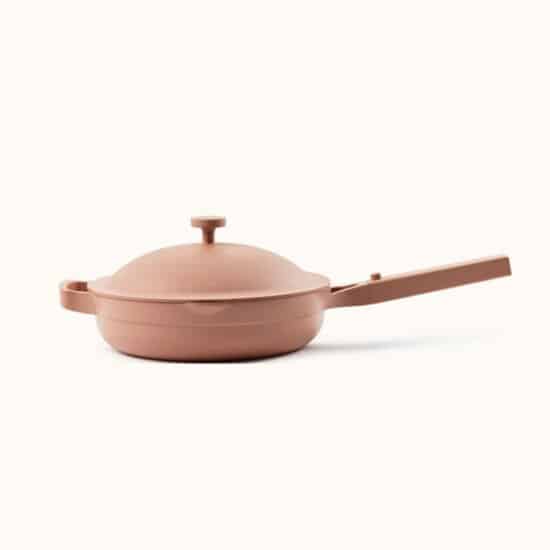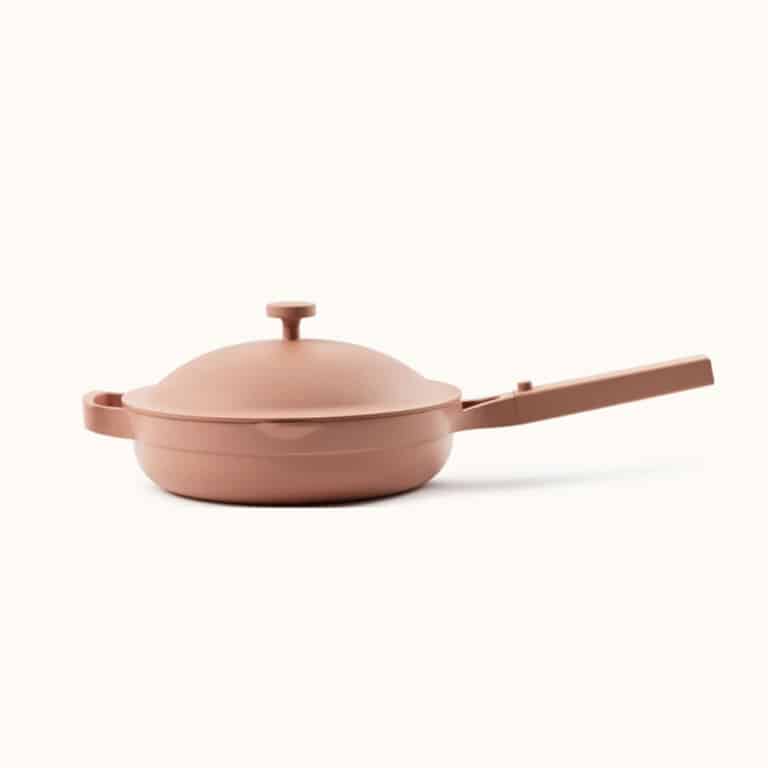 Try it!
Always Pan
The Always Pan is our favorite pan for sauteing, steaming, frying, and simmering. It's a nonstick pan that we highly recommend.
Buy now!
Paper Towel-Lined Plate
A paper towel-lined plate is important for letting the bacon rest a little after cooking and for soaking up that extra bacon grease.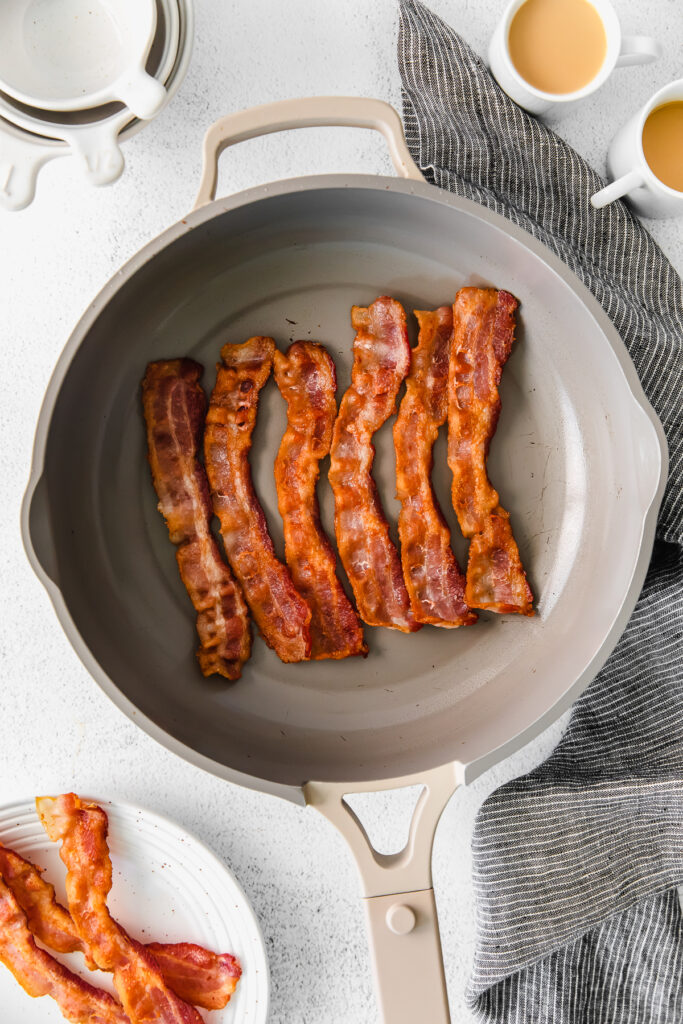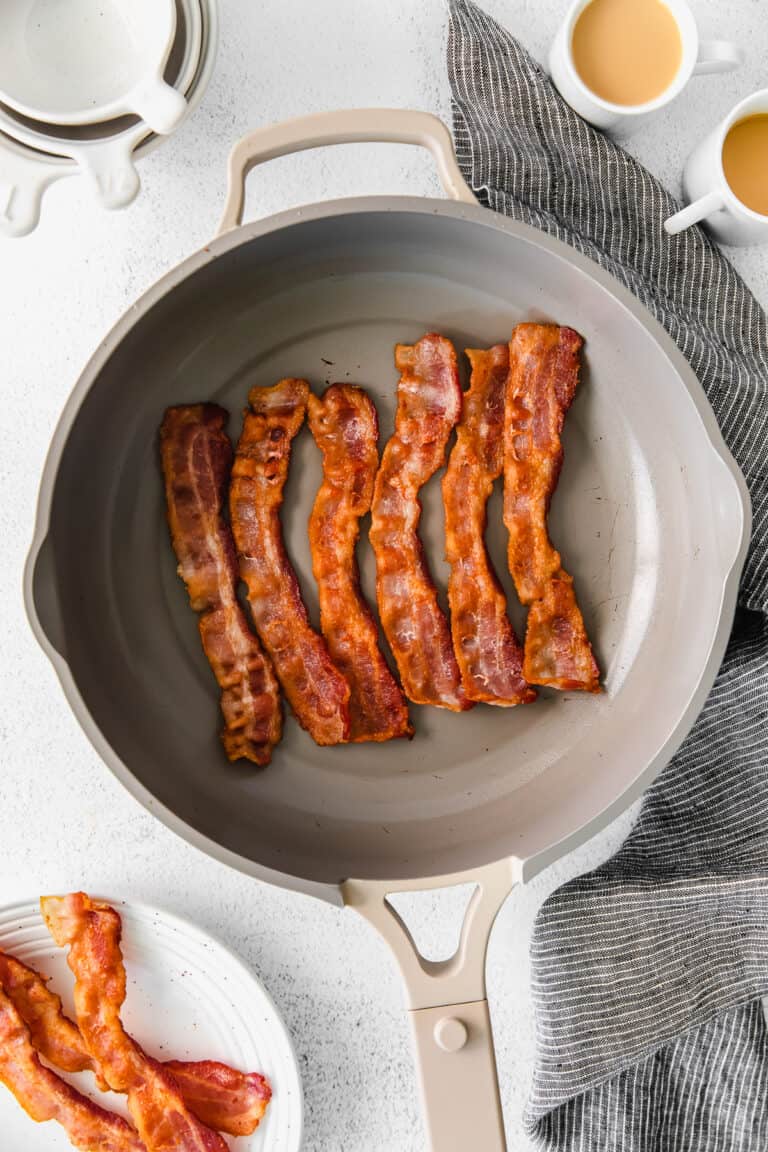 How to Fry Bacon (step-by-step)
Preheat skillet: preheat a large nonstick skillet over medium/high eat.
Cook bacon in pan: palce 5-6 pieces of bacon in your pan, making sure they are not overlapping. Then, cook for: 4-5 minutes for a perfectly cooked piece of bacon, 2-3 minutes for rubbery bacon, or 5-6 minutes for a crispy piece of bacon.
Flip: flip the bacon over and let cook for around 4-5 more minutes or until firm to touch and darker in color. Be sure not to over cook your bacon or it might burn.
Let rest: transfer the cooked bacon to the paper towel-lined plate and let rest for 5 minutes.
Repeat: repeat untill all of your bacon has been cooked.
What to do with leftover bacon grease
Got leftover bacon grease? Us too! We suggest transferring your bacon grease into a Mason jar while it's still liquid. Whatever you do, do not pour it down your sink or you will risk coagulation.
We love using leftover bacon grease in place of butter or oil in baked goods and savory recipes. It adds so much flavor to whatever you are cooking. Try this trick in any of the following: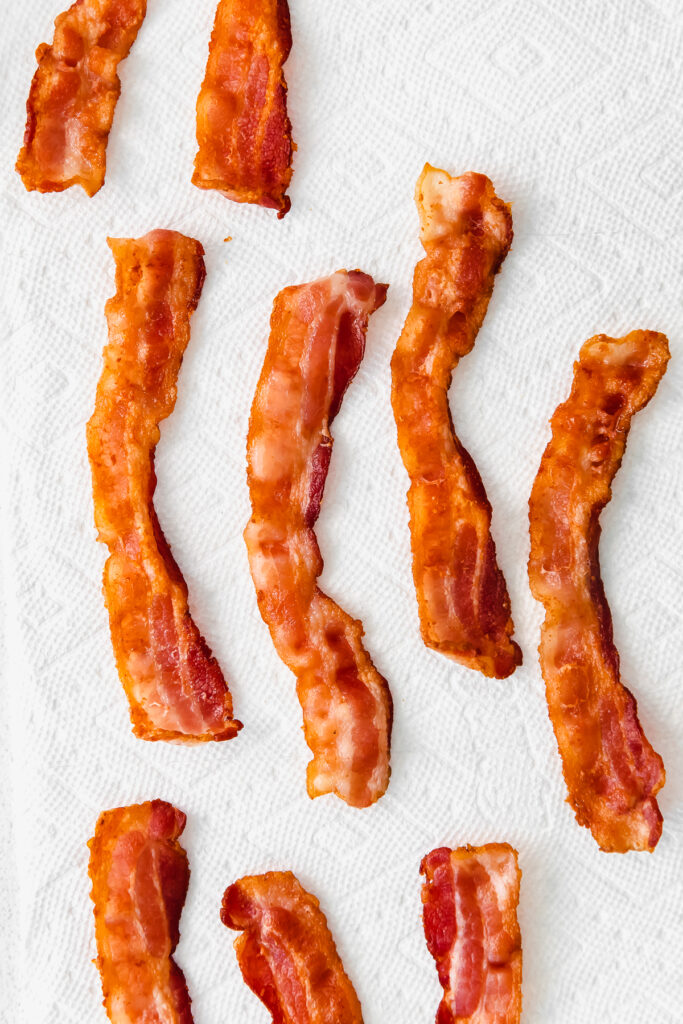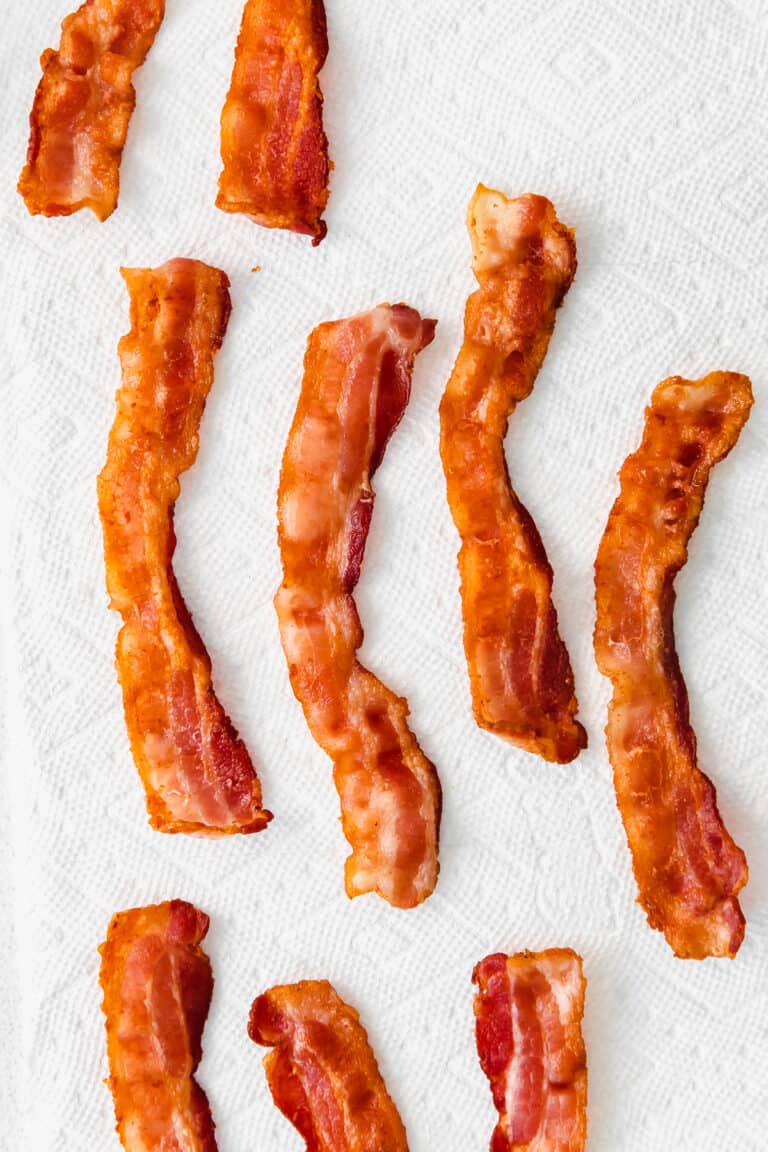 Serving Suggetions
The Best Breakfast Potatoes: These are the best breakfast potatoes you will ever eat. Perfectly cooked on the inside and crunchy on the outside. Make a big batch of breakfast potatoes and enjoy!
Hard-Boiled Eggs: Are you ready to get PERFECT hard-boiled eggs every single time? This hard-boiled eggs recipe is foolproof and will get you the exact kind of yolk you want!
Sheet-Pan Pancakes: Take the ease out of making pancakes with this Sheet Pan Pancakes recipe. Instead of pour, flip, and repeat, bake your pancake batter in a sheet pan for a hands-off breakfast that serves a crowd!
FAQ
How long to cook bacon on stove?

Regular-cut bacon will take around 10 minutes on the stove – 4-5 minutes per side.
Can you freeze cooked bacon?

To freeze cooked bacon, let it cool completely. Then, transfer it into an airtight container and remove as much air as possible. Then, freeze for up to 3 months.
What is the best kind of bacon for frying?

The best kind of baking for frying is regular-cut pork bacon.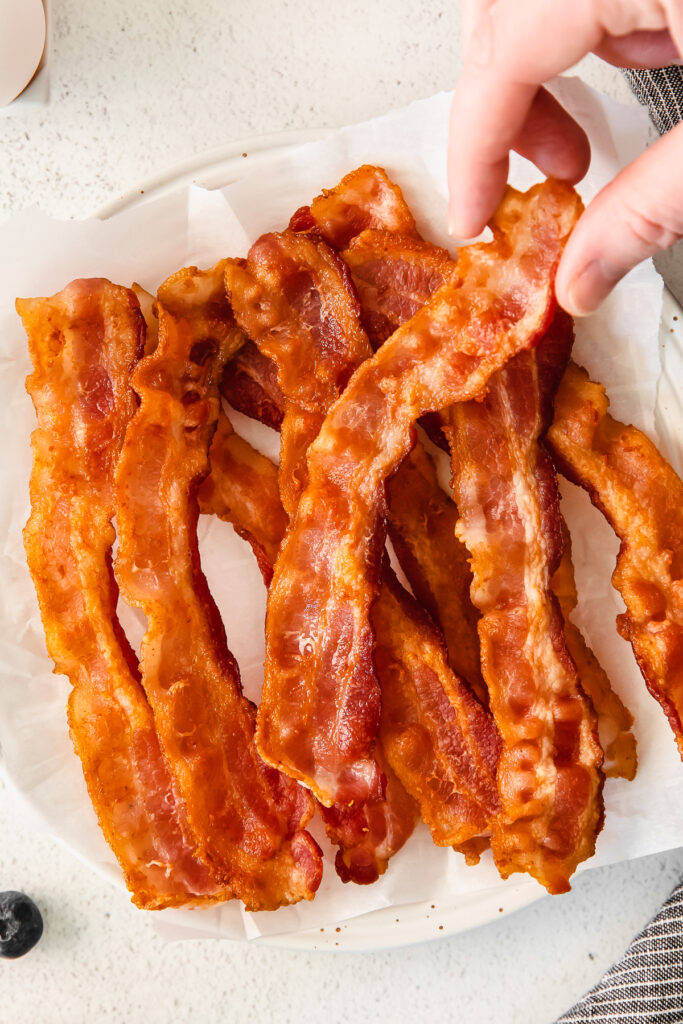 Serving a Crowd – Make Curly Bacon!
Ever need to cook bacon for a large number of people in a short amount of time? We have a secret trick that will allow you to cook an entire lb. of bacon at once very quickly. We call this method – Curly Bacon.
Line a large plate with a piece of paper towel. Set aside.
Heat a large skillet pan over medium/high heat.
Separate 1-lb. Regular cut bacon, and place all the slices into the skillet. It does not matter if the bacon slices overlap or fold over each other.
Saute bacon slices, stirring constantly with a wooden spoon or spatula for 10-15 minutes, depending on how crispy you prefer your bacon. The bacon will begin to curl as it cooks.
Place the cooked bacon on the lined plate.
Enjoy alone or with breakfast favorites.
Storage
Let bacon cool. Then, transfer it into an airtight container. Store in the fridge for up to 5 days.
To reheat: either reheat on the stovetop over medium heat or in the microwave on high for 30 seconds.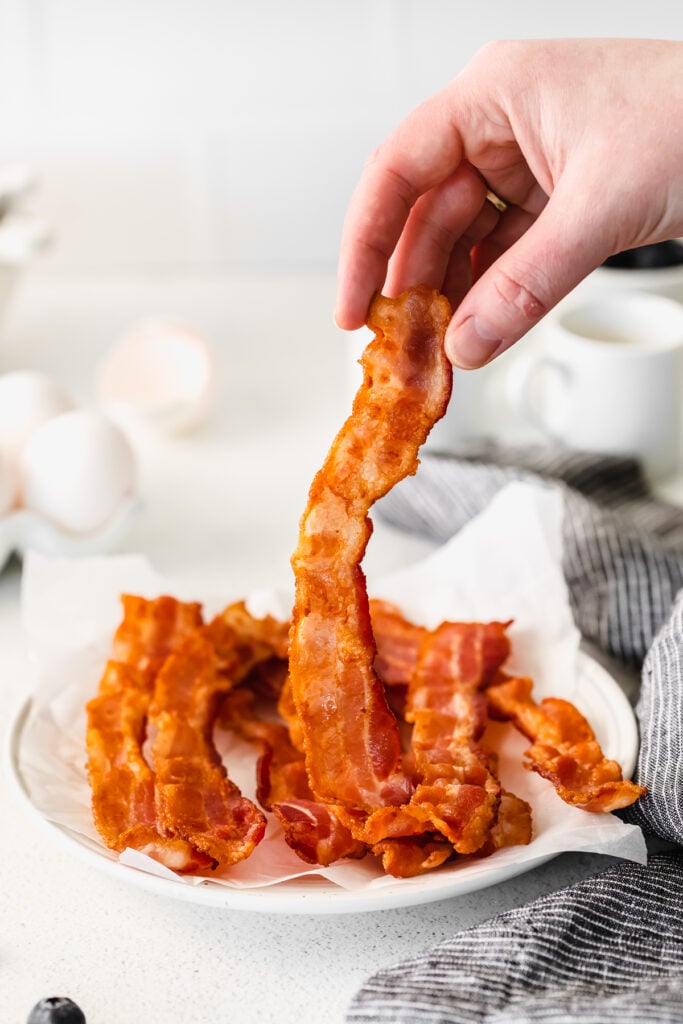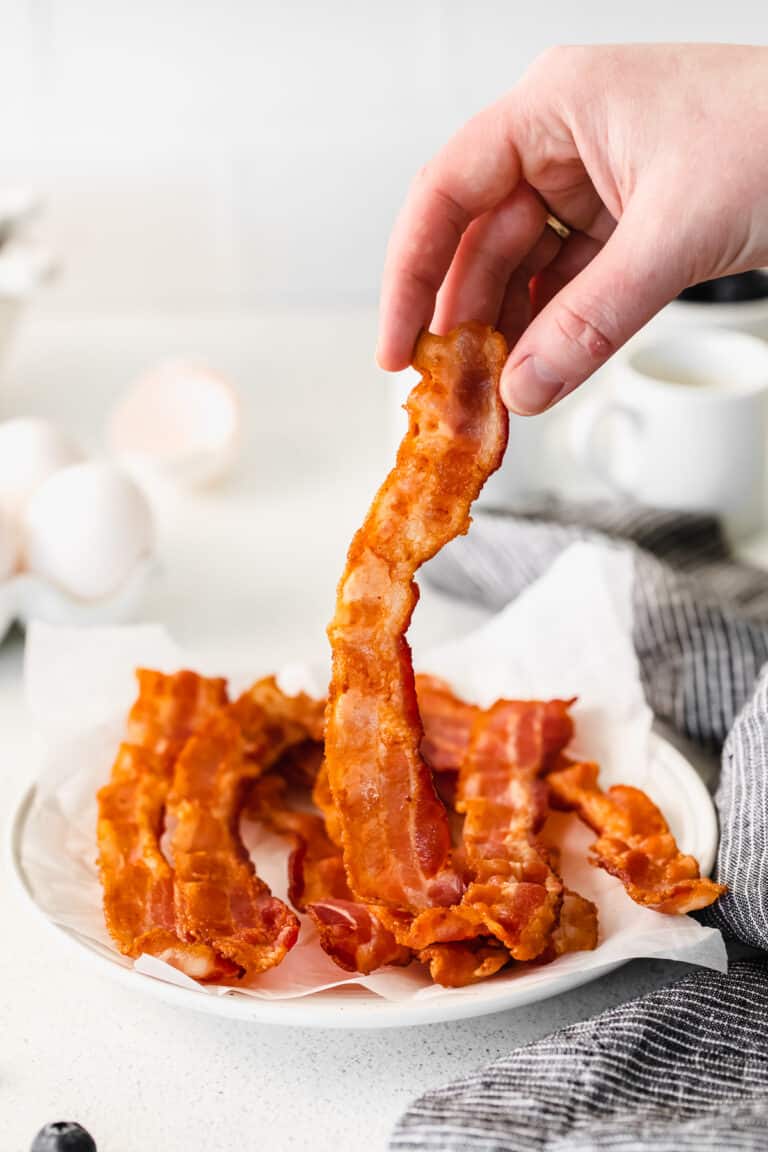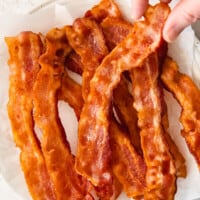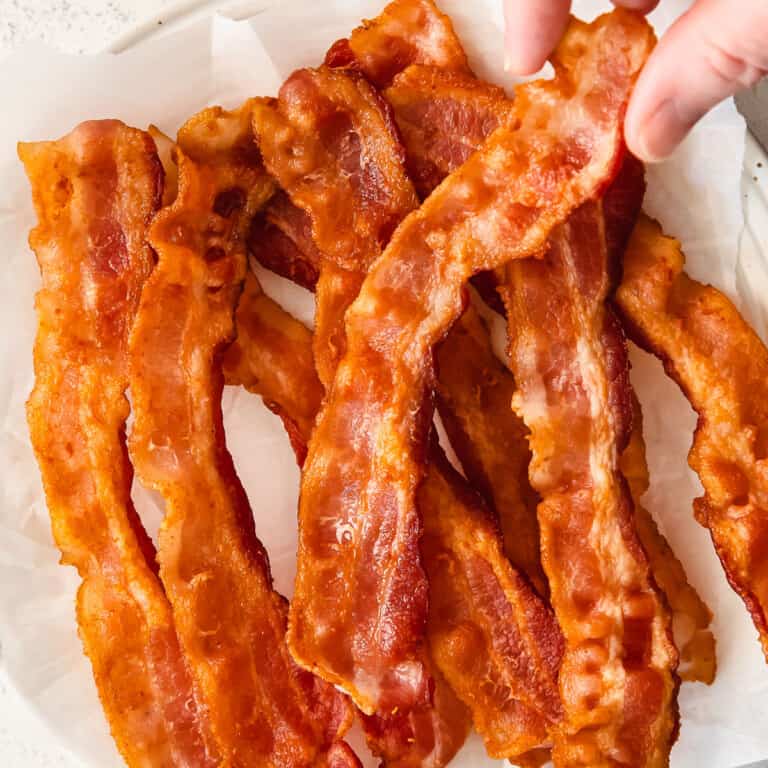 How to Cook Bacon on the Stove
Looking to make classic stovetop bacon? Here's a simple tutorial on how to cook bacon on the stove using just 1 ingredient – bacon!
Instructions
Line a large plate with a piece of paper towel. Set aside. 

Heat a large skillet pan over medium/high heat. 

Lay 5 or 6 pieces of bacon into the pan (or more if your pan allows). Be sure the bacon does not overlap in the pan. The bacon will cook more consistently if they do not overlap. 

Cook the bacon for 4-5 minutes on each side for a perfectly cooked piece of bacon (not too rubbery and not too crispy.

For a rubbery piece of bacon, cook for 2-3 minutes on each side. For a crispy piece of bacon, cook for 5-6 minutes on each side. Repeat until all of the bacon is cooked. You may have to wipe out the skillet in between batches to avoid burning bits. 

Place the cooked bacon on the lined plate.  

Enjoy alone or with other breakfast favorites. 
Tips & Notes
If you are using thin or thick-cut bacon, make sure to adjust your cook-time so that you do not burn your bacon.
Nutrition facts
Calories:
265
kcal
Carbohydrates:
1
g
Protein:
19
g
Fat:
20
g
Fiber:
0
g
Sugar:
0
g