The most flavorful Instant Pot Chicken Noodle Soup made with tons of veggies, tender chicken, egg noodles, and an incredibly tasty broth!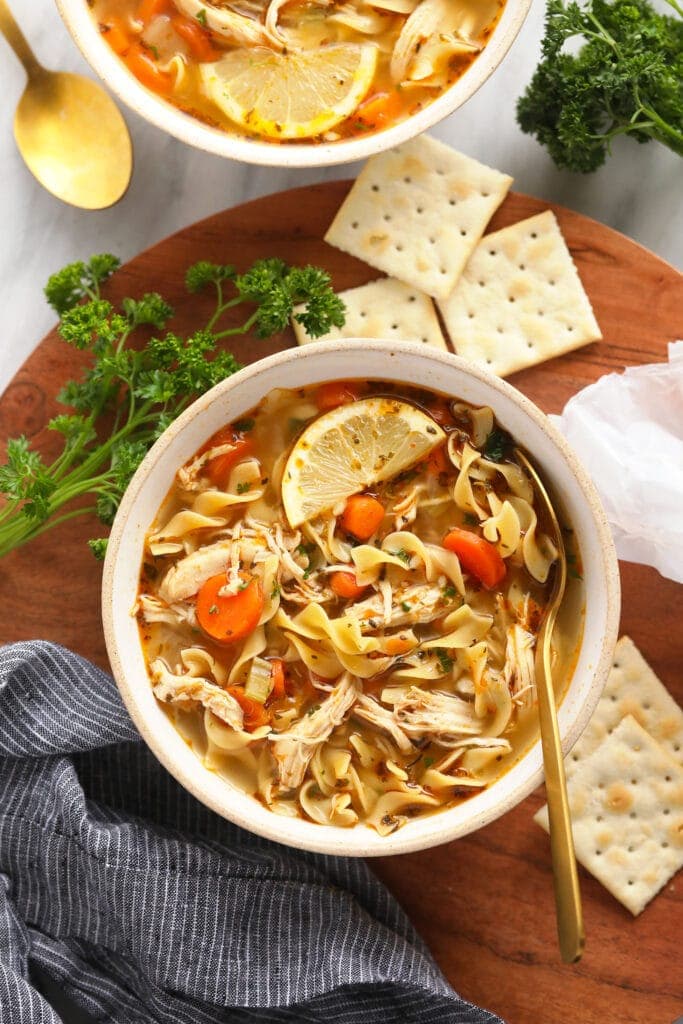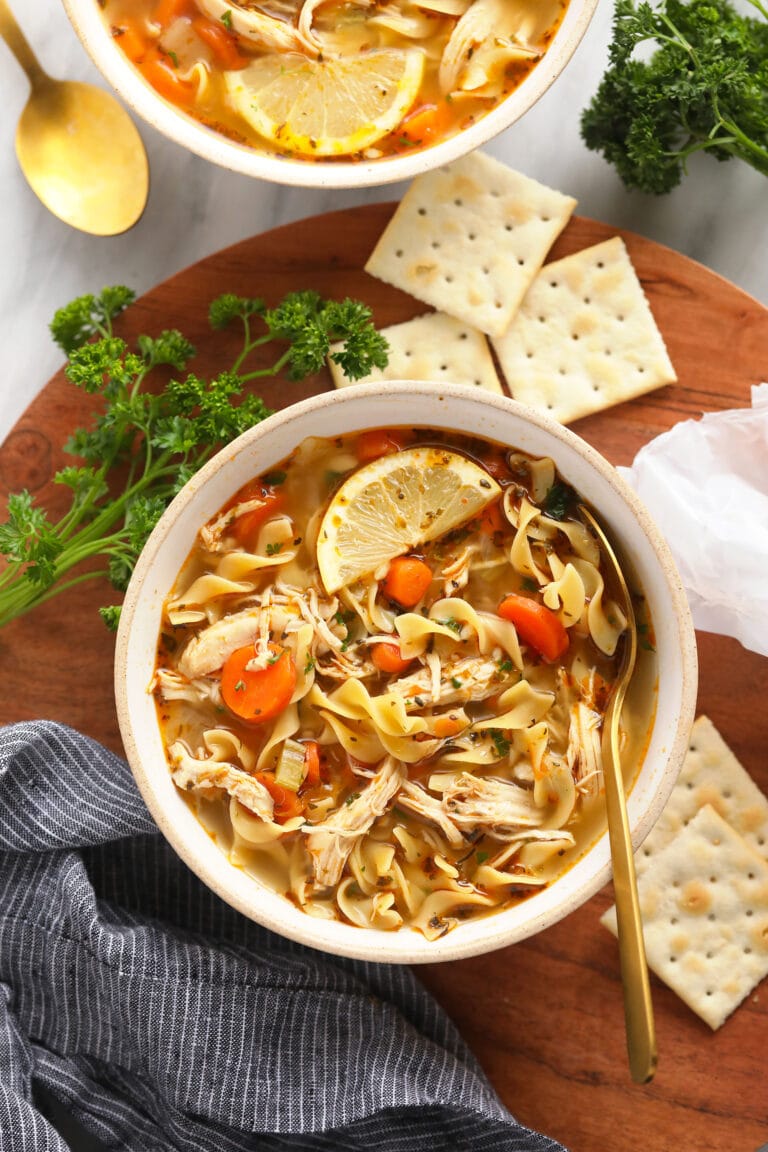 We are huge fans of making soup in the Instant Pot because it's so fast! This Instant Pot Chicken Noodle Soup is made in a fraction of the amount of time that it takes to make Crockpot Chicken Noodle Soup, but it's equally as good.
Seriously there's nothing better than serving your family warm, flavorful bowls of chicken noodle soup. It soothes the soul, is filling, and provides your family with a balanced meal of protein, veggies, and carbohydrates.
Best Instant Pot Chicken Noodle Soup
We might be biased, but this Instant Pot Chicken Soup is truly the best.
So Flavorful – there's nothing worse than a chicken noodle soup recipe that lacks a flavorful broth. I can tell you right now, that this Instant Pot Chicken Noodle Soup recipe is a 10/10 flavor-wise and a lot has to do with the broth.
It's made with both ground and whole/dried spices, lemon, and even a little hot sauce for some zing.
Quick-Release – we're just like you when scouring recipes from the internet. The quicker the better! That's why, when developing recipes using the Instant Pot (or pressure cooker) we really try to perfect them WITHOUT a natural release.
Natural release adds more cook time to your meal and ain't nobody got time for that!
Healthy Dinner Idea – at the end of the day, we love making our own Chicken Noodle Soup in Instant Pot because you can control what goes in it. You can control how much salt is added, what it's flavored with, and the veggie to chicken to noodle ratio!
Is chicken noodle soup healthy?
The healthiest kind of chicken noodle soup is homemade! This Homemade Instant Pot Chicken Noodle Soup packs in tons of veggies, monitors the amount of sodium, and has no additives!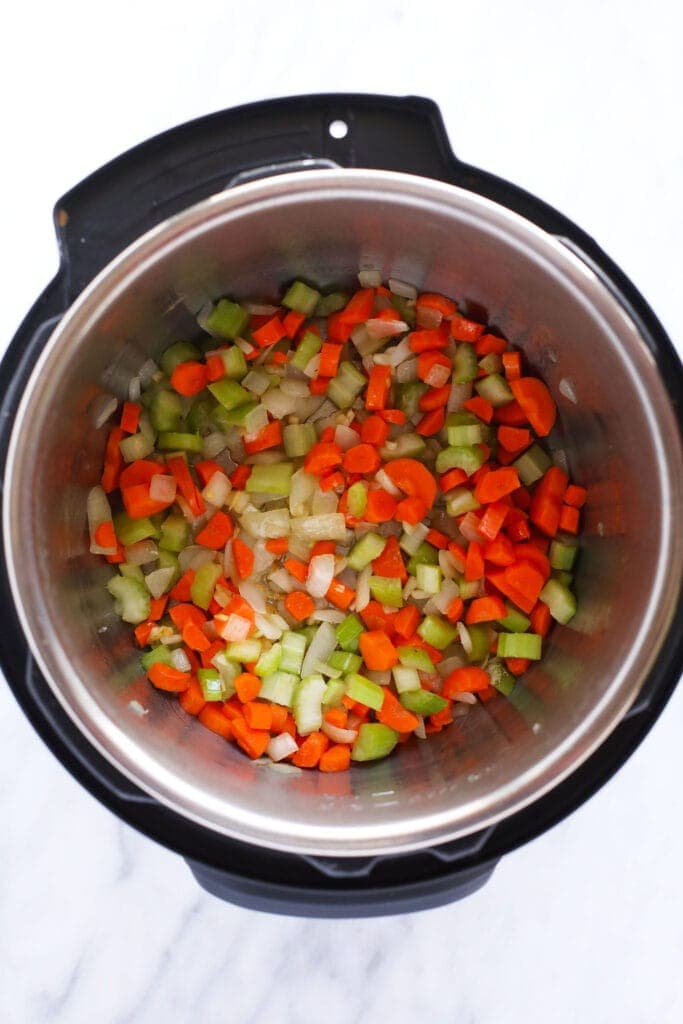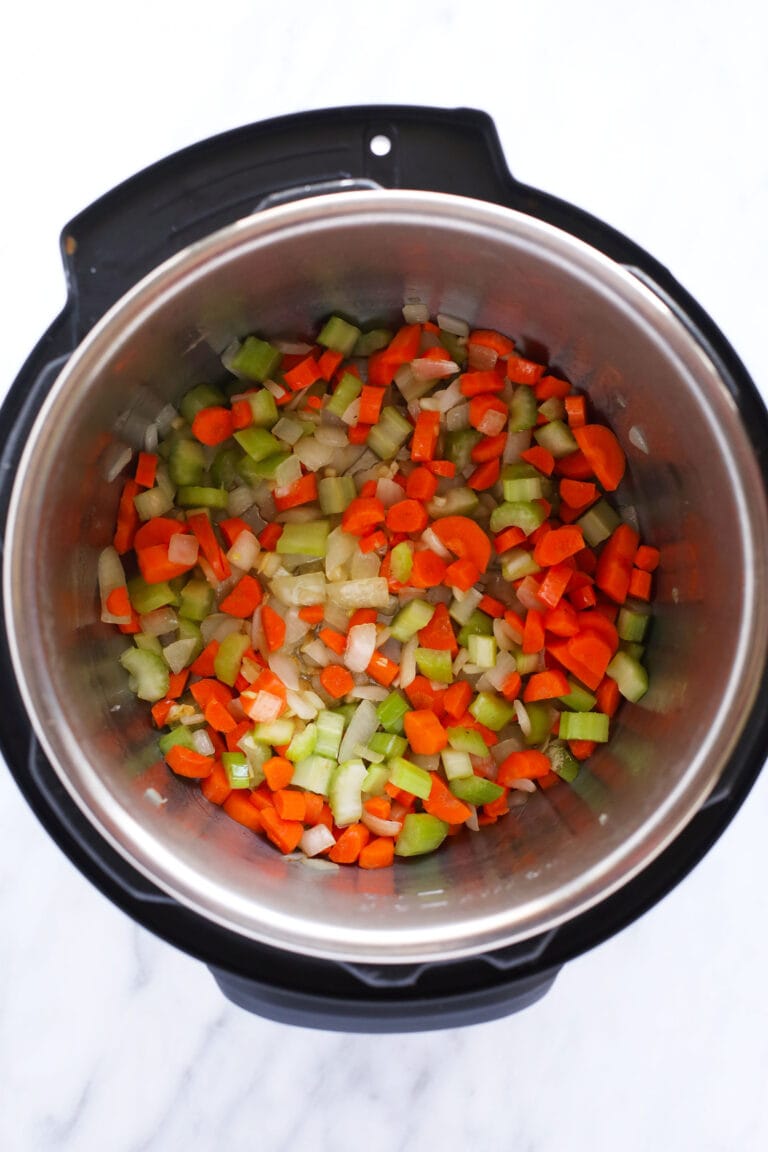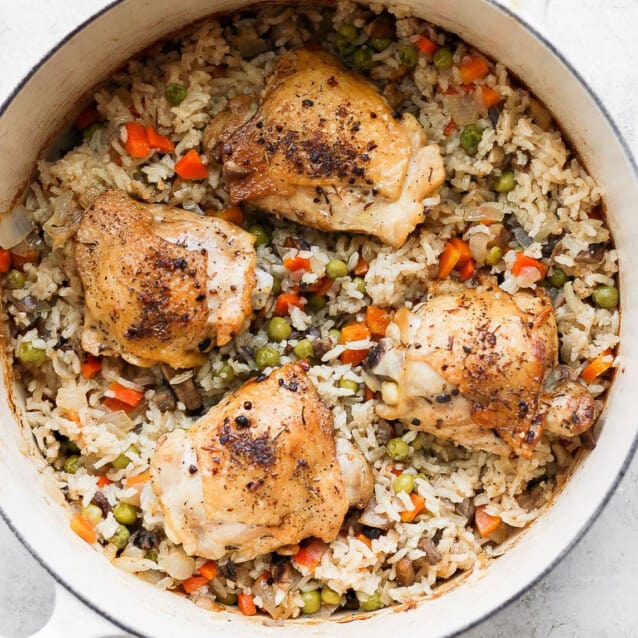 Become a Pro at Cooking Chicken!
We'll teach you everything you need to know on how to cook chicken perfectly every time + we'll share our top chicken recipes when you subscribe to our emails today!
What You Need
This Instant Pot Chicken Noodle Soup is a spin-off recipe of our Slow Cooker Chicken Noodle Soup. It's pretty similar, just a different cooking method. Here's what you need:
Chicken Breast – this recipe calls for 1.5 lbs. boneless skinless chicken breast. Feel free to swap your chicken breasts 1:1 for boneless, skinless chicken thighs if that's what you have on hand.
Veggies – what makes our chicken noodle soups a little different is that we like to pack in the veggies! This recipe calls for carrots, onion, and celery.
Chicken Broth – make sure to use classic chicken broth and NOT reduced-sodium or you'll end up adding more salt at the end.
Spices and Herbs – we are allll about using a combination of spices and fresh herbs. This is what's really going to give your broth tons of flavor! Don't skimp.
Hot Sauce/Vinegar – all you need is a little to really enhance the flavors of your broth.
Egg Noodles – while you can use any kind of noodle in Instant Pot Chicken Noodle Soup, egg noodles are truly the best because you put them in right at the end and they steam to cook!
Lemon Juice – lemon juice makes this recipe the ultimate "sick soup." Citrus is key in a tasty broth.
#1 Secret Ingredient for Chicken Noodle Soup
Secret's out…we're sharing the #1 ingredient that makes this IP Chicken Noodle Soup truly the best. Are you ready?
HOT SAUCE.
Or vinegar!
A vinegar-based hot sauce or normal vinegar like apple cider vinegar really balances out all the other flavors in your soup. If you taste your soup and realize it's missing something, but it's not salt or garlic…it's likely a little bit of vinegar.
Swap: If you don't like spicy, we recommend using apple cider vinegar or white vinegar 1:1.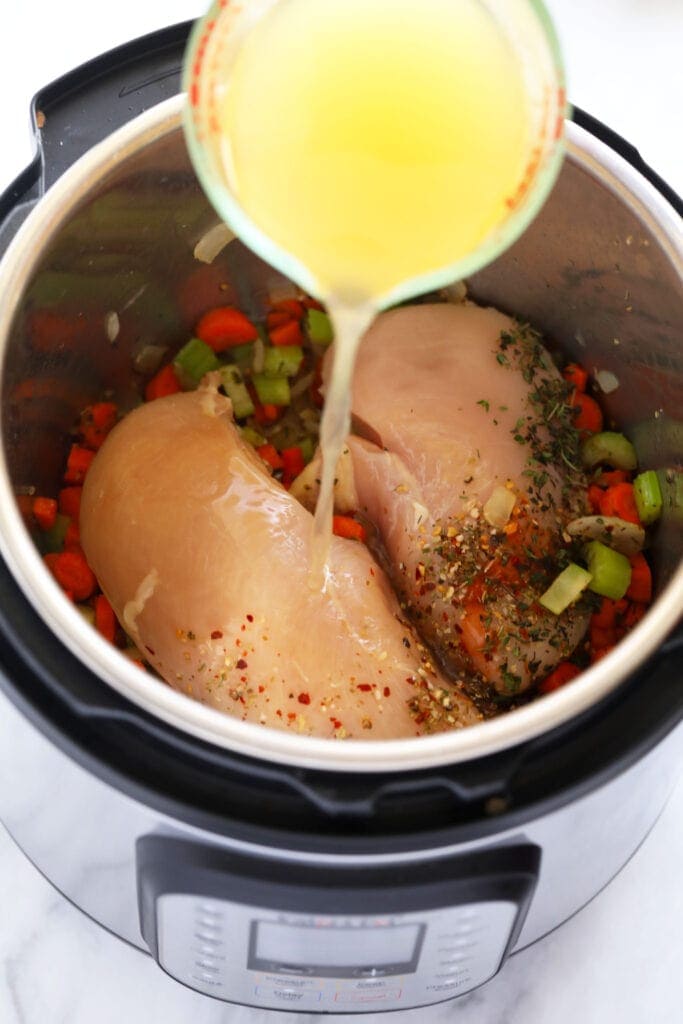 Quick Guide Instructions
Saute Veggies: Use the Instant Pot's sauté feature to quickly saute onion, celery, and carrots in olive oil. This not only preps your veggies, but also helps heat up the Instant Pot to reduce the pressure build time.
Add Rest of Ingredients: add broth, spices, herbs, and the rest of the ingredients to your instant Pot and mix. Make sure the chicken is submerged in the liquid.
Pressure Cook: close the Instant Pot and turn the valve to seal. Cook on high pressure for 8 minutes. Do note that it will take around 10 minutes for your Instant Pot to fully pressurize before it starts to count down from 10.
Quick Release Pressure: when the timer goes off, quick release your Instant Pot to "venting" to let the remaining pressure out. Lots of hot steam will pour out, so be careful you don't burn yourself.
Cook Noodles & Shred Chicken: remove the lid and then remove the chicken breast. Then, turn on the Instant Pot's saute feature to bring soup to a boil. Use 2 forks to carefully shred the chicken breast and then add the shredded chicken back into the soup. Once the soup is boiling, add egg noodles and mix. Cover and turn off the saute feature and let noodles cook for 4-6 minutes.
Stir & Eat: Finally add fresh lemon, stir, and enjoy!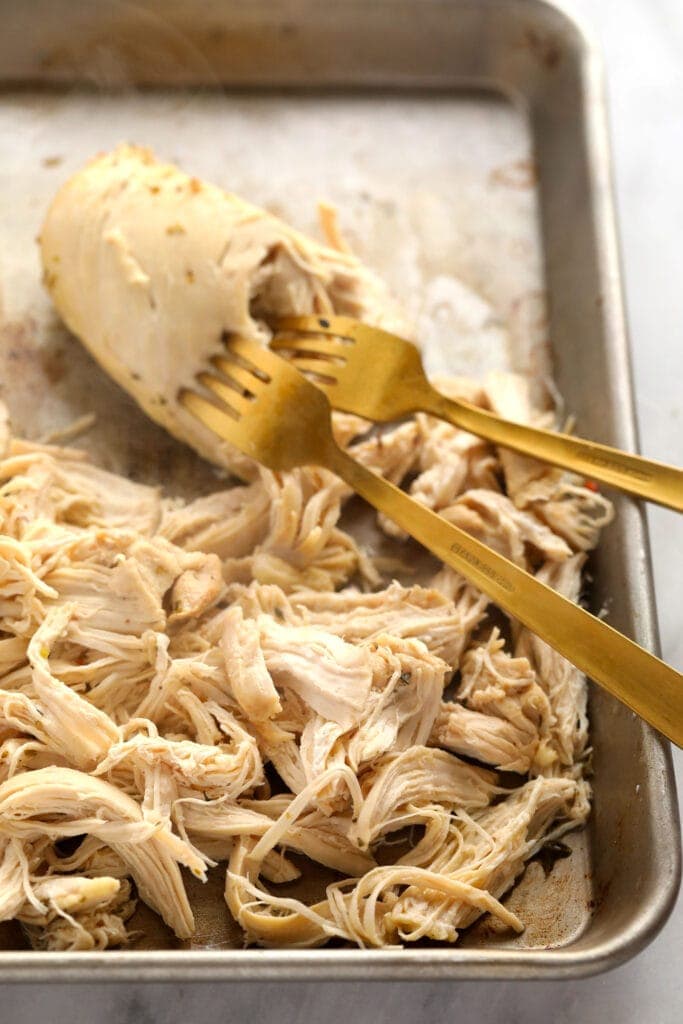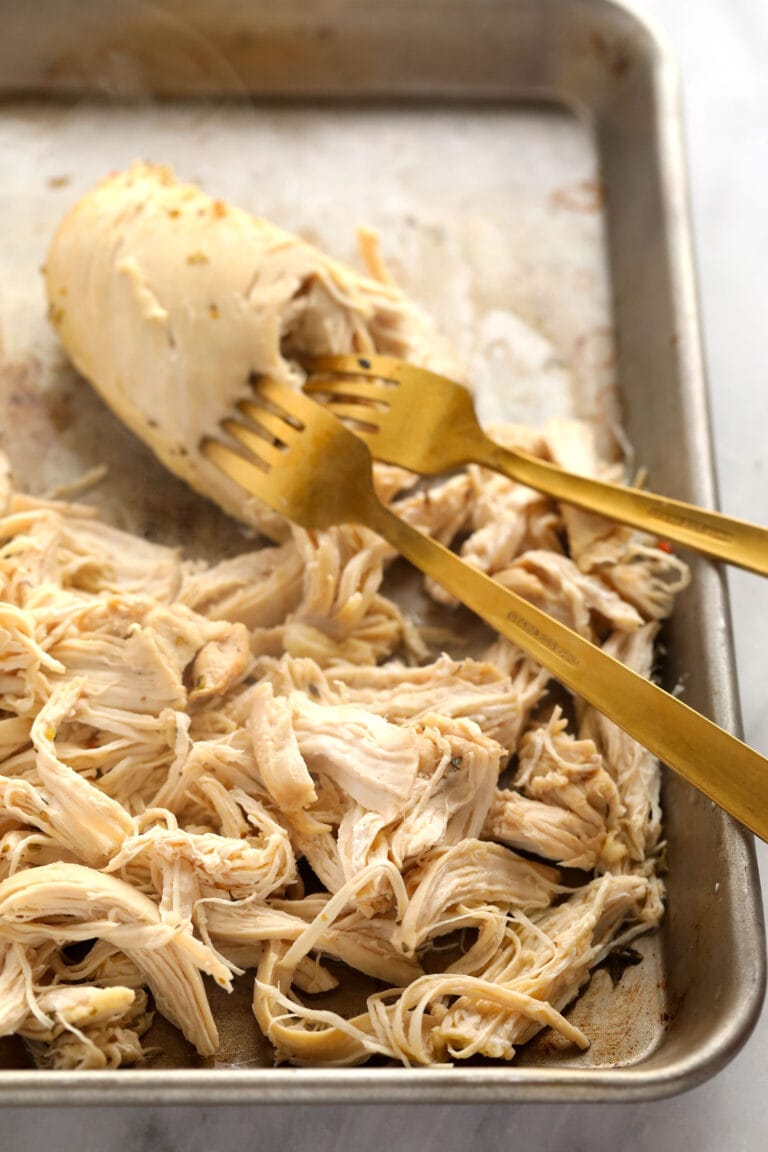 How do you add flavor to chicken noodle soup?
Adding flavor to chicken noodle soup is quite simple. Here are some of our favorite ways to do so.
Citrus: adding a little fresh lemon juice to your soup after it's done cooking will really brighten things up.
Hot Sauce: not only does hot sauce add a little spice, but it adds vinegar, which is our #1 secret ingredient for Instant Pot Chicken Noodle Soup
Spices/Herbs: feel free to add more fresh or dried spices such as parsley or thyme.
Garlic: when in doubt, double the garlic 😛
What kind of onion do you use in chicken noodle soup?
You can use pretty much any kind of onion for chicken noodle soup. Yellow onion is most common, but white onion and red onion work too.
Is it better to cook noodles before adding to soup?
We recommend cooking your noodles before adding them to the soup for one reason. If you're planning to have leftovers of chicken noodle soup, we suggest storing your noodles separate from the soup itself so they don't get soggy. By cooking your noodles separately, you prevent this problem altogether!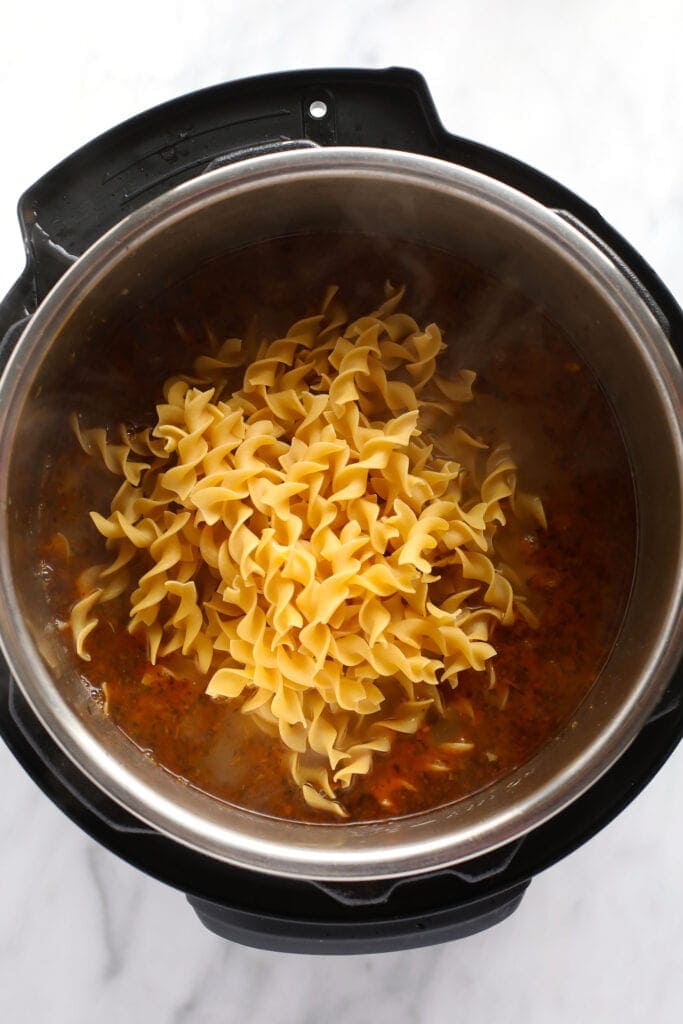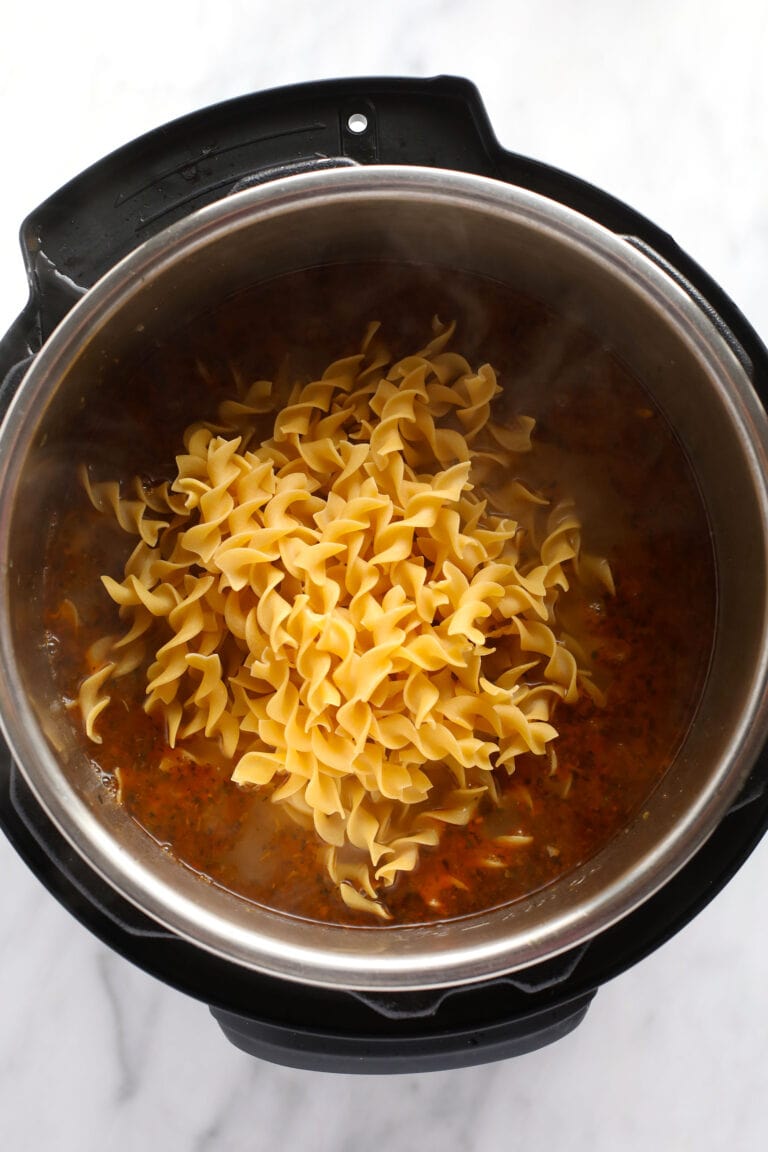 Topping Ideas
We love adding a little crunch to this chicken noodle soup recipe instant pot. Here are some ideas:
Saltine crackers
Gold fish
Popcorn
Tortilla chips
Oyester crackers
Storage Suggestion
Store Instant Pot Chicken Noodle Soup in an airtight container in the fridge for up to 3-5 days.
If possible, store chicken noodle soup SEPARATE from the cooked egg noodles so that the noodles don't get mushy.
How to Freeze Chicken Noodle Soup
Freezing chicken noodle soup is super simple. Make the soup as written in the recipe card, but DO NOT add the noodles. Your noodles will get soggy if you try and freeze/thaw them.
Let soup cool completely and then transfer it into a freezer-safe gallon size bag. Remove as much air as possible and then freeze for up to 3 months.
Follow our tutorial on How to Freeze Soup HERE.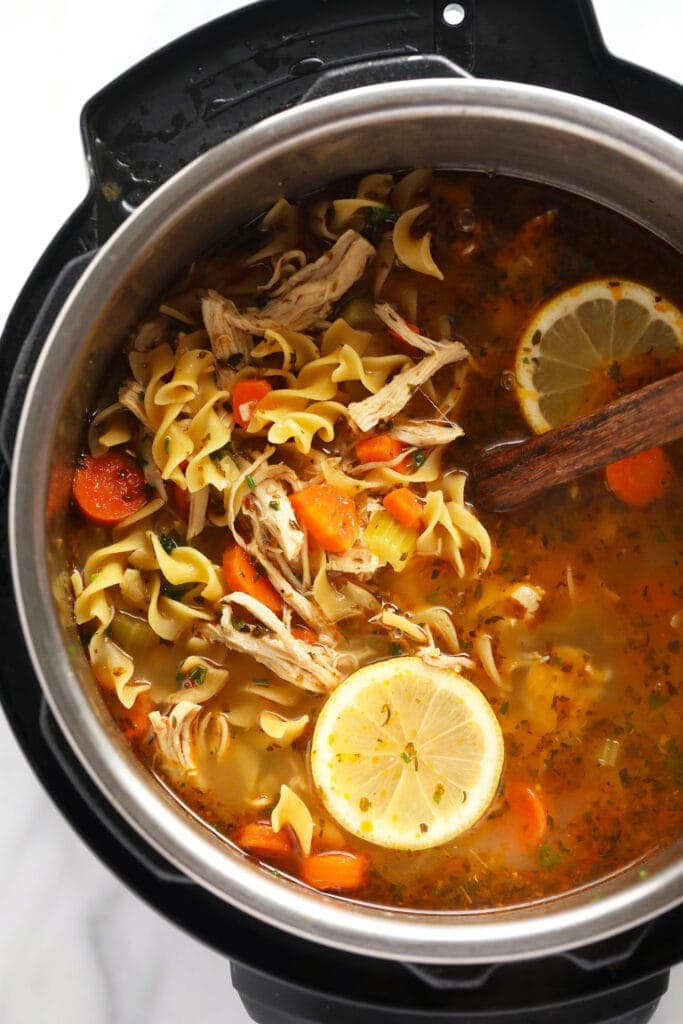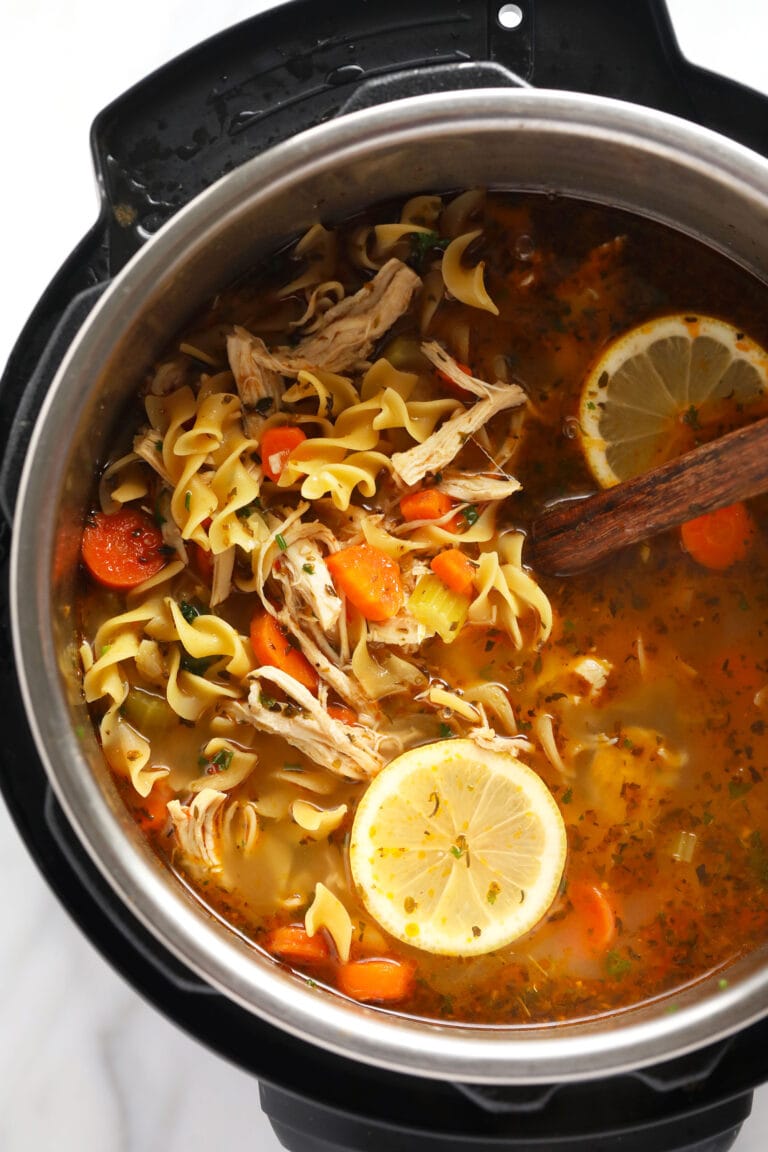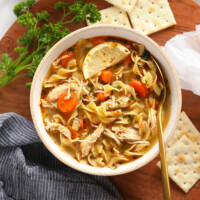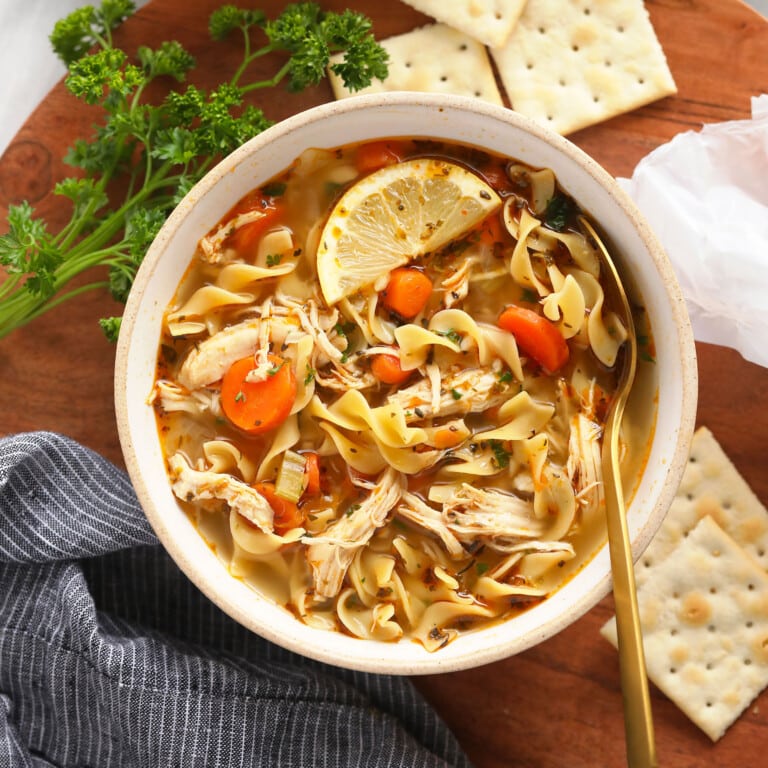 Instant Pot Chicken Noodle Soup
A bright and delicious Instant Pot Chicken Noodle Soup recipe that's ready in less than an hour. The broth is just delicious and it's packed with veggies!
Ingredients
2

tablespoons

olive oil

1

small yellow onion

finely diced

4

cloves

garlic

smashed and minced

6

medium carrots

peeled and chopped into half moons (1.5 cups)

4

large celery stalks

diced (1 cup)

8

cups

chicken broth

separated

2

teaspoons

Italian seasoning

1

teaspoon

dried minced garlic

1/4 - 1/2

teaspoon

red pepper flakes

or more, to taste

1

teaspoon

onion powder

1

tablespoon

Franks hot sauce

or white vinegar*

3/4

teaspoons

salt

separated (or more, to taste)

2

tablespoons

fresh thyme

minced

1.5

lbs.

boneless

skinless chicken breast

3

cups

egg noodles*

1.5

tablespoons

fresh lemon juice
Instructions
Turn on your Instant Pot's sauté feature and add2 tablespoons of olive oil to the Instant Pot.

When the olive oil is fragrant, add the onion and 1/4 teaspoon salt and sauté over medium/high heat for 3-5 minutes or until the onions become translucent. 

Next, add the garlic, carrots, celery, Italian seasoning, dried minced garlic, red pepper flakes, onion powder, hot sauce, salt, thyme, and 4 cups of chicken broth to the pot and stir. Then, submerge chicken breast under the broth.

Cover the Instant Pot, seal the pot, and cook the soup on manual > high pressure for 8 minutes. It will take around 10 minutes for your Instant Pot to fully pressurize and start counting down from 8.

When the timer goes off, quick-release the pressure from the Instant Pot. Then, take the lid off.

Remove the chicken breast from the pot and add the rest of the chicken broth to the Instant Pot and turn the sauté feature back on and bring the soup to a boil.

While the soup is coming to a boil, shred the chicken with two forks and add it back into the Instant Pot.

Once the soup has come to a boil, turn the Instant Pot off, add the egg noodles to the pot, stir, and place the cover back on.

Let the egg noodles sit in the hot broth for 4-6 minutes or until fully cooked.

Finally, add the lemon juice to the soup and mix.

Serve immediately.
Tips & Notes
egg noodles: if you are planning to freeze this soup or have a lot of leftovers, we recommend making the egg noodles completely separate. Store cooked egg noodles and soup in separate containers in the refrigerator so the noodles don't get soggy. Freeze only the chicken soup part and NOT the noodles so they do not get soggy.
hot sauce: if you like heat, use a vinegar-based hot sauce. If you don't, feel free to use white vinegar instead.
Nutrition facts
Calories:
282
kcal
Carbohydrates:
21
g
Protein:
25
g
Fat:
7
g
Fiber:
3
g
Sugar:
4
g