Good morning Instant Pot Oatmeal. This healthy breakfast recipe is simply delicious, made with rolled oats, milk, a little maple syrup, and a pinch of salt.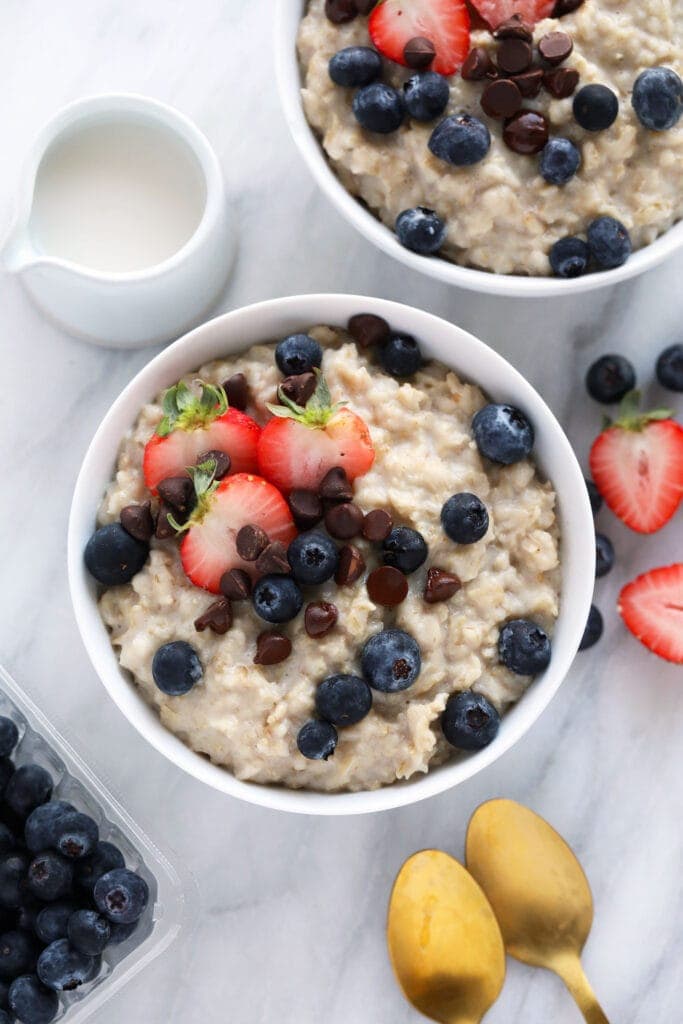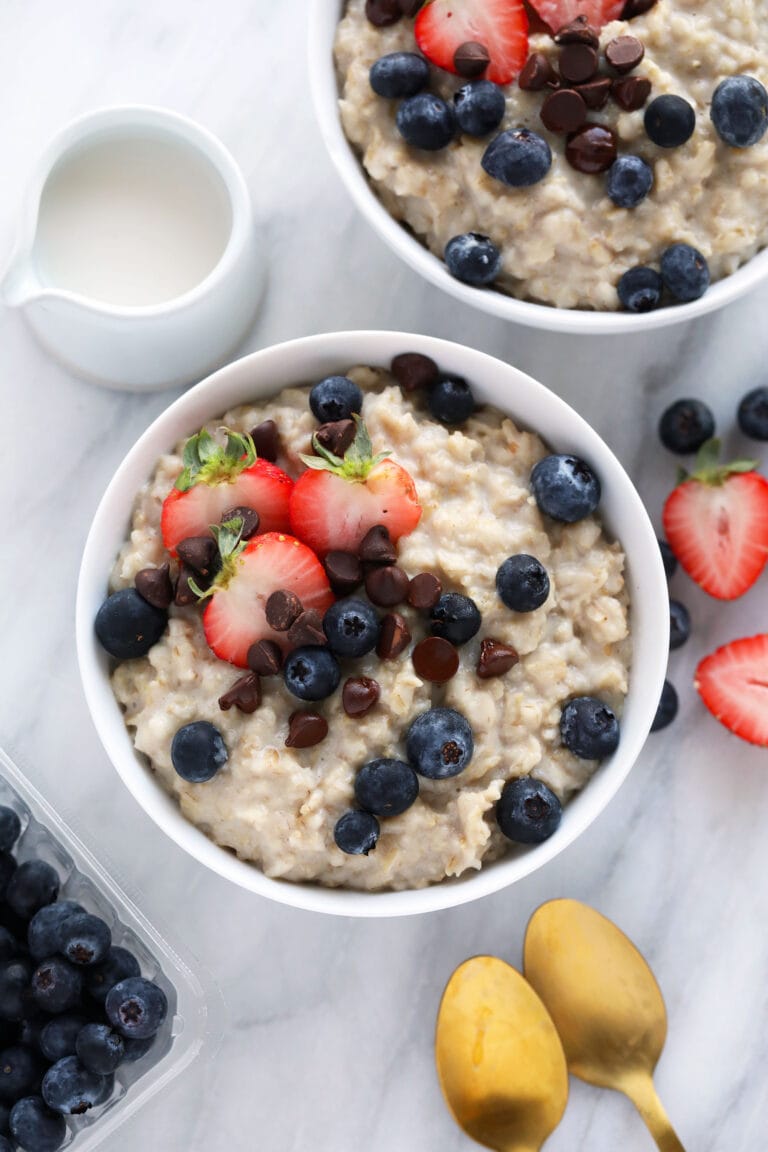 Whether you have one in your dorm room, just don't want to use your microwave, or are renovating your kitchen and can't use your stove, the IP pretty much always come in handy!
Today we're teaching you how to make Instant Pot Oatmeal with rolled oats. We have a fabulous Instant Pot Steel Cut Oats recipe, but this pressure cooker oatmeal recipe is so much faster because old fashioned oats take less cook time.
Why Make Instant Pot Oatmeal?
If you're on this post, you're likely a huge oatmeal fan like us. We love overnight oats, baked oatmeal, stovetop oatmeal, and steel-cut oatmeal. We also love Instant Pot Oatmeal.
Pressure cooker oatmeal is a fabulous way to start your morning for a few reasons:
4-Ingredient breakfast – 4 pantry-staple ingredients that are easy to find at the grocery store.
Kid-friendly – top your bowl with oatmeal and a little honey and your kids will gobble this right up.
High-fiber: a 1/2 cup serving of oatmeal has 4g fiber in it.
Naturally gluten-free and vegan: this breakfast is both gluten-free friendly (make sure to use certified g/f oats) and 100% plant-based!
No-stove oatmeal- no stove no problem. The Instant Pot can make you PERFECTLY cream oats in no time.
looking for Instant Pot steel cut oats?
If you were hoping for an Instant Pot Steel Cut Oats recipe, no fear! We have one of those two and it's absolutely delicious.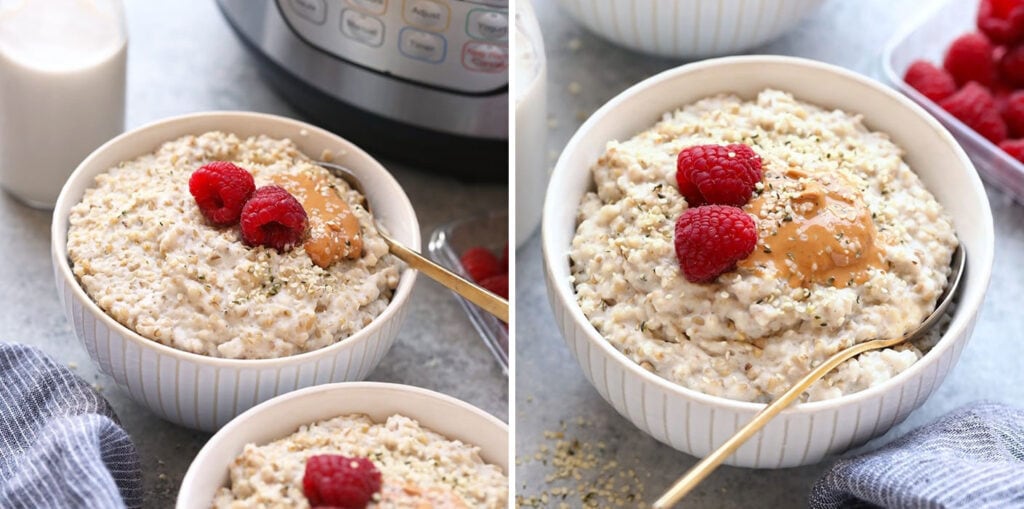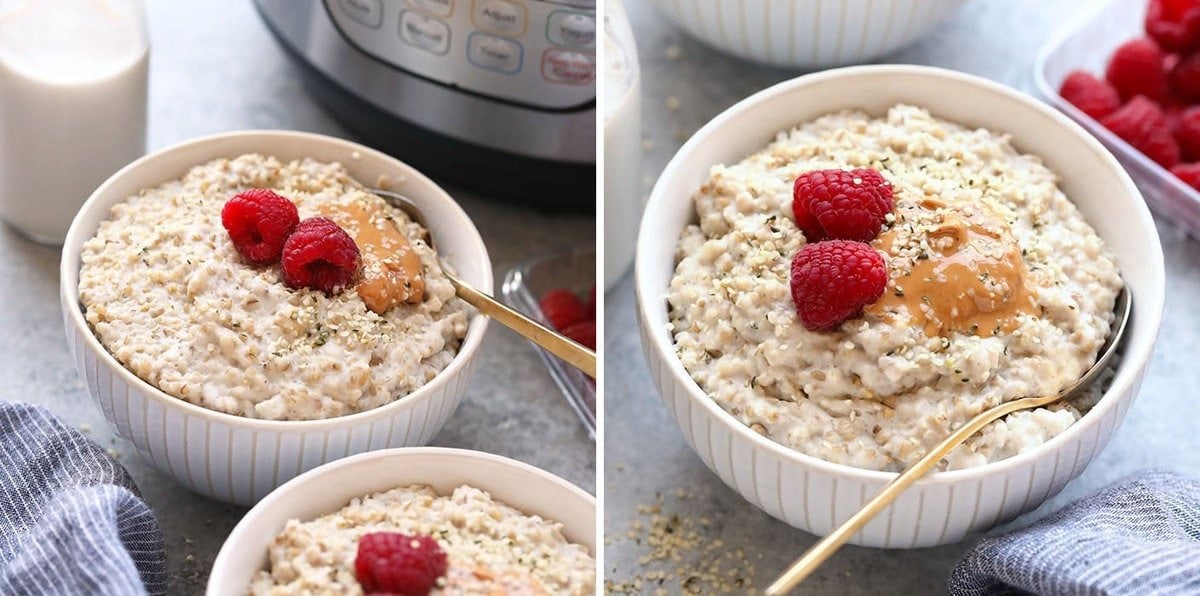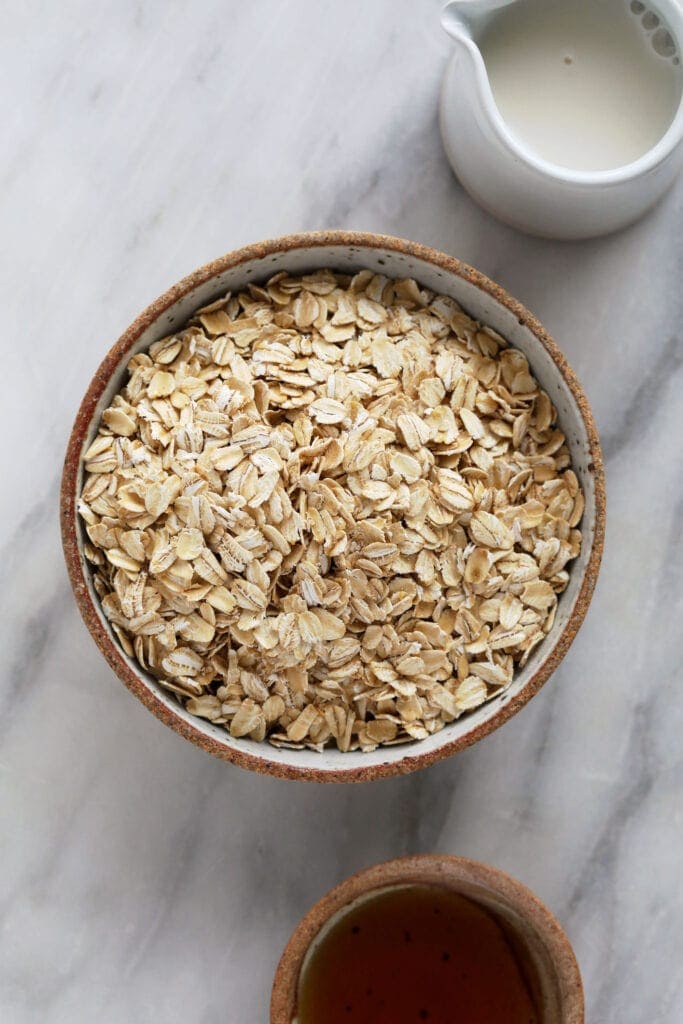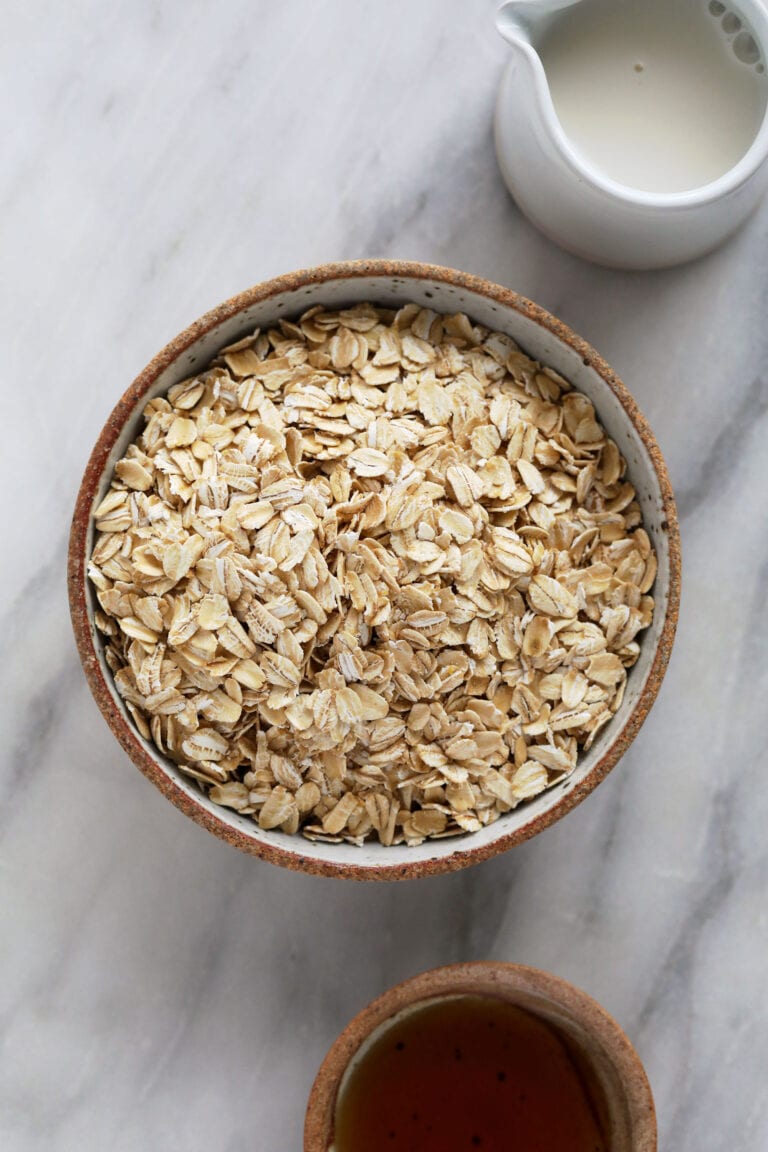 What You Need for Instant Pot Oatmeal
Other than an Instant Pot, you only need 4 simple ingredients you probably already have on hand to make Instant Pot Oatmeal!
Rolled Oats (AKA Old Fashioned Oatmeal): Old fashioned rolled oats are a staple in our house. They cook much faster than steel cut oats, but you get all the same benefits. Make sure that you buy old fashioned AKA rolled oats. Do NOT use quick-cooking or steel-cut oats for this recipe.
Almond Milk: to make Instant Pot oatmeal, you need to use some kind of liquid. Our preferred liquid is unsweetened almond milk, but you can really use any kind of milk or water.
Maple Syrup: I love adding a little bit of sweet to my oatmeal and my favorite is maple syrup. It's warm and all-natural. Don't have maple? Try using honey or even brown sugar.
Salt: a little bit of salt brings out the nutty flavor of the oatmeal and heightens the sweetness of the maple syrup without needing to use more sugar.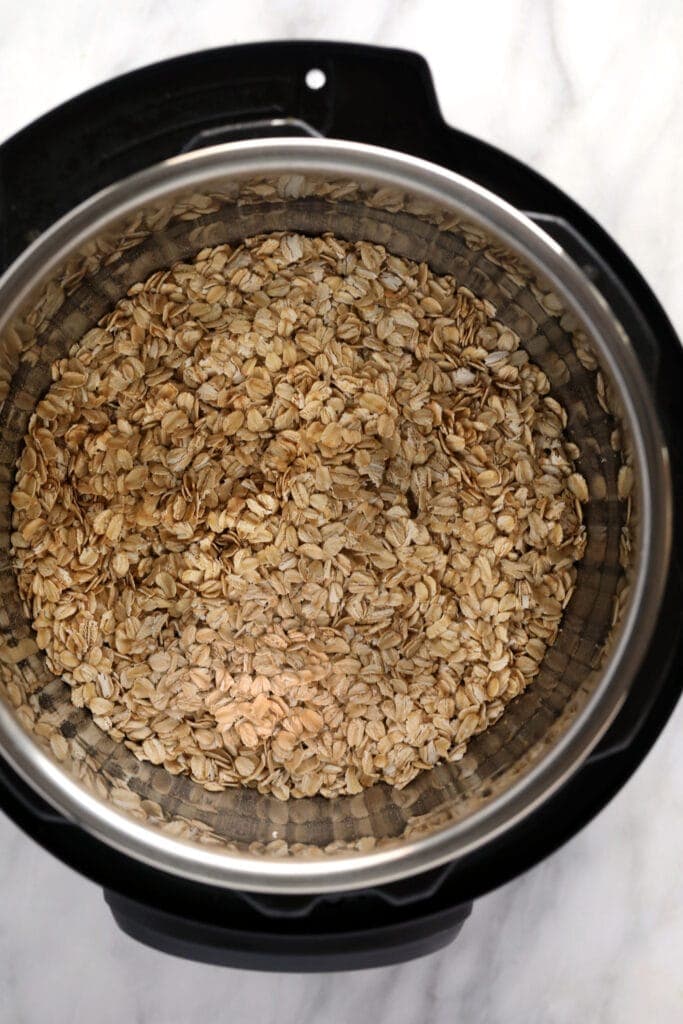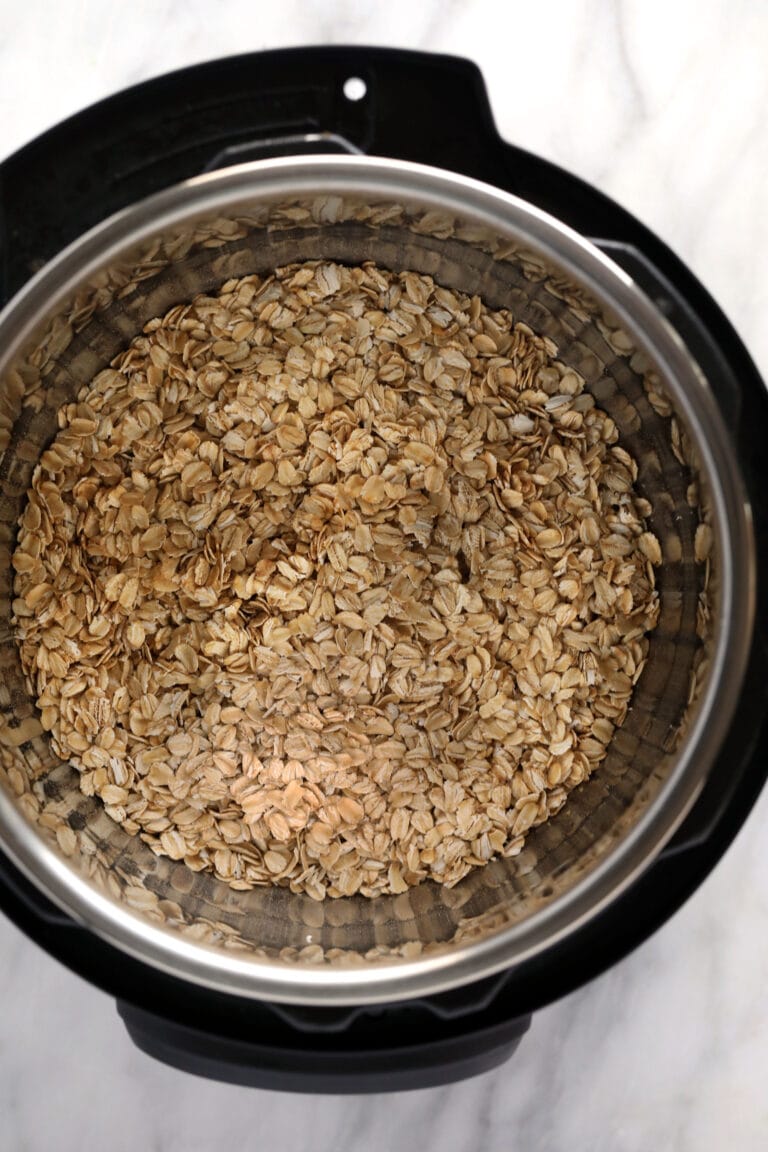 Easy Step-by-Step Directions
Add & Stir: Add all of the ingredients for your Instant Pot Oatmeal into your Instant Pot. Mix everything together to combine.
Cook: Close Instant Pot and cook on high pressure for 3 minutes. It will take around 10 minutes to build up enough pressure to start counting down from 3.
Quick Release: When the timer goes off, quick-release the steam from your Instant Pot.
Stir & Sit: Open Instant Pot and stir for 30 seconds. It will seem moist, so place the lid back on your Instant Pot and let sit for around 5 minutes to thicken.
Why didn't we use the natural-release feature?
Most Instant Pot oatmeal recipes have you natural-release from anywhere from 10-20 minutes and that's just a time suck. Instead of natural-releasing, we have you stir and sit. Your oats should thicken rather quickly.
Oats still too thin?
Simply turn on the sauté feature and mix until thick and creamy!
CAN I MAKE INSTANT POT OATMEAL WITH just THE SAUTE FEATURE?
Another trick up our sleeve is actually not using the pressure cooking feature at all! You see, the saute feature works just like an electric stove-top does and you can easily make oatmeal this way as well.
Bring liquid and oatmeal to a boil. Continue cooking over the saute feature until thickened.
This method is excellent for a super-quick variation of Instant Pot Oatmeal or if you want to make just one serving. You can thank me later 😛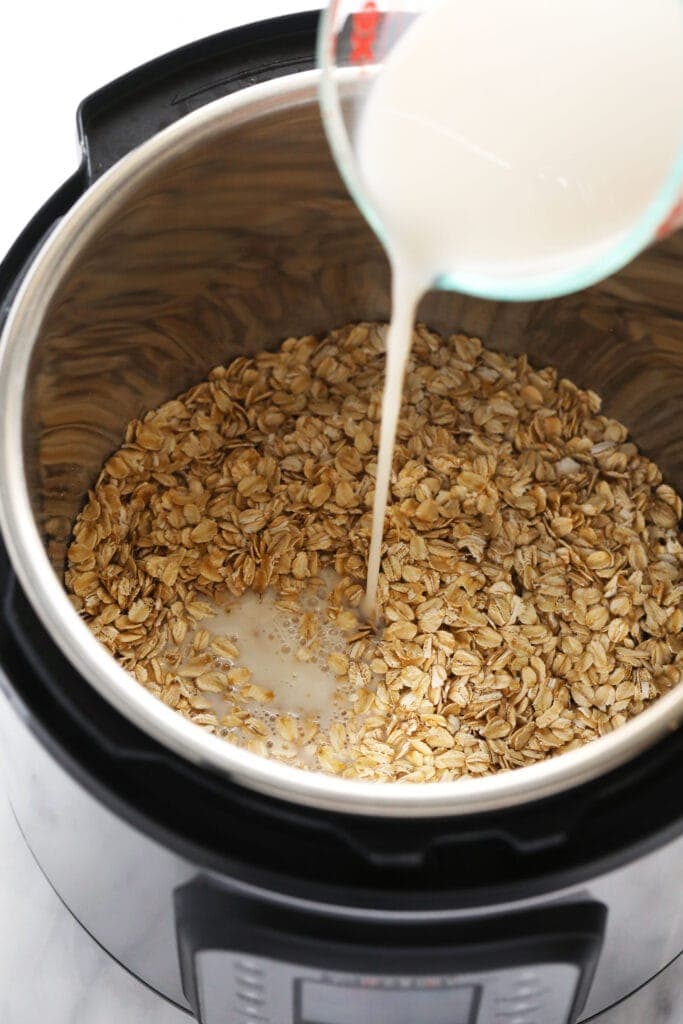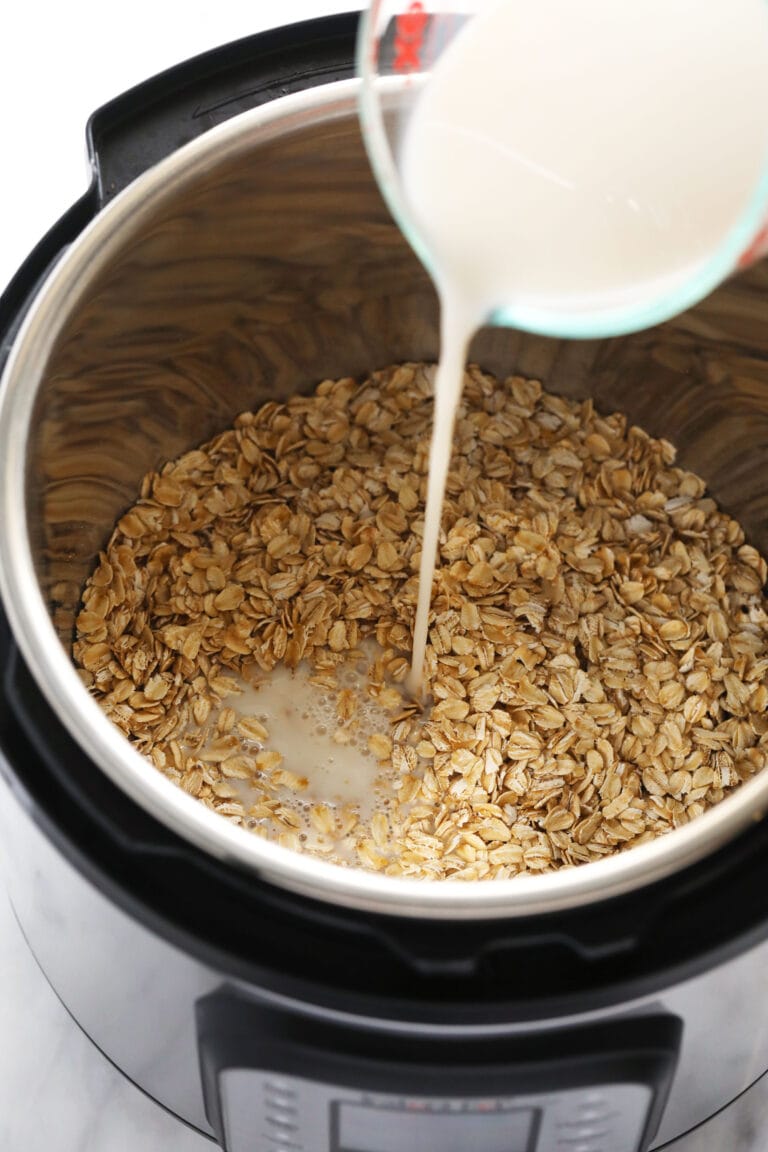 Instant Pot Oatmeal Variations
In this post, we're sharing a super simple recipe for Instant Pot Oatmeal that you can take and deviate from. Add flavors, fruit, sweeteners, etc., and make it your very own recipe. Here are some ideas for you to try!
Banana Bread: add 1 mashed banana and 1/2 teaspoon ground cinnamon to make oatmeal that tastes just like banana bread.
Lemon Blueberry: add 1 cup fresh blueberries and 1 tablespoon lemon zest before cooking.
Protein: add 1/4 cup protein powder and use 1/3 cup more liquid before cooking.
Strawberries and Cream: add 1 cup sliced strawberries and swap the maple syrup for honey before cooking. Then, top with fresh strawberries and cold milk.
Peanut Butter Chocolate Chip: add in 2 tablespoons peanut butter before cooking and then stir in 2 tablespoons chocolate chips before eating.
How do you cook oatmeal in the Instapot?
Combine 1 cup rolled oats and 2 cups liquid in your Instant Pot. Cook on high pressure for 3 minutes with a quick release. Open and stir oats. Then, place the lid back on and let sit for 5 minutes.
Why does my oatmeal burn in my Instant Pot?
The reason your oatmeal burns in your Instant Pot is because you're not using enough liquid. Try adding more liquid, or making your oatmeal using the sauté feature instead.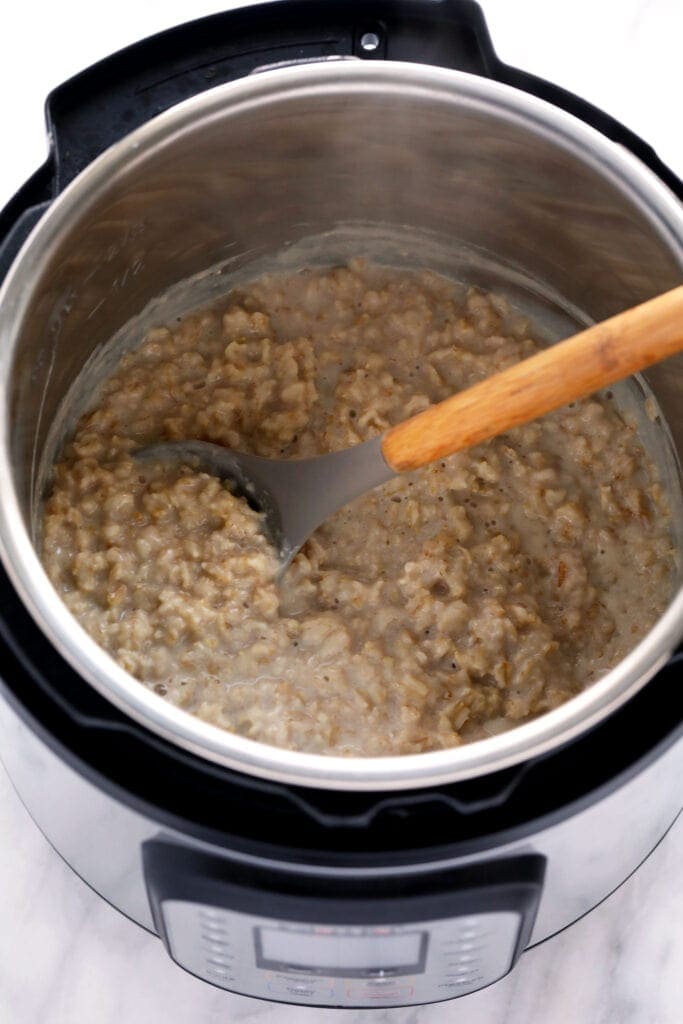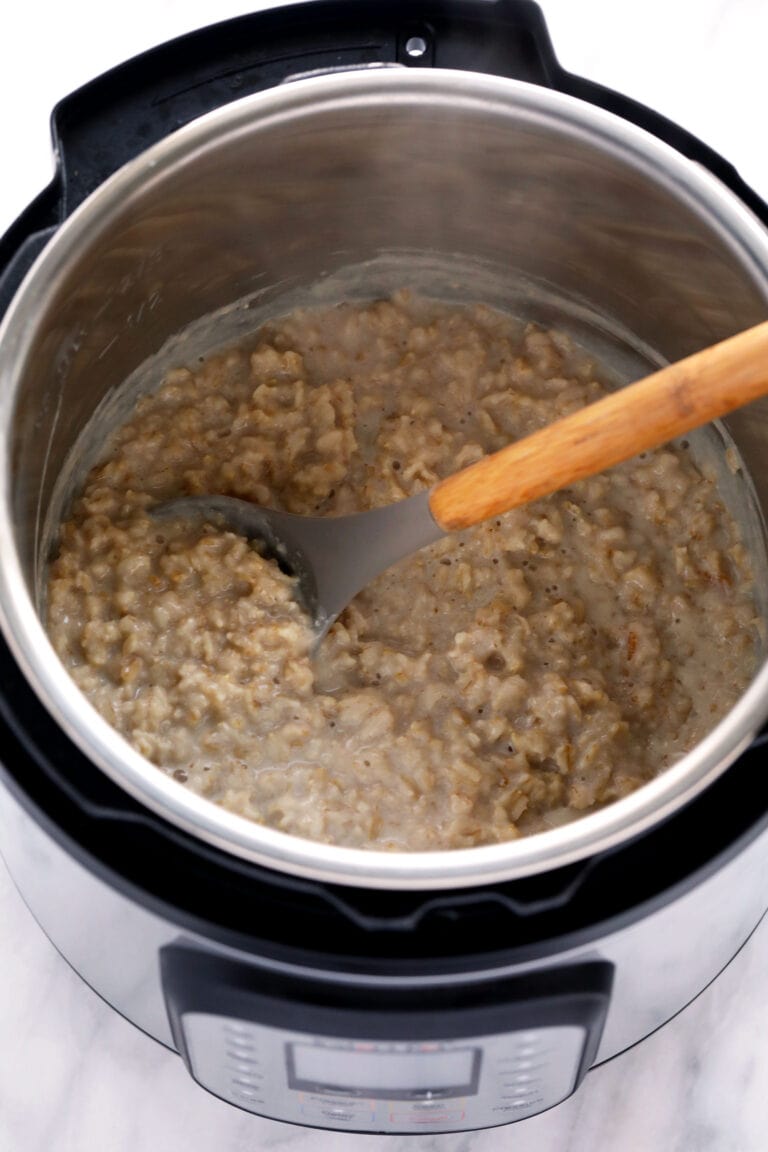 Storage
To store cooked oatmeal, let cool completely. Then, transfer to an airtight container and store in the refrigerator for up to 3-5 days.
Can You Freeze Oatmeal?
Oatmeal is such an easy thing to freeze. Let it cool completely, then spray a muffin tin with nonstick cooking spray or line with muffin liners and transfer oatmeal into it.
Freeze for 2 hours before transferring single-serve oatmeal into a freezer-safe gallon-size bag. Freeze for up t 3months.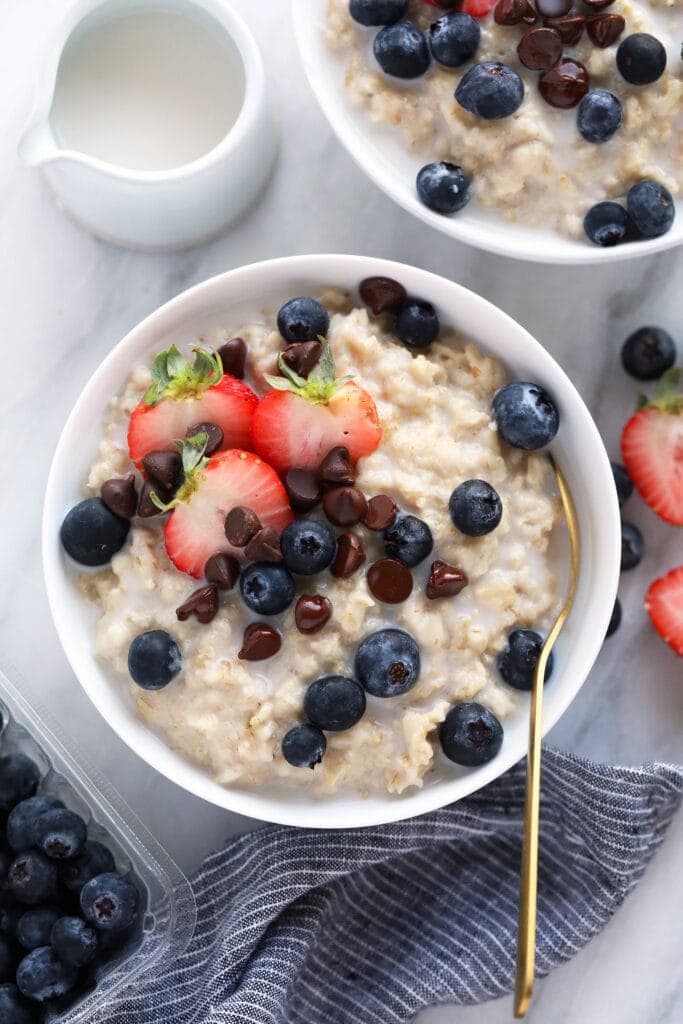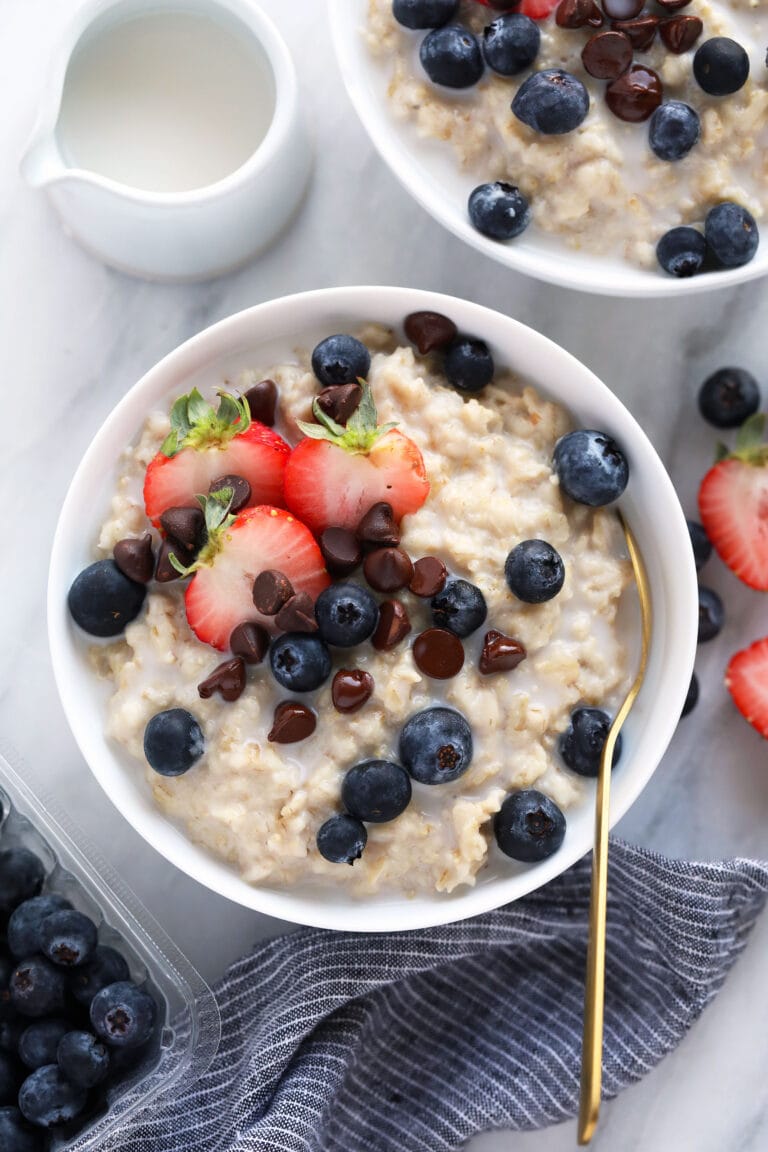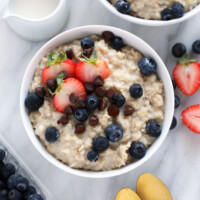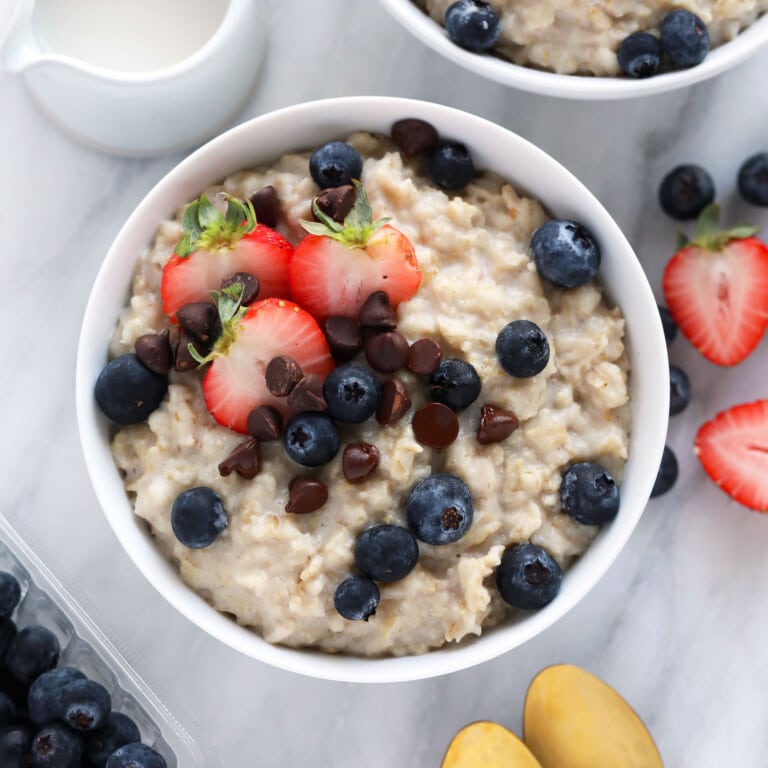 Instant Pot Oatmeal
Good morning Instant Pot Oatmeal. This healthy breakfast recipe is simply delicious, made with rolled oats, milk, a little maple syrup, and a pinch of salt.
Instructions
Place rolled oats, almond milk, salt, and maple syrup into your Instant Pot.

Mix together with a wooden spoon to combine.

Then, cover your Instant Pot and seal the valve.

Turn your Instant Pot to manual > high pressure > and set the timer to 3 minutes. It will take around 10 minutes for your Instant Pot to build enough pressure, but eventually, it will start counting down from 3.

When the timer goes off, quick release your Instant Pot to let the pressure out.

Uncover Instant Pot and stir the oatmeal. It may seem like there is liquid leftover, but as you stir, the oatmeal will continue to absorb it. If you like thicker oatmeal, let oatmeal sit for 5 minutes, uncovered.
Tips & Notes
Nutrition information does not include toppings.
If your Instant Pot oatmeal is still too watery, turn on the sauté feature and cook for 1-2 minutes. It should thicken quickly. Or, let it sit with the cover on longer. 
Nutrition facts
Calories:
221
kcal
Carbohydrates:
39
g
Protein:
6
g
Fat:
6
g
Fiber:
5
g
Sugar:
11
g