Learn how to make the most tender Mongolian Sous Vide Flank Steak using one of our favorite kitchen gadgets, the Sous Vide!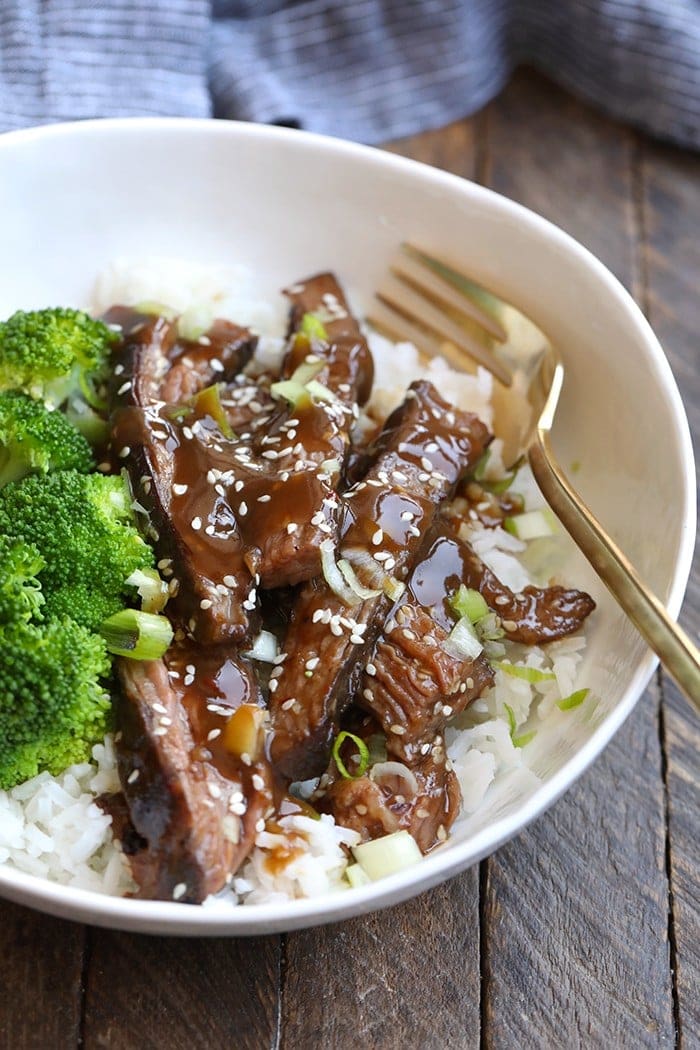 Linley and I have been brainstorming what to make this week for a fun dinner for guests and this we decided a Mongolian-inspired Sous Vide Flank steak recipe was a no-brainer.
Before I talk about this tasty dish, let's chat about the sous vide.
What is Sous Vide Cooking?
Mark and I discovered the sous vide last year from Linley's boyfriend Cole. Two years ago for Linley's birthday Cole made 16 pounds of shredded pork made in the sous vide (read about that HERE). It was seriously amazing. From there Linley and Cole would always chat with us about all of the delicious food they were trying in their sous vide. Everything from egg bites to salmon!
Sous vide cooking is a technique where you use precise water temperature to cook food in a vacuum sealed bag (we like to call it a french crock pot). It has been around for years and we are just jumping on the bandwagon. Basically, your meat or whatever you are cooking in the sous vie has no possible way of overcooking because you set the temperature. That means, the longer you let it sit, the more tender and perfect it is WITHOUT overcooking.
Best Sous Vide Machine
Mark and I finally jumped on the sous vide train and bought the ANOVA Sous Vide. We LOVE the Anova Sous Vide because it is easy to use and has a very helpful app that allows you to control the temperature of your sous vide from your phone and has helpful tips and tricks. It makes using the sous vide so easy. We have loved testing out salmon, chicken, and (especially) STEAK. Sous vide flank steak is the best steak in the whole world because it is SO tender.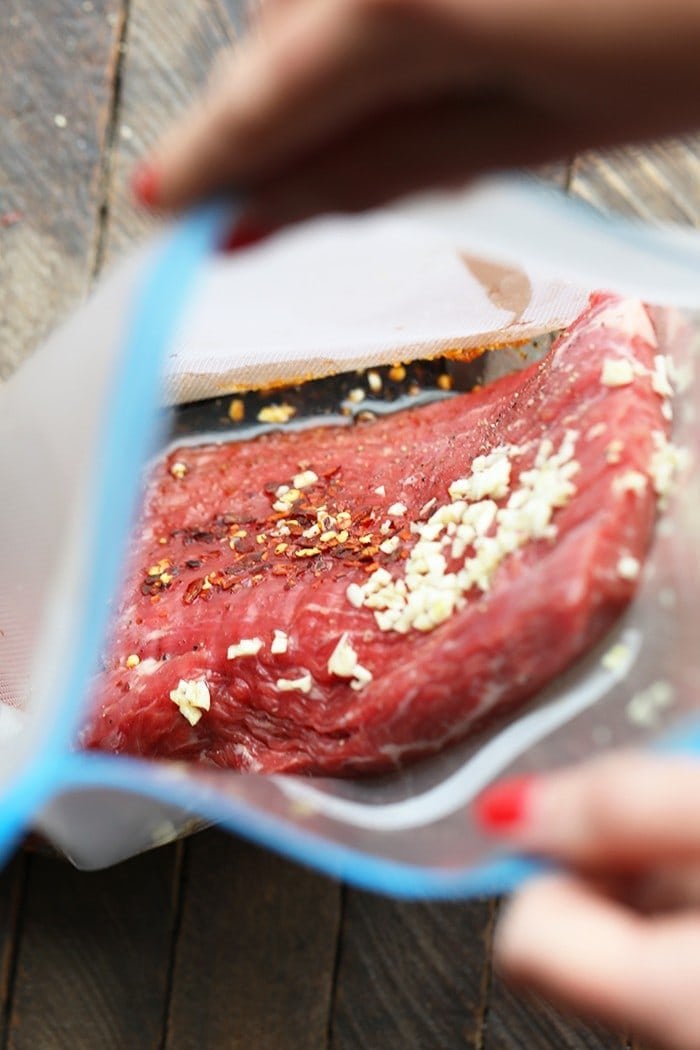 Best Sous Vide Flank Steak – Mongolian
Say hello to the most tender and delicious Mongolian Beef of all time. We knew our first sous vide recipe on Fit Foodie Finds had to be some kind of beef. Do not be scared of your sous vide. It is SO simple. All you have to do for this Mongolian flank steak is…
Place flank steak in a vacuum seal bag
Add ingredients for the sauce
Seal bag
Place bag in a large pot of water
Hook sous vide onto pot and set to 132ºF.
Let cook for 5-24 hours
We say 5-24 hours because technically you can cook your meat for as long as you want without overcooking it. That's the beauty of sous vide cooking. However, 5 hours will suffice for this recipe if you want to eat it the same day! We highly recommend the full 24 hours if possible.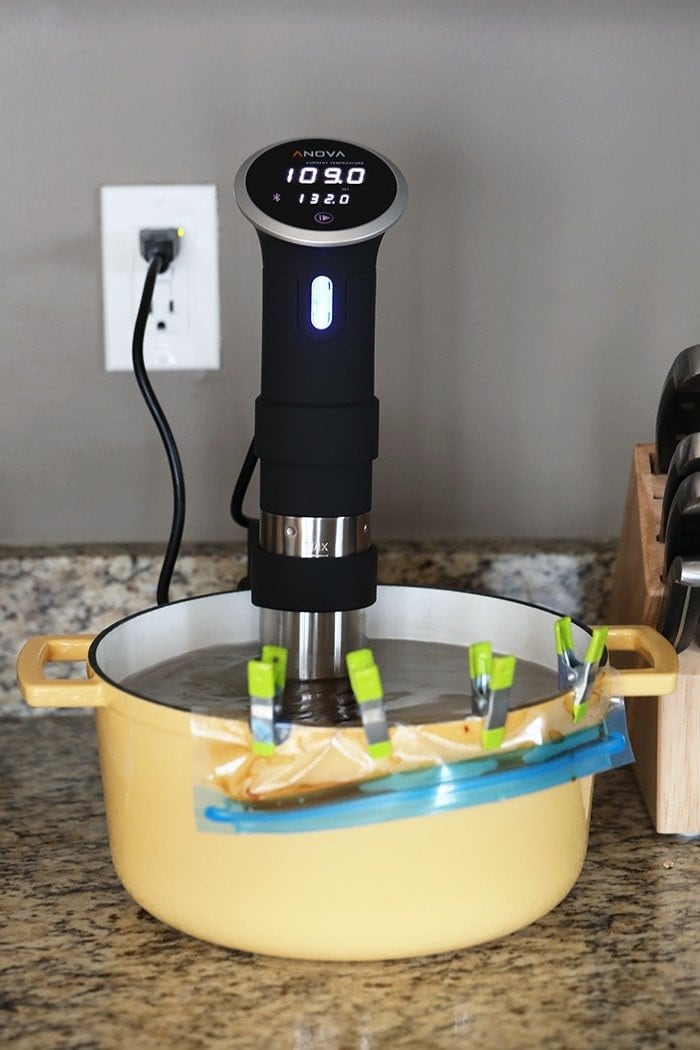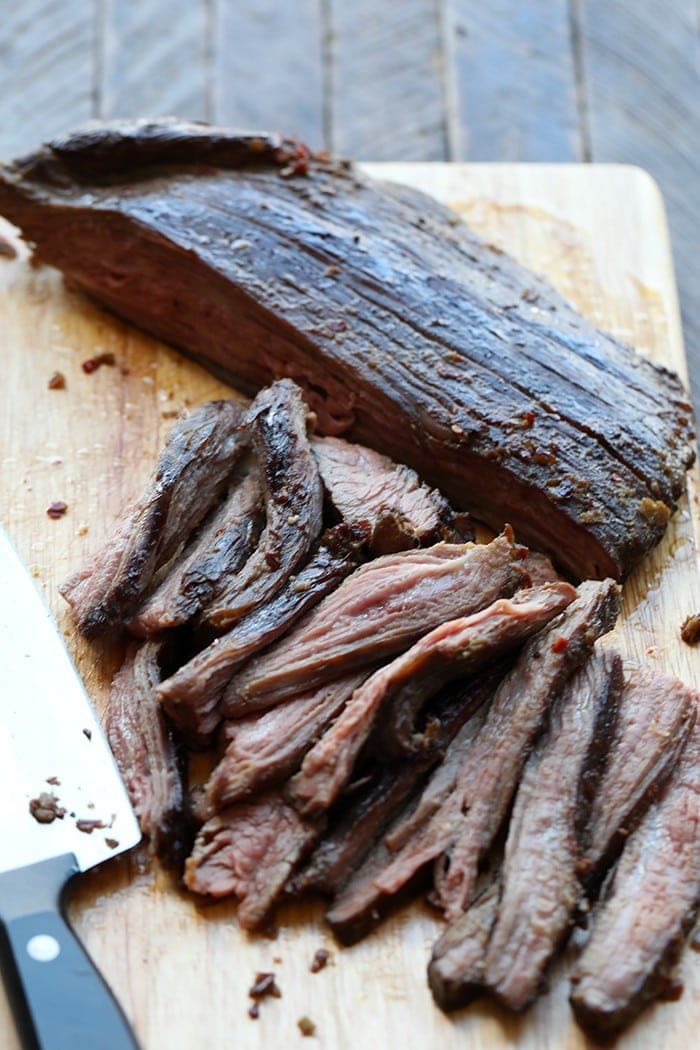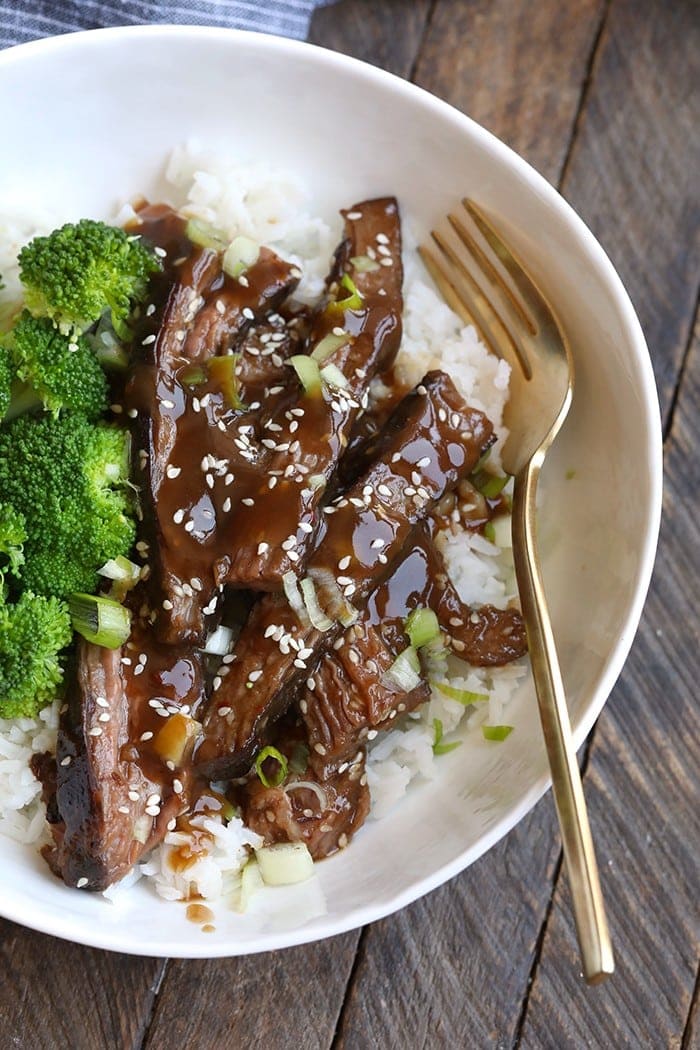 Most Sous Vide Recipes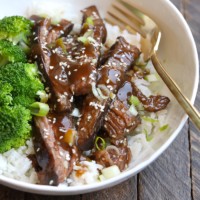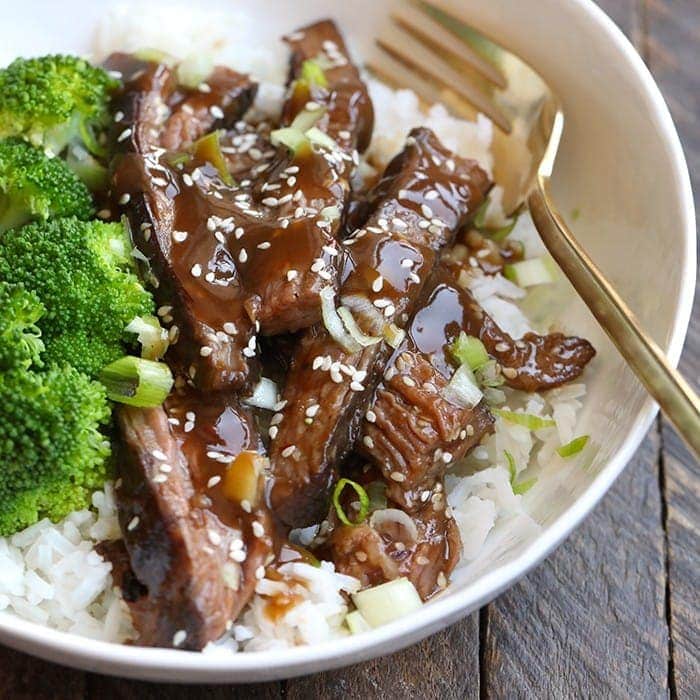 Mongolian Sous Vide Flank Steak
Learn how to make the most tender Mongolian Sous Vide Flank Steak using one of our favorite kitchen gadgets, the Sous Vide! 
Ingredients
1.5

lbs.

flank steak

1/2

cup

tamari

or soy sauce

1/4

cup

maple syrup

1/2

tablespoon

fresh grated ginger

3

cloves

garlic

minced

1/2

teaspoon

red pepper flakes
salt

to taste

pepper

to taste

2

tablespoons

olive oil or butter

1

tablespoon

cornstarch
Instructions
First, prepare your Sous Vide by filing a 6-8 quart pot with water. Connect your sous vide to the pot and set the temperature to 132ºF.

Next, place tamari, maple syrup, ginger, garlic, red pepper flakes, salt, and pepper in a bowl. Mix well.

Place flank steak and tamari mixture in a BPA-free vacuum seal bag. Seal the bag and gently massage the meat until it is evenly coated with tamari mixture. Alternatively, you can use a Stasher bag or plastic bag. Just make sure to remove as much air as possible.

Next, vacuum seal your flank steak and place into the pot.

 Let Mongolian Sous Vide Flank Steak cook for 5-24 hours. We highly recommend letting it sit for the full 24 hours as it will come out extremely tender.

Once the flank steak is fully cooked, remove from pot.

Heat a castiron skillet over medium/high heat. Add olive oil to the cast iron skillet. When olive oil is fragrant, place the flank steak in the cast iron. Sear for one minute on each side.

Remove from pan and set aside.

Prepare the Mongolian beef sauce by pouring the juices from your sous vide bag into a medium saucepan and add 1 tablespoon of cornstarch. Bring to a boil, reduce heat, and let simmer for 5 minutes or until thickened.

Slice flank steak and serve over rice and veggies. Pour sauce over the top of the meat and enjoy!
Tips & Notes
We cooked our sous vide flank steak for 24 hours, however, you can cook it for as short as 5 hours. The longer it cooks, the more tender it will be.
Nutrition facts
Calories:
279
kcal
Carbohydrates:
12
g
Protein:
27
g
Fat:
14
g
Fiber:
0
g
Sugar:
8
g