Need something tasty on the go? These pumpkin peanut butter cereal bars will make your morning that much brighter! Unlike your typical snack bar, this recipe keeps the refined sugar content low, uses wholesome ingredients, and is full of delicious fall flavors.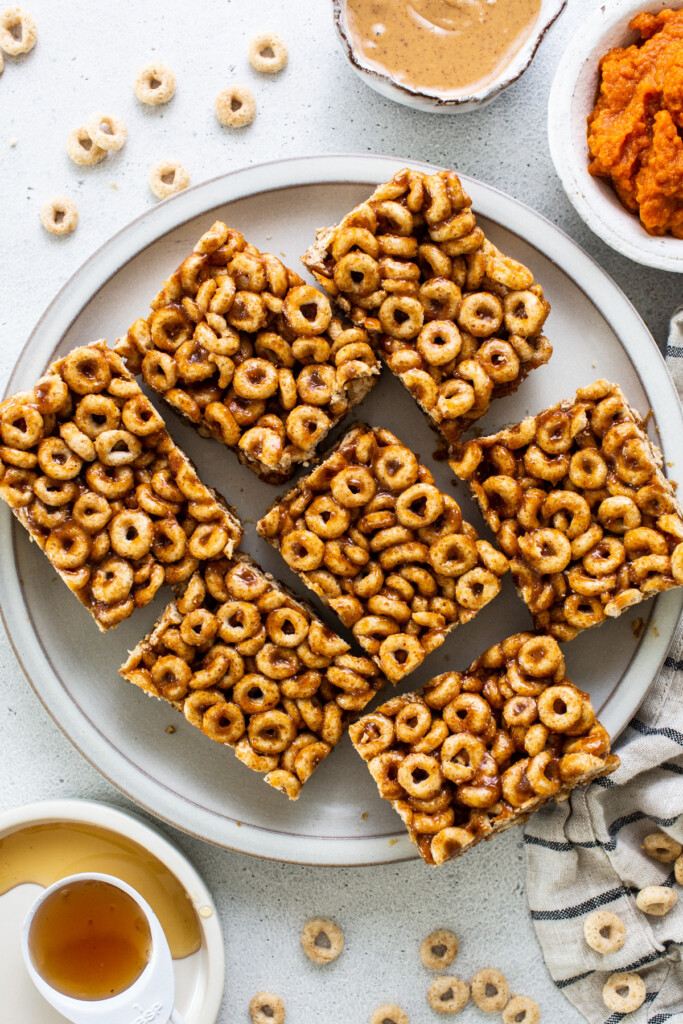 We can't get enough of pumpkin recipes here on Fit Foodie Finds! If you are as passionate about pumpkin as we are but don't quite have the time to make breakfast or pack a snack, then you've got to try these pumpkin peanut butter cereal bars. Creamy peanut butter is combined with pumpkin puree, honey, spices, and Cheerios for a one-of-a-kind fall treat that is both delicious and nutritious.
Make these bad boys the night before, or give yourself some time in the morning. Just prepare the peanut butter base and mix it with the Cheerios — similar to making rice crispy treats. Then place it all in a pan, freeze, cut 'em, grab 'em, and go!
PS: your kids will absolutely adore these. Ours did! If you can't do peanuts, feel free to use a different nut butter. We also tested these with almond butter and they were divine.
What's in Pumpkin Peanut Butter Cereal Bars?
Peanut butter: use all-natural drippy peanut butter for the best results.
Honey: works as an adhesive and adds natural sweetness!
Pumpkin pie spice: enhances all the yummy pumpkin flavor.
Unsweetened pumpkin puree: a must-have. Don't skip it!
Plain Cheerios: provide the perfect amount of crunch.
8×8-inch pan: make sure you have the right-sized pan to fit your cereal bars.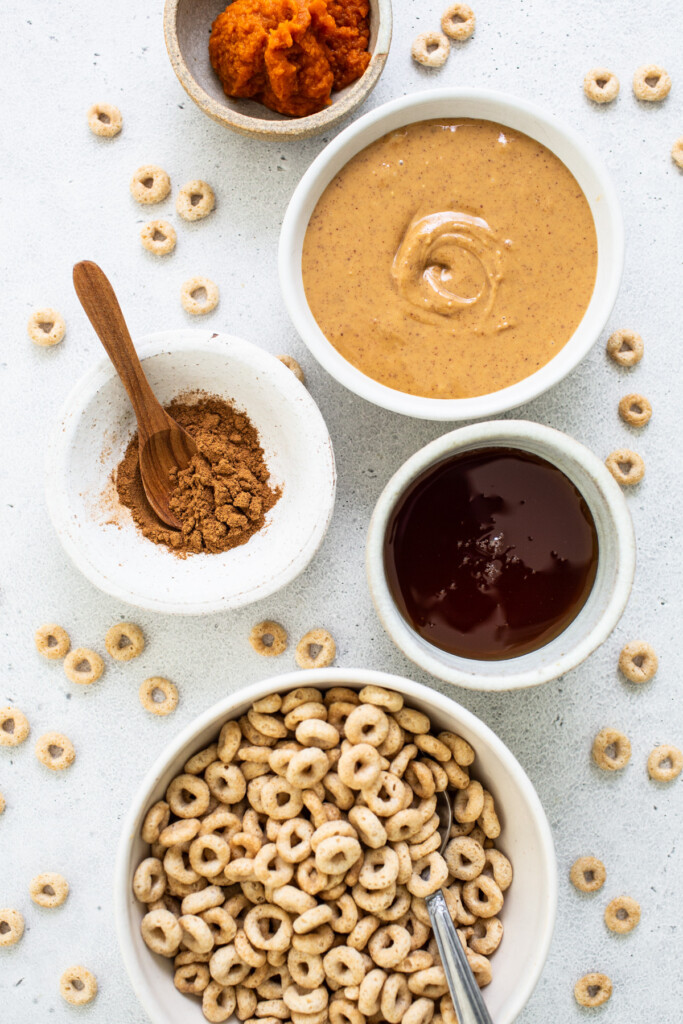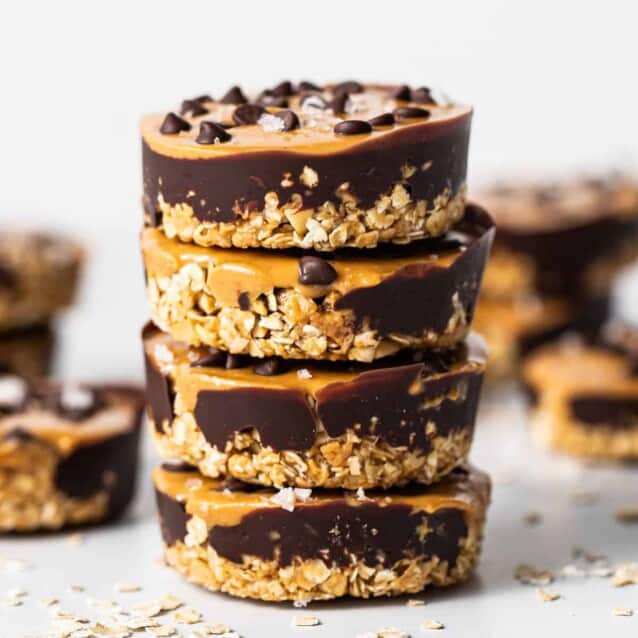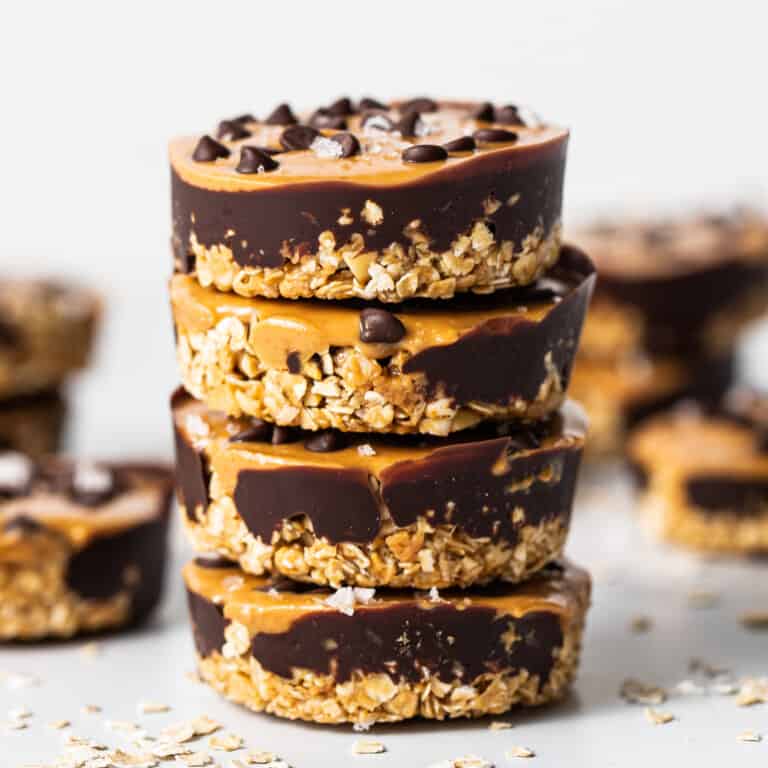 Subscribe!
Love desserts? Us too! Subscribe to our emails and get all of our best desserts straight to your inbox.
Substitutions & Variations
Peanut butter: You can use another nut butter instead like sunflower seed butter, almond butter, or cashew butter, but note that it will change the flavor substantially.
Honey: Swapping out the honey with pure maple syrup would be another delicious option.
Cheerios: We used plain Cheerios because the peanut butter mixture is already sweet. But you can use cinnamon or pumpkin Cheerios if you'd like.
Extra mix-ins: Mix in some chocolate chips for a more decadent treat, or add pumpkin seeds for an added crunch.
FAQs
Why do I need to warm up the peanut butter?

When mixing peanut butter with Cheerios, it's important to heat up the peanut butter before you add the cereal. This helps to melt down the ingredients and ensure that they homogenize properly for a yummy and delicious treat! 
Can I use pumpkin pie filling instead of pumpkin puree?

You could, but the sweetness of the pumpkin pie filling will likely overpower the flavor of your pumpkin peanut butter cereal bars. Pumpkin puree is just cooked and peeled pumpkin with no added ingredients, while pumpkin pie filling contains a mix of spices and added sugar. 

If you do decide to use the pumpkin pie filling, make sure that you reduce any other sweetener in the recipe accordingly. That way, your peanut bars will still taste delicious!
Where can I find pumpkin puree?

Pumpkin puree can usually be found in the canned vegetables aisle or in the baking section during the fall and winter seasons. When in doubt, just ask an employee! 

For those who live outside of the United States and have difficulty finding it in stores, you can easily purchase pumpkin puree on Amazon.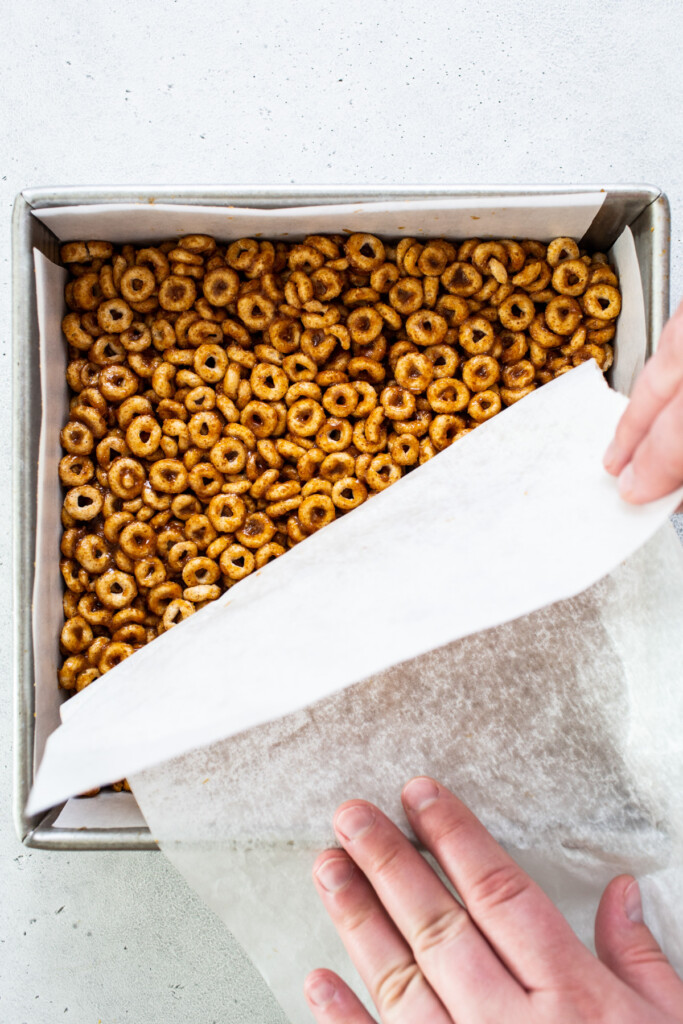 Storage
​Store any leftover pumpkin peanut butter cereal bars in an airtight container in the refrigerator for up to 5 days.
Freezer Directions
To freeze, place your cereal bars in freezer Ziploc bags and store them in the freezer for up to 3 months.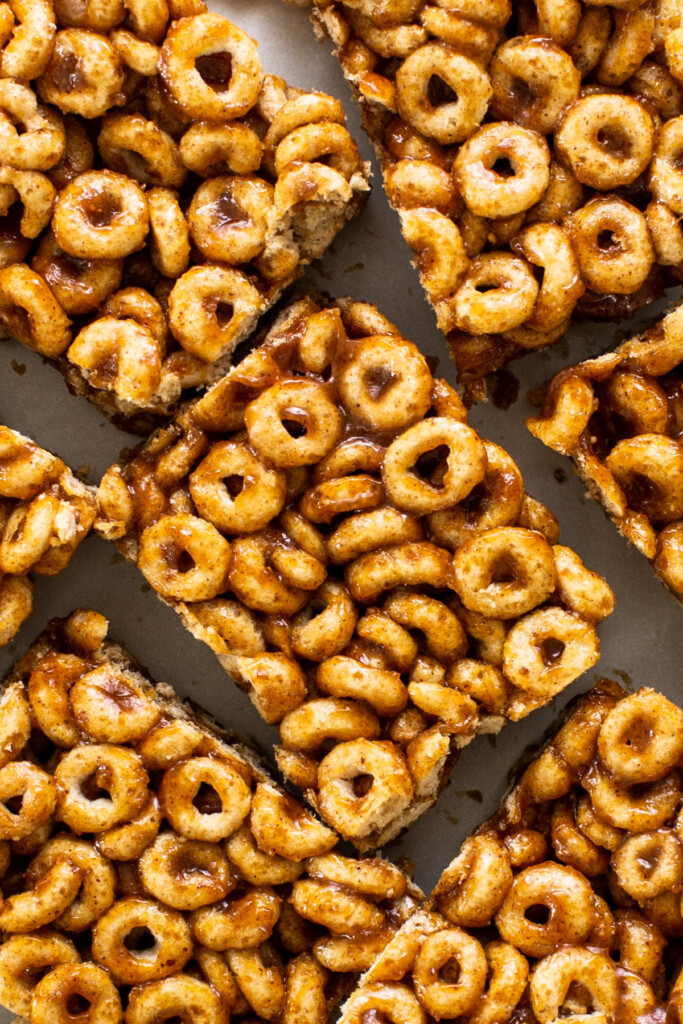 Serving Suggestions
If you think these pumpkin peanut butter cereal bars are all we've got to offer for fall breakfasts, THINK AGAIN. These sweet treats would make the perfect addition to all sorts of delicious dishes.
Love a filling smoothie in the morning? This Pumpkin Smoothie has your name written all over it.
Want to balance the sweet with some savory? You'll love this Homemade Maple Breakfast Sausage or English Muffin Breakfast Bake.
If you're a caffeine fiend, this Pumpkin Spice Dalgona Coffee and Pumpkin Cream Cold Brew are an autumn dream.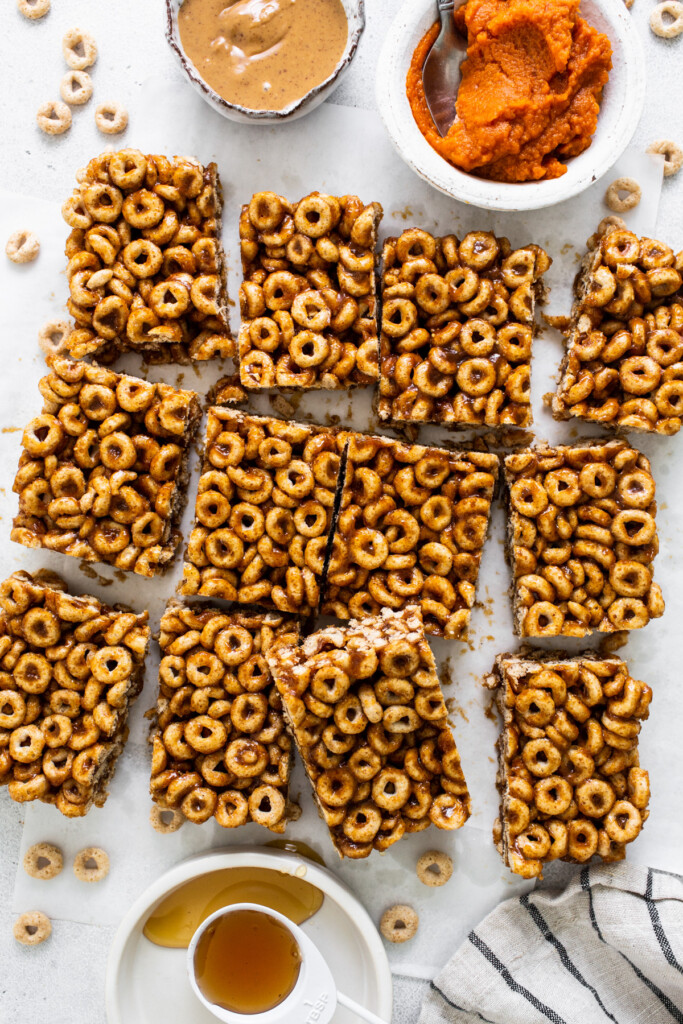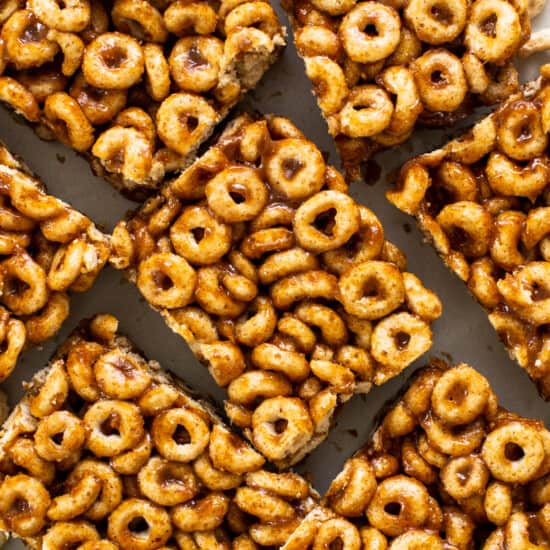 Pumpkin Peanut Butter Cereal Bars
These pumpkin peanut butter cereal bars are all your favorite fall flavors in a deliciously fun package of Cheerios, peanut butter, honey, and pumpkin puree.
Ingredients
½

cup

all-natural

drippy peanut butter

½

cup

honey

1.5

teaspoons

pumpkin pie spice

2

tablespoons

unsweetened pumpkin puree

3.5

cups

plain Cheerios
Instructions
Line an 8×8-inch pan with parchment paper and set aside.

Add the peanut butter, honey, pumpkin pie spice, and pumpkin puree to a small saucepan. Stir the ingredients until combined. Heat over medium heat until the ingredients melt together and become glossy, stirring constantly, about 5 minutes. Remove from the heat.

Add the Cheerios and the melted peanut butter mixture to a large mixing bowl. Stir all of the ingredients together until the Cheerios are coated.

Pour the mixture into the lined 8×8-inch pan. Place a piece of parchment over the top of the mixture and press the Cheerios firmly to the bottom of the pan. Be sure the mixture is pressed down firmly so the cereal bars do not fall apart when cutting them later.

Place the cereal bars in the freezer for at least 1 hour until firm.

Lift the parchment paper out of the pan and onto a cutting board and cut the bars into rectangles or squares.
Tips & Notes
It is very important that you warm up the peanut butter mixture before mixing it with the Cheerios. Melting the ingredients down first allows them to homogenize and then harden when they cool, allowing the cereal bars to stay together.
We used plain Cheerios because the peanut butter mixture is already sweet. However, feel free to use cinnamon or pumpkin Cheerios.
You can substitute another nut butter for the peanut butter, but it will change the flavor substantially.
Nutrition facts
Calories:
132
kcal
Carbohydrates:
19
g
Protein:
3
g
Fat:
6
g
Fiber:
1
g
Sugar:
13
g
Photography: photos taken in this post are by Ashley McGlaughlin from The Edible Perspective.