Start your day with these delicious and Quick Mocha Overnight Oats! And even better, this recipe uses quick cooking oats, so there's no need to let sit overnight — they're ready in 15 minutes!
For more overnight oats inspiration, check out 8 ways to eat overnight oats as well as some of our favorite flavors: peanut butter cookie dough overnight oats and creamy banana overnight oats.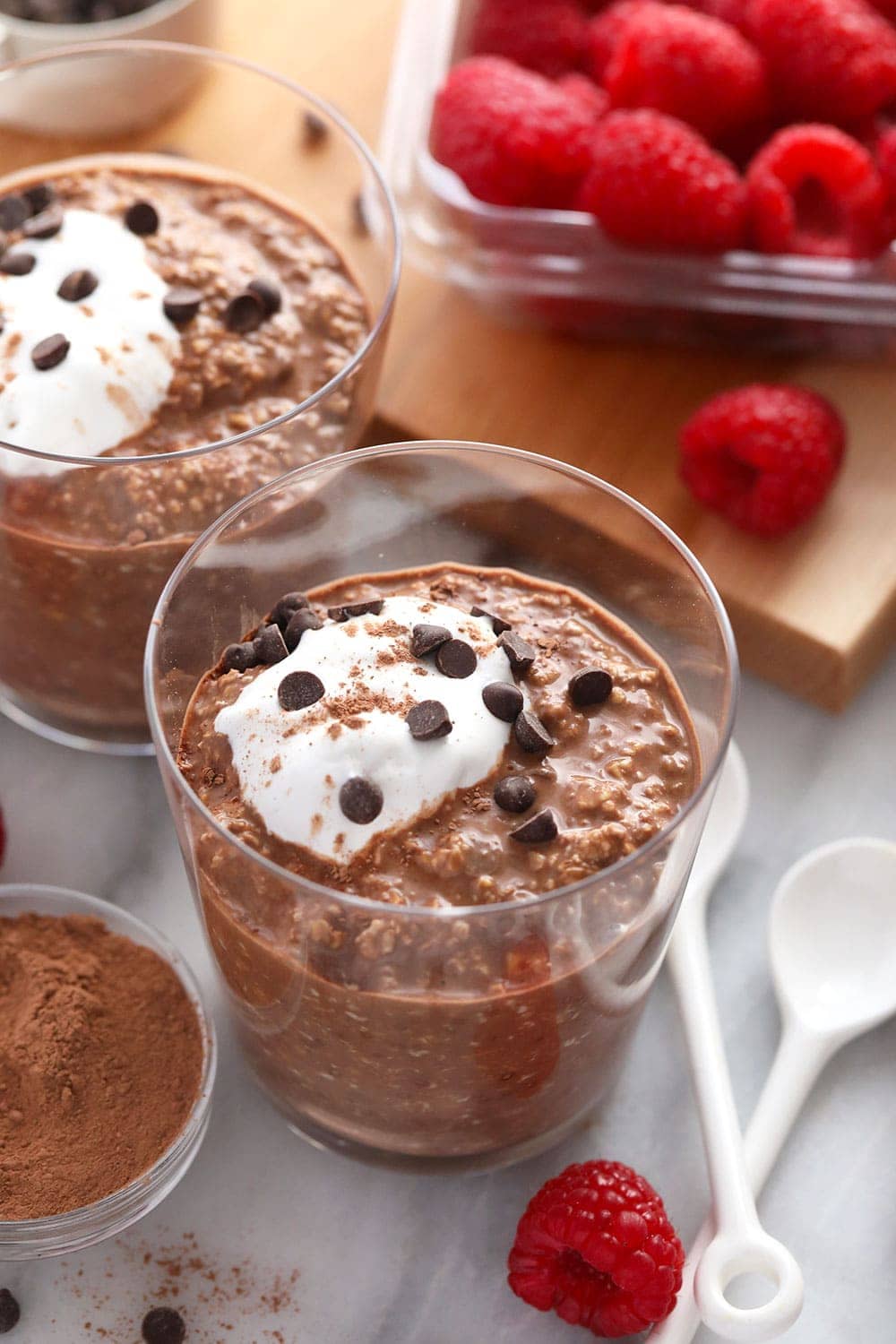 Quick Overnight Oats = Best of Both Worlds
You know we're big fans of overnight oatmeal over here on Fit Foodie Finds, and these quick mocha overnight oats really do step things up a notch by utilizing quick-cooking oats! This means your breakfast will be ready to eat in 15 minutes. Overnight oats taste and texture, but ready to eat in no time at all = the best of both worlds!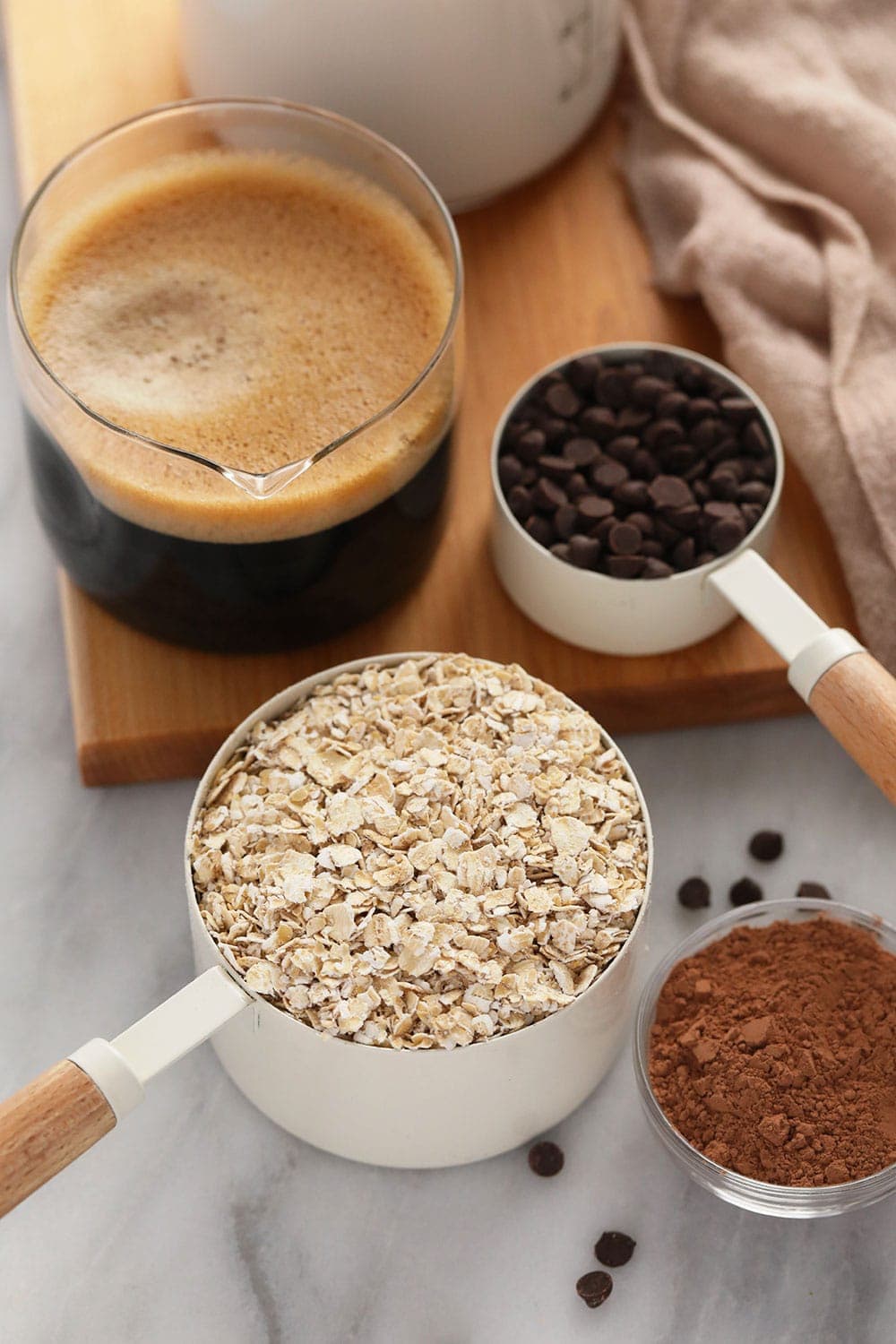 Mocha Overnight Oats Ingredients
These mocha overnight oats utilize a few staple ingredients you'll often find in our oatmeal recipes on Fit Foodie Finds. You're only 8 ingredients and 15 minutes away from this delicious and protein-packed breakfast:
Quick cooking oats: This recipe calls for quick-cooking oats AKA instant oats, but you can always use traditional rolled oats as well! If you're hoping to explore steel cut, check out our recipe for overnight steel cut oats here and modify that one to add cold brew and cocoa powder!
Coffee: We needed cold brew or strong brewed coffee to give these mocha overnight oats that delicious coffee taste! If you have cold brew already on hand, great! If you only have traditional brewed coffee, that will work just fine, too.
Cocoa powder: The cocoa powder gives these overnight oats the delicious chocolate-y taste without adding sugar. If you're looking to add additional protein to this recipe, sub out equal parts chocolate protein powder for the cocoa powder.
Chia seeds: Chia seeds are an important part of many of our overnight oats recipes. They add great texture to overnight oats while packing a punch of protein!
Mini chocolate chips: Chocolate chips really jazz up these mocha oats! We love using semi-sweet mini chips.
Maple syrup: Out of maple? Try honey or agave nectar! You can even skip this if you're trying to cut out sugar altogether.
Almond milk: any kind of milk will work for this recipe, including: dairy milk, cashew milk, oat milk, etc.
Optional Toppings
Top these delicious quick mocha overnight oats with whatever your heart desires. We love sprinkling on any (or any combo!) of the following:
Drizzle of nut butter
Sliced banana
Sliced strawberries
Handful of raspberries
Dollop of coconut whip (in the photos!)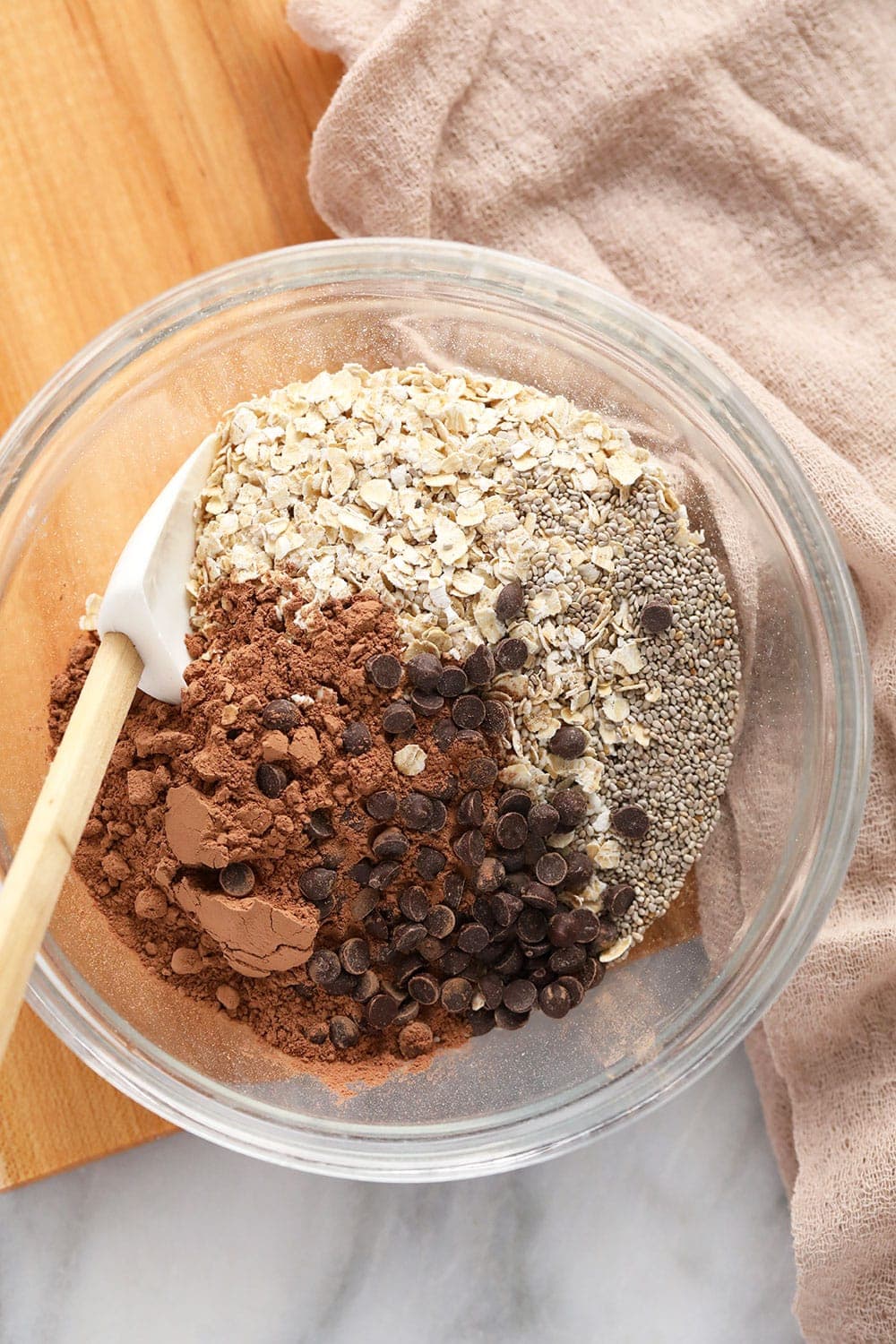 Overnight Oats 101
Do you eat overnight oats hot or cold? Overnight oats are typically eaten cold, however, if you prefer warm oats you can always heat them up. Because you soak the oats, they become soft and easy to digest making them delicious when cold with no need to heat!
Can you make overnight oats with or without milk? Yes! This recipe calls for almond milk, but feel free to use ANY kind of milk. Additionally, you can make this recipe with water, but it won't be quite as creamy.
How is instant oatmeal different from traditional oatmeal? Traditional oatmeal can refer to steel cut oatmeal or oatmeal using old fashioned rolled oats, while instant oatmeal utilizes quick-cooking oats, which are rolled oats that have been chopped into smaller pieces, pre-cooked, and then dried before they get to you.
This allows instant oatmeal to cook more quickly, which can be great for quick breakfasts or meals on-the-go like these quick mocha overnight oats.
Can you use a different kind of oats than quick cooking for this recipe? Yes! BUT, know that you will need to soak the oats overnight when using classic rolled oats or steel cut oats to get the desired consistency. We have lots of recipes like that HERE.
How do you store overnight oats? Store overnight oats in an air-tight glass container in the refrigerator for 3-5 days.
How long can you keep overnight oats in the refrigerator? Overnight oats will typically last 3-5 days in the refrigerator, making them great for meal prep for the week's breakfasts.
Is overnight oatmeal good for you? Yes! Overnight oatmeal is packed with fiber and whole grains.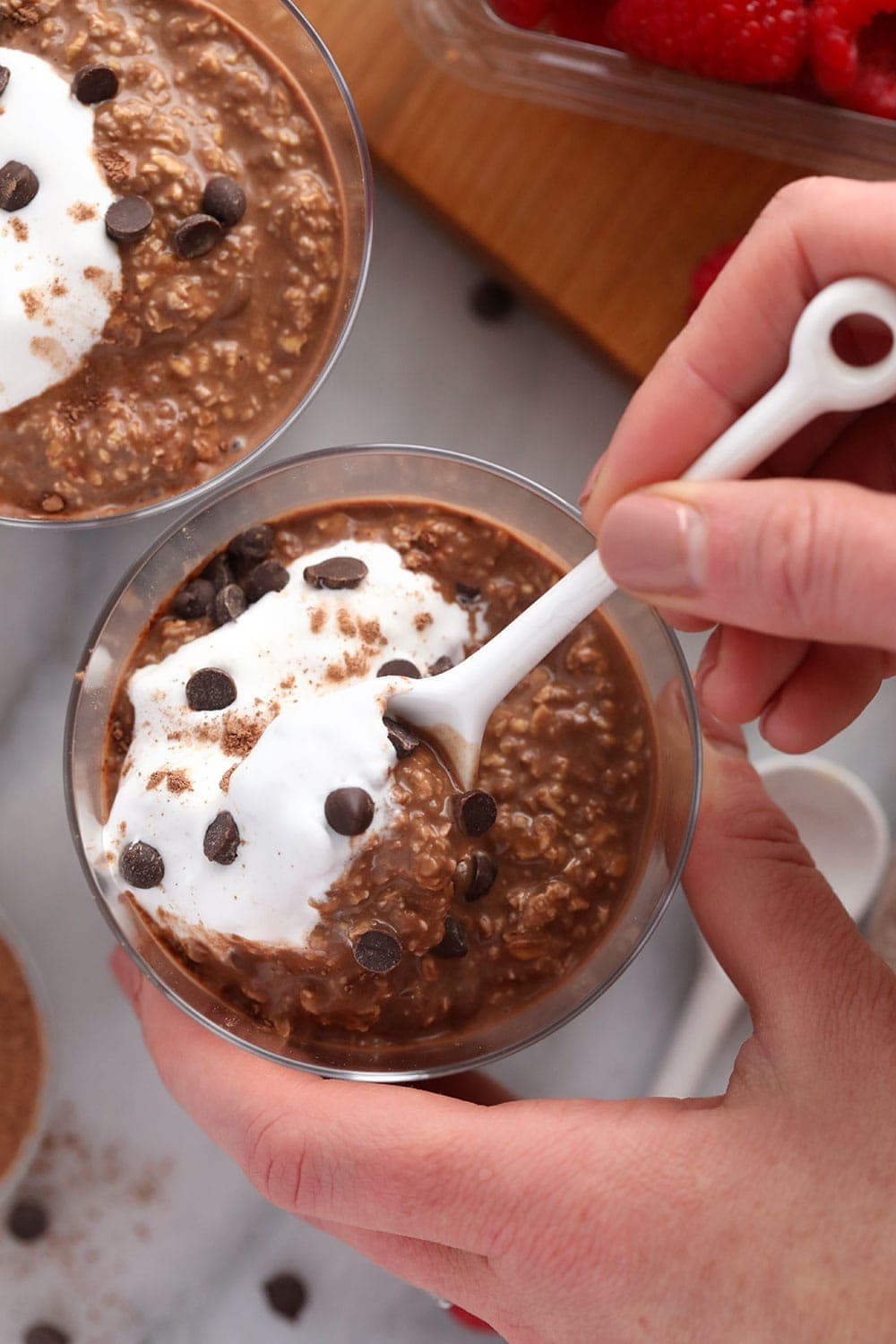 More Overnight Oats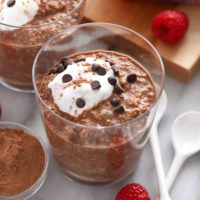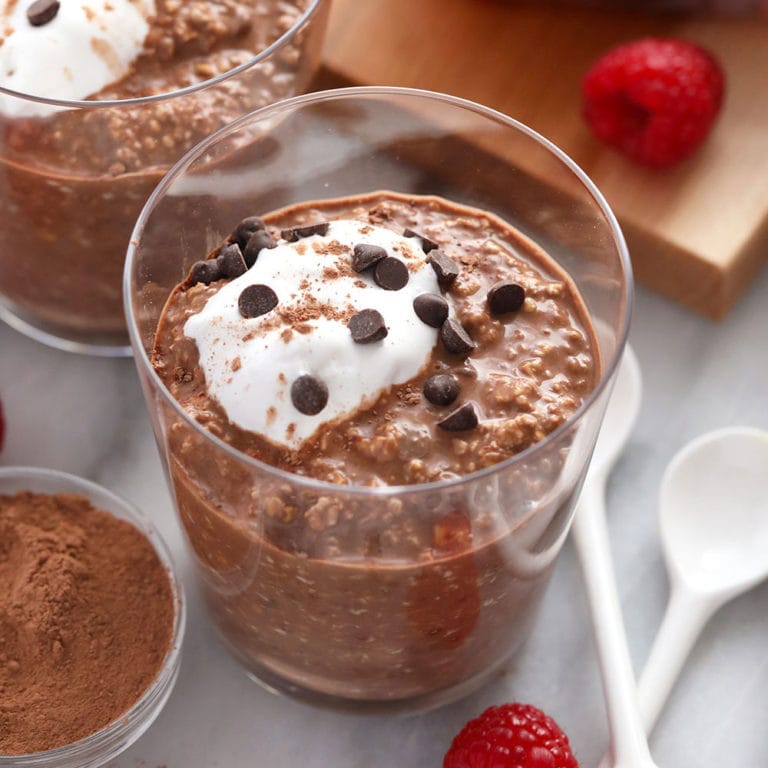 Quick Mocha Overnight Oats
Start your day with these delicious and Quick Mocha Overnight Oats! And even better, this recipe uses quick cooking oats, so there's no need to let sit overnight -- they're ready in 15 minutes!
Instructions
Place all ingredients into a medium glass bowl and mix.

Cover and transfer into the refrigerator for at least 15 minutes (or overnight is fine, too).

Option to add more almond milk before serving or eat as-is.
Nutrition facts
Calories:
292
kcal
Carbohydrates:
49
g
Protein:
8
g
Fat:
9
g
Fiber:
9
g
Sugar:
18
g