These muffins are dense, chocolatey, and 100% whole grain. The best part about these muffins is they are packed with superfood vitamins and minerals from hidden spinach that you can't even taste!
Love muffins? So do we! Check out more of our favorite healthy muffin recipes here!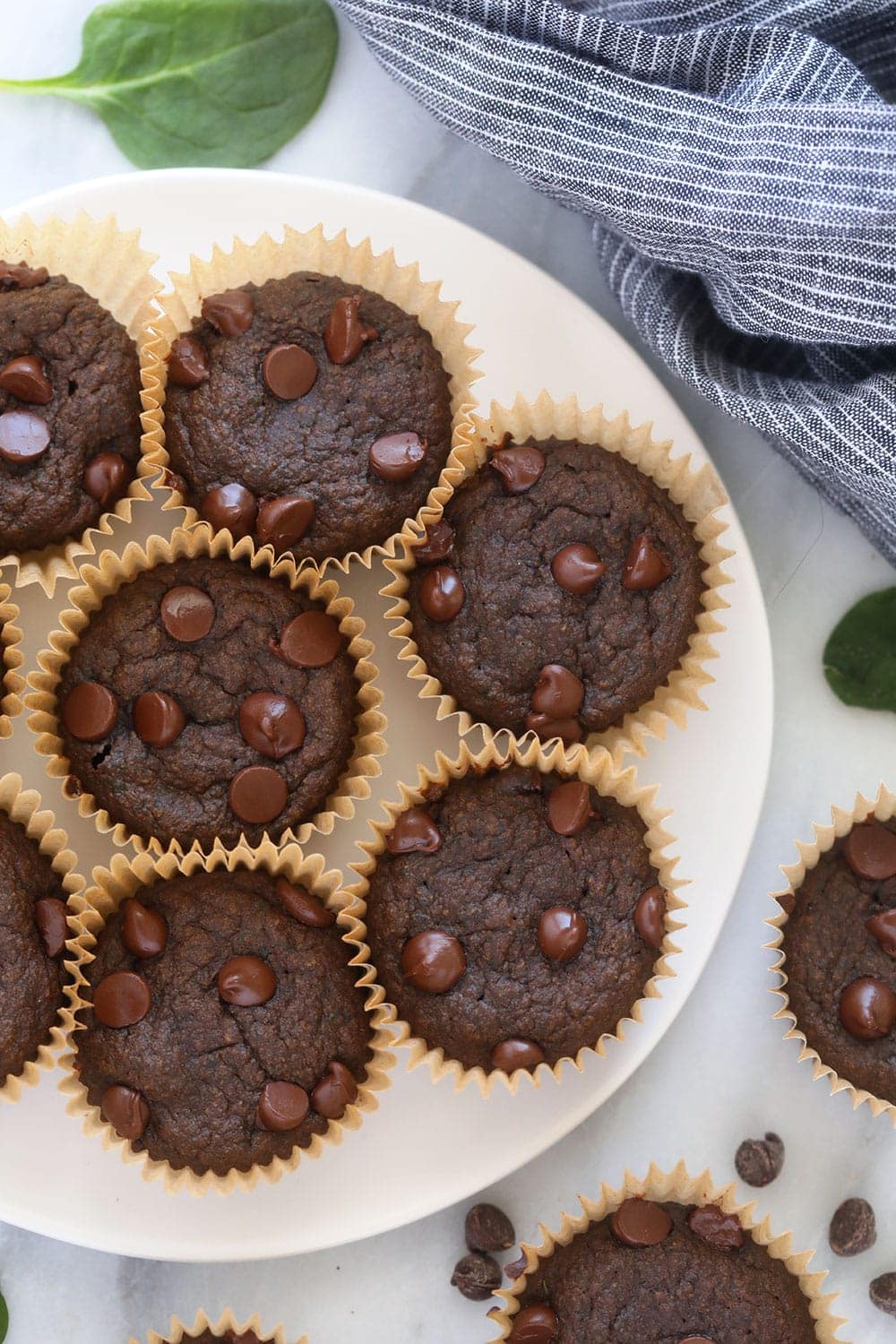 Eat More Vegetables
No matter what your eating habits are or what diet you follow, we can all agree that it is always a good idea to eat more veggies! Whether you are a fan of vegetables or not, these sneaky spinach chocolate chip muffins will are everyone's favorite muffin!
These little muffins are so chocolatey and moist! They are perfectly moist because of the pureed spinach in them and you can't even taste the spinach!
These muffins are perfect for a healthy breakfast, a delicious snack, or even for dessert.
How to Make Spinach Muffins
Prepare Ingredients.
One of the best pieces of advice I can give you when you are preparing to bake is to measure out and prepare all of the ingredients from the recipe before even starting!
You can avoid measuring mistakes and if you are out of something you won't realize it while you are in the middle of baking (we've all been there).
Blend the oat flour, separate the eggs, and measure out all of your ingredients before moving on with the instructions in the recipe card!
Blend it.
One of the best parts of this recipe is that it is all mixed and blended in the blender!
We recommend blending the greek yogurt and banana FIRST and then add the spinach and blend until smooth! You really want these three ingredients to blend until smooth. The spinach is added raw, so it's important that all the pieces are blended!
Why can't you add all the wet ingredients in right away? We want to avoid over mixing the eggs! Sometimes when you over mix eggs, they cause your baked good to become firm! So blending the banana, greek, and spinach food is a way to avoid that.
After you have blended all the wet, add the dry ingredients and pulse the blender until everything is combined!
Fill muffins.
These little spinach chocolate chip muffins are a bit more dense than other muffins because we use oat flour! Have no fear if they don't turn out super fluffy, they taste AMAZING!
We recommend using a cookie scooper to scoop the muffin batter into the muffin liners. It makes for a quick and easy process!
After you fill the muffin liners, all that is left is baking! Keep an eye on the muffins. They should bake for about 20 minutes!
Storage.
After you have baked the muffins, let them cool completely before storing them! You have a couple of options when it comes to storing these bad boys!
Refrigerator- We do not recommend leaving these muffins out on the counter. Place them in a reusable air-tight bag or container and they will last in the fridge for up to 7 days!
Freezer- After letting the muffins cool completely, you can freeze these muffins for up to 3 months if you store them in an air-tight container!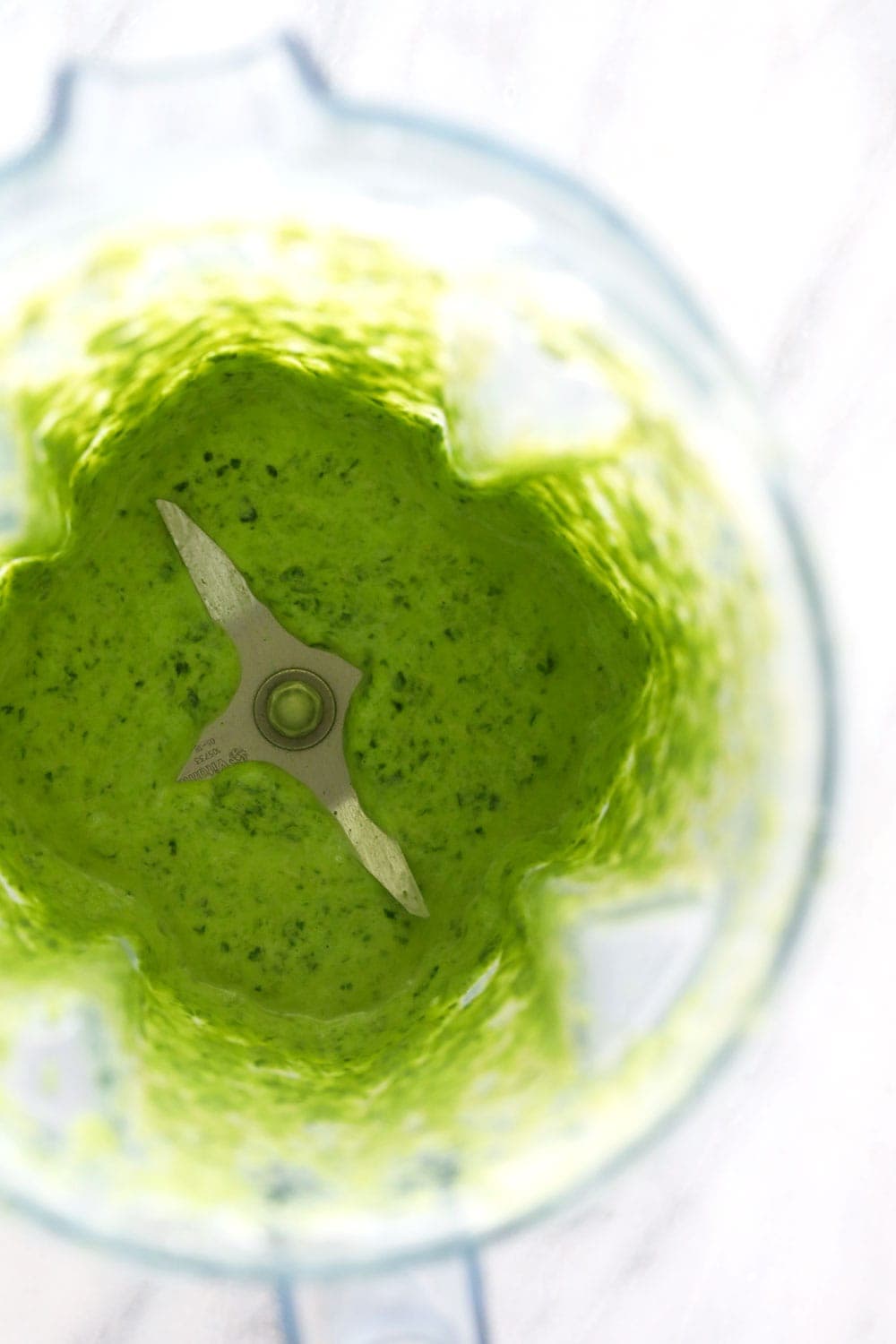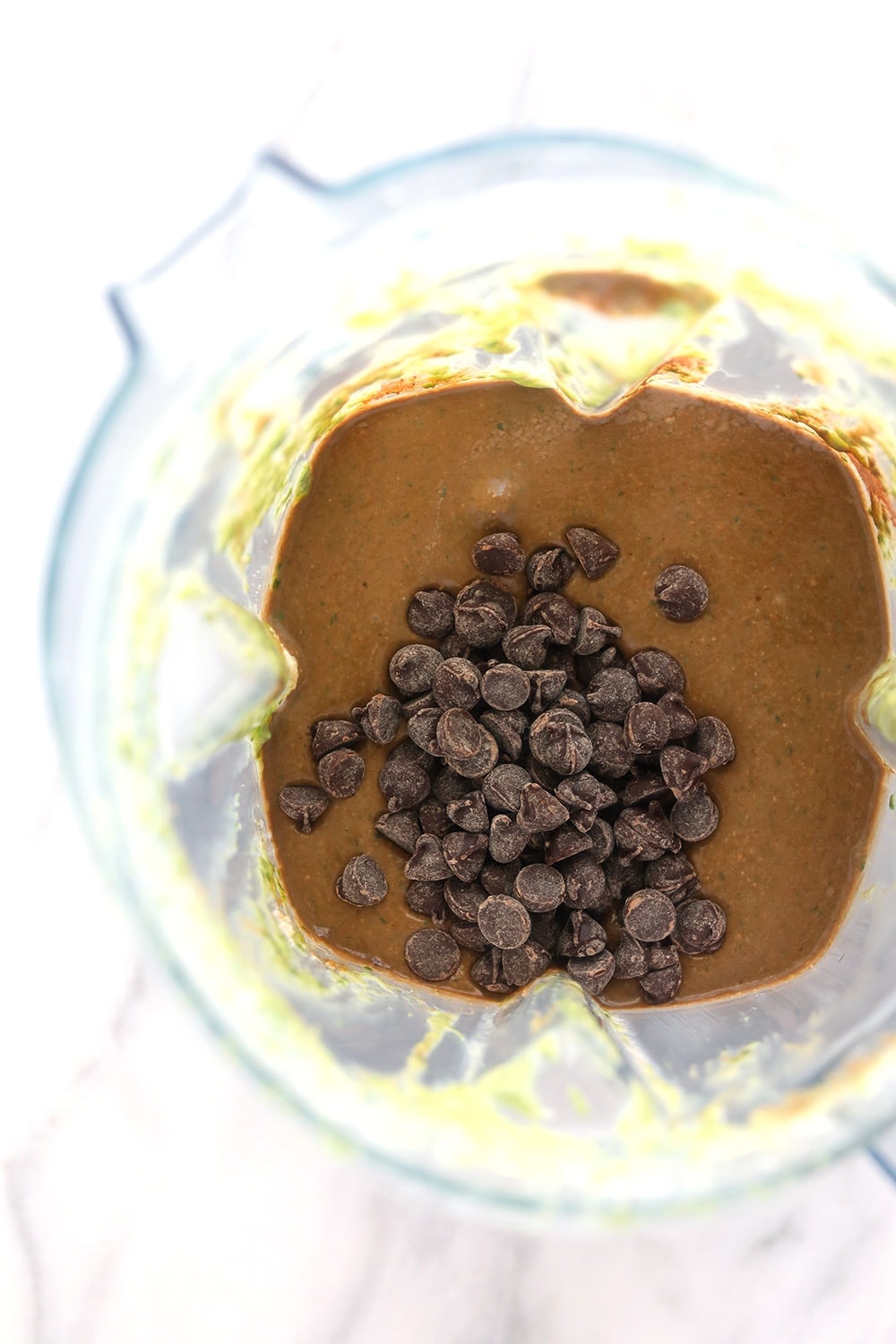 Ingredient Substitutions
There are usually a lot of ingredient questions when people make these muffins, so let's chat about ingredients you can and can not substitute in this recipe!
Banana- You can substitute mashed or pureed banana with applesauce, sweet potato puree, or butternut squash puree! Basically any sweet fruit or vegetable puree will work!
Egg- You are more than welcome to use flax eggs in this recipe, but know that the muffins will be even more dense if you do!
Greek yogurt- Sour cream is a great substitute for greek yogurt in baking!
Coconut Oil- Any oil substitute will do if you are out of coconut oil!
Ground Oat Flour- We do not recommend substituting the oat flour in this recipe! It is a pretty specific flour. However, if you don't have oat flour remember you can just grind your own oats into flour!
Coconut Sugar- Brown sugar is a great substitute for coconut sugar!
Chocolate Chips- Not feeling the chocolate chips? Omit them or fold in your favorite dried fruit like cherries or craisins! Just keep in mind the chocolate chips are sweet and add sweetness to the recipe and if you omit them your muffins may not be as sweet.
Spinach- Though spinach is the star of the show, feel free to try kale!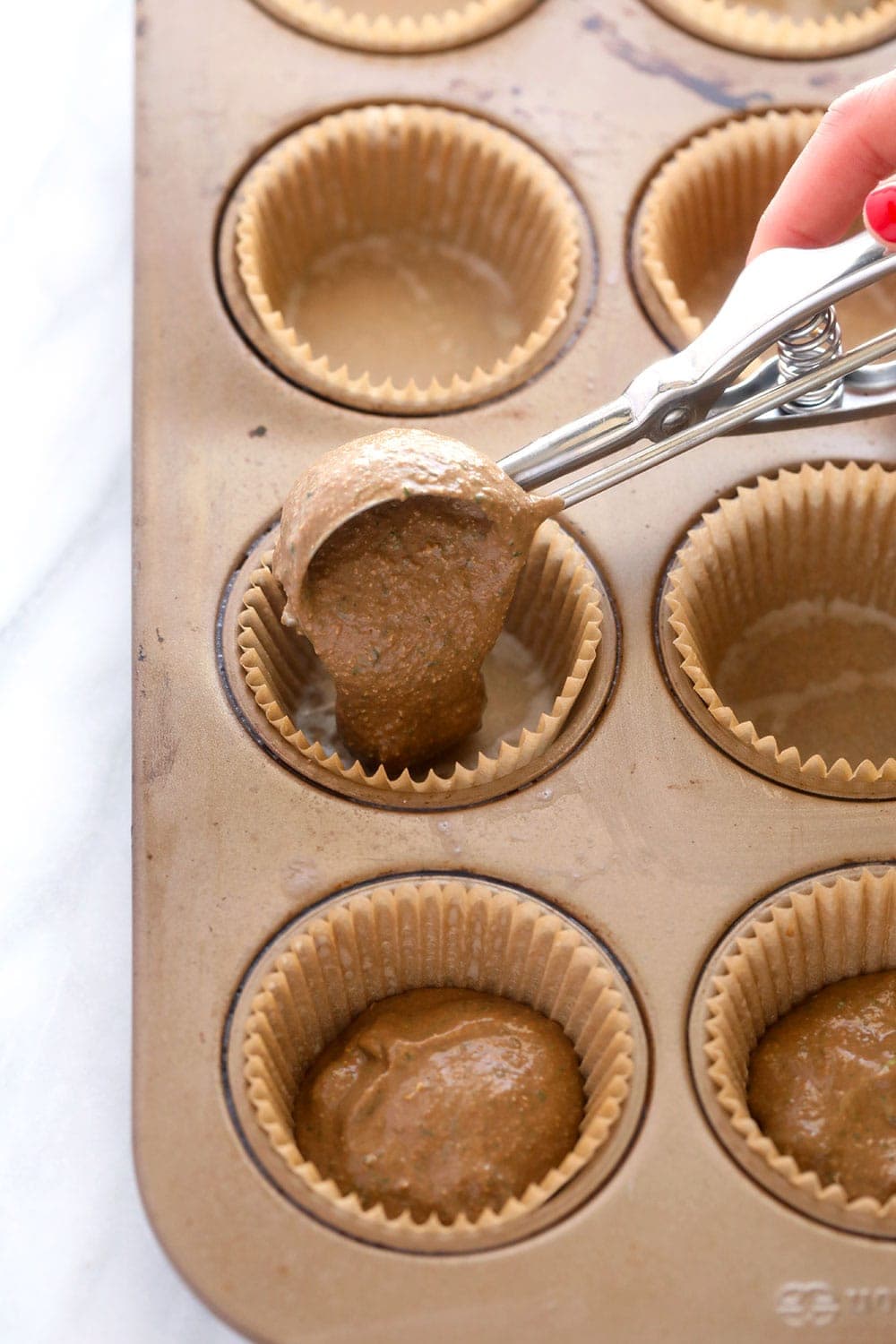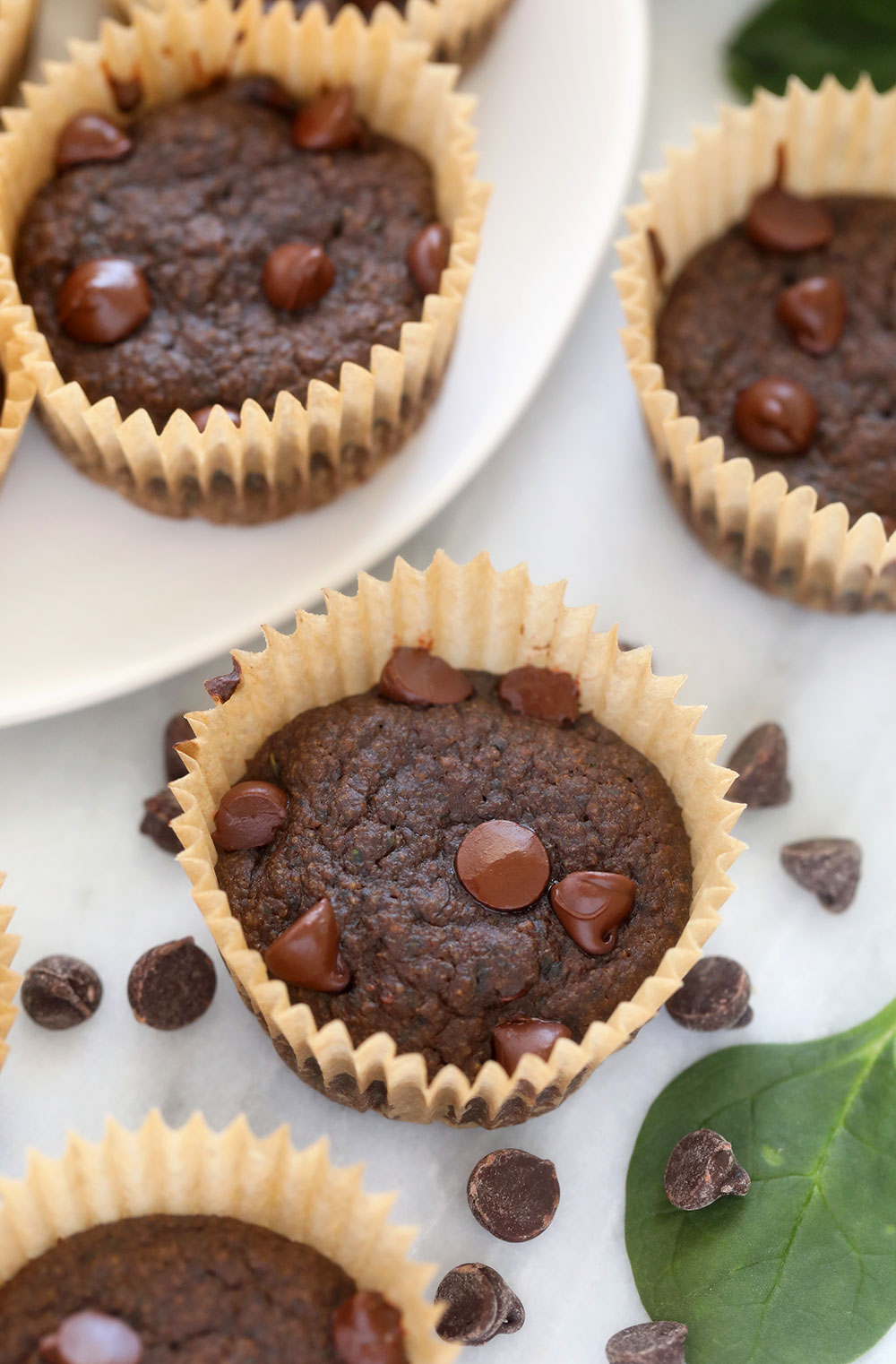 Healthy Muffin Recipes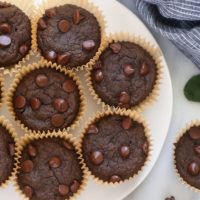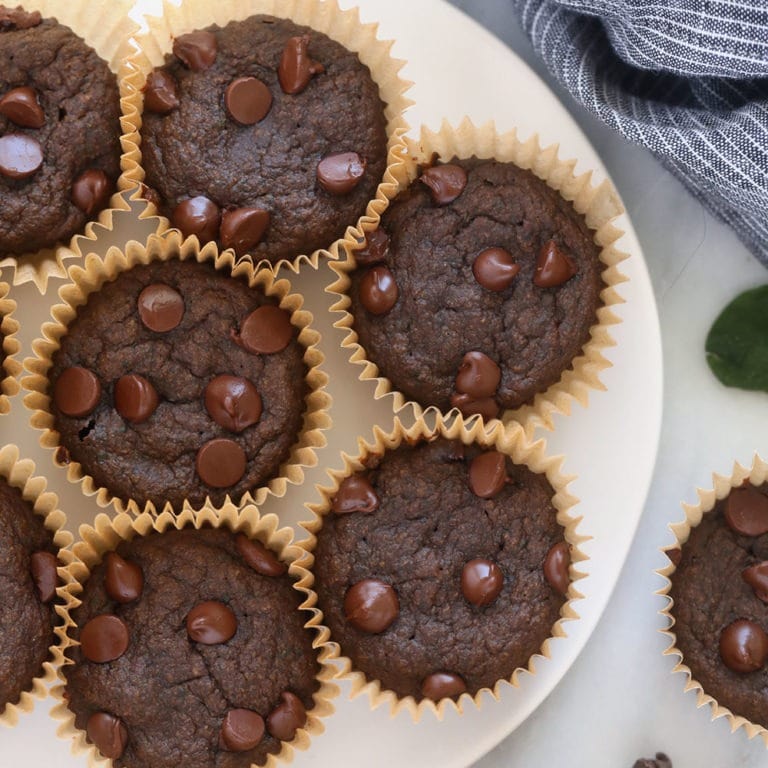 Sneaky Spinach Chocolate Chocolate Chip Muffin Recipe
These muffins are dense, chocolatey, and 100% whole grain. The best part about these muffins is they are packed with superfood vitamins and minerals from hidden spinach that you can't even taste!
Prep:
10 mins
Cook:
20 mins
Total:
30 minutes
Ingredients
Wet Ingredients
1

large banana, mashed

1

large egg

2

large egg whites

1/2 cup

plain Greek yogurt

1 teaspoon

vanilla

2 tablespoons

coconut oil, melted
Dry Ingredients
Instructions
First, preheat the oven to 350ºF and line a muffin pan with muffin liners.
Next, place banana and Greek yogurt in a blender and blend until smooth. Add spinach to the blender and blend again.
Finally, add the rest of the ingredients to the blender and pulse the blender until all ingredients are combined.
Carefully scoop batter into the muffin tins, filling muffin liners about about 3/4 of the way full.
Bake at 350ºF for about 20 minutes or until the center is fully cooked.
Tips & Notes
*Do not blend on high, only pulse to prevent over mixing.
Nutrition Facts
Serving Size:
1/12
Calories:
126
Sugar:
7
Fat:
3
Carbohydrates:
18
Fiber:
1
Protein:
3
Category:
Snack
Method:
Oven
Cuisine:
American