Get your sweat on and do this killer cardio and strength workout combo! It's a mixture of HIIT sprints and strength training all in one for the ultimate calorie torch.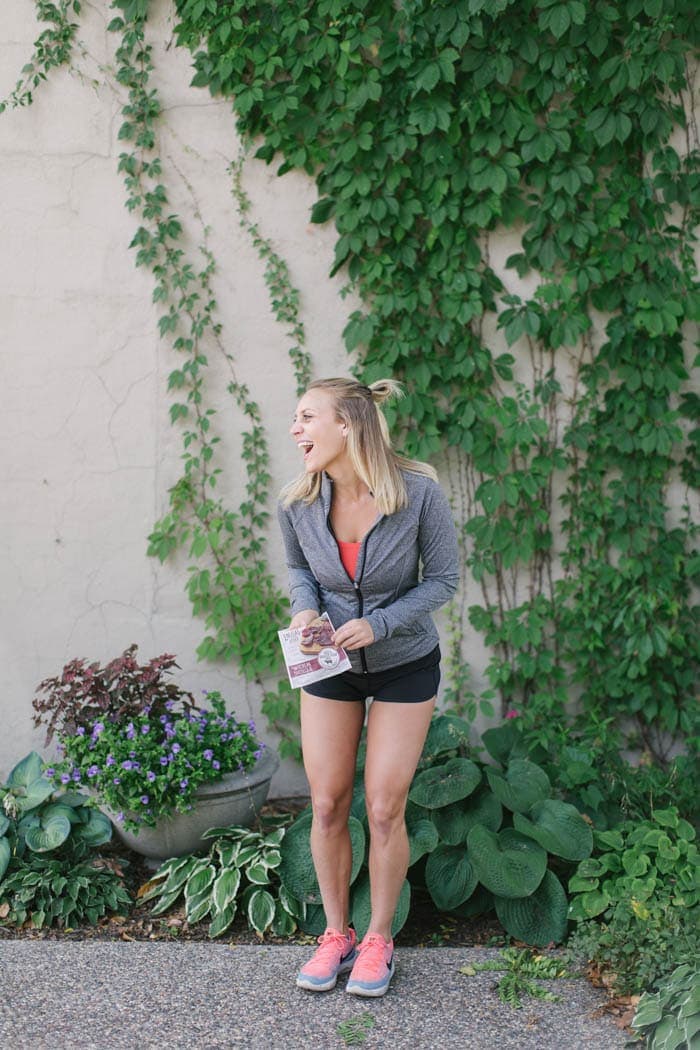 Who is ready to get their sweat on today? I'm pumped to be back in action this morning with a brand new workout in partnership with my favorite high protein snack, Lorissa's Kitchen! If you haven't noticed yet, I am all about LK. LK when I hike, LK when I travel, LK for charcuterie, LK after workouts. When in doubt, always have a bag of Lorissa's Kitchen on hand because you never know when you're going to miss a flight or be hungry in an 8 hour car ride. Why do I love it so much? First and foremost, the flavor. I am all about healthy food that tastes good, and this product 100% passes that test. With four unique flavors flavors to choose from, there's LK for everyone. Second, I am all about what they are all about.
100% grass-fed beef
Poultry raised without antibiotics
Pork raised responsibly
Oh, how could I forget that they are Minnesota-based too, which makes this partnership even sweeter.
I get asked often how I refuel after workouts and one thing that I always do is eat some kind of protein. Why? Your muscles need it to repair themselves after you've broken them down during a workout, especially if you're strength training. Eating things like hard-boiled eggs, my favorite post-workout cold brew protein drink, and mint chip protein energy balls are a great idea, but when I'm out and about and don't have time to whip up these go-to post-workout snacks, Lorissa's Kitchen comes in hand! In one serving of LK, you can get up to 11g of protein and there's multiple servings per bag, so you're good to share if you need to. Boo. Yah.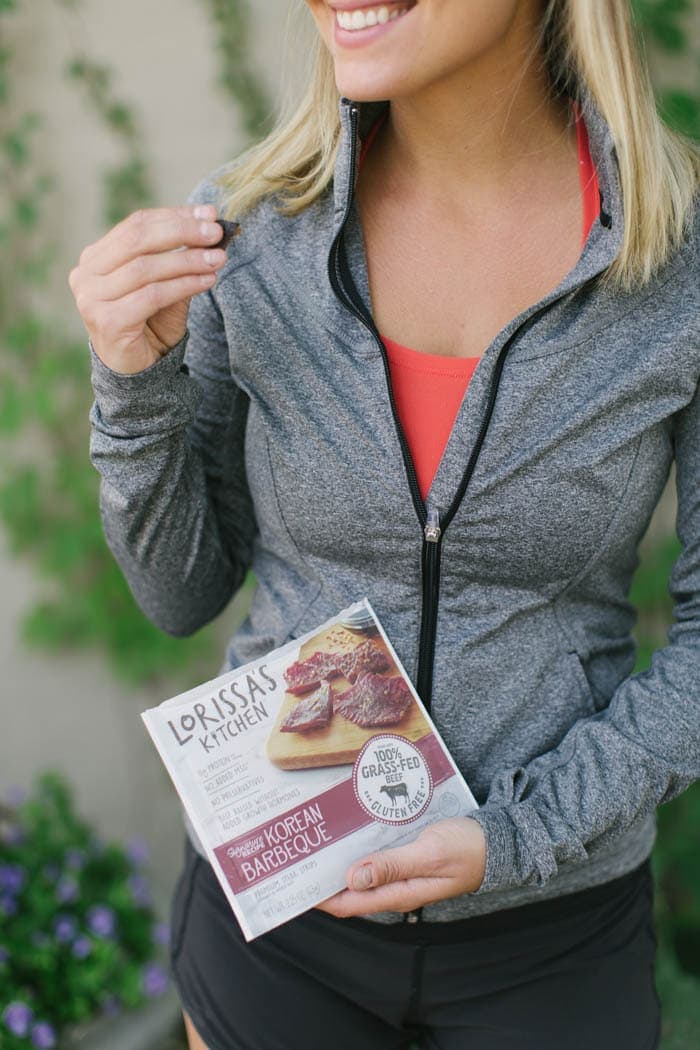 Today's workout is a format I borrowed from Switch Minneapolis, my favorite gym in the Twin Cities. It's part sprint, part strength training, and I was reminded last week how intense this workout really is. I promise it will leave your heart pounding, your face dripping with sweat, and your mind satisfied!
For the sprint circuit, feel free to do any kind of sprint you like. I suggest the treadmill or a rowing machine. Make sure you sprint for one minute and follow that with the plyometric moved listed beside it. For the strength circuit, do each move for 16 reps before moving on to the next move. You'll do the strength circuit twice and in total, 4 times. If you're looking to build lean muscle and burn a ton of calories… go heavy. Girls, I promise you will not get big! Plus, strong is sexy.
The Best Killer Cardio + Strength Combo Workout
Description: There are two circuits. Complete the cardio circuit 1 time through, and the strength circuit two times through. Then, repeat the entire workout one more time!
Sprint Circuit
1' sprint → 20 squat jacks
1' sprint → 20 cycle jumps
1' sprint → 20 Plank to Low Squat
1' sprint → 20 Lateral Bounds
1' sprint → 20 Star Jumps
Strength Circuit (x2)
16 ranger squats

16 inch-worm push-ups
16 deadlifts to bicep curls
16 plated abs
16 around the worlds
REPEAT x2!

Fitness Disclaimer: I am not a certified personal trainer, I am simply sharing workouts that I have put together on my own. Please consult your doctor before starting a new fitness program and as always, listen to your body!
Partnership Disclaimer: This post is sponsored by Lorissa's Kitchen. I was compensated and all opinions are my own. Thank you for supporting Fit Foodie Finds and making this website possible!