These healthy peanut butter brownie balls are the energy ball of all energy balls. They're packed with protein and fiber and pretty much taste like dessert!
Recipe sound familiar? Well, that's because it's one of the first ball recipes I ever posted on FFF. The original dates back to 2012 (WOAH), when I was just a wee baby 22 year old. I can't believe I've been posting energy ball recipes since COLLEGE, which was over 5 years ago. I honestly can't remember where I even came up with the concept of energy balls (probably Kath Eats or Carrots and Cake), but the concept of these easy, bite-sized snacks have stuck with me ever since.
If you search BALLS on FFF, you will find over 20 ball recipes. Vids and I even did an Energy Ball Week together way back when. Obviously the photos and recipes have gotten progressively better over time, so don't be shocked if you're wowed by my ancient 2012 photography 😀 Okay check out the before and after of these photos: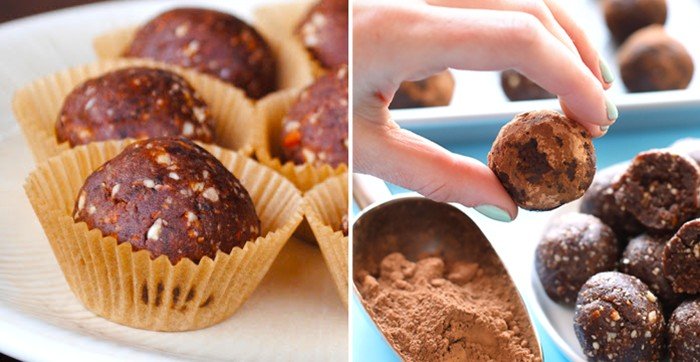 I can't even. I'm pretty sure I was shooting in auto with the kit lens. Ohhhh have times changed!
So these peanut butter brownie balls are actually made with a raw almond base. I know I know, it says peanut butter in the title (which there is pb involved), but almond meal is a great base ingredient for energy balls because they don't have a TON of flavor until they are roasted. If you want to sub peanuts because they are cheaper, you're more than welcome to do that! Other ingredients include Medjool dates, cocoa powder, and maple syrup. PRETTTTTY simple ingredients, which is one of my favorite things about this recipe!
Oh, if you're in the market for a new food processor…we love ours – Kitchen Ninja
!
One last thing before you dig into this recipe. Lin and I actually came up with a lactation ball recipe, that we're calling "boobie balls" for our girl, Lindsey at Nourish Move Love. We've fallen in love with here babe, Brody, and wanted to make sure mama is fueling for milk production! We love Lindsey for so many reasons, one of which is her realness. She brought us along for her pregnancy ride every step of the way and we are so thankful for that and never want to have kids. JK JK. I wish more people were as open to their experiences as Lindsey has been with us! WE LOVE YOU LINDS!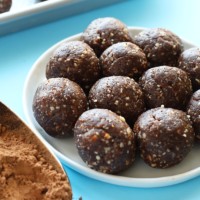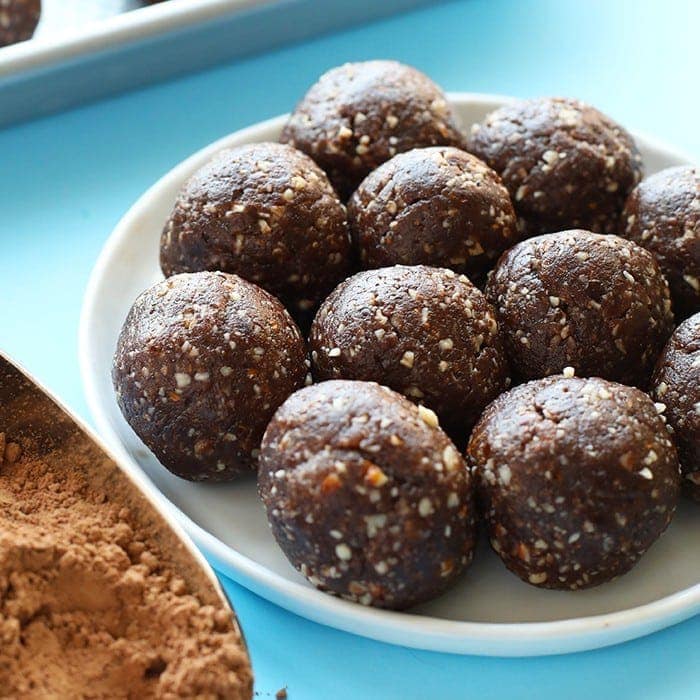 Peanut Butter Brownie Balls
These healthy peanut butter brownie balls are the energy ball of all energy balls. They're packed with protein and fiber and pretty much taste like dessert!
Ingredients
2

cups

raw almonds

20

medjool dates

pitted

1/4

cup

+ 2 tablespoons cocoa powder

we used dark cocoa powder

1/2

cup

all-natural peanut butter

3

tablespoons

maple syrup

1/8

teaspoon

sea salt
Instructions
Place almonds into a food processor and process on high until you've created a fine almond meal.

Next, pit 20 medjool dates. Then, add those into the food processor along with the cocoa powder, peanut butter, maple syrup, and sea salt. Process on high until everything is pulverized. You may need to add a few teaspoons of water to the mixture depending on how sticky your dates are.

Scoop a heaping tablespoon of dough into your hands and roll into a ball. Repeat.
Tips & Notes
Store in the refrigerator for up to a week or in the freezer for up to 2 months.
Nutrition facts
Calories:
152
kcal
Carbohydrates:
20
g
Protein:
4
g
Fat:
8
g
Fiber:
3
g
Sugar:
15
g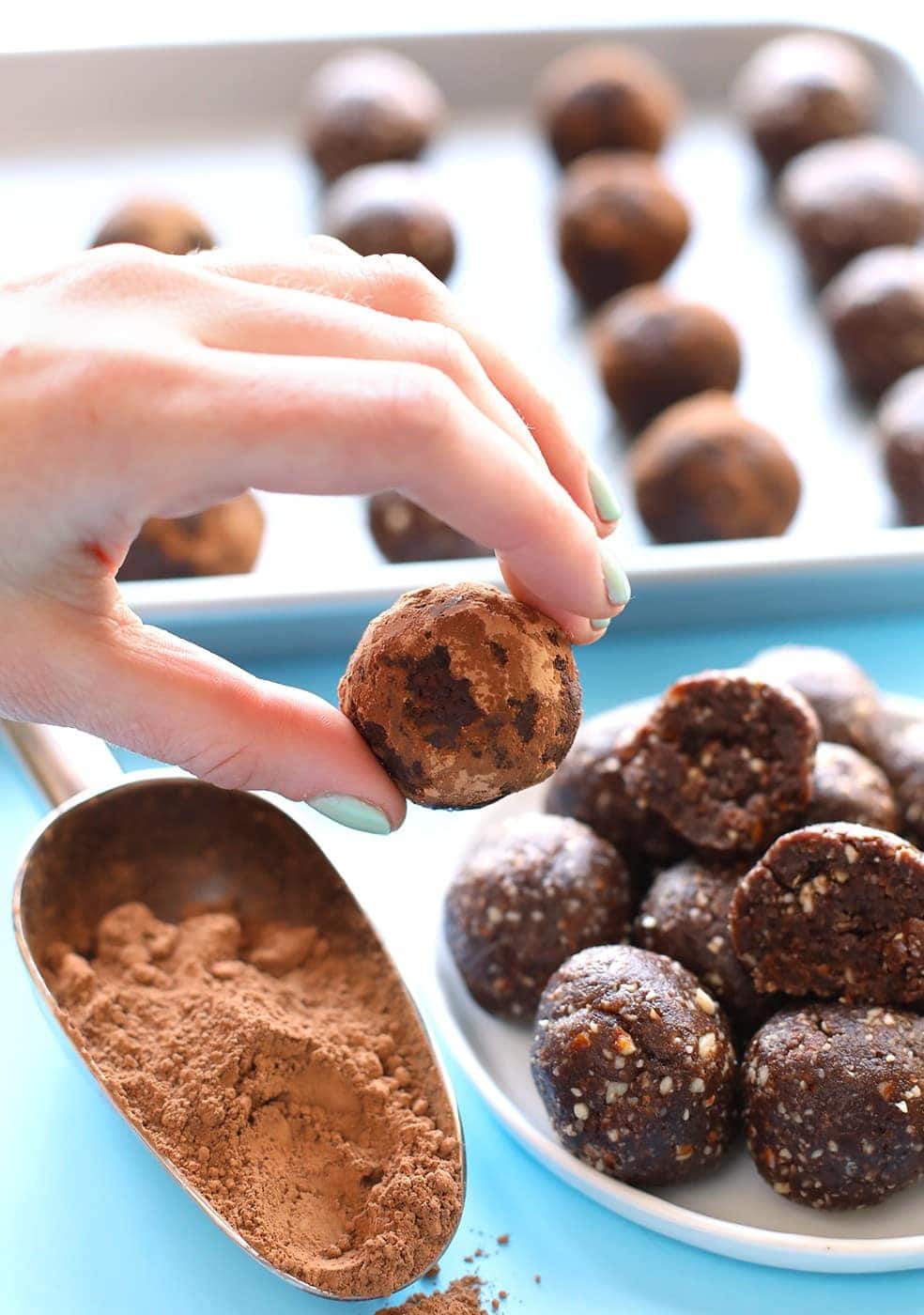 What is your favorite FFF ball recipe? Or ball recipe in general?