With over 3 1/2 years of blog posts in the archives, it sure is fun looking back. Looking back to the time when I was in college. When I got my first job. When I quit my first job. It's also kind of awesome to see what A LOT of practice can do to your photography. I cringe looking back at photos circa 2011 :D
Anywho. I thought I would do THE ULTIMATE FFF Summertime recipe round-up! Here's 42 Healthy summer recipes!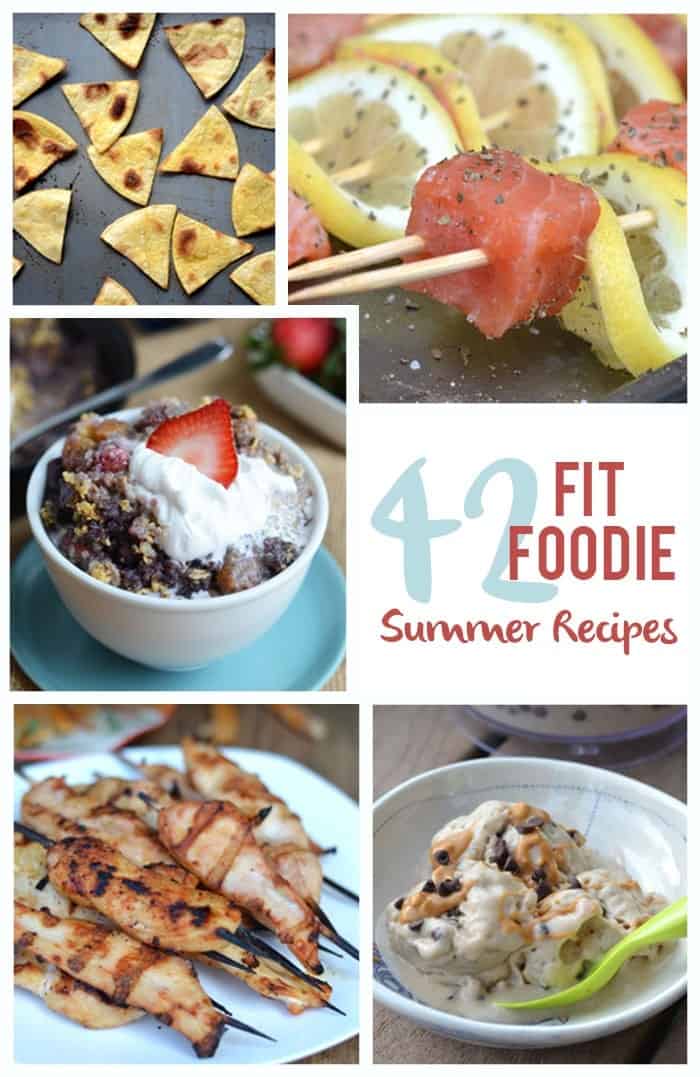 Let's start off with summertime mains. Think grill, meat, fish, burgers.
2. Tropical Teriyaki Chicken Breasts
3. Jerk Fish Tacos with Asian Slaw
6. Black Bean Teriyaki Pork Chops
8. Seared Ahi Tuna with Corn Relish and Cilantro Yogurt Sauce
Next up, summertime sides. Can you say salads and root veggies?

9. How to Grill Brussels Sprouts
10. Chunky Southwestern Quinoa Salads
11. Roasted Easy Herby Spiralized Veggies
12. Sweet Maple Grille Sweet Potato Wedges
13. Leftover BBQ Chicken Salad
15. Broiled Grapefruit Spinach Salad
16. Beet and Tomato Quinoa Salad
17. The Crispiest Sweet Potato Fries Ever
Breakfast- the best meal of the day. Sometimes I eat it for all three meals. Don't judge! My summer favorites? Ice cold smoothies, overnight oats, and EGGS!
19. Asparagus and Shiitaki Mushroom Frittatas
20. 3-Ingredient Banana Pancakes
23. Strawberry Vanilla Overnight Oats
24. Nectarine Kefir Overnight Oats
It wouldn't be summer without dessert! We're talking banana soft serve, crumbles, and fruity drinks!
26. Grilled Apricot Quinoa Parfaits
27. Peanut Butter Chocolate Chip Banana Soft Serve
28. Banana Chocolate Soft Serve Ice Cream
29. Strawberry Peach Quinoa Crumble
30. DIY Sangria
31. Cherry Garcia Paleo Milkshake
32. Creamy Strawberry Coconut Fruit Dip
33. Gluten Free Chocolate Chip Fruit Pizza
Because I'm a snacker…dried fruit, granola bars, and homemade tortilla chips, ,to name a few!
34. Healthy Peanut Butter Rice Crispy Treats
35. Banana Sushi
36. Gluten Free Banana Oatmeal Bars
37. Chai Apple Chips
41. Chocolate Coconut Granola Bars
42. Homemade Baked Tortilla Chips
Recipe Requests- I love hearing your recipe requests! It not only gives me ideas, but helps serve the Fit Foodie Community its the fullest! So, what summertime recipes would you like me to give a Fit Foodie twist to?
PS: In case you haven't heard, I am releasing my FIRST e-COOKBOOK on Sunday! It's called 34 Healthy Single-Serve Desserts. To learn more click HERE or Click below to pre-order for $9.99!