Crispy Air Fryer Buffalo Cauliflower Wings make for a delicious game day appetizer or vegetarian weeknight meal!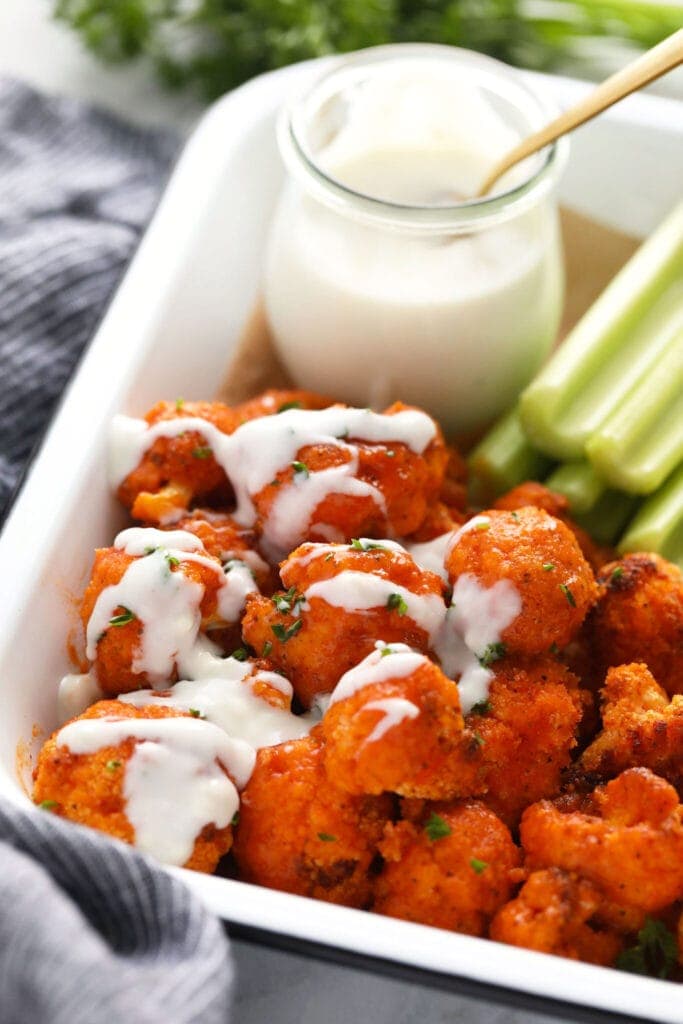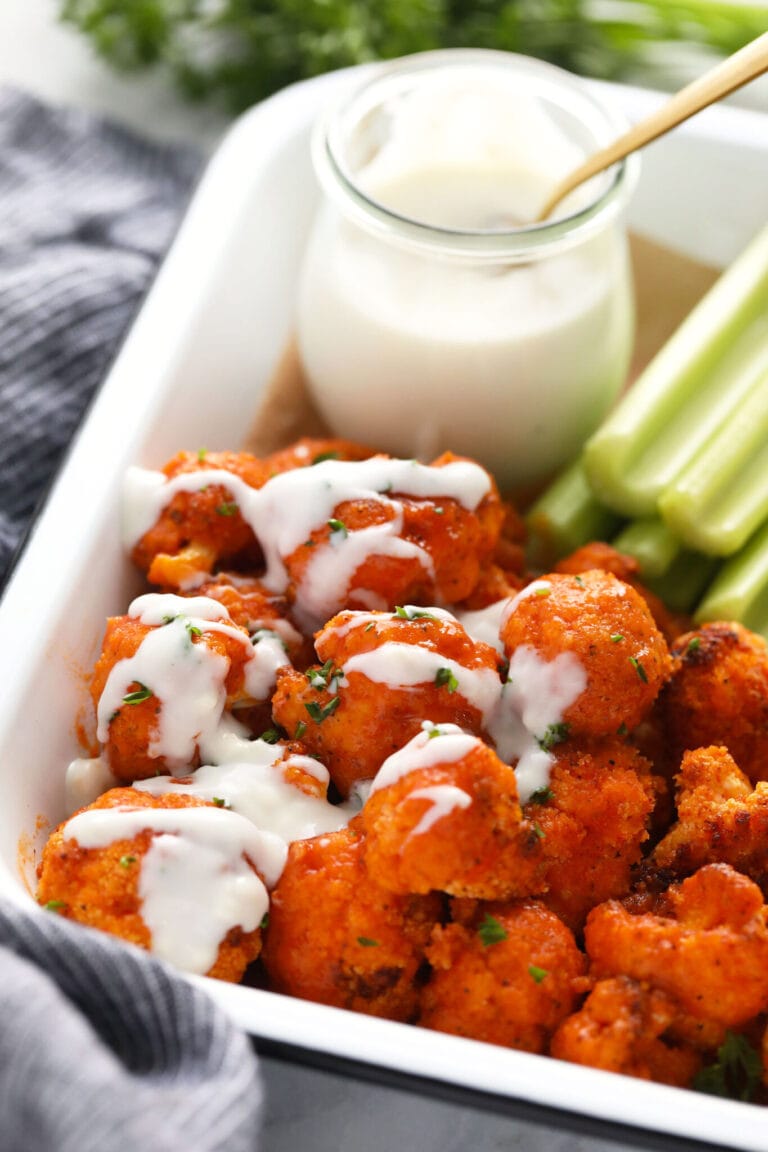 Buffalo Cauliflower – Air Fryer Style!
You guys love our Baked Cauliflower Wings so much, we thought we'd do a buffalo cauliflower air fryer recipe!
Air Fryer Cauliflower is an easy way to get your cauliflower nice and crispy without having to deep fry it. This air fryer buffalo cauliflower wings recipe is just that but then tossed in a yummy buffalo sauce for mega flavor.
You'll love this Air Fryer Cauliflower Wings recipe because:
Crunchy cauliflower without deep frying
Naturally gluten-free
Vegetarian wings option
7-ingredients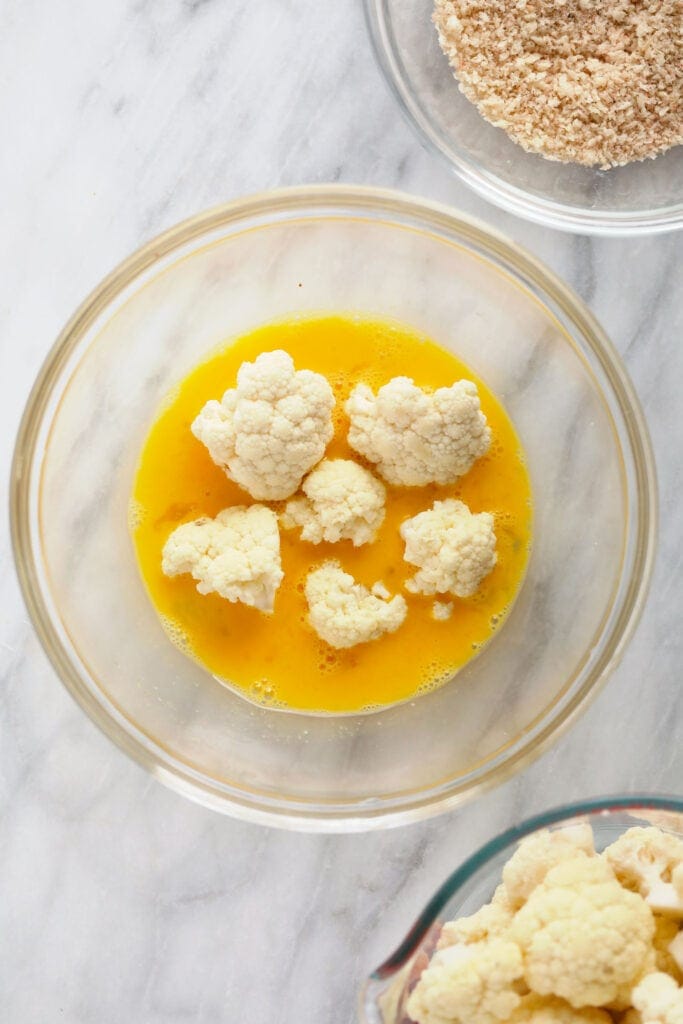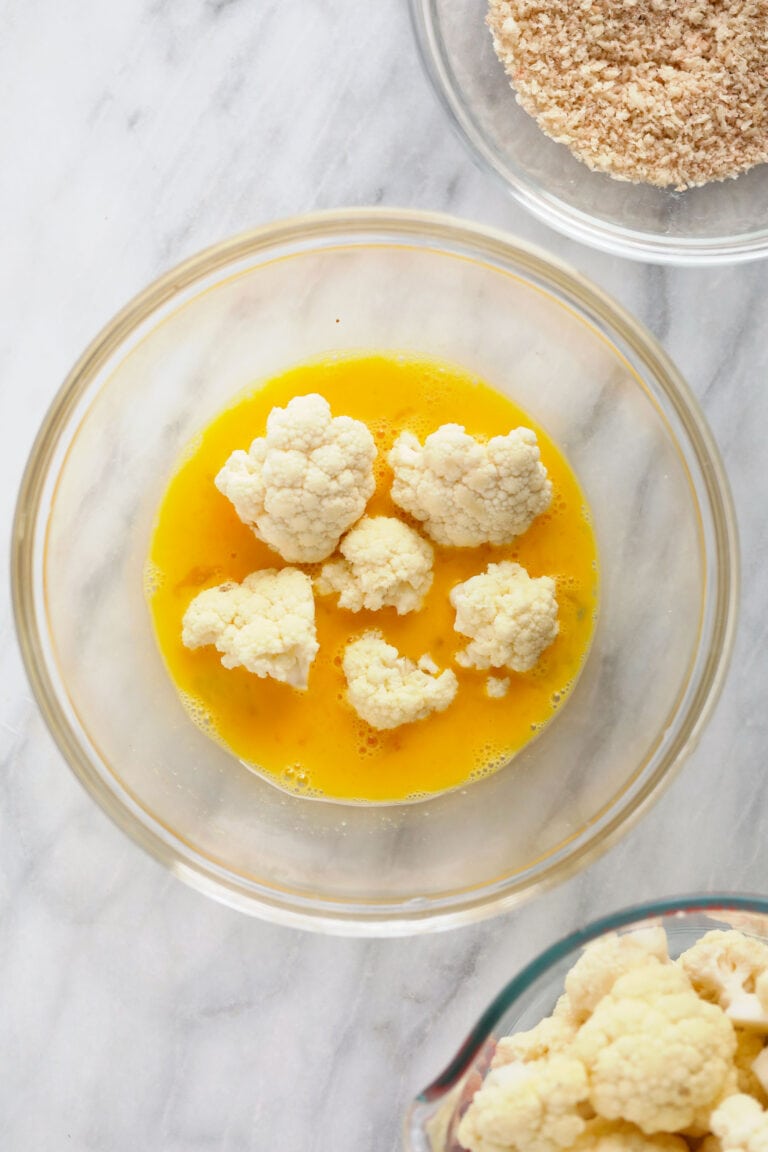 What You Need
This recipe is split into two parts – crunchy air fryer cauliflower and then a homemade buffalo sauce. Here's what you need for both:
Air Fryer Cauliflower
4 cups cauliflower florets (~1 medium head)
1 cup blanched superfine almond meal
1 tablespoon garlic powder
1/2 teaspoon smoked paprika
1/2 teaspoon salt
1/2 teaspoon ground pepper
2 large eggs
Buffalo Sauce
3 tablespoons melted butter
1/2 cup Franks Hot Sauce
2 tablespoons honey
Where's the Panko?
We did a little poll on Instagram and it turns out you guys wanted a Panko coating instead of an almond flour coating for these air fryer buffalo cauliflower wings.
We're sorry to be the bearer of bad news, but the almond flour coating turned out so much better! We tested both methods and the Panko didn't work as well for a few reasons:
It had a hard time sticking to the cauliflower.
It didn't get as crispy in the air fryer.
If you still want to use Panko breadcrumbs, feel free to swap it 1:1 for the almond flour.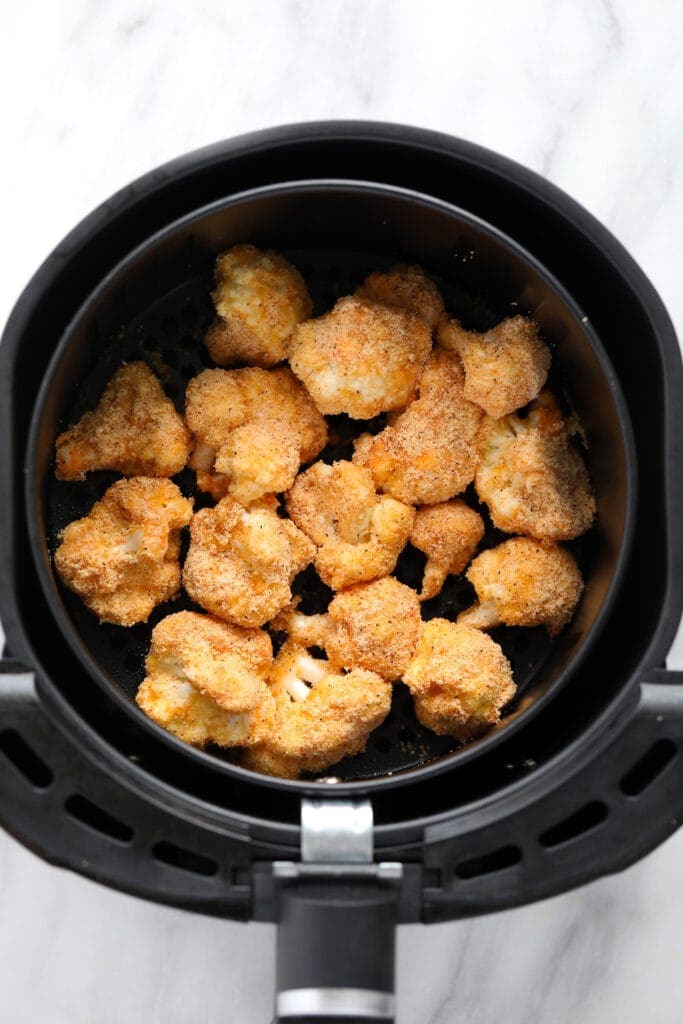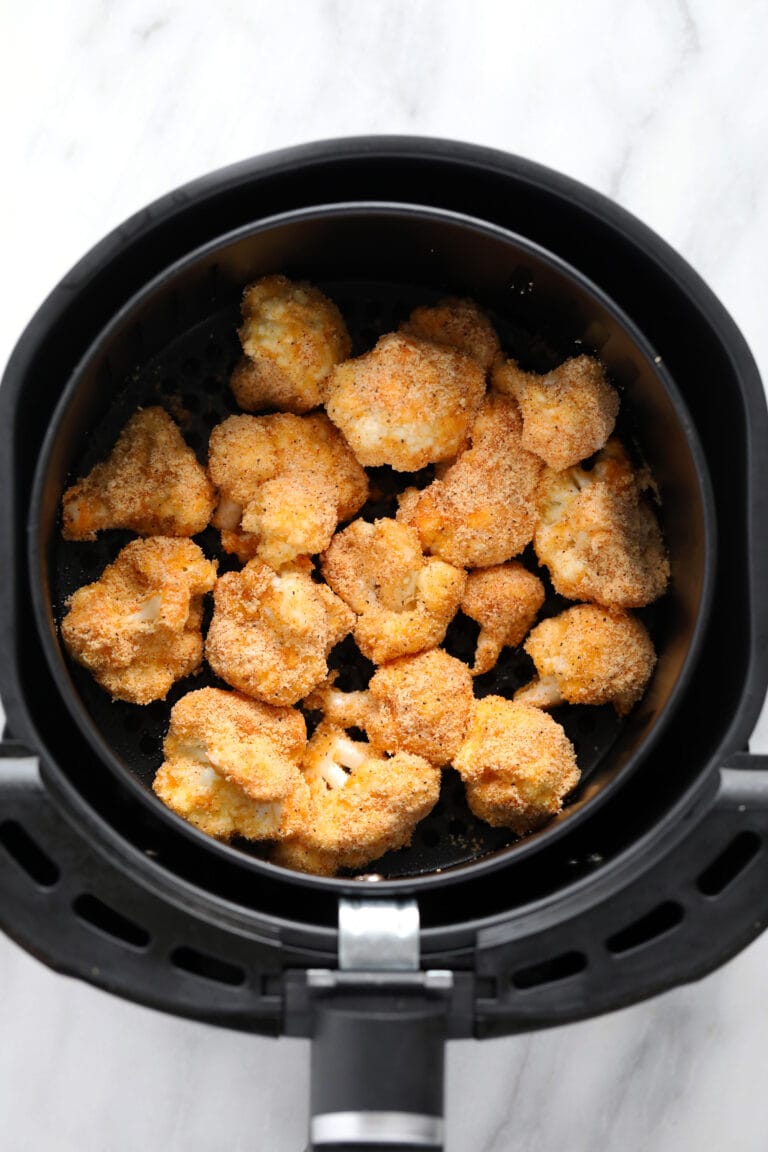 Perfect Air Fryer Cauliflower Tips
Bite-Sized Pieces: make sure that you cut your cauliflower into bite-sized pieces, rather than large florets. You can even cut their stems off to be more wing-like.
Evenly coat: dip florets into the egg wash and then dredge the florets in the almond flour mixture to evenly coat.
Cook in Batches: cooking in batches is huge! You want to make sure your cauliflower wings are stacked on top of each other in the air fryer. They can be touching a little because they will shrink while cooking, but make sure to cook them in batches.
Toss Halfway: Toss air fryer cauliflower wings at around the 6 minute mark. We literally just remove the basket from the air fryer and shake/toss them around.
Cook until golden brown: like ovens, all air fryers are different. Air fry your cauliflower until golden brown and crispy.
Want to caramelize your cauliflower wings?
Once your air fryer cauliflower is done air fryer and they've been tossed in buffalo sauce you can eat them immediately, or you can spread them out on a baking sheet and broil them for 2-4 minutes to get them extra caramelized and sticky.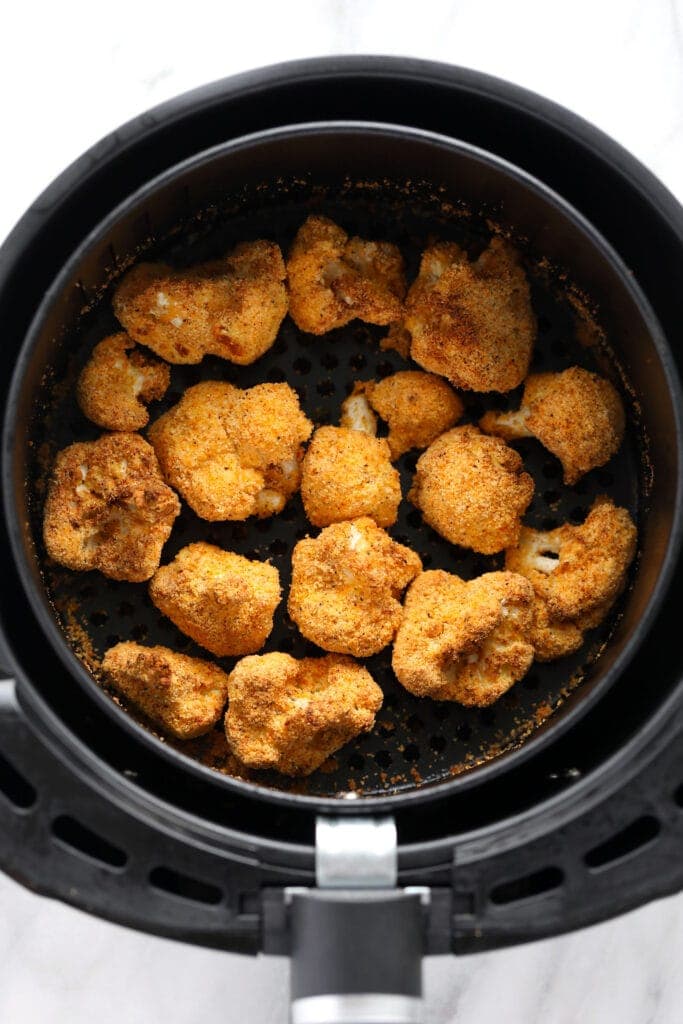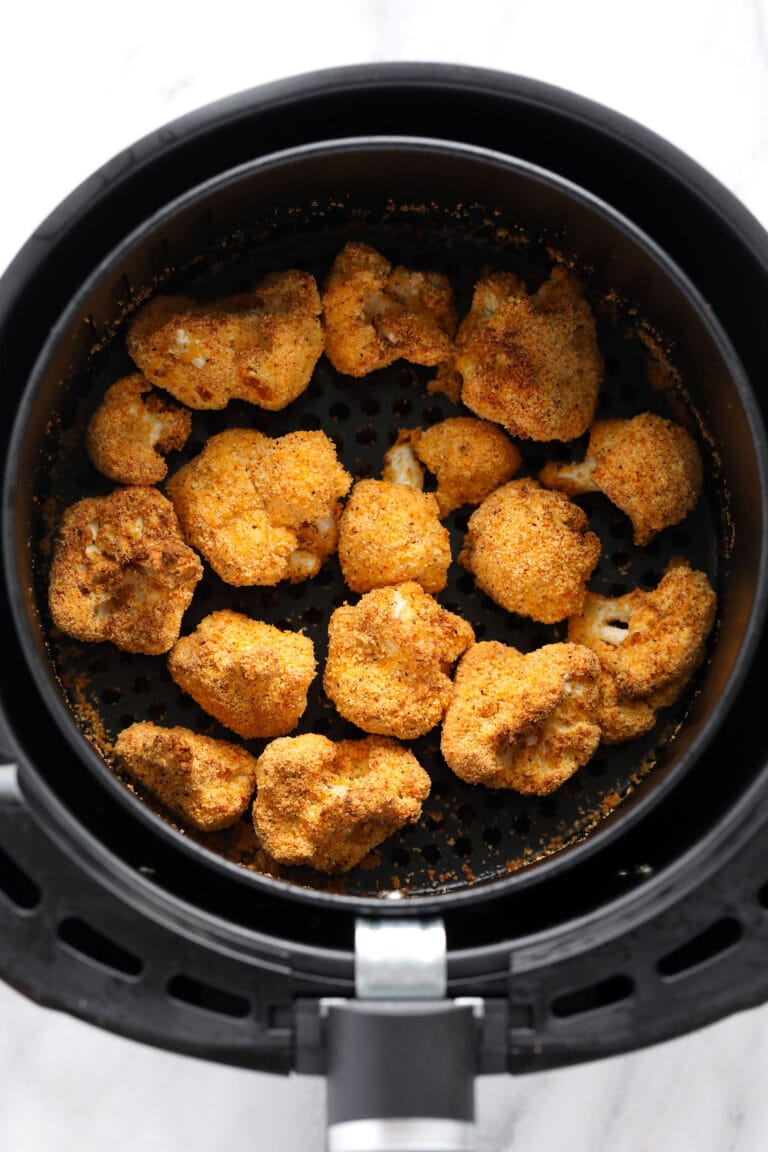 More Flavor Combinations
Not digging buffalo sauce? Here are some other fun sauces that you can toss your cauliflower in after they're done in the air fryer:
Honey Sriracha – mix together 1 part honey to 1 part sriracha for a sweet and sour flare.
BBQ Sauce – use your favorite pre-made bbq sauce or make your own!
Sauceless – not a huge sauce person? Simply eat these air fryer cauliflower wings naked –> with no sauce!
Dipping Sauce Ideas
Ranch Dressing – buy store-bought ranch dressing or make your own homemade ranch!
Blue Cheese Dressing – we're blue cheese people and make our Greek Yogurt Blue Cheese Dressing whenever we make buffalo wings.
Hummus – mix some hummus with a little bit of water and you've got yourself a semi-homemade dip!
Greek Yogurt + Franks – 1/4 cup nonfrat Greek yogurt + 1/2 tablespoon Frank's hot sauce is another favorite of ours.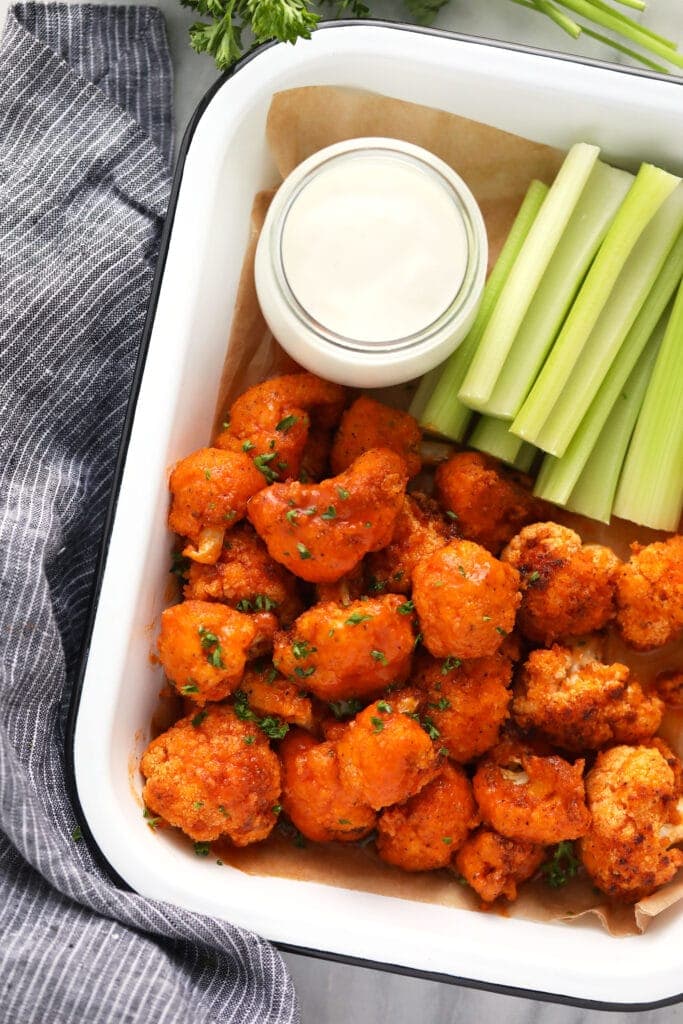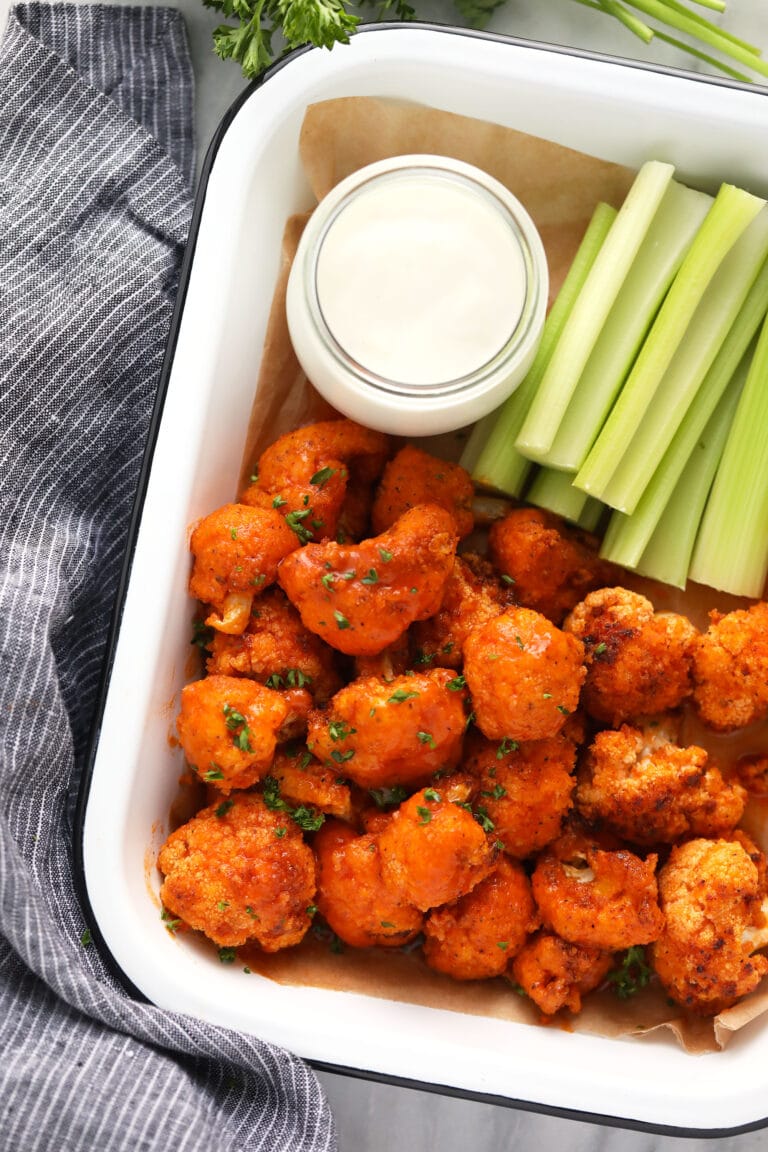 Storage
Got leftover buffalo cauliflower? Store it in an airtight container in the refrigerator for up to 3 days.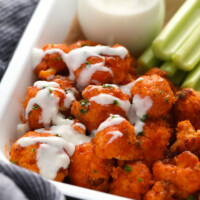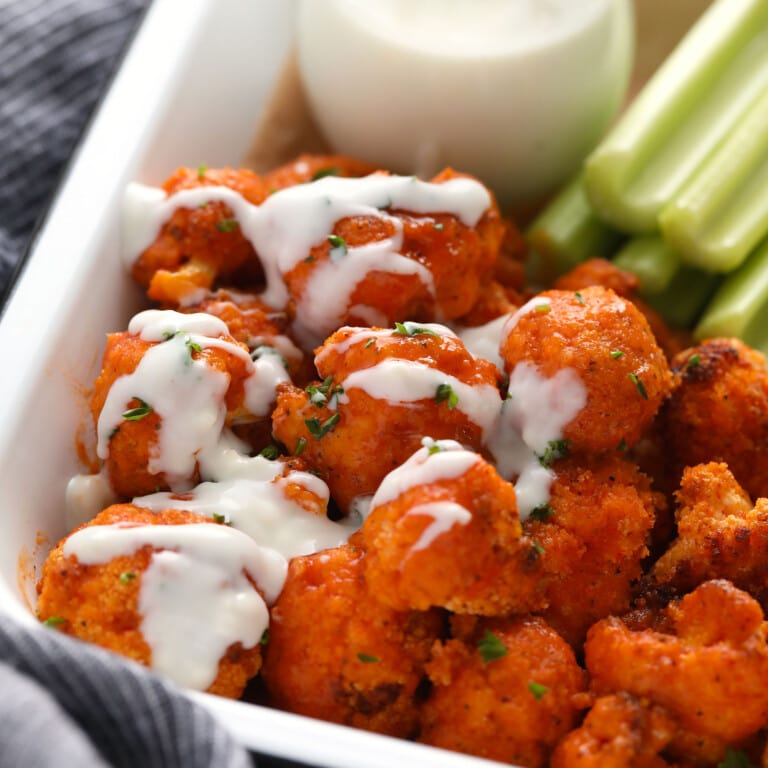 Air Fryer Buffalo Cauliflower Wings
Crispy Air Fryer Buffalo Cauliflower Wings make for a delicious game day appetizer or vegetarian weeknight meal!
Ingredients
For the Cauliflower
4

cups

cauliflower florets

~1 medium head

1

cup

blanched superfine almond meal

1

tablespoon

garlic powder

1/2

teaspoon

smoked paprika

1/2

teaspoon

salt

1/2

teaspoon

ground pepper

2

large eggs
For the Buffalo Sauce
3

tablespoons

melted butter

1/2

cup

Franks Hot Sauce

2

tablespoons

honey
Instructions
First, prepare cauliflower by cutting it into small, bite-sized pieces.

Next, place almond meal, garlic powder, paprika, salt, and pepper into a medium bowl and whisk to combine. Whisk 2 eggs in another medium bowl.

Prepare cauliflower wings by tossing cauliflower pieces in the egg wash to fully coat them. Then, place a couple of pieces of cauliflower into the almond meal bowl at a time. Use a spoon to carefully spoon the mixture on top of the cauliflower, coating it fully. Repeat until all cauliflower is coated in the mixture.

Preheat the air fryer to 370ºF and spray the pan with nonstick cooking spray. Once preheated, place half of your cauliflower wings onto the bottom of the pan and spray the tops with nonstick cooking spray. It's okay if they are touching, but you'll have to cook these wings in 2 separate batches.

Air fry cauliflower wings at 370ºF (or 375ºF depending on the air fryer) for 12-15 minutes, tossing halfway through. You know your wings are done when they begin to brown and crisp up.

While your wings are air frying, prepare buffalo sauce. Melt 3 tablespoons of butter and then mix it with Frank's Hot Sauce and honey. Stir to combine.

Once your wings are done air frying, toss them in the buffalo sauce.

Serve immediately with your favorite dipping sauce.
Nutrition facts
Calories:
239
kcal
Carbohydrates:
13
g
Protein:
7
g
Fat:
17
g
Fiber:
3
g
Sugar:
7
g