Sea Salt Almond Butter Cups…need I say more? Make this healthy sweet treat with just 4 total ingredients!
Fav Sweet Treat
You guys know we are huge fans of fat bombs. However, before fat bombs were a thing, we were all about the actual "cup." Re: Pumpkin Peanut Butter Cups, Protein Peanut Butter Cups, etc.
You can really make a nut butter cup with any kind of chocolate (even white!) and your favorite nut butter for the center.
My all-time fav is a simple almond butter cup made with your favorite dark chocolate bar (or chips). They're ready to go in under 30 minutes and require only 4 ingredients!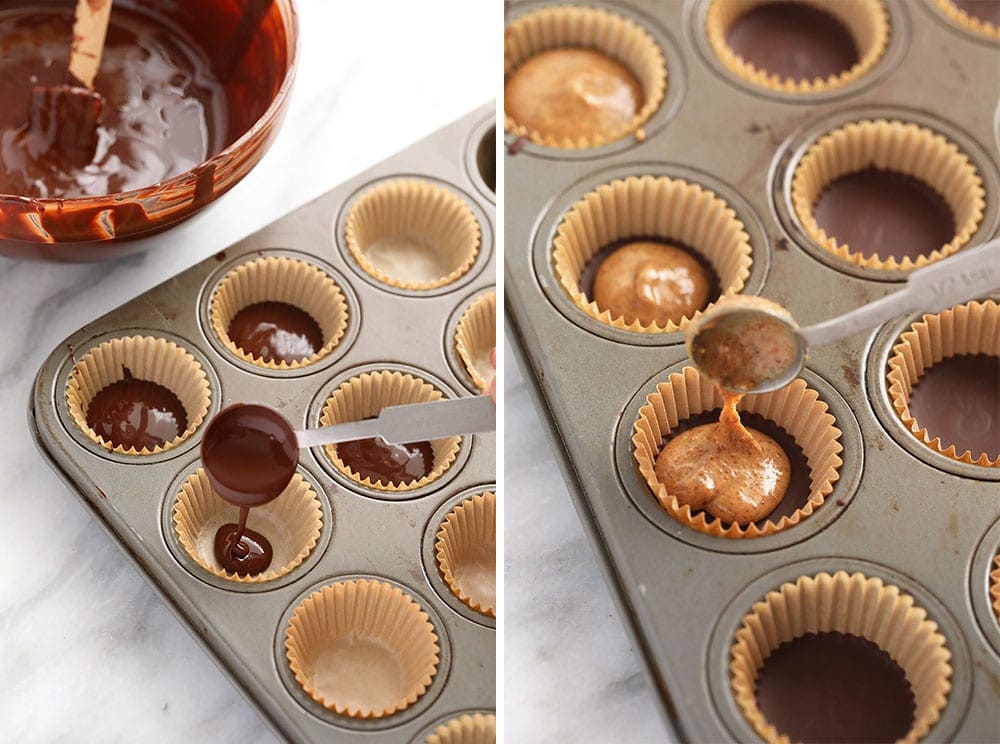 4 Ingredients
Yes, 4 ingredients, you read that correctly! Our secret recipe for the most delicious and simple almond butter comes is only composed of 4 ingredients!
Below we're sharing some of our favorite store-bought and homemade almond butters for you to choose from!
Storebought Almond Butters
Homemade Nut Butters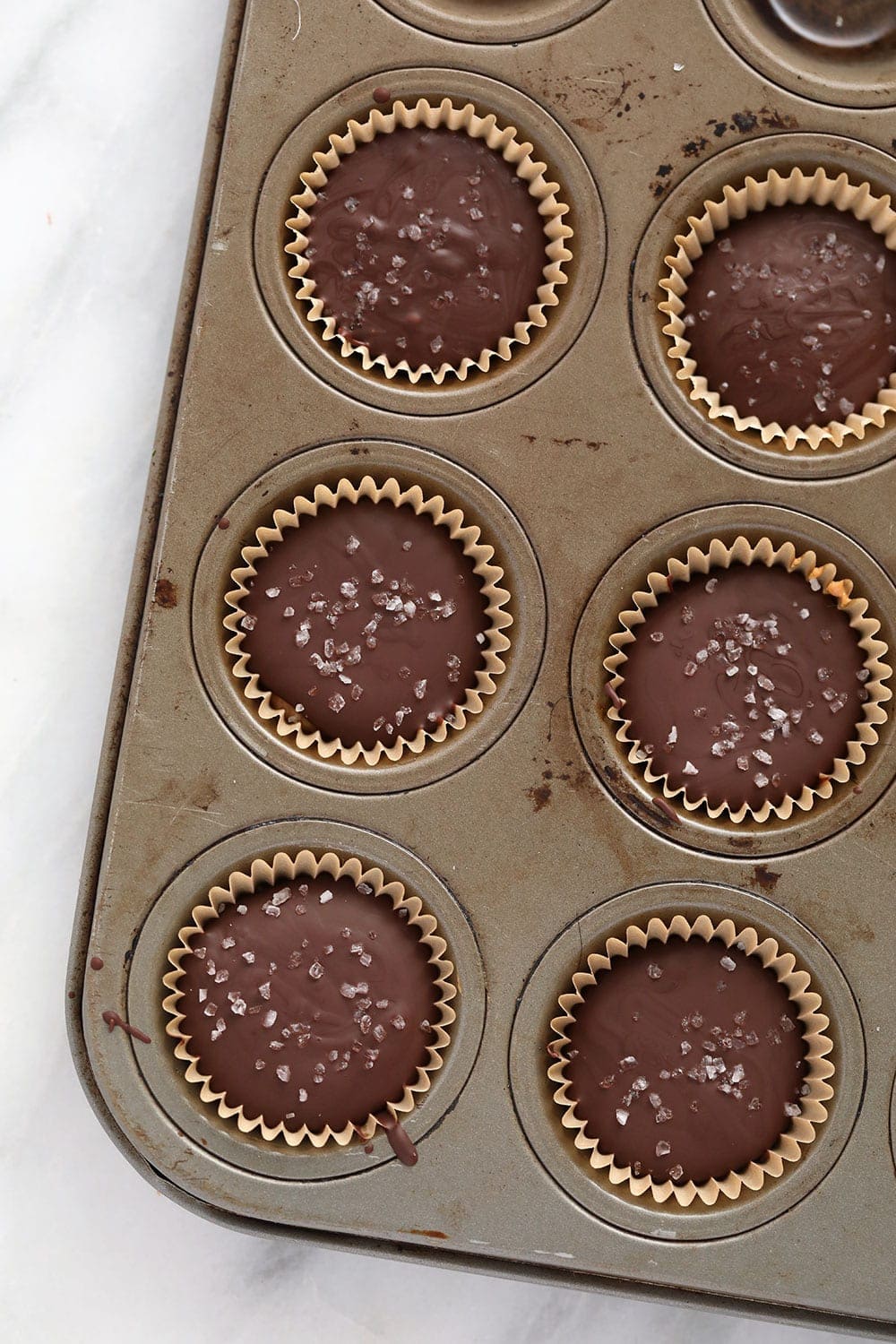 Storage
For best results store almond butter cups in the freezer. The reason we recommend this is because there is coconut oil in the chocolate shell. If it gets to warm, the chocolate will melt easier!
You can also store these cups in the refrigerator, too!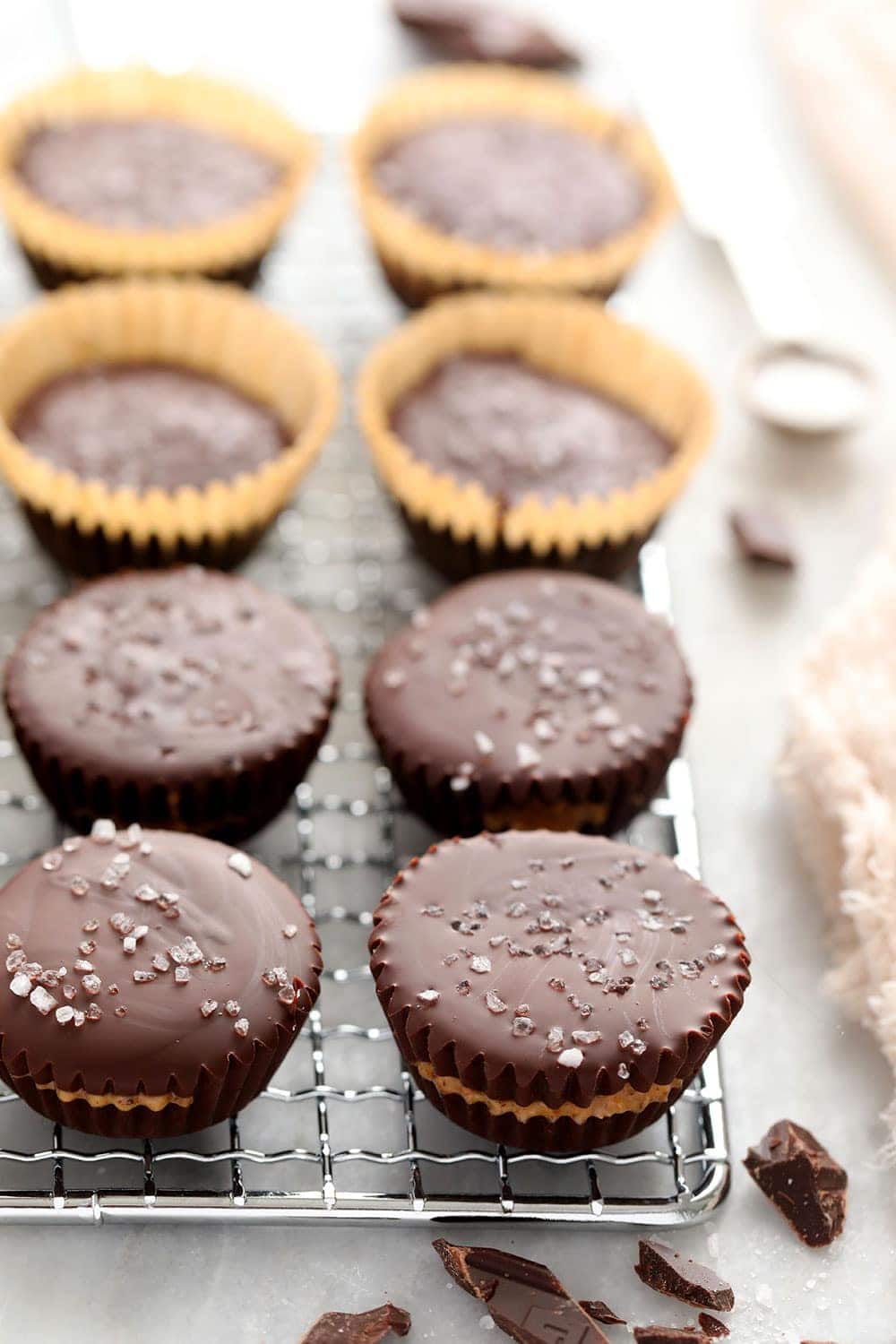 More Almond Butter Cups
Watch how to make this recipe!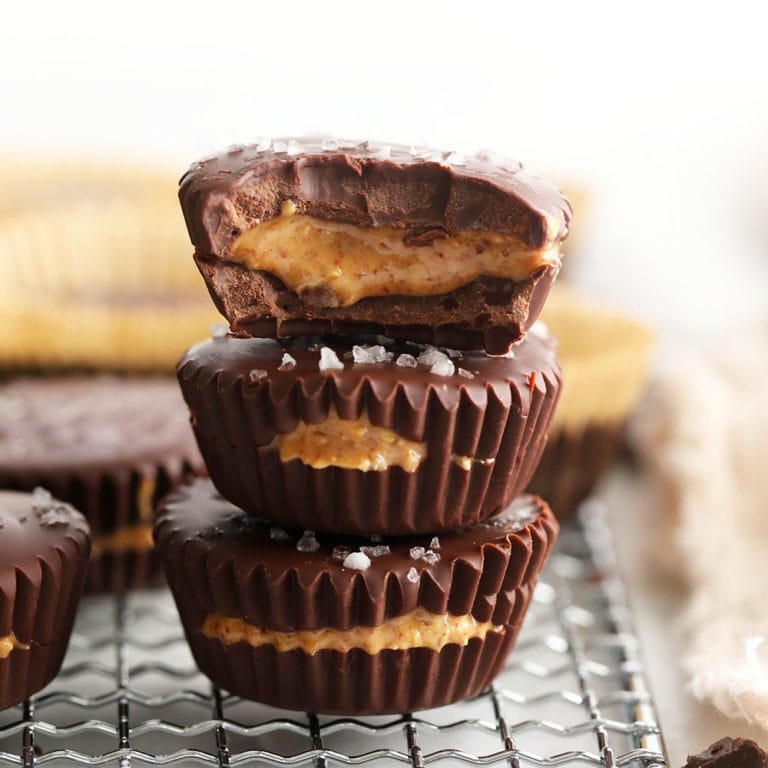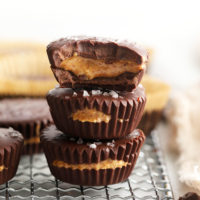 Sea Salt Almond Butter Cups
Sea Salt Almond Butter Cups…need I say more? Make this healthy sweet treat with just 4 total ingredients!
Prep:
30 minutes
Cook:
0 minutes
Total:
30 minutes
Ingredients
8 oz

. high-quality dark chocolate, dairy free if needed (we used

2

4-oz. chocolate bars)

1 tablespoon

coconut oil

1/4 cup

drippy almond butter*
coarse sea salt, to taste
Instructions
First, line a mini muffin tin with 12 muffin mini muffin liners and set aside. Then, roughly chop 8 oz. dark chocolate and place into a microwave-safe bowl and add about 1 tablespoon coconut oil.
Microwave for 2 minutes at 50% power, stirring every 30 seconds.
Once the chocolate has fully melted, spoon in around 1 teaspoon of melted chocolate onto the bottom of each muffin liner. Then, tap the pan so that the chocolate evens out. Freeze for around 10 minutes to set.
Next, scoop in a heaping 1/2 teaspoon of almond butter and place on top of the first chocolate layer. Tap the pan to even out the almond butter so there isn't one big lump of almond butter in the middle of each cup. Freeze for around 10 minutes to set.
Finally, spoon in the second layer of melted chocolate on top of the almond butter, There should be enough chocolate left for around 1.5 teaspoons of chocolate per cup (or a little more). Tap the entire pan to even out the melted chocolate and then sprinkle on coarse sea salt.
Finally, freeze for 30 minutes to an hour to fully set.
Tips & Notes
Almond butter: if your almond butter is not drippy, you can add about a teaspoon of melted coconut oil in order to thin it out.
This recipe was slightly updated on January 3, 2020.
Nutrition Facts
Serving Size:
1 cup
Category:
Dessert
Method:
Microwave
Cuisine:
American
Keywords: almond butter cups